Oreo Brownies – Fudgy brownies with pieces of real Oreo cookie in every bite! You'll love this combination of decadent brownie with a cookies and cream twist.
I think we can safely call this brownie recipe, "Milk's Favorite Brownie." Like Cookies 'N Cream Cupcakes, these brownies bring together two classic treats! Or make a batch of our Oreo Cheesecake Cookies for another delicious dessert.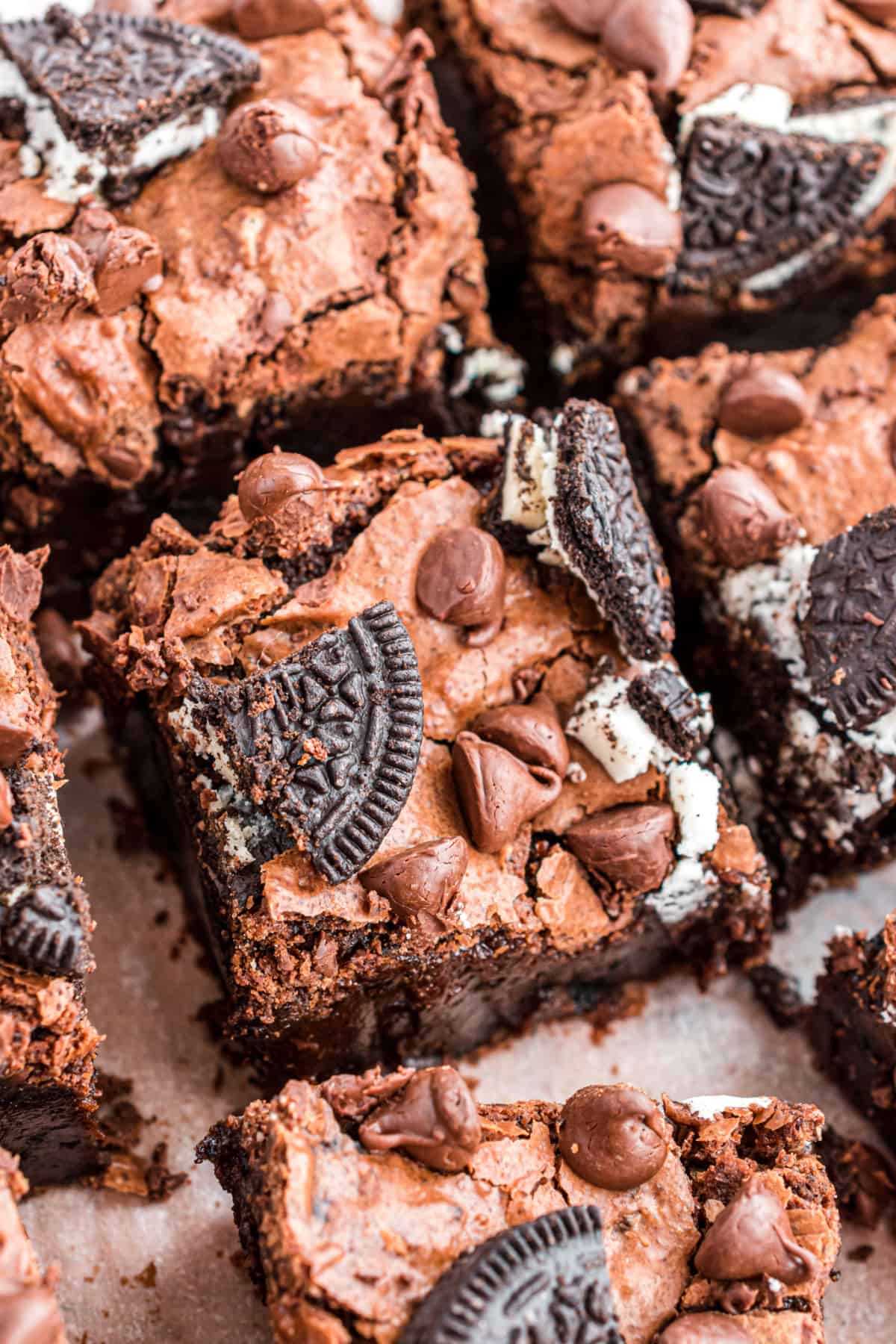 Thick and Fudgy Brownies
Brownies should be fudgy.
I know there are some of you out there who are all about that cake-like brownie life. But not me. I want my brownies thick, chewy and soft.
In short, I want them to be as close to fudge as possible without actually being chocolate fudge.
These Oreo Brownies are all that and more. The melted butter in the batter helps them bake up totally moist and fudgy.
I could eat a whole tray of them in one sitting just as they are! But of course, I had to take it a step further and add Oreos.
This recipe includes double the Oreo cookies! You fold crushed Oreos into the batter, then add more Oreo pieces on top.
After they're baked and cut, these look bakery quality and taste even better! Use them as a base for an Oreo brownie sundae or just serve them with a big glass of milk.
We love stuffing Oreos into brownies (and other treats). For instance, our slutty brownies are a combination of chocolate chip cookies with rich fudgy brownies!
Ingredient Notes
See the recipe card for full information on ingredients and quantities.
Oreo cookies. You'll 20 cookies total. 15 get crushed and the remaining 5 get cut in quarters to top the brownies.
Unsalted butter. This gets melted before being combined with the sugar and chocolate. Don't skip the melting step–it's essential for giving the brownies the fudgy consistency.
Chocolate chips. I use semi-sweet morsels for best chocolate flavor. Half of the morsels get melted into the batter with the other half reserved to cover the top of the brownies.
Eggs. 4 large eggs get added to the brownie batter for the thickest, chewies brownies!
Easy Instructions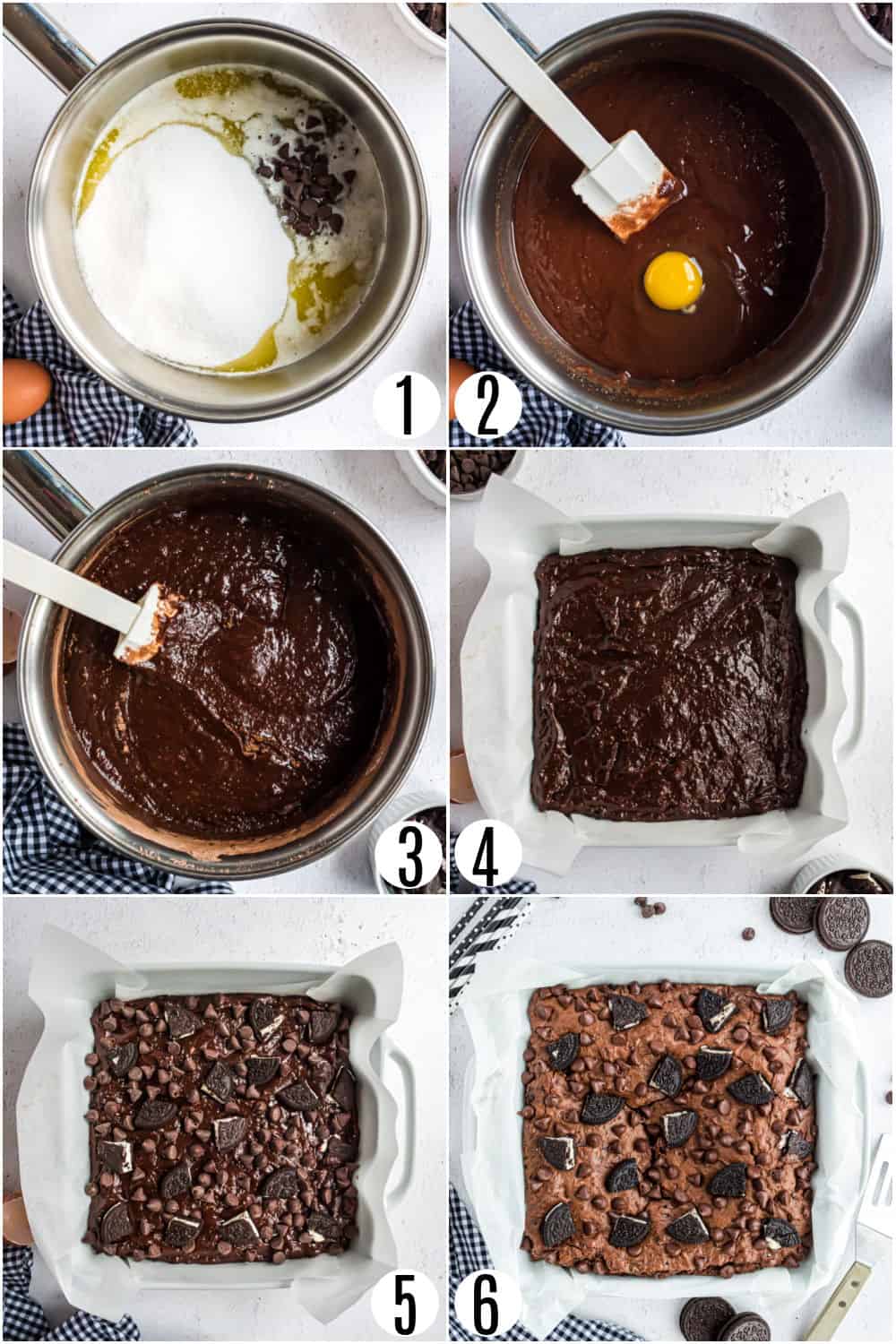 Saucepan. First, melt the butter in a large saucepan, then remove from heat.
Add sugar and chocolate chips to the warm butter and stir until the chocolate is melted.
Eggs. Add four eggs one at a time, followed by vanilla extract. Then, add the dry ingredients and use large strokes to combine.
Do Not Over Stir. Stir the batter just until the flour and cocoa are combined with the wet ingredients. No big clumps of dry ingredients should be visible, but be especially careful not to over mix.
Pour the batter into a prepared brownie pan. Sprinkle with the quartered Oreo pieces and the rest of the chocolate chips.
Bake for 38 minutes. Remove the pan from the oven and let the brownies cool completely.
When fully cooled, slice into squares and serve!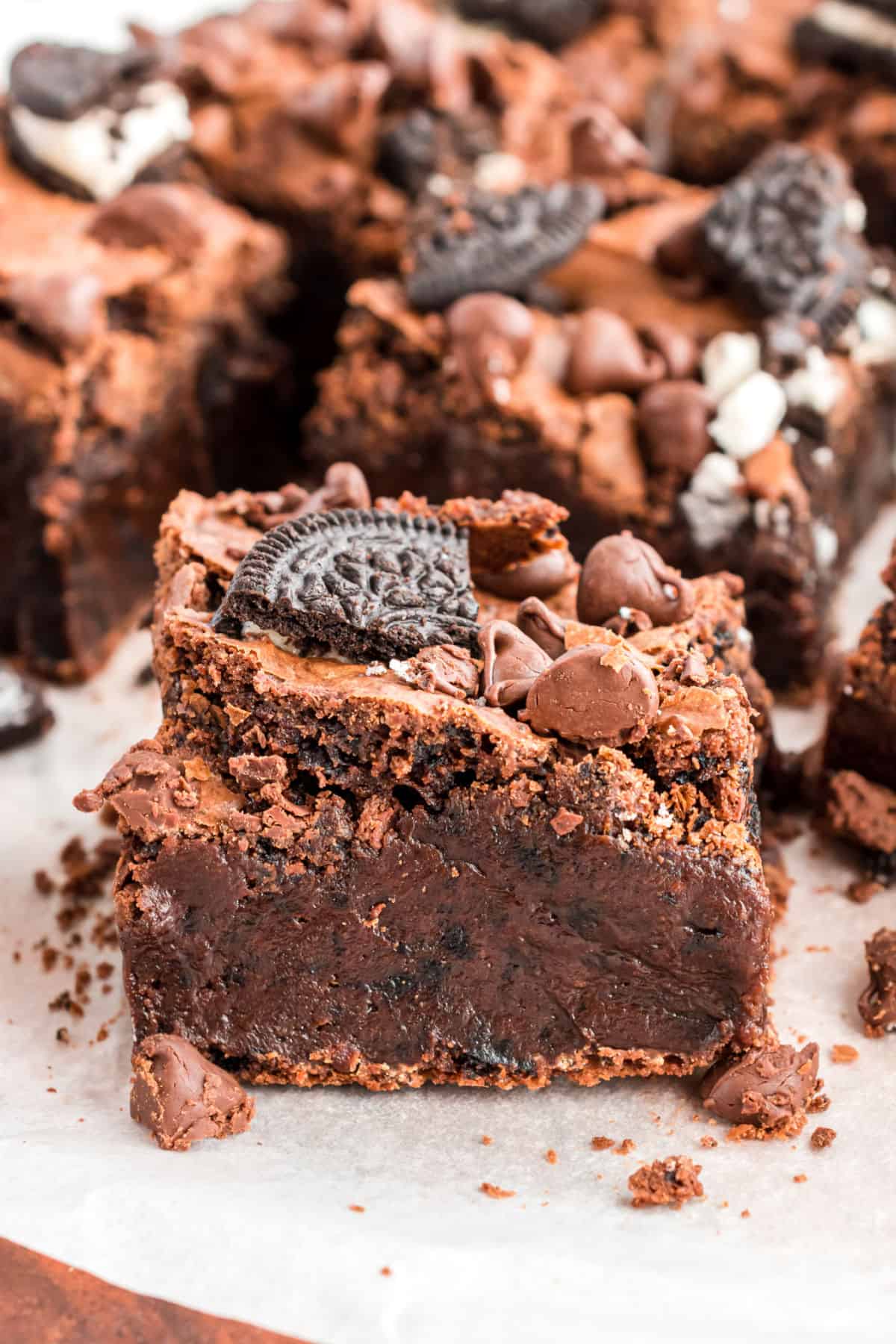 Tips and Tricks
Use a plastic knife for easy cutting. Make sure the brownies are cool, then make long smooth slices to cut the brownies without tearing.
Do not over stir. Seriously! Over mixing or beating this batter after adding the dry ingredients results in cake-like crumbly brownies.
Mix up the flavors. This recipe works with any Oreo variety or flavor you like! Try Peppermint Oreos to give it a holiday twist. Peanut Butter Oreos are a great choice for all of you Chocolate and Peanut Butter brownie fans too!
Storing: Store brownies in an airtight container at room temperature for up to one week.
Frosting. Might be over the top for some of you…but many of us LOVE frosted brownies!
Stock up on oreo cookies so you can give our no bake mini oreo cheesecakes a try soon.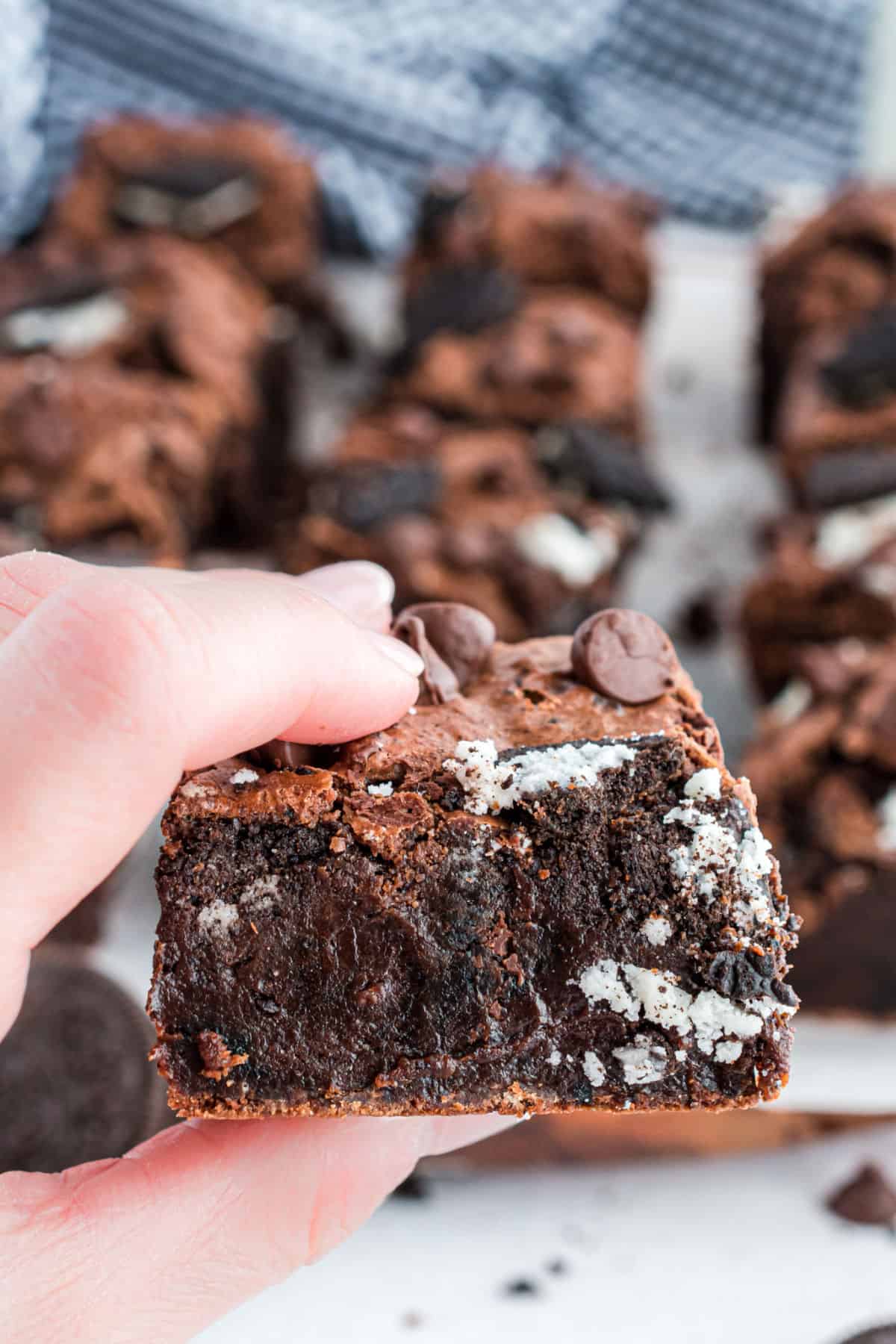 Recipe FAQs
Why are my brownies cakey instead of fudgy?
Your brownies might be coming out cakey instead of fudgy because you're over mixing the batter. Do not use electric beaters or a stand mixer for this recipe. Mixing too much will add too much air to the batter, resulting in brownies that look more like cake!
Can you freeze Oreo brownies?
Yes, you can freeze Oreo brownies with great results. Once cooled and slice, transfer the brownies to a freezer safe container. They'll keep well for up to 3 months.
How do you crush Oreos for this recipe?
Crush Oreos by placing them in a ziploc bag. Use a rolling pin to apply pressure to the cookies breaking them up into small pieces.
I don't recommend pulverizing the cookies in a food processor. This will make the crumbs too fine and cause them to get lost in the thick fudgy brownies!
More Brownie Recipes
If you love my basic, thick and fudgy brownie recipe, these variations are based off that perfect treat.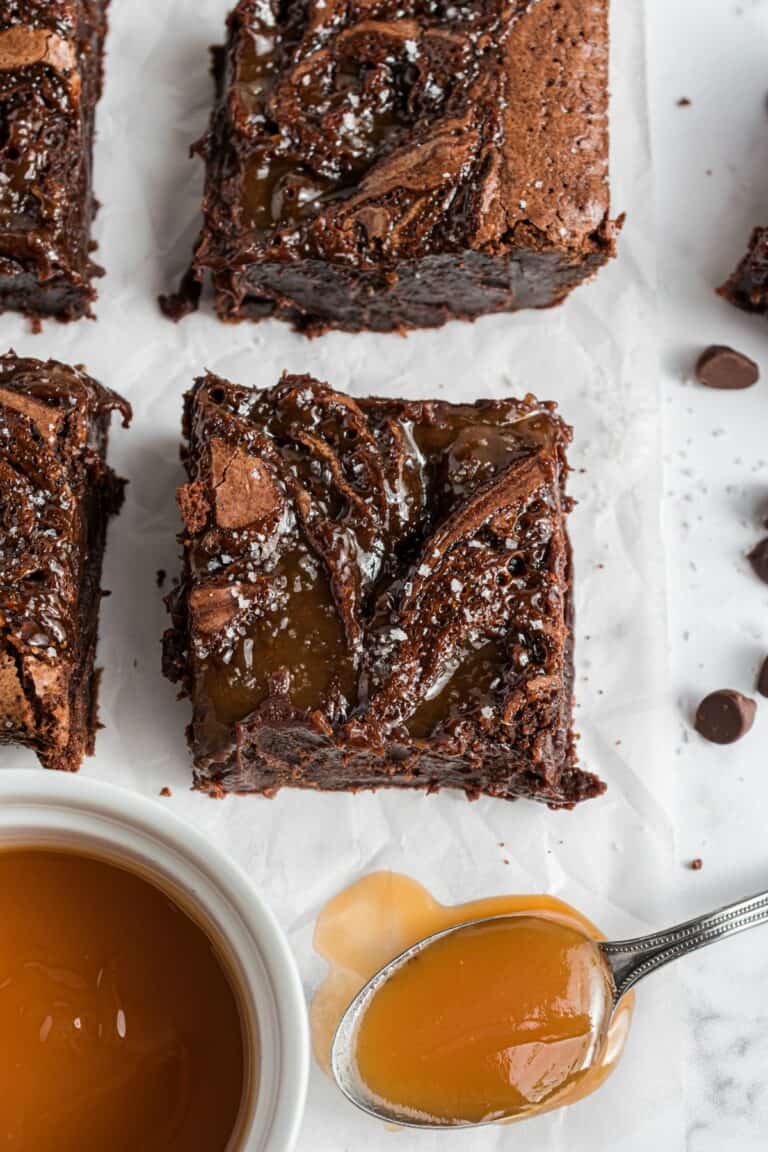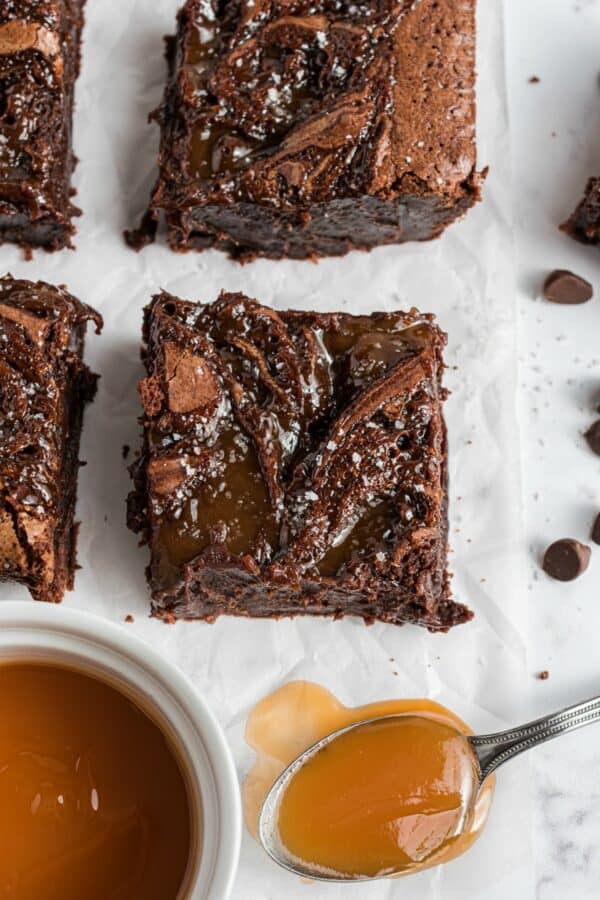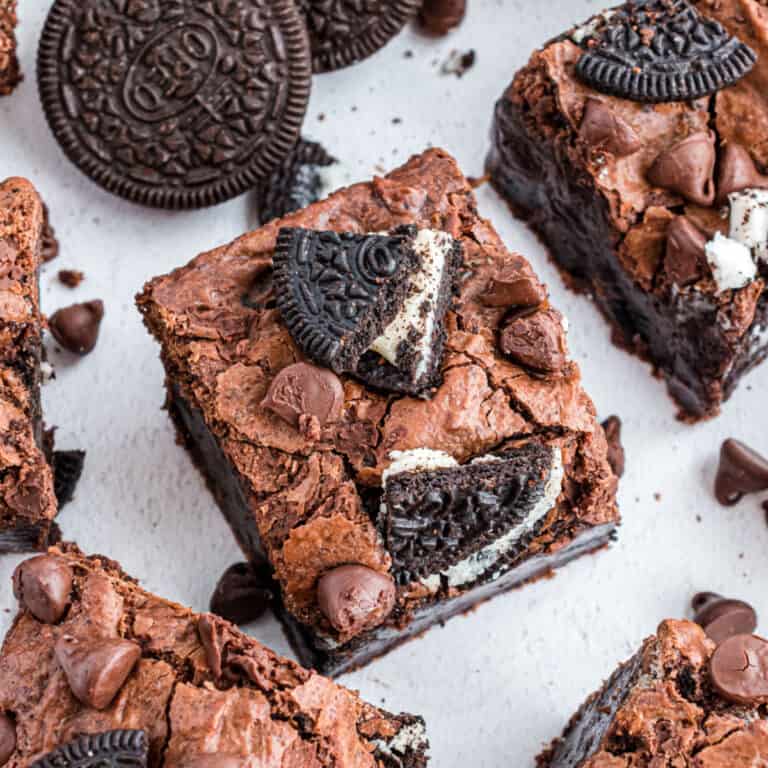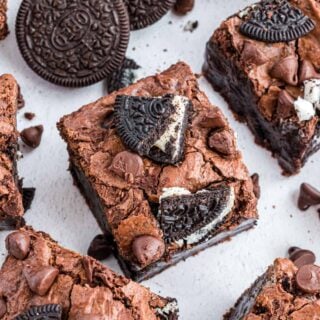 Oreo Brownies
Oreo Brownies – Fudgy brownies with pieces of real Oreo cookie in every bite! You'll love this combination of decadent brownie with a cookies and cream twist.
Ingredients
1

cup

unsalted butter

1

cup

semi-sweet chocolate morsels

divided

2

cup

granulated sugar

4

large eggs

1

teaspoon

vanilla extract

¾

cup

unsweetened cocoa powder

1

cup

all-purpose flour

½

teaspoon

kosher salt

½

teaspoon

baking powder

15

Oreo cookies

crushed

5

Oreo cookies

cut into 4ths
Instructions
Preheat oven to 350 degrees F. Line a 9-inch square baking dish with parchment paper. Set aside.

In a medium sized saucepan, melt butter over medium heat. Remove from heat and add in ½ cup of the semi-sweet chocolate morsels with the sugar. Stir until combined and morsels are melted.

Add in eggs, one at a time, stirring after each addition.

Add in vanilla extract.

Add cocoa powder, flour, salt, and baking powder. Using big stroked, stir JUST until combined and no longer see dry ingredients.

Fold in the crushed Oreos. Pour batter into the prepared baking dish.

Sprinkle the top with the remaining Oreo cookies that have been cut into fourths, as well as the remaining 1/2 cup of semi-sweet morsels.

Bake for 38 minutes. Remove from oven and cool COMPLETELY before cutting.
Notes
Do not over stir after adding the dry ingredients.
Use a plastic knife for cutting cooled brownies.
Store brownies in airtight container at room temperature for up to one week.
Freeze brownies in airtight freezer safe container for up to 3 months.
Nutrition
Serving:
1
brownie
,
Calories:
676
kcal
,
Carbohydrates:
90
g
,
Protein:
7
g
,
Fat:
34
g
,
Saturated Fat:
18
g
,
Polyunsaturated Fat:
10
g
,
Cholesterol:
137
mg
,
Sodium:
282
mg
,
Fiber:
4
g
,
Sugar:
65
g