You can't beat the down home taste of a classic Pecan Pie! Blind baking the crust is the secret to preventing sogginess and ensuring perfect flaky pastry holding in the pecan filling.
Pecan Pie is a favorite for holidays. Readers also love baking my Pecan Pie Cheesecake Bars and my delicious Pecan Pie Cake for a fun twist!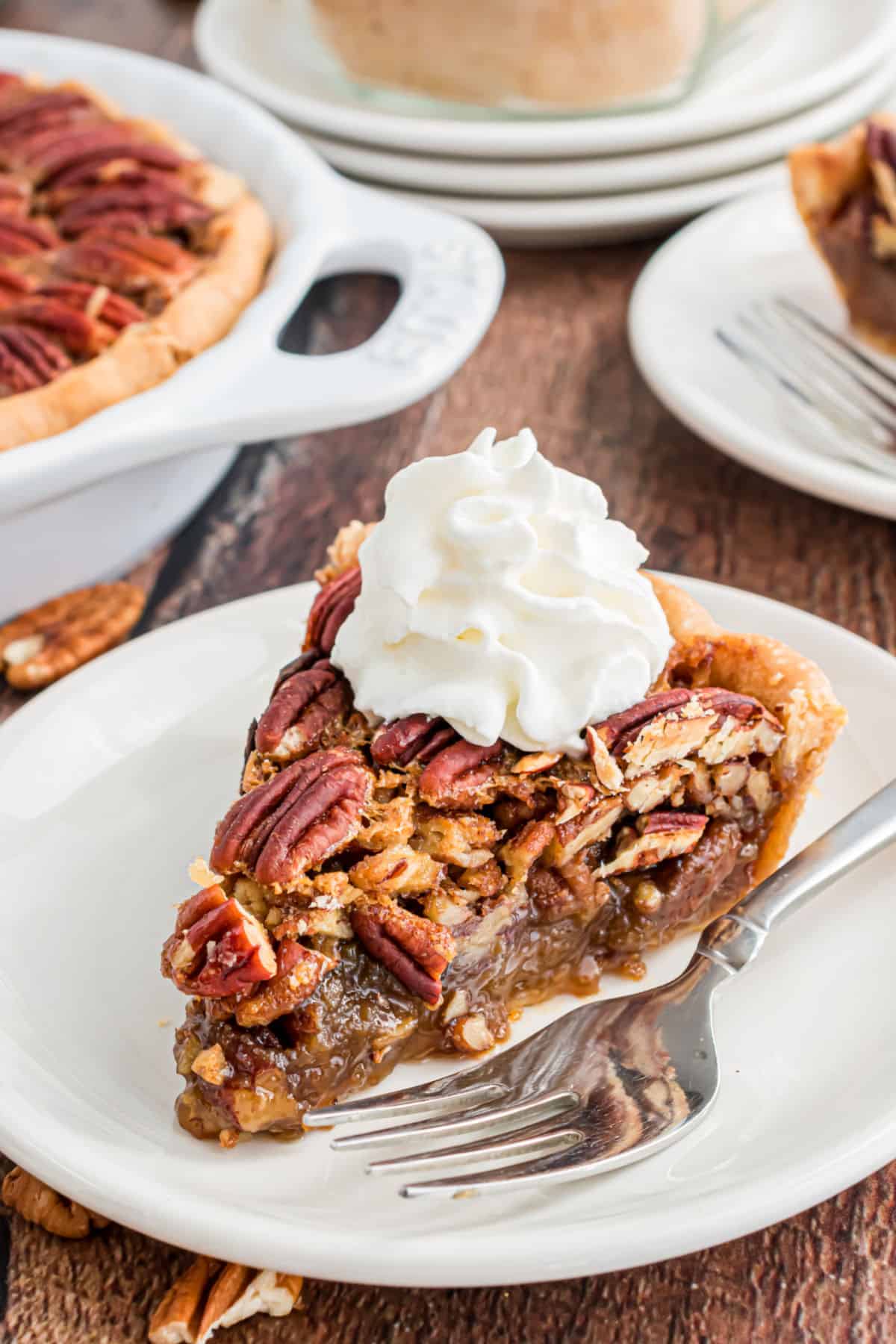 The Classic Thanksgiving Dessert
Do you have a favorite Thanksgiving dessert? One of those dishes where, no matter where you are or who is doing the cooking, you've GOT to have it every year for the holiday to feel complete?
For me, it's pie. All kinds of pie. So many pies.
We make this Pumpkin Pie Recipe every year, but I also make at least one or two or three more pies to round things out (French Silk Pie and Cherry Pie are usually on the list)!
If you can't indulge in extra pie on Thanksgiving, when can you? One of the simplest and most often requested pies I make is this easy Pecan Pie.
Sometimes I make my pecan pie with chocolate chips but for tradition's sake, everyone needs a good basic Pecan Pie recipe up their sleeve. This pecan pie is one of the best I've ever tasted.
Flavor. Plenty of nutty pecan flavor with a touch of vanilla and buttery brown sugar in each bite.
What really makes this recipe great is the extra step of blind baking the crust. Pre-baking the crust helps it stay firm when you add the pecan filling. Instead of getting overloaded and soggy, like some pecan pies I've tasted. Our pie crust is a flaky pastry perfection.
Texture. Loaded with pecans within the filling and on top of the pie.
MORE PECAN PIE RECIPES: Pecan Pie Truffles | Pecan Pie Blondies
Ingredient Notes
Pecans. The higher quality the better as they are the star of the show! Toast the pecans for best flavor!
Corn Syrup & Brown Sugar. Adds a sweetness to the pie, and caramelizes into a delicious flavor!
Eggs. Binds the filling together.
PRO TIP- We love making our own homemade vanilla extract, but if using store bought, be sure it's pure extract, not imitation (for best flavor).
How to Blind Bake a Crust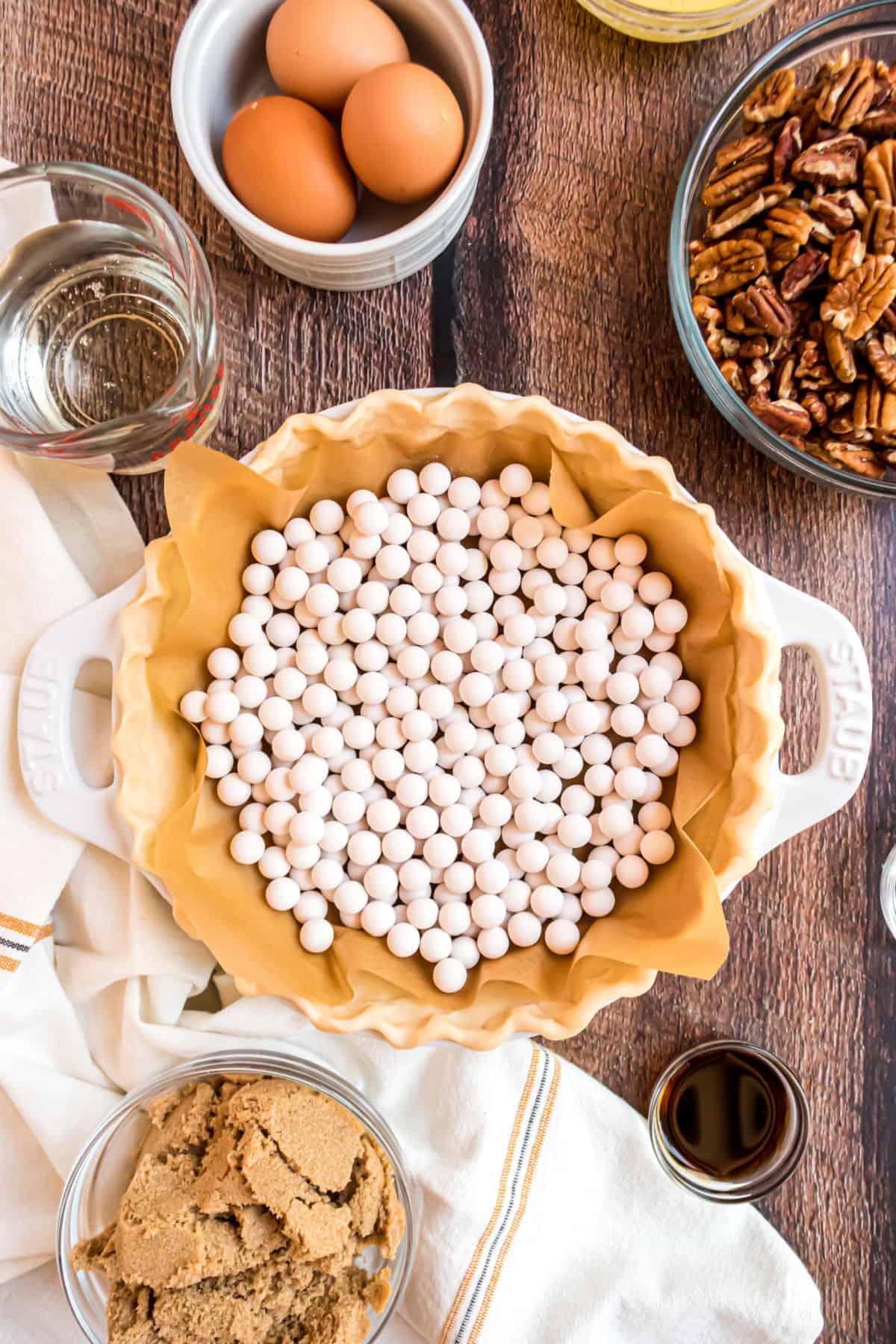 The Why. It doesn't take much effort to blind bake the pie crust, but the difference it makes in the finished pie is remarkable. Pecan pie filling is heavy and wet so it can easily soak into a raw pie crust, making your dessert taste less than stellar.
With a blind baked crust is stays in tact and holds up the filling, while the crust is light and flaky.
For this recipe, you can use either a refrigerated pie crust or your favorite Homemade Pie Crust.
Roll out the pie crust dough then place it onto a pie plate. Put a piece of parchment paper on the pie crust and place pie weights or dried beans on top. This keeps the crust from bubbling up during the blind baking process.
Place the pie crust in preheated oven for 15 minutes and bake at 400 degrees Fahrenheit , until crust is just starting to brown.
Remove the crust from the oven, lower the heat to 350 and set the crust aside while you make the filling.
Step by Step Instructions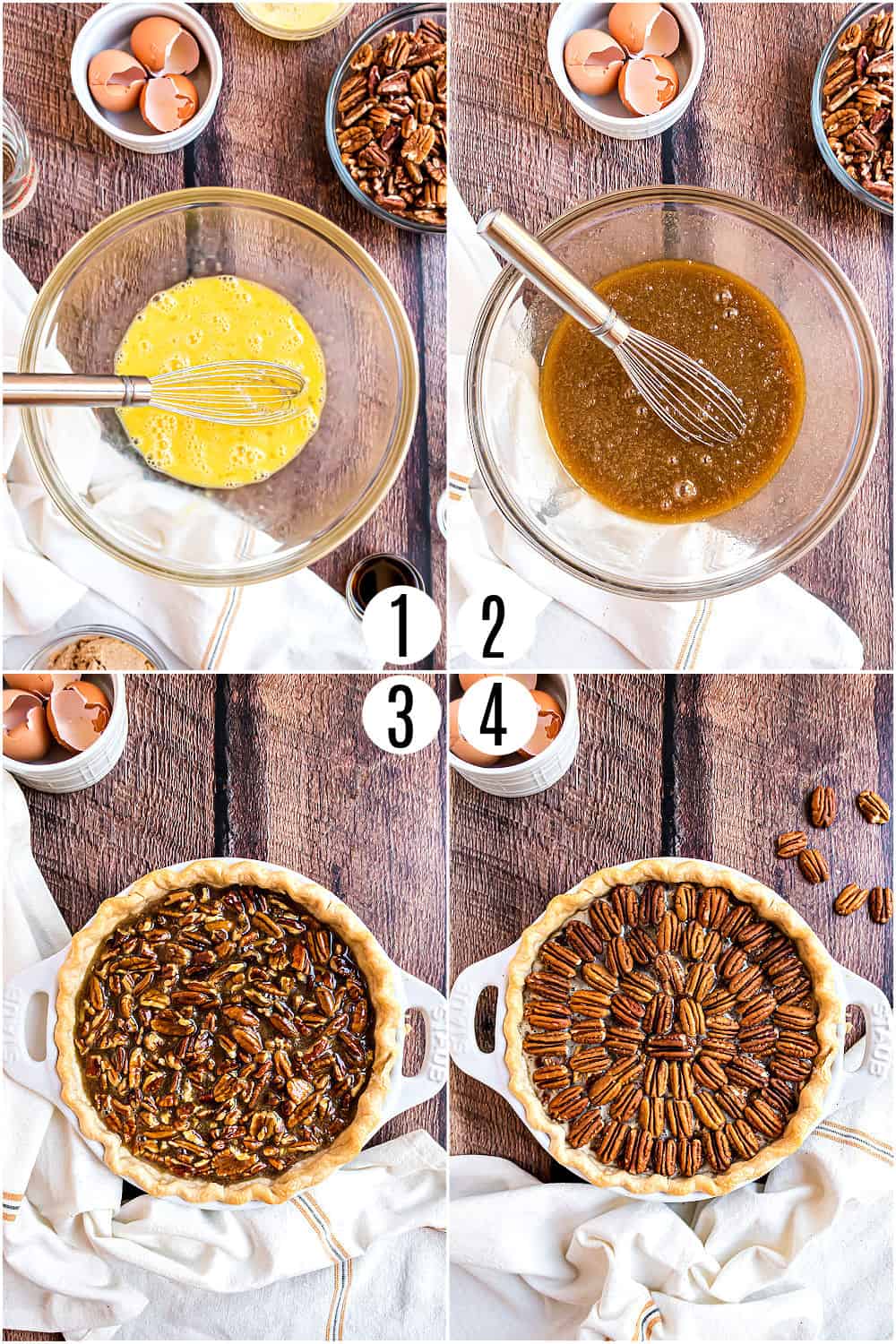 Blind bake the pie crust.
Make the Filling. In a large bowl, whisk the eggs. Add in corn syrup, brown sugar, melted butter, vanilla, and kosher salt. Whisk until smooth. Add pecans.
PRO TIP: You can use chopped pecans or pecan halves. Or a combination of both!
Bake. Pour mixture into warm crust. Arrange extra pecans on top, if desired. Bake for 40-50 minutes, checking to see if the center jiggles slightly. If it shakes too much, keep cooking and check every few minutes, being careful not to overcook. Pecan pie can be very finnicky in cooking times, so start checking at 40 minutes.
Set. The filling will continue to set while it cools completely.Remove from oven and allow to cool completely before slicing.
Serve with whipped cream or vanilla ice cream if desired! I love vanilla ice cream but chocolate ice cream and butter pecan flavored ice cream taste great with pecan pie, too.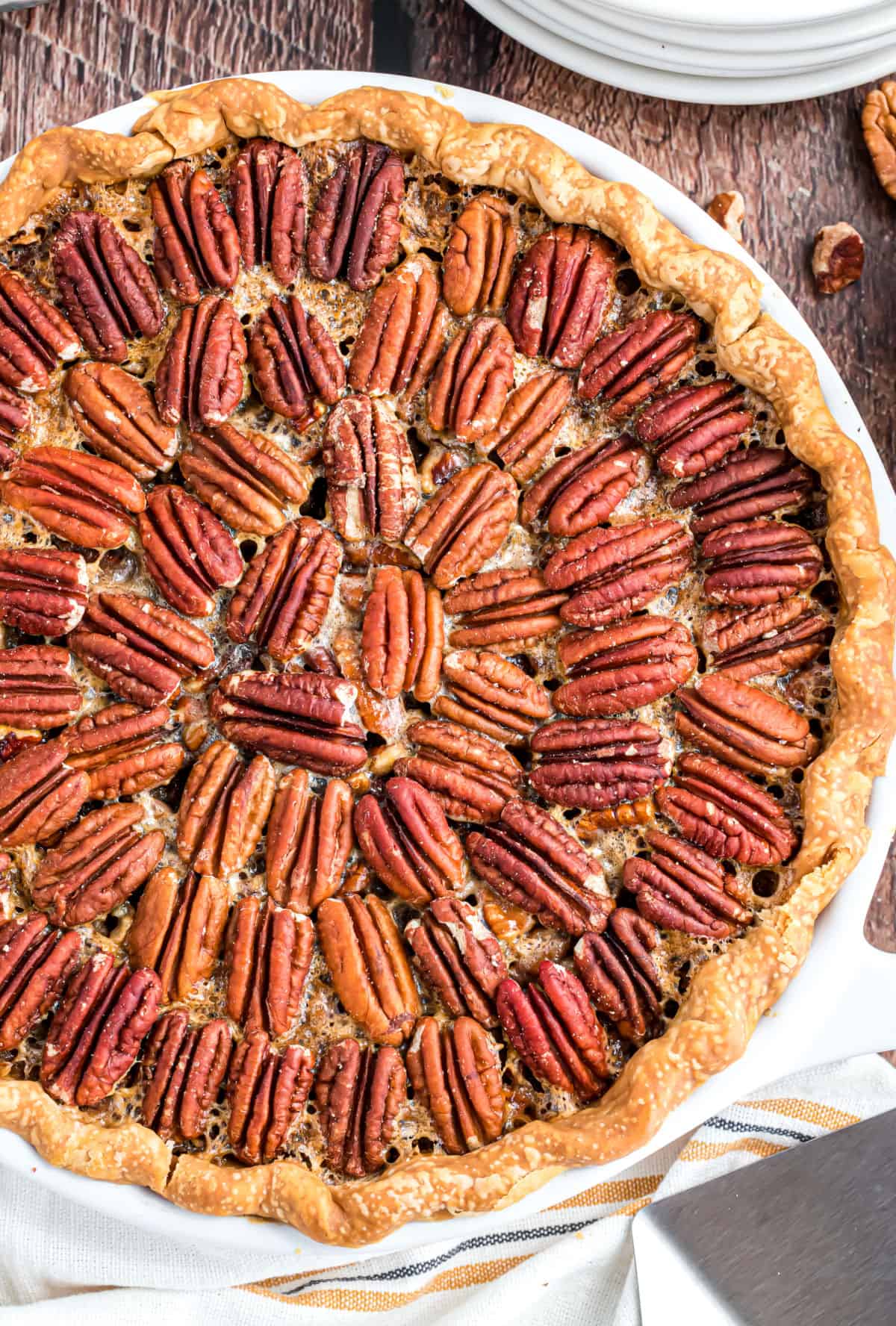 Storage Tips
To keep the integrity of the flavor and texture of this pie intact, make sure to store leftovers correctly. Here are my tips for making your leftover pie last!
Let it cool. Pecan pie takes a while to fully cool. If you cover it while it's still warm, the steam from the pie can make the crust soggy.
Wrap up. Once cooled, cover the pie tightly with foil or cling wrap.
Chill. If you're planning to eat the pie within two hours of baking (like for breakfast the day after Thanksgiving), you can store it at room temperature. For longer storage, keep pecan pie in the fridge. It will last for up to 3 days.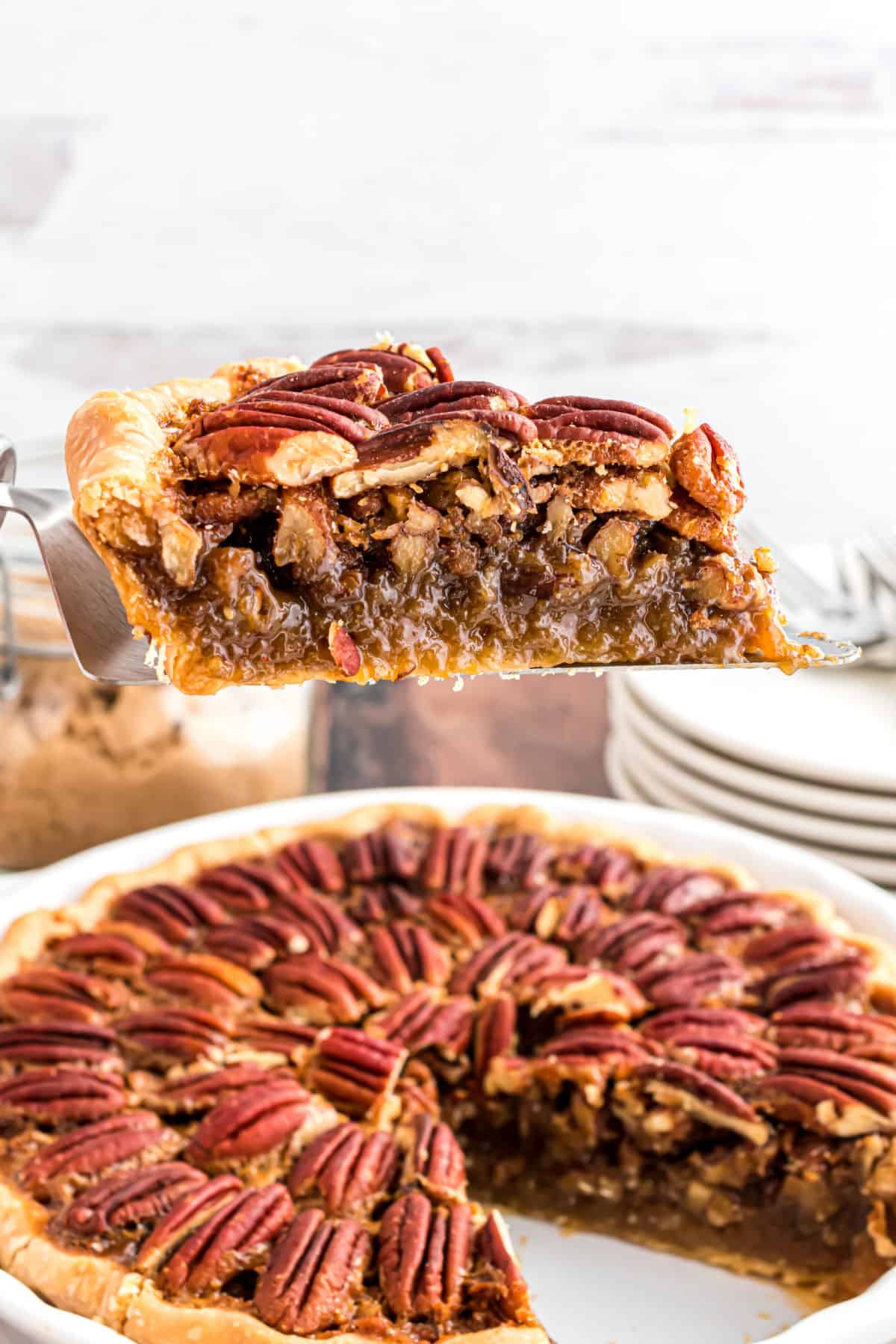 Recipe FAQs
How do you keep a pecan pie from being runny?
Aside from adding extra pecans, be sure to allow the pie to cool completely as it will set up firm as it cools.
How do I keep my bottom pie crust from getting soggy?
To prevent a soggy pie crust, blind bake your bottom crust first, usually done by adding parchment and pie weights to keep the crust from bubbling.
Does pecan pie need to be refrigerated after baking?
For food safety, I always err on the side of caution. If you're not eating the pie within two hours, I suggest refrigerating for up to three days.
Pecan Pie with a maple and brown sugar filling and perfectly baked crust will be the crowned jewel of your holiday dessert table this year!