Chewy, nutty Pecan Pie Blondies are the perfect Fall treat! Or bake them all year long!
***This post is sponsored by Fisher Nuts. I am excited to be a partner in creating delicious recipes, all opinions are 100% my own***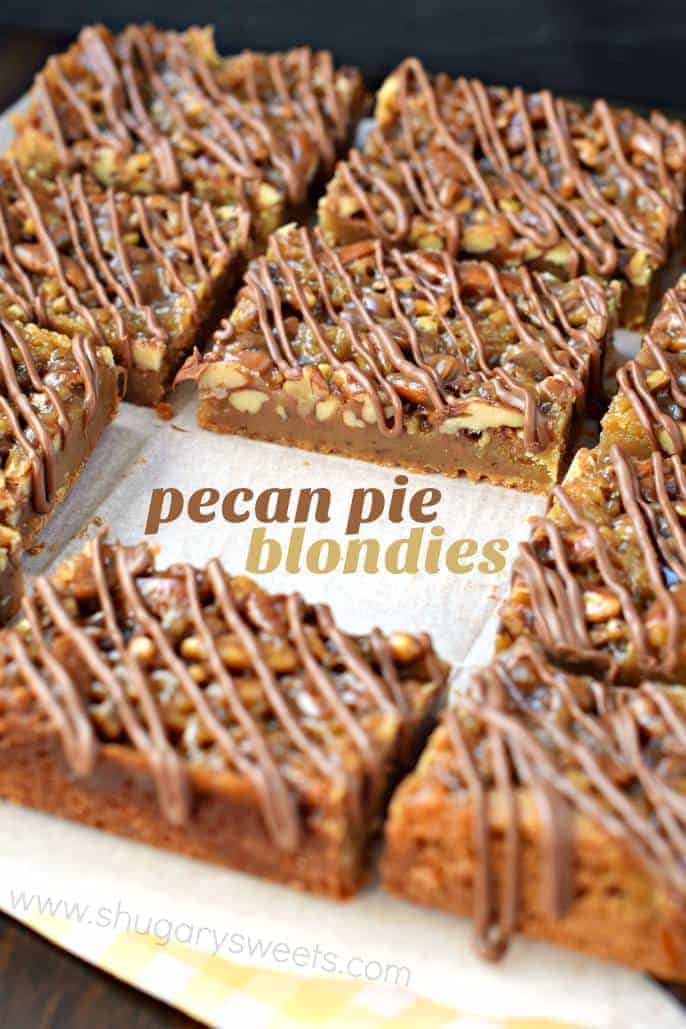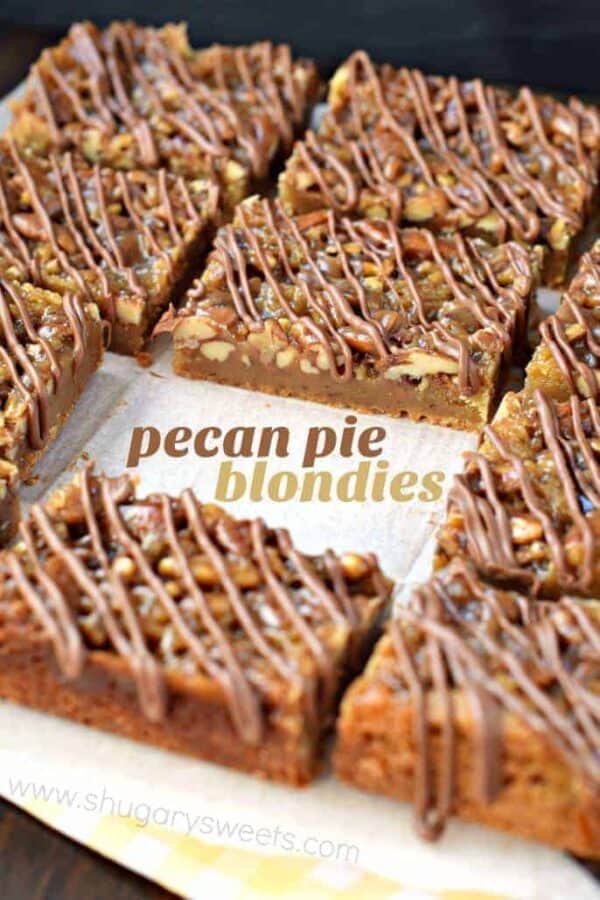 There are some desserts that I just don't eat unless it's the holidays. For example: Pumpkin Pie.
It's a Thanksgiving dessert….but who bakes one in June?
Or how about these Peppermint Puff cookies? Sure I could buy mints all year to bake some…but nope, they are for Christmas only.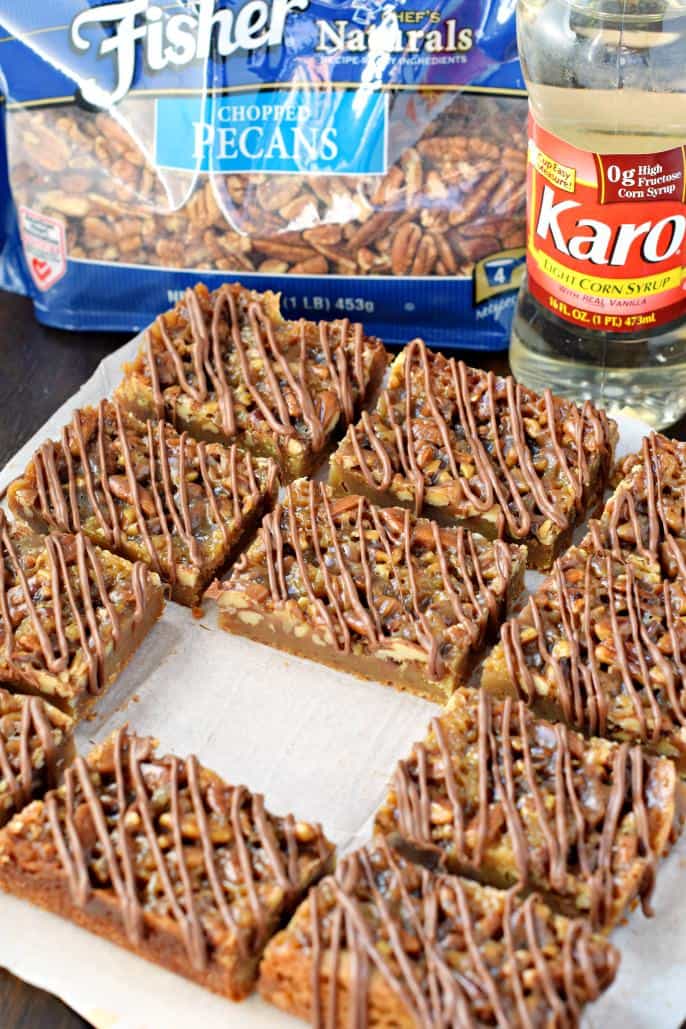 Same story with Pecan Pie. It's Pumpkin Pies' step sister. Not the favorite of most people, but still, only made during the holidays.
Which is why I try to find new ways to enjoy Pecan Pie, without the pie. Like these PECAN PIE TRUFFLES, or these Pecan Pie Cheesecake Bars, or this Pecan Pie Cake!
Today, I'm sharing a crazy easy recipe for Pecan Pie Blondies. They turn out super chewy with that sweet and salty pecan pie flavor!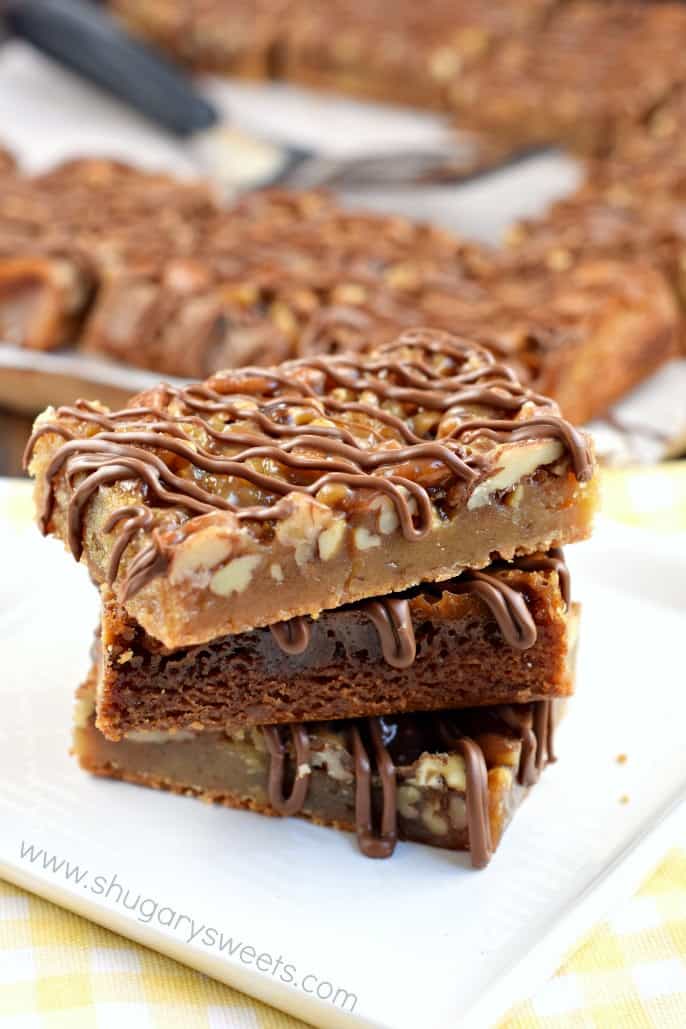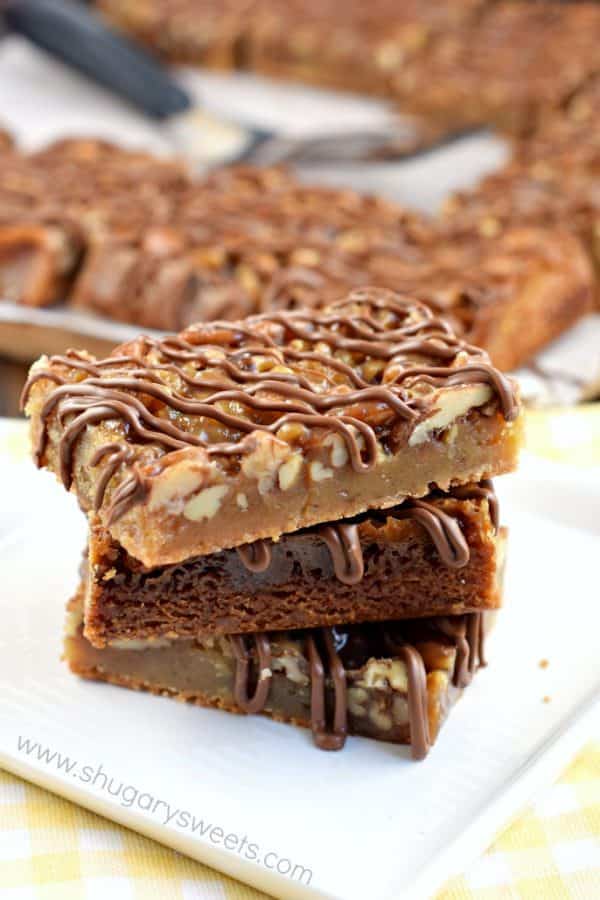 How to make Pecan Pie Blondies:
Line a 9-inch square baking dish with parchment paper. DO NOT SKIP THIS STEP. You want to be able to lift them out of the pan without them sticking!
Use Fisher Nuts Pecans (chopped). I've been a long time fan of Fisher Nuts as they are preservative free. Combined with KARO light corn syrup, the sweet and nutty flavor shines through in these blondies!
Don't forget the chocolate drizzle on top!
For best results, refrigerate bars after cooling. Once chilled, cut into bars, and store at room temperature in an airtight container. Chilled bars are so much easier to slice, and it allows the pecan pie layer to fully set up!
Connect with Fisher Nuts:
website | facebook | pinterest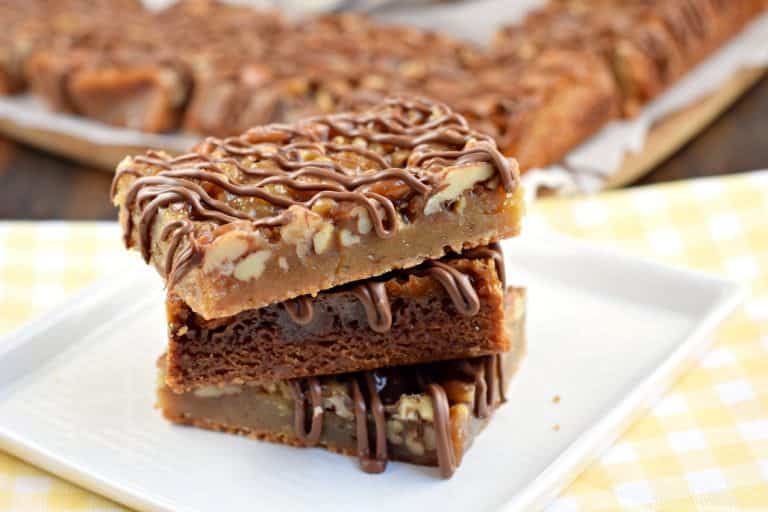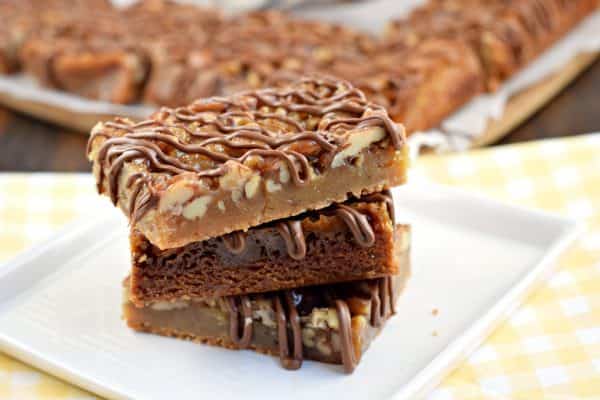 If you love pecans, here are a few of my favorite treats: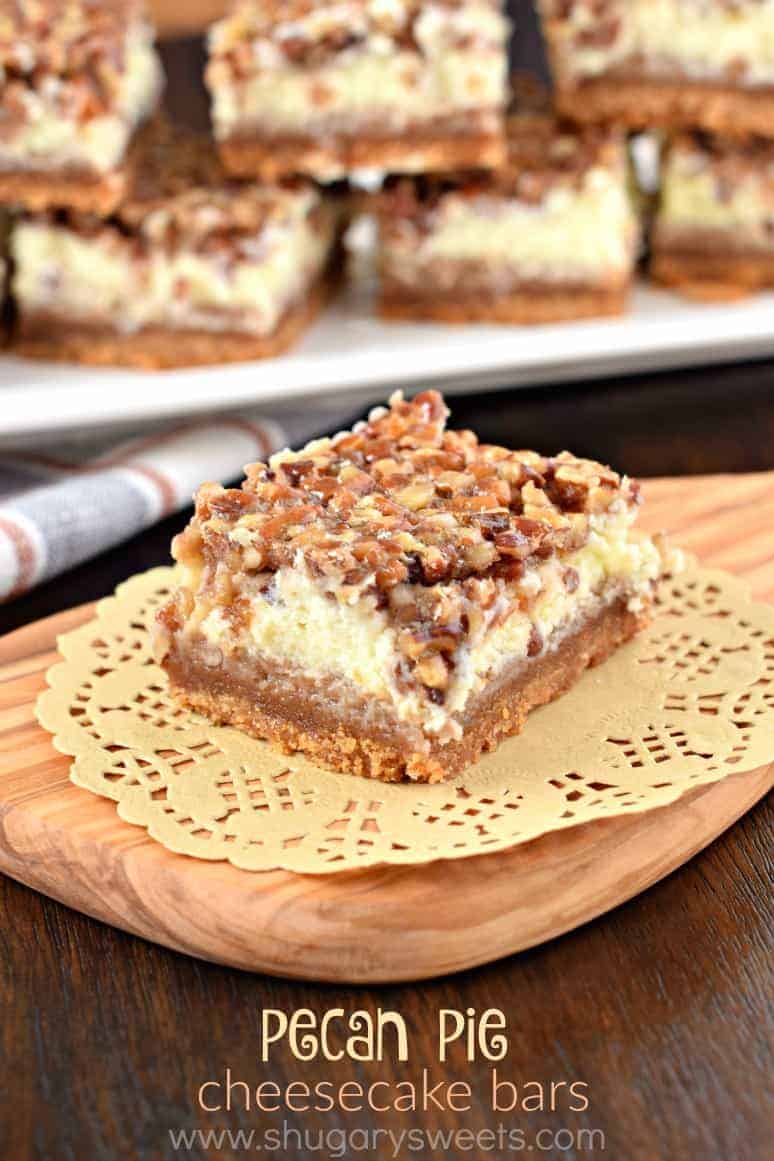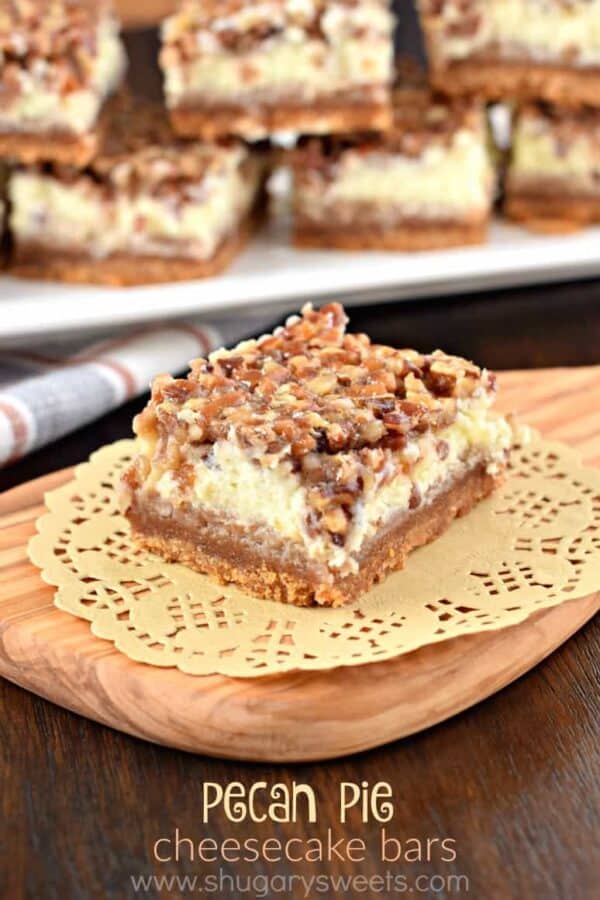 Move over pie…there is a new dessert on the table this year! Pecan Pie Cheesecake Bars.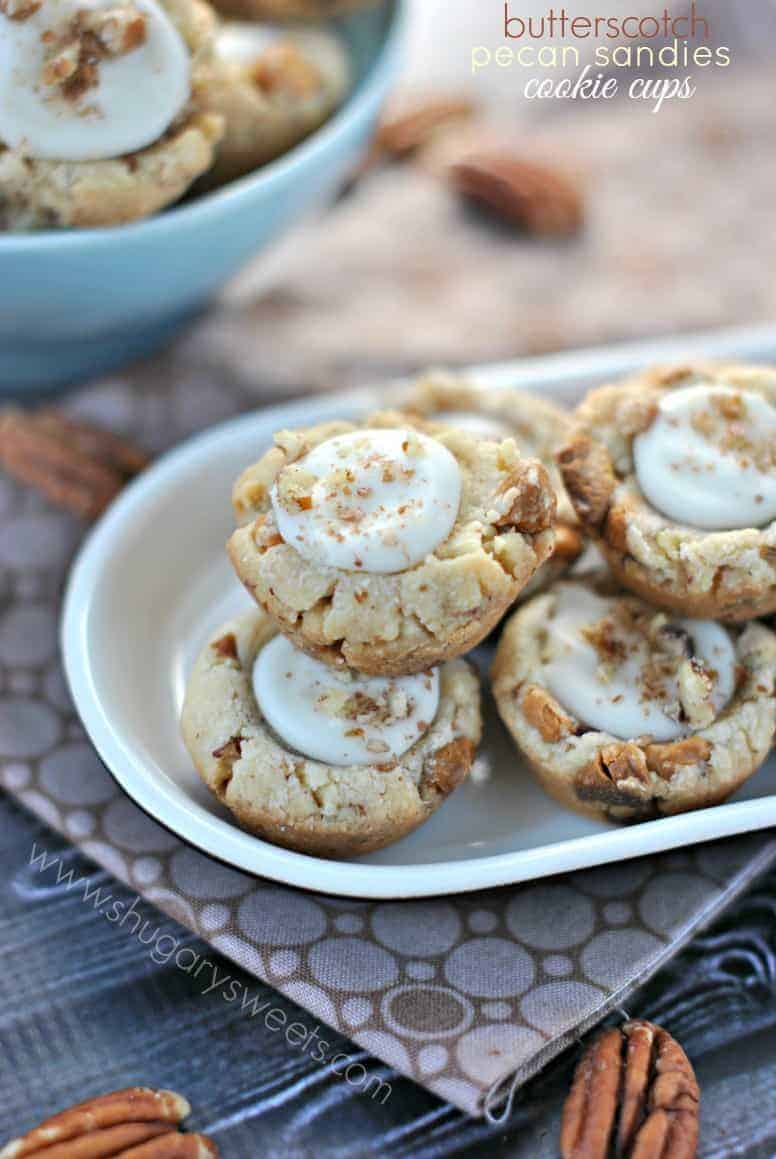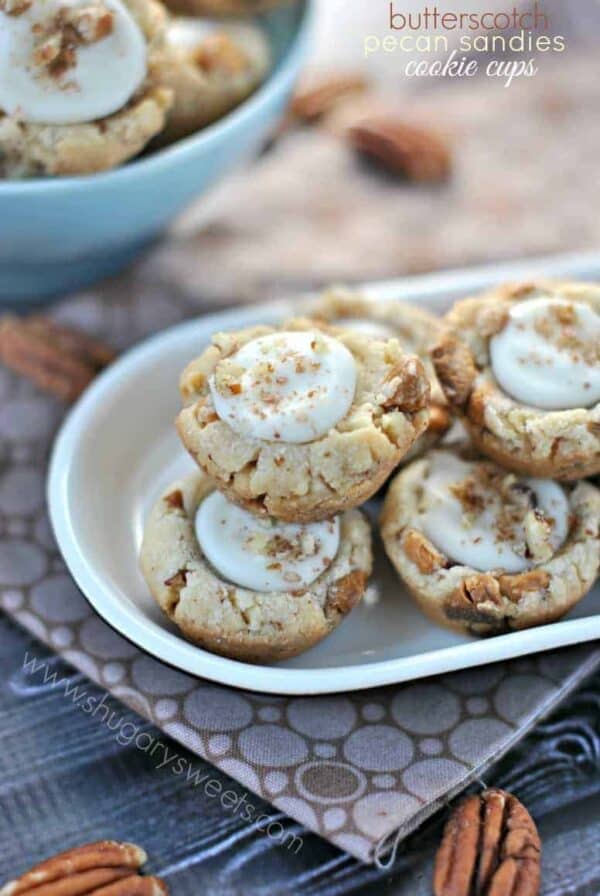 Love Pecan Sandies? Then you're going to LOVE these BUTTERSCOTCH Pecan Sandies cookie cups!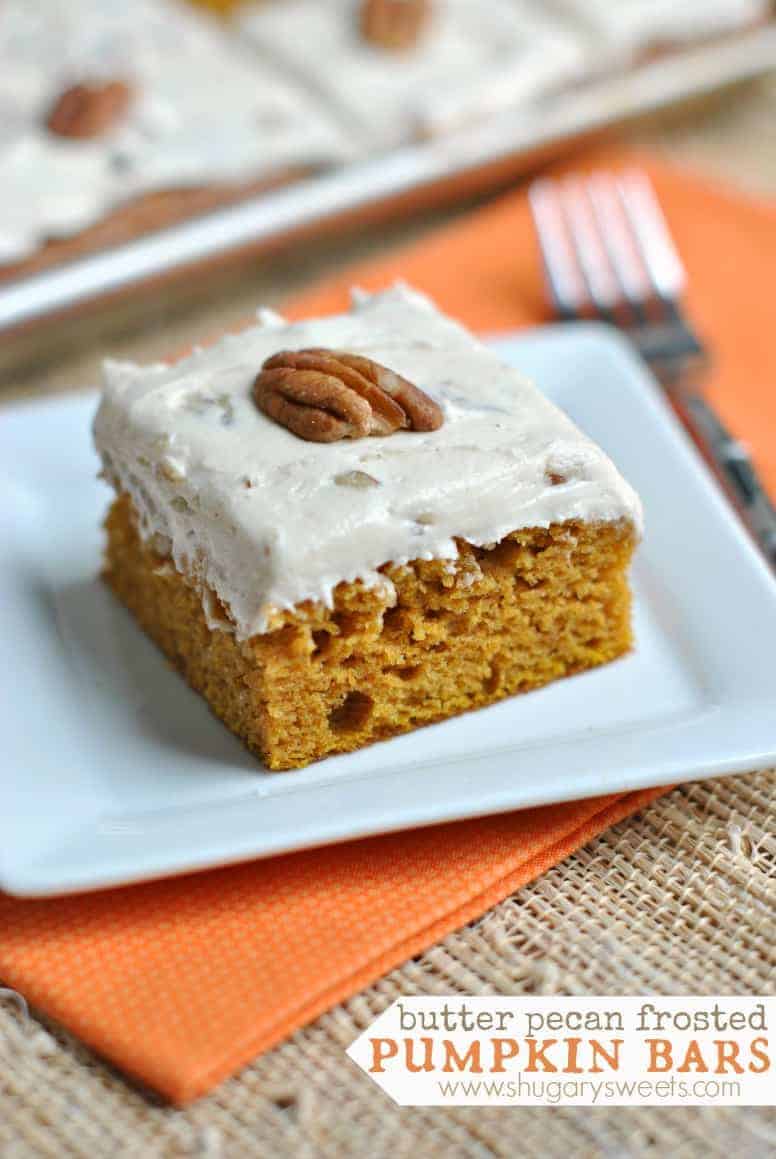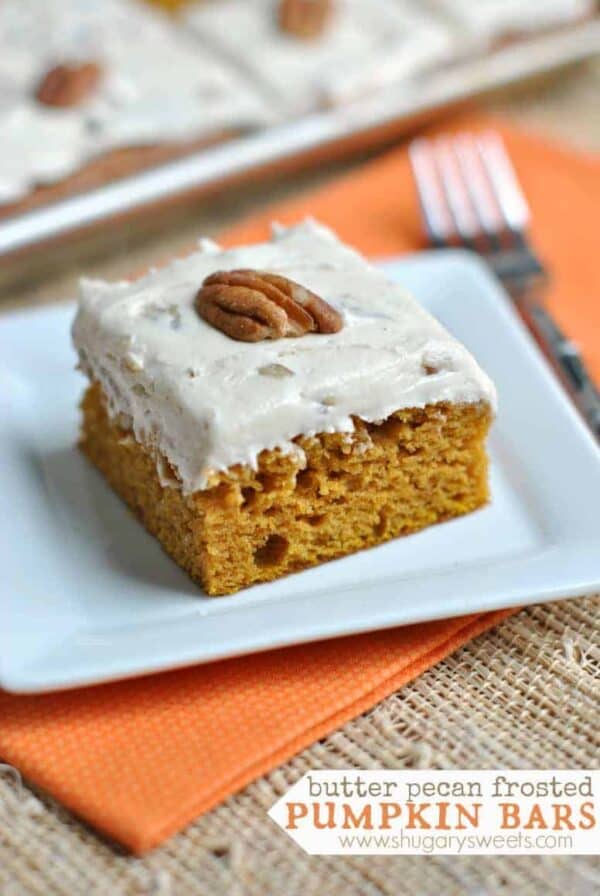 Not just an ordinary Pumpkin Bar. This is a BUTTER PECAN frosted Pumpkin Bar!
Connect with Shugary Sweets!
Be sure to follow me on my social media, so you never miss a post!
Facebook | Twitter | Pinterest | instagram
More Easy Desserts
Pecan Pie Blondies recipe:
Yield: 12 large bars
Pecan Pie Blondies
Chewy, nutty Pecan Pie Blondies are the perfect Fall treat!
Ingredients
For the Blondies:
1 cup light brown sugar, packed
1/2 cup unsalted butter, melted
1 large egg
1 tsp vanilla extract
1/4 tsp kosher salt
1 cup all-purpose flour
For the Pecan Pie layer:
1/2 cup light brown sugar, packed
1/4 cup Karo light corn syrup
1/4 cup heavy cream
1/4 cup unsalted butter
1/2 tsp kosher salt
1 tsp almond extract
1 cup Fisher Nuts Pecans, chopped
1/2 cup milk chocolate morsels, melted
Instructions
Preheat oven to 350°F. Line a 9-inch square baking dish with parchment paper. Set aside.
For the blondies layer: in a large mixing bowl combine the brown sugar with the melted butter. Add in egg, vanilla and salt. Mix until blended. Add in flour, stirring just until combined.
Pour batter into prepared baking dish. Set aside.
For the pecan pie layer: In a small saucepan over medium high heat, combine the brown sugar, Karo corn syrup, heavy cream, butter and salt. Bring to a boil, stirring continuously, boil for 1 full minute. Remove from heat and add the almond extract and chopped Fisher Nuts Pecans.
Pour over batter in dish. Bake for 30 minutes. Remove and cool completely. Drizzle with melted chocolate.
For best slicing, refrigerate for an hour first. Store in airtight container at room temperature for up to 3 days. ENJOY.


**This is a sponsored post on behalf of Fisher Nuts. I was compensated for my time, however all opinions expressed are 100% my own!