Chewy, nutty Pecan Pie Blondies are the perfect fall treat. All the decadent taste of pecan pie in an easy handheld cookie bar!
Love blondies? Try our Easter blondies for a fun treat loaded with pastel candy. Or give our classic nutella swirled blondies a try for a rich flavor.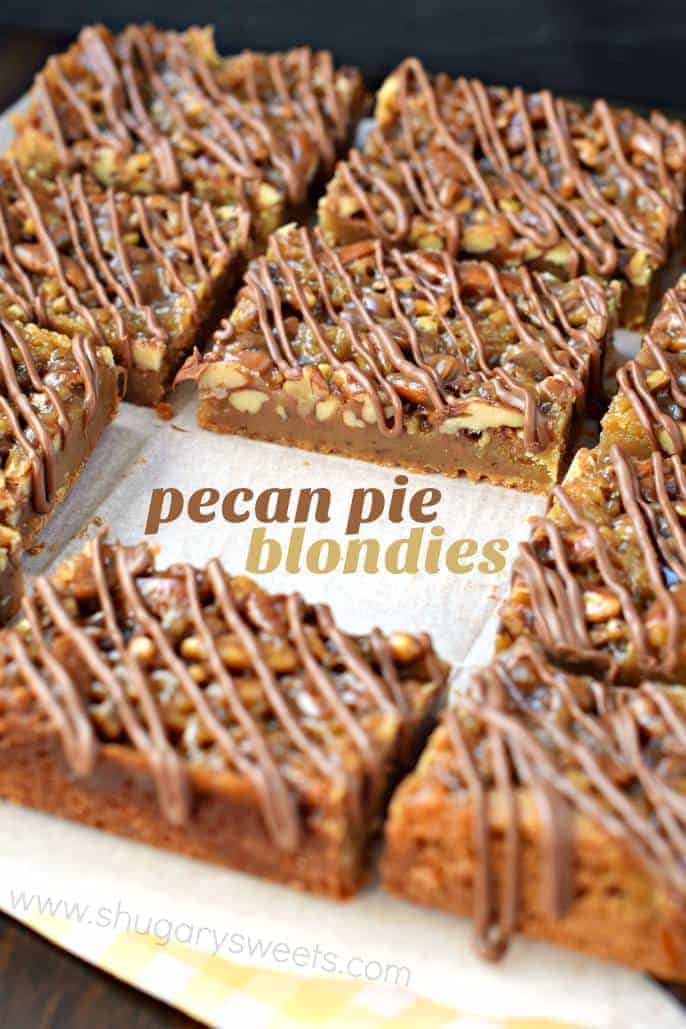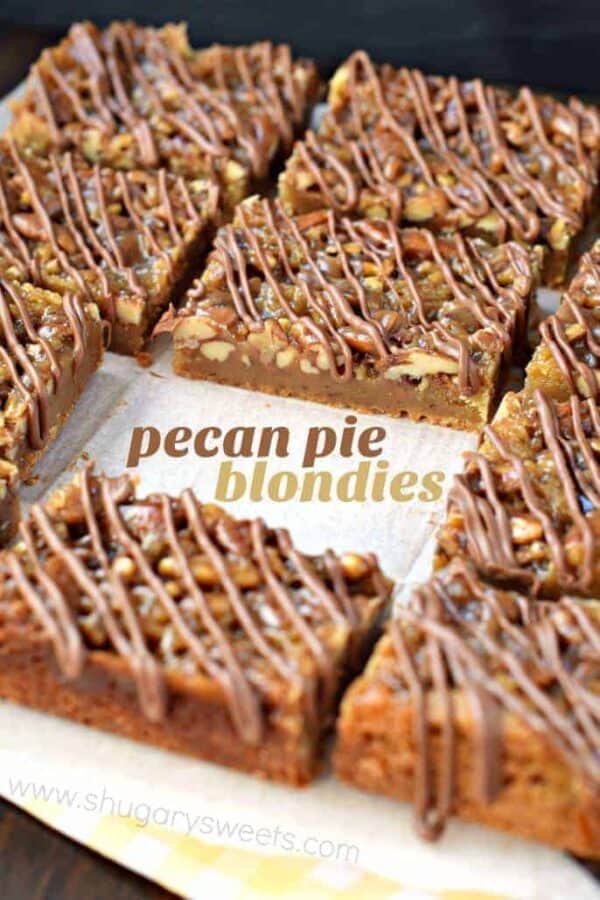 Why These Blondies are Best
Pecan Pie Blondies are two desserts in one. We started with our classic pecan pie filling. Instead of using a pie crust, we layered it over a tray of blondie batter.
Chewy blondies topped with pecan pie filling.
Nutty, buttery and perfectly sweet.
Finished with a rich chocolate drizzle!
An ideal dessert for Thanksgiving, the holidays or any time of year.
The result is a sinfully delicious dessert bar that we might like even more than regular pecan pie!
If you love dessert mashups, try our pecan pie brownies next!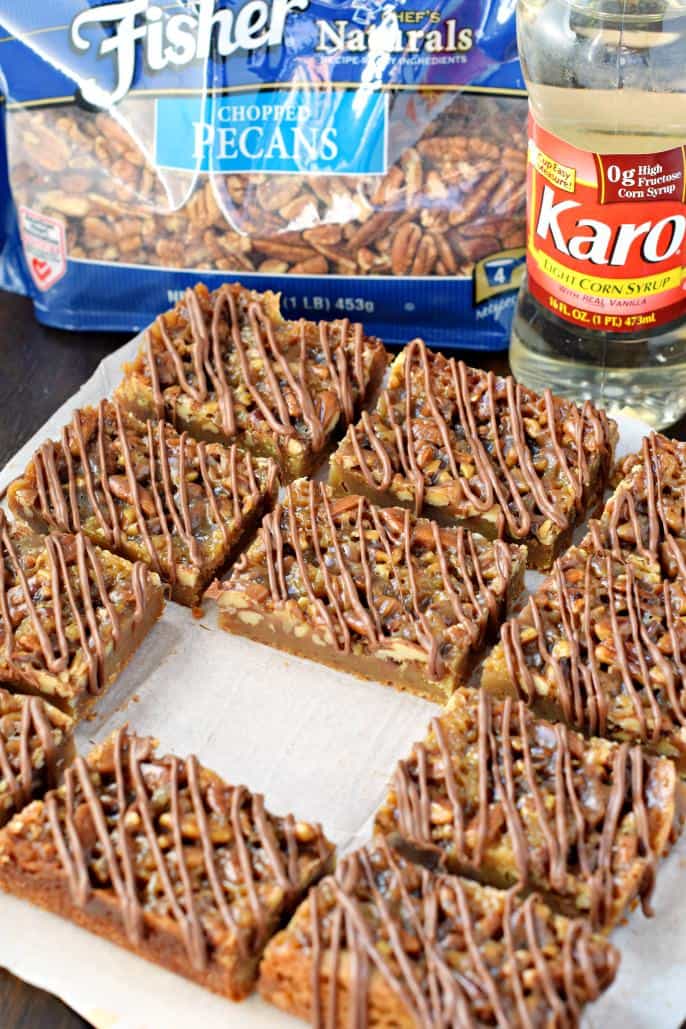 Ingredient Notes
Pecans – Fisher's chopped pecans are my choice for baking! If you only have pecan halves, chop them into course pieces first.
Light corn syrup – An absolute MUST! Combined with butter, brown sugar and cream, it makes the filling sweet, thick and caramelized.
Almond extract – We use a hint of this pure extract to enhance the nutty flavor in the pecan blondies.
Milk chocolate morsels – These are melted then drizzled on top of the baked blondies for the perfect finishing touch.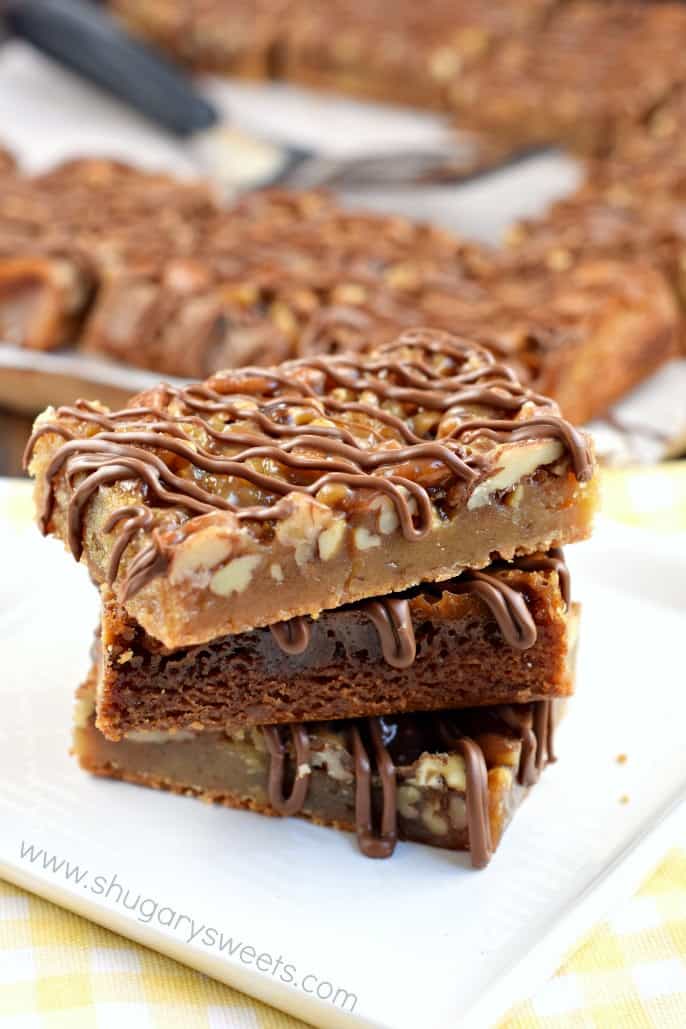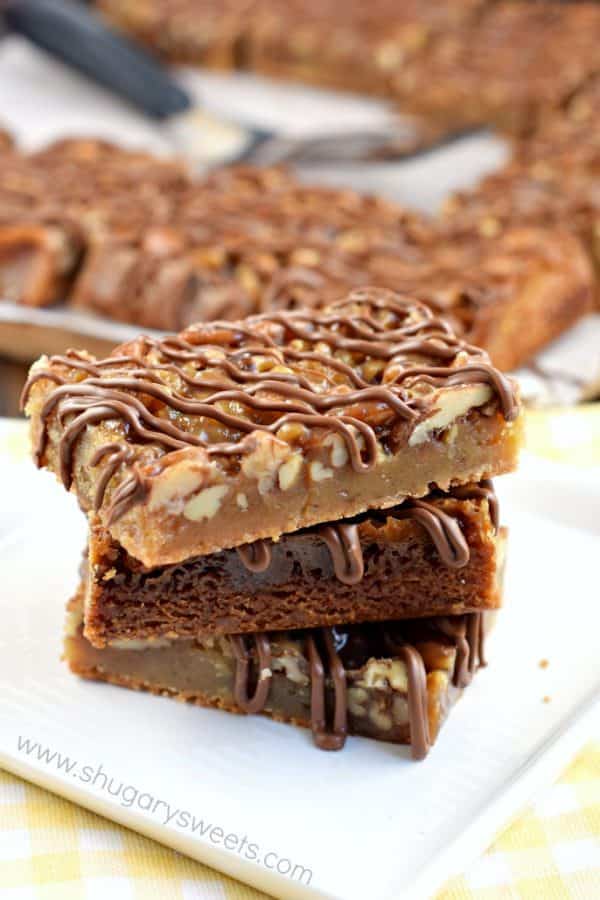 Tips and Tricks
Line a 9-inch square baking dish with parchment paper. DO NOT SKIP THIS STEP. You want to be able to lift them out of the pan without them sticking!
Do not overmix the blondie batter. After adding the dry ingredients, mix just until no flour is visible. Over blending results in harder, denser blondies.
Boil the corn syrup mixture for a full 1 minute. A full rolling boil! Make sure to stir continuously while it's boiling.
Don't forget the chocolate drizzle on top!
For best results, refrigerate bars after cooling. Once chilled, cut into bars, and store at room temperature in an airtight container. Chilled bars are so much easier to slice, and it allows the pecan pie layer to fully set up!
Fall Flavor- mix things up and try our pumpkin blondies next for another unique fall treat.
Recipe FAQs
Can I freeze these blondies?
These pecan pie blondies freeze beautifully! Make sure to place sheets of wax paper between layers of bars so they don't get stuck together.
Do pecan pie bars have to be kept in the refrigerator?
Once the topping has firmed up, you do not need to refrigerate the bars. They keep well at room temperature for about 3 days.
What can I use instead of corn syrup in pecan pie filling?
Unfortunately, there's really no good substitution for corn syrup in classic pecan pie topping. The liquid sweetener is key to the structure and consistency.
How do you melt chocolate chips for the drizzle?
I almost always melt my chocolate chips in the microwave.

Place your chocolate chips in a microwave safe bowl. Heat in the microwave for 30 seconds, then stir. Repeat until the chocolate is fully melted and combined.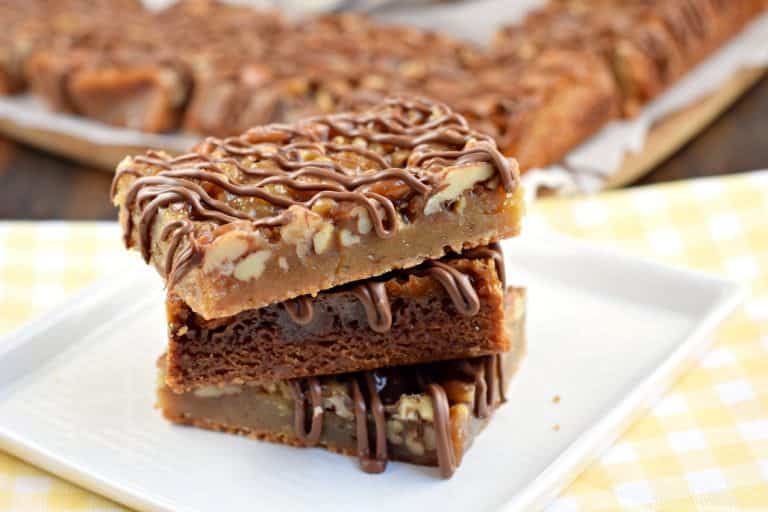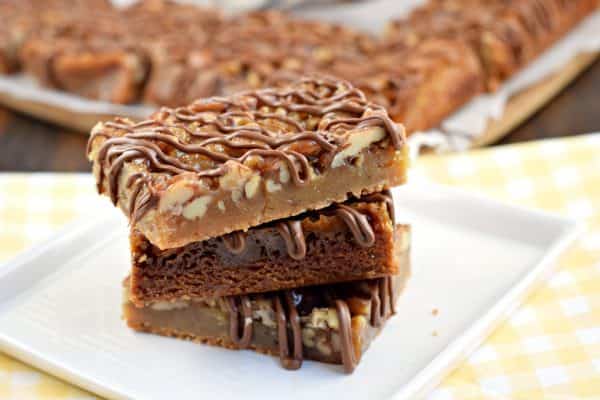 More Easy Desserts
Pecan Pie Blondies are classic chewy blondies topped with sweet pecans and a chocolate drizzle. Perfect for Thanksgiving and beyond!