Pumpkin, white chocolate, and toffee unite to turn an old favorite into an instant Fall classic! These Pumpkin Blondies are easier to make than cookies and everything comes together in a single bowl for easy cleanup.
Love easy pumpkin treats? You've got to try our delicious pumpkin crumb cake! Swirls of cinnamon throughout. Or give our reader favorite chocolate pumpkin cake a try soon.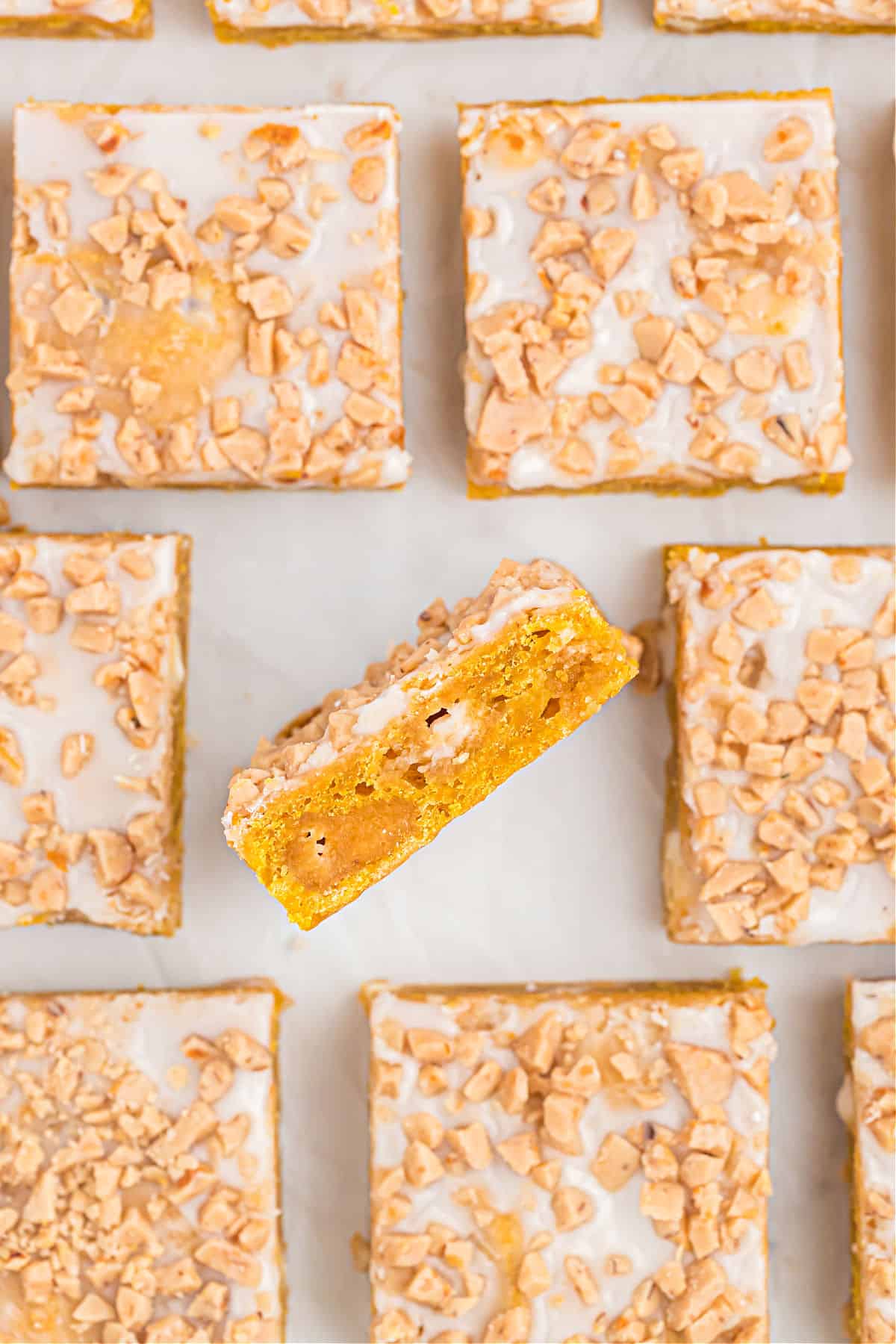 Why This Recipe Works
This blondie recipe takes an all time favorite to a whole new level. Rich, buttery cookie flavor comes together with pumpkin pureé and white chocolate for an irresistible seasonal treat.
Creamy pumpkin adds flavor and richness.
White chocolate and toffee bits add textural interest and phenomenal flavor.
Easy to whip up in one bowl and ready in under an hour!
The end result is a chewy-soft texture and medley of complementary flavors, and the whole recipe takes just a few minutes to mix and get in the oven. Honestly, the hardest part is waiting for them to bake and cool before you can eat them.
Even when you're not ready for summer to end, these blondies are sure to get you in the mood for Fall.
Ingredient Notes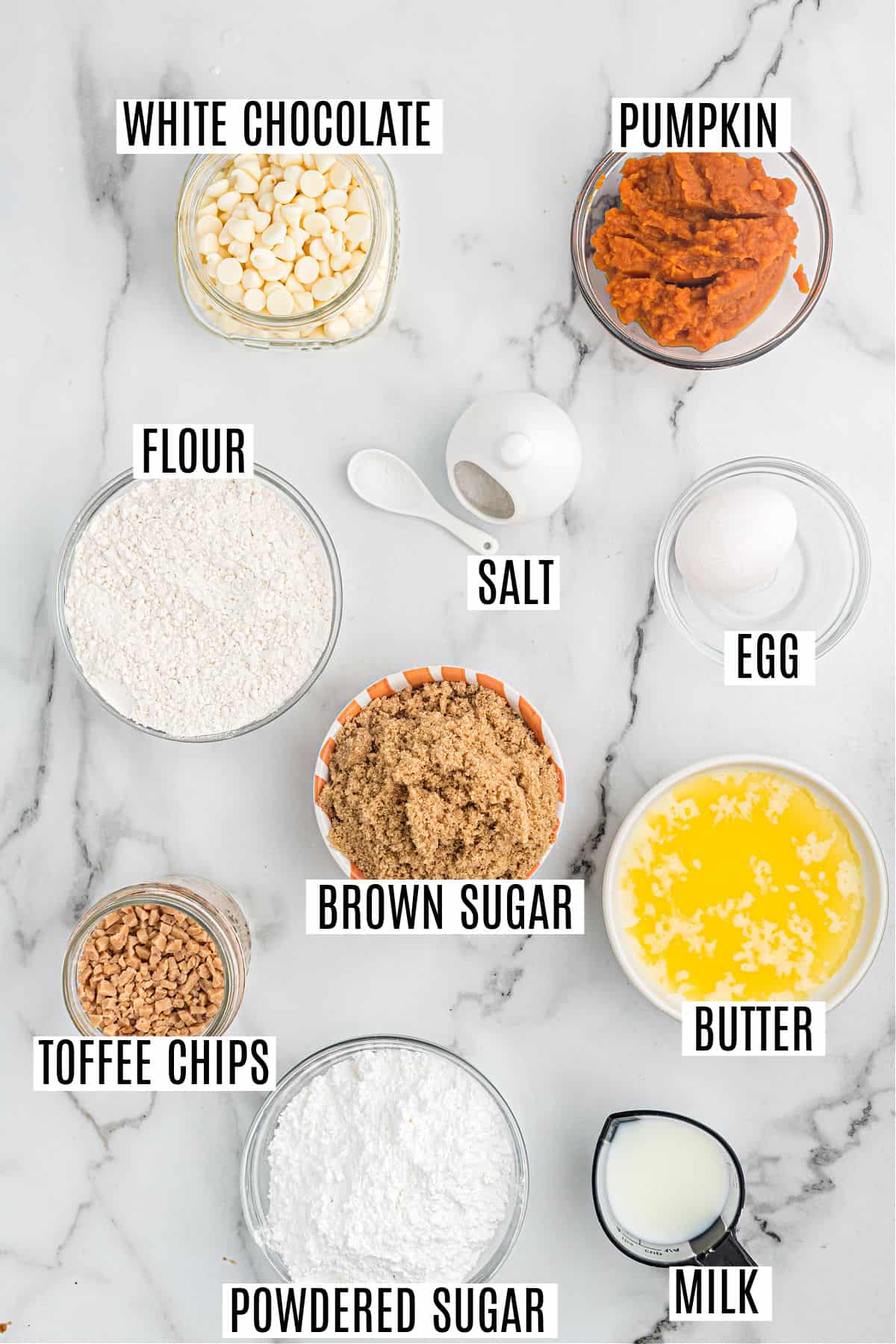 Light Brown Sugar – Using only brown sugar brings more of a caramel-like flavor and chewy texture to the blondies.
Pumpkin Puree – Adds a pleasing seasonal flavor that screams Fall! Be sure to buy 100% pumpkin puree instead of pumpkin pie filling, which has additional spices and sugar added.
Egg Yolk – Helps bind the ingredients together and adds a touch of extra richness.
White Chocolate Morsels– These add extra texture and delicious white chocolate flavor, melding perfectly with the brown sugar and pumpkin flavors.
Powdered Sugar – A powdered sugar glaze gives the blondies a gorgeous presentation and makes a base for the toffee sprinkles to stick to.
Toffee Bits – Toffee pieces are the finishing touch, adding a delicious crunch and even big flavor. Look for pre-cut toffee bits for ease of use.
Easy Instructions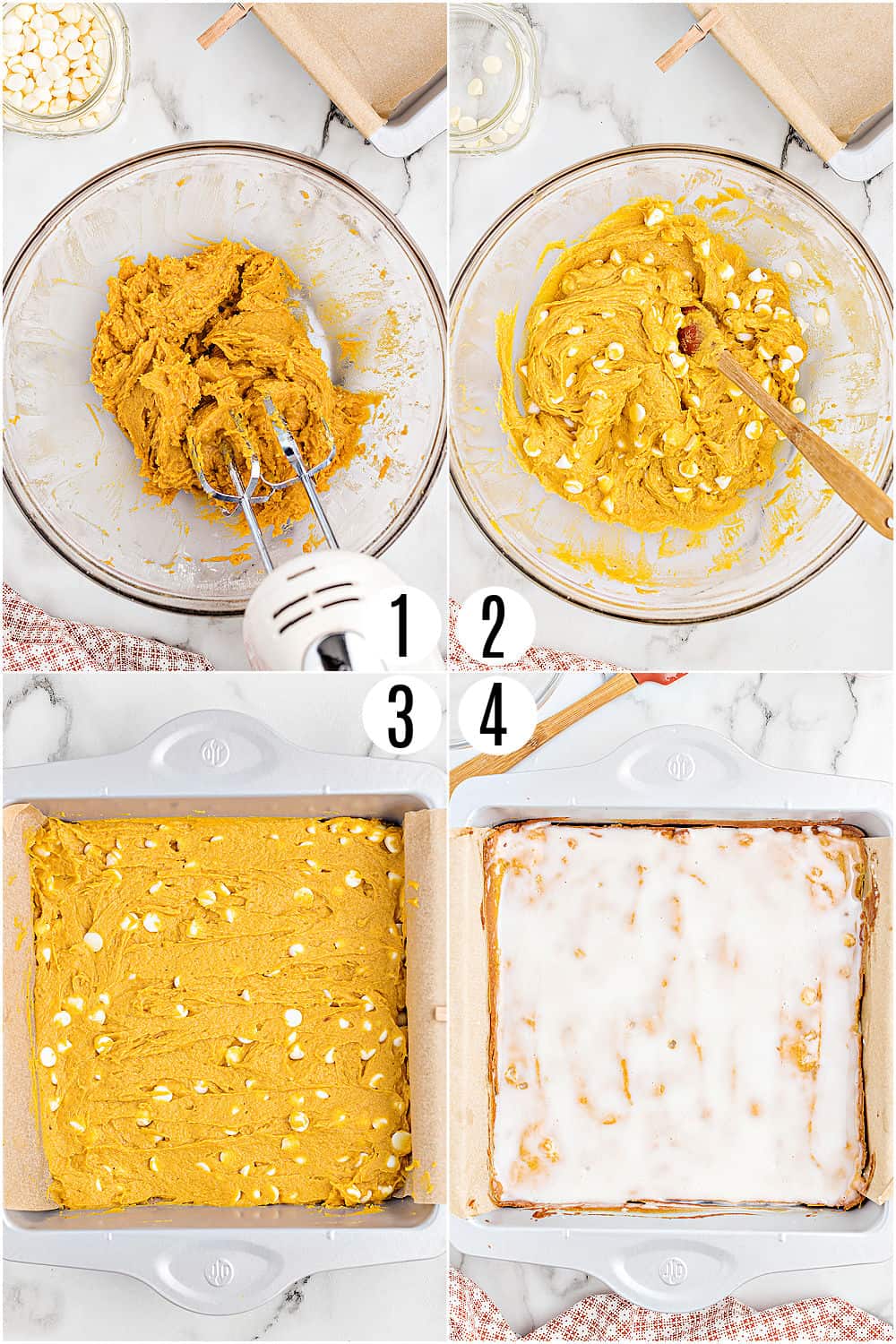 Melt your butter. Melting it creates an extra-rich texture and keeps the blondies deliciously dense.
Cream your melted butter with the sugar and pumpkin to ensure an extra-smooth texture and even distribution of pumpkin flavor.
Mix in one bowl and save some dishes! Fold in the white chocolate chips just before baking, so your batter doesn't get overmixed.
Pour your batter into a lined pan. No scooping required!
Bake until just golden on top.
Cool completely before glazing, then add the toffee bits before the glaze sets.
Refrigerate so your icing has time to set, then it's ready for slicing.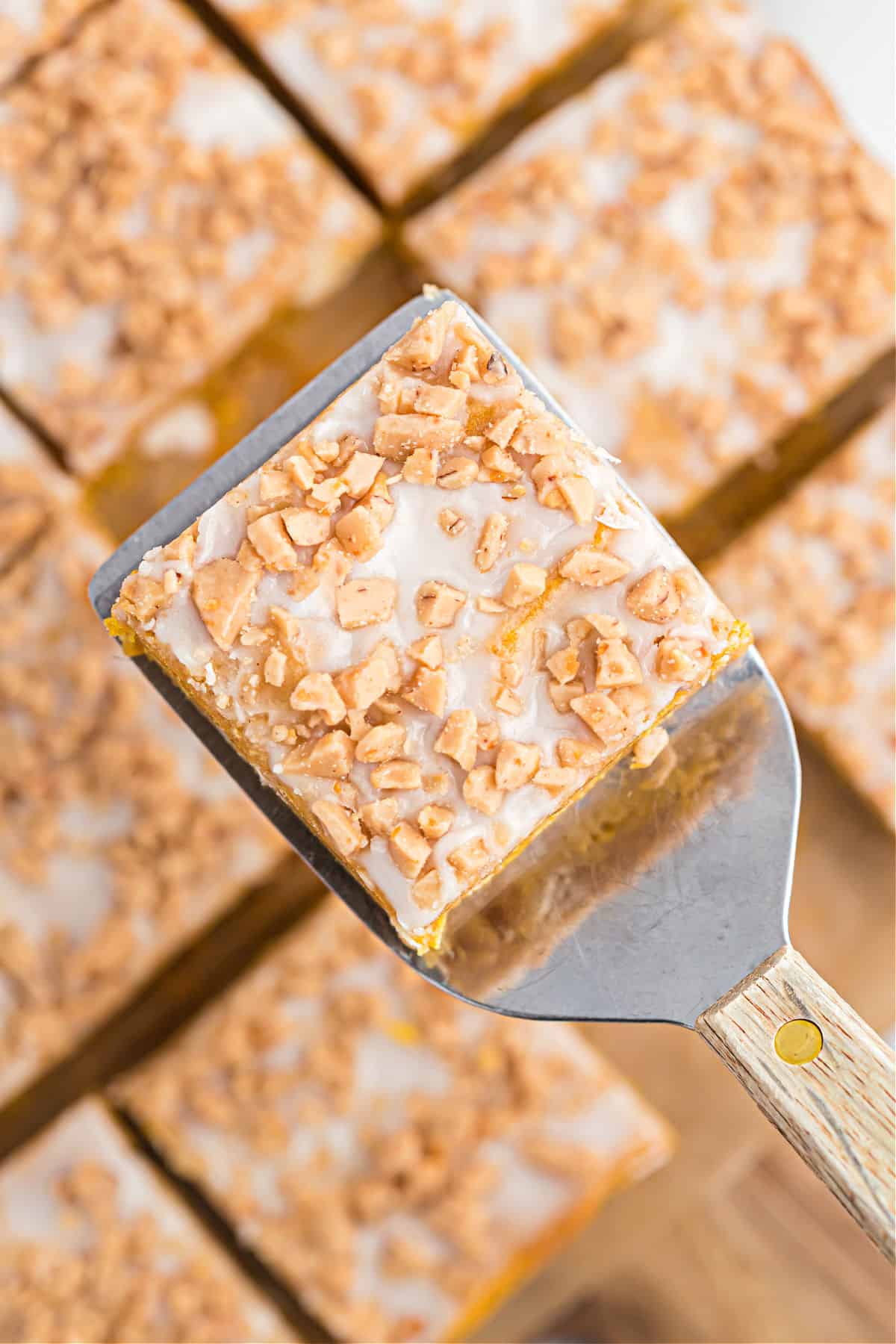 Tips and Tricks
Be sure to use pumpkin pureé, not pumpkin pie filling. Pie filling has extra spices added to it that will throw off the flavor balance of these blondies.
Pumpkin blondies are a perfect travel treat. Pack them in school lunches, take on a picnic, or travel on a plane with them.
They're also a great choice for mailing treats during the holidays. Wrap them individually and pack them in tins to send to family and friends.
Recipe FAQs
Can I freeze pumpkin blondies?
It's best to freeze blondies before adding the glaze. Once they're cool, wrap them individually or wrap up the whole "loaf" as one piece. Then freeze them inside another airtight container for best results. When you're ready to eat them, whip up a quick glaze and top with toffee bits.
How long will pumpkin blondies last?
If they're stored in an airtight container, these pumpkin blondies will last a full 7 days at room temperature.
Can I use regular chocolate chips instead of white chocolate?
Dark or milk chocolate chips can also work in this recipe, but they will change the flavor profile slightly.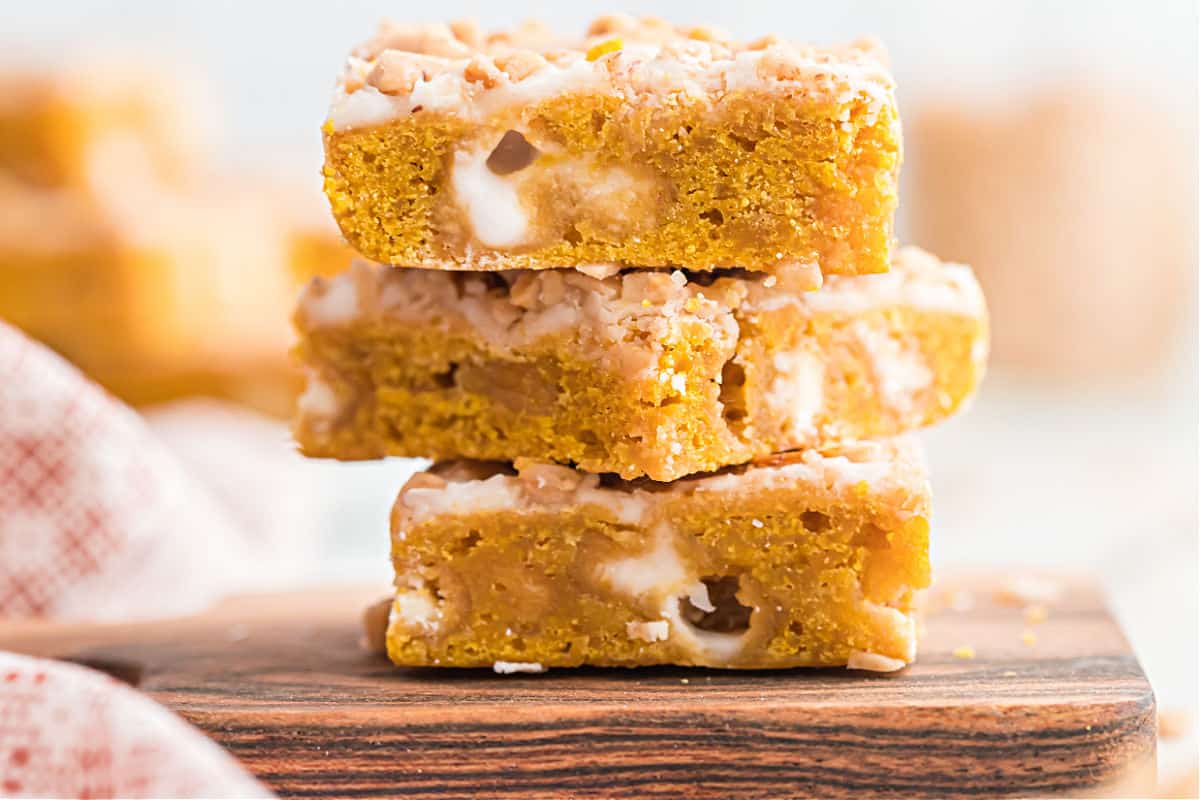 More Cookies and Bars