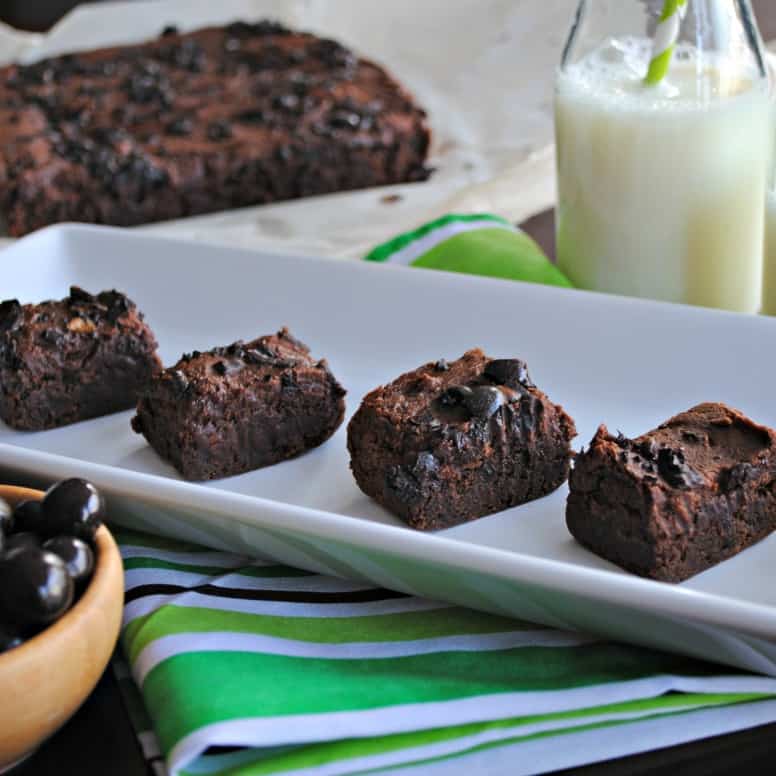 I have been wanting to make these brownies for over 4 years. The recipe comes from my Christmas with Southern Living 2007 cookbook (WHICH I LOVE). Sadly though, I never made them. I didn't have any espresso powder and it was one of those ingredients that I don't think to purchase. That all changed this week when I got a delivery from King Arthur Flour. One of the items in my package was Espresso Powder! My mind immediately went to these "Mudslide Brownies."
Problem number two, I didn't have the right alcohol. Geesh, since when do I not have the right alcohol in the house. Not a drop of vodka or coffee liqueur to be found! But I was determined to make them anyways. I found a bottle of Bailey's Irish Cream I had bought for the holidays and decided it would be a perfect substitute! Plus, with St.Patty's Day around the corner it seemed the Irish thing to do!
Oh ma gawsh. These are so rich. So flavorful. They will knock your socks off people! I happened to have a little jar of Trader Joe's chocolate covered espresso beans to go with these beauties too! Talk about a "pick me up!" You may want to keep them away from the children. For obvious reasons. Besides the fact that you won't want to share!
Yield: 16 bars
Boozy Brownies
Ingredients
For the Brownies:
4 oz unsweetened chocolate baking squares
1/2 cup butter
1 cup granulated sugar
1 cup brown sugar
3 eggs
2 tsp espresso powder (I used King Arthur flour brand)
2 Tbsp Bailey's Irish Cream
1 1/2 cup flour
1/2 tsp kosher salt
For the Frosting:
2 oz unsweetened chocolate baking squares
2 Tbsp butter
2 tsp espresso powder
3 Tbsp heavy cream
2 Tbsp Bailey's Irish Cream
2 1/2 cup powdered sugar
1/4 cup chocolate covered espresso beans, coarsely chopped
Instructions
For the brownies, melt baking chocolate with butter in a saucepan over low heat. Stir occasionally until completely melted. Remove from heat.
Pour chocolate into mixing bowl, add sugars. Stir well. Add in eggs, espresso powder and Bailey's. Add in flour and salt, stirring until blended.
Spread batter into a parchment paper lined 11x7 baking pan. Bake in a 325 degree oven for about 25-30 minutes, or until brownies appear set on top. Remove and cool completely.
For the frosting, melt baking squares with butter on low heat. Stir until completely melted. Transfer to large mixing bowl. Beat in espresso powder, heavy cream, Bailey's and powdered sugar. Beat for 2-3 minutes until completely combined. Add more cream if necessary to get desired consistency. Spread over cooled brownies and sprinkle immediately with chopped espresso beans. Refrigerate until set, about one hour. Cut and enjoy!