It's brownies and it's booze. Need I say more? These rich Boozy Brownies are spiked with Bailey's Irish Cream and topped with chocolate covered espresso beans for even more of a kick.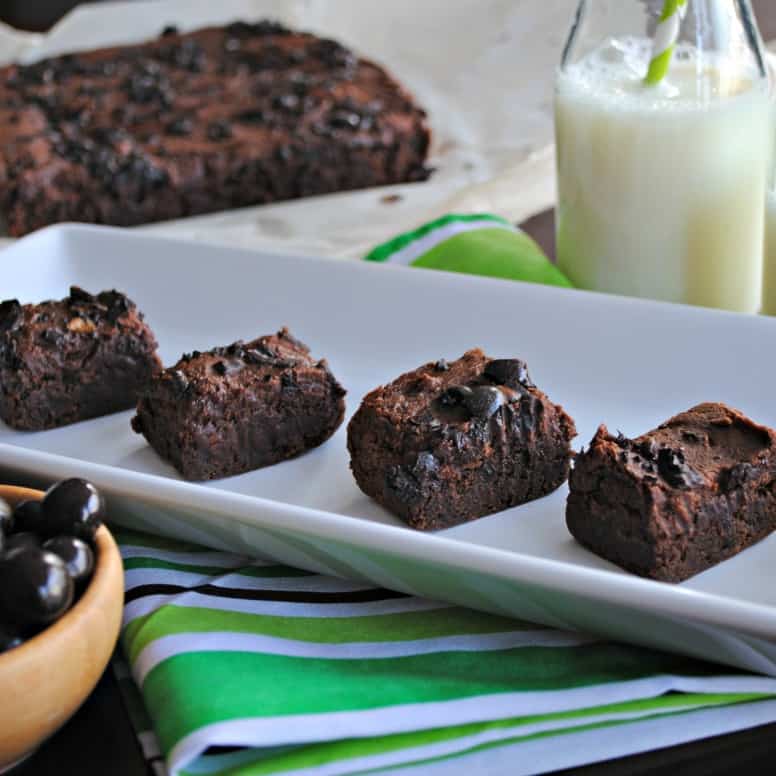 Oh ma gawsh. These are so rich. So flavorful. They will knock your socks off people!
You may want to keep them away from the kids for obvious reasons. Besides the fact that you won't want to share! These brownies are delicious on their own and are also the perfect canvas for building a warm brownie sundae.
Boozy Brownies
These brownies start with squares of unsweetened baking chocolate. I love the fudgey texture they give the finished brownie. There's nothing cakey about these treats.
You melt the chocolate with butter in a saucepan, then pour it into a mixing bowl and combine with sugar, egg and Bailey's. You'll also stir in a little espresso powder–this is my secret for adding an extra dimension to the chocolate flavor!
Plus, it's espresso. Hands down, always a good idea.
Add flour and salt to form a thick brownie batter. Pour the batter into a prepared brownie pan then bake until the tops are set. Let the brownies cool completely.
Meanwhile, make the Bailey's frosting!
Bailey's Irish Cream Frosting
As if the brownies themselves weren't rich enough, you take things up even further on the "heavenly desserts" scale by making an incredible spiked frosting to spread on top.
How to make the frosting:
Melt MORE unsweetened baking chocolate with butter. Beat with heavy cream, Bailey's more espresso powder and powdered sugar until a thick, smooth frosting.
You can add more cream if necessary to get the texture you prefer. More cream = thinner frosting and visa versa.
Spread the Bailey's frosting onto the cooled brownies. Sprinkle chocolate covered espresso beans on top if desired, slice and serve!
Bailey's Brownies
These brownies are an amazing combo of sweet and moist, with just the right balance of chocolate flavor and Bailey's taste. A great indulgence at the end of the day, these treats are best saved for after the kids are in bed!
You could always bring a pan of these brownies to your next dinner party and be everyone's new best friend. Pair these with a coffee (regular or Irish) for an after dinner delight that no one can resist.
Oh, and if you really want to make friends, you could scoop some ice cream and hot fudge on top. It's totally worth the sugar rush.
Substitutes
Un-boozy brownies: If you prefer a brownie without the boozy spin, you could substitute the Bailey's cream for heavy cream in both the brownie batter and the frosting.
Espresso powder: I like the King Arthur Flour espresso powder best in this recipe. If you can't find espresso powder, you could substitute instant coffee powder instead.
Toppings: The chocolate covered espresso beans are a finishing touch I really enjoy, but they are by no means necessary! You could serve these without any extra garnishes or sprinkle on a different topping like chopped nuts or chocolate chips.
Frosting: These taste good unfrosted but, as you have probably gathered, I'm a huge fan of the richness and moisture the icing adds. You could also substitute another favorite brownie frosting if you prefer!
Storing
You can keep these at room temperature in an airtight container for a couple of days, but I recommend chilling in the fridge for longer storage. They taste delicious cold!
I don't recommend freezing these brownies. The Irish cream doesn't hold up well to freezing and thawing and the texture will be affected.
Brownie Recipes
This is by far one of my new favorite brownie recipes, when I want something rich but a little different than the ones I share with my kids. The Irish cream is just enough to make this brownie feel festive!
After you make these, don't forget to try my Buttermilk Brownies to share with the rest of the family. You can never have too many brownies, right?
These life changing Boozy Brownies are a must try! Adults deserve brownies, too—especially brownies spiked with a hint of Bailey's cream.