It's easier than ever to get dessert on the table FAST with this Peach Dump Cake. Just five ingredients and a few minutes of prep time yield a delicious Dump Cake reminiscent of warm peach cobbler.
Love easy cake recipes? Our apple dump cake recipe is just 4 ingredients. Or give this rich chocolate cake a try next!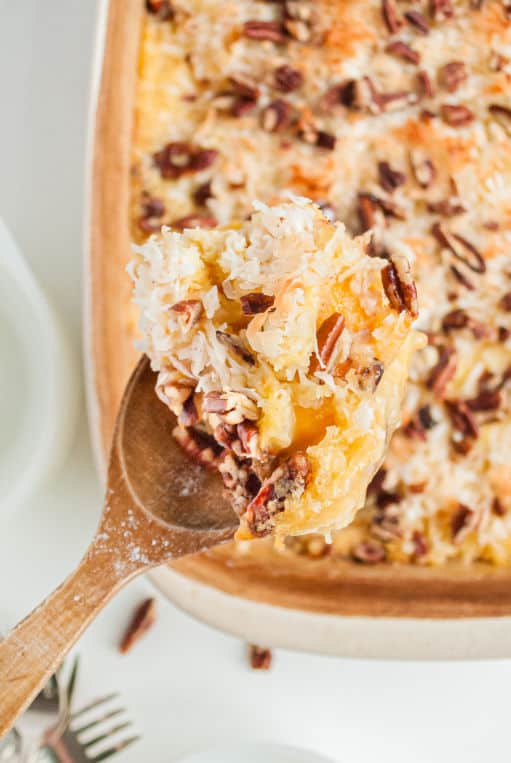 Why this recipe works
Do you ever get a little over zealous about your favorite foods? (I may be a little annoying talking about Rice Krispie Treats??)
Say, you try a new treat or recipe and it's just SO good that you can't help but tell everyone you know about it?
Until the point that all your friends and family have to kindly ask you to PLEASE stop telling them to make that amazing new cake recipe because they promise they'll get to it soon?
Yeah, that's how I feel about this Peach Dump Cake.
It's five ingredients, one dish and basically zero effort. And the cake is ridiculously delicious; like all the best parts of a peach cake and a peach cobbler put together.
If you're low on baking ingredients right now and are looking for a way to use that boxed cake mix that you've got on the shelf, look no further.
Open a couple of cans of peaches and you're ready to make an easy and tasty Dump Cake for dessert tonight.
Dump Cake
Why is it called 'Dump Cake'?
This is one of those cake varieties that's aptly named: you literally dump all the ingredients into one pan, bake and go. That's it!
As a baker who'd rather do just about anything than stand over a sink washing pots, pans and mixing bowls, the phrase "one dish recipe" is music to my ears.
Since this Peach Dump cake uses yellow cake mix and canned peaches, there's hardly any measuring involved either. Perfect for those busy days when you don't have much time to spend in the kitchen!
We enjoyed our Peach Dump Cake warm with a scoop of vanilla ice cream on top. Bliss.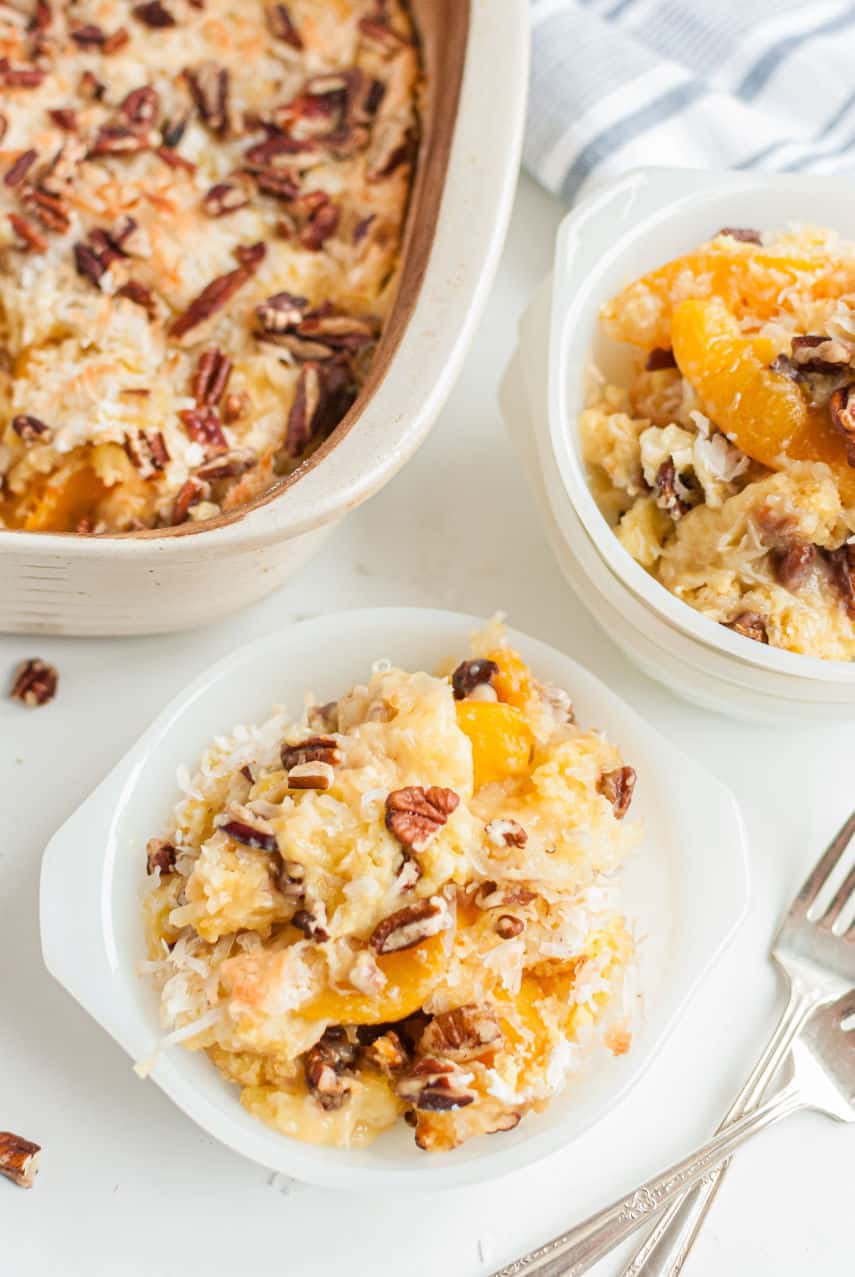 Peach Cobbler with Cake Mix
While it's a cake by name, this recipe could also be described as a hybrid of a peach crisp and a peach cobbler with cake mix.
After using yellow cake mix in Pumpkin Crunch Dump Cake in the fall, I decided to try a peach version.
I've heard of peach cobbler recipes using cake mix for a while, but I was so blown away by how great the final product tasted!
When you layer melted butter over the cake mix it "crumbs" just like the best cobblers as it bakes.
In this recipe, I added pecans and coconut for even more crunch and texture. My family all LOVED the combination of the flaked coconut with the juicy peach flavor. (You could totally leave out the coconut though!)
This Peach Cobbler Dump Cake is the best friend of busy bakers who don't have time or energy to worry about making dessert look pretty. Since you can serve the dump cake right of the pan, there's no fussing with turning it out, icing it or decorating it.
With so much else going on these days, I rarely have the patience or focus needed for some cake recipes so I'm thrilled to be able to make desserts that are as easy as they are tasty.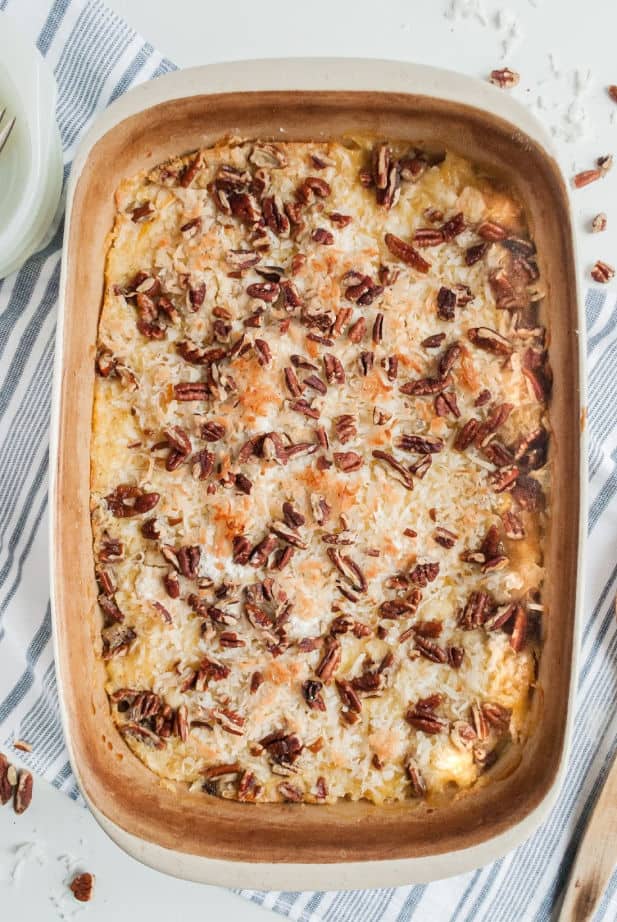 Ingredient Notes
This cake only takes 5 ingredients:
Yellow Cake Mix
Canned Peaches
Melted Butter
Chopped Pecans
Shredded Coconut
What kind of coconut to use in dump cake
My preferred type of coconut to use is sweetened and shredded. For a cake with a little less sugary sweetness, unsweetened shredded coconut would be a good choice.
What kind of peaches to use for dump cake
Use canned peaches in their own juice or syrup for this recipe! The syrup helps hold everything together in the cake. Fresh, frozen or drained peaches won't work the same way.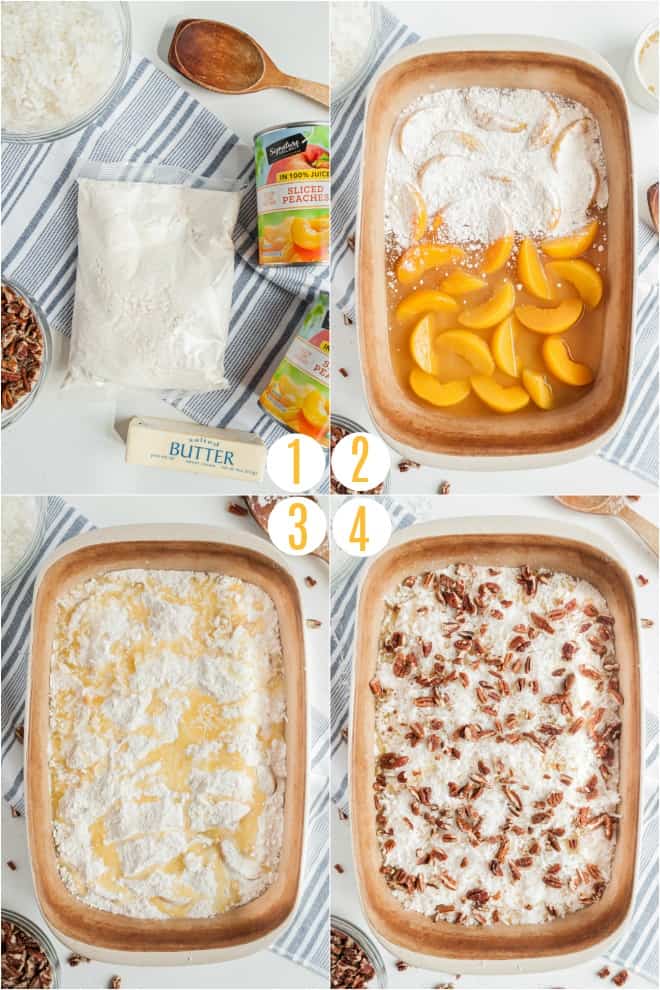 Step by Step Instructions
STEP 1. Pour both cans of peaches with juice into a 9×13 pan. Evenly arrange the peaches in the dish.
STEP 2. Sprinkle the yellow cake mix over the peaches. Melt butter and drizzle over the cake mix. (DO NOT STIR)
STEP 3. Sprinkle the coconut on top of the butter. Sprinkle the chopped pecans over the coconut. You can adjust the amounts of coconut and pecans to your liking or omit them altogether.
STEP 4. Bake at 350° F for 45 minutes or until hot and bubbly and coconut and pecans are slightly browned.
Let cool for a few minutes and serve while still warm.
Serving Suggestions
A scoop of vanilla ice cream on top made the peach cobbler with cake mix even better but we also loved the leftovers all by themselves. It would be divine with a dollop of homemade whipped cream, too!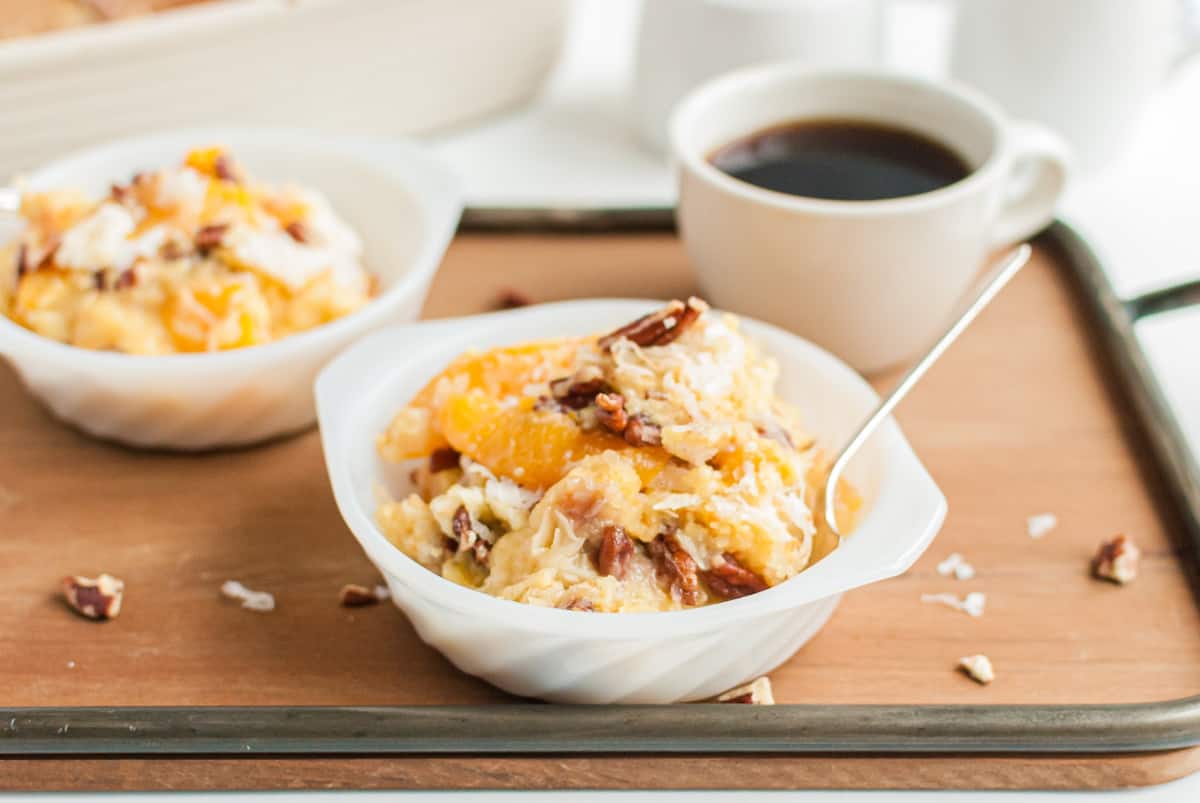 More Easy Desserts
One of the easiest desserts ever, Peach Dump Cake is full of juicy peach flavor, crunchy nuts and coconut. Just dump everything in a pan, bake and enjoy!