Homemade Peach Cobbler comes together in no time when you use the Instant Pot! With only four ingredients, this is the perfect easy dessert for any occasion. Don't forget the vanilla ice cream on top!
Love Peaches? Our Peach Hand Pie recipe is a huge hit, and just a handful of ingredients making them so easy to assemble and bake. Or give this delightful Peach Pie Bar recipe a try for dessert tonight!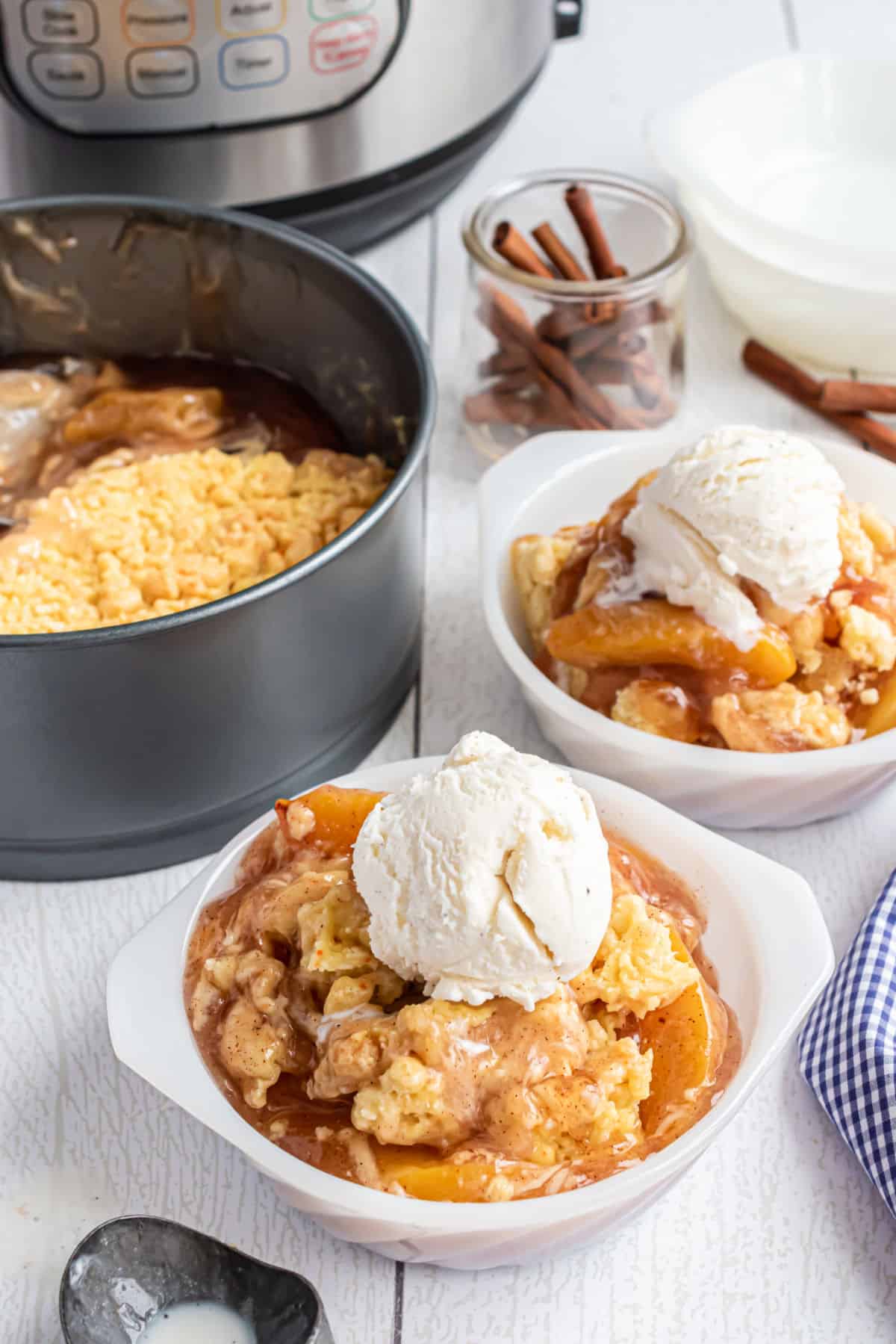 Why Use the Instant Pot
I love a fancy multi-step all day dessert project as much as the next baking addict, but sometimes you just need the simple goodness of Peach Cobbler.
Give me a bowl of juicy peach slices baked in a buttery cobbler with a dollop of homemade whipped cream or vanilla ice cream on top and I'm in heaven. It's quick enough to make Peach Cobbler in the oven the old fashioned way, so why use the Instant Pot instead?
There are so many reasons!
It's FAST. Most Instant Pot desserts take less time than their oven baked versions, this Peach Cobbler included.
No oven needed. Ideal for hot summer days when you want a baked dessert but don't want to turn your kitchen into the surface of the sun, or when your oven is already occupied by another dish.
It's delicious! Instant Pot Peach Cobbler has the perfect balance of buttery crumb topping and fruity flavor from the peaches!
After discovering the wonders of Instant Pot Cherry Cobbler, I knew I needed to give the peach version a try–and I'm so glad I did.
Don't forget to give our peach sheet cake recipe a try next!
Ingredient Notes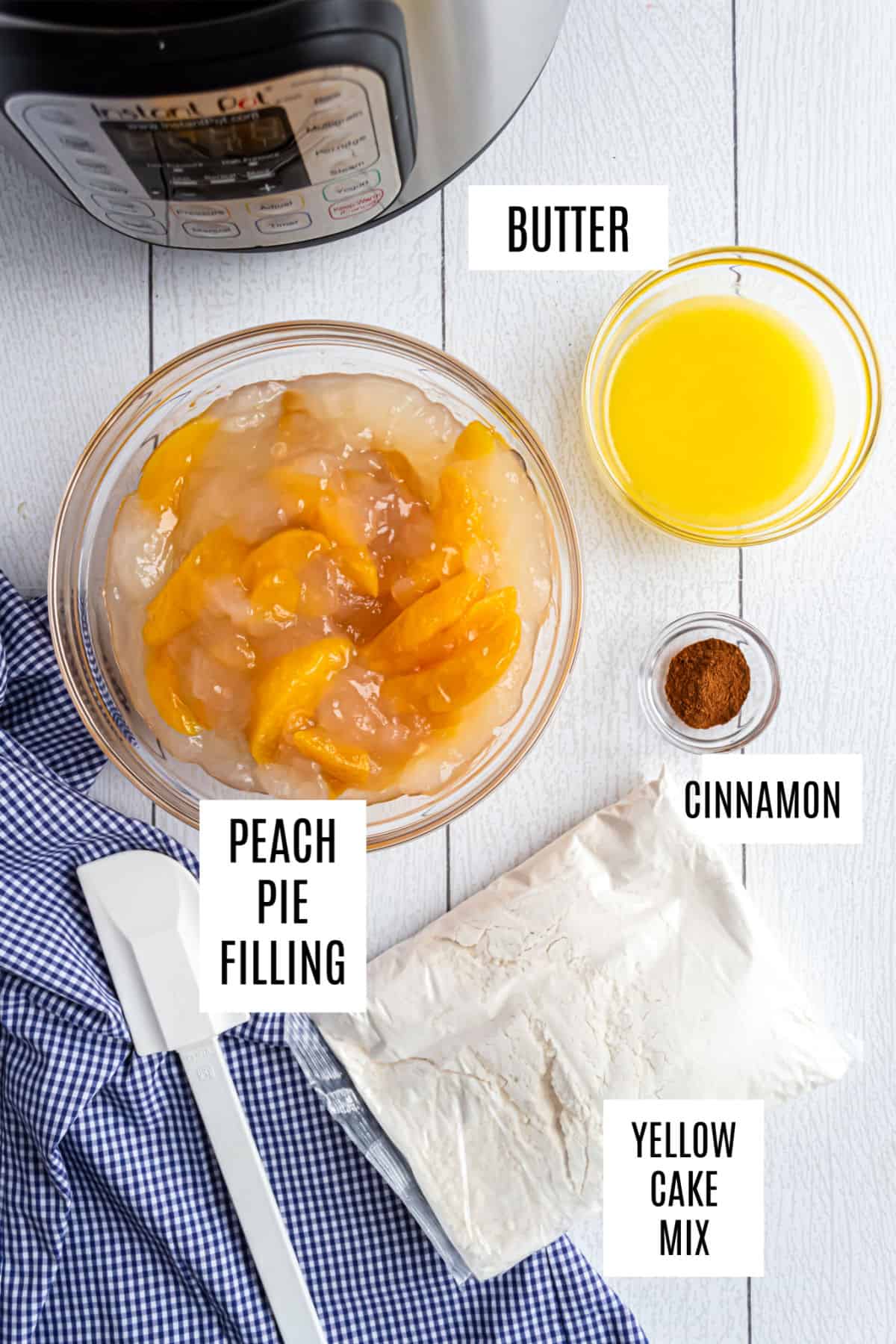 You only need FOUR ingredients (not counting the water in the Instant Pot) for this peach cobbler recipe!
Peach Pie Filling
Yellow Cake Mix
Butter
Cinnamon
It couldn't be any simpler!
FAVORITE PEACH DESSERTS: Peach Galette | Peach Dumplings
Easy Instructions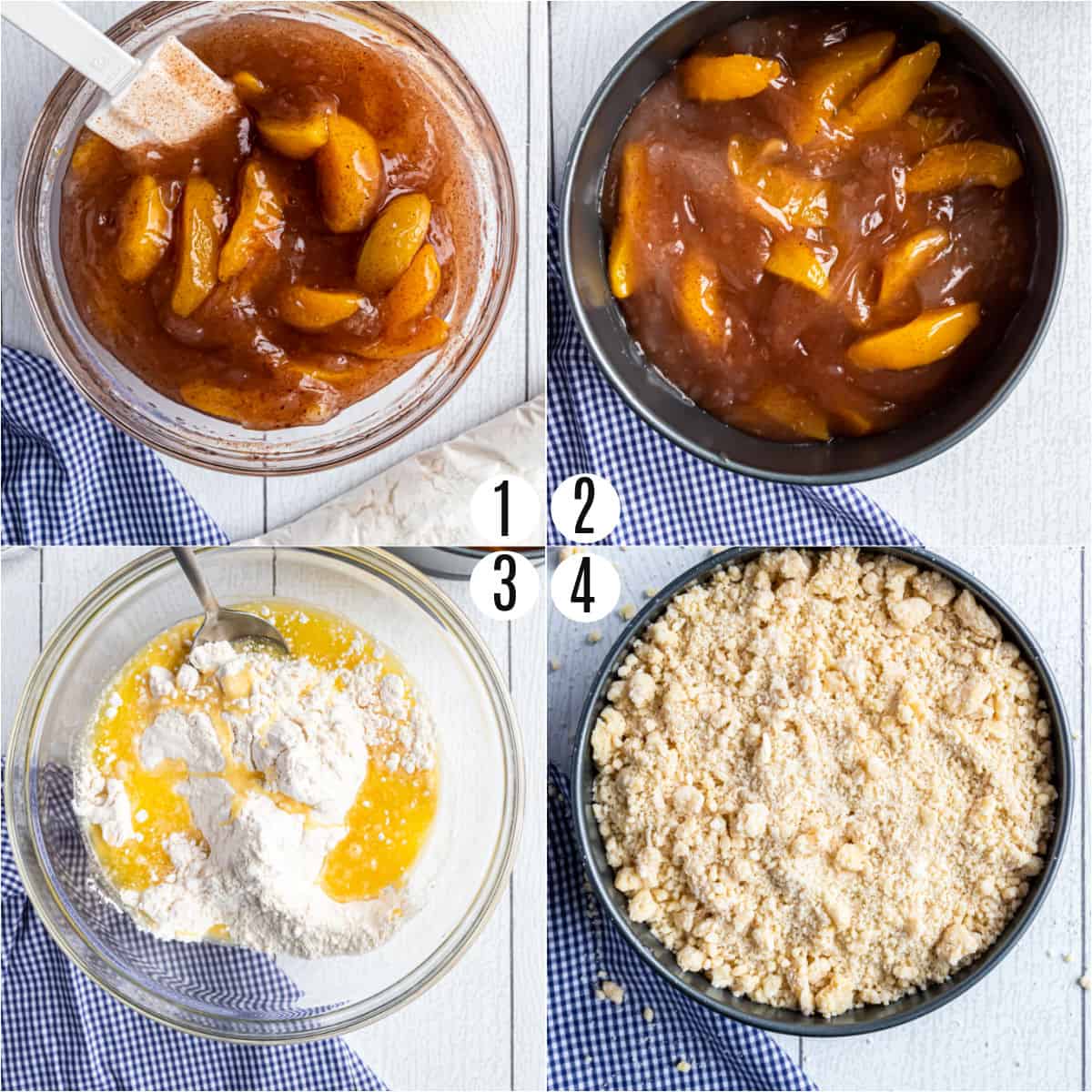 To prepare the cobbler: Mix together the peach filling and cinnamon. Pour it into the bottom of a springform pan. (you could also just mix it together in the pan so as not to dirty another dish)
Combine the cake mix and butter. It should resemble coarse crumbs when properly combined. Sprinkle this crumbly mixture over the peach filling, then cover to top of the pan with foil.
To pressure cook: Fill the bottom of your Instant Pot with water and lower the springform pan into the pot using a trivet and sling. Seal and cook on high pressure for 25 minutes.
Release the pressure, remove the pan from the pot and let the peach cobbler cool for at least 30 minutes before serving.
To serve: Scoop into bowls and top with whipped cream or vanilla ice cream, if desired!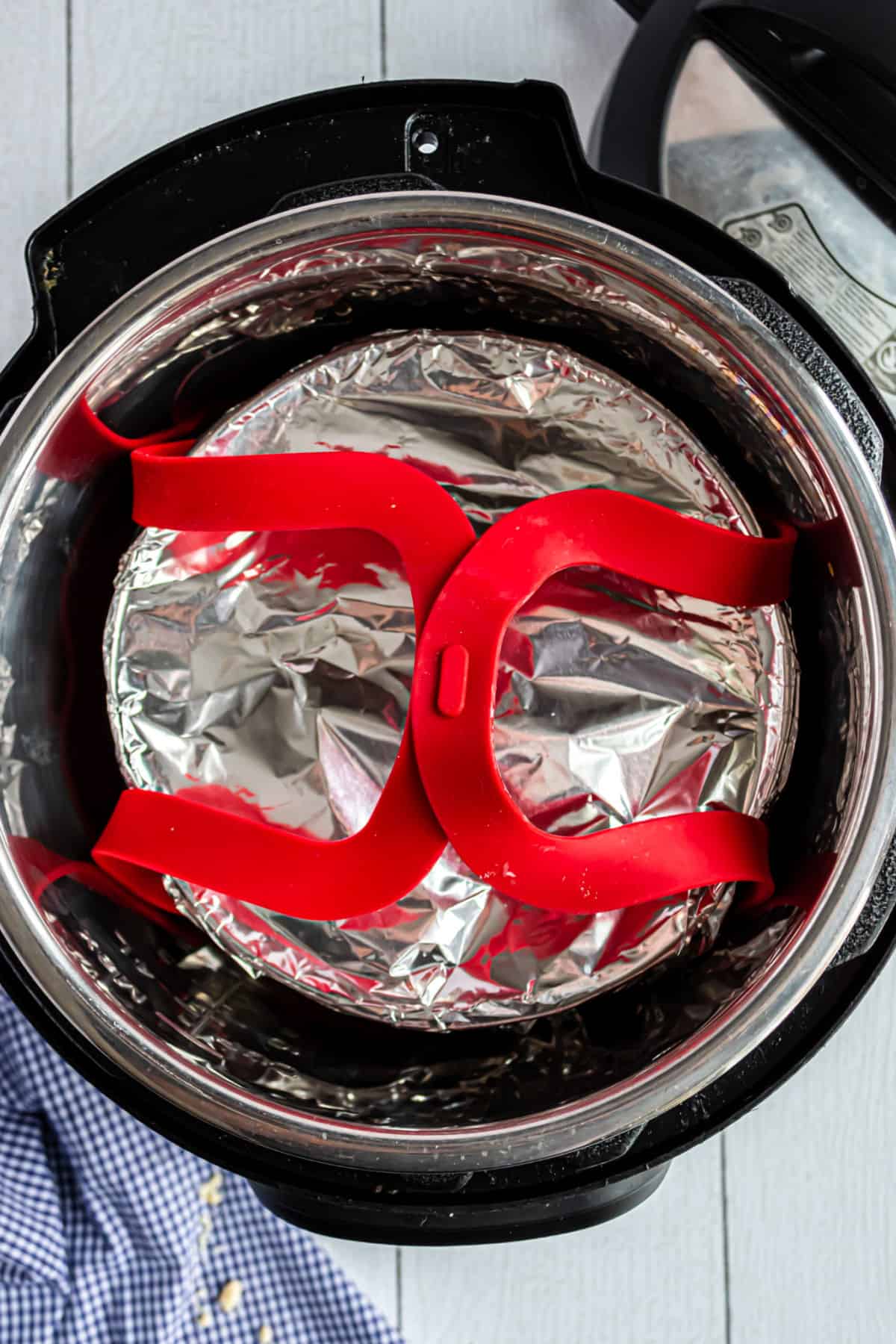 Tips and Tricks
Substitutions – Swap the yellow cake mix for a spice cake mix or white cake mix for a delicious twist!
Add nuts – Love some crunch in your cobbler? Sliced almonds or chopped pecans make a wonderful addition to this recipe. Sprinkle them on top with the cake mix!
Plan ahead. The Instant Pot needs to come to pressure before it pressure cooks the cobbler. Leave 10 – 15 minutes in your prep time for this step.
Springform Pan. I use this 7-inch Springform Pan. It fits nicely in the 6qt Instant Pot.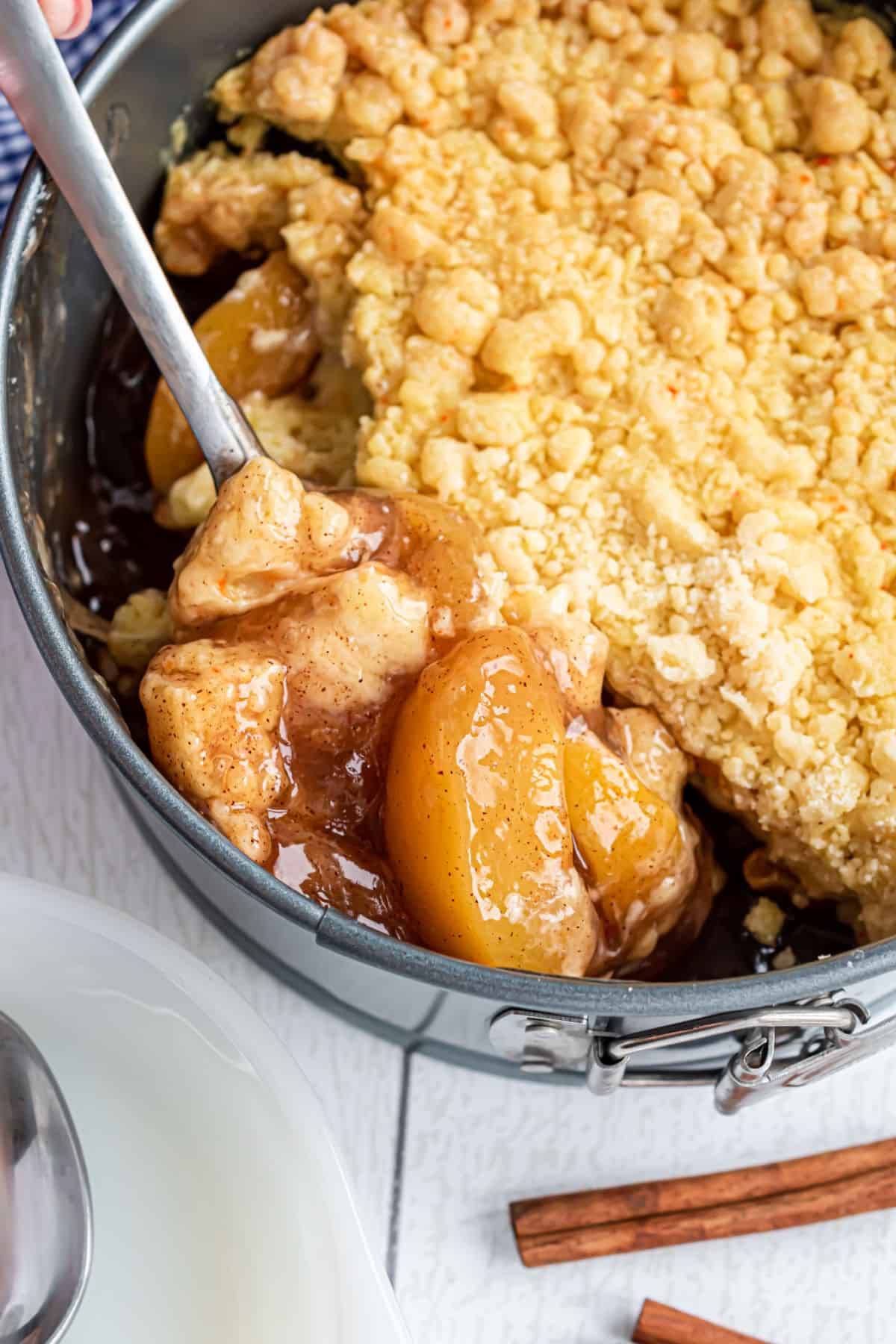 Recipe FAQs
Can I use homemade peach pie filling instead of canned for cobbler?
Yes, you can use homemade peach pie filling in this peach cobbler recipe instead. I happen to love the taste and convenience of store bought filling when I'm in a rush!
Would this recipe work with a different pie filling?
Yes, this recipe also works with cherry, blueberry or apple pie filling. I'd leave out the cinnamon if using cherry or blueberry instead. See my Cherry Cobbler recipe and this Instant Pot Apple Cobbler for more tips!
What's the difference between cobbler and crumble?
The difference between cobbler and crumble is in the topping. Cobblers are topped with a crumb made from pie crust or cake-like batter (or sometimes biscuits) while crumbles and crisps have an oatmeal based topping sprinkled over the fruit.
Both kinds of fruit desserts are family favorites!
What size Instant Pot do I need?
I tested this recipe in a 6 quart Instant Pot.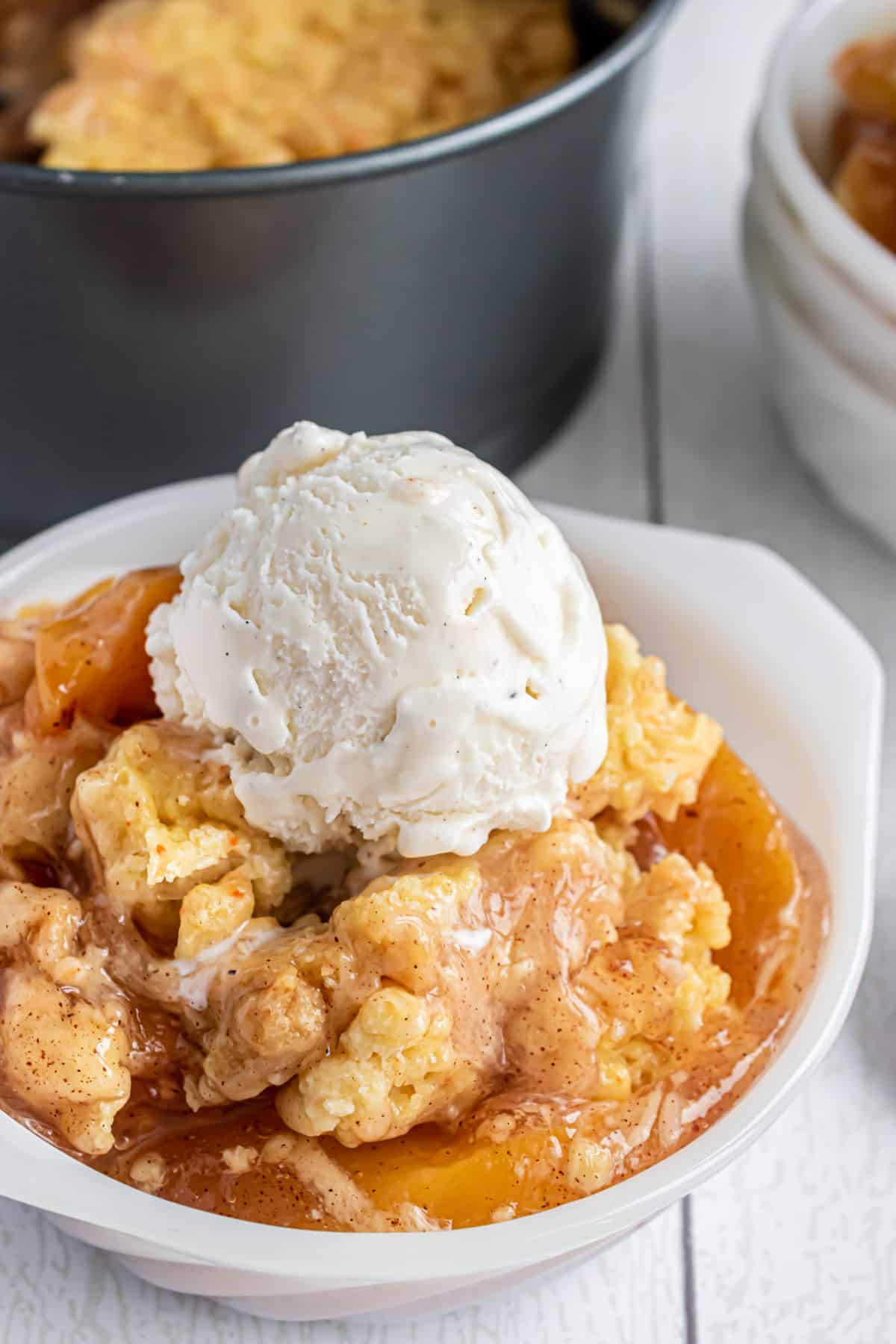 Mouthwatering peaches with a hint of cinnamon make this Instant Pot Peach Cobbler absolute perfection. You'll love this easy no-fail dessert recipe!