If you love peaches, this deliciously easy Peach Pie Bars recipe is just for you! All the taste you love in peach desserts, no pie crust baking skills needed.
Love peaches? Be sure to try this crazy easy Instant Pot Peach Cobbler recipe. Only 4 ingredients! Or this delicious Peach Dumplings recipe topped with ice cream.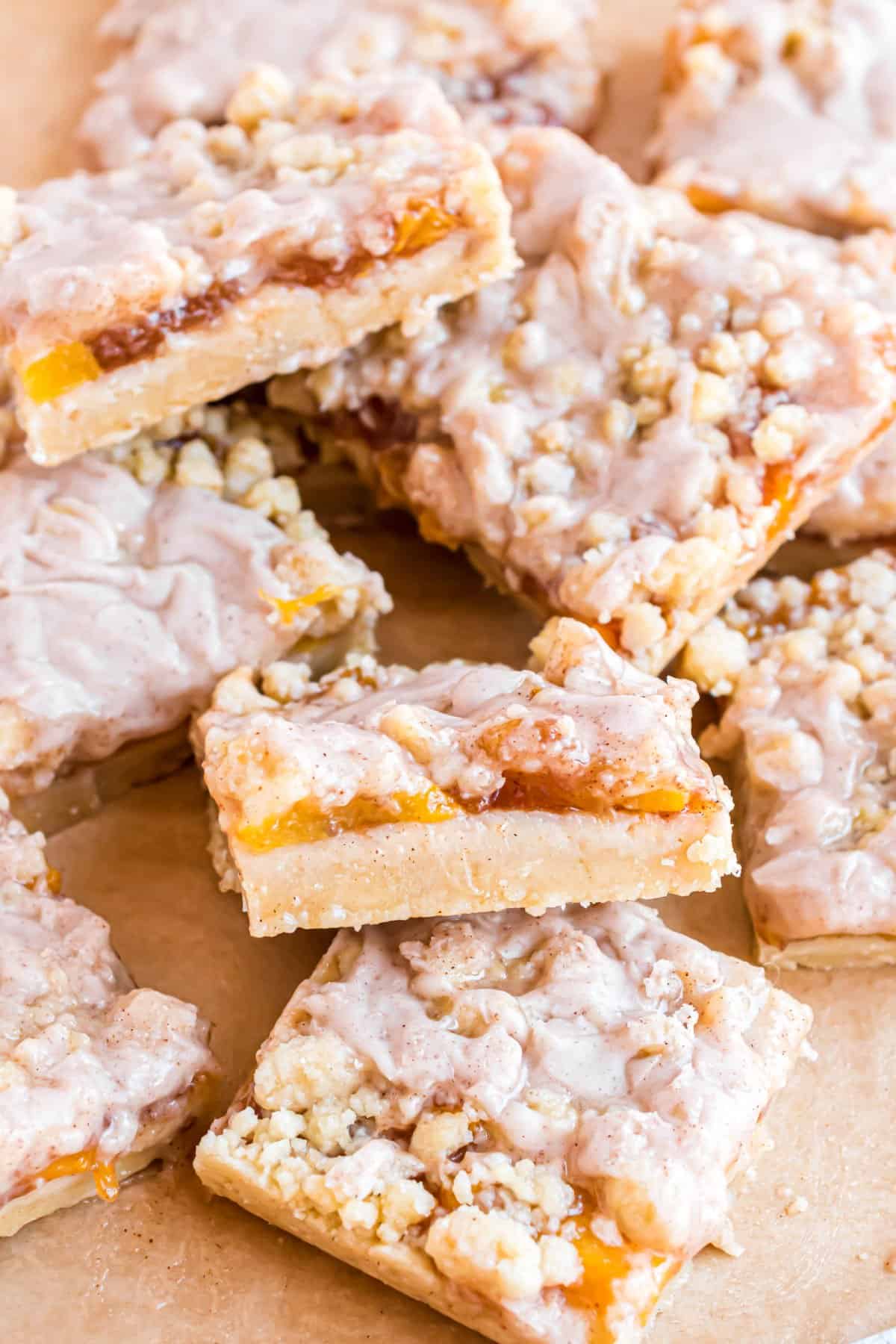 Why this Recipe Works
This recipe for Peach Pie Bars is not what it sounds like at first glance. You're not just making a peach pie in a rectangular baking sheet and cutting them into bar form. That would be my apple slab pie.
While that would be tasty, you'd still be going through all the work involved in making a pie crust.
Here, you make a dough that tastes like shortbread cookies but requires zero rolling, folding or trimming. A can of peach pie filling goes on top before baking, then you sprinkle more dough on top (like you would a dutch apple pie).
The result is a delicious peach bar you can eat with your hands!
These bars are so easy to transport and serve, so you can share with friends.
Drizzled with a dreamy cinnamon glaze.
Today's recipe was created using our favorite Strawberry Steusel Bars recipe!
Looking for pie? Check out all our pie recipes and let us know your favorite! Our blueberry slab pie is incredible and would make my grandma so happy!
Ingredient Notes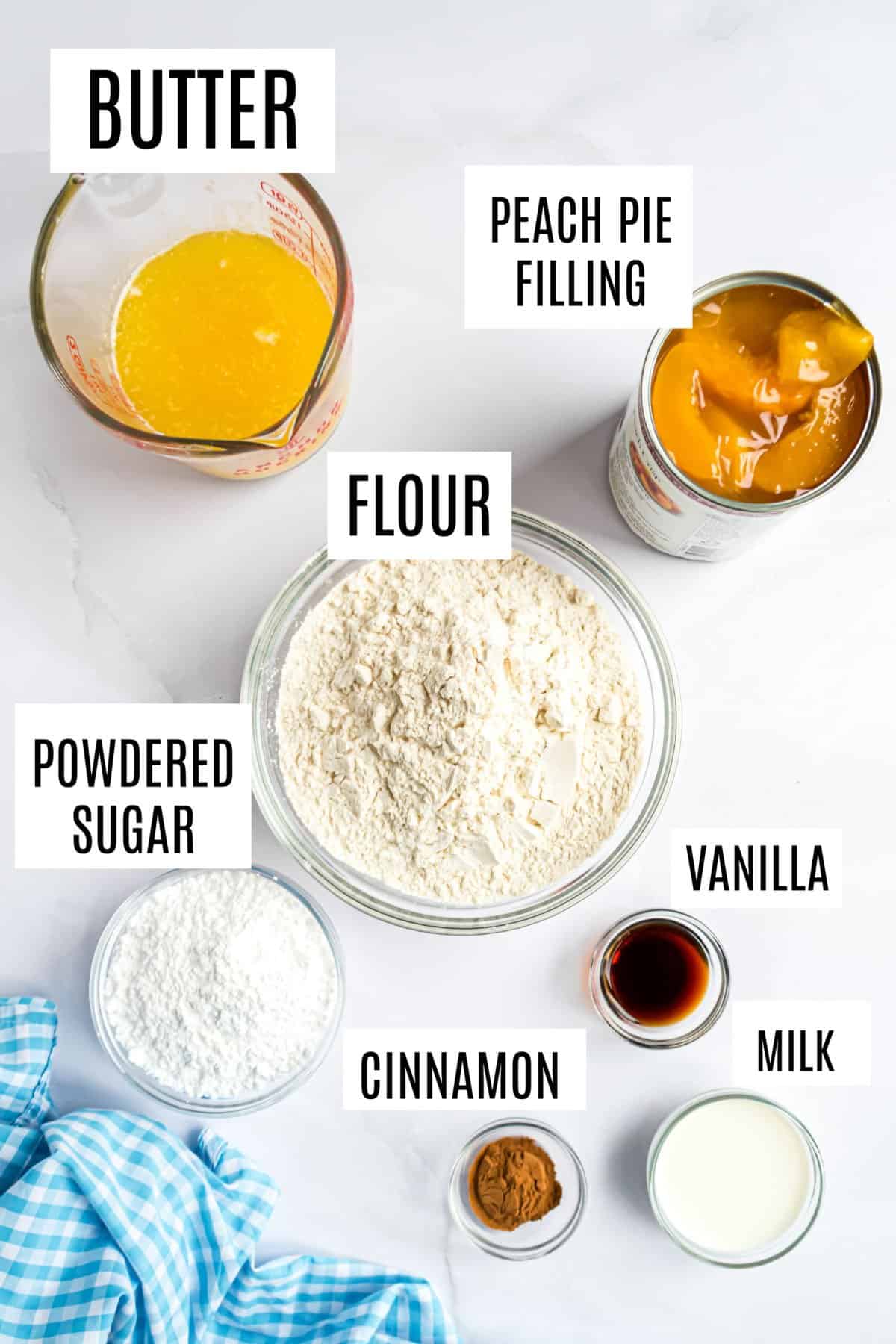 To keep this dessert super easy, I used a can of peach pie filling (just like I did in our peach hand pies). The peach flavor is sweet and juicy without the work of making your own from scratch.
If you have another favorite peach pie filling or want to sub a homemade filling, be my guest!
Try other favorite pie fillings to make this recipe into different flavored pie bars. Apple pie filling, cherry pie filling or blueberry would all work beautifully!
Butter- we use unsalted butter in most of our baking. It helps us control the flavor better.
Powdered sugar- used to sweeten the cookie crumble, without affecting the texture. Results in a melt-in-your-mouth cookie. The extra powdered sugar is used to create the delicious cinnamon icing on top.
Vanilla Extract- always use real vanilla, or try making our homemade vanilla extract.
Step by Step Instructions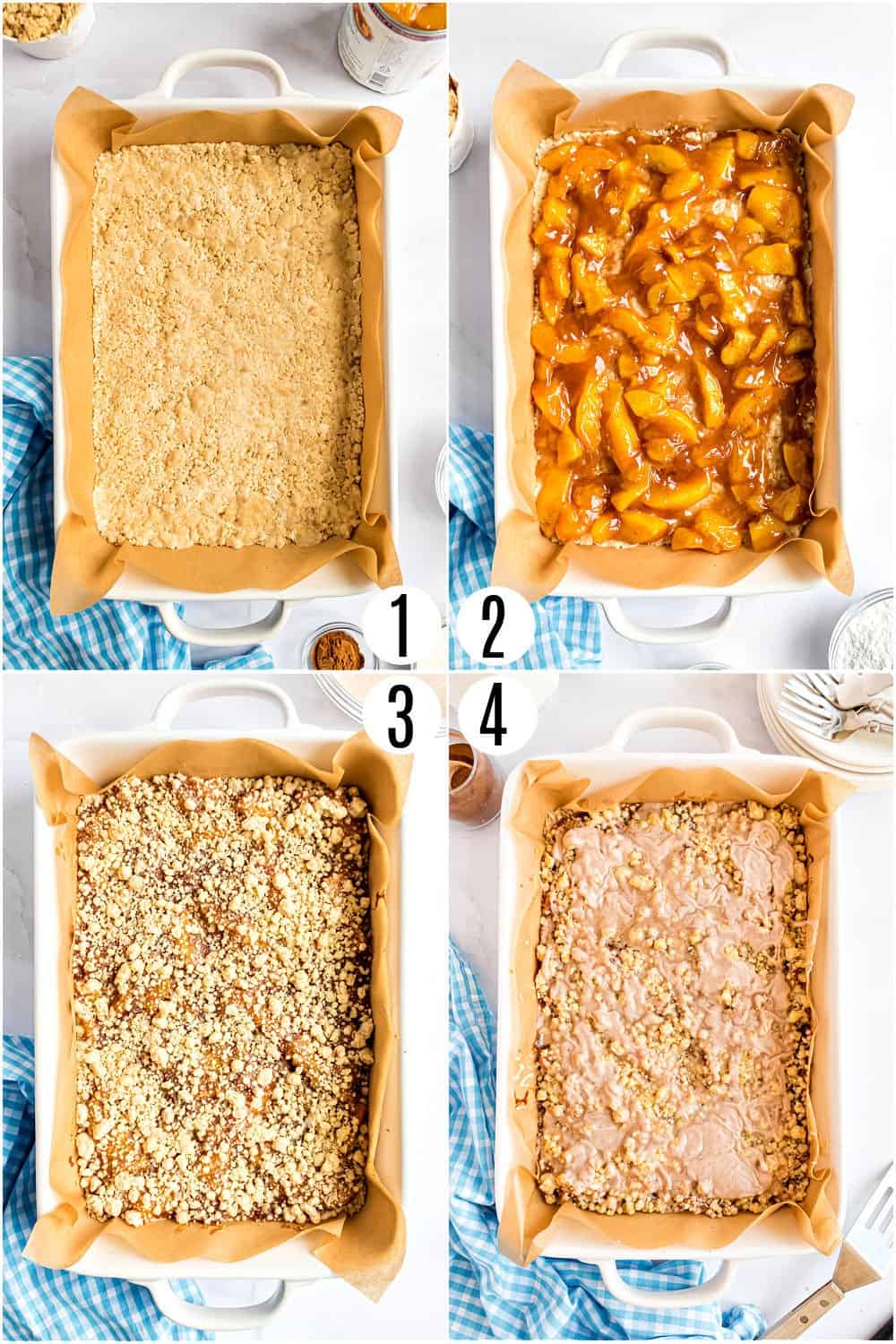 Prepare the crust. Make the shortbread crust, pressing all but one cup of the crumbs into the bottom of a 13×9 baking dish.
Top with filling. We combined the can of peach pie filling with cinnamon, then spread it over the crust.
Add the crumble. Sprinkle the reserved cup of crumbs over the top of the peach pie bars.
Bake and Drizzle. Bake the bars until lightly browned. While cooling, whip up a glaze and drizzle over the warm bars. For best flavor, enjoy chilled!
How to Serve
On their own, these bars can be eaten with your hands but I especially love them served on a plate or in a bowl with a giant scoop of vanilla bean ice cream. Or make our easy no churn ice cream.
Can you really go wrong with peaches and ice cream?
Fresh whipped cream tastes amazing on Peach Pie Bars, too.
More Tips
Storing: Leftover bars should be stored covered in the refrigerator. They taste wonderful cold or you can let them come to room temperature before serving.
Glaze: Start with just a tablespoon of the milk then add a little more at a time until you get the glaze to the consistency you prefer. If you want a super thin glaze, you might need more than the amount of milk listed in the recipe.
Pan: We line our 13×9 dish with parchment paper. Once the bars are chilled, lift the parchment paper out of the dish and cut the bars.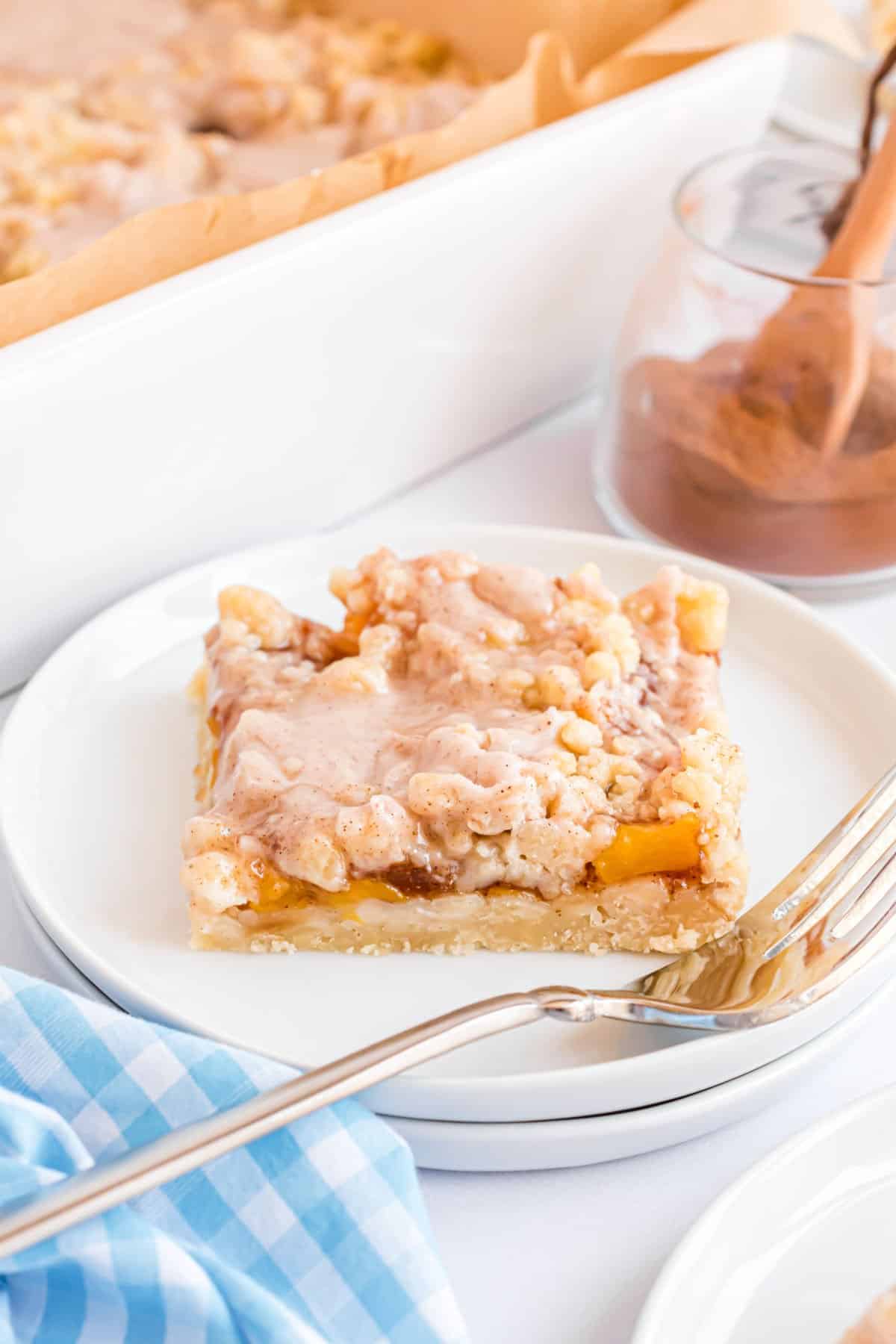 Peach Bar FAQs
Can I use fresh peaches?
While we didn't use fresh peaches to create today's peach bars, if you have a recipe using fresh peaches to make pie filling, feel free to substitute here. We wanted these bars to be delicious AND easy.
Can you freeze peach bars?
Absolutely. Freeze peach bars after baking and cooling. They can be frozen with or without the glaze. Store in airtight container in the freeze for up to 60 days. Thaw in refrigerator overnight.
No pie crust skills? No problem. Thanks to these easy to make Peach Pie Bars you don't have to miss out on the great taste of homemade peach pie.