Homemade pastry made easy! Juicy strawberry preserves and marmalade layered into a shortbread crust make these Strawberry Streusel Bars one of the tastiest treats to come out of my kitchen.
Love this recipe? Be sure to give our Jam Thumbprint Cookies a try next! You'll love that melt in your mouth texture, similar to shortbread cookies.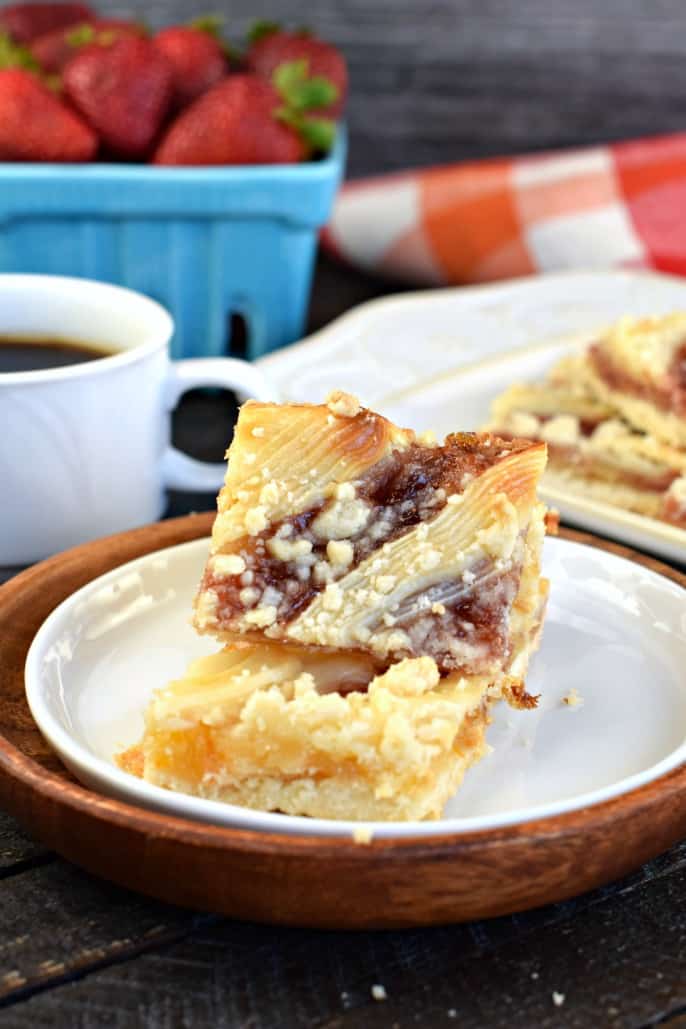 Why these Bars are Best
Strawberries taste like summer to me. Ripe red berries glistening in the sun immediately make me think of all the delicious baked goods I'm going to make with them!
I love strawberry flavor in just about everything.
Strawberry Shortcake Bars, Strawberry Almond Cake and even Fresh Strawberry Moscow Mules on a warm summer evening–I enjoy it all.
These Strawberry bars have an incredibly buttery streusel crumb as the crust.
Even though they look and taste like something from a high end bakery, they're ultra simple to make and don't require any special skill or pastry expertise!
Berry Crumb Bars
I used a combination of strawberry jam and orange marmalade to make these bars, but any flavor of preserves you like will work as well.
The strawberry flavor is amazing here but it would also be good with raspberry, blackberry or blueberry jam.
The citrus on the orange marmalade bars brightens up the flavor while the almond paste gives the filling thick texture that helps it stick to the streusel crust.
Note: Almond paste is NOT the same as almond meal. Be sure to use paste, which combines the ground almonds with sugar.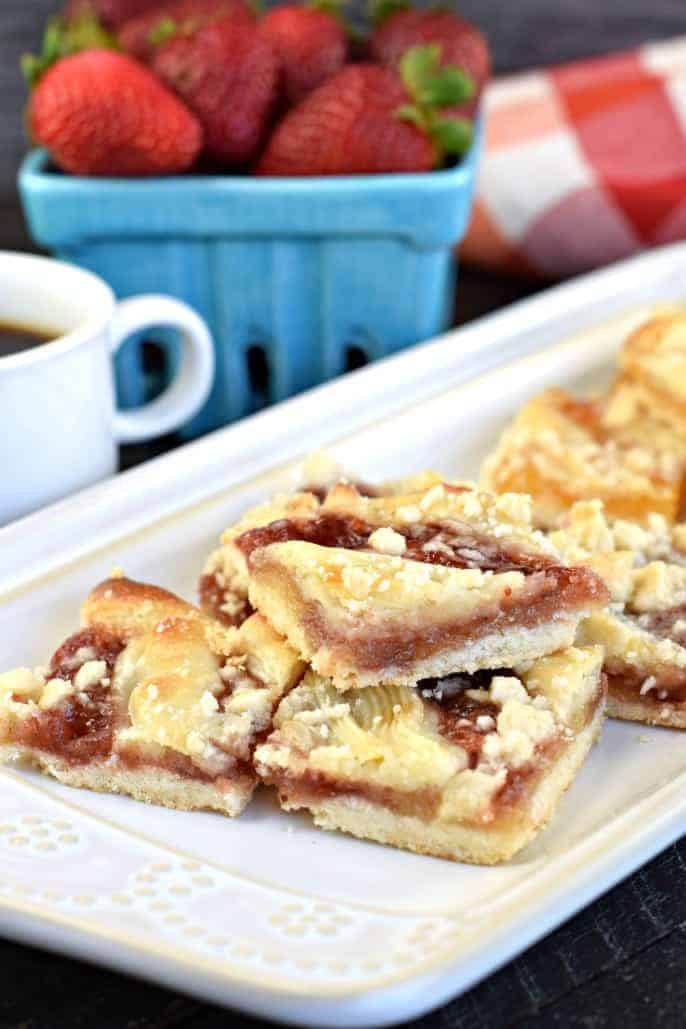 Strawberry Shortbread Bars
If you like shortbread, these bars are for you! The shortbread crust is easy to make with only three ingredients:
Butter
Flour
Powdered sugar
That's it! If you love homemade Streusel but hate messing with pastry crusts, you're going to be so happy with this recipe.
If these sound delicious, try our strawberry pie bars next.
How to make the streusel crust:
After melting the butter, combine it with the flour and powdered sugar and mix until crumbly. Set aside 1/3 of the crust mixture to use later.
Press the remaining crust into the bottom of a rectangular baking dish, then proceed to add the filling.
How to make berry crumb bar filling
Carefully spread almond paste onto the dough using a butter knife or back or a spoon. Spread strawberry preserves on half of the crust, and orange marmalade over the over half.
Next, make the topping! This sweet cream cheese blend adds the best ever finishing touch to a fruit bar.
How to make the topping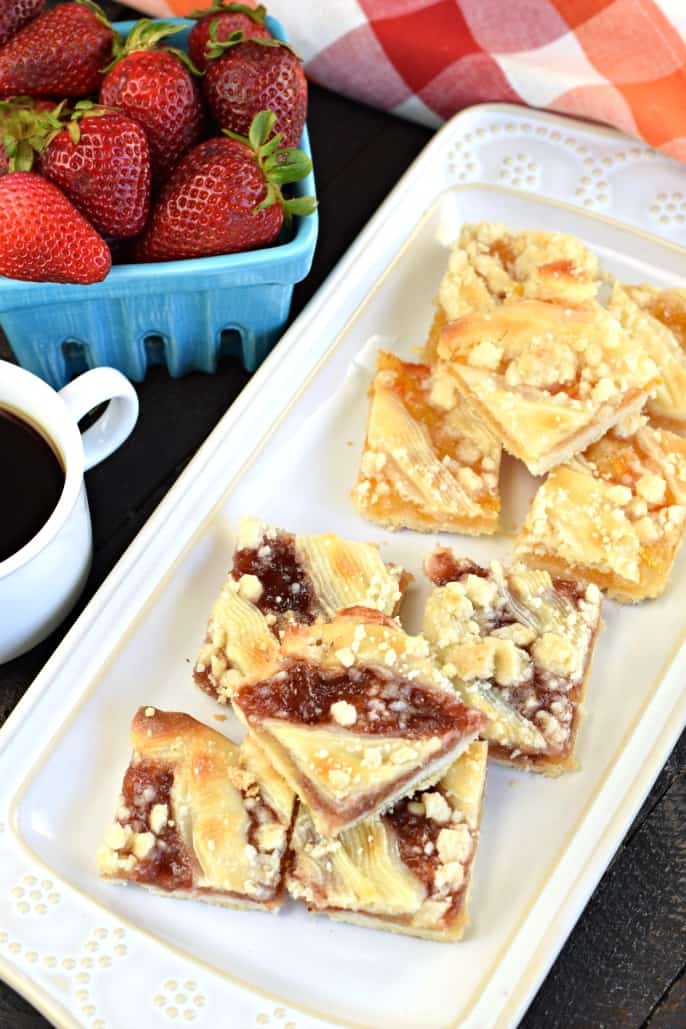 In a mixer, beat cream cheese with powdered sugar, and vanilla extract. Once smooth, spoon into a pastry bag. (I used a size 48 pastry bag tip, but any size will do here!)
Pipe diagonal lines onto the top of the strawberry and marmalade filling. Sprinkle with reserved crust mixture.
Bake these Strawberry Shortbread Bars for 30 minutes in a 350 F oven. Remove and let the bars cool completely before slicing into squares and serving.
They smell amazing while they're baking and taste even better.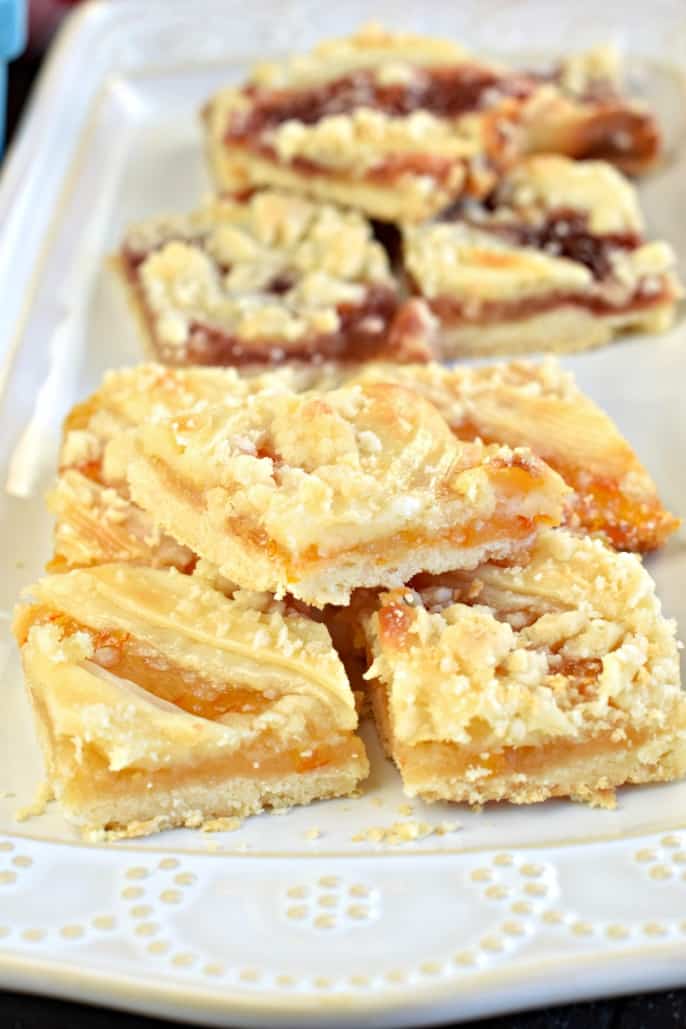 Freezing Berry Crumb Bars
These bars keep beautifully in the freezer, too. Make a couple of batches on a weekend and pop them in the freezer to have a delicious homemade pastry at a minute's notice.
To freeze: Place the bars on a cookie sheet in the freezer for 30 minutes or until frozen solid. Transfer the frozen bars to a ziploc bag and seal tightly.
Allow the bars to thaw in the refrigerator before enjoying.
How to Serve
I served these Strawberry Streusel Bars for a lunchtime dessert on an early spring day and they got everyone in the mood for the upcoming warmer weather!
Leftover bars were perfect for an on-the-go breakfast the next day. I enjoyed mine with my morning cup of coffee; it reminded me a lot of some of my favorite streusel pastries from the coffee shop but with an even butterier tasting crust.
I can see these bars becoming a favorite for potlucks, parties and picnics all summer long. They're sweet enough on their own but I wouldn't say no to a Berry Crumb Bar topped with a scoop of vanilla ice cream either!
These sweet berry-filled bars are all the best parts of a pie, cookie bar and breakfast pastry in one handheld treat. I already can't wait to make them again!
More Easy Desserts
Grab a jar of Strawberry Jam and you're just minutes away from the most delicious homemade Berry Crumb Bars you've ever tasted.