Jam Thumbprint Cookies are buttery cookies filled with fruit preserves and topped with a sweet almond icing. Melt in your mouth and perfect for any holiday!
These thumbprint cookies take just a teensy bit more effort than a standard drop cookie. The fruity, colorful results are to die for! Or give our festive linzer cookies recipe a try this year!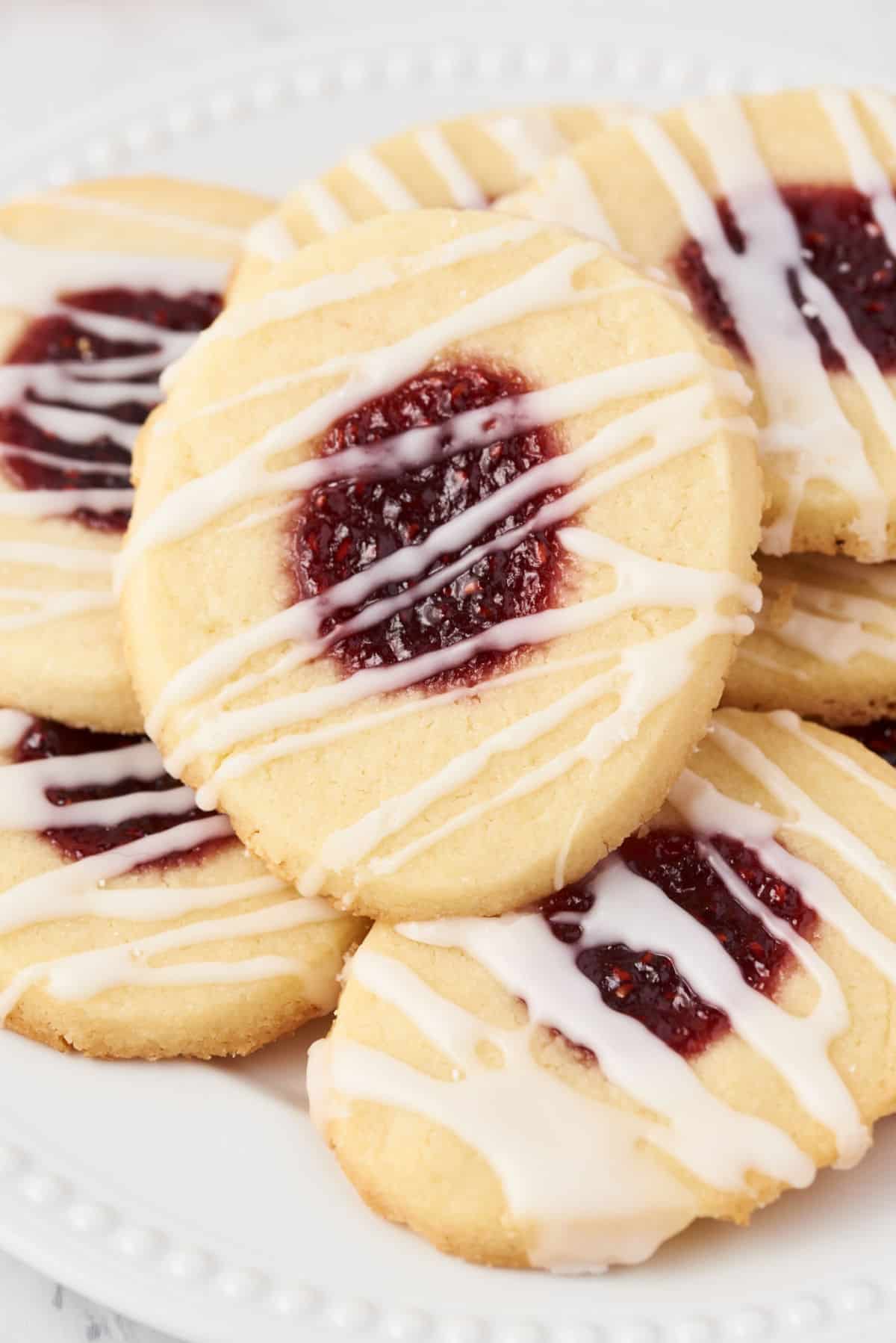 Why this Recipe Works
Biting into a good Jam Thumbprint Cookie is pure bliss. A buttery crumb gives way to a fruity center! Think of them like shortbread cookies but with a little more structure and a touch of jam.
This recipe includes plenty of butter, of course, but I also add just enough sugar to complement the sweetness of the jam center.
Sprinkling the finished cookies with powdered sugar adds a gorgeous finishing touch! Or take it a step further and drizzle with an almond glaze!
Jam Thumbprint Cookies make a perfect treat for a tea party–but they're so easy you'll want to make them all the time. No special occasion required!
Ingredient Notes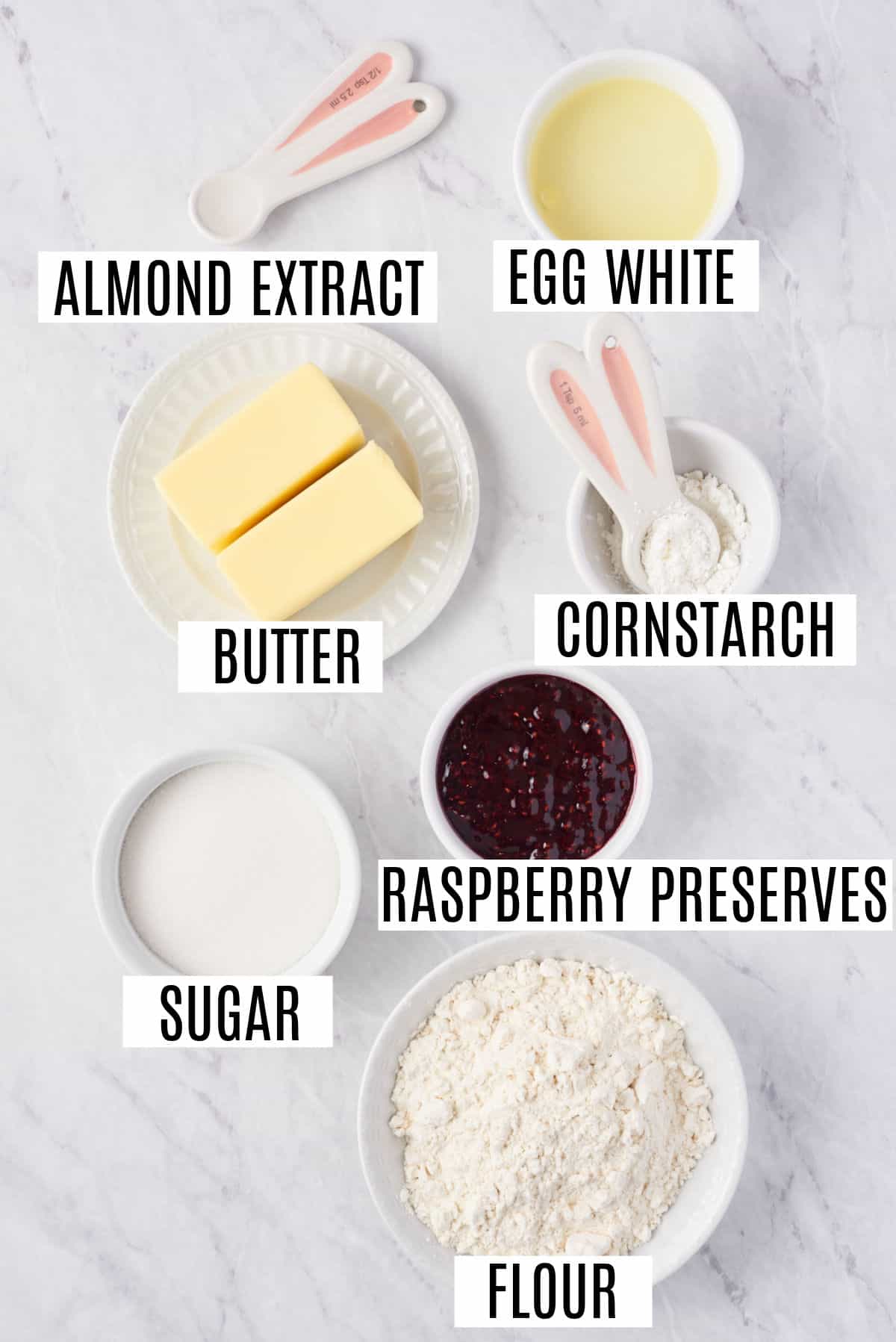 Unsalted butter. I prefer unsalted butter to avoid overwhelming the cookies with saltiness. Let it come to room temperature before using in the recipe.
Preserves. I use a combination of raspberry and apricot jam to make a beautiful presentation. You can swap these out for other flavors, like strawberry jam or blackberry, if you like.
Almond extract. It adds a delicious nutty, almost cherry-like flavor. YOu can swap it out for vanilla extract if preferred.
Cornstarch. Unlike shortbread cookies, the cornstarch in this cookie keeps them soft!
Egg White. Helps provide structure to the cookie.
Easy Instructions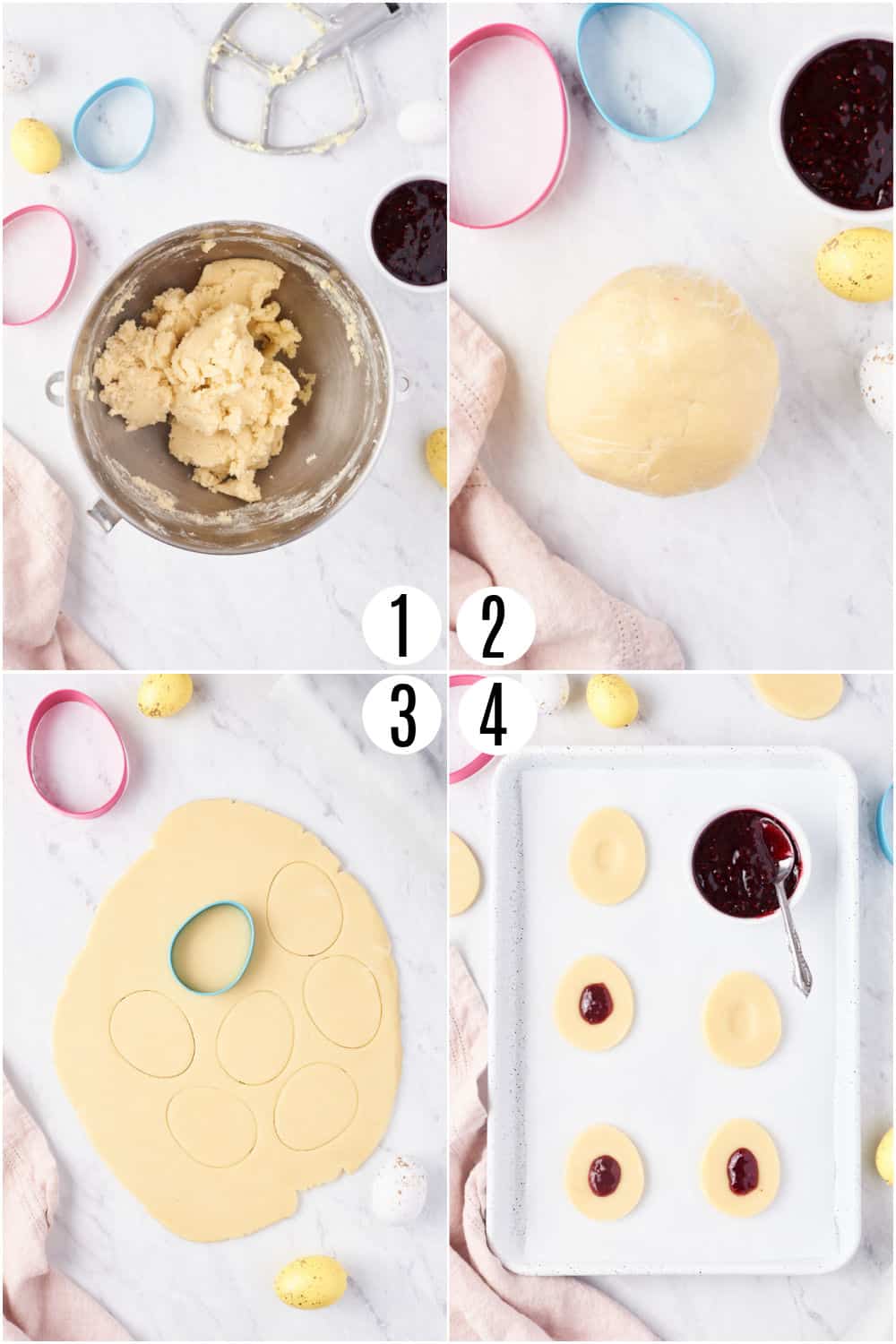 Make the cookie dough.
Beat butter and sugar until creamy. Add almond extract and egg white, followed by the dry ingredients.
Mix to form a soft dough.
Chill Dough. Wrap the cookie dough in plastic wrap and chill for about an hour. If chilling longer, you may need to let dough sit on counter for about 15 minutes before rolling out.
Roll Dough. Use a circle cookie cutter (about 2 1/2-3 inch) or an egg shaped cutter makes a pretty cookie too (even when it's not Easter).
Add thumbprint.
Use your clean thumb to make an indentation in the center of each cookie. Press about half the way into the cookie. If you break through to the bottom, take a little piece of dough to push into the dough, patching the break. Fill the thumbprint with jam.
Bake.
Glaze. You can top these cookies with powdered sugar (like a kolache cookie) or add the almond glaze for a delicious finishing touch!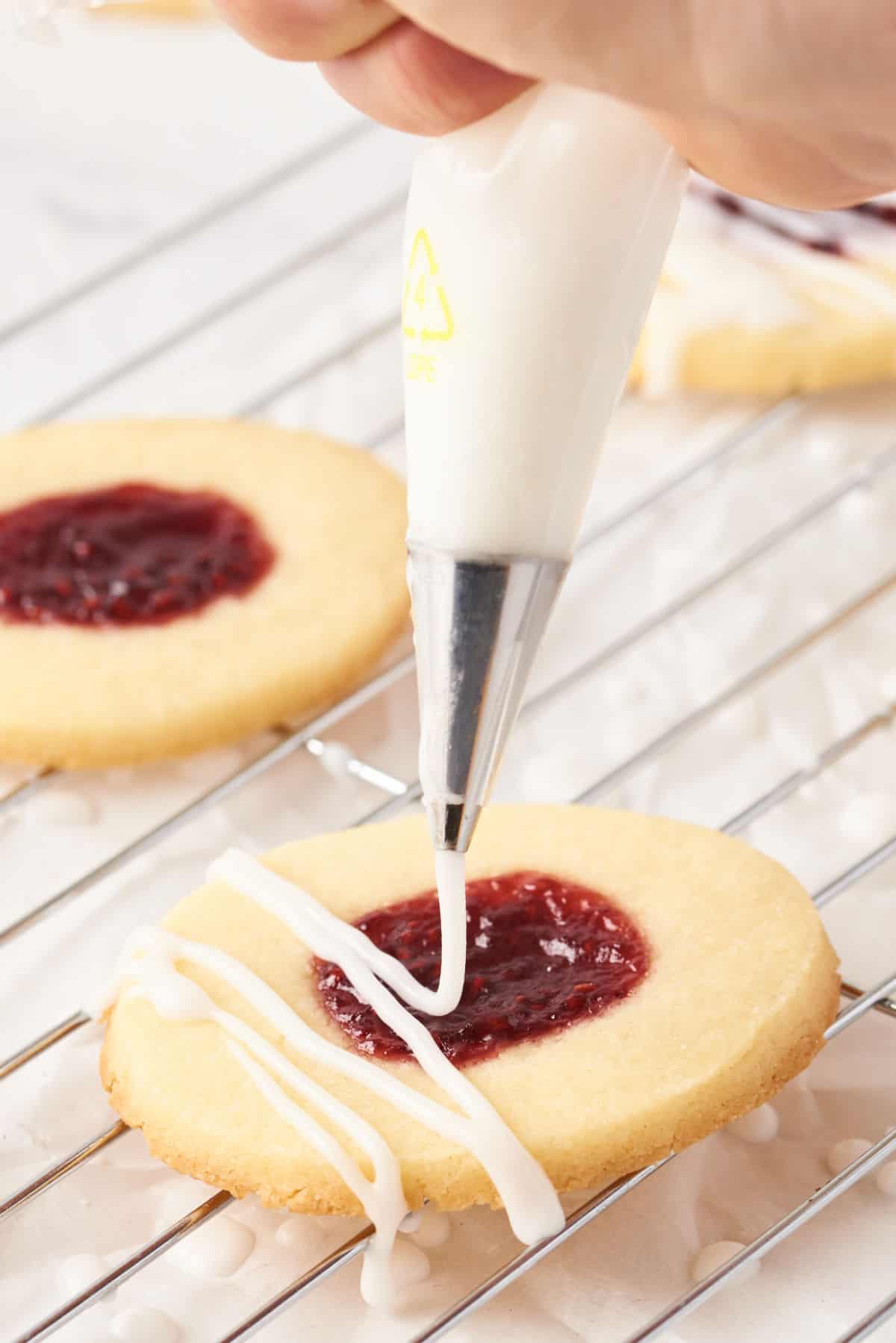 Tips and Tricks
Use the back of a spoon or your knuckle for pressing the cookies, if preferred.
Don't overfill the cookies. A half teaspoon may not seem like a lot, but less is more for thumbprints. Using too much jam will result in overflowing centers and burned preserves stuck to your cookie sheet.
Use a combination of different preserves in your batch of cookies to add an eye-catching contrast when serving. Apricot preserves taste amazing on this cookie dough.
Recipe FAQs
Can I make jam thumbprint cookies with jelly?
No, you should not use jelly in your thumbprint cookies. Jelly tends to run over the tops of the cookies while baking.
How do you store thumbprint cookies?
Store thumbprint cookies in an airtight container at room temperature for up to 1 week.
Can you freeze thumbprint cookies?
Yes, you can freeze thumbprints both before and after baking.
Freeze baked cookies before adding the powdered sugar.
Jam Thumbprint Cookies are simplicity at its most impressive! These perfect little cookies are easy to make with a fruity jam center. You won't be able to resist popping one in your mouth every time you see them!