Jam Thumbprint Cookies are buttery cookies filled with fruit preserves and topped with a sweet almond icing. Melt in your mouth and perfect for any holiday!
These thumbprint cookies take just a teensy bit more effort than a standard drop cookie. The fruity, colorful results are to die for! Or give our festive linzer cookies recipe a try this year!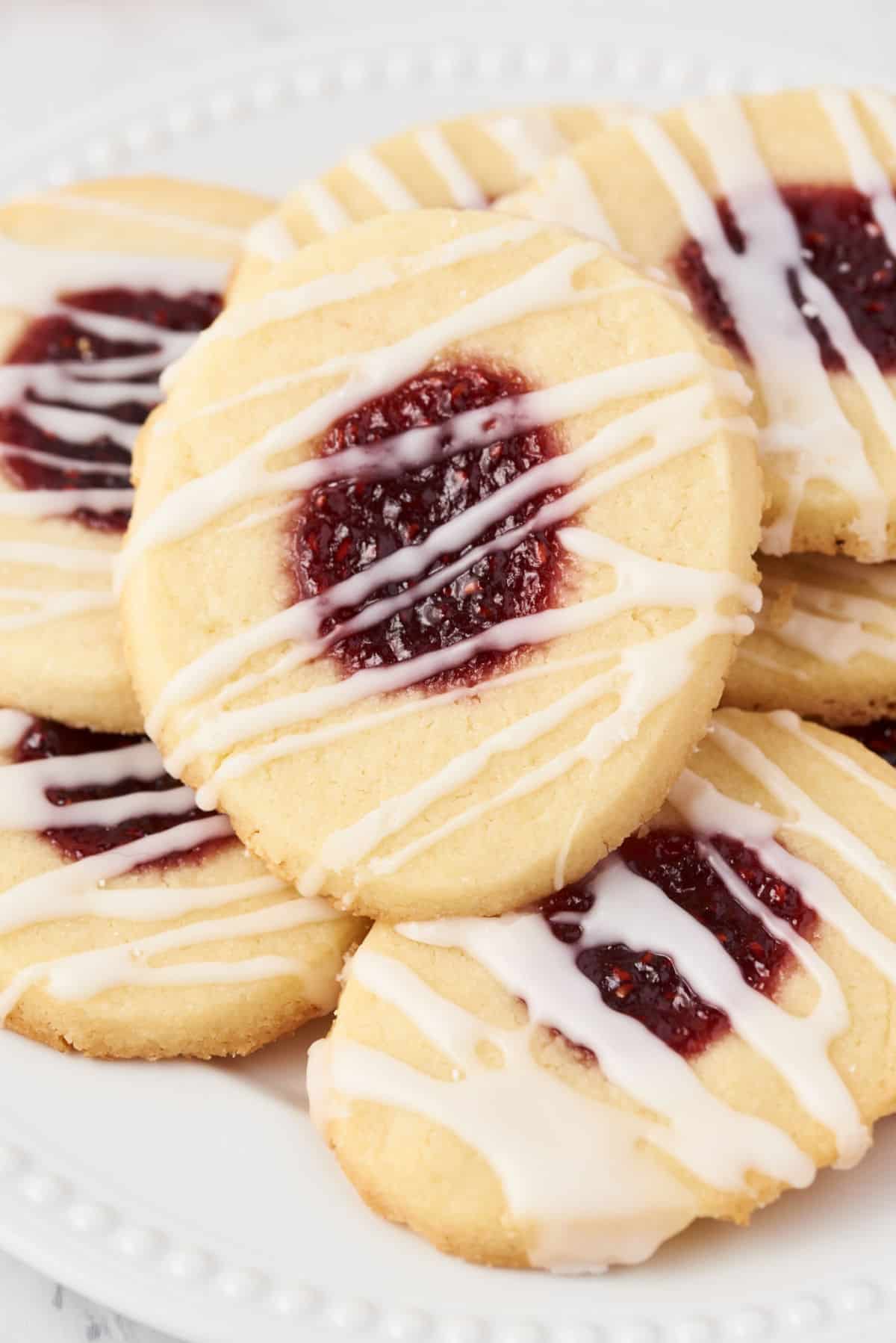 Why this Recipe Works
Biting into a good Jam Thumbprint Cookie is pure bliss. A buttery crumb gives way to a fruity center! Think of them like shortbread cookies but with a little more structure and a touch of jam.
This recipe includes plenty of butter, of course, but I also add just enough sugar to complement the sweetness of the jam center.
Sprinkling the finished cookies with powdered sugar adds a gorgeous finishing touch! Or take it a step further and drizzle with an almond glaze!
Jam Thumbprint Cookies make a perfect treat for a tea party–but they're so easy you'll want to make them all the time. No special occasion required!
Ingredient Notes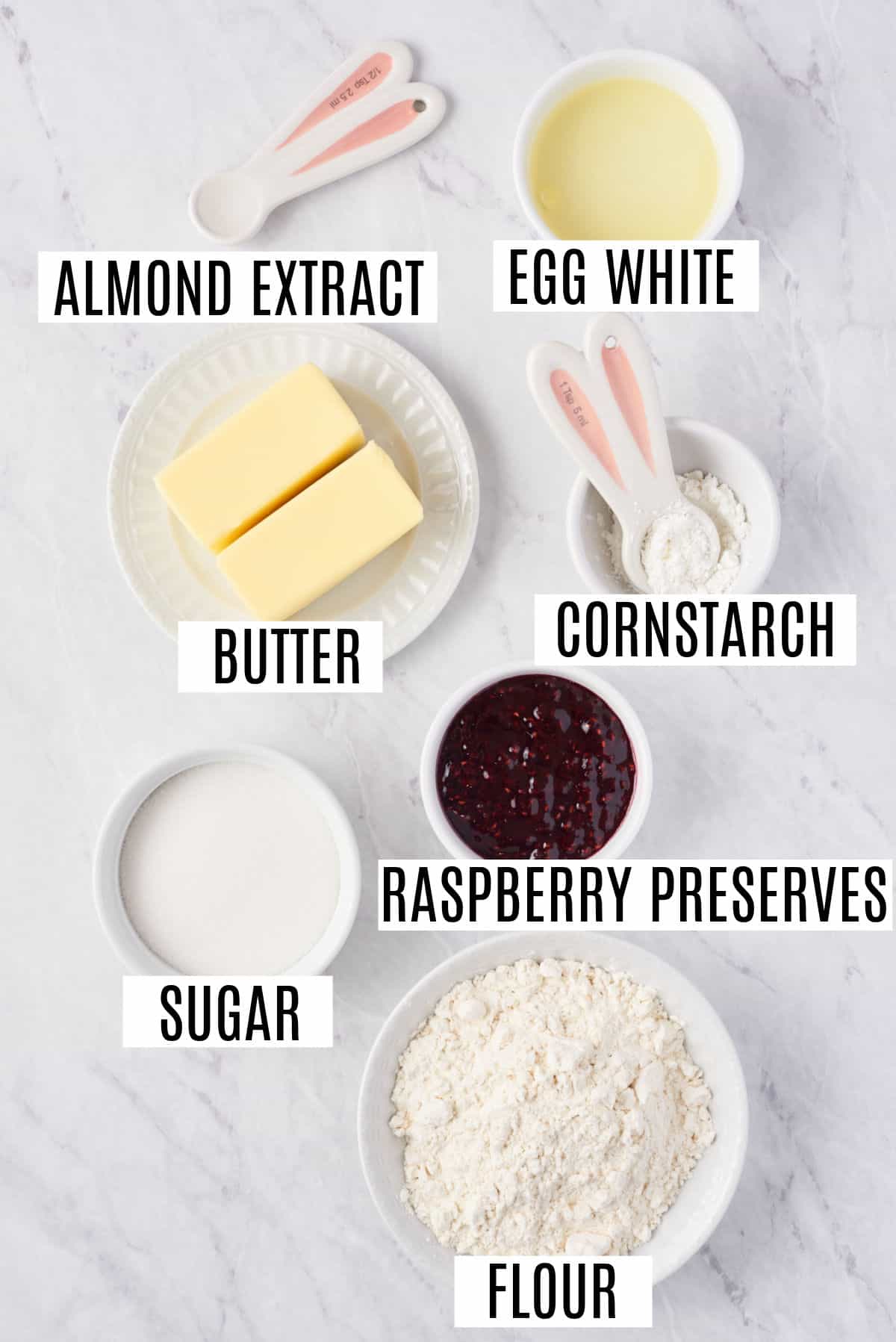 Unsalted butter. I prefer unsalted butter to avoid overwhelming the cookies with saltiness. Let it come to room temperature before using in the recipe.
Preserves. I use a combination of raspberry and apricot jam to make a beautiful presentation. You can swap these out for other flavors, like strawberry jam or blackberry, if you like.
Almond extract. It adds a delicious nutty, almost cherry-like flavor. YOu can swap it out for vanilla extract if preferred.
Cornstarch. Unlike shortbread cookies, the cornstarch in this cookie keeps them soft!
Egg White. Helps provide structure to the cookie.
Easy Instructions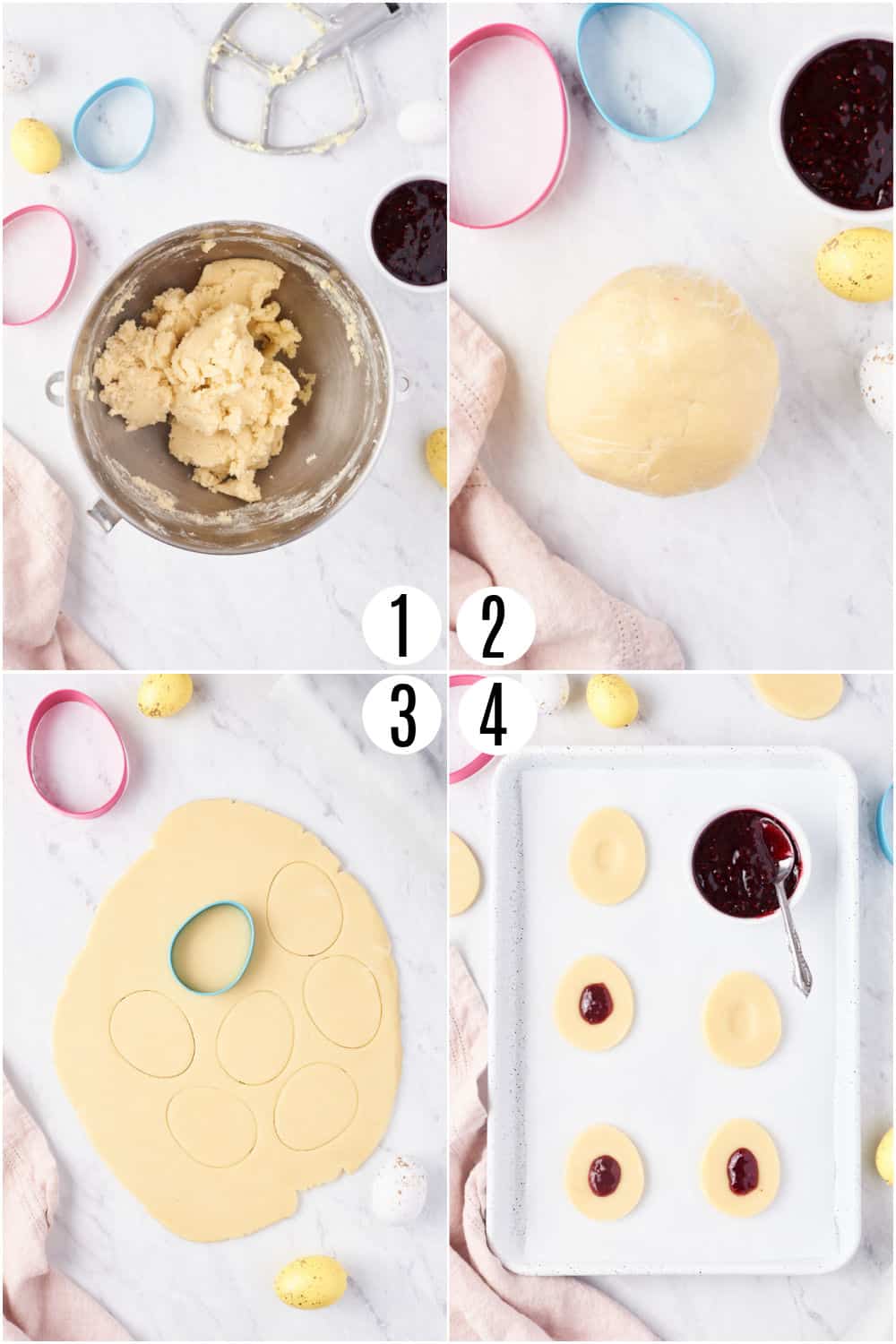 Make the cookie dough.
Beat butter and sugar until creamy. Add almond extract and egg white, followed by the dry ingredients.
Mix to form a soft dough.
Chill Dough. Wrap the cookie dough in plastic wrap and chill for about an hour. If chilling longer, you may need to let dough sit on counter for about 15 minutes before rolling out.
Roll Dough. Use a circle cookie cutter (about 2 1/2-3 inch) or an egg shaped cutter makes a pretty cookie too (even when it's not Easter).
Add thumbprint.
Use your clean thumb to make an indentation in the center of each cookie. Press about half the way into the cookie. If you break through to the bottom, take a little piece of dough to push into the dough, patching the break. Fill the thumbprint with jam.
Bake.
Glaze. You can top these cookies with powdered sugar (like a kolache cookie) or add the almond glaze for a delicious finishing touch!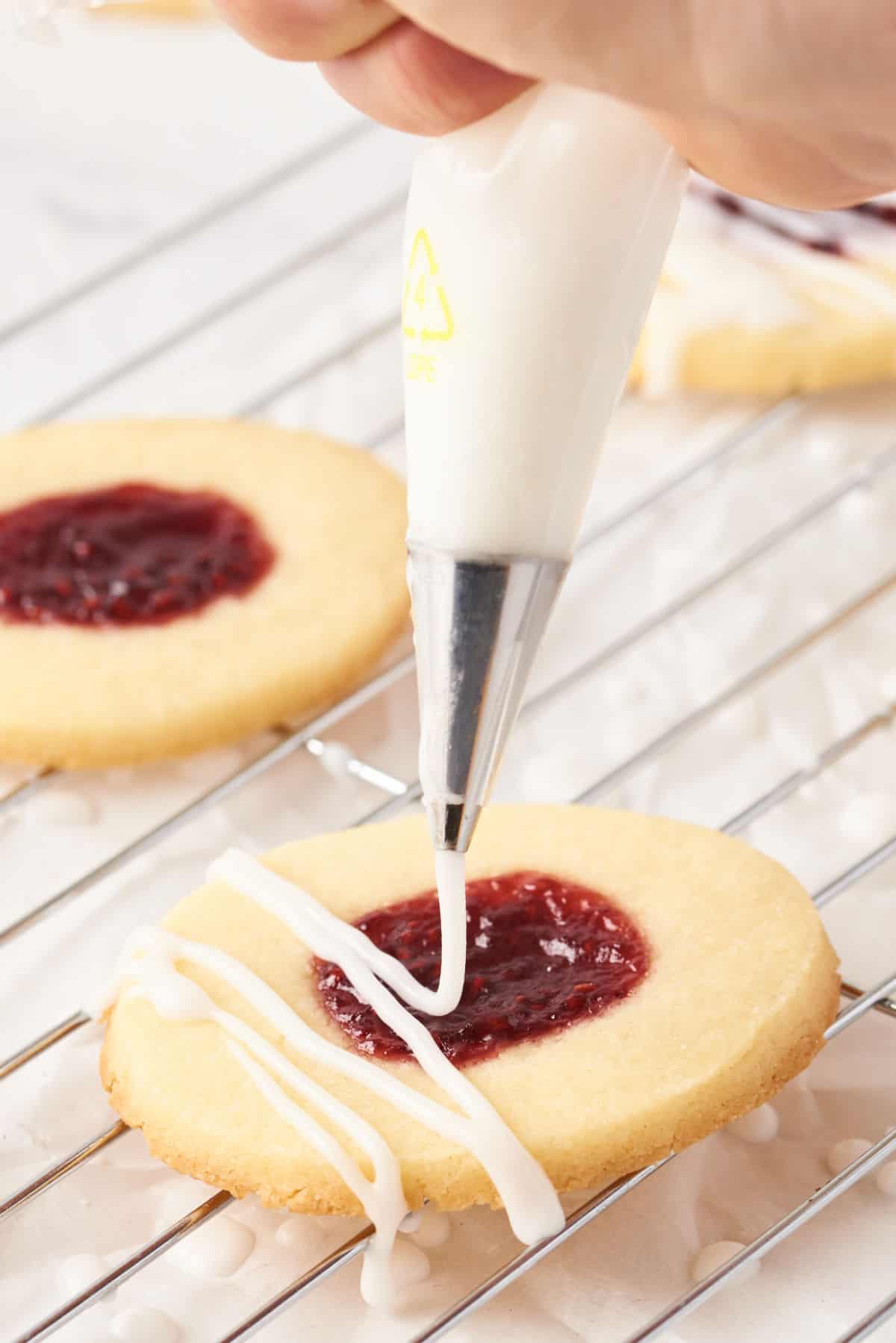 Tips and Tricks
Use the back of a spoon or your knuckle for pressing the cookies, if preferred.
Don't overfill the cookies. A half teaspoon may not seem like a lot, but less is more for thumbprints. Using too much jam will result in overflowing centers and burned preserves stuck to your cookie sheet.
Use a combination of different preserves in your batch of cookies to add an eye-catching contrast when serving. Apricot preserves taste amazing on this cookie dough.
Recipe FAQs
Can I make jam thumbprint cookies with jelly?
No, you should not use jelly in your thumbprint cookies. Jelly tends to run over the tops of the cookies while baking.
How do you store thumbprint cookies?
Store thumbprint cookies in an airtight container at room temperature for up to 1 week.
Can you freeze thumbprint cookies?
Yes, you can freeze thumbprints both before and after baking.
Freeze baked cookies before adding the powdered sugar.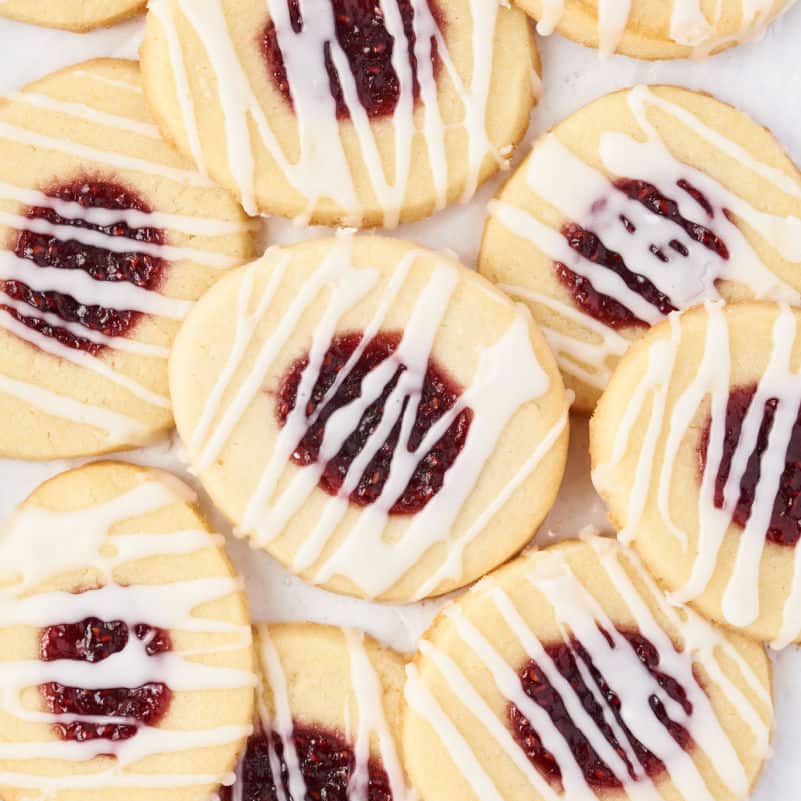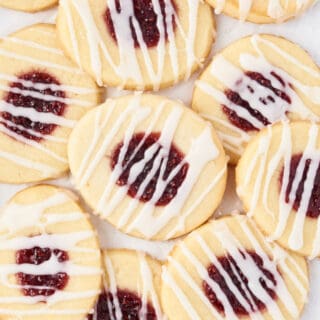 Jam Thumbprint Cookies
Jam Thumbprint Cookies – Buttery cookies filled with fruit preserves are a cute and classic favorite. Easy, delicious and loved by kids and adults alike!
Ingredients
For the Cookies
1

cup

unsalted butter

room temperature

⅔

cup

granulated white sugar

½

teaspoon

almond extract

1

large egg white

2

cups

all-purpose flour

2

teaspoon

cornstarch

⅓

cup

raspberry preserves
For the Icing
1

cup

powdered sugar

2

teaspoon

almond extract

1-2

Tablespoons

water
Instructions
Use the paddle attachment on a stand mixer and beat the butter for 30 seconds on a low speed. Slowly add in the sugar and blend together for 2 minutes.

Add the egg white and almond extract, increase to medium speed and mix until combined.

Add in the flour and cornstarch. Mix until a ball of dough forms, about 1 minute. Wrap the ball of dough in plastic wrap and refrigerate for at least one hour and up to overnight.

Preheat the oven to 350℉.

Roll out the dough to ¼ inch thickness and cut with a 3 inch, egg shaped cookie cutter or round cookie cutter. Make an indentation in the center of the cookie using your thumb, about 1 inch long. Press about half the way into the cookie. If you break through to the bottom, take a little piece of dough to push into the dough, patching the break. Fill the thumbprint with jam.

Place on a baking sheet lined with a silpat or parchment paper, spaced 1 inch apart. Bake for 15 minutes and move to a wire rack to cool.

To make the glaze: Whisk the powdered sugar, almond extract and water together in a small bowl. If
the glaze isn't thick enough, add 1 tbsp of water at a time until it reaches the desired thickness. Drizzle over cookies using a whisk or spoon; or use a piping bag with a small tip.

Allow to set and store in covered container at room temperture (Or in the refrigerator).
Notes
STORAGE- Store baked cookies in an airtight container for up to 5 days. Freeze cookies for up to 3 months.
MAKE AHEAD- Cookie dough can be made 24 hours ahead of time and chilled in the refrigerator. It may be hard to roll initially, so allow to sit at room temperature about 10 minutes before scooping.
FLAVORS- These cookies are great with apricot preserves, strawberry preserves and blackberry preserves. I don't suggest using jelly as it is too sugary and will bubble over the tops of the cookies.
Why is there cornstarch and egg white in a recipe for shortbread? Traditional shortbread doesn't include these ingredients, but the recipe has a few tricks to help the cookies keep their shape and larger size, including cornstarch and egg whites. Not only does cornstarch help the structure of the cookie, but it
adds a lovely bite to the texture as well. However, we found that the addition of cornstarch alone wouldn't hold the shape of these cookies, and a little egg white was just the extra support needed.
Is chilling the dough necessary? Yes! This is another step to the recipe that is crucial to the cookies holding their shape. Chilling solidifies the fats in the dough, and the colder the cookie is going into the oven, the less likely the fats will melt and the cookie will lose it's shape.
To freeze thumbprint cookie dough: Follow all the recipe steps as directed up until it's time to add the preserves. Place the unbaked cookies on a baking sheet in the freezer until solid. Then, transfer to freezer bags. When ready to bake, fill the frozen cookies with jam and bake. No need to thaw first!
Nutrition
Serving:
1
cookie
,
Calories:
163
kcal
,
Carbohydrates:
21
g
,
Protein:
1
g
,
Fat:
8
g
,
Saturated Fat:
5
g
,
Polyunsaturated Fat:
3
g
,
Cholesterol:
28
mg
,
Sodium:
6
mg
,
Sugar:
12
g
Jam Thumbprint Cookies are simplicity at its most impressive! These perfect little cookies are easy to make with a fruity jam center. You won't be able to resist popping one in your mouth every time you see them!