This Sugar Cookie Cake has everything you love about your favorite cut out treats, only it's baked as one GIANT cookie the size of a cake. M&Ms and peanut butter cups make this cookie cake even better. Perfect for holidays and only 5 ingredients!
Love easy skillet desserts? Our Butter Pecan Skillet Cake is still one of my favorite all time dessert recipes! Or whip up this easy Apple Cobbler Skillet recipe.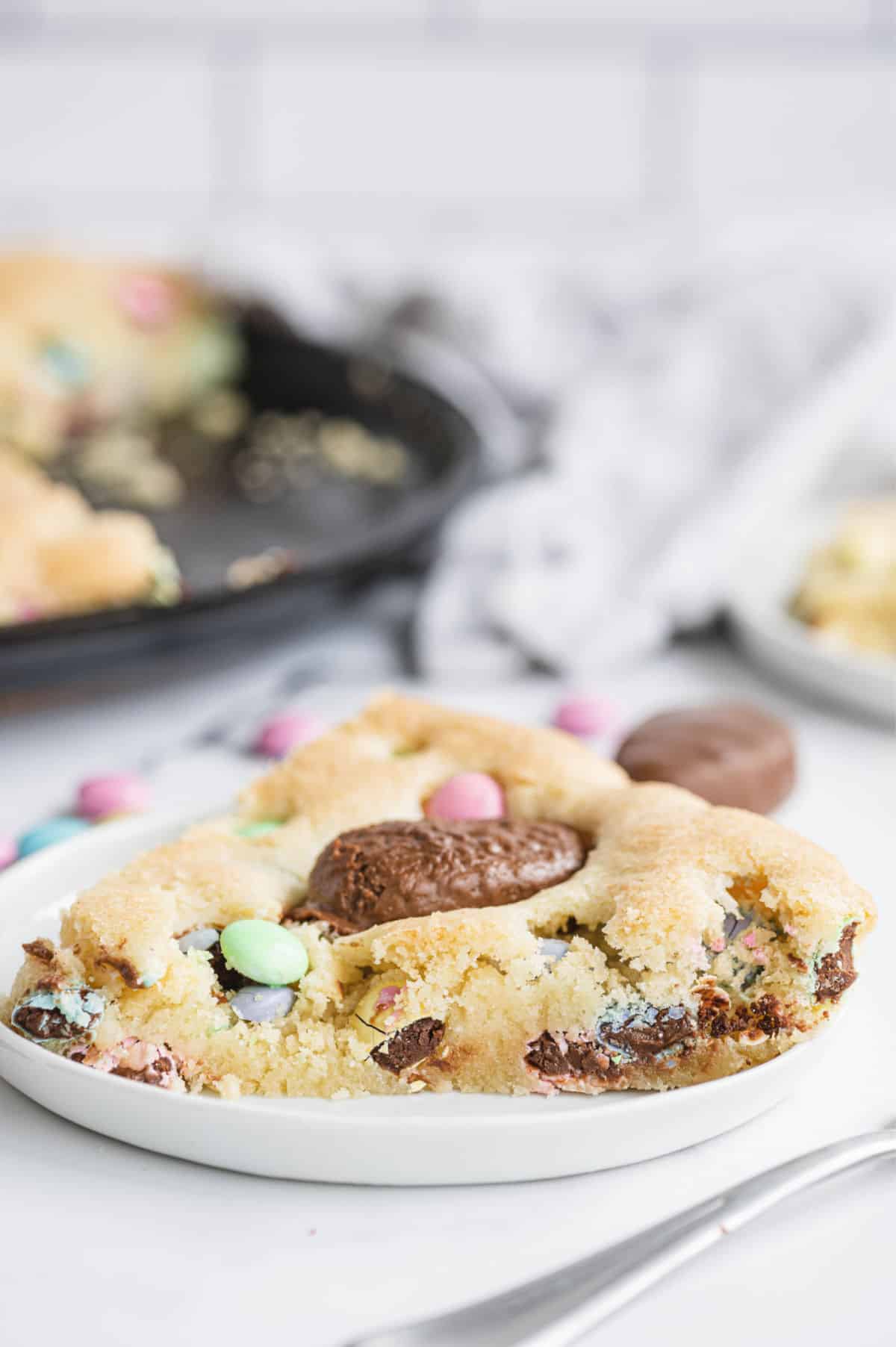 Why this Recipe Works
Why should Chocolate Chip Cookies be the only ones allowed to dress up as a Pizookie?
With a simple package of sugar cookie mix and a few add-ins, you can make a delicious Sugar Cookie Cake to slice and share.
No need to roll or cut out any dough. Just press into a cake pan and bake.
When I made sugar cookies into sugar cookie bars, I topped them with a thick layer of frosting.
Instead, today's sugar cookie cake is filled with sweet M&Ms and peanut butter cups!
I used pastel M&Ms to make this just as pretty as a traditional frosted sugar cookie, without the extra steps.
This Sugar Cookie Cake recipe is easy, fool proof and delicious! With gorgeous spring colors and Reese's eggs, it's a wonderful way to add sweetness to your Easter celebrations.
If you love this cookie cake, be sure to try our Easter Cookie Cake made with chocolate chip cookie dough!
Ingredient Notes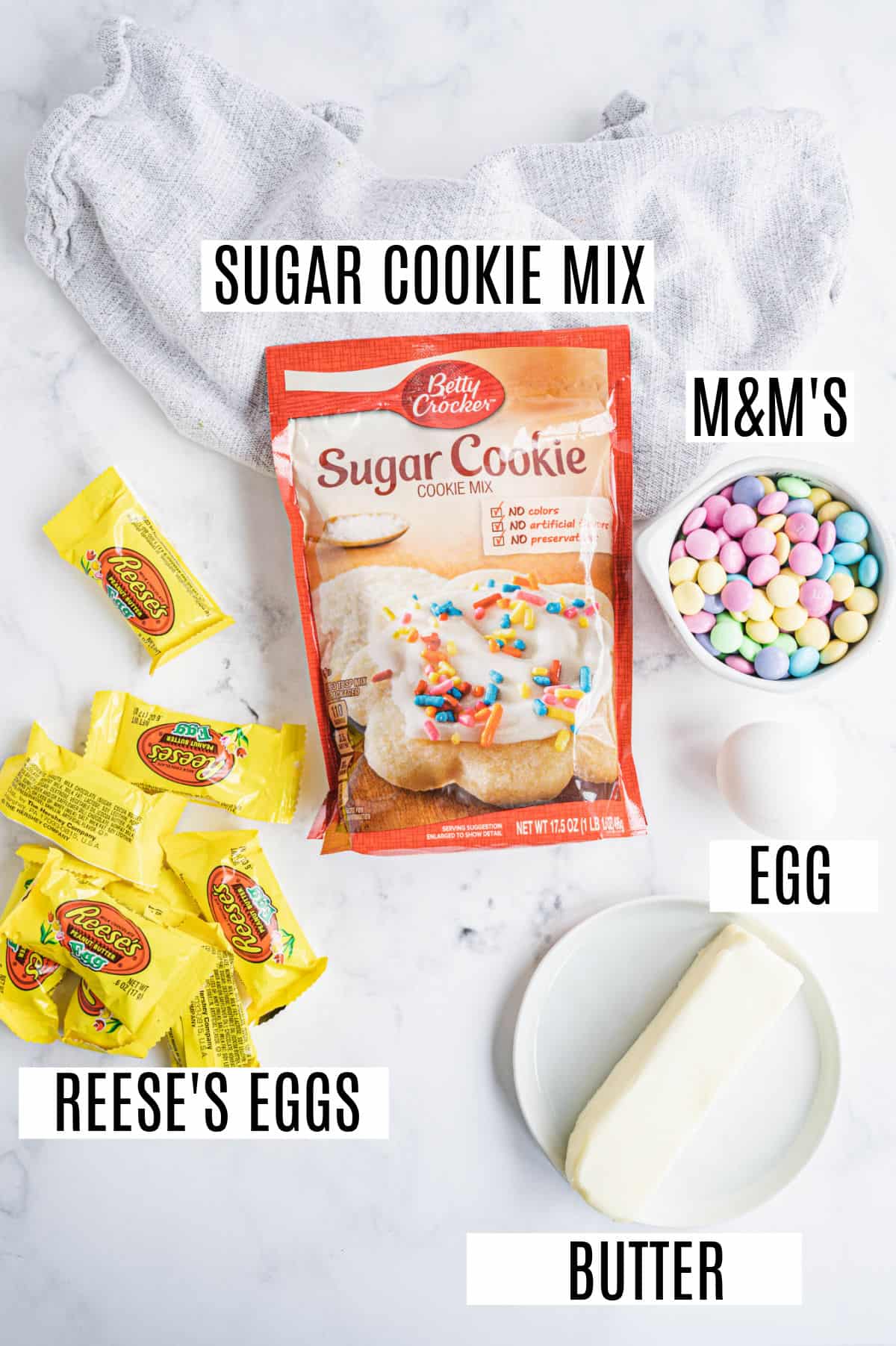 Sugar Cookie Mix. I used one package of Betty Crocker mix.
Egg & Softened Butter.
M&Ms. Pastel M&Ms for Easter are beautiful. You can change it up with different M&Ms colors for different holidays or occasions too.
Reese's peanut butter eggs. Or use regular Reese's cups.
Easy Instructions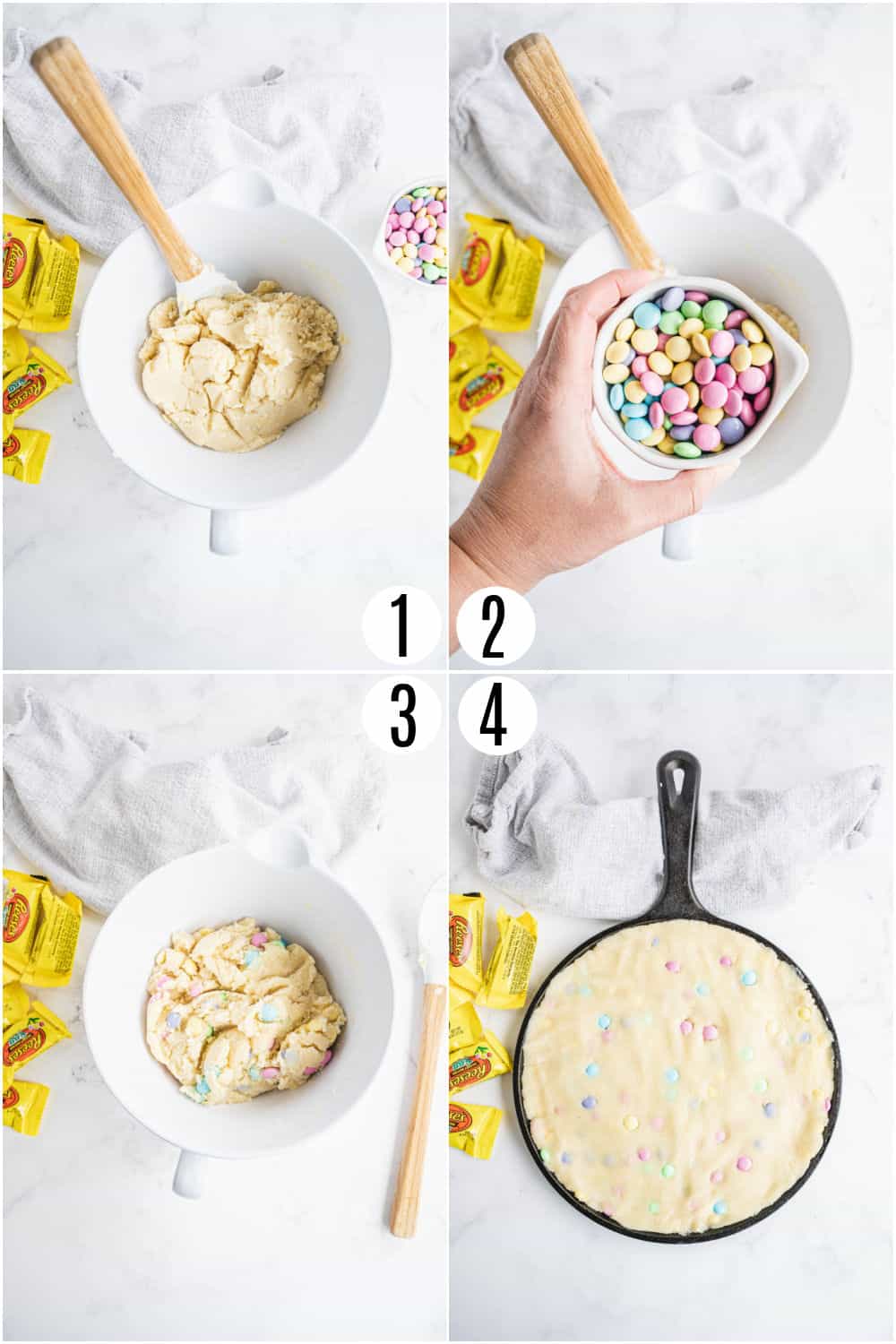 Step 1. Combine the sugar cookie mix with egg and butter until blended.
Step 2. Add M&M's candies.
Step 3. Make sure m&m's are completely combined with cookie dough.
Step 4. Press dough into greased skillet. (add reese's eggs now, or after baking). Bake. Enjoy.
Tips and Tricks
Frosting lovers: Feel free to pipe some sugar cookie frosting onto the baked cake for more color and sweetness!
For smooth Reese's eggs: Press the eggs into the cookie cake just after baking, while the sugar cookie cake is still warm. The chocolate will soften perfectly, just like in a peanut butter blossom cookie.
Use a pie plate or cast iron skillet. Make sure to spray the bottom of the plate or skillet with baking spray first. For best results, press dough as evenly as possible.
Want an extra decadent dessert? Serve slices of M&M Sugar Cookie Cake warm with vanilla ice cream! Or add a dollop of whipped cream to each slice just before serving.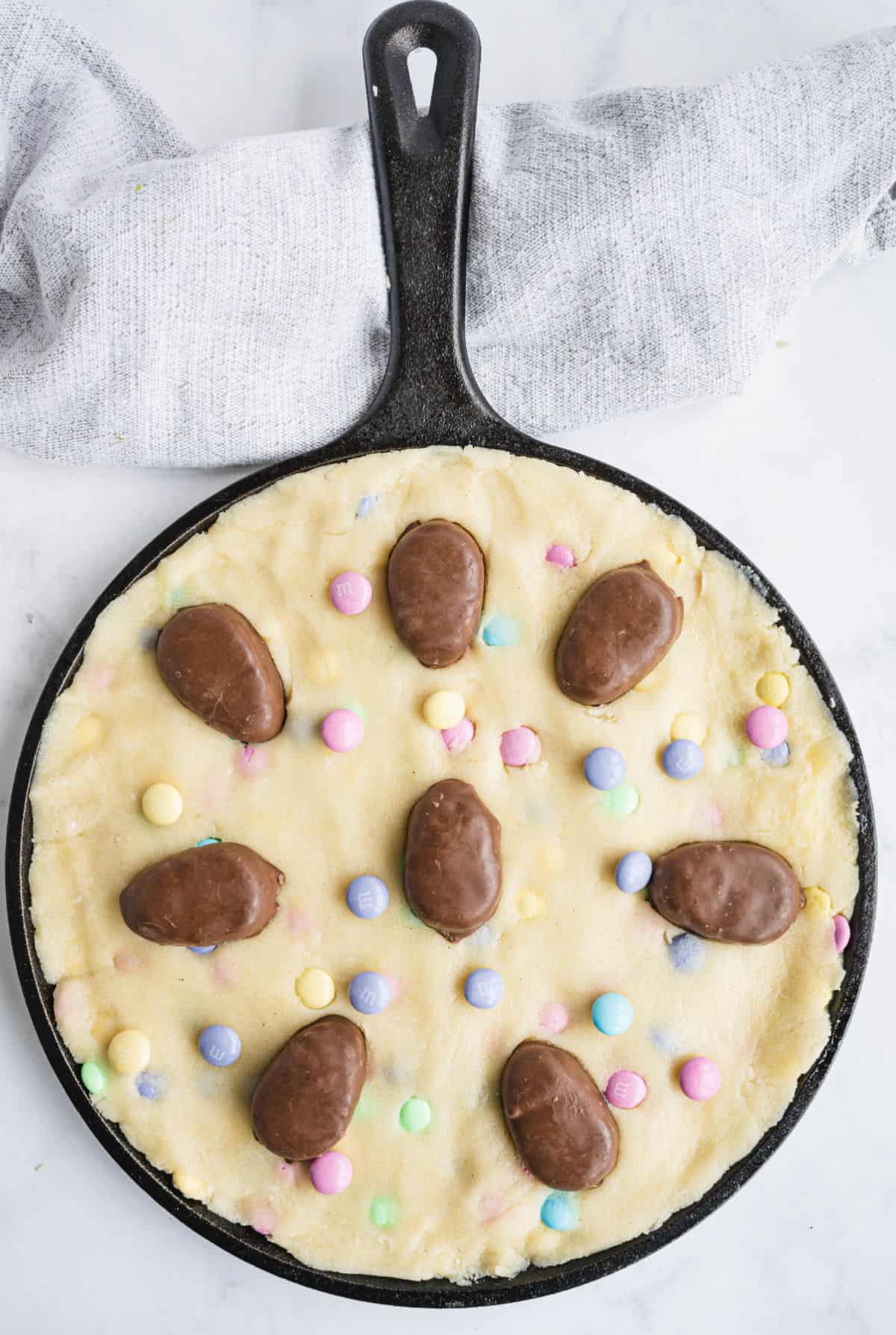 Recipe FAQs
How do you store sugar cookie cake?
Once cooled, this cookie cake can be covered and stored at room temperature for about 3 days. You can leave the leftovers right in the pan and cover them with plastic wrap or foil.
Can you make sugar cookie cake in a cake pan?
Yes, you will need a 9-inch cake pan or springform pan.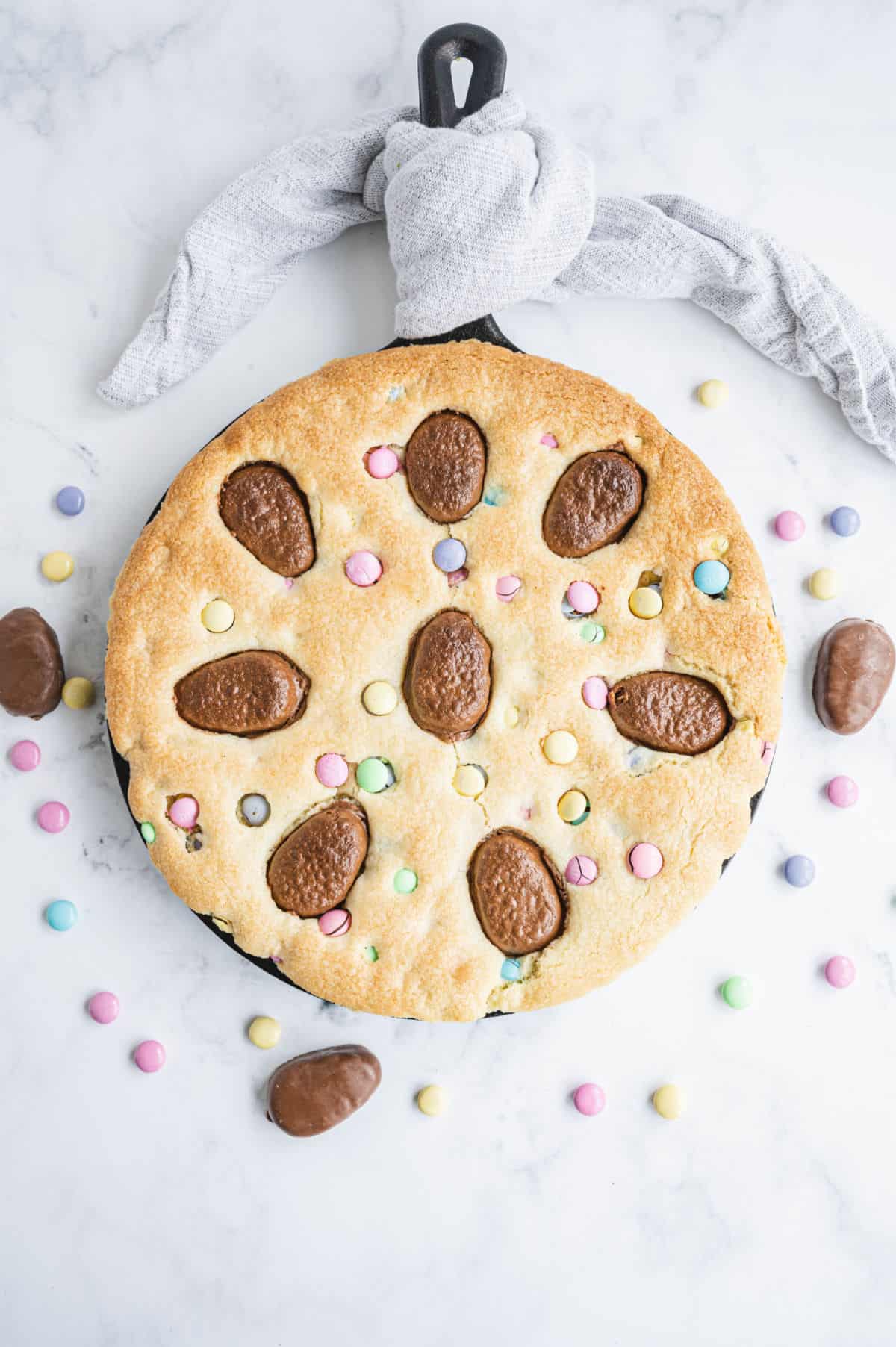 More Easy Holiday Desserts
An easy dessert that's ideal for Easter, birthdays or any occasion that calls for a festive dessert. No need to choose between cookies and cake when you can make two in one. Have your cake and your cookies too with this amazing Sugar Cookie Cake!