Easter Cookie Cake – A buttery sweet cookie cake speckles with pastel M&Ms! With a delicious vanilla frosting, this easy dessert looks picture perfect and tastes even better.
Bring the colors of spring blossoms into your kitchen with fun desserts like cookie cake. These Easter Rice Krispie Treats with peeps are always a hit too! Or bake up this delicious Sugar Cookie cake!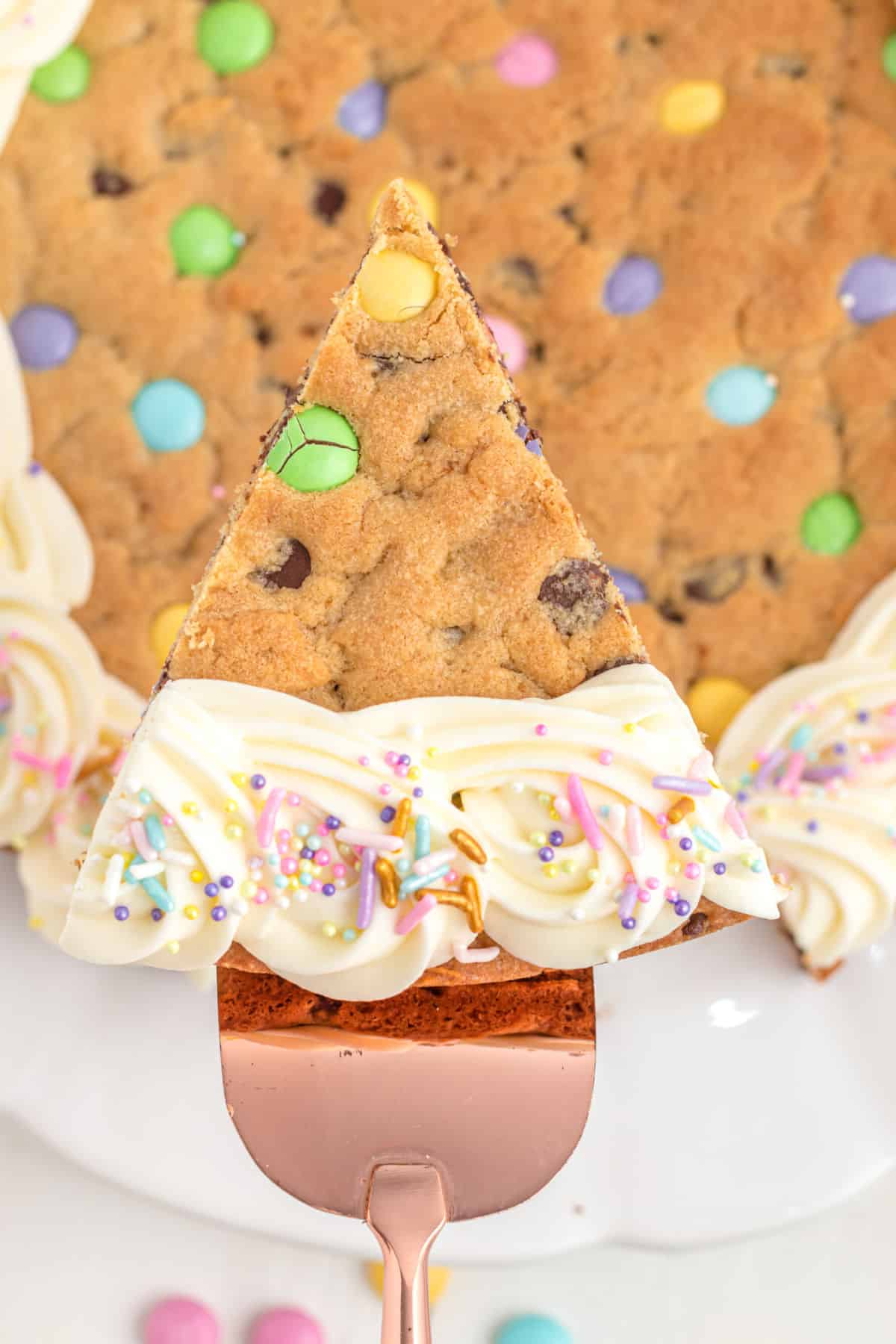 Why this Recipe Works
Cookie cake. Two favorite treats collide to make one irresistible dessert! I took a traditional chocolate chip cookie cake recipe and gave it an Easter makeover.
Similar to our Pizookie recipe too!
This recipe has. . .
A soft chewy cookie texture shaped into thick slices of cake.
Plenty of chocolate. Both chocolate chips and M&Ms candies are baked into each bite.
Serve with or without frosting. It tastes wonderful both ways!
Easy decorating. Pipe cookie frosting along the edge of the cookie cake to add a pretty finishing touch.
Vibrant color. Pastel candies make an Easter cookie cake bright and cheery.
Easy to make, serve and share, Easter Cookie Cake is the perfect finish to a holiday meal. Also makes a great addition to any springtime party!
Ingredient Notes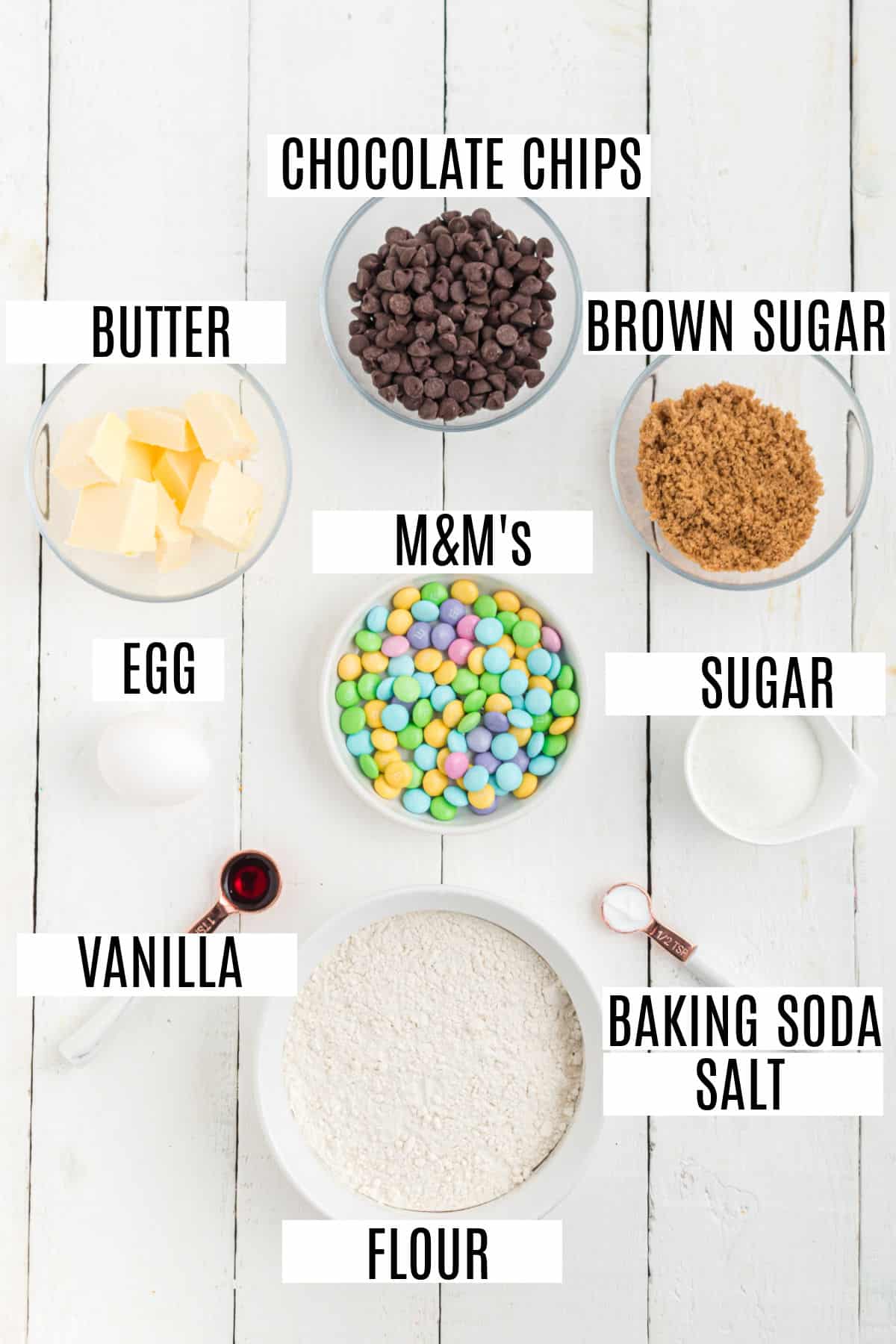 Unsalted butter. You can substitute salted butter and reduce the added salt if desired.
All-Purpose flour. Ever wonder why baked goods might taste too dry? Learn how to measure flour properly!
Kosher salt. I use this salt in all my cooking and baking. Learn why I use kosher salt in baking!
Chocolate morsels. I prefer semi-sweet chocolate chips here. Milk chocolate chips can be used too.
Pastel M&Ms. If you're not making this for Easter, feel free to substitute whatever color of M&Ms you prefer.
Easy Instructions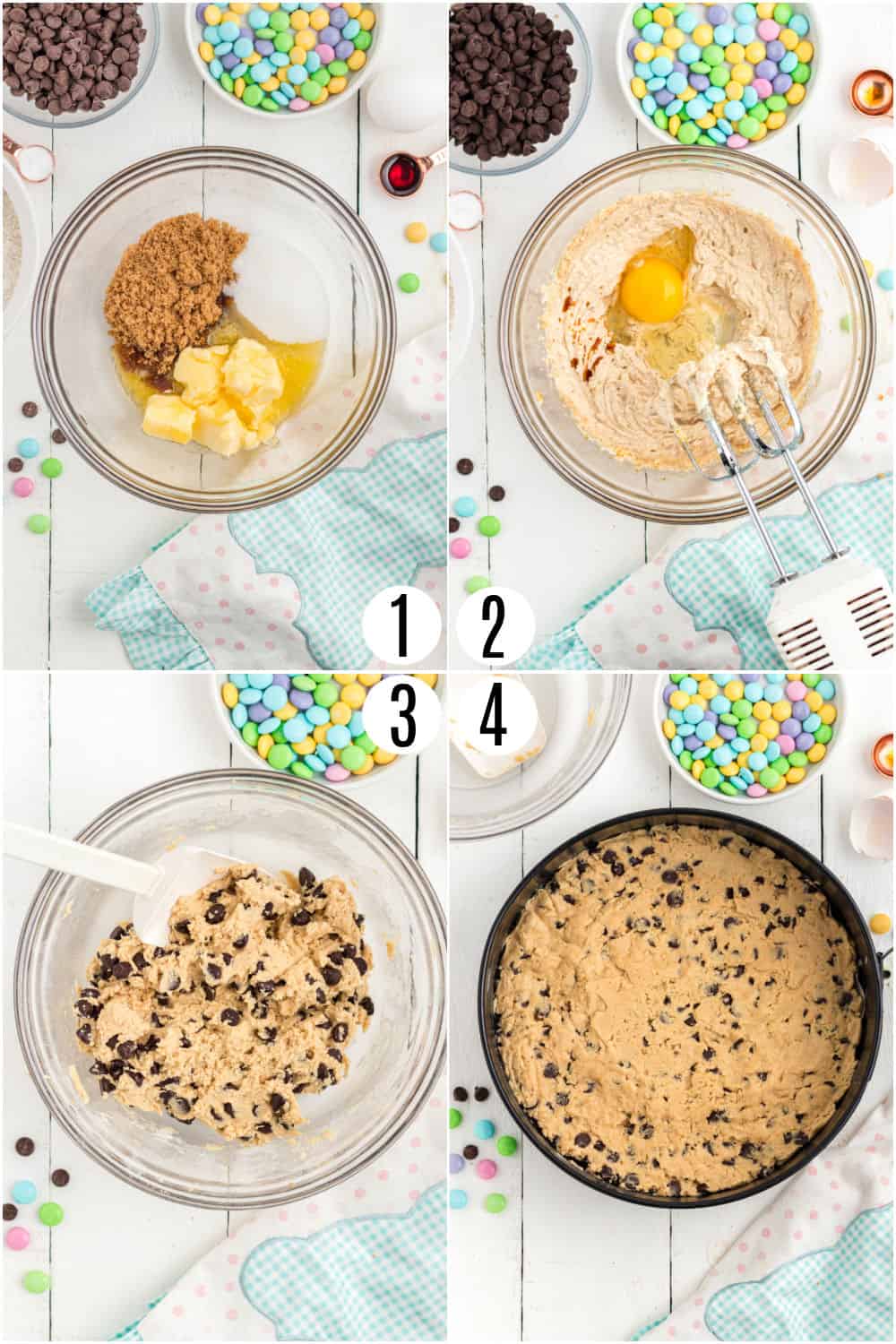 Make the cookie dough. Combine dry ingredients in a bowl. In a separate bowl, beat together the wet ingredients. Slowly add the dry mixture to the wet to combine. Fold in chocolate chips.
Bake. Transfer the cookie dough to a spring form pan. Press M&Ms into the top of the dough, spacing them out evenly. Bake for 25 minutes.
Frost. While the cake is cooling, whip butter with powdered sugar, milk and vanilla extract. Transfer to a frosting bag and swirl onto the edges of your cooled cake.
Garnish Easter cookie cake with sprinkles for even more festive color.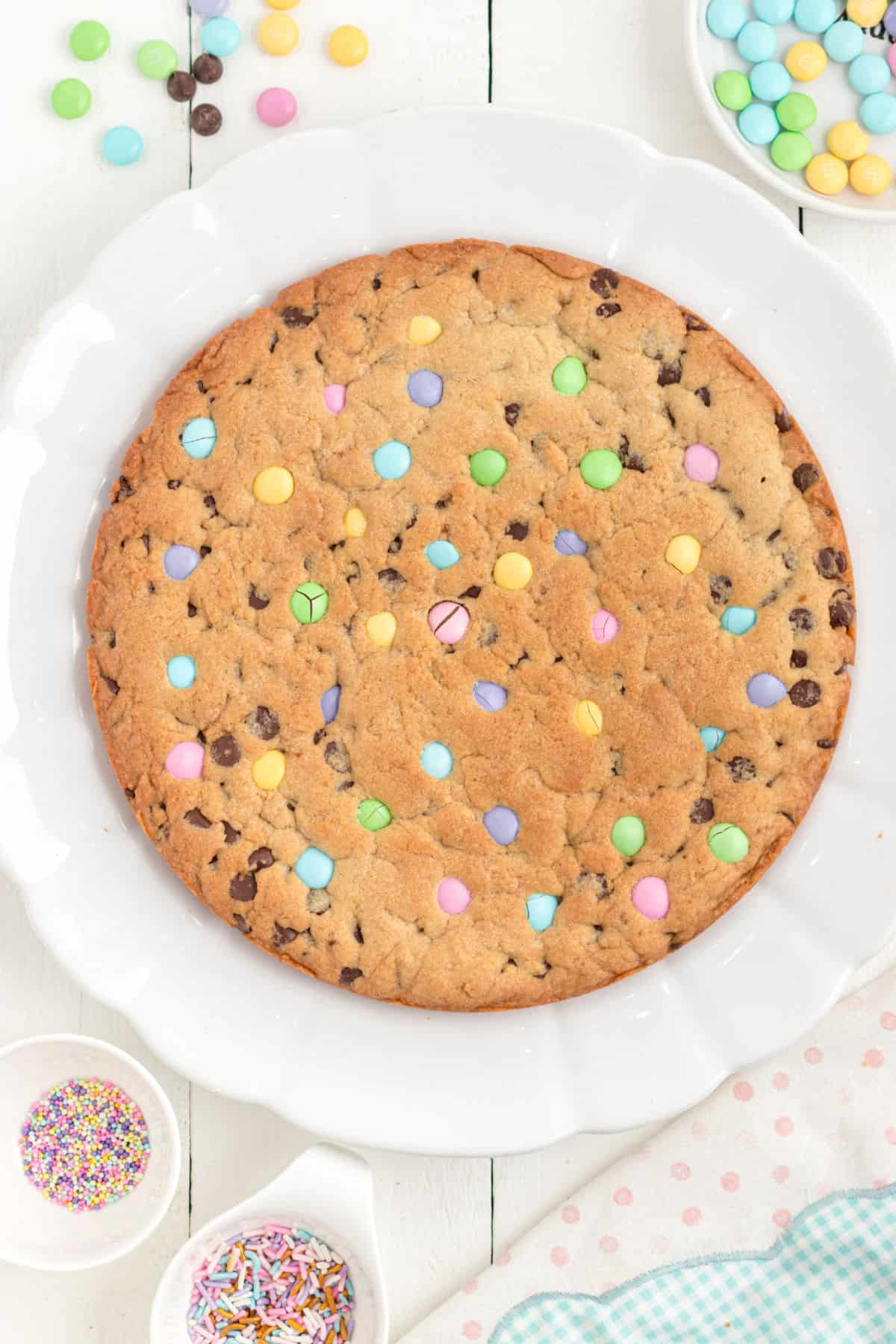 Tips & Tricks
Do not over mix. After adding dry ingredients to the wet, mix until just combined. Over mixing cookie cake dough will make the finished cookie cake hard and dense.
Line spring form pan with parchment paper. A circle of parchment at the bottom helps the Easter cookie cake slide out of the pan easily.
Serve with ice cream. Try leaving the frosting off and serving a slice of warm cookie cake with vanilla ice cream!
Let cool completely before frosting. If you pipe the frosting on while the cake is warm, it'll become a melted mess.
Use a star shaped frosting tip. I love the beautiful shape it gives the frosting.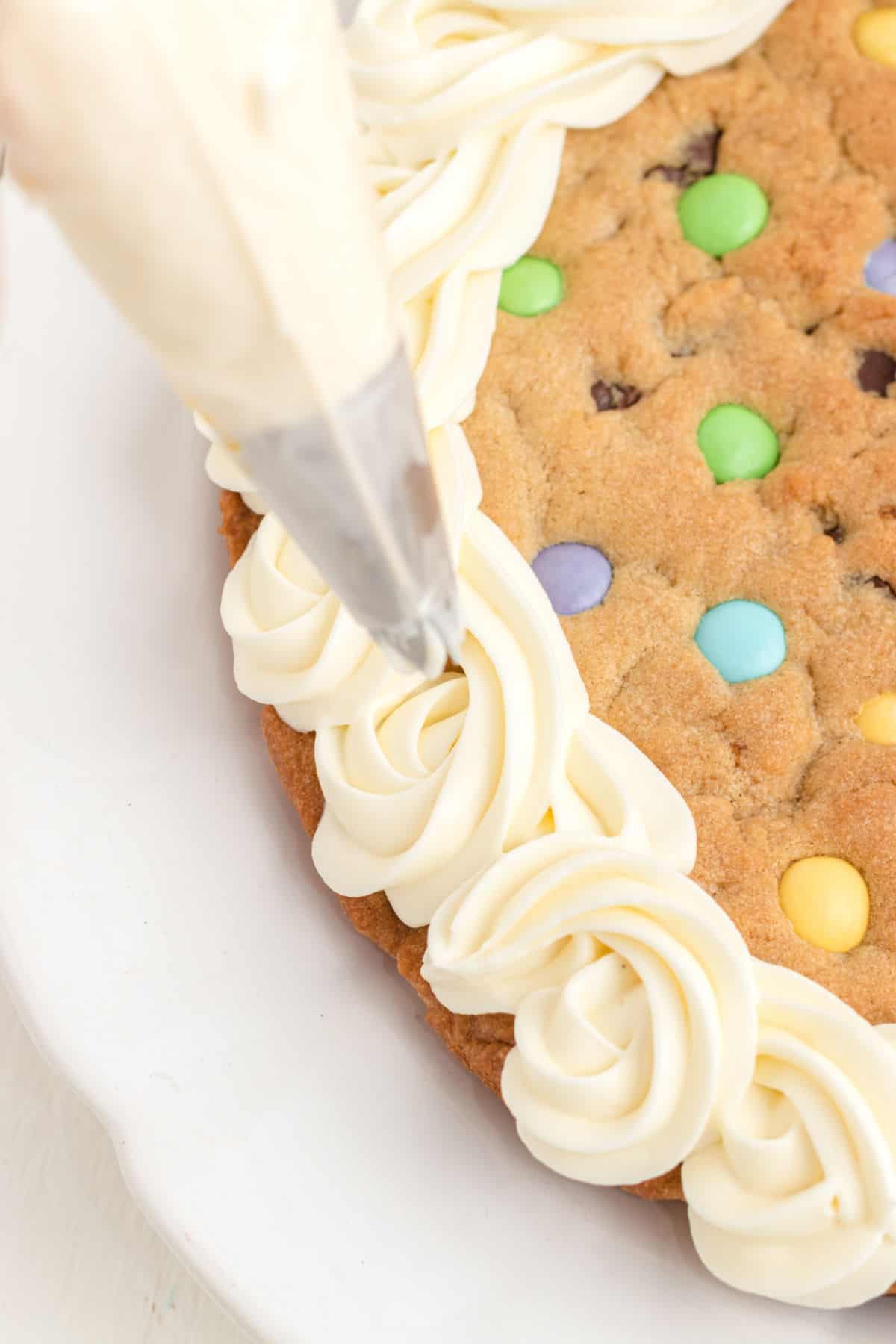 Recipe FAQs
How long does cookie cake last?
This Easter Cookie Cake disappears FAST in my house! But if you have leftovers, they will stay good for about 3 days. Wrap with plastic wrap or transfer to an airtight container to preserve freshness.
Can I use other chocolate candies in this cake?
Yes, you can get creative pressing your other favorite candy coated Easter candies into this Easter Cookie Cake! A few Cadbury mini eggs or malt ball eggs would make a delicious addition.
How do you cut cookie cake?
Use a sharp knife to cut the cookie cake in half across the center. Then make another cut to divide into fourths. Divide each fourth into halves to make 8 wedges.
Can I make this cake if I don't have a spring form pan?
Yes, you can also make this in a 9-inch pie plate or 8-inch cast iron skillet.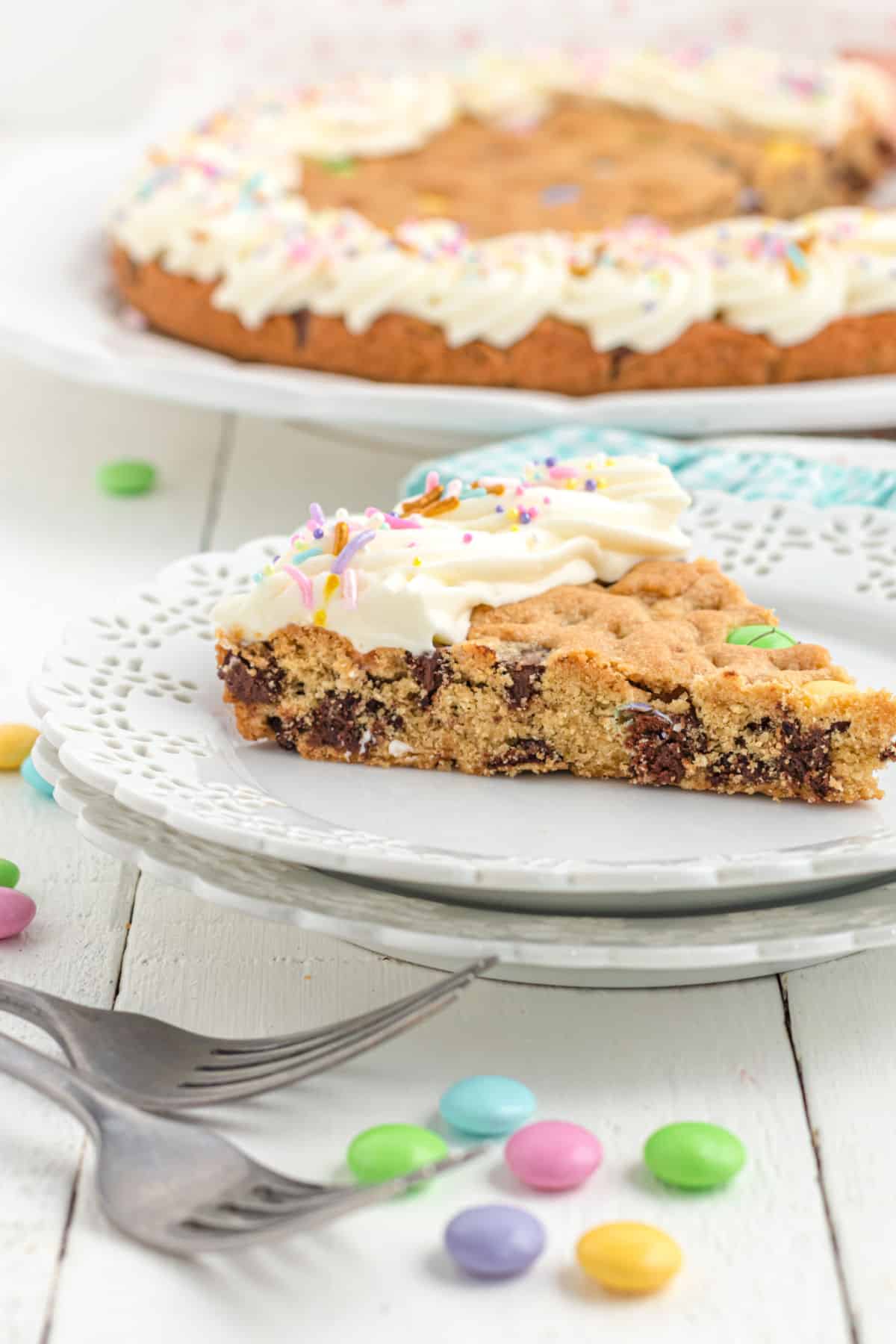 More Holiday Recipes
Can't decide between Easter cookies or Easter cake? Make everyone happy with this delightful Easter Cookie Cake recipe!