A chocolate pudding cake covered in Oreos makes Easter even sweeter! Easter Dirt Cake garnished with pastel M&Ms is an easy, no bake dessert that has everyone hopping back for seconds.
Do you love Dirt Cake as much as we do? I changed up my original recipe to make Halloween Dirt Cake first. Now I'm adapting it for Easter!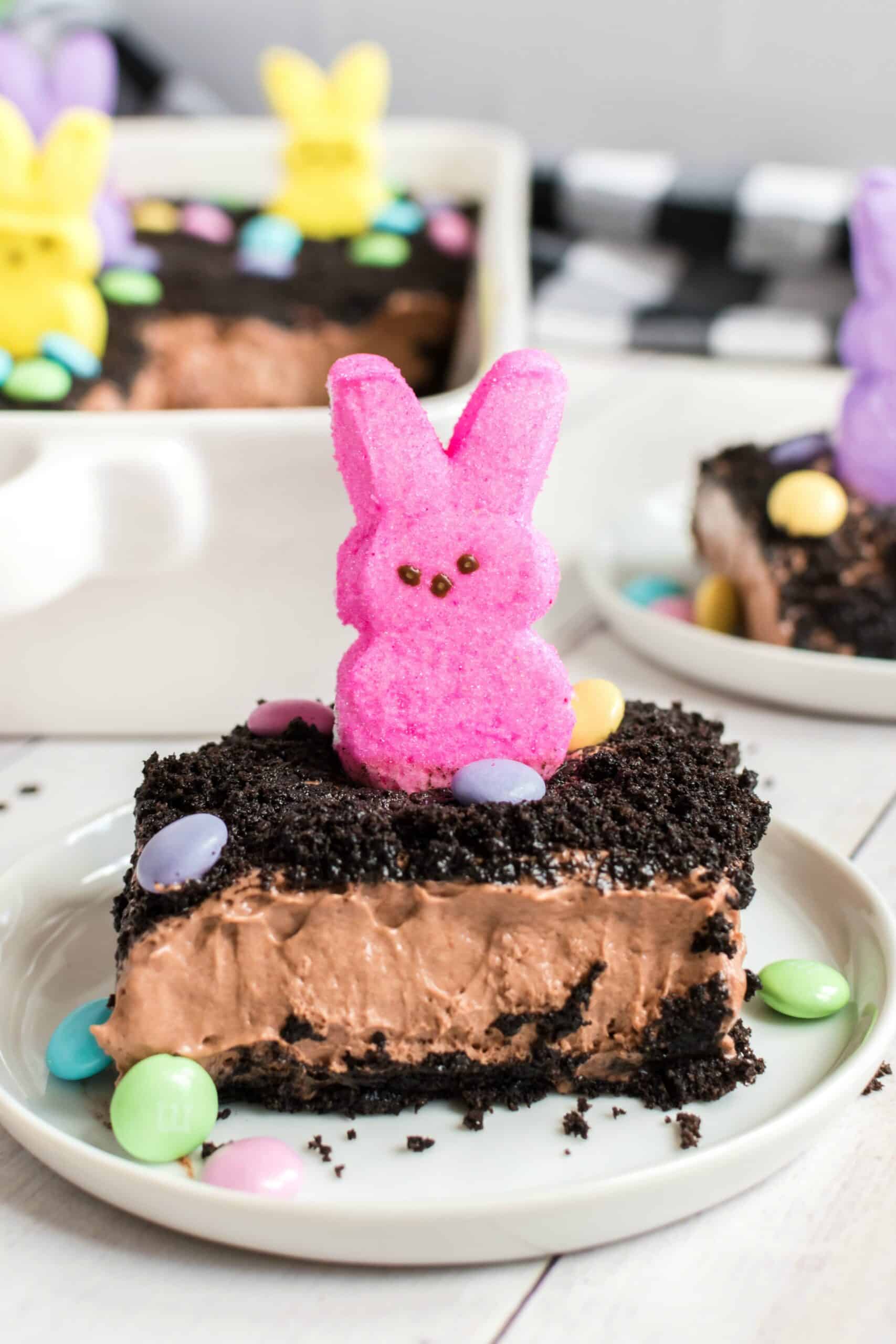 What is Dirt Cake
If you're not familiar with dirt cake–don't let the name turn you off. There's nothing dirty about it!
Dirt Cake is made by combining instant pudding mix with cool whip. The mousse like mixture is topped with lots of crushed oreos. (That's the "dirt" part.)
My original dirt cake recipe includes gummy worms to really sell the concept! I love changing up the garnishes so I can make dirt cake for any occasion.
This Easter Dirt Cake recipe swaps out the gummis for colorful Easter candy. Peeps make an adorable topping for the pudding cake while adding lots of marshmallow deliciousness.
It's time to celebrate the arrival of spring. Why not channel your inner child and enjoy a dessert made from chocolate pudding?
Adults love this dirt pudding cake as much as kids do!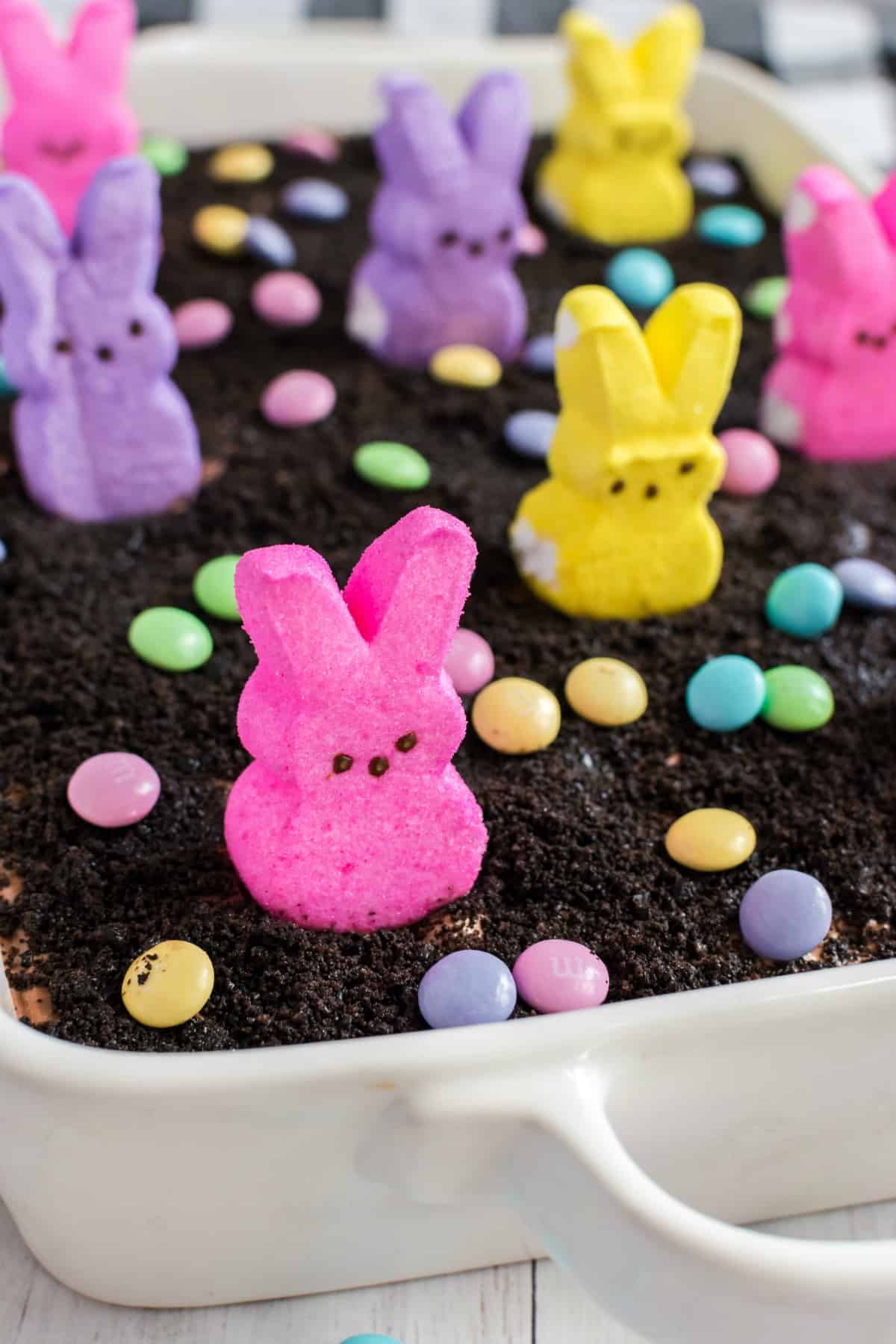 Ingredients Notes
Instant Pudding Mix. I used chocolate but vanilla is tasty too!
Cool Whip. Plain or chocolate flavored. Use our recipe for stabilized whipped cream if desired.
Pastel M&Ms. If you can't find pastel colored M&Ms, regular M&Ms are fine (but won't look as "Easter-y"). You could swap for cadbury chocolate eggs or Hershey chocolate eggs.
Cream cheese. Let it soften to room temperature before using so it's easier to blend.
Marshmallow Peeps. I used bunny shaped peeps. Feel free to mix and match your favorite shapes!
How to Assemble
I assemble my dirt cake in a glass 9 x 13 baking dish for easy serving.
Make the Filling. First, you'll combine cream cheese, butter, pudding and cool whip to make a creamy filling.
Layer with Crushed Oreos. Then, place half your Oreo cookie crumbs on the bottom of the pan. Top with the filling mixture, then add the rest of the crumbs on top.
Refrigerate. Let the dirt cake chill for at least two hours.
Decorate. Garnish the cake with M&Ms and marshmallow peeps just before serving.
You can also assemble this in a trifle bowl if desired! Make alternating layers of cool whip and Oreos to fill the bowl. Easter dirt cake looks especially beautiful this way.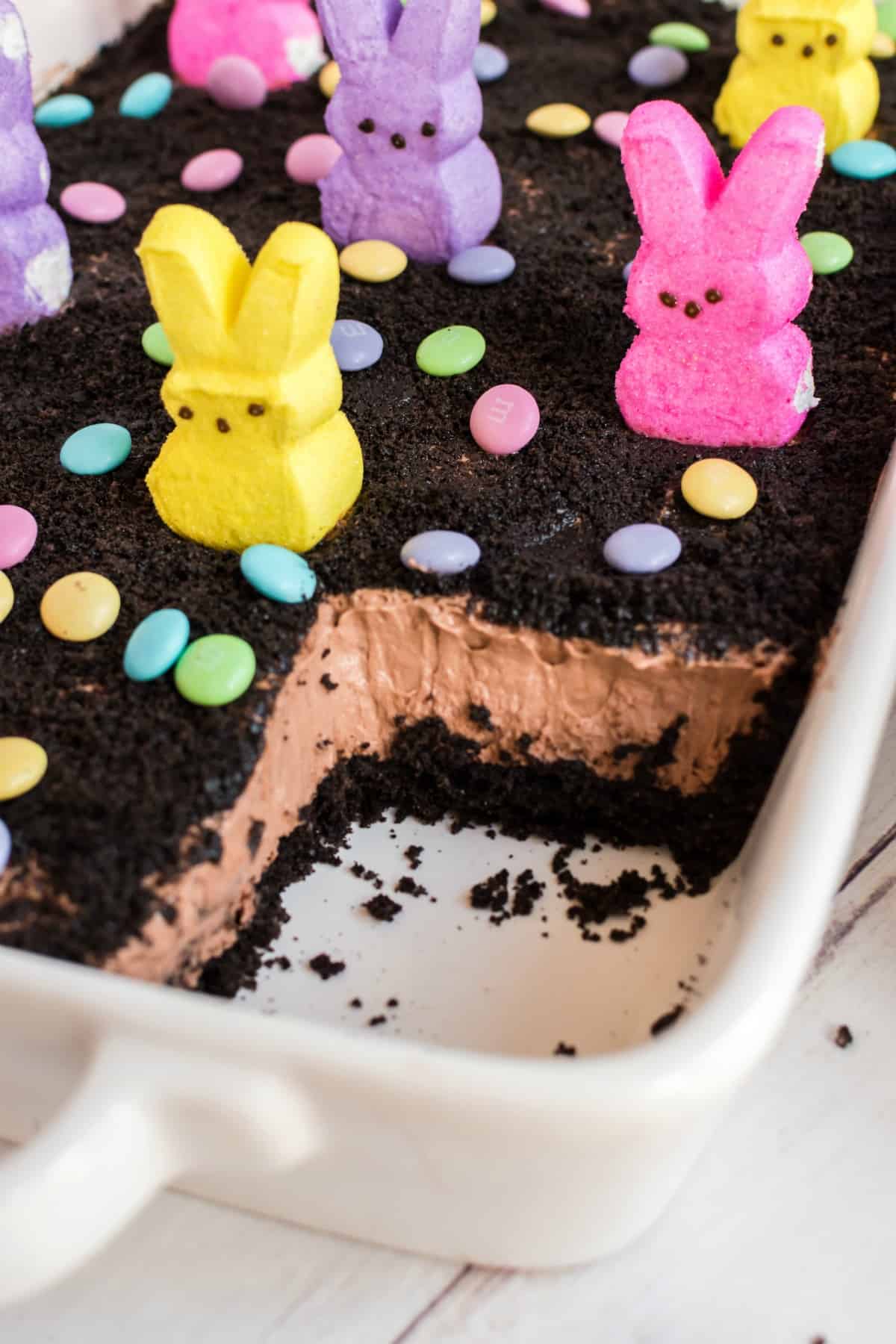 Recipe FAQs
What kind of Oreos do you need?
I made this with regular creme filled Oreos. Leave the filling in the cookie before crushing. You could make a vanilla version of this Easter dirt cake by using golden Oreos and vanilla pudding mix instead!
How do you store dirt cake?
Dirt cake should be stored in the fridge tightly covered. It tastes best if eaten within 3 days.
Why is my dirt cake runny?
If your cake turns out runny, you may have used cook 'n' serve pudding by mistake! Make sure to use INSTANT pudding mix for all my dirt cake recipes.
Dirt Cake Recipes
Halloween Dirt Cake– topped with candy corn (pumpkins) and Nutter Butter tombstones.
Chocolate Dirt Cake– just a classic pudding cake.
Gummi Worm Dirt Cake– made with vanilla pudding mix!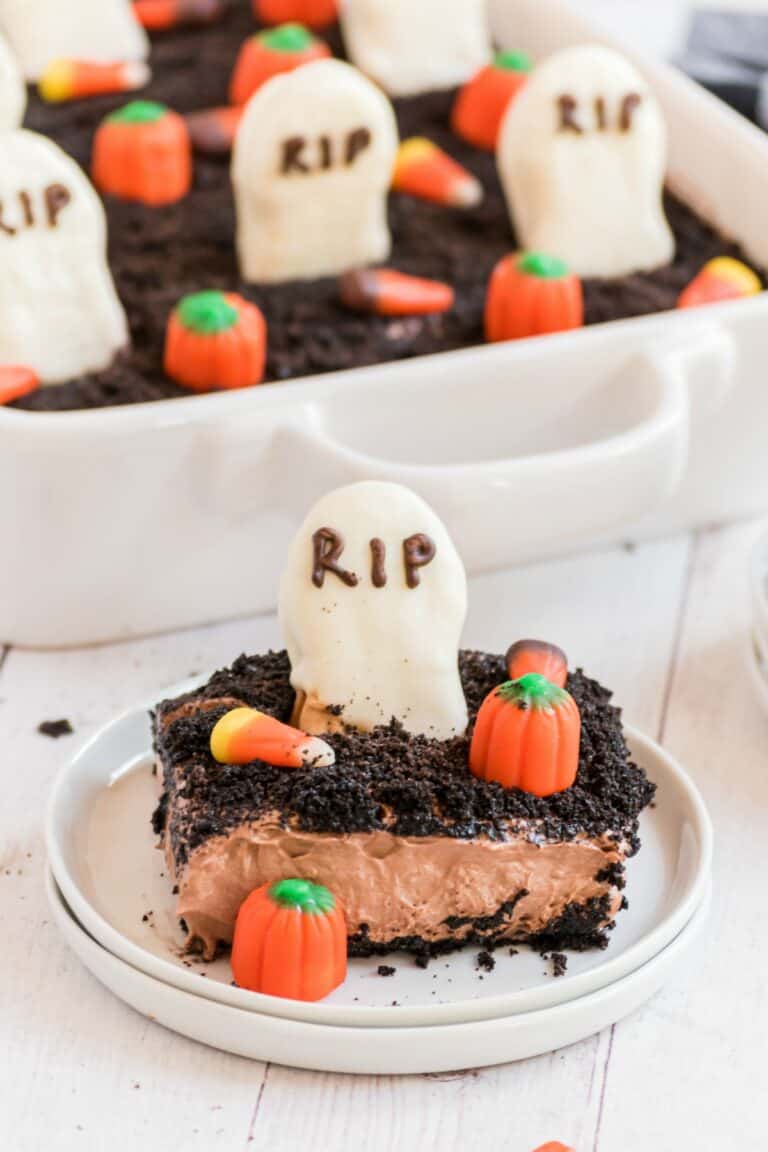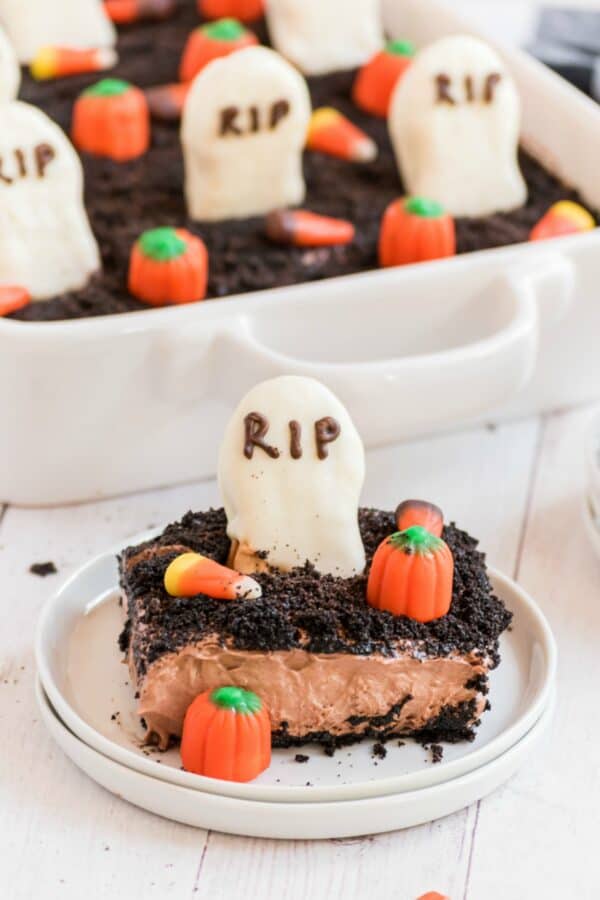 The ultimate dirt cake for Easter or any spring time celebration! You'll love the creamy whipped filling surrounded by crunchy Oreo layers. Best of all, you don't even have to touch the oven!