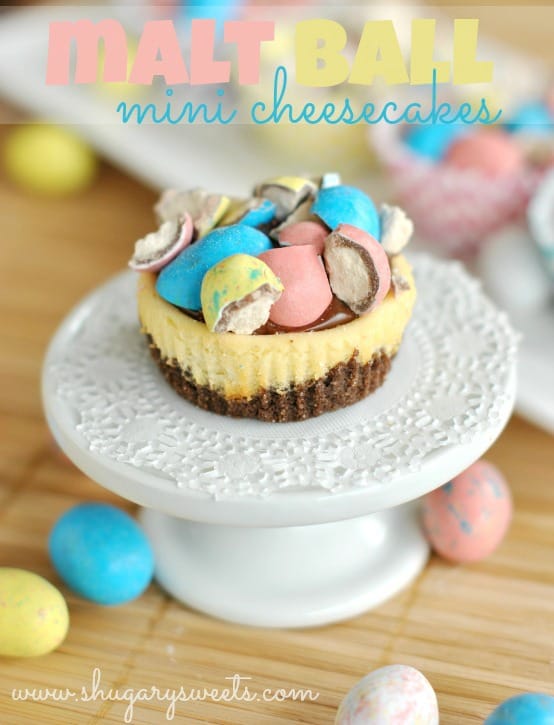 I realized something today. Well, actually last week when I made these cheesecakes: I love my job. I love that I get to bake, eat and repeat every. single. day.
I also realized I don't bake cheesecakes nearly enough! I was asked by PHILADELPHIA Cream cheese to be a part of their "Bring out the Silver" campaign this Easter.
PHILADELPHIA cream cheese…silver packages…bring out the silver. Get it?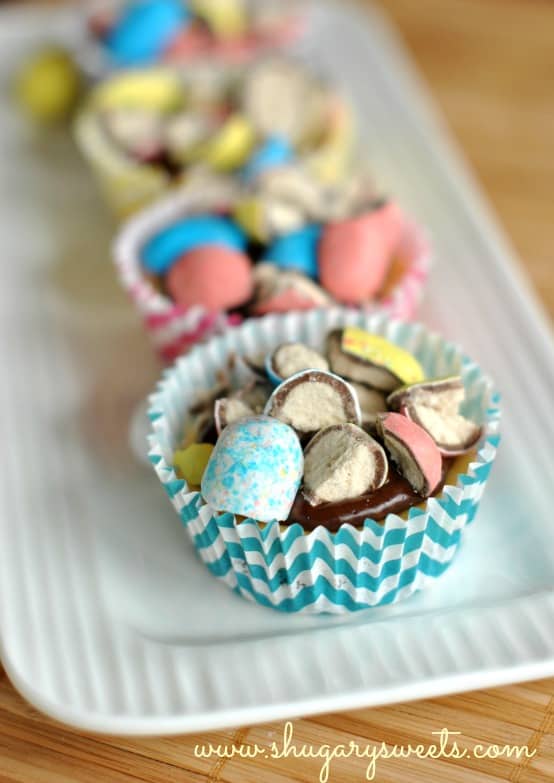 I prefer to only use "the silver" when baking cheesecakes. I've used off brands, and they just don't have the same texture. Did you know PHILADELPHIA Cream cheese has been around since 1872? I would say that has given them plenty of time to perfect America's favorite cream cheese! Their cream cheese (bricks) are made with fresh local milk and real cream, no preservatives and only real ingredients! Quite important if you want fresh, wholesome, real cream cheese taste! It also doesn't sit around being "processed." It goes from farm to fridge in 6 days. No wonder my cheesecakes come out perfect when I use PHILADELPHIA!!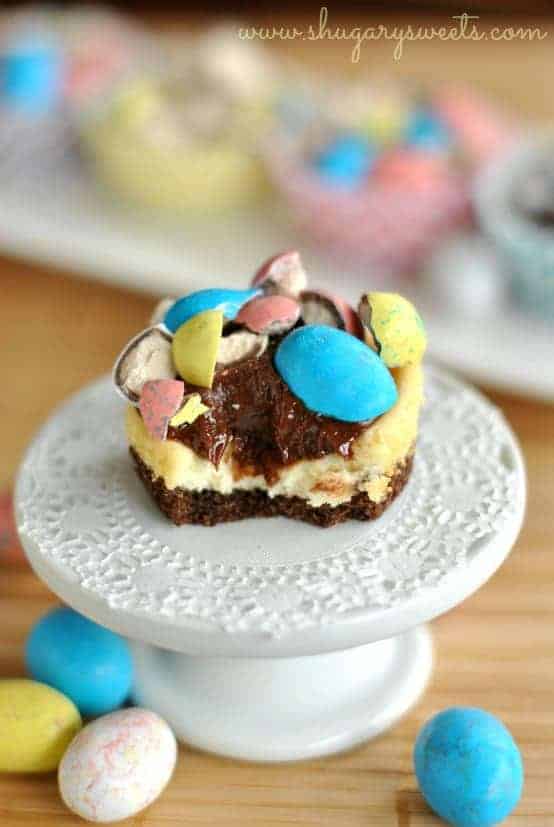 This Easter, why not try making these delicious, Malt Ball Mini Cheesecakes? The crust is made using chocolate graham crackers. I added some malted milk powder to the crust and the cheesecake filling. I topped each mini cheesecake with some chocolate ganache and some broken malted milk balls. I'm pretty sure these are my favorite cheesecakes ever! how will YOU use PHILADELPHIA cream cheese this holiday?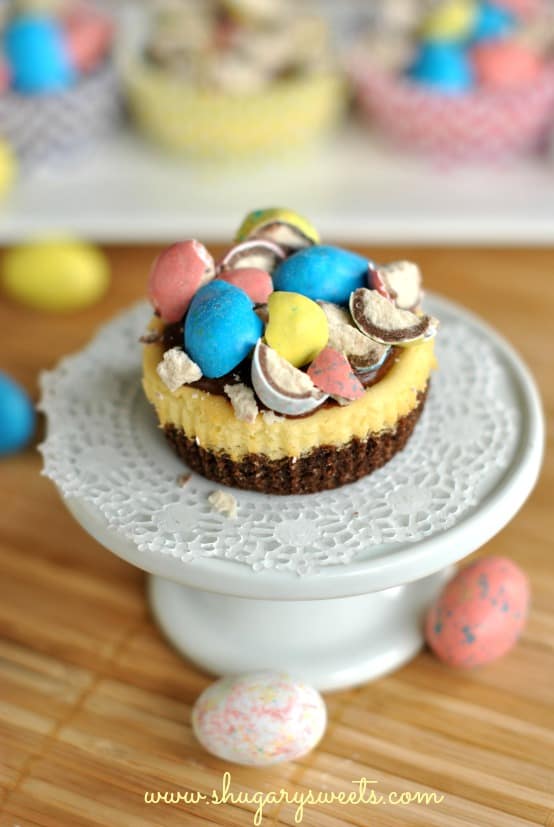 Yield: 20-24 mini cheesecakes
Mini Malt Ball Cheesecakes with Chocolate Ganache
Prep Time
2 hours
20 minutes
Ingredients
For the Crust:
9 chocolate graham crackers (whole)
1 Tbsp malted milk powder (original flavor)
2 Tbsp granulated sugar
6 Tbsp unsalted butter, melted
For the Cheesecake:
2 pkg (8oz each) PHILADELPHIA cream cheese, softened
1/2 cup granulated sugar
1 tsp vanilla extract
2 eggs
2 Tbsp malted milk powder (original flavor)
For the Ganache:
2 cup milk chocolate morsels
1/2 cup heavy cream
2 cup malted milk balls, chopped
Instructions
In a food processor, pulse graham crackers until fine crumbs. Pulse in the malted milk powder and sugar. Using a fork, mix in the melted butter. Spoon about one tablespoon of crust into the bottom of 20-24 paper lined muffin cups. Press into bottom of paper liner using a tart shaper or bottom of cup. Set aside.
In a large mixing bowl, beat cream cheese, sugar, and vanilla on high for about 2 minutes. Add eggs one at a time, beating until fully incorporated. Beat in malted milk powder. Spoon filling into muffin cups until 2/3 full. Bake in a 350 degree oven for 25-30 minutes. Remove and cool on wire rack.
When cooled, begin ganache. In a glass bowl, add heavy cream and microwave for 30 seconds, until warm. Add milk chocolate and heat an additional 60 seconds, stirring until smooth.
Spoon about 1-2Tbsp onto each cooled cheesecake. Top with chopped malted milk balls. Refrigerate 2 hours or more, covered. ENJOY.
Ever wonder why your cheesecakes don't come out picture perfect? Here are some tips and tricks from the chefs at the PHILADELPHIA Cream Cheese kitchens (seriously, who wouldn't want that job? I'd be happy to just visit and taste test for a weekend)!!
Prep it Right: Set out ingredients about 10 minutes before baking to work with them at room temperature. Allow your oven to preheat while preparing your filling.
Be Gentle: Do not over-beat. Over-stirring can add too much air into the batter, which can cause cheesecake to crack. Beat in eggs, one at time, on low speed until just blended.
Practice Patience: Don't peek! Opening the oven door while cheesecake is baking causes drafts that may lead to cracking.
Loosen Up: Another way to prevent cracking is to immediately run a knife around the edge of the cheesecake after baking to loosen it from the sides of the pan.
Recipe created by Shugary Sweets. For more recipes, go to creamcheese.com.
"I have been selected by Kraft Foods to be an ambassador for PHILADELPHIA cream cheese. While I have been compensated for my time, my opinions are my own, and I have not been paid to post positive comments."
Did you know Google Reader is going away soon? Be sure you follow Shugary Sweets in other places so you don't miss a recipe! I love using Bloglovin to follow my favorite blogs. You can find Shugary Sweets here:
 Bloglovin' | Facebook | Twitter | Google+ | Pinterest | Instagram
 Want more mini cheesecake recipe ideas? Check out some of these wonderful bloggers and their mouthwatering recipes….
In Katrina's Kitchen  |  Bake or Break  |  Buns in My Oven  |  Cookies & Cups  |  Dine and Dish  |  Hoosier Homemade  |  Damn Delicious  |  Brown Eyed Baker