These Mini Cherry Cheesecakes show up at all holidays in our family. Just like a full-size cheesecake, these bite-sized treats are packed with creamy flavor!
For all you cheesecake lovers, these delicious Oreo Cheesecake Bites are perfect for parties or weeknight desserts!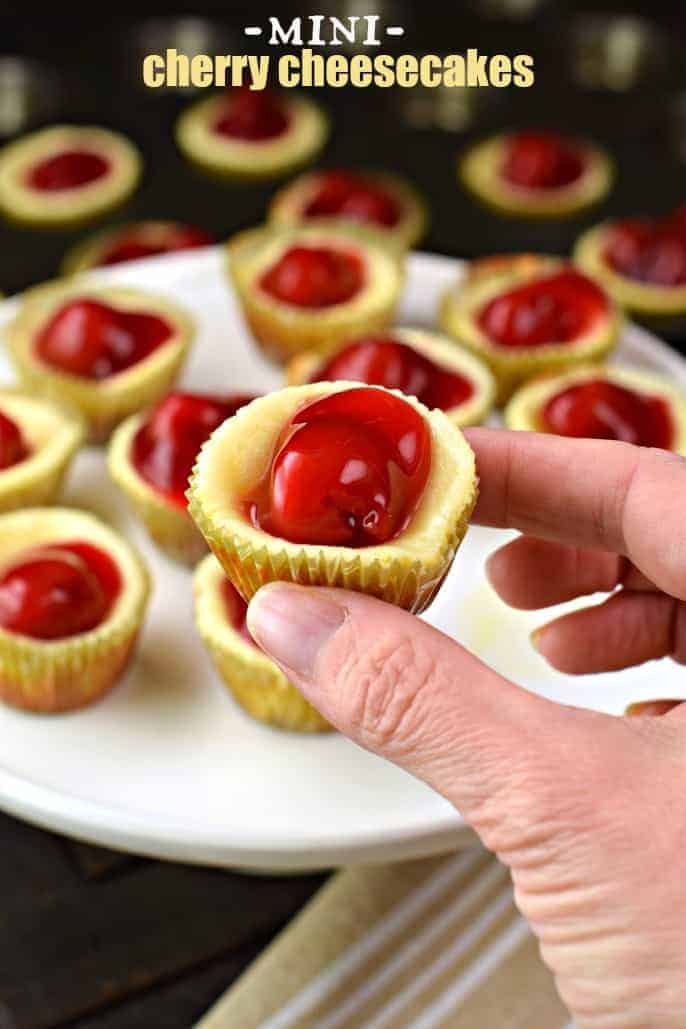 Why this Recipe Works
Bite-sized Mini Cherry Cheesecakes. Easy to make, delicious to eat, and makes 4 dozen treats. That's a lot of bites.
Although, trust me when I say how easy it is to just polish off a good 3 or 4 (or 12) of these mini cheesecakes in one sitting.
This mini cheesecake recipe is one of my husband's favorite desserts. I think it may be one of the reasons why he stuck around at my crazy family holiday gatherings (no offense, family). He knew my mom would pull out a big batch of these.
At least it gave him something to compliment my mom on food-wise (no offense mom, but we know how picky he is). Funny though. For a man who hates "goopy" and condiments, and cream cheese, and sour cream, and mayonnaise…he LOVES cheesecake.
Don't worry, I won't complain. I enjoy when the rest of the family likes what I make. At least then I'm not the only one wearing stretchy pants. Oh, wait, I'm sorry…"yoga pants."
How to Make Cherry Cheesecake
Don't be intimidated by their petite size – Mini Cherry Cheesecakes aren't hard to make!
You'll start by making your graham cracker crust. I know some people buy the already made crumbs, but I find that they don't have a good taste to them.
So grab your food processor (or blender) and process your graham crackers to a fine crumb. Add the butter and sugar and mix well. Add about 1-2 tsp of crust to each paper liner. Press firmly. I use a tart shaper for this!
For the cheesecake filling, you'll want to beat your cream cheese for several minutes with the egg, vanilla, and sugar. It will be creamy and fluffy! Add enough filling to each tin to fill 2/3 full.
Bake in 350 degree oven for about 17-20 minutes. Remove and cool completely.
To turn these tiny cheesecakes into Mini Cherry Cheesecakes, top each cheesecake with a dollop of cherry pie filling, making sure that at least one cherry gets on each bite!
Refrigerate until ready to enjoy. These are best enjoyed chilled!
Still need tips? Check out the video tutorial below!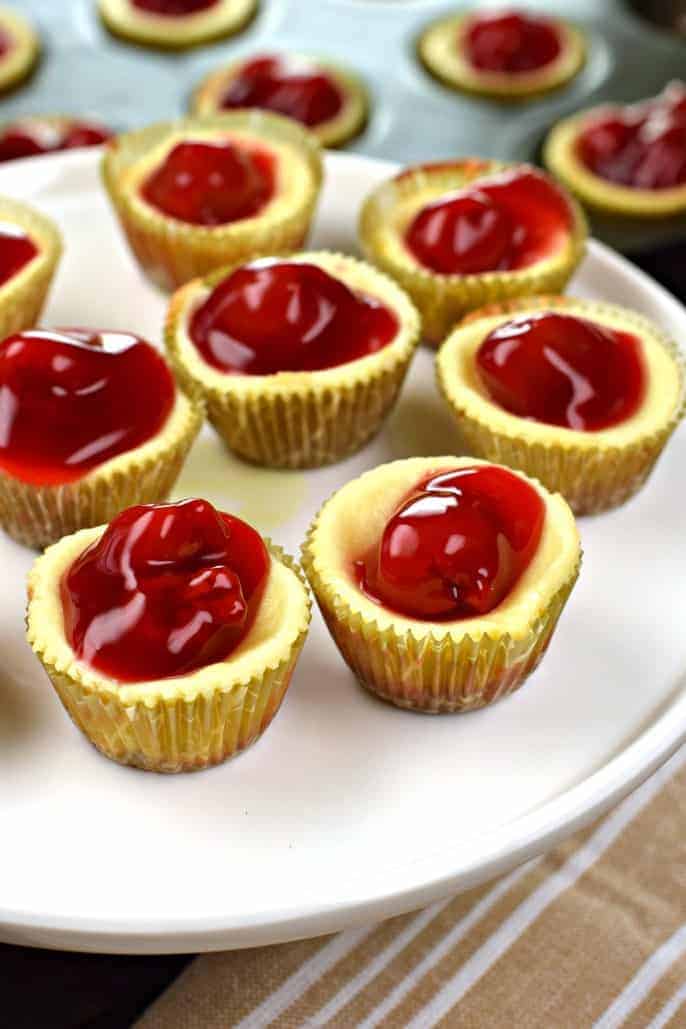 Tools used
First, you'll need a mini cupcake pan with paper liners! We actually have three of these pans so that I can have the next batches ready to go while one is in the oven!
I use a tart shaper to press my crust firmly into the pan. This tool is also handy when making Nut Cups.
Beating the cream cheese until smooth and creamy takes about 3-5 minutes. It's easy to do when you have a KitchenAid mixer!
Recipe FAQs
Can I make these in a regular muffin pan?
Yes, but you will need to add a few more minutes of baking time.
How can I tell if my mini cheesecakes are done baking?
The cheesecakes are baked when the center is mostly set but not fully solid. If you gently jiggle the pan, the center of each cheesecake should wobble slightly but not appear watery.
Why are my mini cheesecakes sinking?
If your cheesecakes are sinking, over beating the batter is often the culprit. Beating for too long, incorporates excess air which can result in sunken mini cheesecakes.
To avoid over mixing, bring your ingredients to room temperature before using. Room temperature ingredients are easier to incorporate, requiring less mixing.
Can I use homemade cherry pie filling instead of canned?
Yes, your favorite homemade cherry pie filling should work equally well here! Make sure it is fully cooled before adding to the mini cheesecakes.
More Cheesecake recipes
Cherry Cheesecake Dip. All the fun of a frosting, topped with cherries…but in a snack form!
Go big or go home. This full-size S'mores Cheesecake is so fun…and perfect for a crowd. Cut the slices small as it's rich and decadent!
This easy Pumpkin Cheesecake Bars Recipe makes such an excellent treat to enjoy for any autumnal holiday celebration. Or make year round like I do!
Bright, colorful swirls make this Rainbow Cheesecake pretty to look at, and this is my favorite fluffy cheesecake recipe with a hint of lemon- divine!
Perfect Instant Pot Reese's Cheesecake recipe. So easy, sooooo good!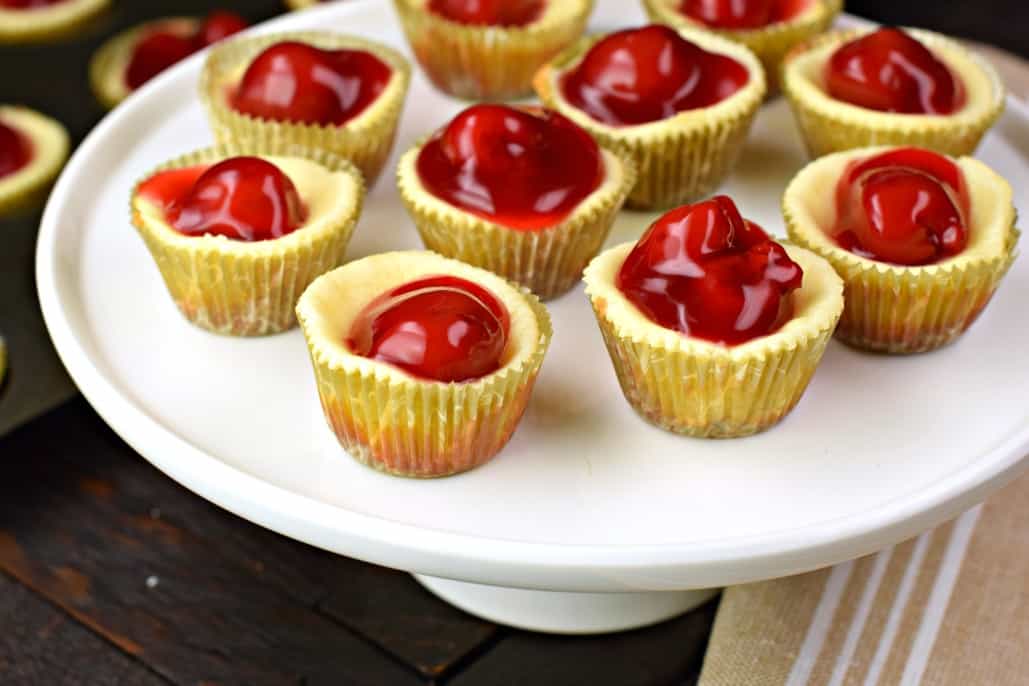 These Mini Cherry Cheesecakes show up at all holidays in our family. Just like a full-size cheesecake, these bite-sized treats are packed with creamy flavor!