Mini No Bake Cheesecakes might just be the easiest cheesecake recipe ever. Combine a few simple ingredients in a homemade Oreo crust and you'll have the perfect creamy, sweet miniature cheesecakes to impress your dinner guests.
Like these Mini Cherry Cheesecakes our readers love, these adorable cheesecakes are full of creamy flavor. No bake instructions make this recipe even easier! Our full size no bake cheesecake recipe is a reader favorite!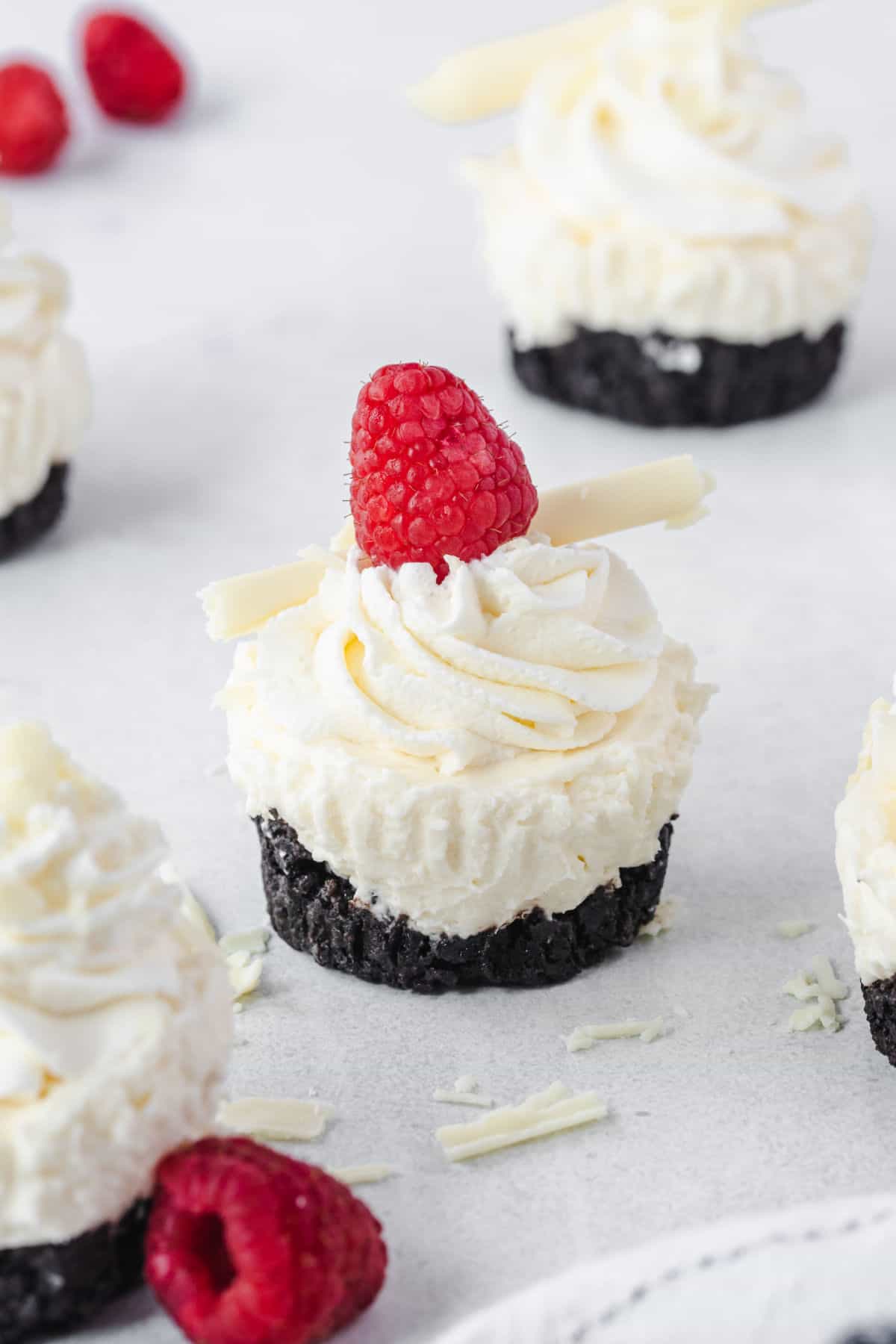 Why this Recipe is Best
The chocolate cookie crust is the perfect vehicle for vanilla cheesecake filling.
Melted white chocolate is folded into the creamy center making it even more rich and luscious. (much like my perfect vanilla cheesecake recipe)
Mini cheesecakes are delicious served plain or topped with whipped cream and fresh berries.
With a no bake cheesecake recipe you don't need to worry about cracking tops or water baths.
This dessert is the intersection of impressively delicious and unbelievably easy! You'll get consistent results each and every time.
Ingredient Notes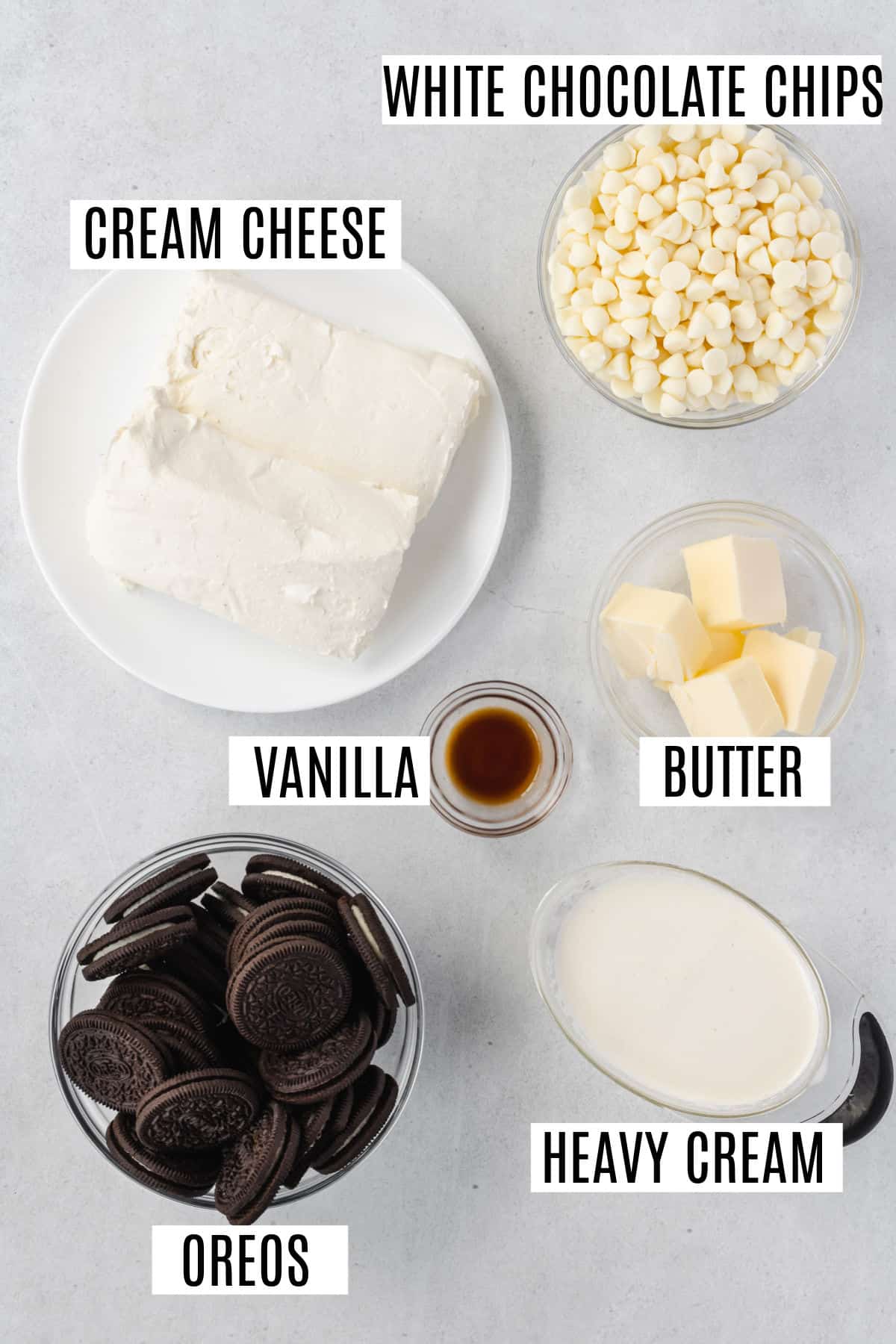 Heavy whipping cream. The cream should be kept COLD in the fridge until you're ready to add it to your mixing bowl.
Cream cheese. Unlike the whipping cream, you'll want to let the cream cheese sit on the counter for a few minutes. When it's softened it's easier to incorporate with the cream.
Oreos. We used classic chocolate Oreo sandwich cookies for the no bake mini cheesecake crust. You can swap them for Nilla wafers or graham crackers if preferred.
Butter. I use unsalted butter in this recipe. Salted butter would work just fine too.
Vanilla. Choose a pure vanilla extract or try my homemade vanilla extract for today's cheesecake.
Easy Instructions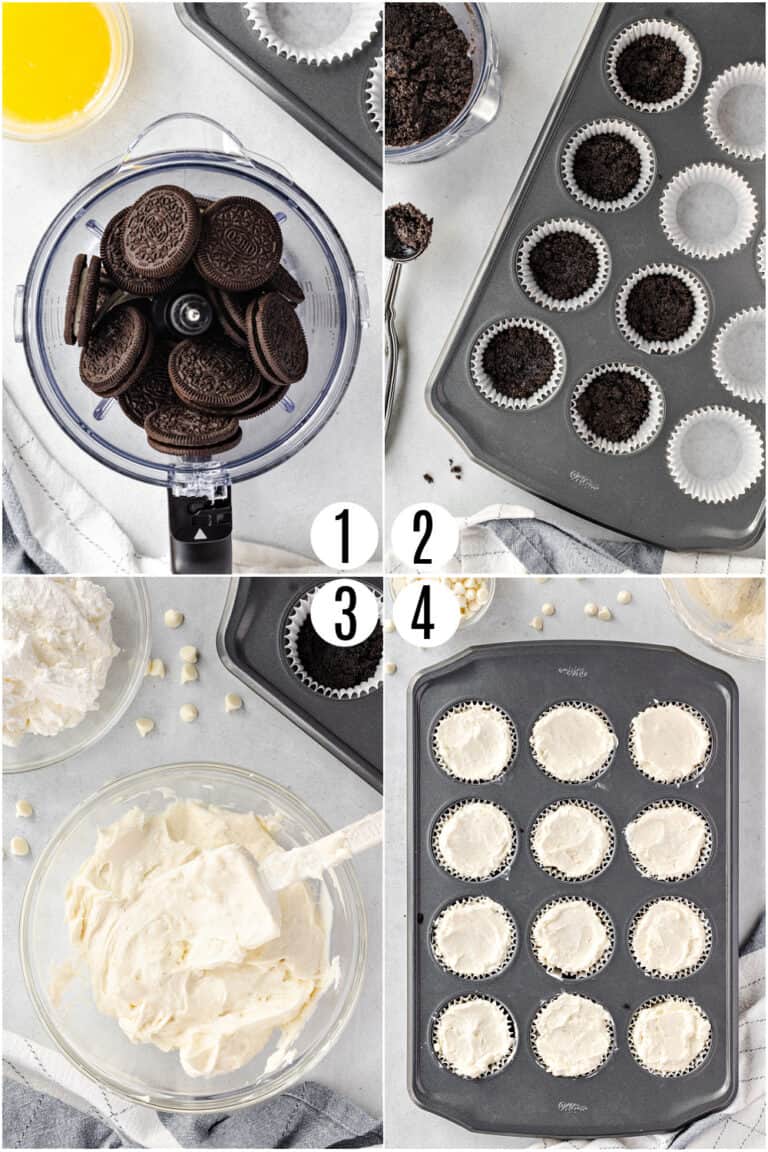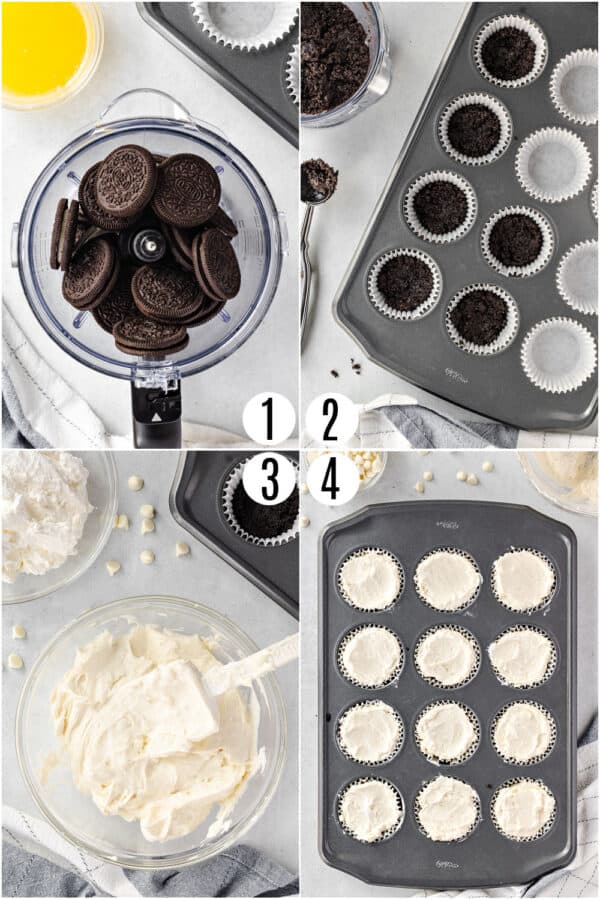 Start by making the crust. I pulse the Oreos in a food processor, then stir in melted butter.
Press the crust into the bottoms of a lined muffin pan.
Now, whip the heavy cream, then beat together the filing ingredients. Spoon about 1/4 cup of it over each mini crust.
Chill the mini cheesecakes for a few hours until firm. Or leave them in the fridge over night!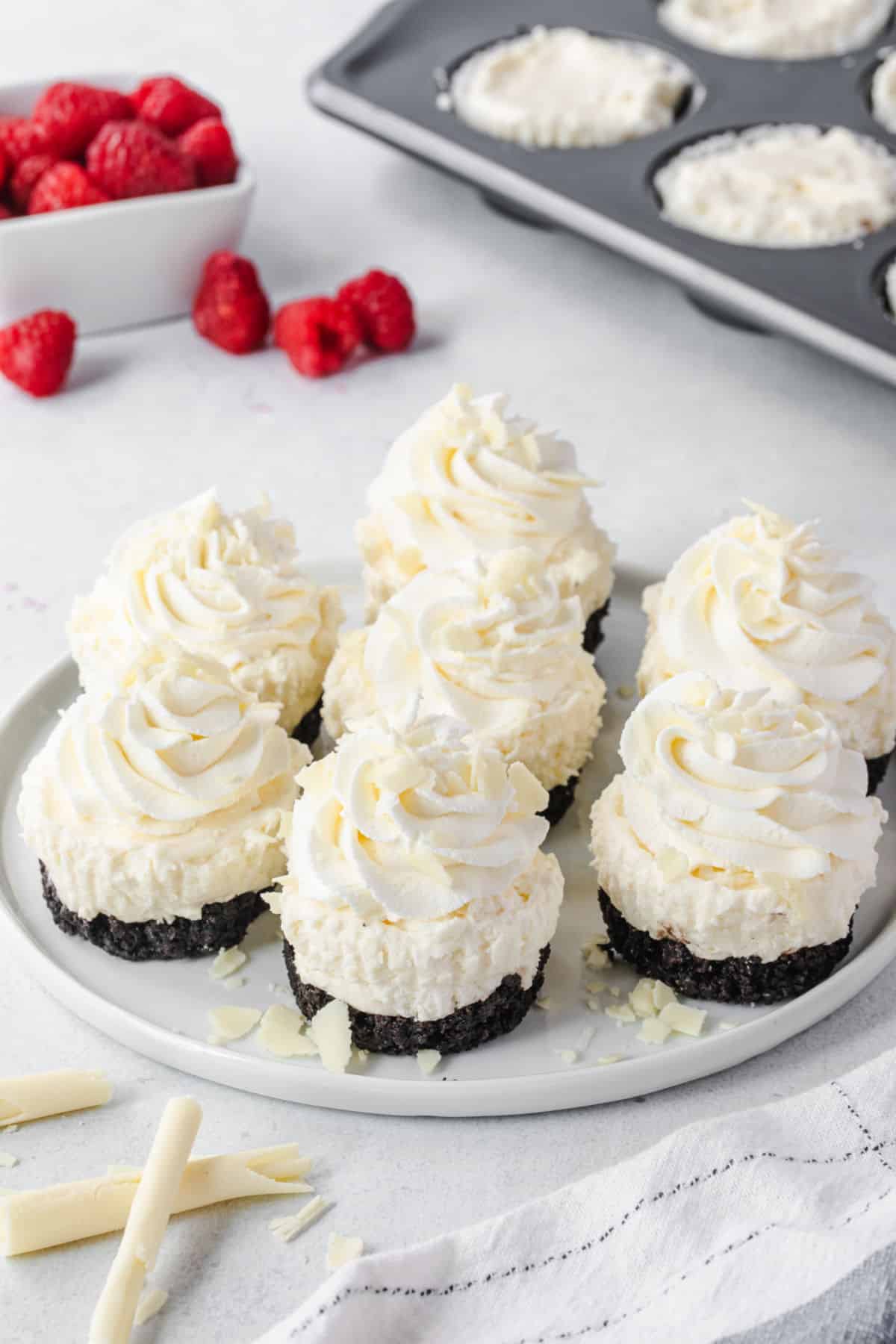 Tips & Tricks
Use a cold bowl. When beating the whipping cream, use a cold clean metal bowl. This helps the cream form stiff peaks that give the cheesecake an amazing consistency.
Toppings: Enjoy your mini cheesecakes topped with fresh raspberries, strawberries, blueberries or your favorite berry compote. A spoonful of your favorite cherry pie filling would be delicious too. Homemade lemon curd or toasted coconut are delicious on top as well. Holidays call for some sugared cranberries!
Make ahead option: These no bake mini cheesecakes can be made up to 3 -5 days in advance. Store in an airtight container without toppings in the fridge until ready to eat.
MORE: We love cheesecake. These oreo cheesecake bites and these lemon cheesecake bites are family favorites. Unlike today's recipe, you bake and cut them into squares.
Mummy Cheesecakes- skip the whipped cream on top and pipe some white chocolate over the tops of the cheesecakes. Press on a pair of candy eyes and you have an instant Halloween cheesecake treat!
Peppermint Cheesecakes– make our easy peppermint filling instead!
Recipe FAQs
Can I freeze these no bake mini cheesecakes?
Yes, if you end up with leftovers, freezing is a great option. Freeze on a parchment lined baking sheet for about 30 minutes until hardened. Once frozen, transfer to freezer safe bags or wrap individually in foil. They keep well in the freezer for about 3 months.
Why is my no bake cheesecake runny?
No bake cheesecakes get runny for 3 reasons. The first common culprit of a runny cheesecake is low fat or low quality cream cheese. Lower fat cream cheese has more moisture which results in a soggier cheesecake. Second, make sure to beat your cream to stiff peaks. You need to do this before adding it to the cream cheese. No bake mini cheesecakes can also end up runny if they're not refrigerated long enough. These are usually set after about 4 hours, but may take longer depending on your fridge temperature.
How do I know if my cream has achieved the "stiff peaks" state?
When the whipping cream is beaten long enough, the peaks will start to stand up in a straight point when you lift the beaters. If the cream sinks or falls immediately, keep beating!
No need to turn on the oven to make eye catching and mouthwatering mini cheesecakes! This easy 6 ingredient no bake recipe is perfect for any occasion or celebration.