No Bake Strawberry Cheesecake is an easy dessert with tons of refreshing strawberry flavor! Covered with cool whip and fresh strawberries, it's the perfect dessert to make when you don't want to use your oven.
This Strawberry JELL-O Poke Cake is another recipe that we love to make in the spring and summertime. Our readers rave over these Strawberry Shortcake Ice Cream Bars too.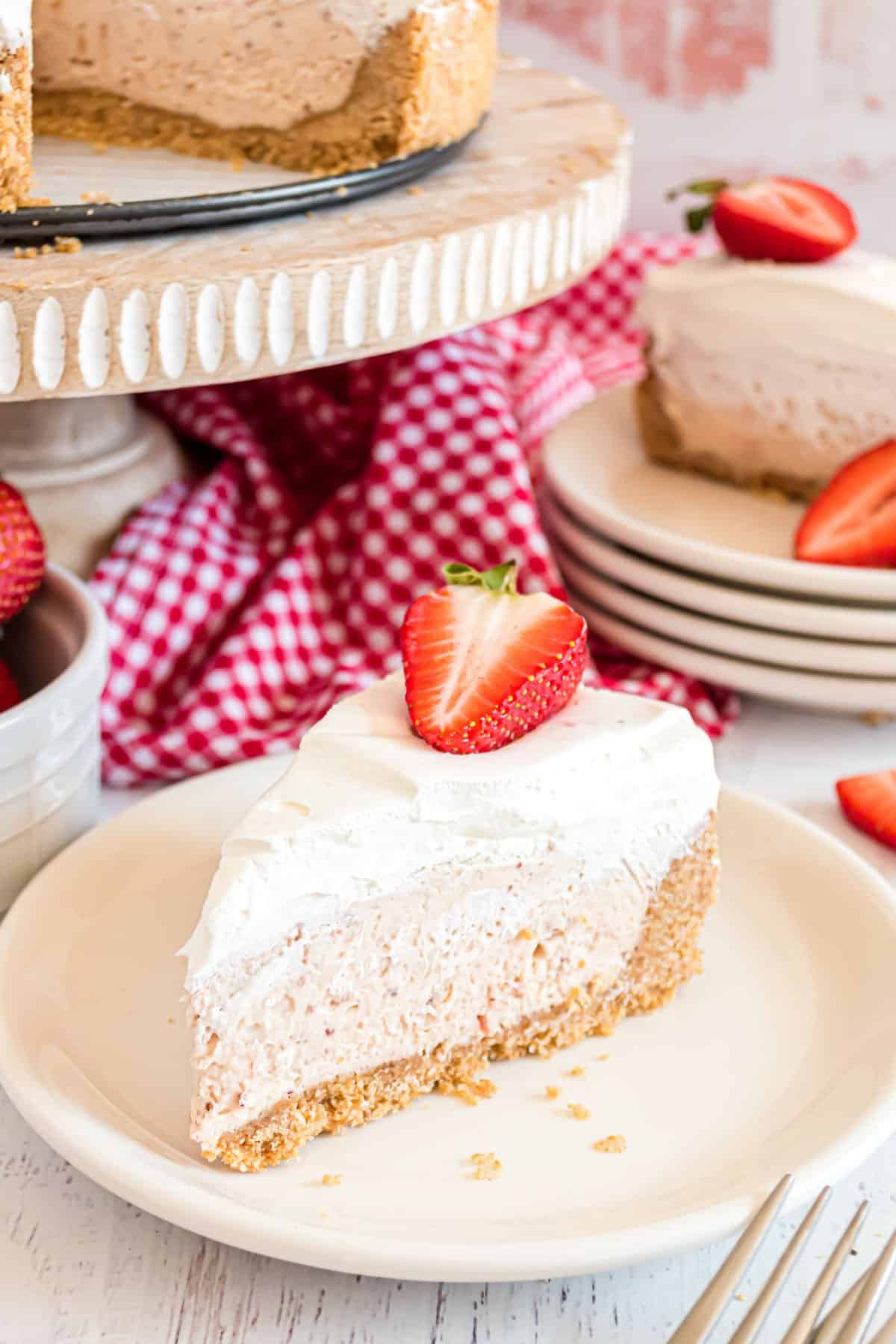 The Perfect No Bake Cheesecake
I can't get enough of this delightful No Bake Strawberry Cheesecake! It's cold, creamy, sweet and bursting with the flavor of real strawberries.
You could just make a vanilla No Bake Cheesecake, spoon a few strawberries on top and call it a "strawberry cheesecake." But that's not enough strawberry for me when I'm craving a true strawberry flavored treat.
This cheesecake recipe takes the strawberry theme to an even more delicious level with a strawberry filling AND sliced strawberries on top. You'll love the pretty pink color, the perfect creamy consistency and the flavor of strawberries in every single bite.
Many recipes call for creating a strawberry reduction, but I didn't want to mess with my already perfect no bake cheesecake. So I used the same trick as my strawberry layer cake.
Freeze dried strawberries!
Make ahead of time and keep chilled.
Sweet strawberry flavor.
No bake crust AND filling!
NO BAKE: If you love making no bake desserts, be sure to try our easy no bake lemon cheesecake next! Or give our no bake nutella cheesecake a try.
BAKED: Looking for a traditional cheesecake recipe? Try our baked strawberry cheesecake next!
Ingredient Notes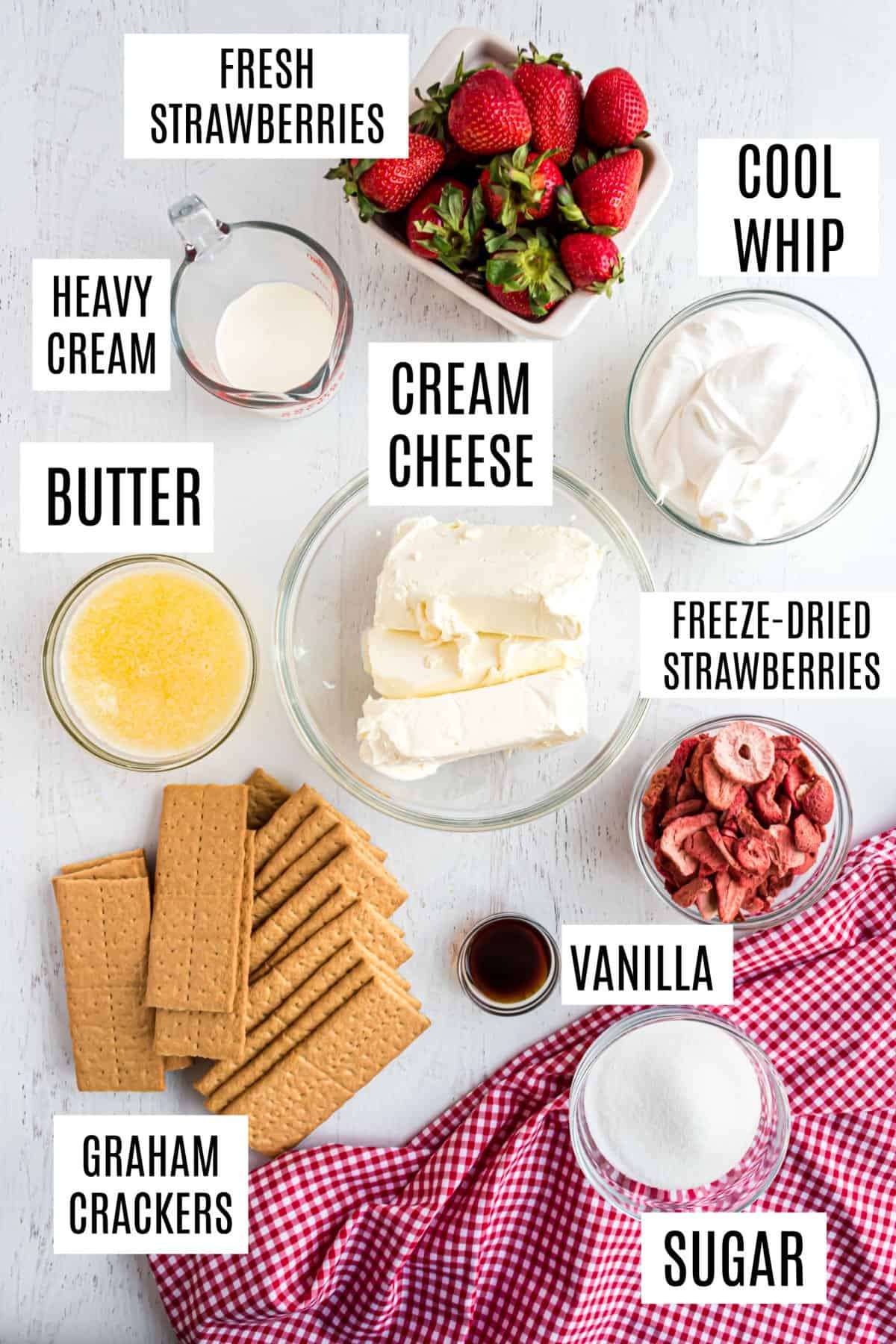 Freeze dried strawberries are the secret to the flavor and color of this filling. They're whole strawberries with all the moisture removed so you add flavor to the filling without disrupting the ratio of liquids to solid. I buy them on Amazon or Target (find packages that are about 1 ounce…Amazon is either .7 or 1.2). The more powder you use the richer strawberry flavor!
Graham cracker pie crust – Check out all our tips and tricks for how to make a graham cracker pie crust for this no bake cheesecake recipe. You could also use Nilla Wafers if you prefer!
Cream cheese and heavy whipping cream are combined with sugar and vanilla for the base of this filling. For best results, let the refrigerated ingredients come to room temperature. This makes them easier to combine completely for a smooth consistency.
Cheesecake toppings – We topped this No Bake Strawberry Cheesecake with a thick layer of cool whip and sliced strawberries. Real whipped cream would be delicious too!
PRO TIP: Buy a few extra bags of freeze dried strawberries so you can give our strawberry cookies a try next!
Tips and Tricks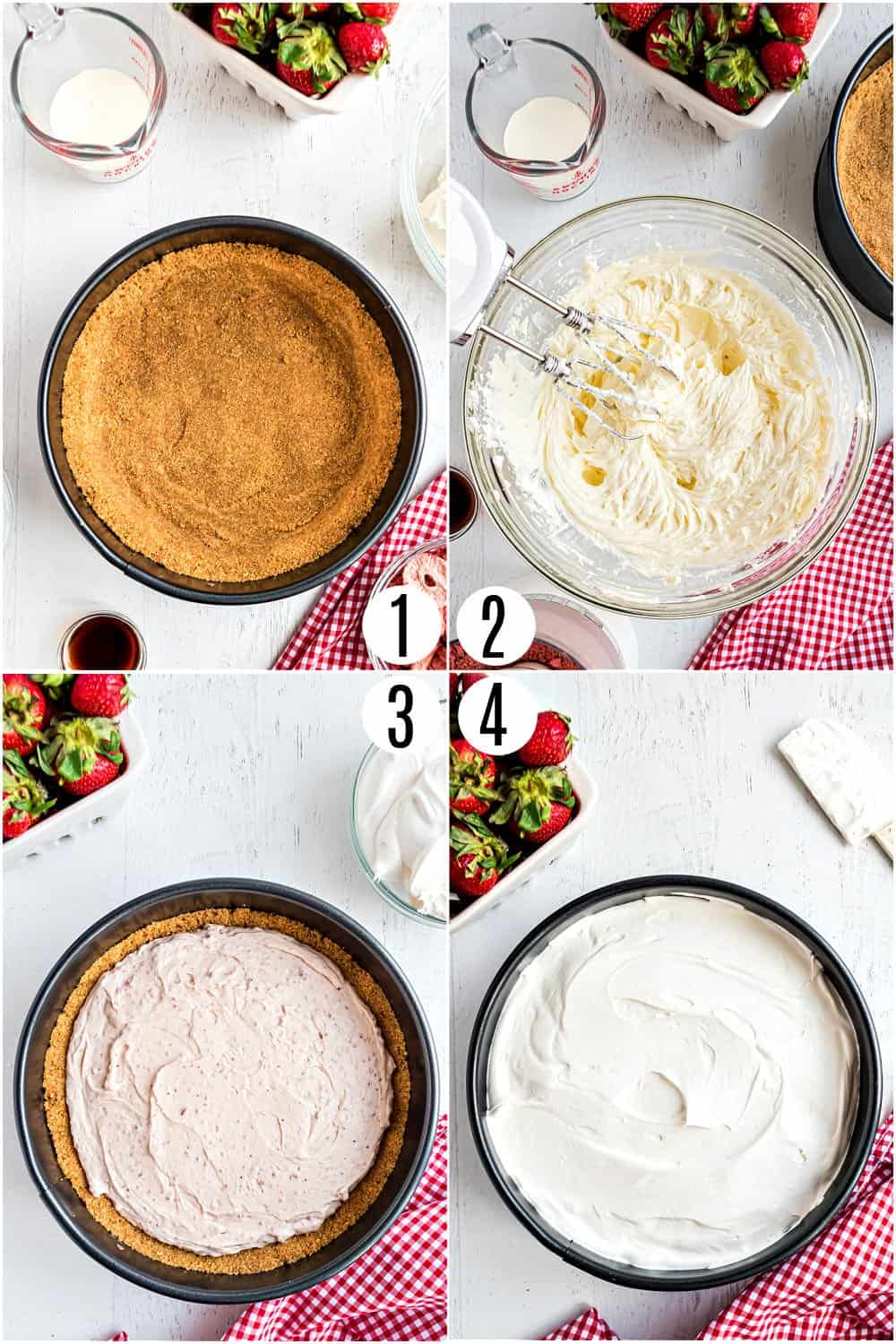 Strawberries: The dried strawberries should be turned into fine crumbs before adding them to the cheesecake filling. Pulse them in a food processor a few times until they achieve the right consistency. A few bigger chunks are okay.
Tools: This strawberry no bake cheesecake recipe can be made in either a round 9-inch spring form pan or in a 9-inch square baking dish. If you use a springform pan, make sure to press the crust slightly up the rim.
Keep Chilled: Refrigerate no-bake strawberry cheesecake for at least 3 hours before serving. Because we're not baking this cake, a long chilling time is necessary to set up the filling and bring it to the perfect temperature. Can be made the day before!
Blend: Be sure to completely combine the cream cheese with the sugar and strawberry crumbs. The filling should look completely smooth with no lumps of cream cheese or sugar visible. Make sure to use full fat cream cheese (the blocks, not the spreadable tub).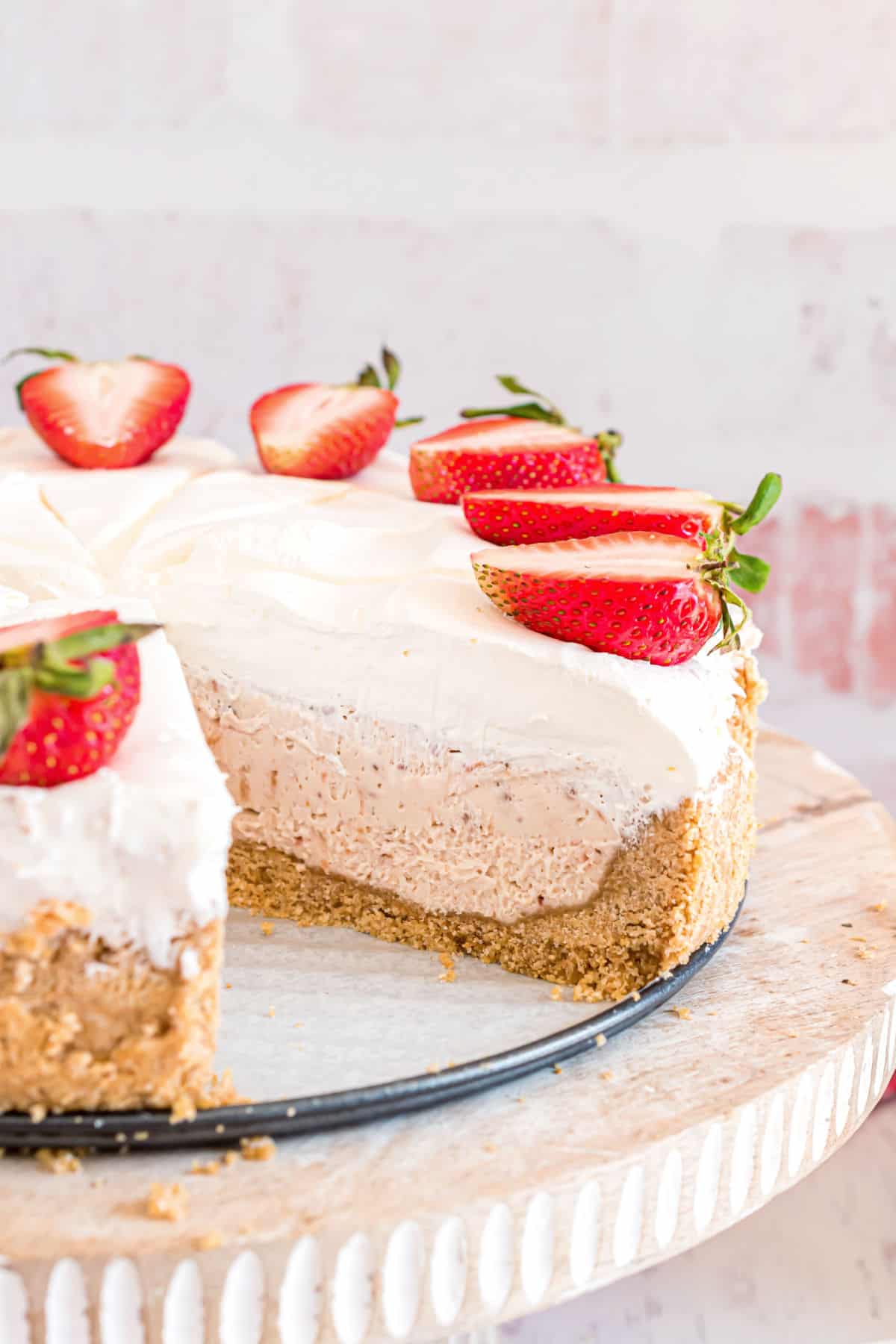 Recipe FAQs
Does no-bake cheesecake need to be refrigerated?
Yes. No Bake Cheesecake is made with ingredients that easily spoil if not kept cold. Store the cheesecake covered in the refrigerator when not eating. Enjoy within 5 days.
Can I substitute fresh strawberries for the freeze dried ones?
No, fresh strawberries should not be used as a substitute for freeze dried. They will add too much moisture to the filling, affecting the texture of the cheesecake.
Can I freeze no bake cheesecake?
Yes, this No-Bake Strawberry Cheesecake can be stored in the freezer for up to 3 months. For best taste, wrap the cheesecake in foil and pace it in a freezer bag to preserve freshness.
Add the cool whip topping to thawed cheesecake before serving.
What does no bake cheesecake taste like?
While most people know the texture and taste of traditional cheesecake, no bake cheesecake has a taste and texture similar to mousse. Creamy and delicious.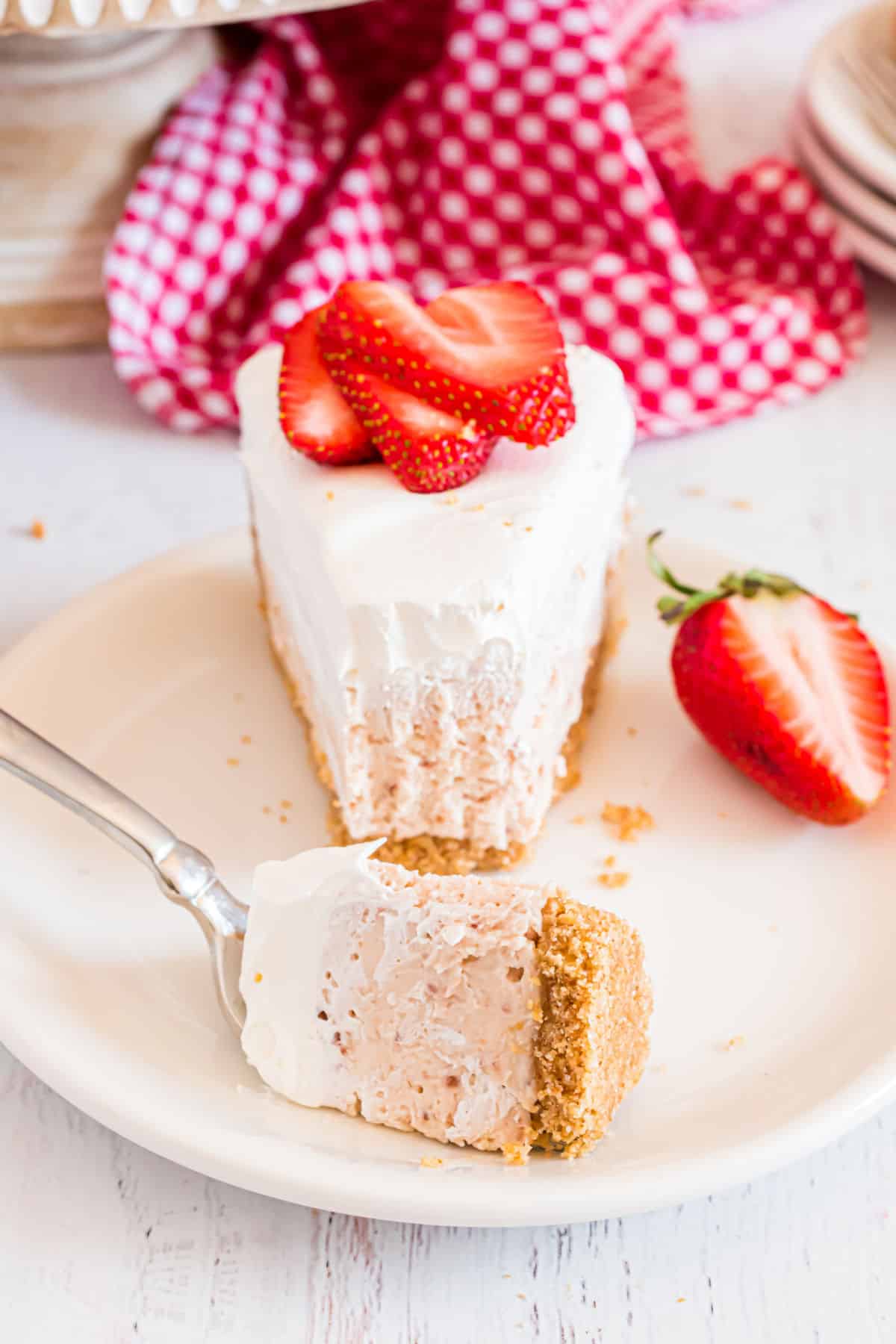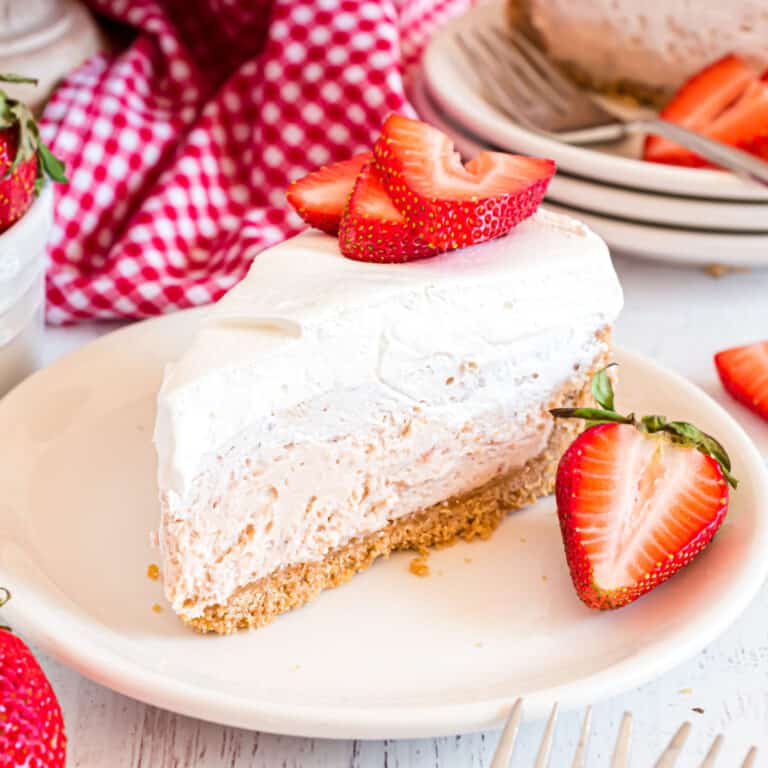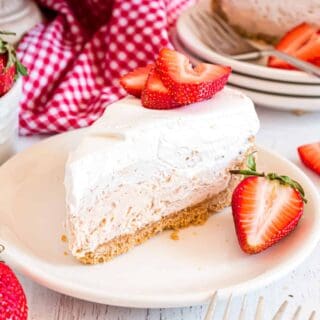 No Bake Strawberry Cheesecake
No Bake Strawberry Cheesecake is an easy dessert with tons of refreshing strawberry flavor! Covered with cool whip and fresh strawberries, it's the perfect dessert to make when you don't want to use your oven.
Ingredients
For the Crust
2

cups

graham cracker crumbs

about 18 full size crackers

½

cup

granulated sugar

⅔

cup

unsalted butter

melted
For the Cheesecake
3

packages

cream cheese, softened to room temperature

8 ounce each

¾

cup

granulated sugar

1

ounce

package freeze dried strawberries

pulsed into crumbs

2

teaspoons

vanilla extract

⅓

cup

heavy whipping cream
For the topping
8

ounce

Cool Whip

thawed

1

pint

fresh strawberries

sliced or whole
Instructions
For the Crust
Line a 9-inch springform pan with a parchment paper circle. Or line a 9-inch square baking dish with parchment paper. Set aside.

In a food processor, pulse graham crackers with sugar until fine crumbs.

Add melted butter to the crumbs and mix with a fork (or pulse until blended).

Pour crumbs into bottom of springform pan. Using fingers, press firmly on the bottom and bring the crumbs up about 1-inch up the sides. Set aside.
For the Cheesecake
Beat cream cheese with sugar in a large mixing bowl for 3 minutes, scraping down the sides of the bowl as needed.

Add in freeze dried strawberry crumbs and vanilla extract. Slowly beat in whipping cream, making sure everything is well blended.

Spoon cheesecake filling over the crust layer.
For the Topping
Spread Cool Whip (or homemade whipped cream) over the top of the cheesecake.

Refrigerate for 3 hours, or longer.

To serve, run a knife along the edge of the springform pan. Release the latch and lift the ring off. Slice cheesecake and serve with fresh strawberry slices or whole strawberries.
Notes
If using a 9-inch square baking dish, only press the crumbs in the bottom of the pan.
For the freeze dried strawberries, use a food processor to pulse into crumbs. It's okay if there are some bigger crumbs. Do not substitute with fresh strawberries as it will add too much moisture to the cheesecake and affect the texture. Find packages that are about 1 ounce. These are sold at Target and Amazon. Use more if you want a darker pink color.
Make sure you have completely blended the cream cheese with sugar and freeze dried strawberries. Because we are not baking this cheesecake you don't have to worry about "overbeating" the cream cheese.
Store cheesecake in airtight container in the refrigerator for up to 5 days. Or freeze for up to 3 months.
Nutrition
Calories:
355
kcal
,
Carbohydrates:
39
g
,
Protein:
3
g
,
Fat:
21
g
,
Saturated Fat:
14
g
,
Polyunsaturated Fat:
6
g
,
Cholesterol:
42
mg
,
Sodium:
118
mg
,
Fiber:
1
g
,
Sugar:
31
g
Make deliciously creamy Strawberry Cheesecake without turning on the oven. This No Bake Strawberry Cheesecake recipe takes just a few minutes to prepare with incredible results.