Chocolate, hazelnut and cheesecake are a magical combination. This No Bake Nutella Cheesecake is an easy Nutella dessert recipe with just 20 minutes of active prep time!
Is there any dessert that isn't improved by the addition of Nutella? I love the sweet cocoa spread in everything from Nutella No Bake Cookies to Nutella Stuffed Donut Holes!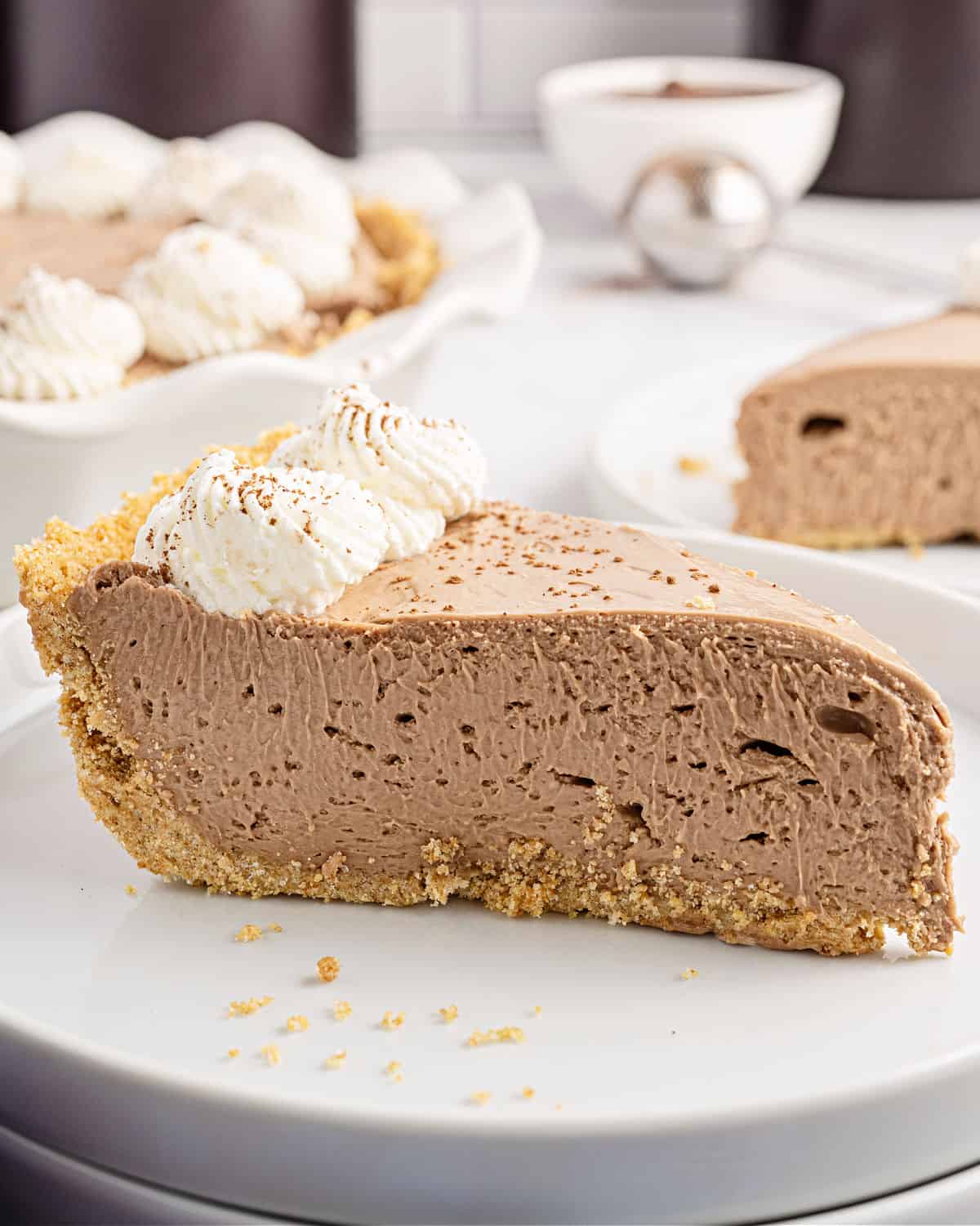 Why This Cheesecake is Best
Compared to other Nutella cheesecake recipes I've seen, this one is extraordinarily simple. The Nutella is beaten right into the cream cheese so you don't even need to add powdered sugar or cream.
Nutella sweetens AND flavors the cheesecake.
Served on a homemade graham cracker crust.
You can make it ahead of time.
No baking required!
Every bite is loaded with rich cocoa flavor, a nutty hint of hazelnut and the heavenly taste of a cheesecake made from scratch.
Take a few minutes to assemble the ingredients then let it chill for a few hours—or overnight—and it's ready to eat!
Have more nutella in the pantry? Try our nutella banana bread or nutella blondies next!
Ingredient Notes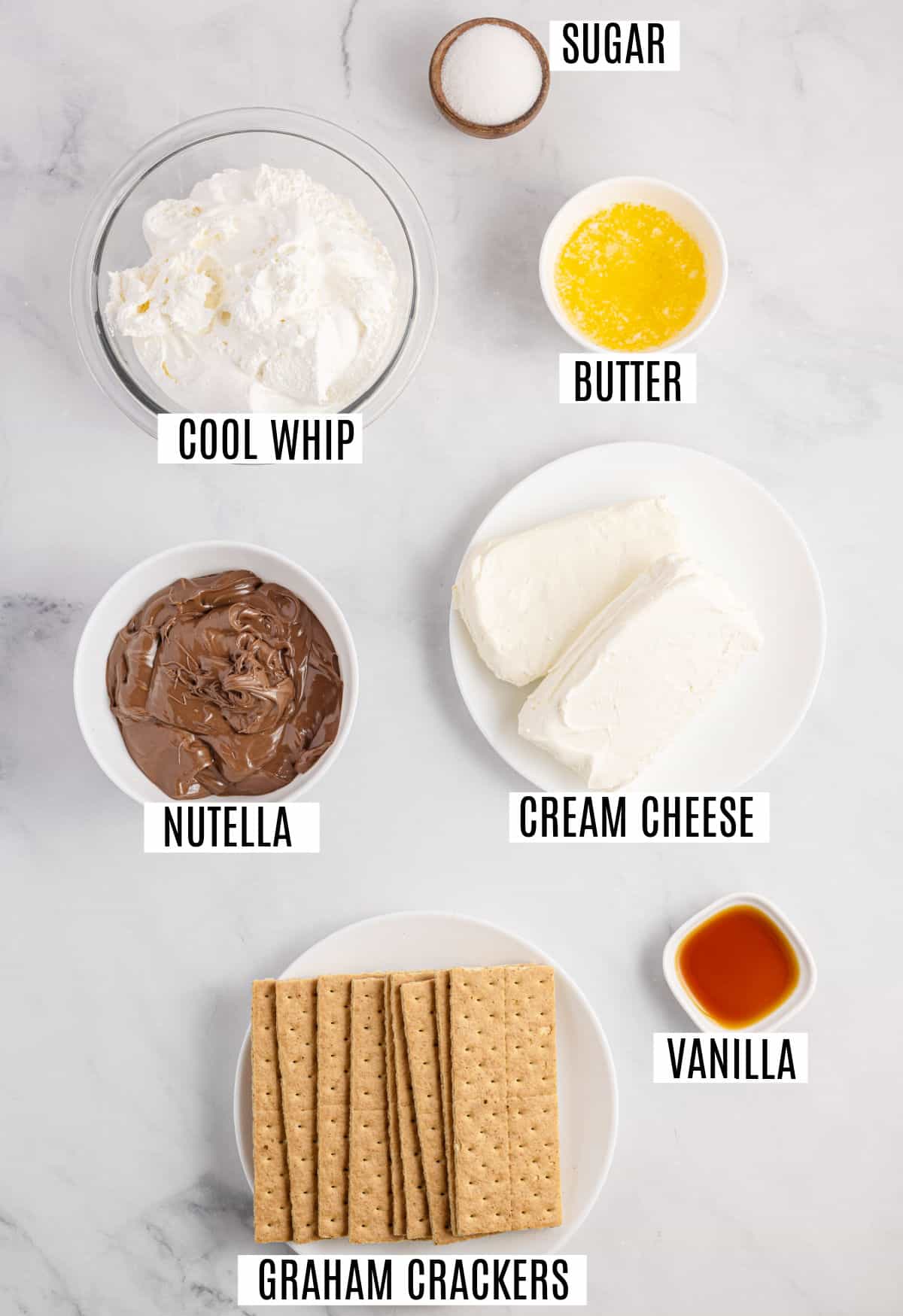 Graham cracker crust – You can swap this out for an Oreo pie crust too if you prefer!
Nutella – A spread made with real hazelnuts, chocolate and a touch of milk. You can use the name-brand Nutella or any similar brand of chocolate-hazelnut spread.
Cream cheese – You can't make cheesecake without it! Make sure to use the full fat variety and let it soften on the counter for a few minutes so it's easier to blend.
Cool whip – The whipped topping is added to the cream cheese for a lighter cheesecake consistency. My homemade Stabilized Whipped Cream works if you don't want to use the store bought stuff!
Cocoa powder – We sprinkle pure cocoa powder over the finished No Bake Nutella Cheesecake before serving for added chocolate flavor and a picture-perfect presentation.
Tips and Tricks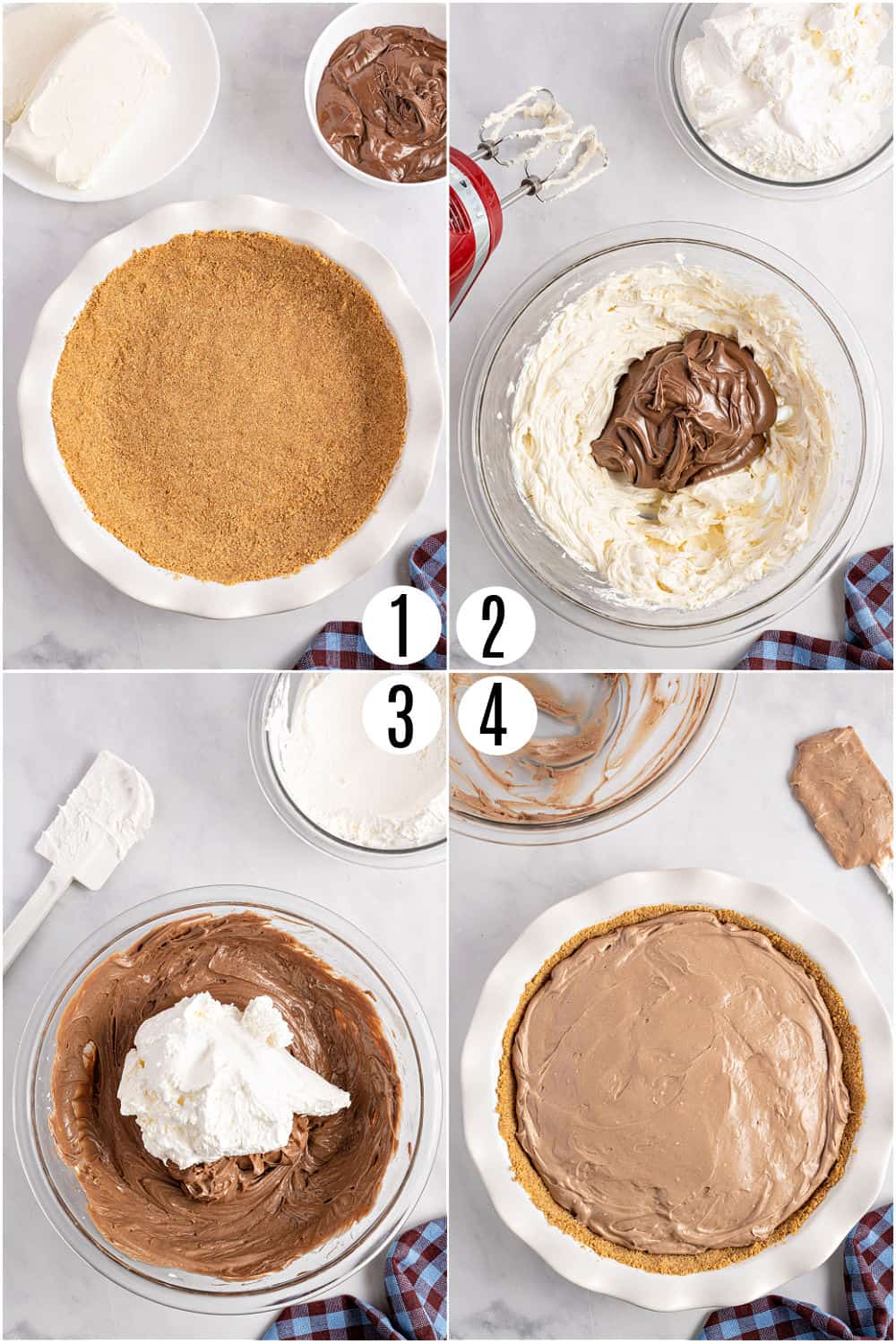 Freeze the crust while you make the filling. The freezing helps the crust firm up so it won't become mushy when you add the fresh Nutella cheesecake filling.
Chill for at least 3 hours. The filling will set to a sliceable consistency.
Make Ahead. I prefer to make this cheesecake the night before. Then you have a delicious homemade Nutella cheesecake ready to serve for dessert the next day!
Store the no bake Nutella cheesecake tightly covered in the refrigerator. Enjoy within 7 days.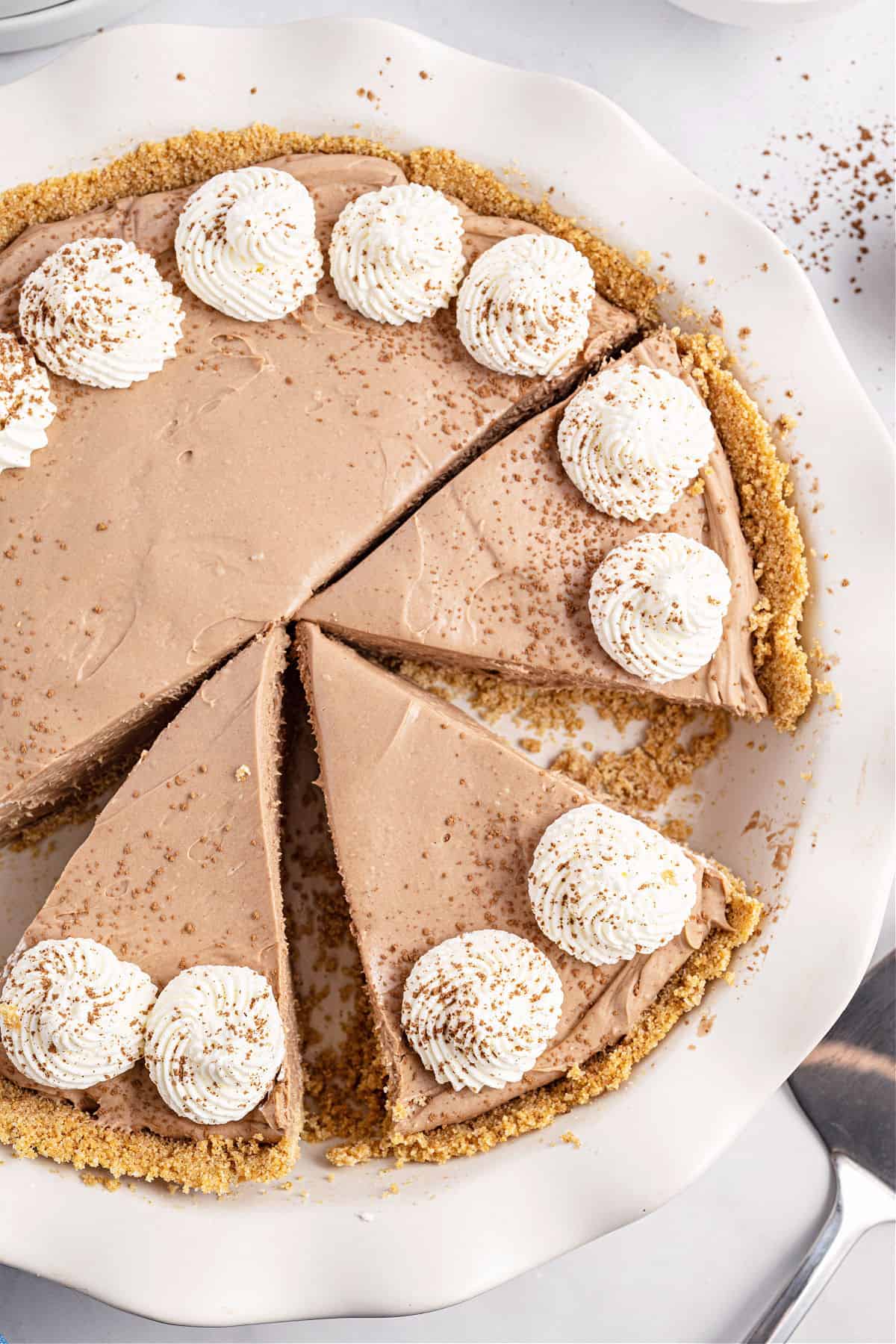 Recipe FAQs
Can I freeze this no bake cheesecake?
Yes, once the cheesecake has chilled and firmed up in the fridge, you can freeze it. Wrap the cheesecake in foil, then place it in a freezer bag. Store in the freezer for 2 to 3 months.
Let frozen Nutella Cheesecake thaw in the refrigerator overnight before eating.
Can I substitute fresh whipped cream for the Cool Whip?
For the cheesecake filling itself, it's important to use stabilized whipped cream, like Cool Whip, to get the right consistency. If you don't want to use store bought Cool Whip, here's a homemade version made with natural ingredients you'll love!

For topping the finished slices of cheesecake, fresh whipped cream is a great option! Just make sure to serve the cheesecake soon after adding the whipped cream.

What can I use instead of a graham cracker crust?
No Bake Nutella Cheesecake is every bit as delicious made with an Oreo Pie Crust instead! Chocolate lovers can't get enough of it. You can also swap out the homemade crust for a store bought version to make this recipe even easier!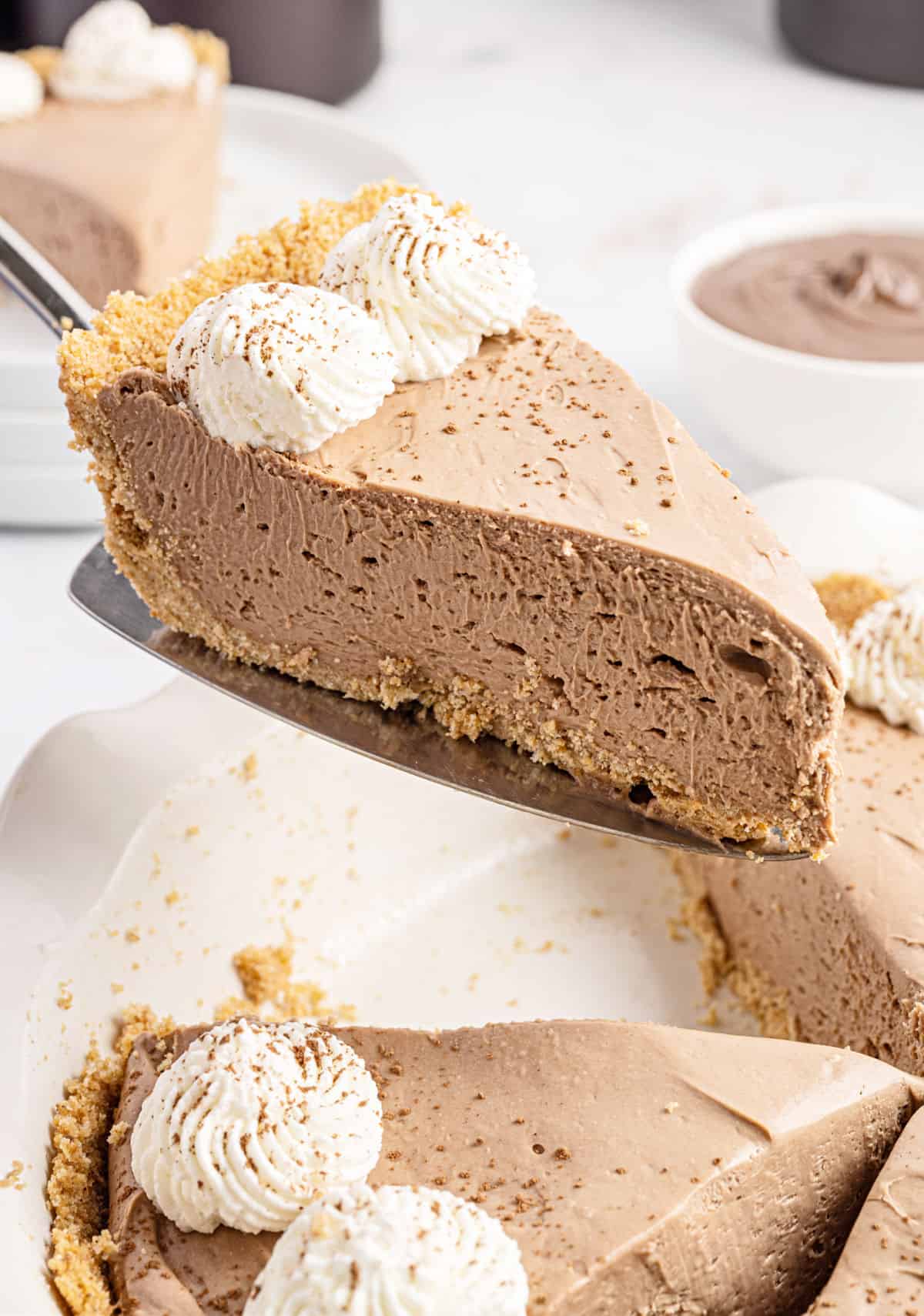 More Easy Dessert Recipes
Light, sweet and incredibly delicious No Bake Nutella Cheesecake is an impressive dessert for any occasion! If you love chocolate, hazelnut and cheesecake, you're going to love this easy recipe.