This Oreo Pie Crust recipe is easy to make with only two ingredients! Learn how to make the perfect chocolate pie crust for any cheesecake or no bake pie in 10 minutes or less.
Need a kitchen staple? I'm here to help! From our easy guide on how to toast coconut, to our how to make a graham cracker crust, we've got you covered!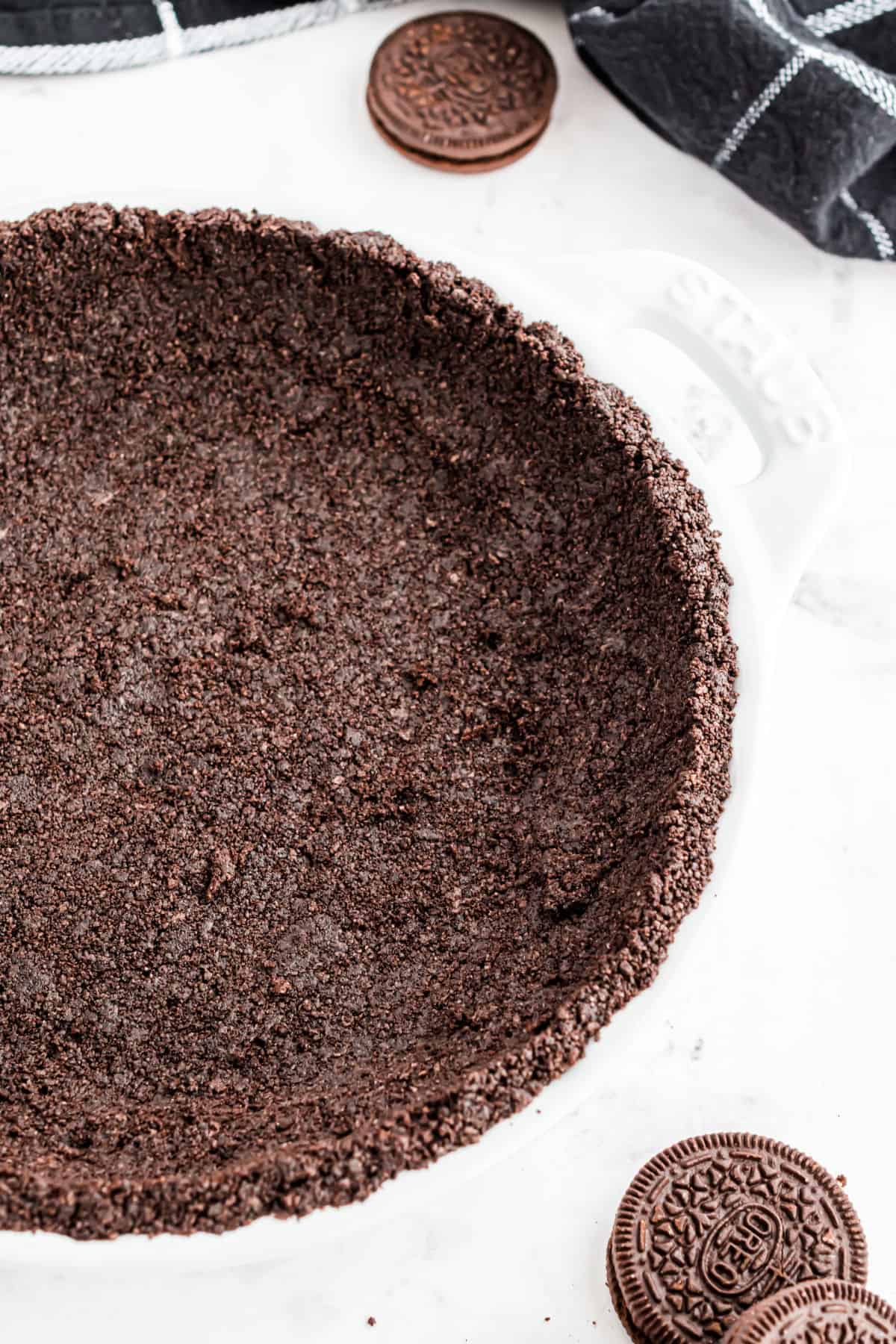 Easy Oreo Pie Crust
Every baker needs a good Oreo Pie Crust recipe in their toolbox. So many of our favorite desserts, from no bake cheesecake to cookie bars, start with this crisp chocolate crust
While you can find Oreo Pie Crusts ready made at the grocery store, they don't hold a candle to the homemade version.
I've made a few different recipes for cookie crusts over the years. Here are a few reasons why this one wins out every time:
You only need two ingredients and 10 minutes to make this easy Oreo Pie Crust recipe.
It works for both no-bake recipes AND baked recipes.
You'll love the rich cookies and cream taste.
Delicious with all kinds of Oreo flavors!
Would be a delicious option to serve with our no bake nutella cheesecake!
Ingredient Notes
Oreo cookies. We recommend regular Oreos, rather than the double stuffed or thins versions. Once you know how to make Oreo Pie Crust, it's easy to change up the flavor with other Oreo flavors to suit the recipe.
Unsalted butter. You will melt the butter before adding it to the pie crust. While unsalted butter is our preference, salted butter will work well too if that's what you have.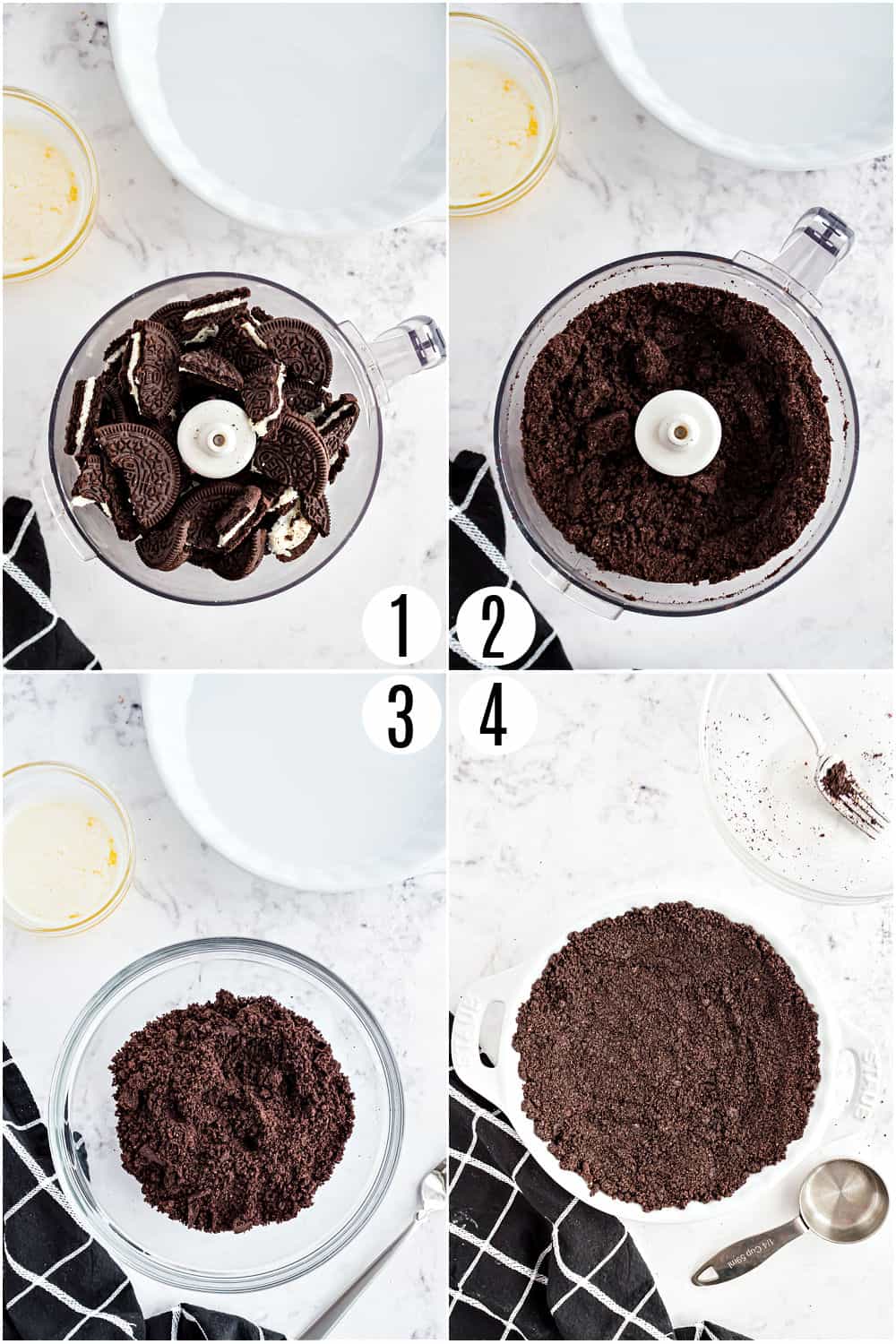 How to Make an Oreo Pie Crust
Anyone can make Oreo Pie Crust! When it comes to homemade pie crust, it almost couldn't be any easier.
Pulse Oreos in a food processor. Keep pulsing until the Oreos form fine sandy crumbs.
Add melted butter. Drizzle the butter into the food processor. Pulse until the Oreo crumbs and melted butter are fully combined.
Press into a baking dish. Use the bottom of a glass to press the crust mixture firmly into the pan. Make sure it's evenly spread to cover the whole bottom of the dish.
If you're making this in a pie plate, use your fingers to spread the crust a little up the sides of the plate too.
Once the Oreo Pie Crust is in the pan, it's ready to get topped with whatever filling you're craving!
PRO TIP: Can also be used a 9-inch square baking dish!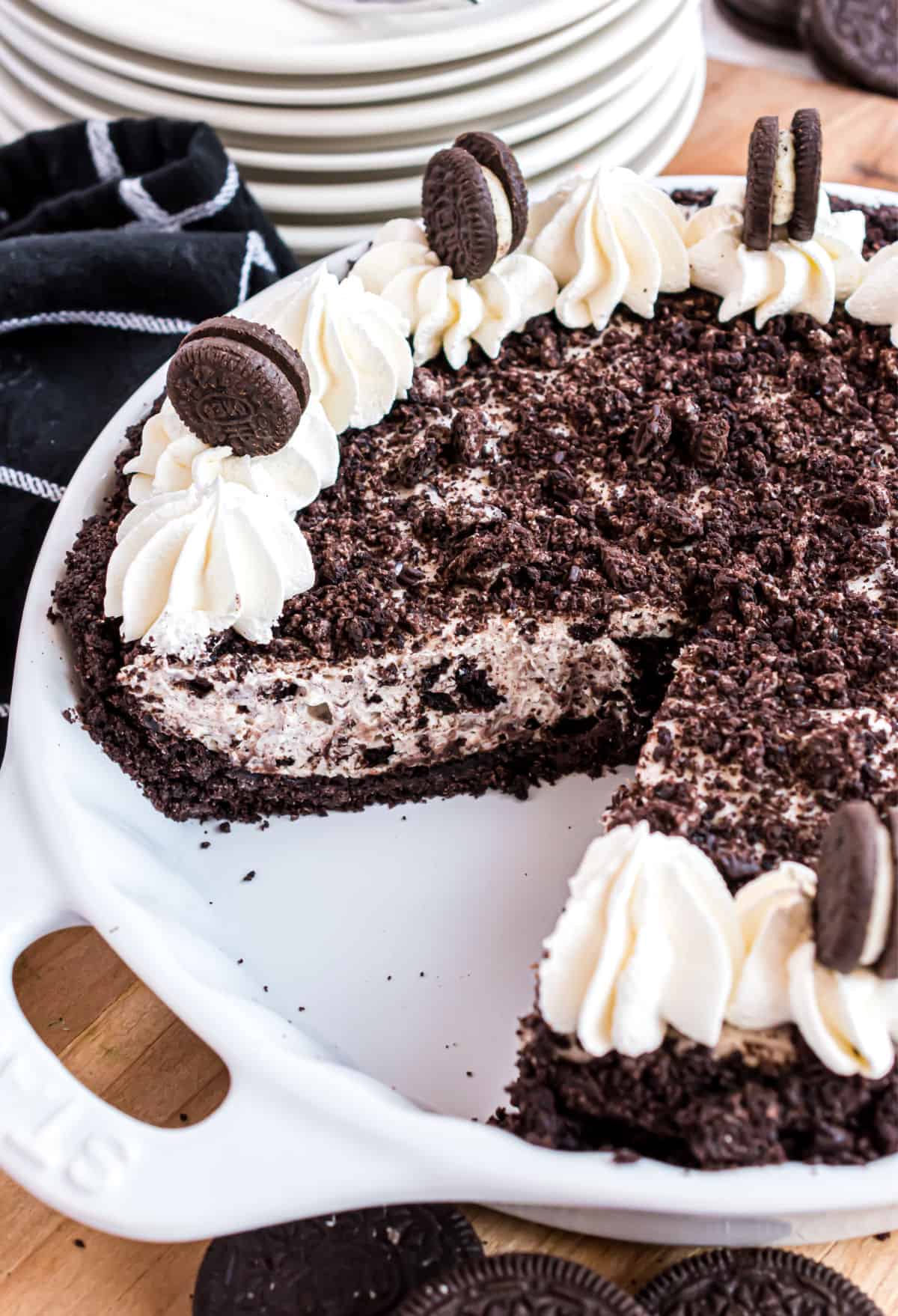 How to Use
Recipe FAQs
Do I need to bake Oreo Pie Crust before using it in a no-bake recipe?
Baking this crust is not required. But if you want a crispier crust for your no-bake cheesecake, you can bake it before adding the filling.
How do I bake it?
This crust can be baked at 350 ℉ for 8 – 10 minutes. Let it cool completely before you add the filling.
How much crust does this recipe make?
Our easy Oreo Pie Crust recipe makes enough to cover the bottom of a 9 inch square baking pan or round spring form pan. It will cover the bottom and sides of an 8 – 9 inch round pie plate.
Can this crust be made ahead of time? How do I store it?
Yes, you can make this Oreo crust ahead of time and freeze it for up to 3 months. To freeze the crust, press it into a foil baking pan and wrap tightly in plastic wrap.
How do I make Oreo Pie Crust without a food processor?
If you don't have a food processor, place the Oreo cookies in a gallon size zip top bag. Use a mallet or rolling pin to crush the cookies into fine crumbs. It takes more effort than the food processor method but works in a pinch!
This easy Oreo Pie Crust Recipe is a cinch to make and tastes so much better than store bought!