Chocolate Chip Cookie Bars with a graham cracker crust and a layer of toffee fudge! This is one decadent dessert recipe that brings some of life's tastiest pleasures together in one cookie bar.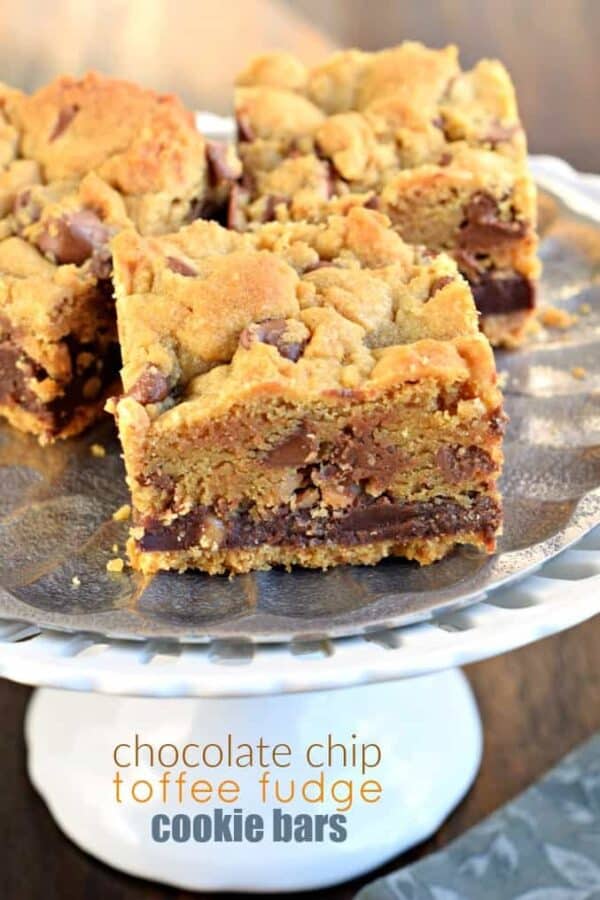 Thick and Fudgy Bars
Chocolate Chip Toffee Fudge Cookie Bars, folks. Quite a name for a cookie bar. But I couldn't leave any of it out!
In some chocolate chip cookie bars, the extra add-ins are just that–extra. A compliment to the main affair of chocolate chips and chewy cookie.
In these cookie bars with a graham cracker crust, the toffee fudge is anything but an afterthought!
A homemade fudge made from heath toffee bits is the centerpiece of these chocolate chip cookie bars. That toffee fudge is what puts these cookie bars firmly in the category of sheer decadence.
Oh, then, I went the extra mile and added even more toffee bits on top of the assembled bars. Worth. It.
Pour a large glass of milk or cup of coffee to sip while you enjoy your dessert. You'll need it for these rich cookie bars!
Ingredient Notes
There are three components to this recipe:
Chocolate chip cookie dough
Toffee fudge
Graham cracker crust
A few ingredient notes
Crisco – Butter flavored Crisco tastes best!
Brown sugar– light brown sugar for a chewy texture
Vanilla– use my homemade vanilla extract
Cinnamon
Milk chocolate morsels – You can substitute semi-sweet morsels if that's what you have, but I recommend the milk chocolate!
To make the cookie bar dough, beat Crisco with brown sugar, milk and vanilla until smooth. Beat in egg. Add flour, salt, baking soda and cinnamon. Fold in milk chocolate morsels.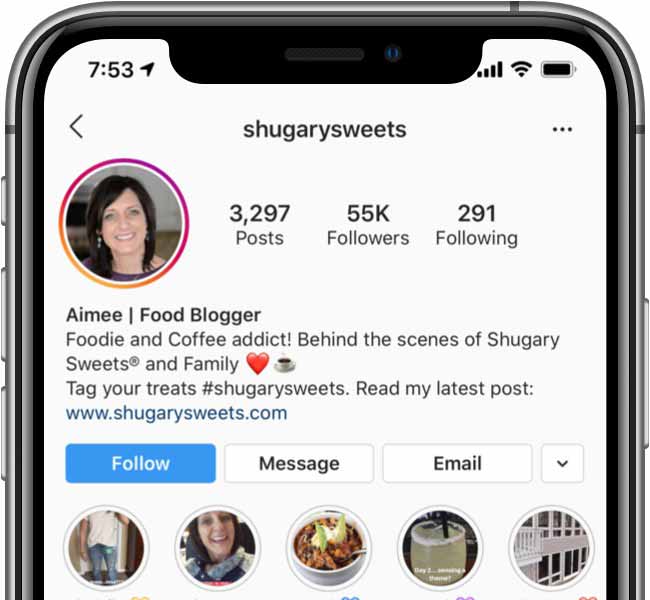 For the graham cracker crust, you need:
Graham cracker crumbs – Store bought or you can make your own by pulverizing some graham crackers to a crumb in the food processor.
Butter – Melted and slightly cooled
Make the graham cracker crust by mixing the crumbs and butter together in a bowl.
For the Toffee Fudge you need:
Sweetened condensed milk – NOT evaporated milk!
Butter
Semi-sweet chocolate morsels
Heath toffee bits
To make the fudge, In small saucepan, mix condensed milk with semi sweet morsels and butter. Heat over medium heat until smooth.
How to Make Cookie Bars
STEP 1. Press the graham cracker crust into a 13 x 9 glass baking dish lined with parchment paper.
STEP 2. Pour the toffee fudge over the graham cracker layer. Sprinkle with half a cup of the toffee bits.
STEP 3. Spread the cookie layer on top of the fudge layer. Sprinkle this layer with the remainder of the toffee bits.
STEP 4. Bake in a 350 F oven for 30 – 35 minutes. Remove the pan from the oven and let it cool completely before slicing into bars. Enjoy!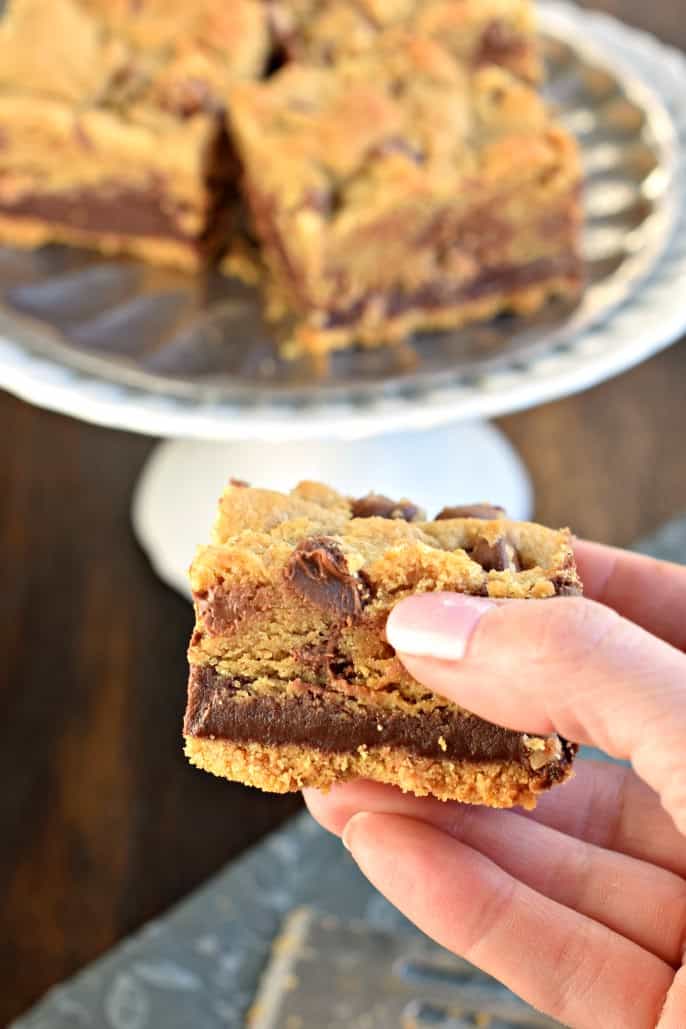 Tips and Tricks
Be careful not to over bake. Like lots of my favorite chewy cookies, these will still look a little doughy and under baked when you take them out of the oven. Remember, they keep baking and solidifying as they cool!
Don't cut too soon. I know they look and smell so good when their warm from the oven that it will be tempting to slice these bars right away. If you let them cool, they'll be so much easier and less messy to slice. They also get a perfect fudgy texture!
Storing cookie bars: These keep well for about a week covered at room temperature. Chocolate chip cookie bars freeze wonderfully, too!
Can you substitute butter for Crisco
You can, but the results will not be as good. Butter flavored Crisco is the best way I've found to give chocolate chip cookies and bars a buttery flavor with the chewy fudge like consistency that shortening provides.
Use butter in the fudge and the crust and shortening in the cookie dough. Trust me on this one!
These cookie bars are rich and fudgy. Perfect with a glass of milk or dunked in coffee! Enjoy!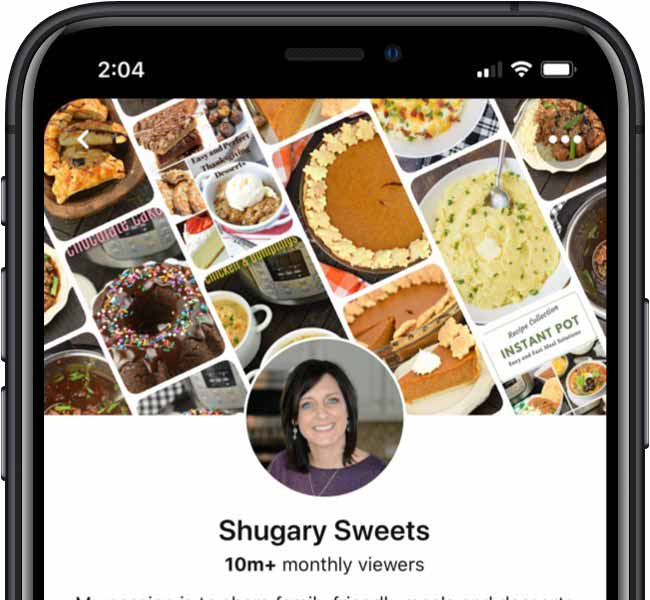 PS. If you try this recipe, please leave a STAR rating in the recipe card below. I love your feedback! Connect with me on social media by following me on Instagram, Facebook, or Pinterest.
Decadent treats with layer upon layer of rich chocolate, buttery toffee bits and chewy cookie, Chocolate Chip Toffee Fudge Cookie Bars are the ultimate cookie bar!