Chocolate Chip Cookie Bars with a graham cracker crust and a layer of toffee fudge! You'll love the chewy chocolate chip cookie texture paired with the layers of crust and fudge for an ultimate dessert recipe.
If you love layered desserts, be sure to give this amazing Chocolate Chip Lasagna a try. Incredible. Or these Raspberry Crumble Bars!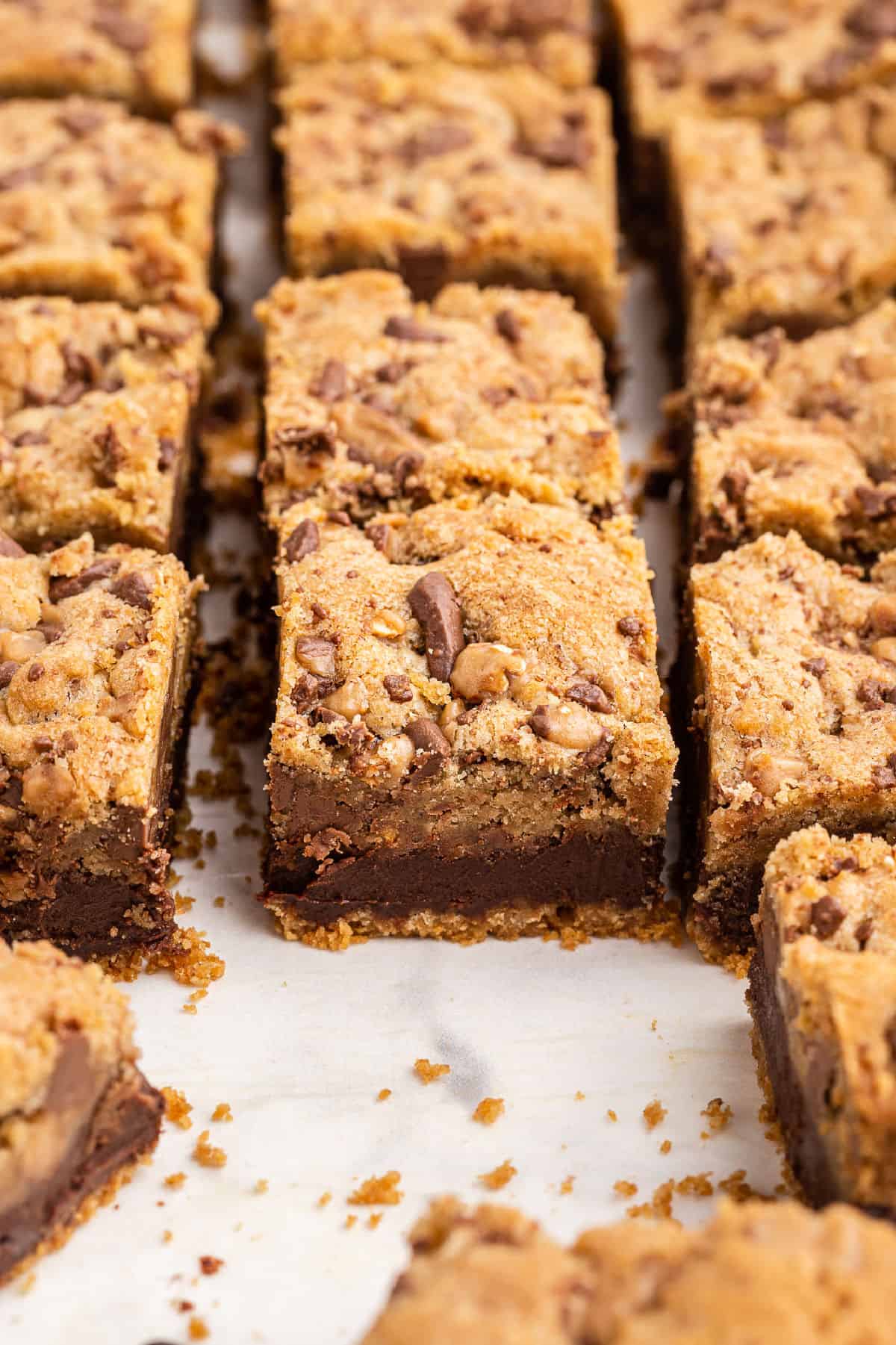 Thick and Fudgy Bars
Chocolate Chip Toffee Fudge Cookie Bars, folks. Quite a name for a cookie bar. But I couldn't leave any of it out!
In some chocolate chip cookie bars, the extra add-ins are just that. Extra. An addition to the main affair of chocolate chips and chewy cookie.
In these cookie bars with a graham cracker crust, the toffee fudge is anything but an afterthought!
A homemade fudge made from heath toffee bits is the centerpiece of these chocolate chip cookie bars. That toffee fudge is what puts these cookie bars firmly in the category of sheer decadence.
Ingredient Notes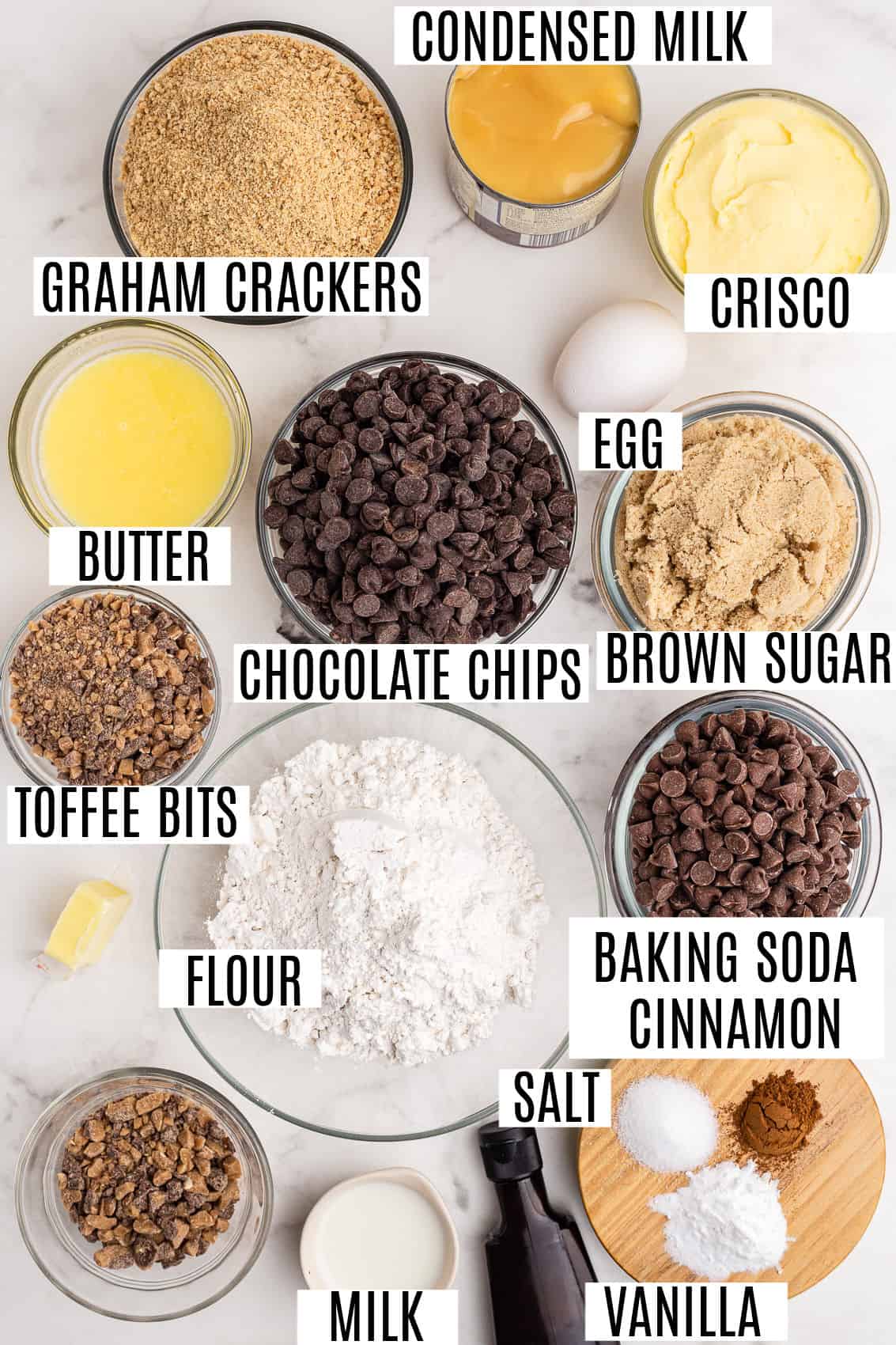 There are three components to this recipe:
Toffee fudge
Graham cracker crust
A few ingredient notes
Crisco – Butter flavored Crisco gives these cookies a delicious texture.
Brown sugar– light brown sugar for a chewy texture
Vanilla– use my homemade vanilla extract
Cinnamon – totally optional, but you'll love that hint of flavor in these cookies!
Chocolate Chips- You will need some for the fudge layer and some for the cookie layer!
For the graham cracker crust, you need:
Graham cracker crumbs – Store bought or you can make your own by pulverizing some graham crackers to a crumb in the food processor.
Butter – Melted and slightly cooled
For the Toffee Fudge you need:
Sweetened condensed milk – NOT evaporated milk!
Butter
Heath toffee bits– if you can't find the bits, just buy the candy bars and smash them until you get pieces!
Easy Instructions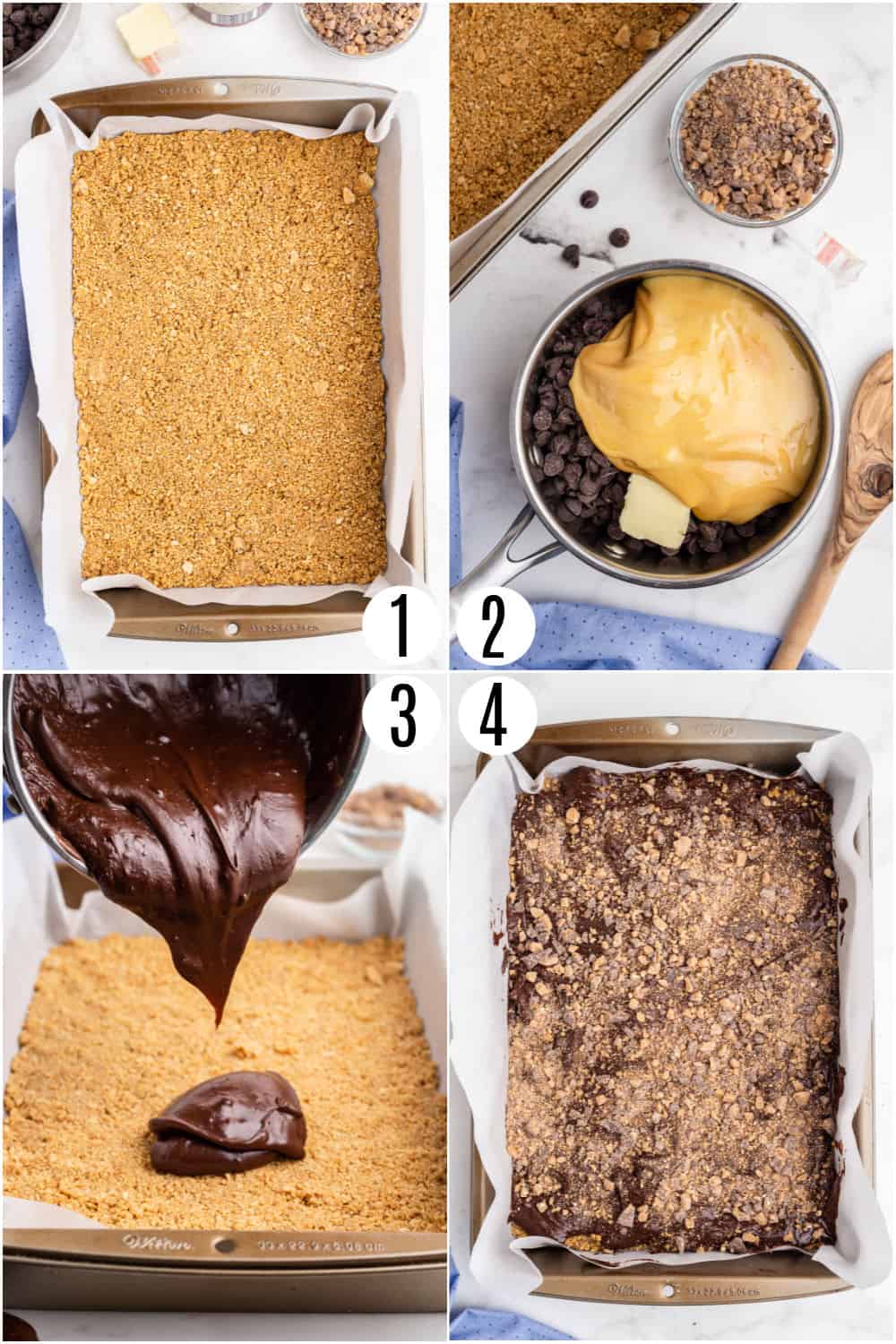 Crust. Combine the graham cracker crumbs with melted butter and press in the prepared baking dish.
Toffee Fudge. Combine the sweetened condensed milk with butter in a saucepan and add chocolate chips. Heat until melted and pour over crust layer.
Sprinkle with toffee bits.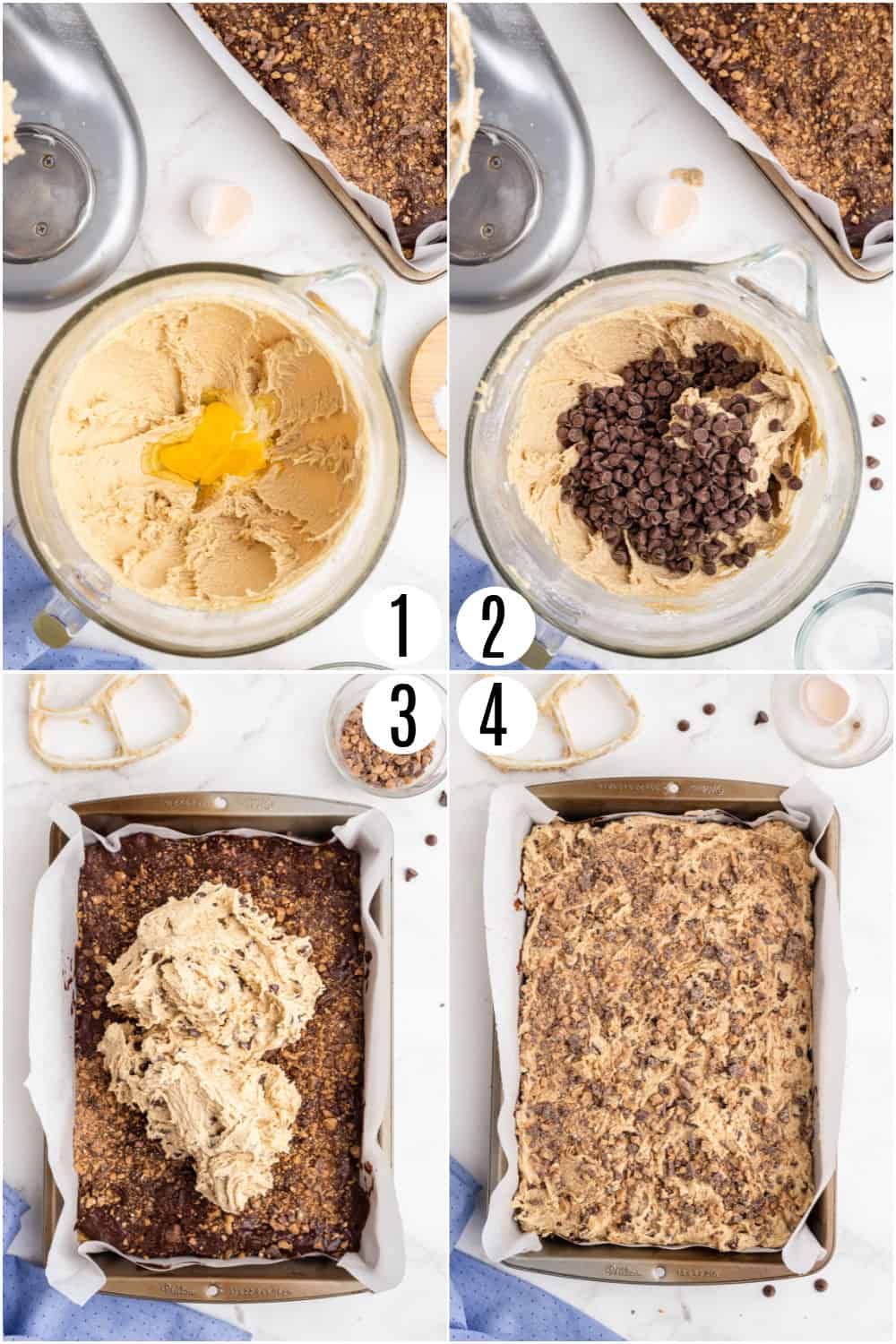 Cookie Dough. Make the chocolate chip cookie dough and spoon it gently over the fudge layer. Sprinkle this layer with the remainder of the toffee bits.
Bake. Bake in a 350 F oven for 30 – 35 minutes. Remove the pan from the oven and let it cool completely before slicing into bars. Enjoy!
Tips and Tricks
Be careful not to over bake. Like lots of my favorite chewy cookies, these will still look a little doughy and under baked when you take them out of the oven. Remember, they keep baking and solidifying as they cool!
Don't cut too soon. I know they look and smell so good when their warm from the oven that it will be tempting to slice these bars right away. If you let them cool, they'll be so much easier and less messy to slice. They also get a perfect fudgy texture!
Storing cookie bars: These keep well for about a week covered at room temperature. Chocolate chip cookie bars freeze wonderfully, too!
Sundaes! Serve these bars warm and gooey with homemade vanilla ice cream in a sundae bowl.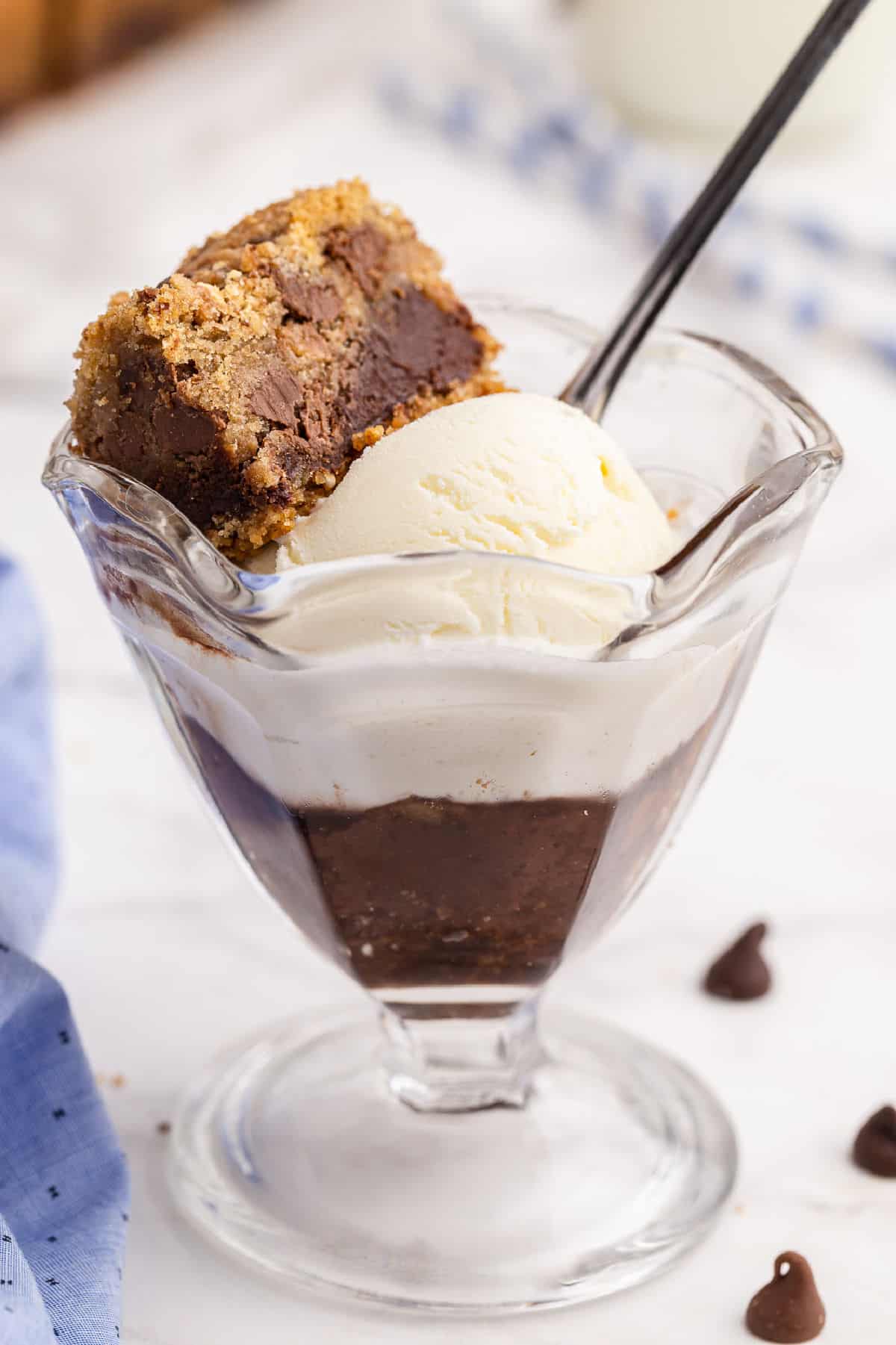 Recipe FAQs
Can I use butter instead of shortening in chocolate chip cookies?
Yes you can. However, butter flavored Crisco is the best way I've found to give these chocolate chip cookie bars a buttery flavor with the chewy fudge like consistency that shortening provides.
How do you store these Chocolate Chip Cookie Bars?
Store cooled cookie bars in an airtight container at room temperature.
Can you freeze chocolate chip cookie bars?
Yes. After cookie bars have cooled, store in airtight freezer safe container (or ziploc freezer bag) and freeze for up to 3 months.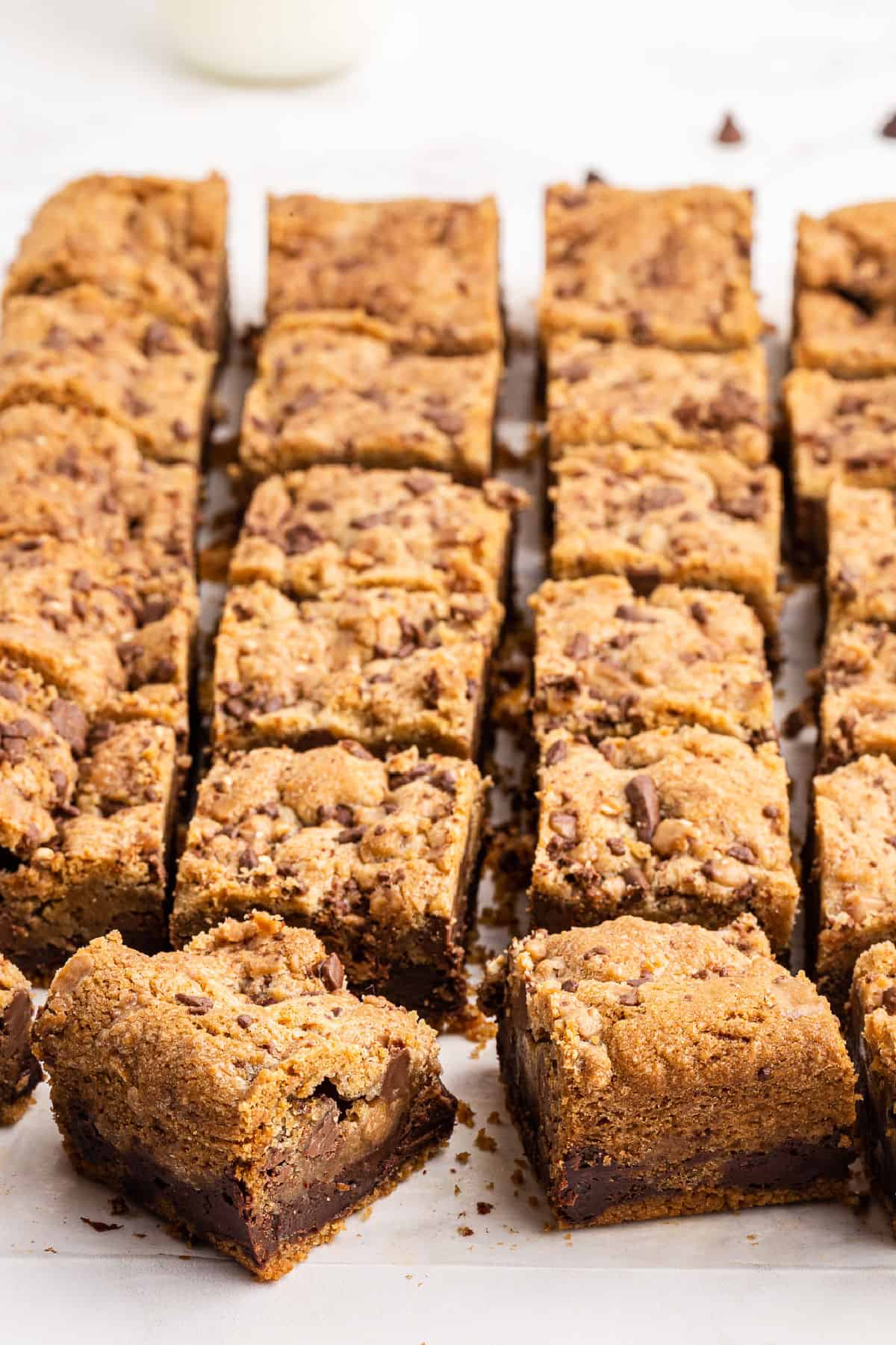 Decadent treats with layer upon layer of rich chocolate, buttery toffee bits and chewy cookie, Chocolate Chip Toffee Fudge Cookie Bars are the ultimate cookie bar!