No Bake Chocolate Chip Cookie Lasagna – layers of chocolate chip cookies, creamy cheesecake, fudge pudding, and whipped cream! Perfect for any party!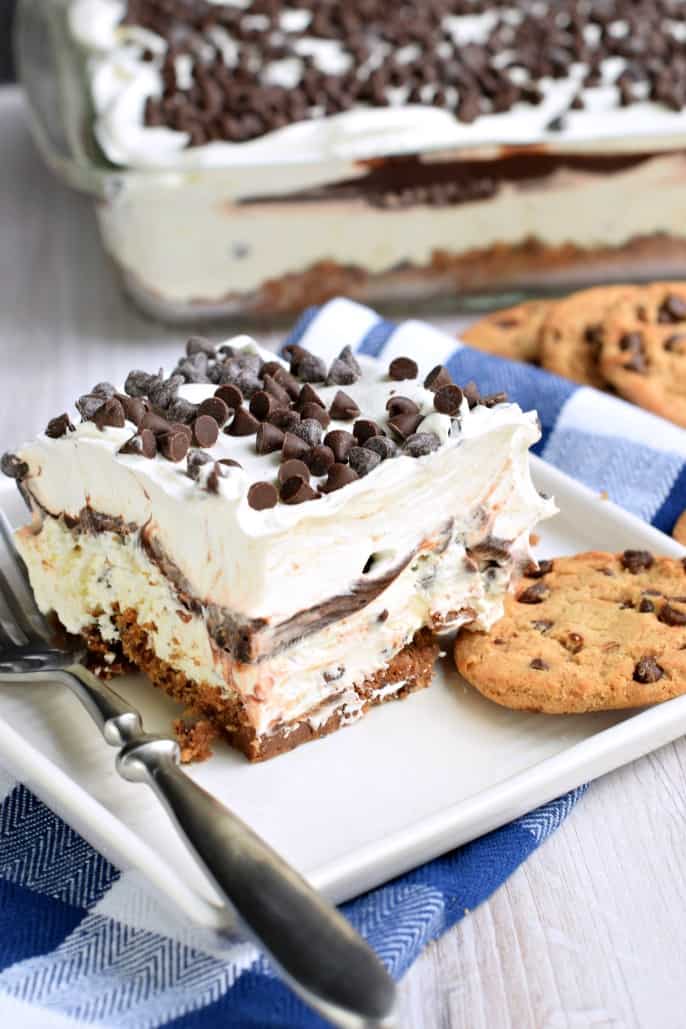 Why this recipe works
Who can resist layers of cookie, pudding, and whipped cream?
This delicious no bake treat is a must make! It's perfect for a weekday dessert, and impressive enough to share with friends!
I remember YEARS AGO having something similar at Olive Garden, anyone else remember this or am I losing my mind?
Let's talk about how easy this no bake treat is to make!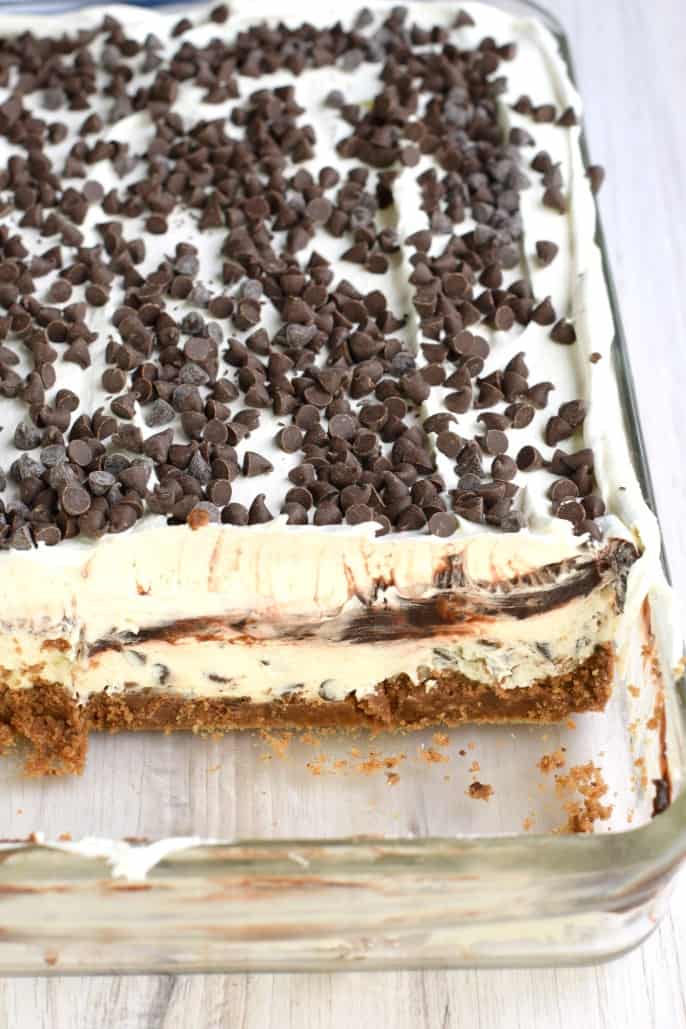 Ingredient Notes
Cookies.
Start by deciding what kind of cookies to use in the first layer. Some people opt for an Oreo crust, but I personally think they're overused in cookie crusts.
I chose Chips Ahoy (chocolate chip cookies).
Cream Cheese– don't settle for off brands here. Get the richest flavor with Philadelphia.
Chocolate Pudding– make sure to choose an INSTANT pudding mix. I chose chocolate, but the chocolate fudge would be awesome too!
Step by Step Instructions
The crust.
Using any crunchy cookie variety, pulse it a few times in a food processor until fine crumbs. Or use a ziploc bag and crush with a rolling pin!
Add melted butter to the cookie crumbs and pour into the bottom of a 13×9 baking dish.
Using the palm of your hand or the bottom of a cup, firmly press the crumbs into the bottom of the dish. Set aside.
Cheesecake layer.
The next layer is a rich, decadent cream cheese layer. In a large bowl, beat softened cream cheese, powdered sugar, and vanilla extract until smooth and creamy. Fold Cool Whip in cream cheese mixture until blended. Fold in mini chocolate chips.
Pour over crust. Using an offset spatula, spread the mixture evenly over the crust layer.
Pudding layer.
In a large bowl add two packages of INSTANT chocolate pudding mix. Make sure you purchase the instant variety or this won't set up properly.
Whisk in milk. You'll use less milk than the box says because you want this layer extra thick and fudgy.
Once the pudding mix is well blended, spread the pudding over cheesecake layer.
Whipped Cream.
Add remaining Cool Whip to the top of the chocolate lasagna. Sprinkle with more mini chocolate chips and refrigerate for 3 hours or overnight.
Slice and serve. Store in refrigerator for up to 5 days. ENJOY.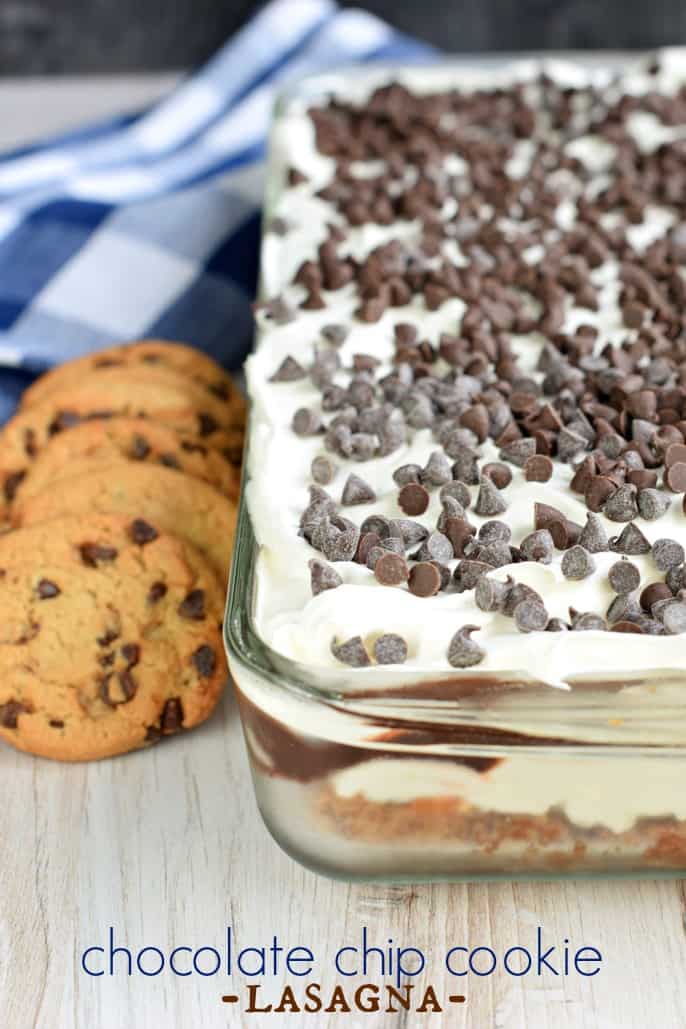 More No Bake Desserts
If you're looking for a portable dessert for you next bbq or potluck this Chocolate Chip Cookie Lasagna is perfect.
When you're looking for an easy dessert, this No Bake Oreo Cheesecake recipe is a creamy, flavorful pie! Easy to throw together for a delicious treat!
Fill a glass with this beautiful NO BAKE Chocolate Chip Cookie Cheesecake Parfait! Layer after layer, it's a delicious dessert recipe any time of year!
This easy, no bake Chocolate Chip Cookie Cheesecake recipe is the perfect summer treat. Cookie crust with creamy cheesecake filling, so decadent and delicious!
Layers of cinnamon graham crackers, vanilla pudding and fresh banana make this no bake Banana Eclair Cake a huge summer hit! To top it off, I literally topped it off a cinnamon glaze!
Easy, 4 ingredient, No Bake Peanut Butter Smores Bars recipe for a tasty treat that's ready in 15 minutes!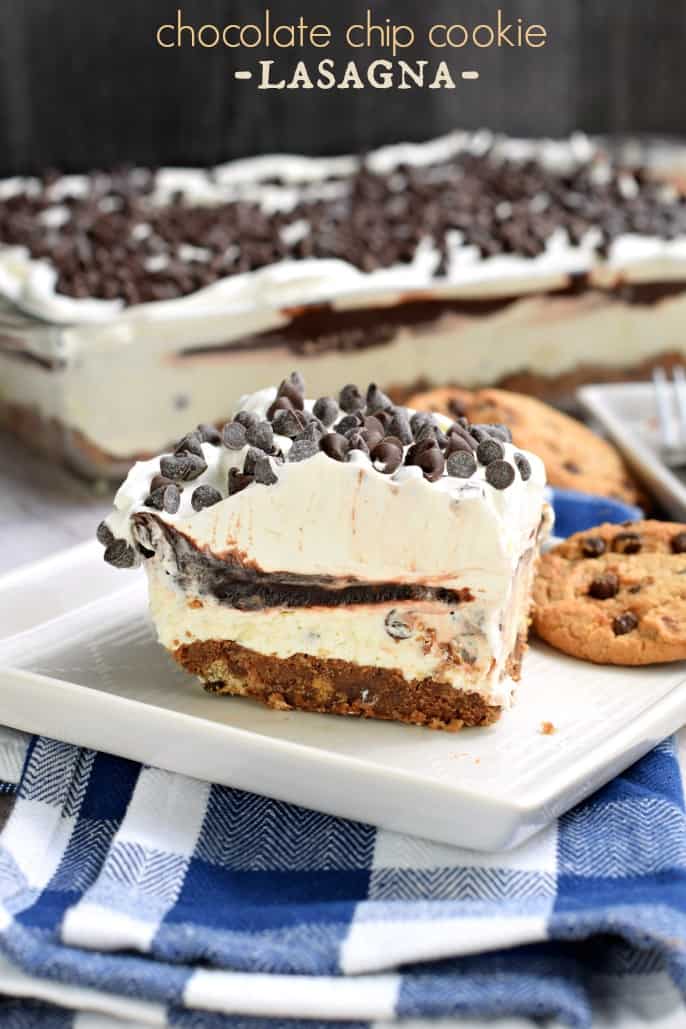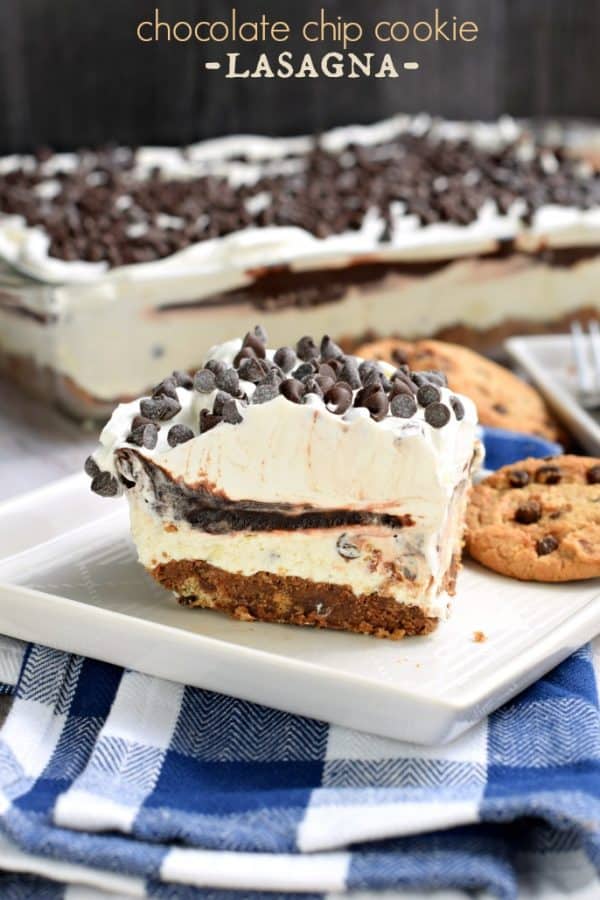 Craving chocolate chip cookies after reading this recipe? Be sure to try out my Perfect Chocolate Chip Cookie recipe!
Substitutions
Use peanut butter sandwich cookies or Nutter Butters for the base.
Swap out the chocolate pudding for banana pudding
Top with Reese's or peanut butter morsels