This easy, no bake Chocolate Chip Cookie Cheesecake recipe is the perfect summer treat. Cookie crust with creamy cheesecake filling, it's so decadent and delicious!
If you love today's cookie cheesecake, be sure to try our chocolate chip cookie parfait. Or give this easy no bake cookie lasagna a try soon!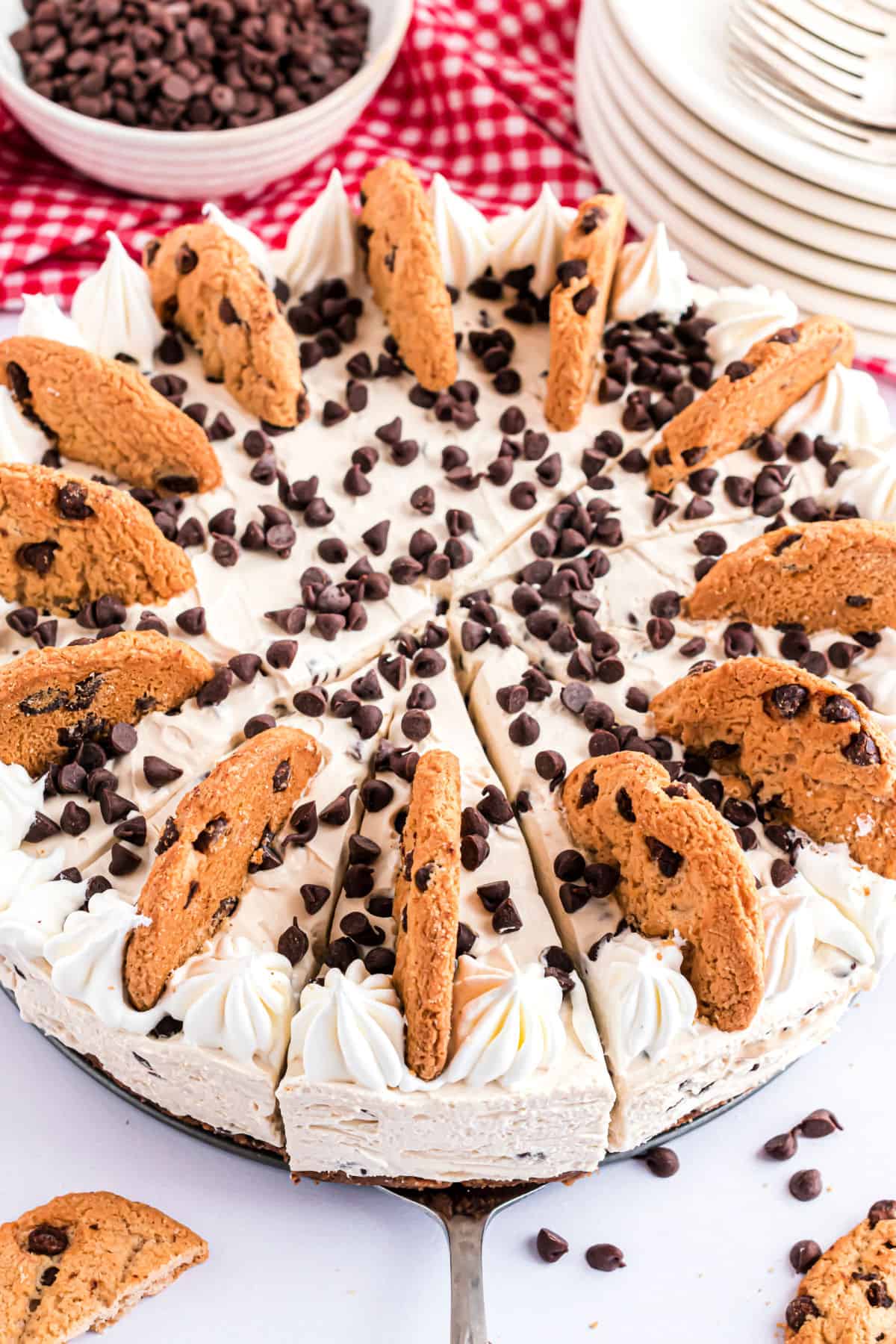 Why This Recipe is Best
We've got so many desserts in one here! There's the crust made from chocolate chip cookies, the rich and creamy no bake cheesecake filling and the topping of more cookies, whipped cream and mini chocolate chips.
It's the ultimate dessert combo!
This dessert is NO BAKE, so no need to turn on your oven if it's hot out!
The whole recipe is just 7 ingredients! So easy to throw together anytime!
This cold, creamy pie is sure to hit the spot on a hot summer day!
If you love easy no bake desserts, you'll want to try our delicious no bake strawberry lasagna soon, so many delicious layers.
Ingredient Notes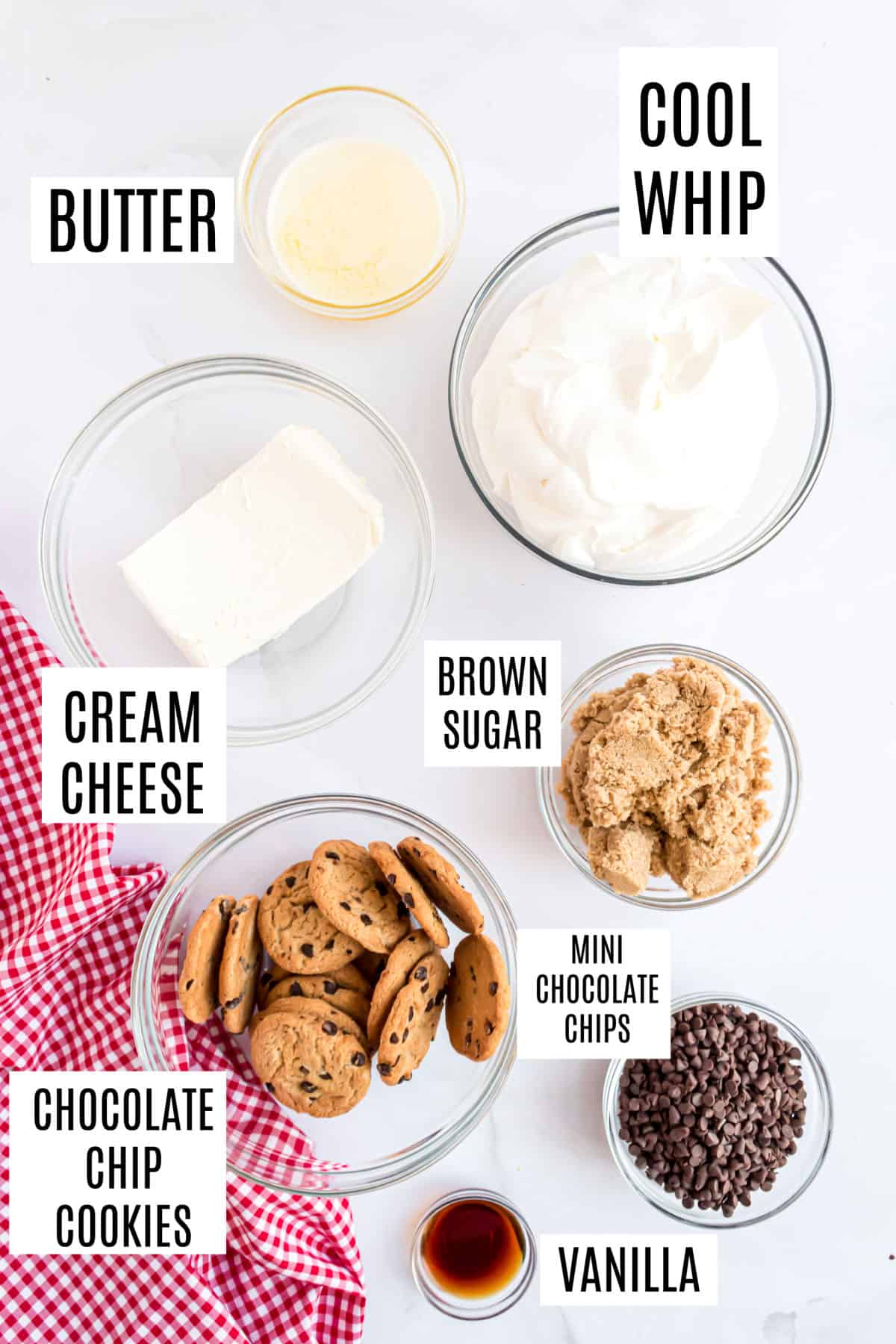 Chocolate Chip Cookies – You need crunchy cookies for the crust and the garnish so they hold up. I use Chips Ahoy, but a similar style cookie will work.
Cream Cheese – Make sure to use the full fat variety and let it soften on the counter for a few minutes so it's easier to blend.
Cool Whip – The whipped topping is added to the cream cheese for a lighter cheesecake consistency. My homemade Stabilized Whipped Cream works if you don't want to use the store bought stuff.
Mini Chocolate Chips – These are folded into the cheesecake filling AND used to garnish the top of the pie.
Easy Instructions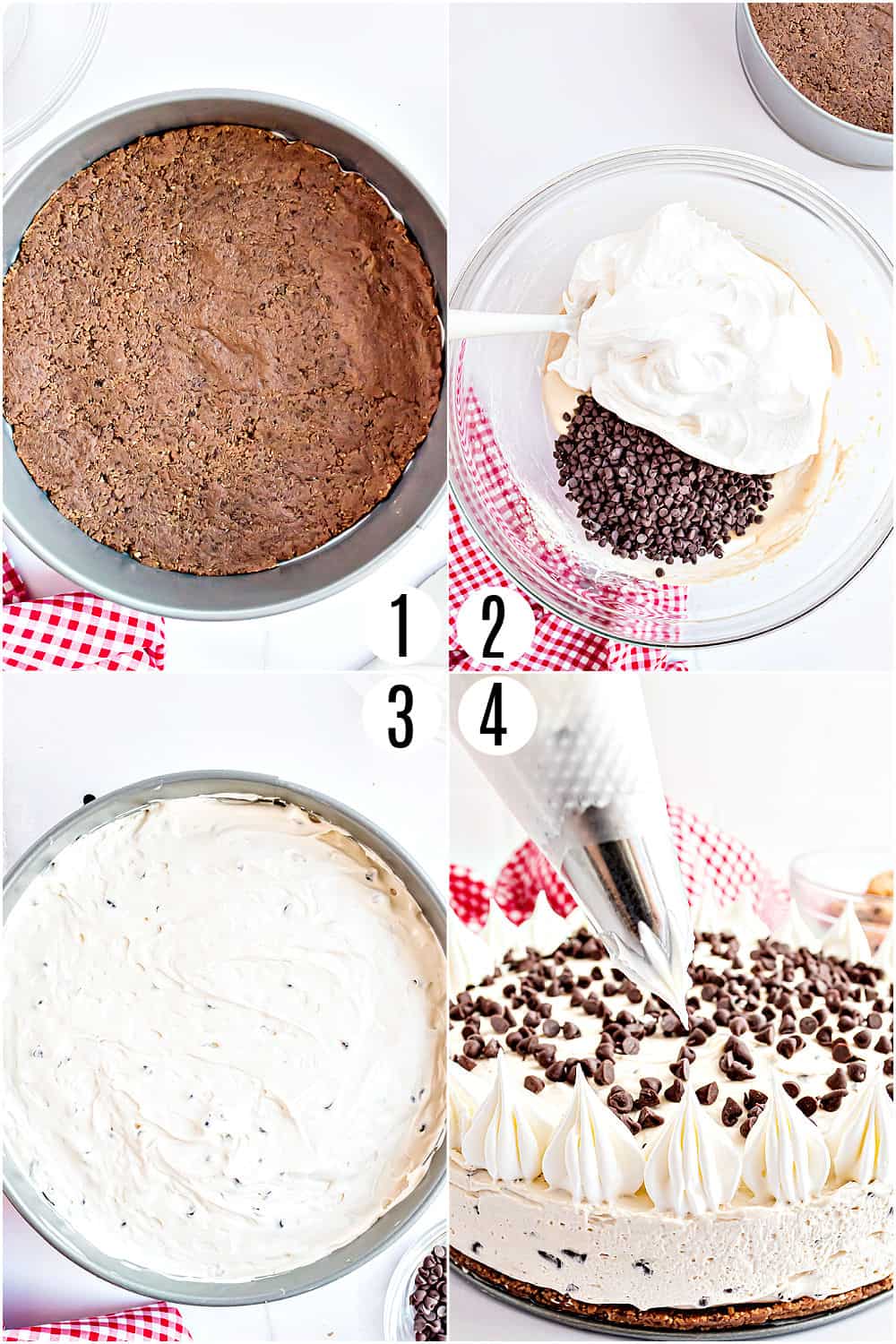 STEP 1. Make the cookie crust. Pulse the cookies for the crust in a food processor until broken down into (mostly) crumbs. Add in the melted butter. Pour the crust mixture into a large pie plate and press firmly into the bottom.
STEP 2. Make the cheesecake filling. Beat the cream cheese and brown sugar until fluffy, with no lumps. Add in the vanilla extract then fold in the Cool Whip and mini chocolate chips. Pour onto the cookie crust.
STEP 3. Add the garnishes. Pipe on the Cool Whip to decorate the top of the pie. Sprinkle with mini chocolate chips. Break the remaining cookies in half and press in around the outside of the pie.
STEP 4. Chill then serve. Refrigerate the prepared pie for at least 2 hours, or overnight. Then slice and enjoy!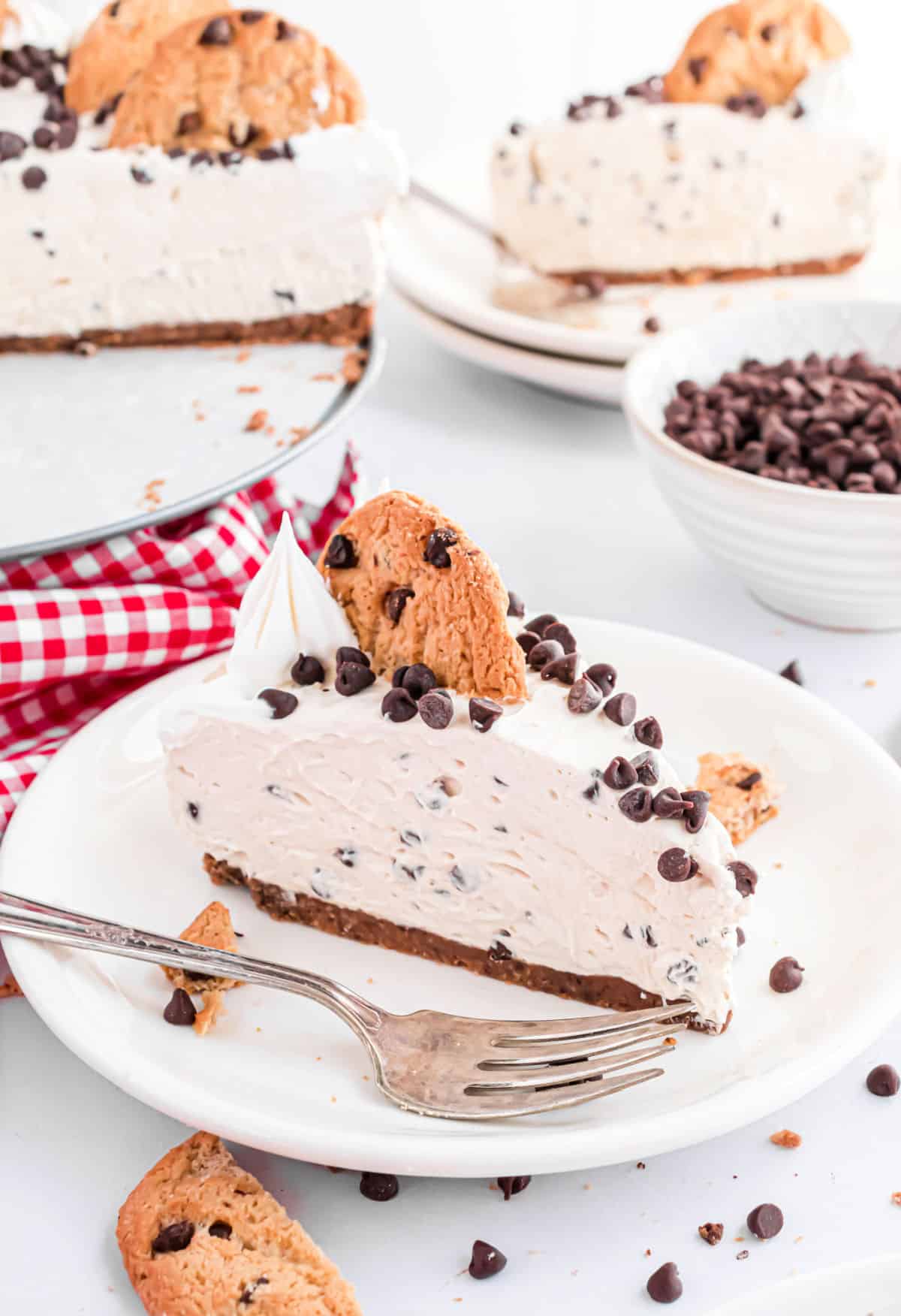 Tips and Tricks
Pulse the cookies for the crust. You want them broken down, but not completely in crumbs. A few chunky pieces are OK.
Soften the cream cheese. This will help it whip up better for the creamy cheesecake filling.
Chill for at least 2 hours to let the filling set to a sliceable consistency.
Recipe FAQs
What kind of cookies should I use for this cheesecake pie?
You'll want to use a really crunchy cookie for the crust and garnish on this pie. I use Chips Ahoy but a similar crunchy cookie is fine. You could also make this with Oreos for a different flavor twist.
Can I make this cheesecake ahead of time?
Yes, this cookie cheesecake needs to chill for at least 2 hours before serving, so it's best made in advance.
How do I store this cookie cheesecake?
Store in the refrigerator for up to 4 days, for best taste.
Can I freeze chocolate chip cookie cheesecake?
Yes! You can freeze the assembled pie for up to 3 months. Wrap tightly in plastic wrap and cover with foil, or place in an airtight container in the freezer. Thaw in the refrigerator overnight.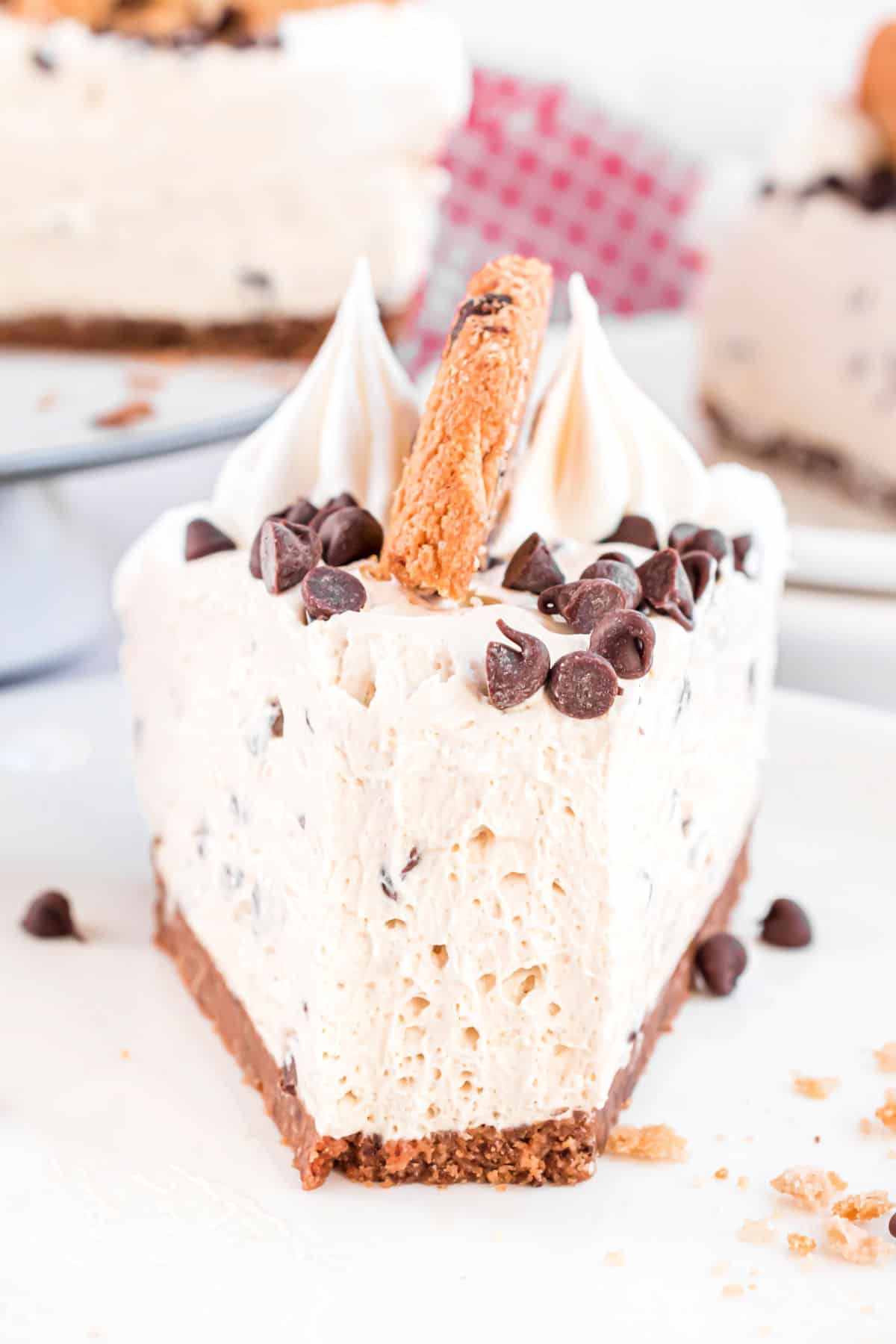 More Easy Dessert Recipes