The most fluffy, rich, decadent frosting for your cake! Chocolate Ganache Frosting is an easy way to make your cakes and cupcakes scream with flavor.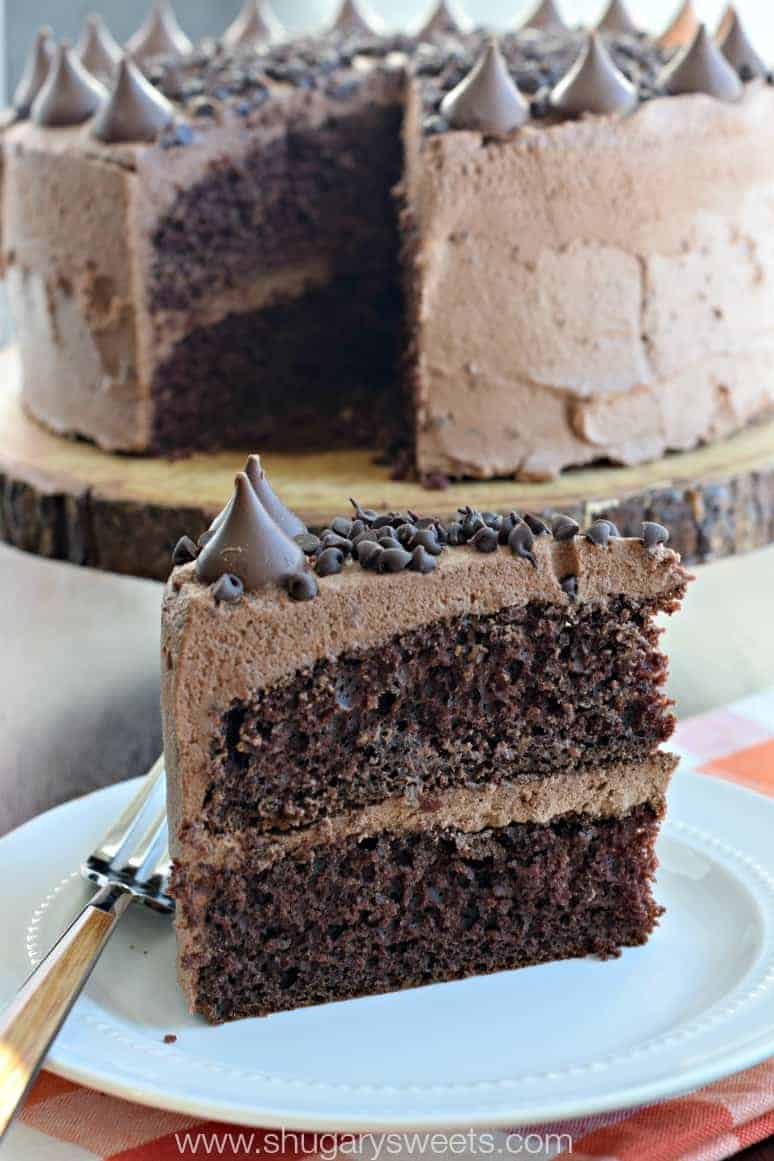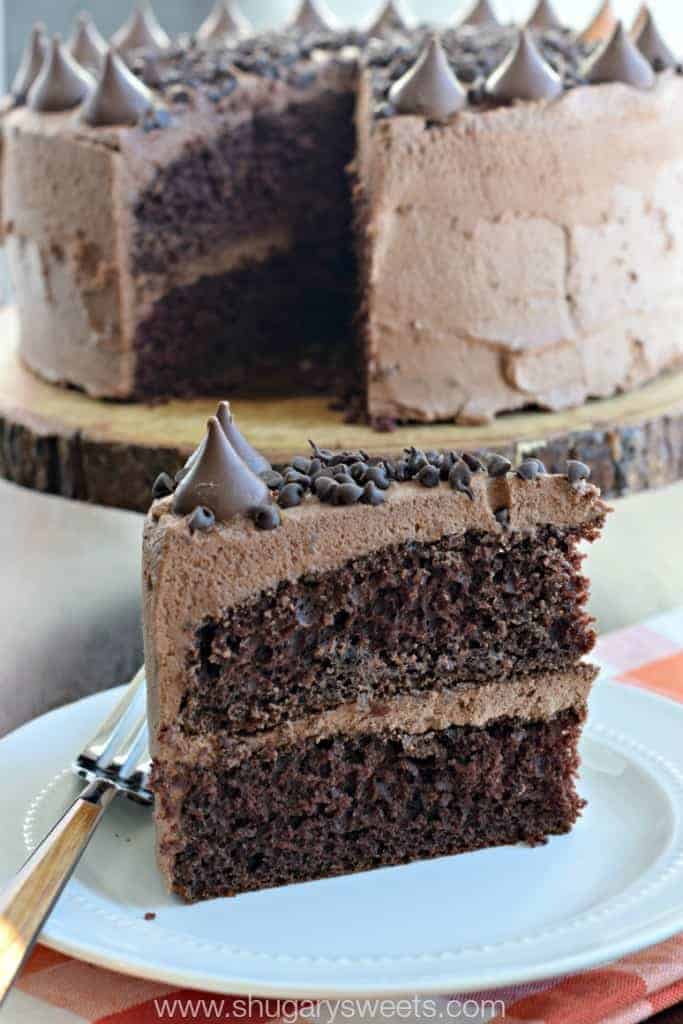 I'm often asked about chocolate ganache and how to make it smooth.
So today, in addition to giving you a delicious cake recipe, I've also got some great tips on making ganache. You may be looking at the cake and wondering, how does that even connect, I don't see ganache.
Well, most people typically think of a ganache as that creamy, rich melted chocolate on top of cakes or between layers. Ganache can also be used to make the filling for truffles. And, like today's cake, you can also whip your ganache into a rich, fluffy frosting! Oh yeah.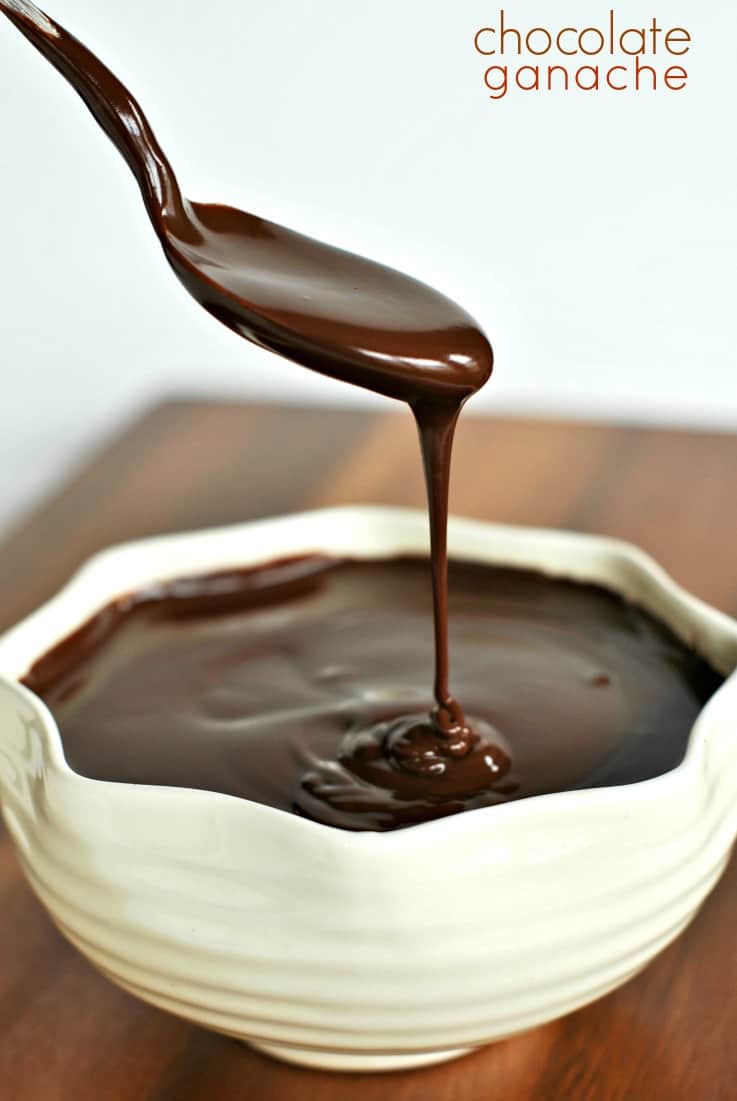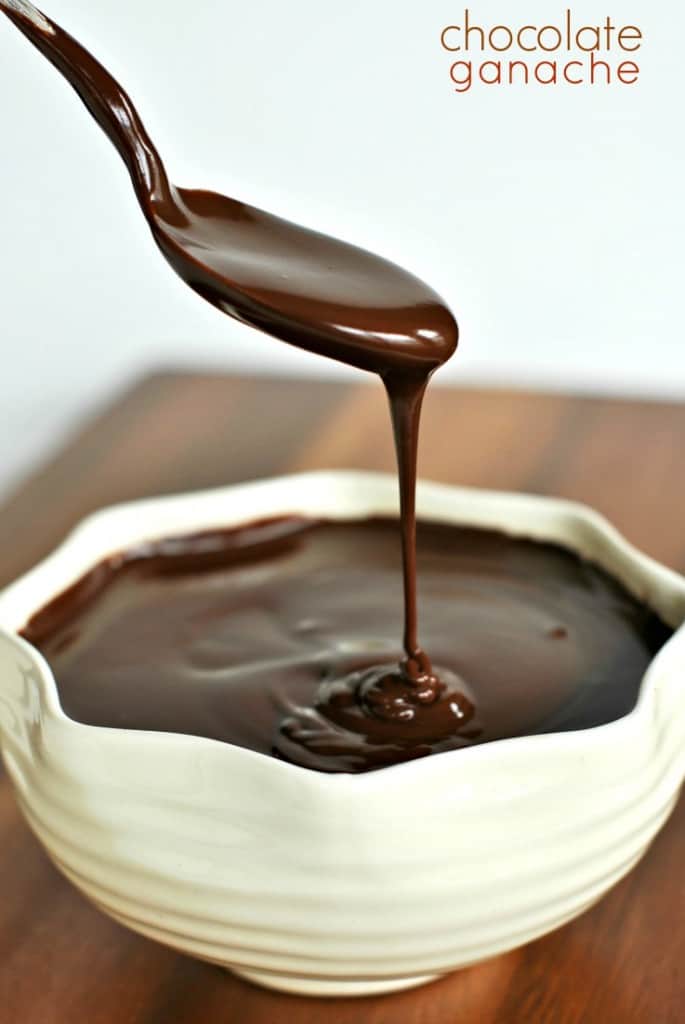 How to make Chocolate Ganache Frosting
If you are making this on the stove top, always use the double boiler method. Chocolate can scorch if directly heated and it won't be pretty (or delicious).
When using a double boiler, heat your small saucepan with about an inch or two of water. The steam will heat the double boiler (you can use a standard double boiler, or a glass bowl). That's when I put in the chocolate and cream and stir stir stir until smooth.
DO NOT remove the double boiler from pot until the ganache is smooth and creamy (you don't want to get any moisture in with your chocolate or it may seize).
Many times, I make my ganache in the microwave. Carefully. Start with a clean, dry glass bowl. Add your chocolate and cream and heat for one minute. Stir your ganache and heat in 15 second increments until the chocolate is smooth and creamy.
Depending on what I am making with the ganache it will determine how much cream I add to the chocolate. If I'm looking to make truffles, I'll add less cream. If I'm making whipped frosting, I'll add more cream. You really can't go wrong once you learn the technique!
Occasionally when making the whipped frosting, it comes out too thick. If this happens to you, warm some extra heavy cream for about 30 seconds in the microwave (about 1/4-1/2 cup). Drizzle into your mixing bowl while beating on high. This will add a little extra fluffiness and lighter texture to your frosting.
Be sure to heat it first though (not hot, just enough to take the chill off). This keeps your ganache from hardening when you add the cream.
Top my favorite mint chocolate chip cake with creamy ganache!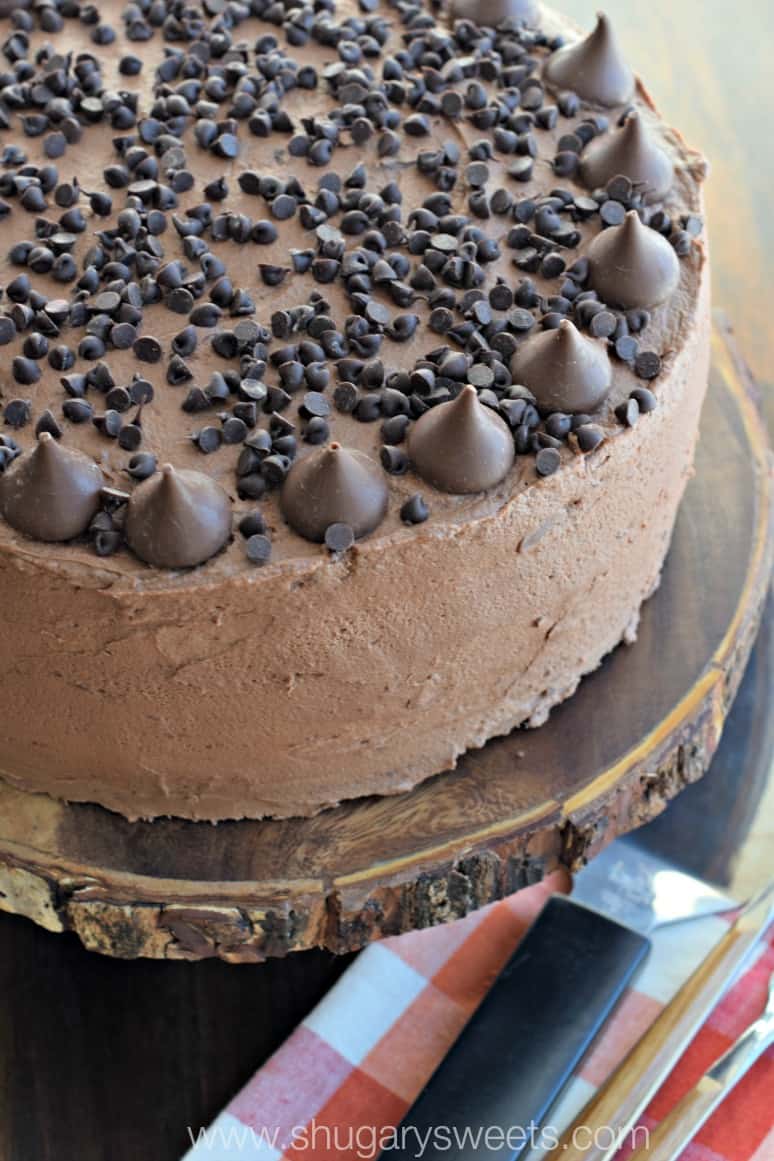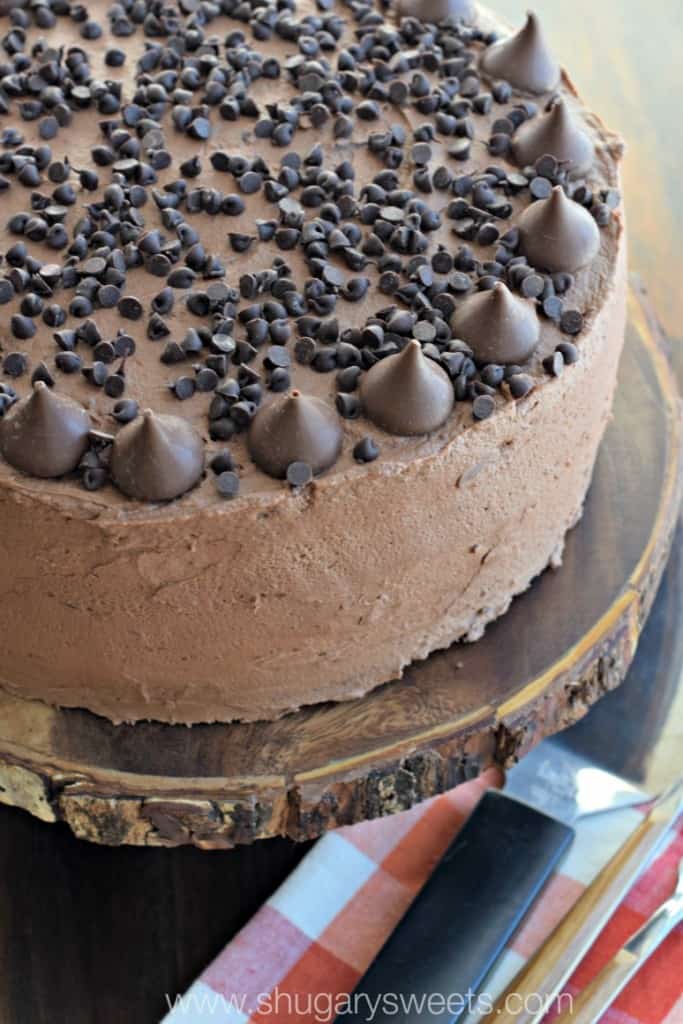 So let's talk about this cake!
I started with a chocolate cake mix. I know, I don't use them often. But in today's recipe, it's the frosting that makes this cake shine! If you prefer a homemade cake recipe…try out my favorite Dark Chocolate Cake (from scratch). It's so easy and so delicious!
As with all my layer cakes, even the boxed ones, I use Wilton Bake Even Stripsto keep the layers flat (I hate leveling cakes, and these work perfect)!
Before baking my cakes though, I start by making the ganache. Choosing one of the methods above (double boiler or microwave) I get my ganache smooth and creamy. I cover it with plastic wrap and set in the refrigerator for about an hour.
Then I bake the cakes!
Once you've baked the cakes, and cooled them on your wire rack, start your frosting.
Take out that bowl of chilled ganache and whip it good!
I use my KitchenAid mixer with whisk attachment to do this quickly and efficiently. If you have a handheld mixer, just make sure you are scraping down the sides of your bowl.
You'll know when you're done because the frosting will be light and fluffy! Immediately assemble the cake, first by placing one layer on a cake plate.
Top with a big blob of frosting, spreading evenly. Then add the second layer of cake.
Using an offset spatula, spread the whipped ganache around the entire cake (sides and top)! I added some candy and chocolate chips to the top of my cake, for a little chocolate decadence!
This would also be good paired with my German Chocolate Cake and Coconut Pecan frosting recipe.
Now. Here's the big question. How do you eat your cake? If you follow me on instagram you will see my family enjoys a big slice of cake in a bowl of milk. We call it "cake soup." People either love it or hate it. What do you think??
Love frosting? Here are a few of my favorites….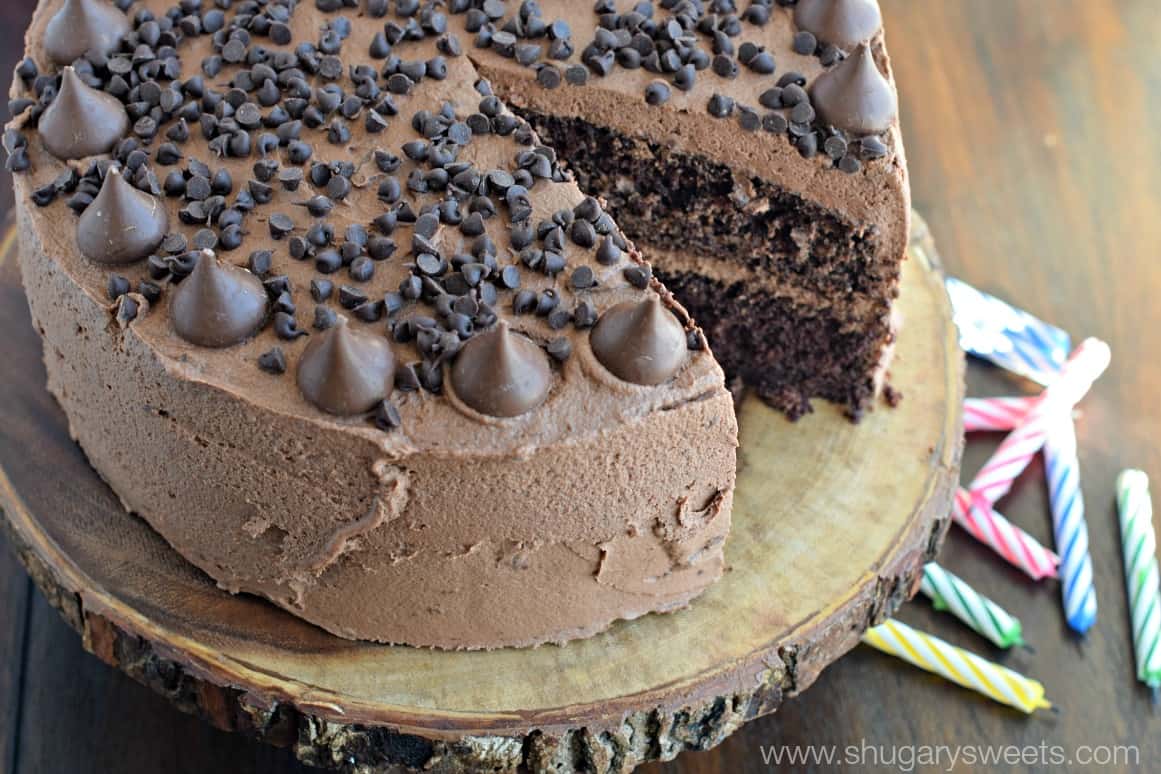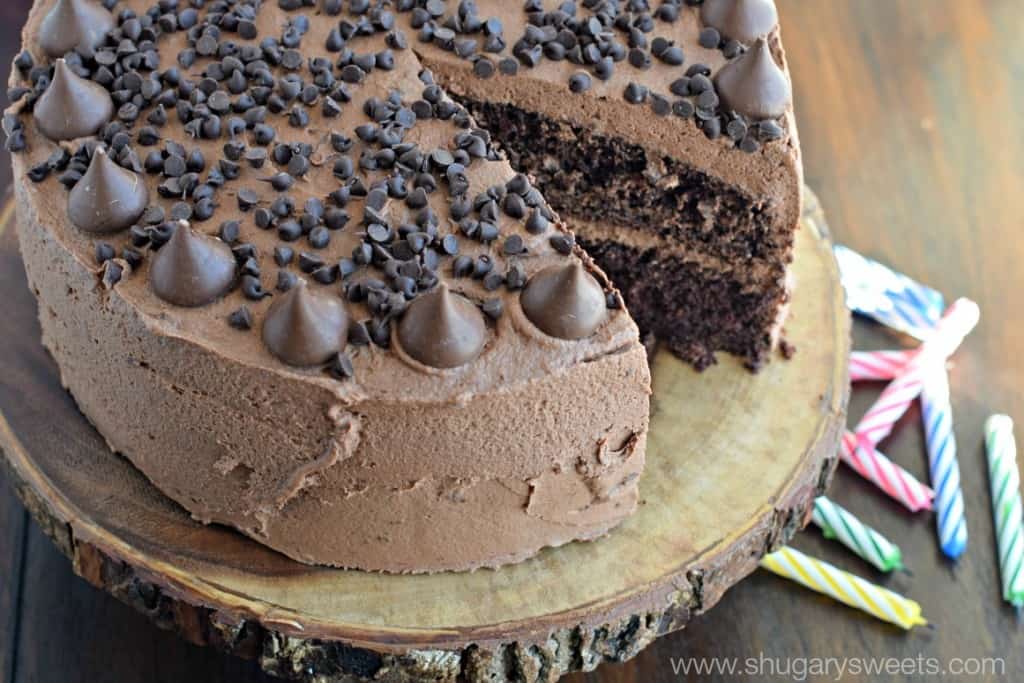 Recipe originally published January 15, 2015