Easy to make with simple ingredients, this No Bake Cheesecake is perfect any time of year. Top with cherry pie filling or fresh berries for more delicious sweetness or enjoy it on its own.
Love no bake desserts? Our family is obsessed with these indoor s'mores bars! So easy too. Or give this No bake chocolate cookie recipe a try. Childhood favorite!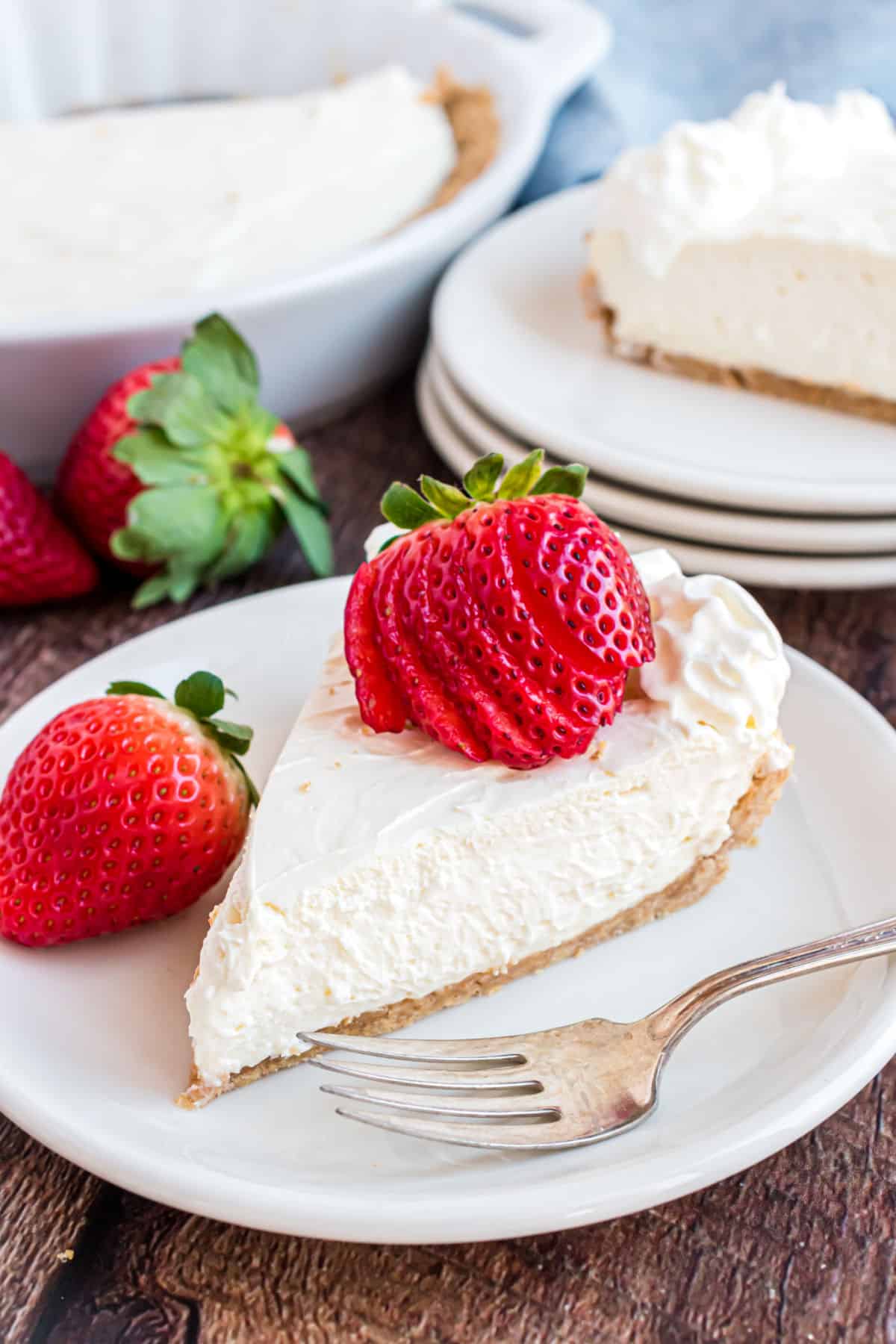 The BEST No Bake Cheesecake
Don't you love it when the best desserts are also easy to make? No Bake Cheesecake is one of those.
Delicious, buttery sweet graham cracker crust (homemade, of course) topped with a dreamy no bake cheesecake filling!
While I adore baked cheesecake, this creamy oven free version is a family favorite.
You can make it ahead of time without needing to fire up the oven and comes out perfectly every time. I love to make it the night before so dessert is ready to eat after dinner.
We like to add some canned cherry pie filling to the top for an extra sweet treat! You'll also love it with fresh fruit or served plain. This cheesecake is rich, decadent and oh-so-creamy!
If you love today's recipe, try our mini no bake cheesecakes too! Or give this cheesecake a makeover and try our no bake strawberry cheesecake next!
Ingredients Needed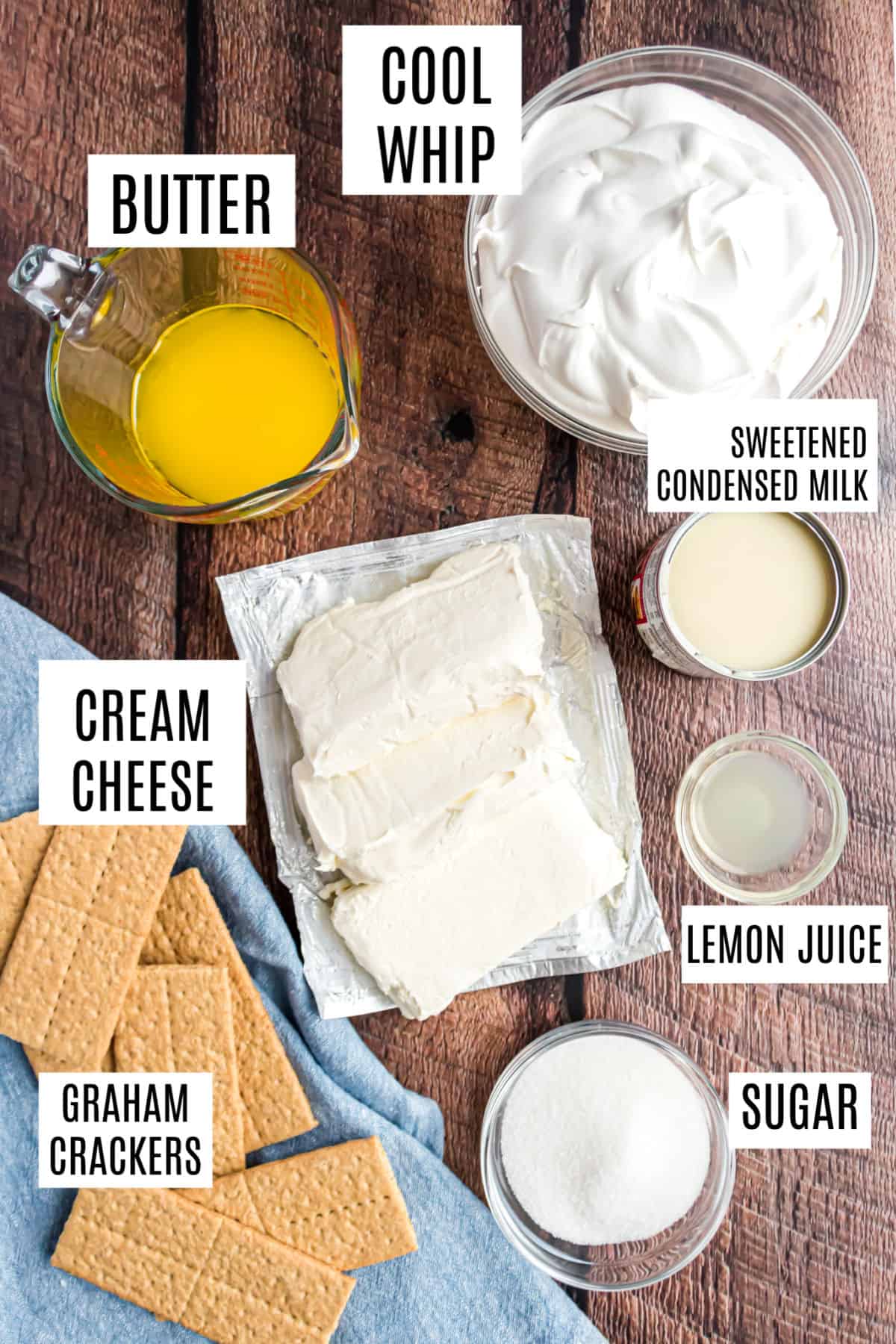 Here's what you need to make the best no bake cheesecake:
Cream Cheese
Sweetened Condensed Milk
Cool Whip
Lemon Juice
Optional: pie filling or fresh fruit for topping – We love canned cherry pie filling or slices of fresh berries!
For the homemade graham cracker crust you'll need:
Graham Crackers
Sugar
Melted Butter
How to make a No Bake Cheesecake
Start by making your graham cracker crust.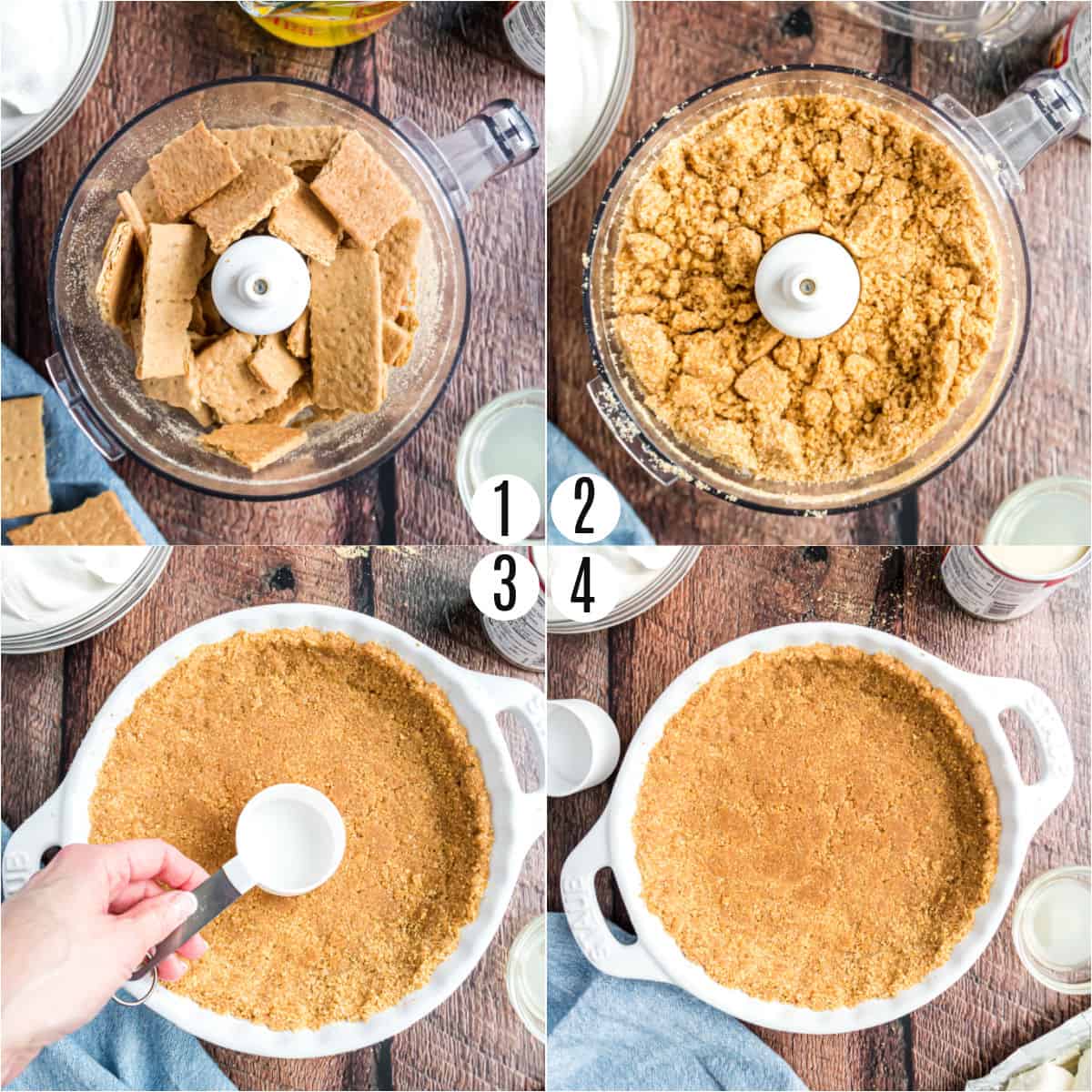 You can choose to use a prepared crust, but I personally think homemade tastes better. It's so easy too!
To make your crust, add your full size graham crackers to a food processor and pulse until fine crumbs form. Add in the sugar and melted butter and pulse until blended.
Divide in half and press crumbs into the bottom of TWO 8 or 9 inch pie plates. Use the bottom of a cup or the heel of your hand to press firmly, making sure the crumbs go up the sides of the pie plate.
To make the cheesecake filling: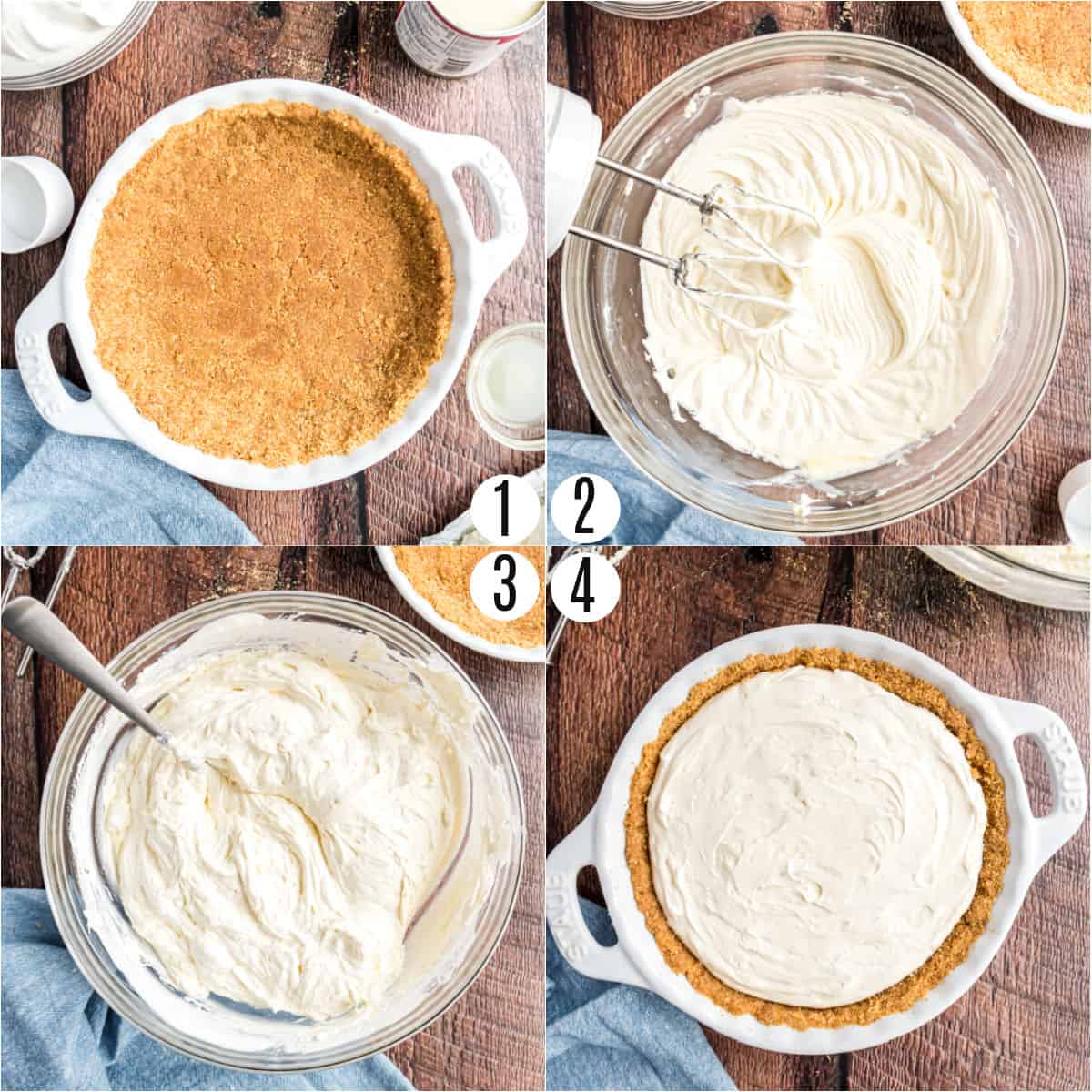 Beat room temperature cream cheese with sweetened condensed milk and lemon juice for about 4 minutes using an electric mixer. Scrape down the sides of the bowl as needed, and beat until smooth and fluffy.
Fold in Cool Whip and pour evenly into your pie plates. Use the back of a spoon to smooth the tops of the pie.
Refrigerate the cheesecakes for at least 3 hours (or overnight) until chilled and set.
Add your favorite pie filling flavor to the top if you choose! We love cherry but blueberry, peach or strawberry would be delicious on your cheesecake, too.
Fresh fruit and homemade whipped cream are other good choices for adding sweetness to this dessert.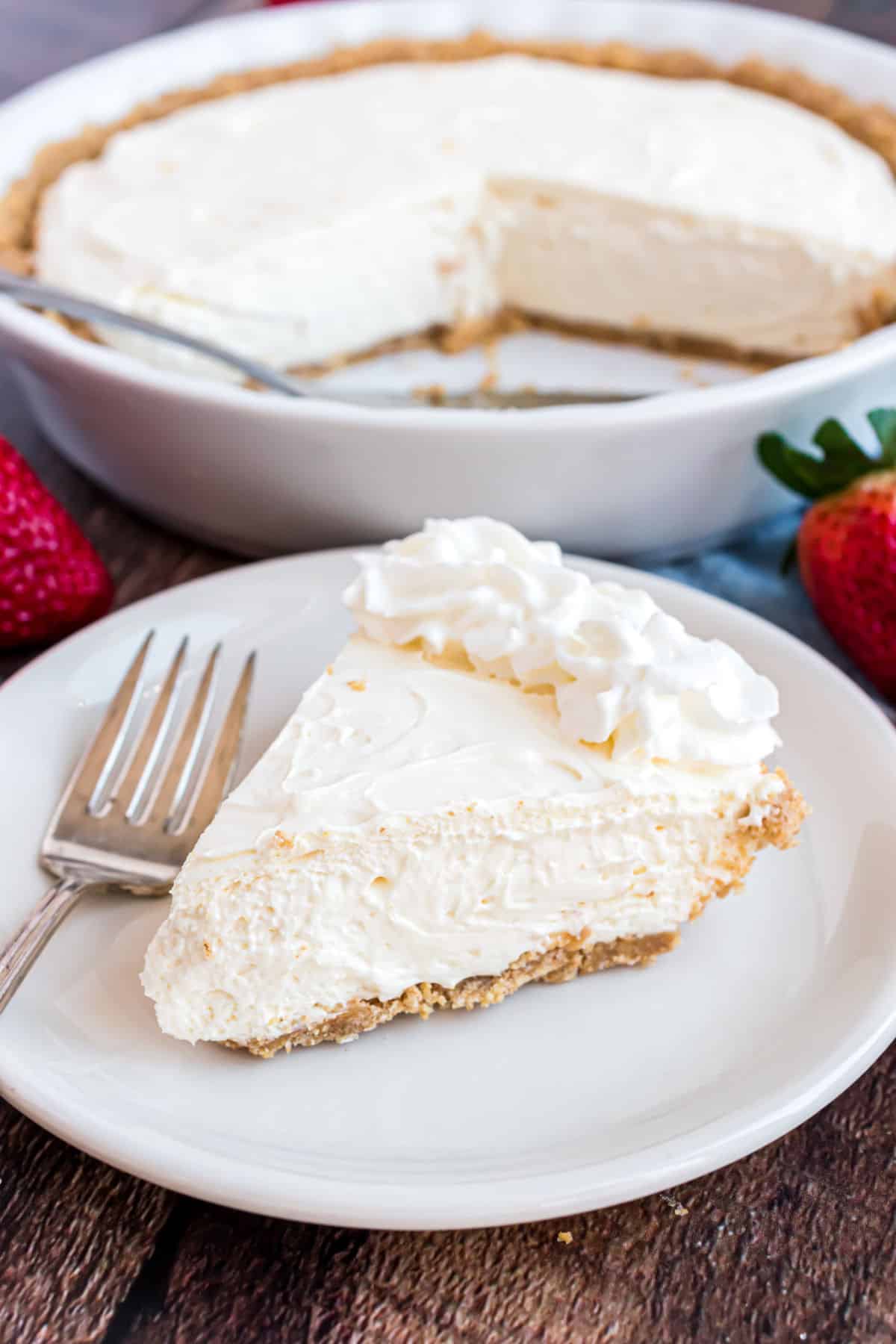 Recipe FAQs
Can you use a store bought crust instead?
Yes, a store bought graham cracker crust works well in this recipe if you prefer!
How long will no-bake cheesecake stay good?
This cheesecake stays good for up to 3 days in the fridge. I love to make it the day before and let it set up over night in the refrigerator.
Can you freeze Cheesecake?
Absolutely. Wrap tightly in plastic wrap, then foil. Freeze for up to 60 days. Thaw in refrigerator overnight.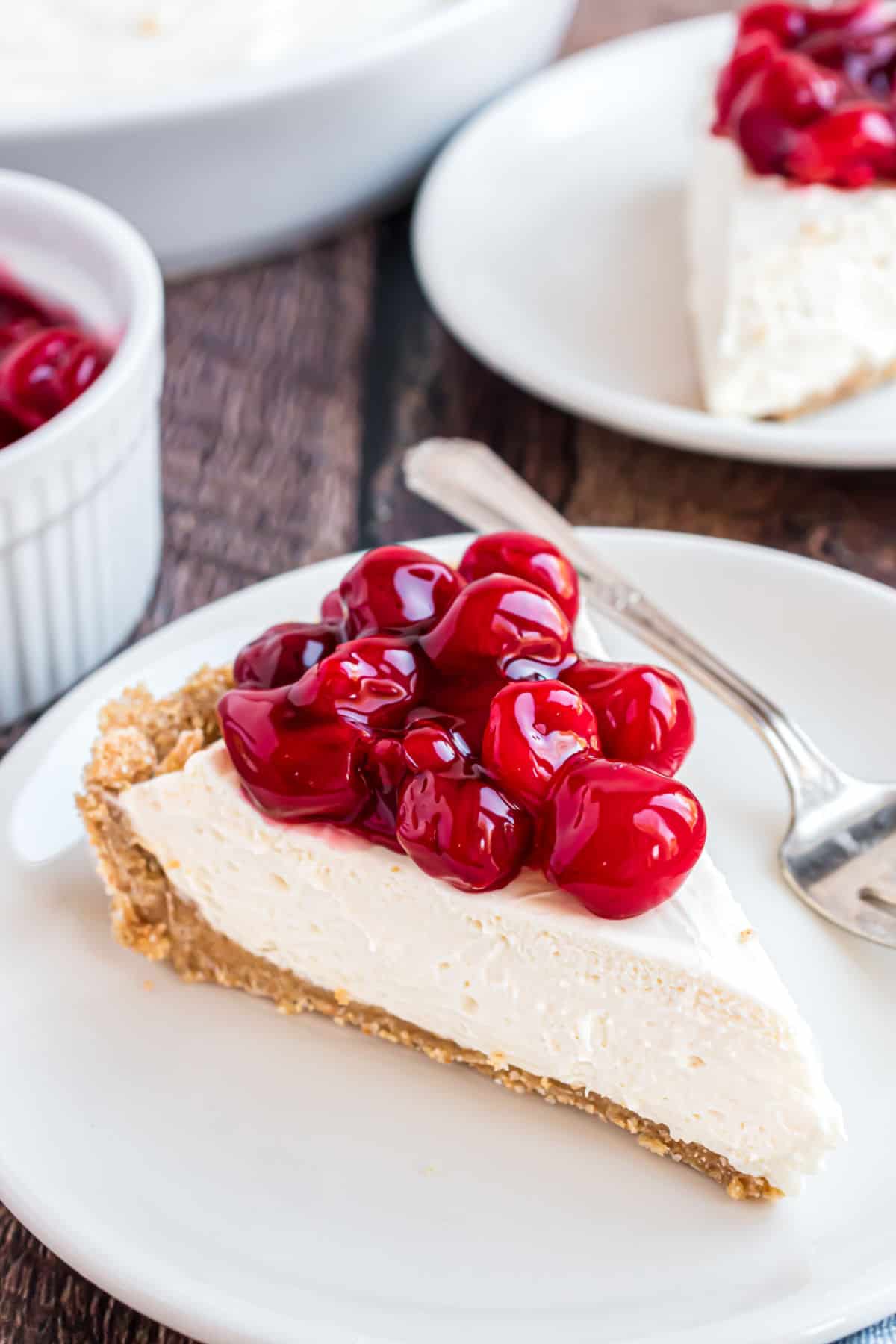 Tips and Tricks
No food processor? You can find ready made graham cracker crumbs in the baking aisle of many supermarkets.
Use full fat cream cheese. For best results and richest taste, use regular full fat cream cheese, cool whip and butter!
Press the graham cracker crust up the sides of the plate. Use your hands to make sure to the crust reaches as far up the sides of the pie plates as you can.
Topping ideas: blueberries, strawberries, bananas, fresh pineapple or raspberries are other easy ways to change up the flavor of the cheesecake.
Holiday: make our favorite Easter Egg Cheesecake using this recipe as a base.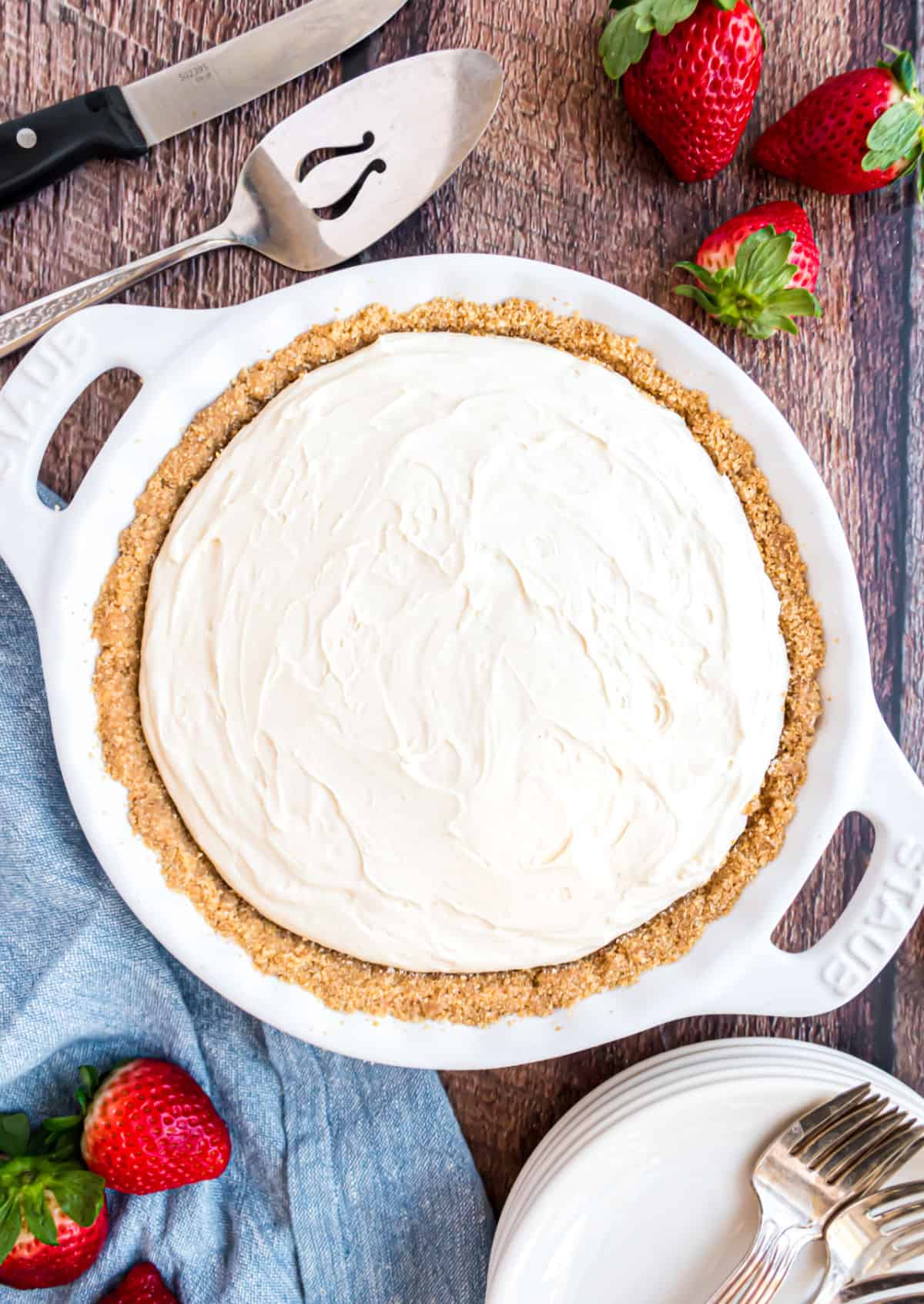 More No Bake Desserts
More Favorite Cheesecakes: Sopapilla Cheesecake | Cheesecake Dip
Once you taste this rich dessert, I know you'll agree: it's the BEST No-Bake Cheesecake out there!
Easy to make, this No Bake Cheesecake is perfect any time of year. For a little more sweetness, top it with some Cherry Pie filling!