The great taste of Cheesecake and Bailey's Irish Cream all in one dessert! This Baileys Cheesecake recipe has an oreo cookie crust, creamy cheesecake with Irish Cream, chocolate ganache, and an espresso whipped cream!
Who else out there loves to bake with Bailey's Irish Cream? It adds a little lift to everything from milkshakes to cakes to boozy brownies. We use Baileys in our favorite BBC Cocktail too!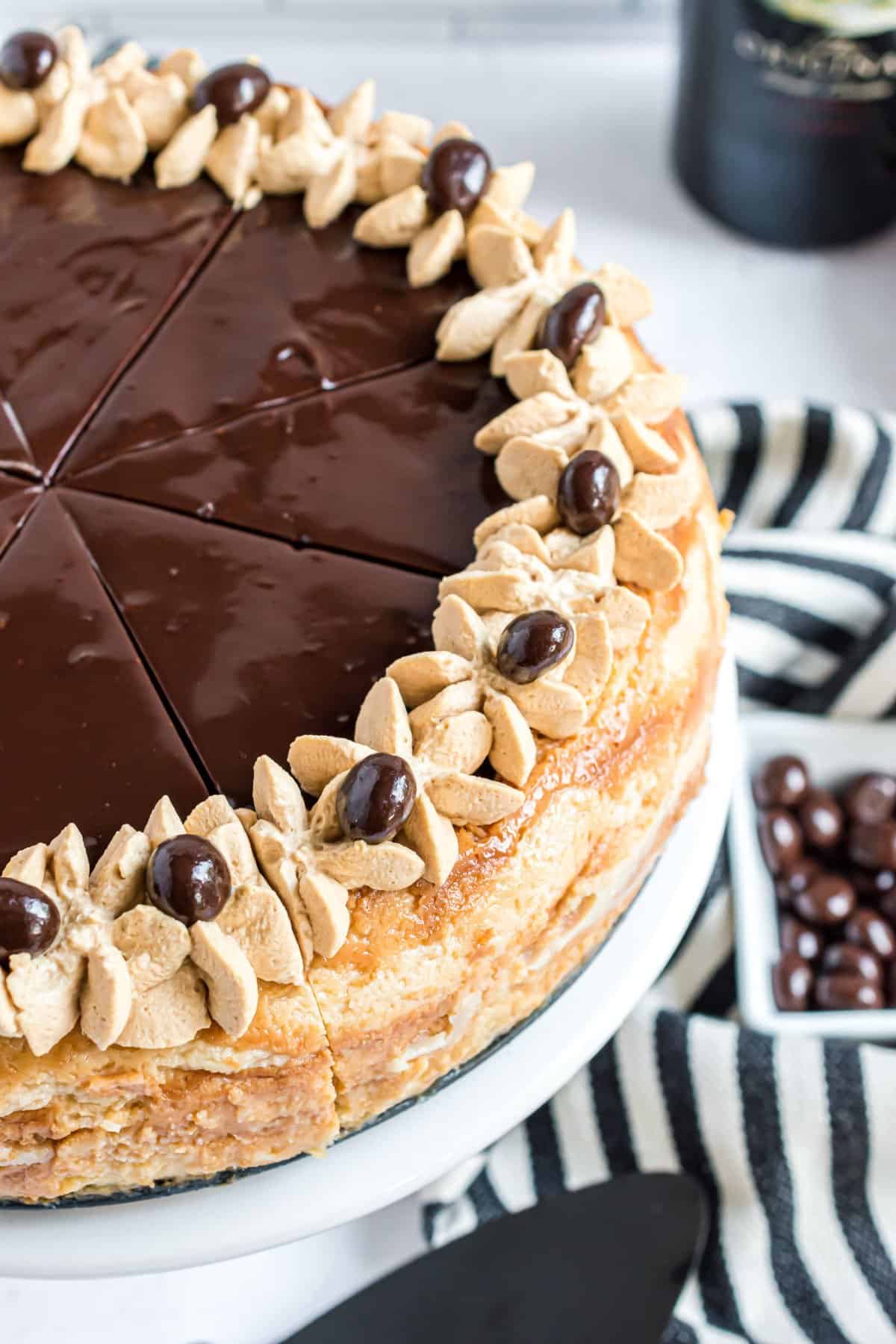 What is Baileys Cheesecake
This cheesecake includes all the best parts of Irish coffee!
Add a little Bailey's in the mix and you get a cheesecake with a distinct "adult" twist! We used our favorite cheesecake recipe as a starting point!
Whether you enjoy this cheesecake for St Patricks Day, Valentine's Day or just a random dessert, you're friends and family with LOVE it.
If you love today's cheesecake, be sure to try our strawberry cheesecake recipe. Or give our rich and decadent chocolate cheesecake a try next!
Ingredient Notes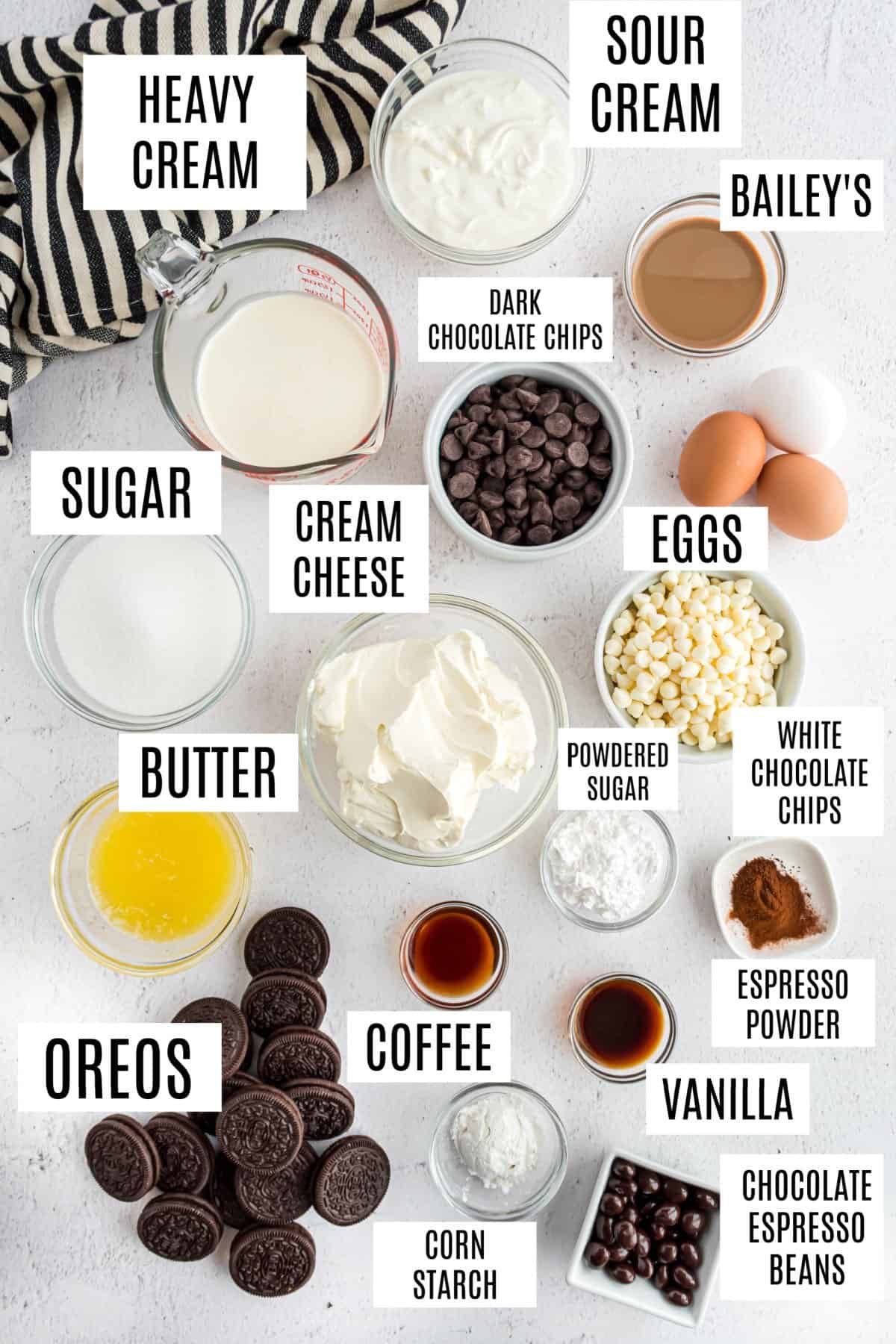 I made my own Oreo crust for this Bailey's cheesecake. All you have to do is pulverize the Oreos, mix with melted butter and press it into a pie plate. Then stick the crust in the freezer until it's time to bake the cheesecake.
Here's what goes into this espresso cheesecake recipe:
Heavy whipping cream– combined with liquor and coffee it starts the perfect base.
Strong brewed coffee– enhances the chocolate in the cheesecake
Bailey's Irish cream
White chocolate chips– provides structure and flavor to the basic cheesecake
Cream cheese– use full fat (not the spreadable tub)
Sour cream– gives our cheesecake a creamy texture
Sugar
Eggs – room temperature
Vanilla
Cornstarch
How to Make Baileys Cheesecake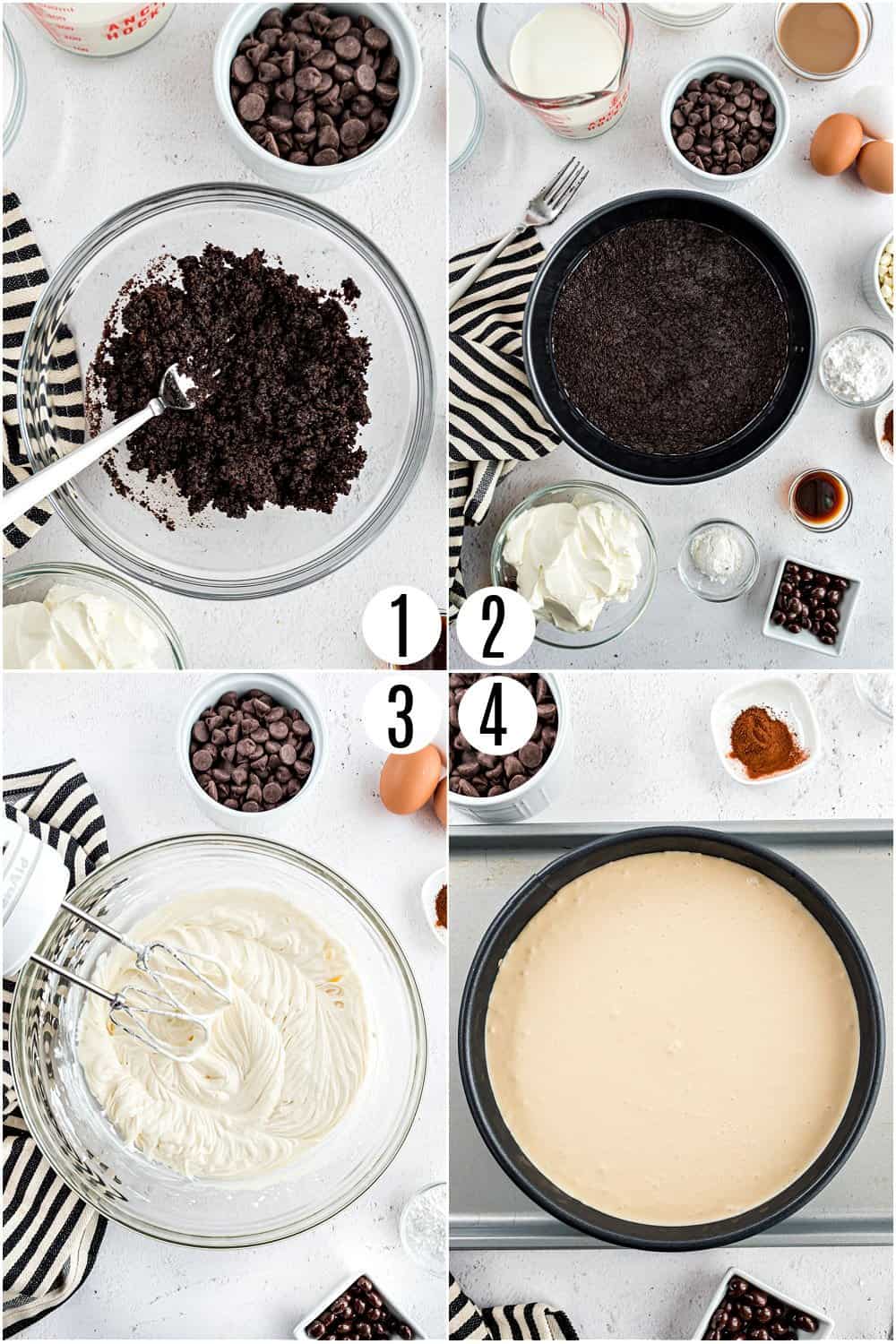 Make the Oreo cookie crust. Press into springform pan and set aside.
Make the cheesecake. In a double boiler, heat cream, Bailey's liquor, and coffee until hot (but not boiling). Add white chocolate to the cream. Remove from heat and stir until smooth.
In a mixing bowl, combine cream cheese, sugar, cornstarch, sour cream, and vanilla extract. Beat for 2 minutes, scraping down the sides of the bowl as needed. Slowly add the cooled chocolate mixture, and mix just until blended. Add in eggs one at a time, beating just until a mousse-like texture.
Bake. Pour the cheesecake filling into the prepared crust. Bake in the oven just above the water bath for one hour. Turn off the oven and let the cheesecake sit for another 30 minutes.
PRO TIP. Instead of placing the springform pan IN the water bath, place on shelf above. Still get the moisture from the water, without worrying about a soggy crust.
Chill. Cover the baked cheesecake in plastic wrap and let it chill in the fridge for at least four hours or up to overnight.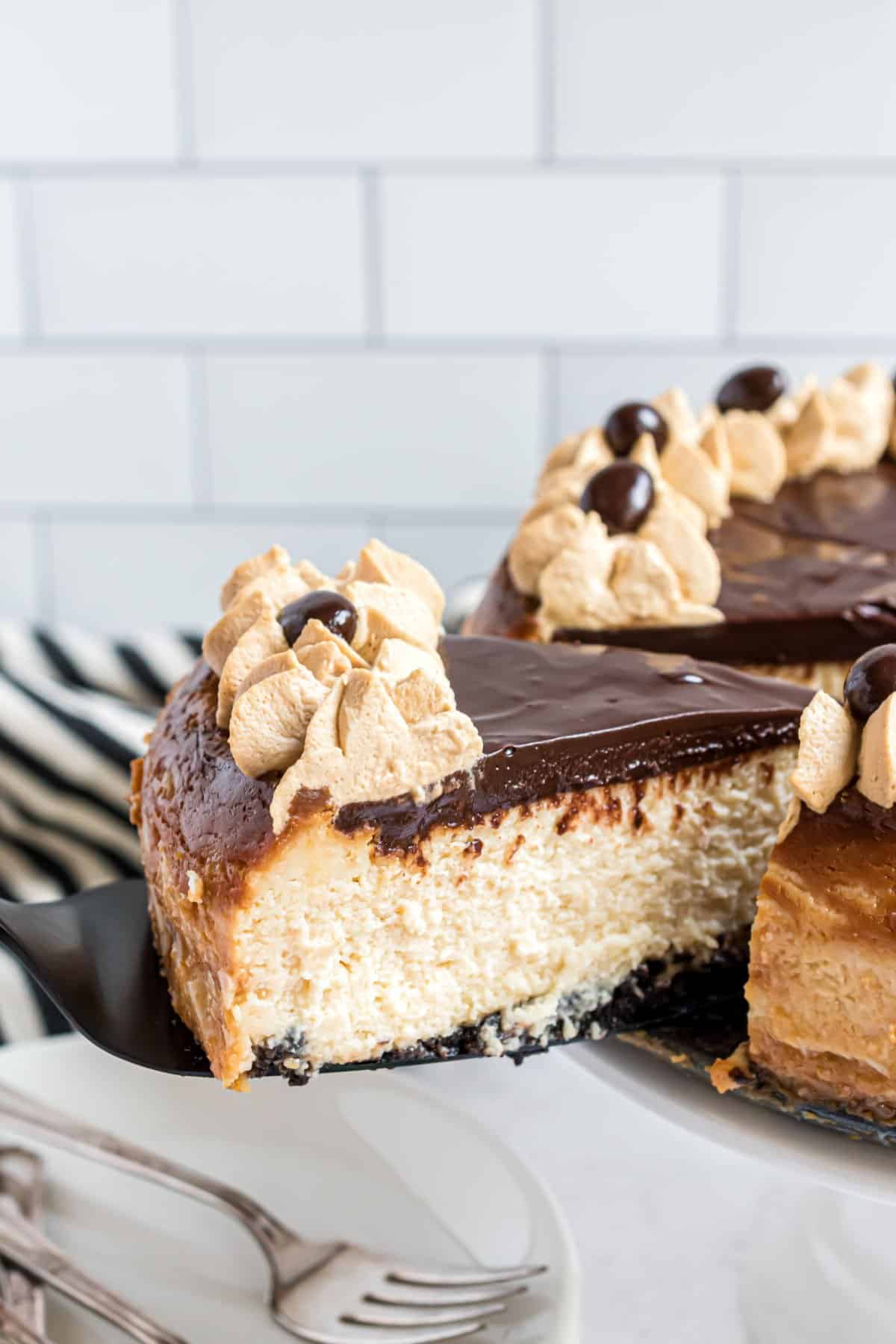 Chocolate Ganache Recipe
With white chocolate, coffee and Bailey's in an Oreo crust, this cheesecake already sounds pretty decadent right? It is, in the best possible way.
And I know I could have stopped there–but I just HAD To add a little dark chocolate on top! This final chocolate layer comes in the form of a velvety ganache with just two ingredients.
To make the ganache:
Melt dark chocolate chips in warm heavy cream and whisk to form a smooth pourable texture. Pour on top of the chilled cheesecake.
Before you slice the cheesecake, wait! There's one more dreamy creamy addition: espresso whipped cream: Add a dollop of espresso whipped cream on top to complete this decadent cheesecake with the zing of coffee and whiskey flavors! I
Recipe FAQs
Having issues with your cheesecake? Check out these tips for troubleshooting your dessert.
Why did my cheesecake crack on top?
Sometimes cheesecakes crack when you over-beat the filling. No worries though, our Baileys cheesecake will get covered in chocolate ganache.
How do you remove cheesecake from the springform pan?
Simply run a knife along the edge of the springform pan to make sure the cheesecake has separated from the side of the pan. Then unlatch the springform pan and remove the outer piece, allowing the cheesecake to remain on the plate.
Can you freeze Baileys cheesecake?
YES! Once the cheesecake has set and chilled you can freeze IN the springform pan and wrap with a layer of plastic wrap then foil. Or, you can remove the pan, wrap in plastic wrap and foil, then freeze (just be careful not to set anything on the cheesecake)!
How long does cheesecake last in the refrigerator?
Cheesecake is best eaten within 5 days from baking.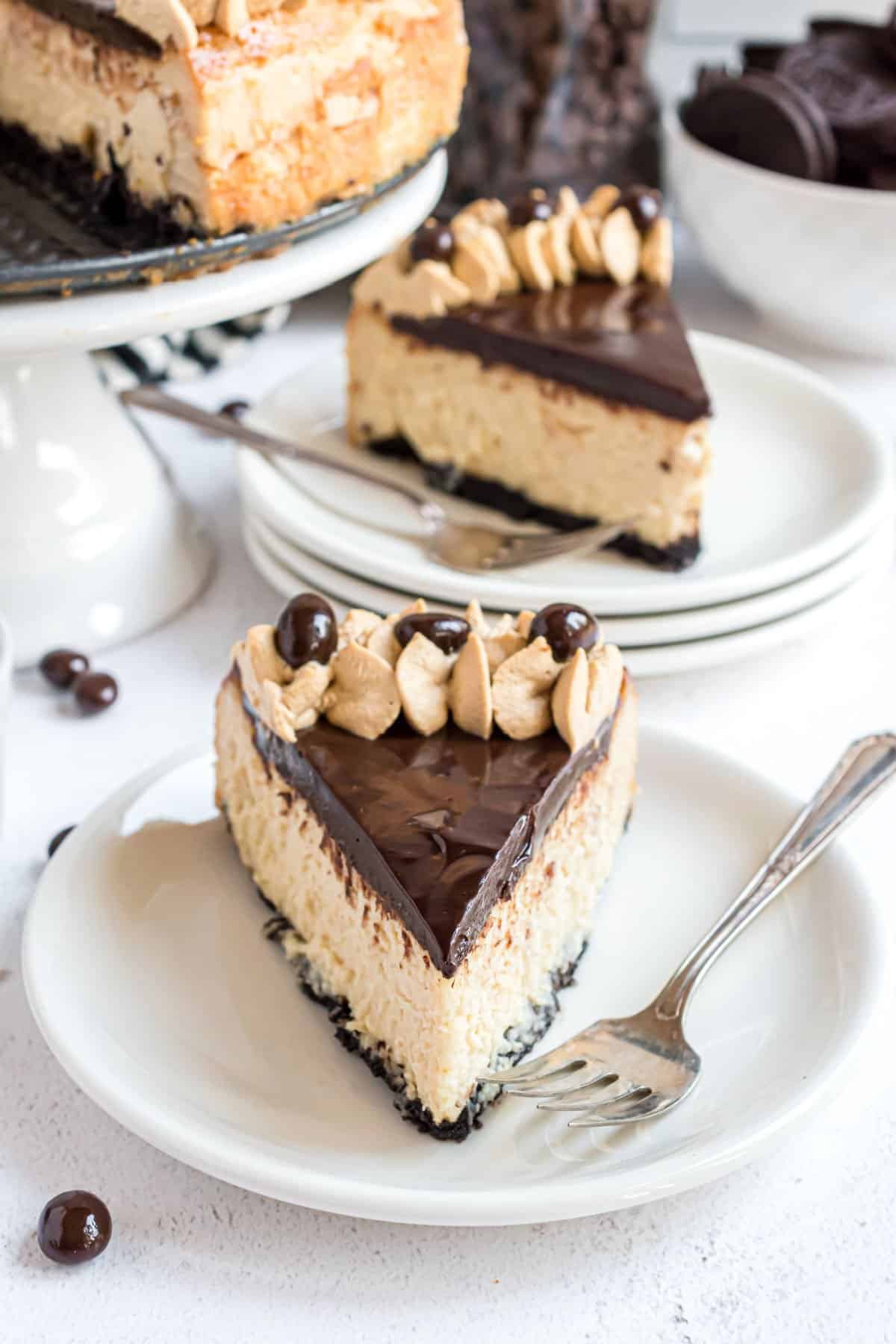 If you like coffee, Bailey's and chocolate, I think it'll be impossible to NOT love this delicious espresso cheesecake.