Rich, creamy, decadent Triple Dark Chocolate Cheesecake is the ultimate dessert. With my tips and tricks you can impress your friends and family with this chocolate cheesecake recipe!
We are big fans of chocolate and cheesecake. You can make this delicious treat without an oven (No Bake Chocolate Cheesecake) or try my Instant Pot Chocolate Cheesecake recipe instead.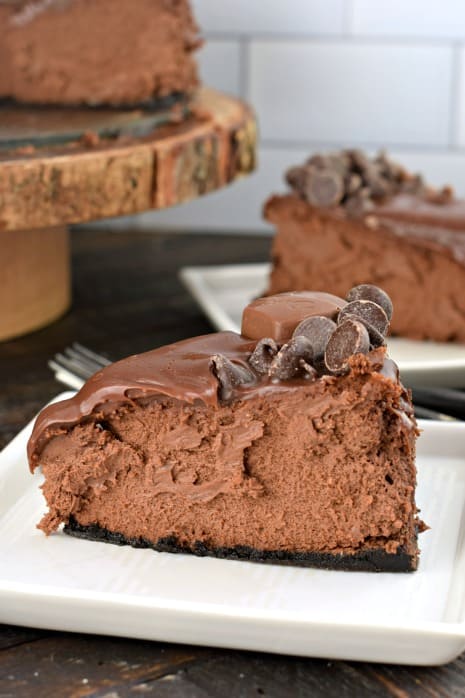 Here's why this recipe works
Years ago we had a house sitter who would leave a homemade cheesecake in our refrigerator when we would return from our travels. It made coming home from vacation sweeter!
Last week, I found the recipe he gave me for his ultimate "choco-licious" Dark Chocolate Cheesecake.
As I took a bite of the finished cheesecake, I immediately noted that this is one of the TOP TEN recipes on my website. Seriously guys, it's THAT good.
While I love Rice Krispie Treats and how easy they are to make, this Dark Chocolate Cheesecake recipe is impressive.
Based off my Perfect Cheesecake recipe (or I should say, Matt's recipe…our house sitter), this decadent cheesecake has a chocolate mousse-like texture!
Ready to get started?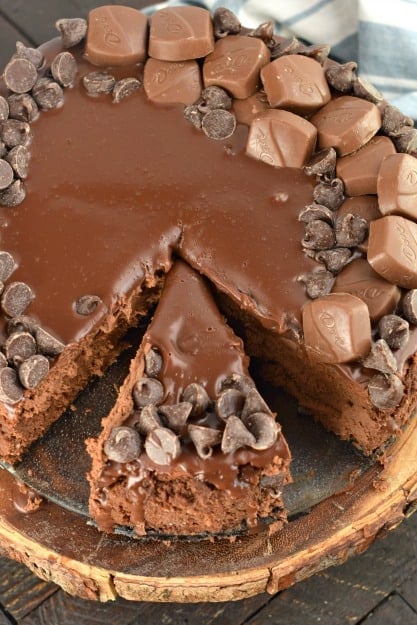 Ingredient Notes
Springform Pan. This is a must. Don't even try to use a cake pan, haha, yes it's happened and people question why it didn't turn out.
To make a cheesecake you NEED a springform pan. This allows you to "release" the pan without flipping the cheesecake. I have a Pampered Chef springform pan, but you can find similar 9-inch springform pans on Amazon.
Cream Cheese. I find that using name brand cream cheese results in the best, creamiest flavor. I use off brand cream cheese for many things…but not when it comes to cheesecake. And be sure to use the blocks of cream cheese, not tubs.
Coffee. No, this will not make your dessert taste like coffee. The coffee enhances the flavor of the chocolate. I used 1 Tbsp of STRONG brewed coffee (like espresso). You can also use 1 tsp of Espresso Powder (<—I buy that on Amazon). Then just replace the 1 Tbsp of brewed coffee for water.
Dark Chocolate. Don't even think about going cheap or using semi-sweet or milk chocolate. Just don't. I buy Ghirardelli dark chocolate chips (sold at most grocery stores). The flavor is sweet, not bitter, and they melt smooth!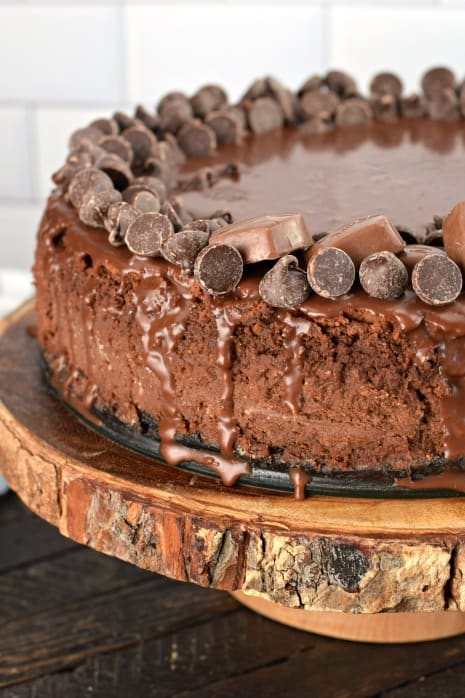 Step by Step Instructions
Be sure to scroll all the way down for exact measurements and directions!
The crust.
You'll start by making an Oreo cookie crust. The crust will ONLY be pressed into the bottom of the pan (not up the sides).
The Filling.
Make sure all ingredients are at room temperature, this includes cream cheese, sour cream, and eggs.
Heat heavy cream in a double boiler with coffee (or espresso powder). Once the cream is hot (but not boiling), remove from heat and add dark chocolate. Mix until smooth and set aside to cool before adding to the filling.
Do NOT over beat the mixture. Just enough to blend everything to a mousse-like texture.
Baking.
Many recipes require a water bath and wrapping the cheesecake pan in foil, I do things a little differently.
While the oven is preheating, I put a broiler pan (or large cookie sheet) on the bottom shelf of the oven, with at least an inch of water.
To bake the cheesecake, I put it on the bottom second to last shelf in the bottom of the oven (so the lower third of the oven). NOT directly in the water bath, but the shelf above. This allows for the moisture to penetrate the oven, without soaking the cheesecake.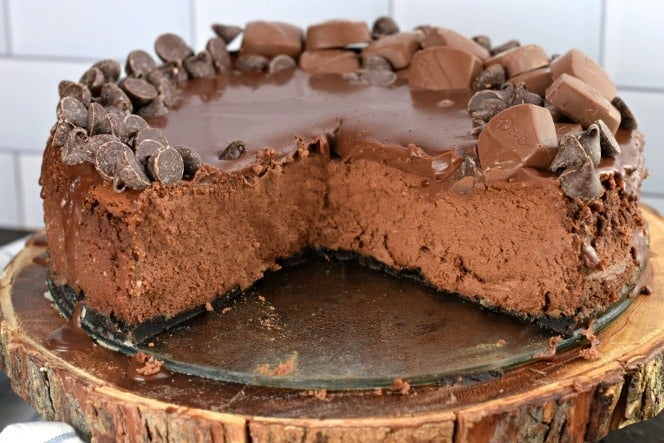 Allow to set.
After the one hour of baking, DO NOT OPEN THE OVEN. Just turn the oven off and let it sit undisturbed for 30 minutes. NO PEEKING. Trust me.
Once the thirty minutes is up, remove cheesecake and allow it to cool completely to room temperature.
After it has cooled, cover with plastic wrap and refrigerate for at least 4 hours, or overnight is best.
For the ganache and topping.
This decadent cheesecake has triple the chocolate. In the crust, in the filling, and on top!
You'll top this chilled cheesecake with a simple dark chocolate ganache. I also added extra dark chocolate Dove Candies and dark chocolate chips. Because why not?
More Toppings
Cherry pie filling
Fresh strawberries
Oreo Cookie Crumbs
Chocolate shavings or curls
Recipe FAQs
Why did my cheesecake crack on top?
Sometimes this happens when you overbeat. Sometimes it just happens. Not to worry though…we're topping our cheesecake with ganache and it will cover it right up.
How do you remove the cheesecake from the pan?
Simply run a knife along the edge of the pan to make sure the cheesecake has separated from the side of the pan. Then unlatch the springform pan and remove the outer piece, allowing the cheesecake to remain on the plate.
How long does a cheesecake have to chill?
Cheesecakes are best when made the day before and chilled overnight. I would chill for at least 4 hours.
Can you freeze chocolate cheesecake?
YES! Once the cheesecake has set and chilled you can freeze IN the springform pan and wrap with a layer of plastic wrap then foil.
OR, you can remove the pan, wrap in plastic wrap and foil, then freeze (just be careful not to set anything on the cheesecake)!
How long does cheesecake last in the refrigerator?
I find it's best when eaten within 5 days from baking.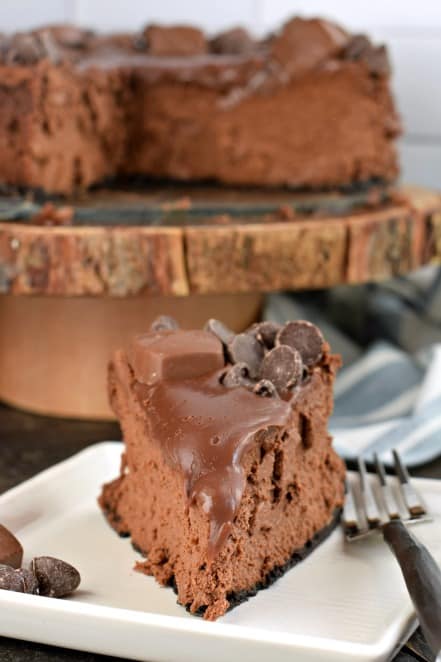 More Dessert Recipes
Triple Dark Chocolate Cheesecake recipe is the perfect holiday or Valentine's Day dessert idea! Rich and creamy, you can't resist this cheesecake!