Rich and creamy, this Instant Pot Chocolate Cheesecake is incredible. Oreo crust topped with dark chocolate cheesecake filling and chocolate ganache. Tips and tricks for perfect cheesecake!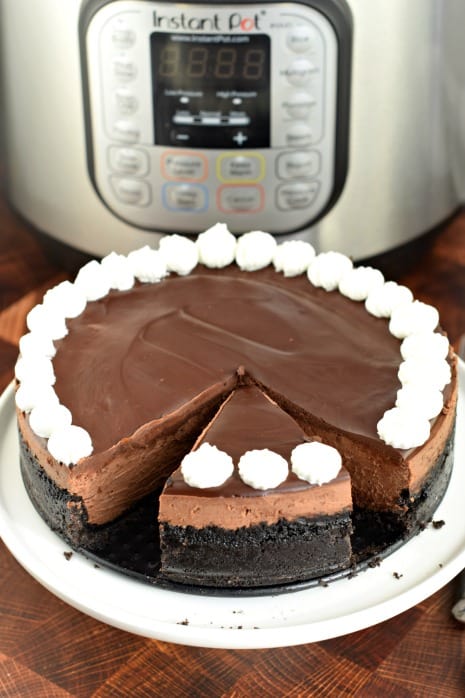 I recently shared this amazing Chocolate Cheesecake recipe with you guys, after sharing the story about my house sitter who always left a cheesecake in our refrigerator.
SO MANY of you asked if this could be made in the Instant Pot.
You asked, I answered.
Why make cheesecake in the Instant Pot?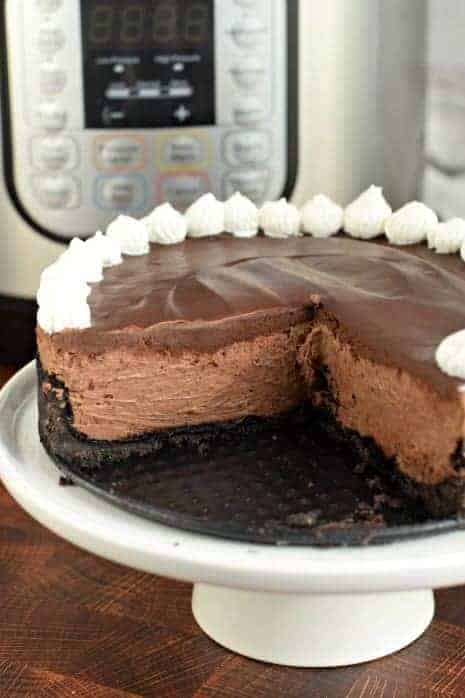 If you're new to instant pot cooking, you may wonder, why would I take a perfectly good recipe and make it in the Instant Pot.
Well, let's start a list:
EASY. No water bath!
DELICIOUS. Super creamy from the moisture in the pressure cooker!
FAST COOK. Unlike baking a cheesecake, and waiting for it to sit in oven to cool, this is in the fridge chilling so much quicker!
But seriously, one look should be all it takes to convince you! Creamy dark chocolate cheesecake filling topped with a rich chocolate ganache. What's NOT to love?
What You'll Need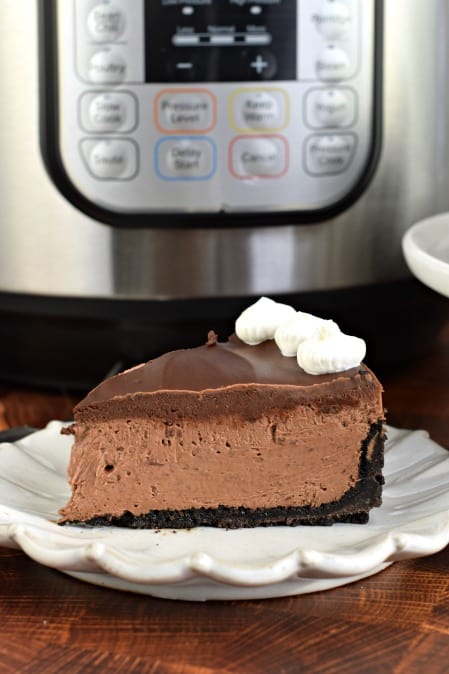 Instant Pot- I test all my recipes using a 6qt Instant Pot!
Springform Pan- while I know some people can find springform pans locally, I ordered my 7-inch springform pan on Amazon (<—-this one). You can also use a 7×3-inch Fat Daddio push pan.
Sling or Trivet- whether you choose to use a sling or trivet is up to you. I personally am loving this easy silicone sling from amazon. You just need to have something that keeps the pan out of the water on the bottom, as well as lifts it OUT of the instant pot!
Dark Chocolate- all chocolate is NOT created equal. I use Ghirardelli 60% cacoa bittersweet chocolate bar. You could also use Ghirardelli 60% cacoa baking chips (these taste a little sweeter than the bar).
You're looking for a good quality chocolate, nothing bitter, and I find Ghirardelli melts smooth!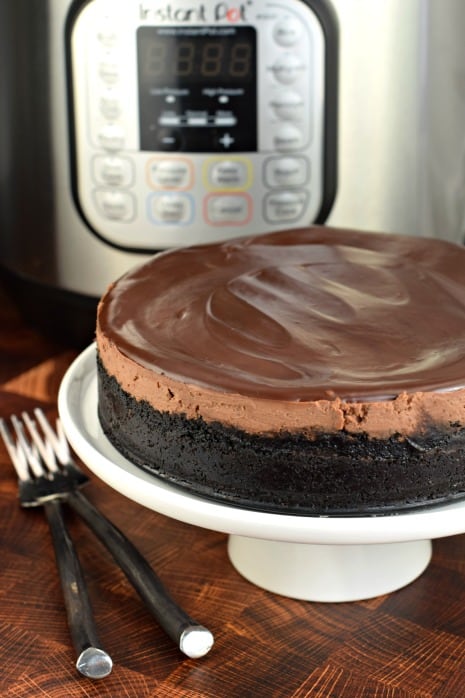 Tips to make Chocolate Cheesecake – in the Instant Pot
Plan ahead and make your cheesecake a day in advance. This allows your cheesecake plenty of time to firm up and chill.
Make sure your cream cheese and eggs are room temperature when making the cheesecake filling. They will blend smoother without clumps!
Whichever cheesecake pan you use, make sure there is a little extra room on the sides, between the pan and the pressure cooker.
Store cheesecake in refrigerator for up to 5 days for best results.
The cook time and prep time do not include the time it takes the Instant Pot to come to pressure.
Allow ganache to cool slightly (and thicken) before pouring over the chilled cheesecake!

How to remove cheesecake from springform pan
After chilling in the refrigerator, slide a butter knife between cheesecake and pan.
Release spring and lift pan over the cheesecake. Slice and enjoy.
Can you freeze Chocolate Cheesecake
Absolutely!
After cheesecake has cooled to room temperature you can remove the springform pan and wrap entire cheesecake in plastic wrap then foil.
Or place in airtight container. Thaw in refrigerator overnight.
I would garnish with chocolate ganache AFTER thawing.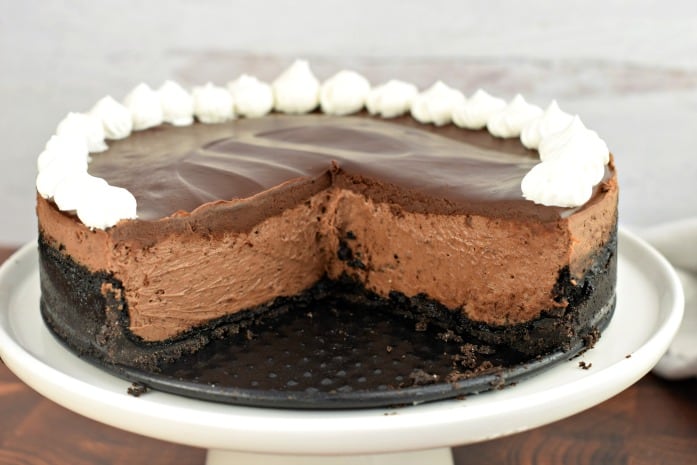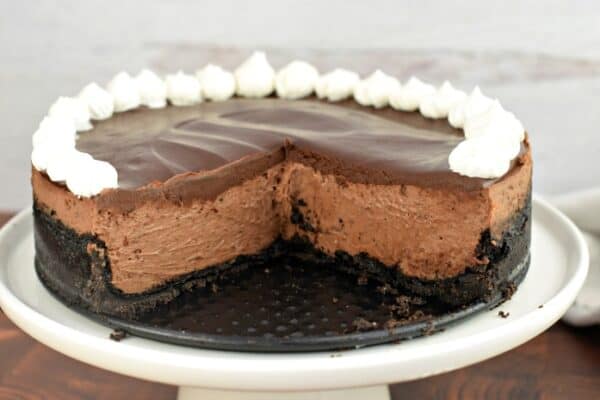 What to put on Chocolate Cheesecake
This pressure cooker death by chocolate cheesecake recipe is delicious with or without the chocolate ganache!
But it's also delicious paired with homemade whipped cream and fresh berries too!
More Dessert Recipes