Mini Caramel Apple Cheesecakes are delicious, individual cheesecakes with a brown sugar streusel and caramel glaze. Easy to make too!
Readers love our easy no bake mini cheesecakes too! Or give this easy Oreo Cheesecake bite recipe a try next.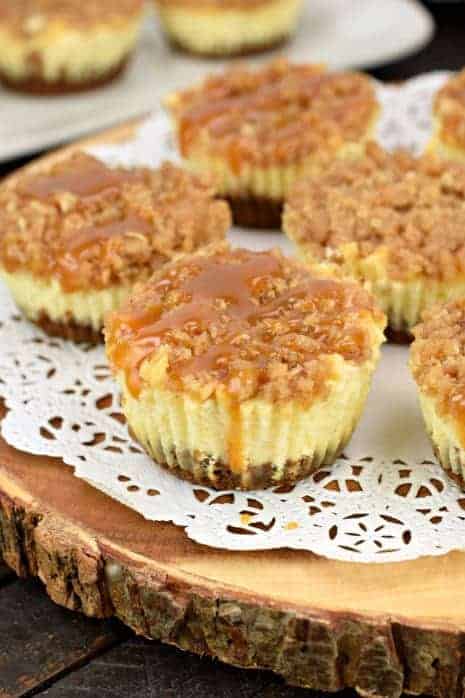 I'm a sucker for apple desserts. And cheesecake. And caramel sauce.
These mini cheesecakes have everything you crave for fall. They're topped with a delicious brown sugar streusel and caramel glaze.
And the best part? They are perfectly portioned, for individual desserts, parties or saving in the freezer for later!
If you love fall, and biting into caramel apples, today's recipe is designed for you!
How to Make Mini Caramel Apple Cheesecakes
STEP 1. The Crust.
Any good cheesecake recipe deserves a delicious crust. Today I used Gingersnap cookies, I love the spicy sweet kick paired with the apples. But you can also use Nilla Wafers or Graham Crackers if you prefer.
For the crust, process your cookies in a food processor until they become fine crumbs. You'll want 1 1/2 cups of cookie crumbs (about 28 gingersnap cookies, if you're counting).
Once processed, stir in melted butter with a fork. Set aside.
Preheat oven to 325 degrees F. Line a muffin tin with paper muffin cups. Using a small metal scoop, spoon an oversized scoop of crumbs into the bottom of each paper cup. Approximately 1 1/2 Tbsp of crumbs. Fill all the muffin cups. You should have 18 in total.
Using a tart shaper (or your fingers), press crumbs into the bottom firmly. Bake for about 5 minutes, then remove and cool while making the filling.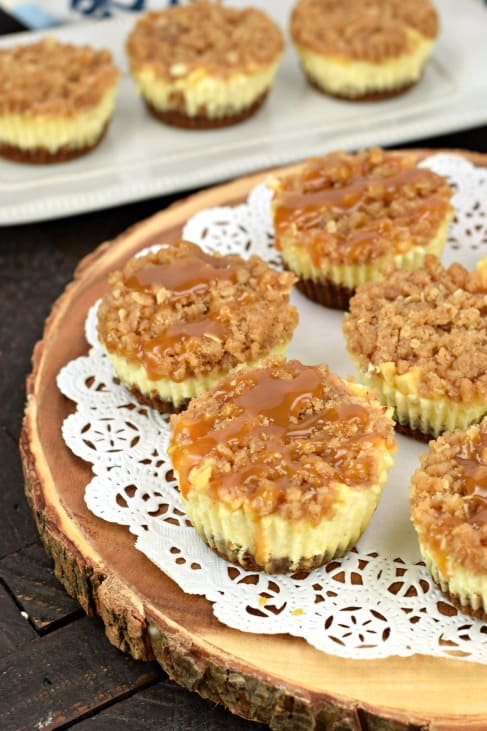 STEP 2. The Cheesecake filling.
Start by peeling and chopping two large apples into tiny bits. Place in a bowl with 1 tsp of fresh lemon juice and set aside.
In a large mixing bowl, combine softened cream cheese with sugar. Beat until creamy. Add eggs, one at a time, then add in the greek yogurt, all-purpose flour, and vanilla extract. Mix just until blended, do not over beat.
Divide batter into the prepared crusts, approximately 1/4 cup (I use my large metal scoop for this).
Top each cheesecake with a spoonful of the diced apples.
STEP 3. The Streusel.
In a small bowl, combine the oats, flour, brown sugar, nutmeg, cinnamon, salt, and butter. Use your hands to mix into small crumbles (or a pastry cutter works too).
Sprinkle streusel over the tops of each apple cheesecake, dividing it up until you've used all of it!
Bake cheesecakes in preheated oven for about 25 minutes. Remove from oven and cool completely on a wire rack, then transfer to the refrigerator for at least 3 hours, or overnight.
When ready to serve, drizzle with caramel sauce!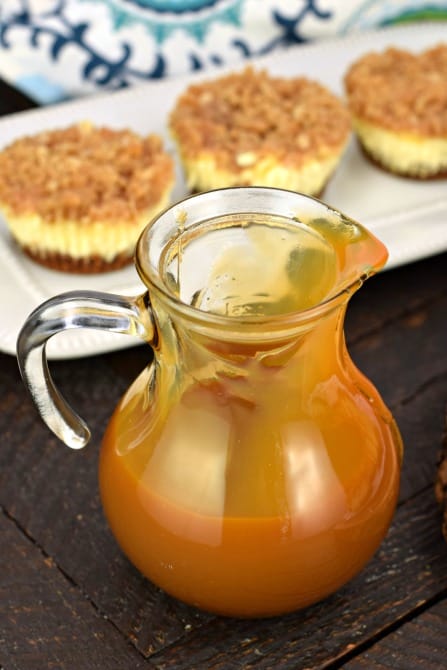 How to Store Caramel Apple Mini Cheesecakes
These mini cheesecakes should be stored in the refrigerator until ready to serve.
They are best served cold with caramel sauce drizzled over the top.
I use homemade caramel sauce, but a thick caramel ice cream topping works too.
What apples are best for baking?
You really can't go wrong with this recipe. I like to choose what is currently in season, or available.
Granny Smith and Gala apples tend to be readily available and both work well.
Honeycrisp, Jonagold, and Golden Delicious are all excellent choices as well.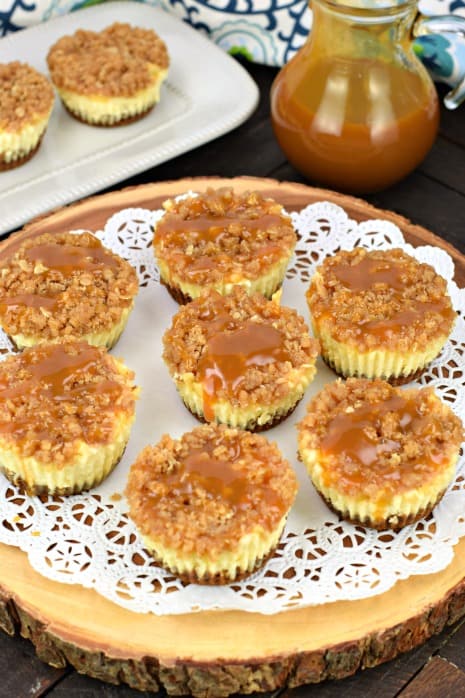 More Cheesecake Recipes

Mini Caramel Apple Cheesecakes are delicious, individual cheesecakes with a brown sugar streusel and caramel glaze. Easy to make too!