Mini Oreo Cheesecake Bites are a delicious and easy dessert recipe. These cheesecake bites combine the taste of Oreo cookies and rich, creamy cheesecake all in one yummy bite!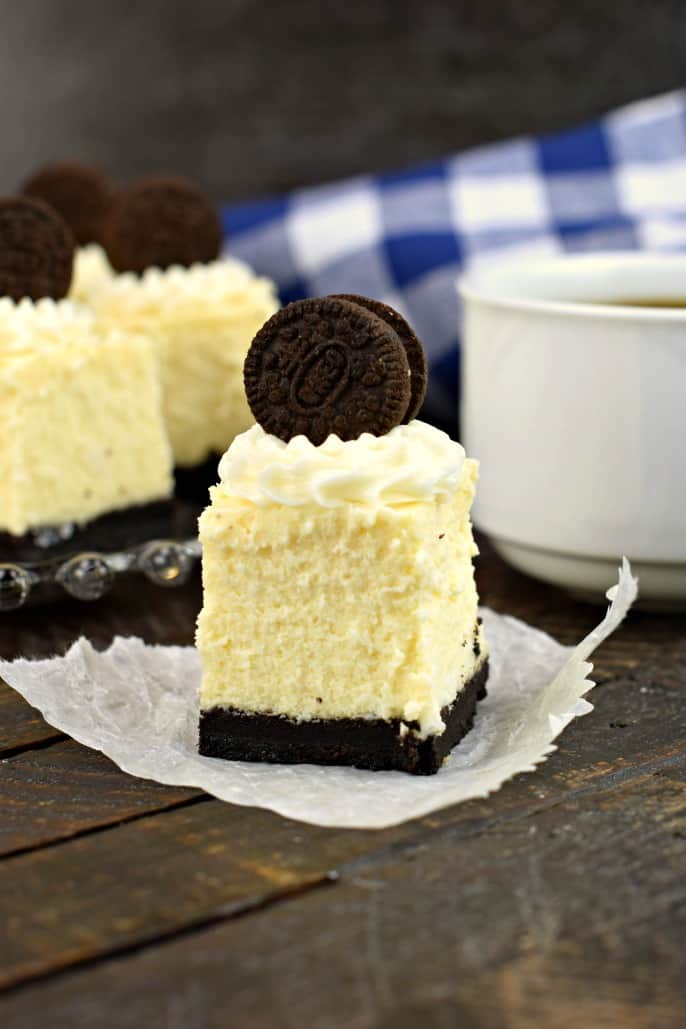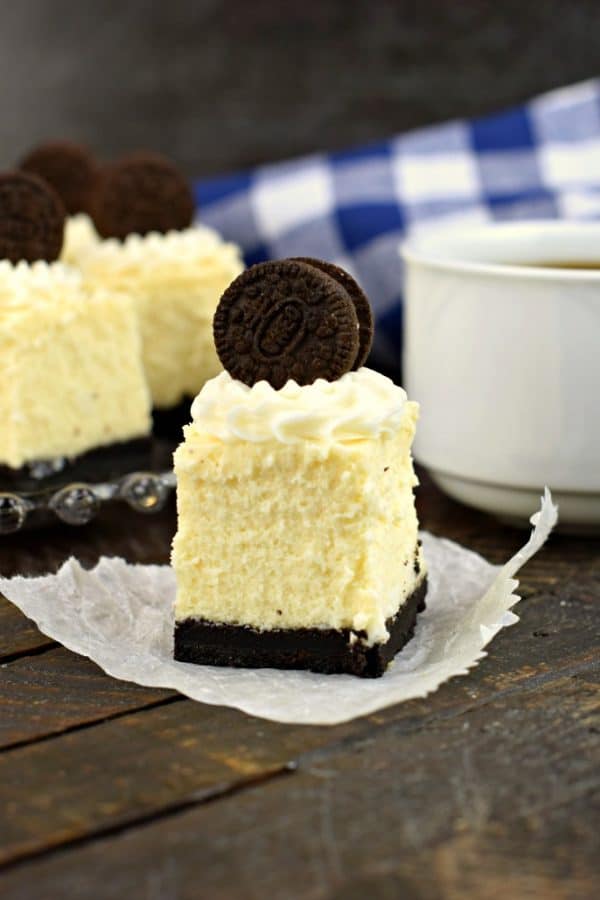 Oh my goodness. I love cheesecake. And Oreos, And sugar.
So coming up with a mini Oreo cheesecake recipe was something I just had to do.
I have already shared my No Bake Oreo Cheesecake recipe with you. And while that recipe is great when you don't want to turn on your oven, these Oreo Cheesecake bites that I am sharing with you today have an even more authentic cheesecake taste.
Oreo cookies replace the traditional graham cracker crust and add a yummy chocolate crunch to the rich, creamy cheesecake flavor.
The combination is just perfect! Serve these up in small cheesecake bites for a fun party treat, or for dessert at home. Sharing is optional!
How to Make Oreo Cheesecake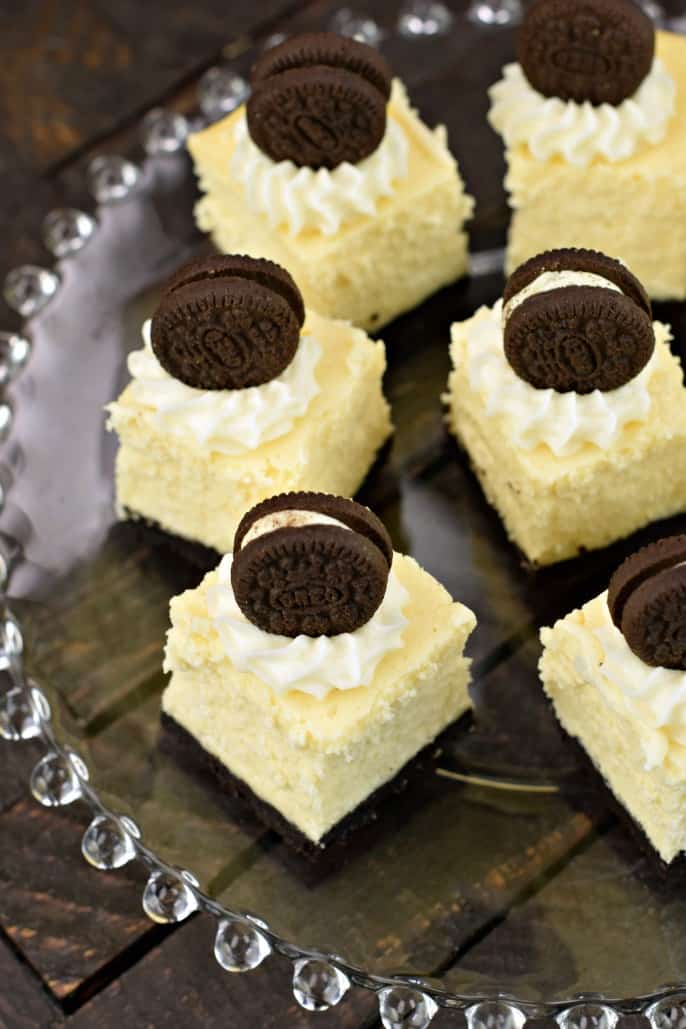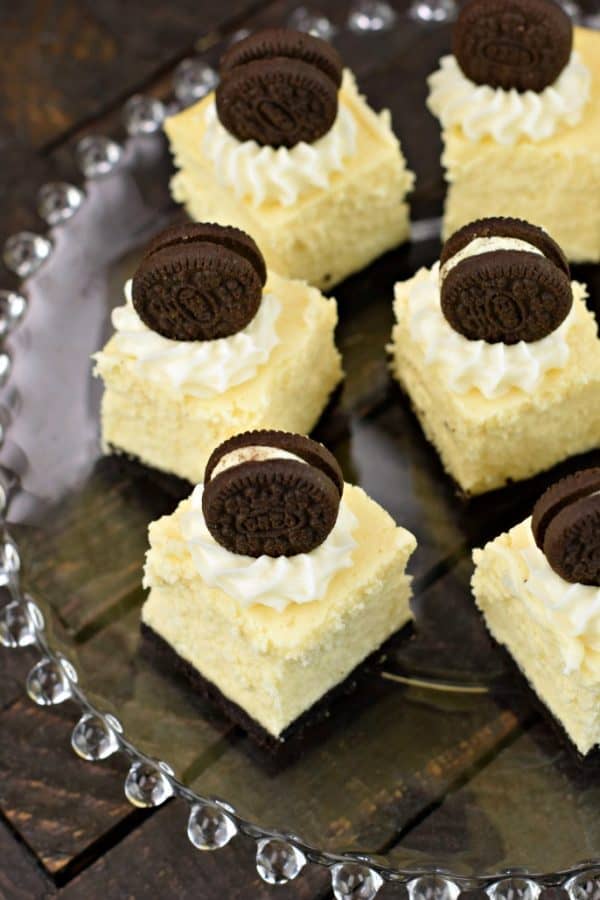 Step 1: THE CRUST.
To make the Oreo crust, crush Oreos until crumbs, either in a food processor or with a resealable plastic bag.
Melt butter and mix it with the cookie crumbs until completely combined. Press into the bottom of 8-inch square baking dish that is lined with foil.
Really make sure to press those crumbs evenly. This may take a minute or two. Don't worry, there are enough cookie crumbs to go around!
Bake crust in a 350 degree oven for about 8 minutes. Remove and let it cool slightly while you prepare the cheesecake filling.
Step 2: THE FILLING.
For the cheesecake filling, in a double boiler, heat heavy cream on low until warm. Add in white chocolate chips and stir continuously until the white chocolate is melted. Set aside.
In a mixer, beat the cream cheese, sugar, and cornstarch until fluffy. Beat in the sour cream, vanilla, and eggs one at a time. Slowly beat in the white chocolate mixture.
Pour into prepared crust. Bake in a 300 degree oven for about 35 minutes. Turn oven off, and let cheesecake remain in the oven for an additional 20 minutes.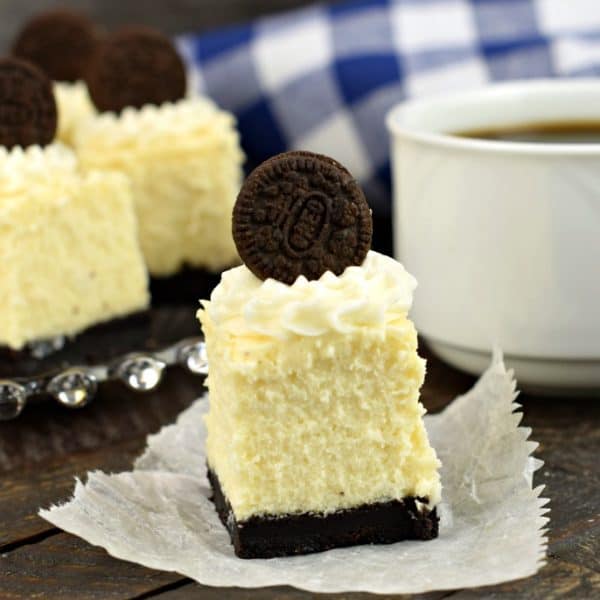 Step 3: CHILL.
Remove cheesecake from oven and cool completely.
Refrigerate for at least three hours, or overnight. Cut into small cheesecake bites before garnishing.
Step 4: GARNISH.
For the garnish, beat butter with powdered sugar, marshmallow cream, and heavy cream on high for about 3-4 minutes until fluffy.
Put the frosting in a pastry bag and using a star tip (or french tip) pipe a small swirl on each bite. Top with one mini Oreo cookie.
Enjoy!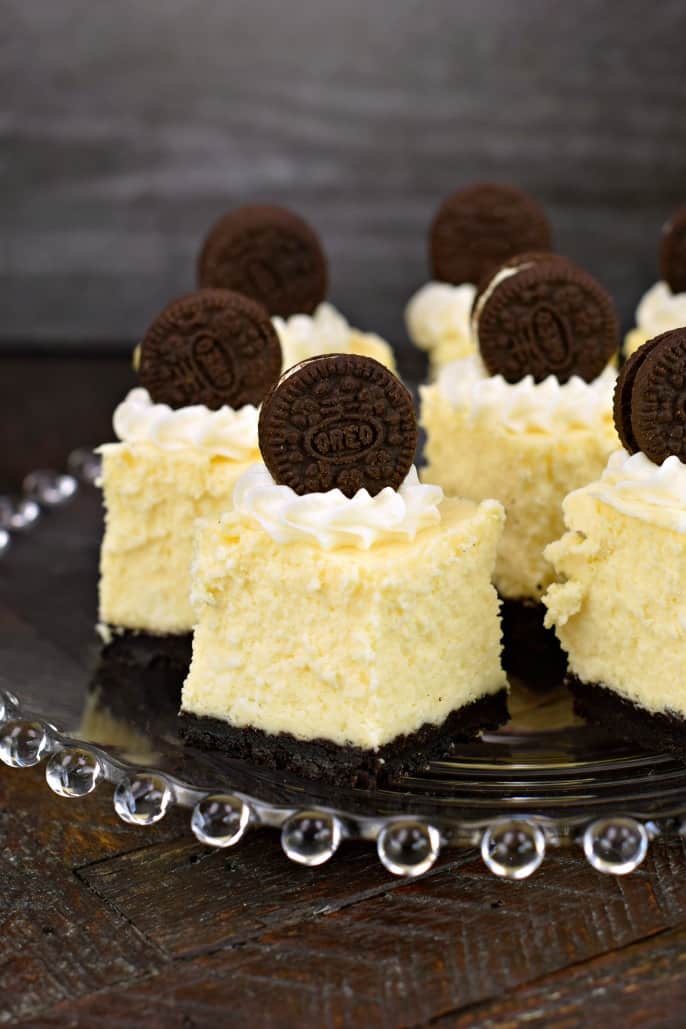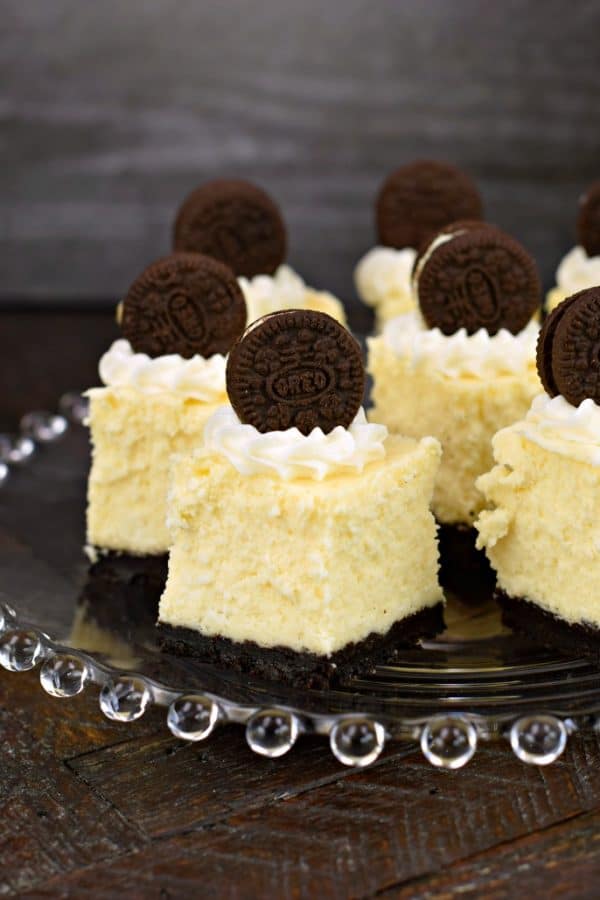 How to store Oreo Cheesecake Bars?
These mini Oreo cheesecakes are best stored in the refrigerator. Keep them in an airtight container and store for up to 4-5 days for best taste.
Can I Freeze Oreo Cheesecake Bars?
You can freeze these cheesecake bites for up to two months.
To freeze, allow them to cool completely, then wrap them tightly in plastic wrap and put into a freezer safe bag.
When you're ready to eat them, let them defrost in the refrigerator overnight.
Tips for Making Oreo Cheesecake
Use a double boiler for your cheesecake filling. If you don't have a double boiler, you can use a glass or metal bowl positioned over a saucepan to create your own faux double boiler.
Pay attention so that you don't over beat the cream cheese mixture.
If you don't have a food processor, use a plastic bag to crush Oreos. Place cookies in the resealable plastic bag, removing excess air. Crush cookies by using a rolling pin.
Unlike traditional vanilla cheesecake, these mini cheesecakes do not require a water bath. This makes this a great recipe to try for cheesecake beginners.
Top your mini cheesecake with the marshmallow frosting and a mini Oreo cookie. Or keep it bare for simplicity sake!
Swap out the Oreo Cookies for Nutter Butters or Mint Oreos for a unique twist.
This No Bake Pumpkin Cheesecake is fool proof and holiday friendly!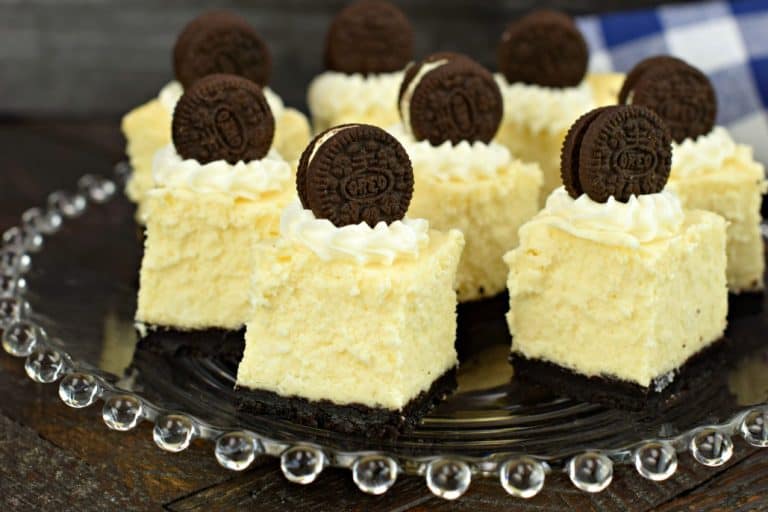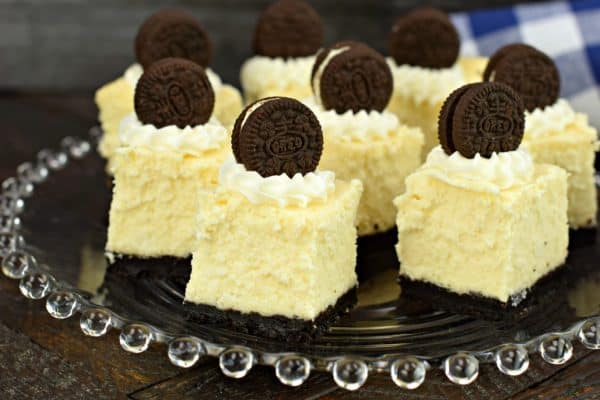 How to tell when Cheesecake is done cooking?
Cheesecake can be a bit tricky to determine when it's done.
After you pull the cheesecake from the oven, the center will be a bit jiggly. This will firm up after it is properly chilled. In the meantime, here are some ways you can know your cheesecake is done cooking.
Temperature: A cheesecake that is done should read 150° F with an instant thermometer.
Sight: Once the cheesecake edge starts to brown and puff up a bit, it is done.
Movement: You can shake your cheesecake pan slightly while it is still in the oven. If the middle area jiggles just slightly, then it is done.
Touch: Gently touch the center of the cheesecake with one finger. If you get batter on it, or the cake sinks, it needs longer to cook.
More dessert recipes
Mini Oreo Cheesecake Bites recipe is the perfect snackable treat. Freezer friendly too.