One bite of these Caramel Apple Cheesecake Bars and you'll be smitten! Cookie crust with creamy cheesecake filling, fresh apples, and a thick brown sugar streusel are topped with a drizzle of decadent caramel sauce!
Love Caramel Apples? Don't miss this decadent Caramel Apple Cinnamon Roll Coffee Cake! Or whip up a batch of these caramel apple empanadas!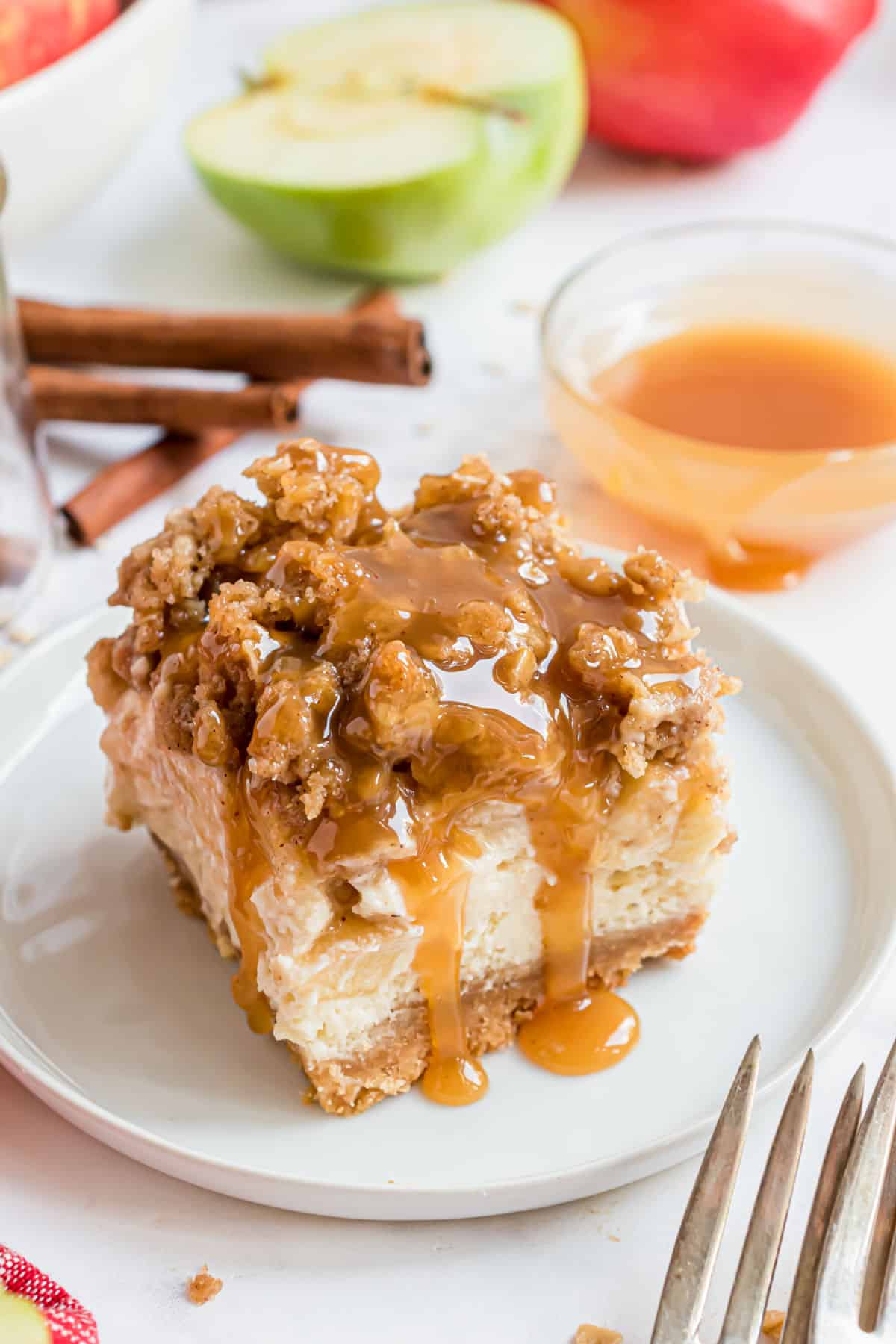 Why this Recipe Works
How do you make an apple cheesecake even better? Cover it in caramel!
Easy homemade crust made with vanilla wafers.
Cinnamon streusel pairs perfectly with creamy cheesecake.
All the flavor of caramel apples packed into one dessert bar!
I can never turn down the pairing of caramel and apples. While this cheesecake takes a bit more time and effort than my Caramel Apple Dip or these Apple Nachos, the results are more than worth it.
Add these Caramel Apple Cheesecake bars to your menu for your next special occasion. Or make them any time you're craving the unbeatable combo of caramel, apples and cheesecake!
Love today's recipe? Try our peanut butter cheesecake bars next!
Ingredient Notes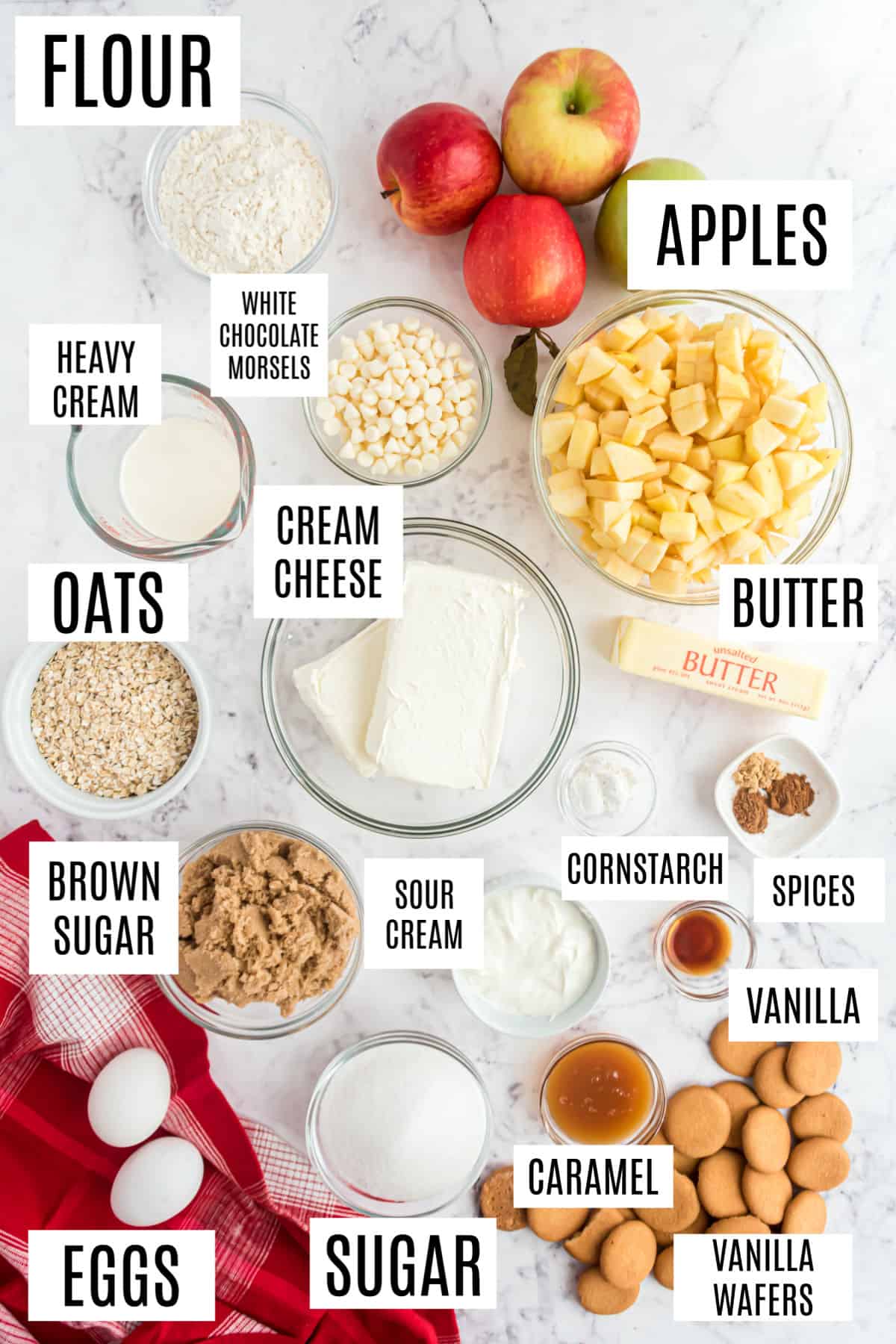 I use our favorite cheesecake recipe as a base for today's bars.
Apples – Any kind of firm baking apples will do. I like to use a mix of sweet and tart apples for best flavor.
Sour cream – This makes the cheesecake filling taste even richer and creamier. Make sure to use full fat, unflavored sour cream.
Cornstarch – We use a tiny bit of cornstarch to thicken the filling and help it hold together.
Quick oats – The finer cut of quick cook (or instant) oats is best for creating the ideal streusel topping. In a pinch, you could use old fashioned oats…but avoid using steel cut oats!
Caramel sauce – Use you favorite bottled caramel sundae topping or jarred caramel sauce for the drizzle on these bars.
Easy Instructions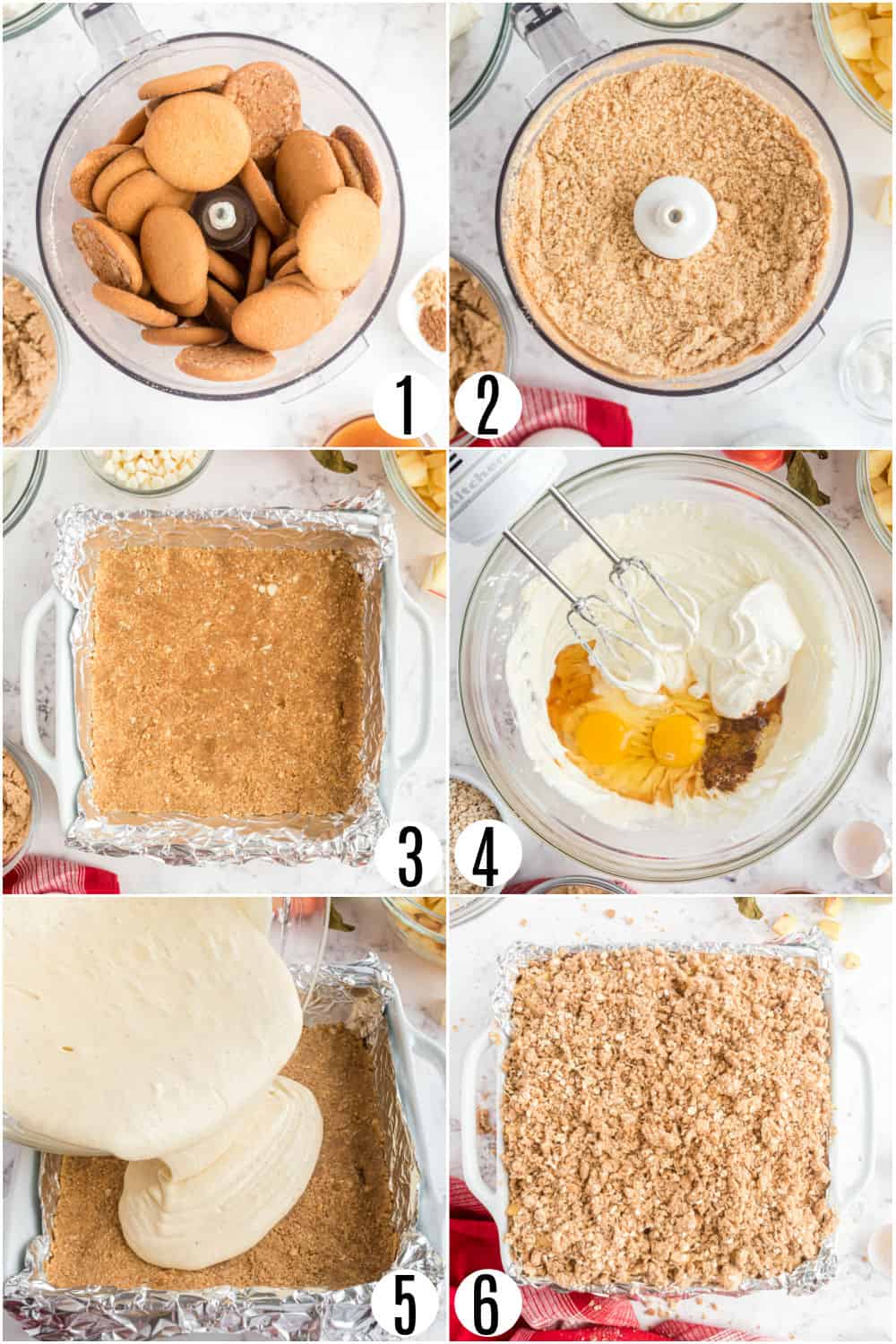 To make the cookie crust:
Pulse vanilla wafers in a food processor to form crumbs. Mix in melted butter. Press crust into a square baking dish lined with parchment paper.
Bake the crust for about 8 minutes. Let it cool slightly while you prepare the filling.
For the apple cheesecake filling:
Melt heavy cream and white chocolate together in the microwave.
Beat cream cheese, sugar and cornstarch together in a mixer until fluffy. Next, beat in the eggs, vanilla extract and spices and the white chocolate mixture.
Pour the filling over the cookie crust. Top with diced apples.
Streusel topping:
Mix together the streusel ingredients in a bowl with your fingers. Sprinkle the crumble over the apples.
Bake the apple cheesecake for 40 minutes. Let the cheesecake cool completely, then refrigerate for at least 3 hours.
Now, the finishing touch: caramel sauce!
Drizzle the sauce over your chilled bars. Slice, serve and enjoy.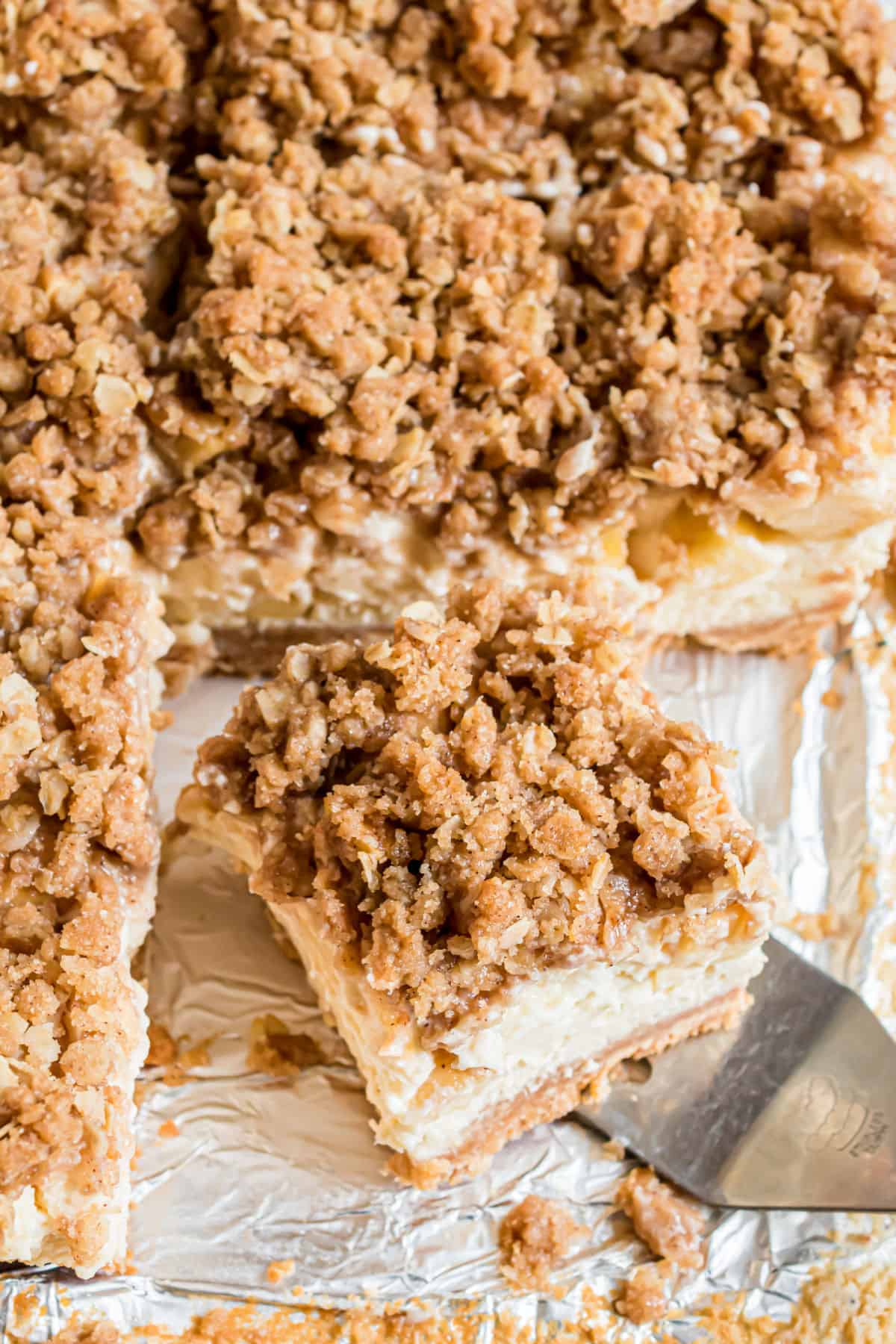 Tips and Tricks
Use room temperature ingredients. When making cheesecake, it's best to take your eggs, cream cheese and sour cream out of the fridge about a half hour ahead of time. This makes them easier to blend for a perfect cheesecake consistency.
Add caramel sauce after chilling. If you put the caramel on the bars before refrigerating them, the caramel will get hard. Wait to add the caramel until you're ready to eat!
Do not overbake. The center of your cheesecake bars may look slightly jiggly when you take them out of the oven. Remember the filling will continue to set as the cheesecake cools.
Chill overnight. I like to bake the cheesecake the night before. Let it chill all night long and the cheesecake is ready to eat in the morning. Who says you can't have cheesecake bars for breakfast?
Cookies. Gingersnaps or graham crackers also make a delicious crust option! Use our graham cracker crust recipe if desired.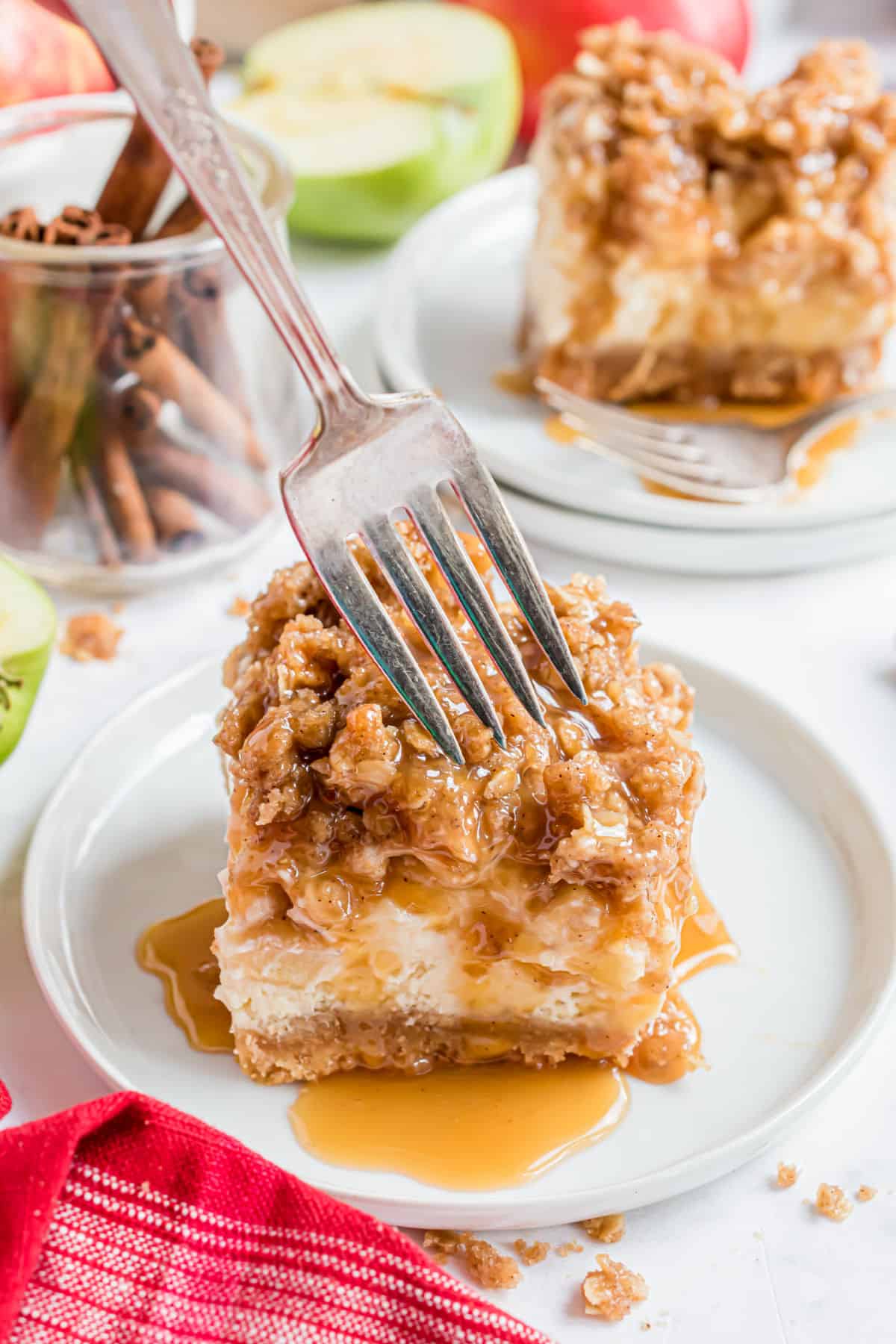 Recipe FAQs
What size pan do I need to make cheesecake bars?
I used a 9-inch square baking dish to get about 12 thick bars. Some readers have also had success baking these in a 9 x 12 baking dish for thinner bars.
How do you store these?
Store caramel apple cheesecake bars tightly covered in the fridge. They keep fresh for 3 to 5 days.
Can I freeze these bars?
Yes, my caramel apple cheesecake bars can be stored in the freezer–although the streusel topping will not taste as crisp after thawing. Freeze these bars BEFORE adding the caramel drizzle. Let them thaw in the refrigerator before topping with caramel sauce.
Can I make these bars with a graham cracker crust instead?
If you prefer the flavor of graham cracker crust–or all you have are graham crackers–go ahead and use them here! I do love the vanilla cookie flavor paired with the caramel and apples though.
Caramel Apple Cheesecake Bars bring together your favorite fall flavors. With cinnamon spice, real apples, streusel topping and luscious caramel, these bars are too good to pass up!