Apple Nachos are the no bake dessert you can eat with your fingers! With tart apples covered in caramel, chocolate and crunchy nuts, this easy recipe turns regular apple slices into a sweet and gooey treat.
Our readers love caramel apples, including this easy Caramel Apple Empanada recipe! Similar to our delicious Apple Hand Pies, you'll love the easy assembly of ingredients for a tasty treat.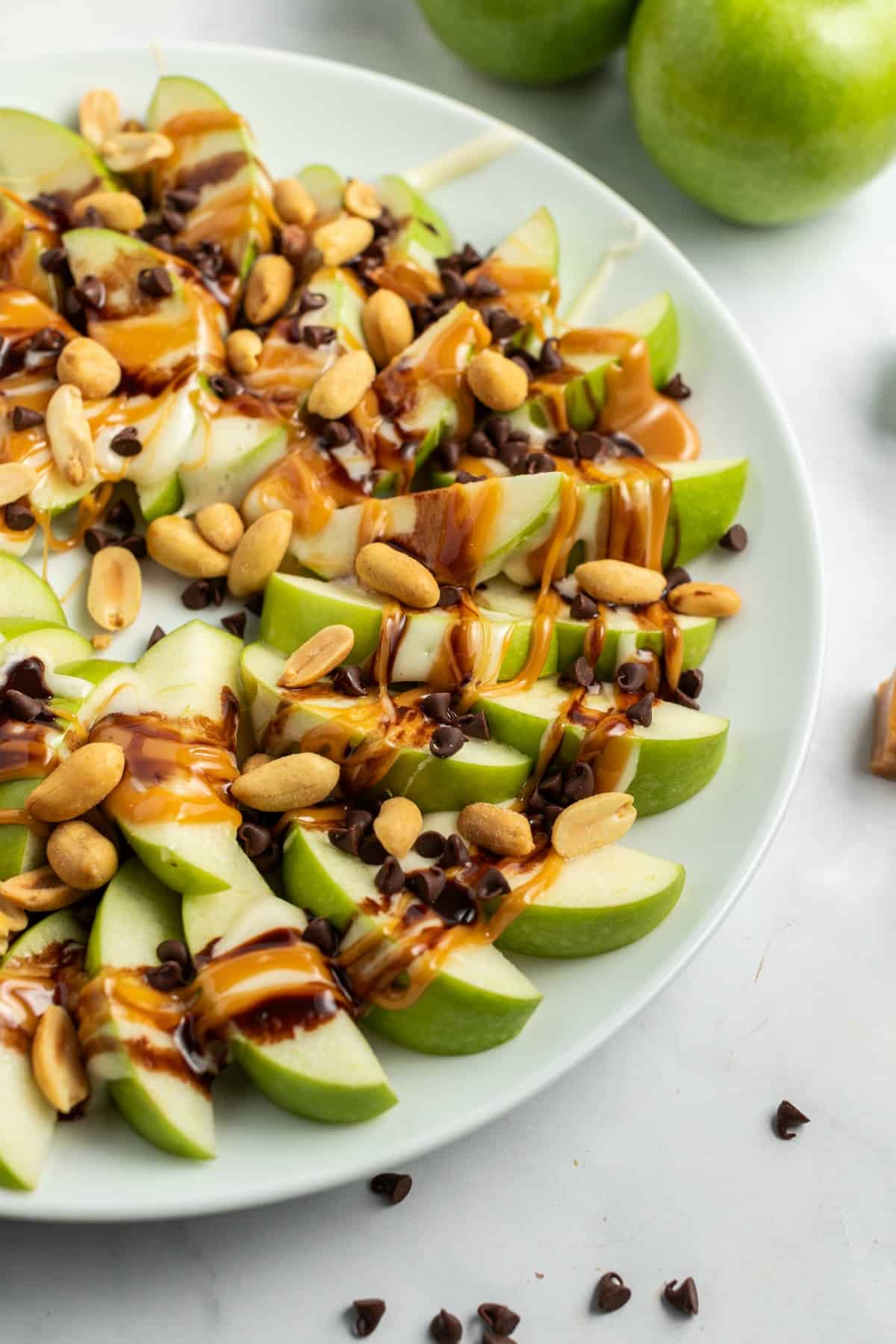 Caramel Apple Slices
Raise your hand if you like caramel apples? Yeah, me too! Apple Nachos were born from a lifelong love of biting into a crisp apple surrounded in gooey caramel.
I was under the delusion that what I call "Apple Nachos " would somehow be easier to eat than a traditional caramel apple.
Spoiler alert: They're not. These are gooey and messy and . . . totally delicious.
FAVORITE APPLE RECIPES: Taffy Apple Salad | Apple Pie
Ingredient Notes
Apples. Green apples just look so pretty arranged on a serving plate. Granny Smith apples are my preferred apple to use for caramel apples and other apple desserts. The tartness is important for balancing the super sweet caramel, chocolate and marshmallows that go on top. If you can't get Granny Smith, Pink Lady apples make a decent substitution. Just avoid super sweet apples here if you can!
Caramel. Use the square caramels and unwrap before melting. Need a quicker solution? Use a jar of thick ice cream caramel sauce instead!
Marshmallow. My love of gooey marshmallow started with rice krispie treats, but drizzled over these caramel apple slices is insanely delicious!
Nuts. Chopped peanuts work great here. But toasted pecans would be delicious too!
Step by Step Instructions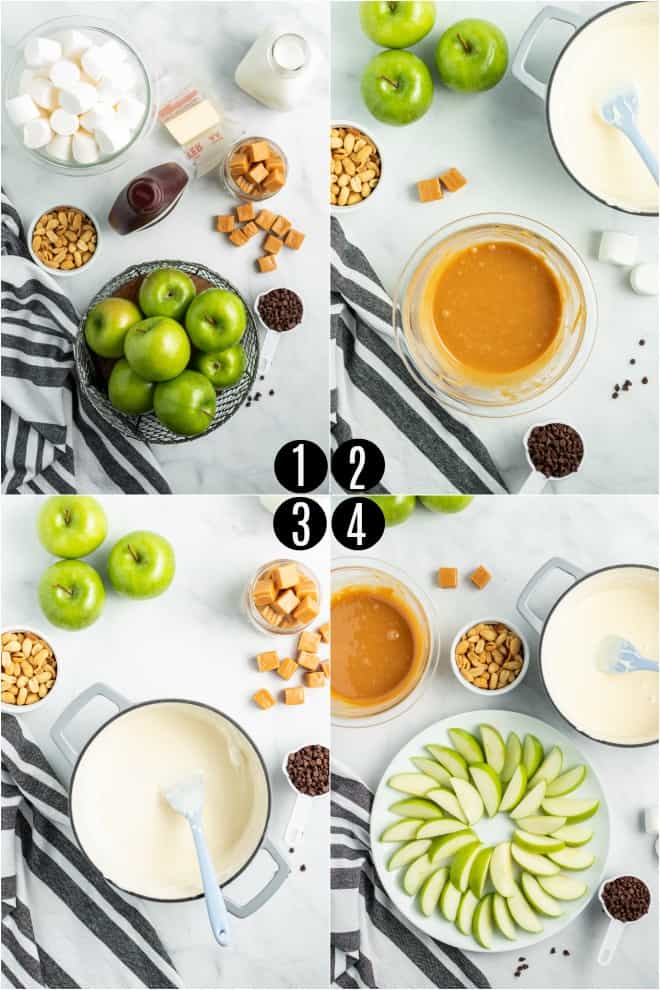 I could have just sliced up some apples, covered them in caramel and had a delicious snack. However, I wanted to make these truly "nacho" like! That meant, I needed a sauce to be the "cheese".
Enter marshmallows. I made a creamy sauce by melting butter and marshmallows together.
Then, in a separate bowl I melted together lots of unwrapped caramel candies or caramel bits. (You can swap out the caramels for caramel ice cream topping if you prefer)
Next, I drizzled both sauces over a plate of sliced apples arranged in a spiral.
Finally, I added some swirls of chocolate syrup, a sprinkle of peanuts and some mini chocolate chips. (You could also swap out the syrup for melted milk chocolate chips or hot fudge sauce).
Thanks to the layers of drizzle, every bite of apple had a slightly different balance of chocolate to caramel to marshmallow flavor. The salty crunchy peanuts add the perfect finishing touch.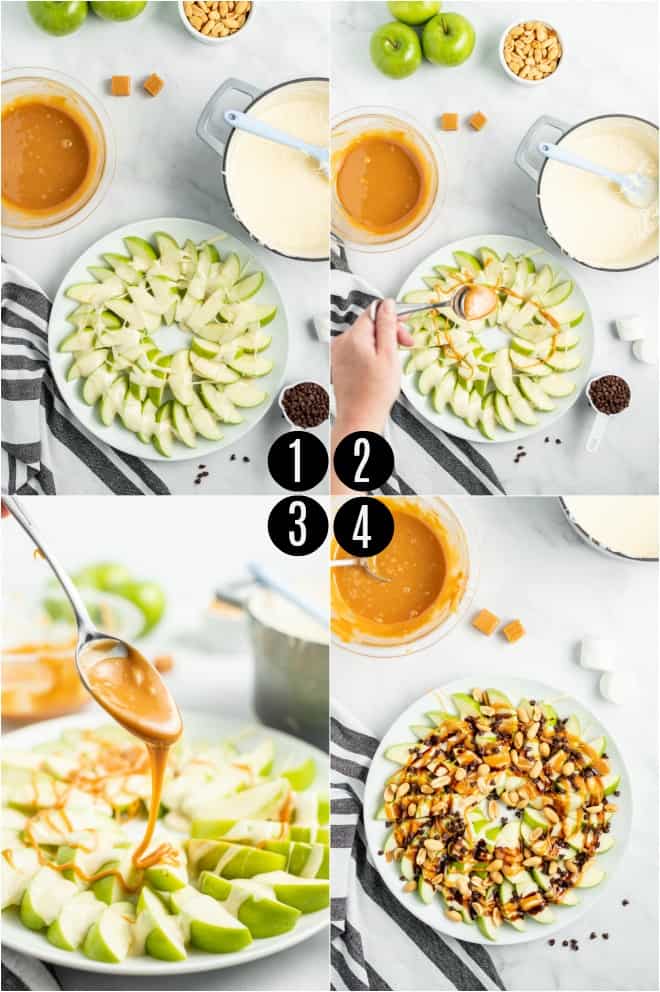 How to keep apples from browning
Whenever I share a recipe with sliced uncooked apples, I'm often asked, "How do you prevent your apples from browning quickly?"
Depending on your environment, those pretty apple slices can turn to an unpleasant brown color within a few minutes. While they'll still taste fine if this happens, they definitely lose some of their visual appeal!
If you're not eating the apple nachos right away, here are a few techniques I like for preventing browning.
Salt water: Soak apple slices in a cup of water with 1/8 tsp of salt. After 5 minutes, drain and rinse the apples well before proceeding with the recipe.
Lemon juice: Squeeze a little lemon juice onto the sliced apples while you prepare the other apple nachos ingredients. This will delay the browning, but will add a hint of lemon flavor to the apples.
Honey: A quick way to prevent browning is stirring a spoonful of honey into a bowl of water, then submerging the apples in the mixture for 30 seconds. Remove the apples and proceed with the recipe.
MORE APPLE DESSERTS: Apple Crumble | Apple Crisp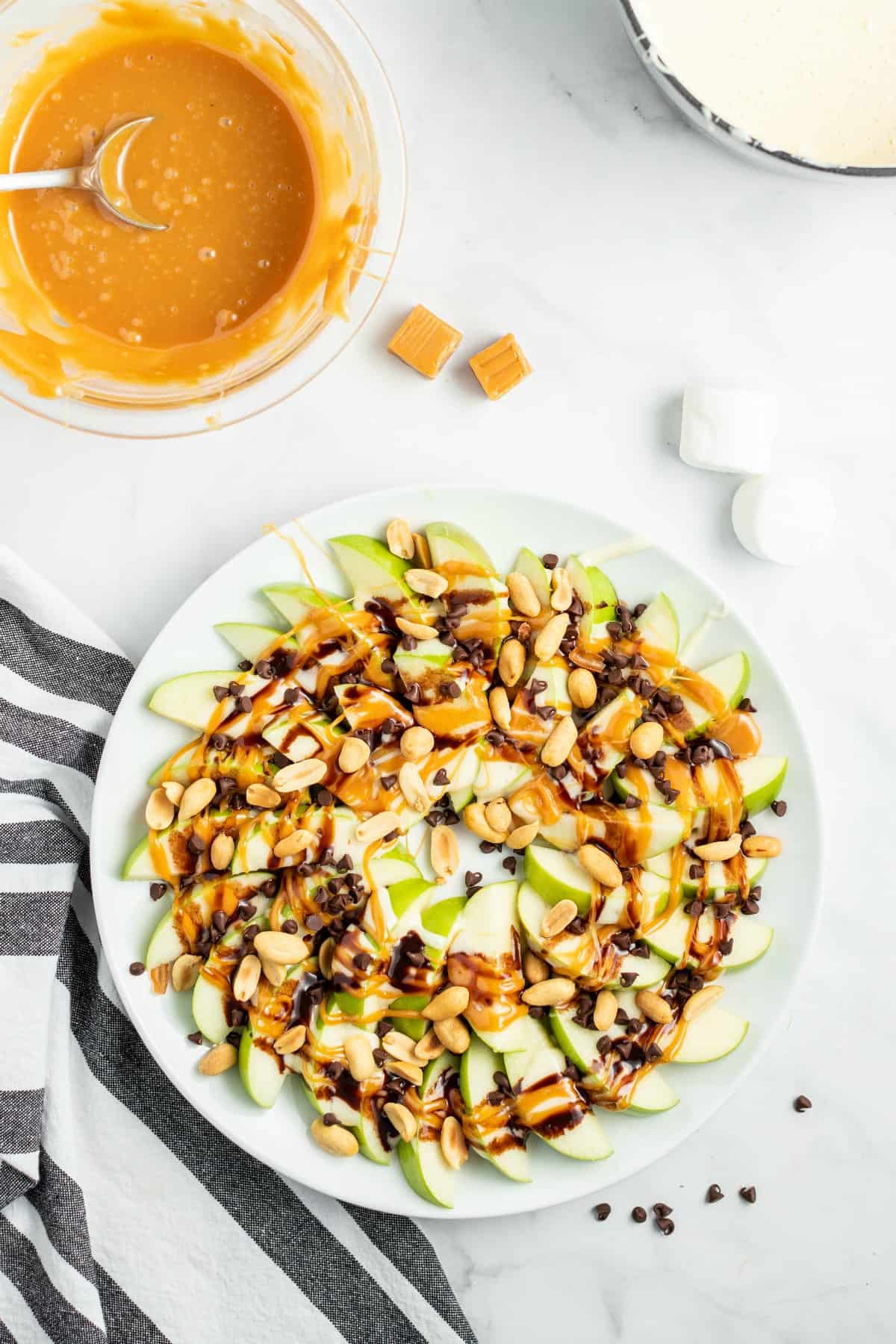 Variations
The recipe I'm sharing below is the staple version of caramel apple slices we make and enjoy most at our house.
As a simple dessert or fun snack option, kids love the apples with marshmallow, caramel and chocolate!
Feel free to mix up the apple nachos based on what you're in the mood for. Here are some other great options to change it up:
White chocolate – Sub the mini chocolate morsels for white chocolate chips, or go half and half!
Other nuts – Chopped walnuts and almonds taste great with caramel.
Toffee – Heath toffee bits would be a delicious addition reminiscent of toffee candy apples.
Sprinkles – What kid is going to say "no" when you give them the optioon of a snack with sprinkles?
Candy- sprinkle on some M&M's, chopped peanut butter cups or Snickers candy bars, or Reese's Pieces for a delicious candy apple treat!
Peanut Butter – melt some peanut butter morsels, or warm up some creamy peanut butter and drizzle over the top with chocolate syrup!
It's all the great taste of caramel and candy apples sliced up on a plate. Go ahead and make snack time a little ooey-gooey with this easy Apple Nachos recipe!