Easy Instant Pot Apple Crisp is made in minutes! Caramelized apples with a sweet, crisp topping is the perfect fall dessert recipe!
If you love using your Instant Pot for desserts, be sure to try our Caramel Apple Cheesecake, made in the pressure cooker! Or give these rich and fudgy Instant Pot Brownies a try!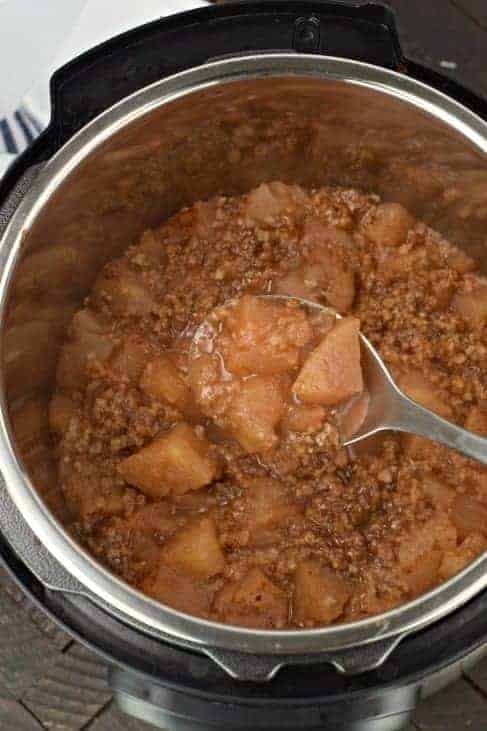 Why this Recipe is Best
Fall desserts are the ultimate comfort food in my opinion.
The warmth of cinnamon and apples or pumpkin desserts, while wrapped in a cozy blanket by a fireplace are what movies are made of.
In an attempt to bring that delicious comfort food to your table quickly, this easy Instant Pot Apple Crisp recipe will be in your mouth in minutes!
Seriously.
Apple Crisps and Apple Crumble recipes are quite similar. Some people will argue about the differences, but in my mind it doesn't matter. Whatever you call them, they are delicious!
And if that sounds amazing, be sure to try our Copycat Starbucks apple crisp macchiato!
Step by Step Instructions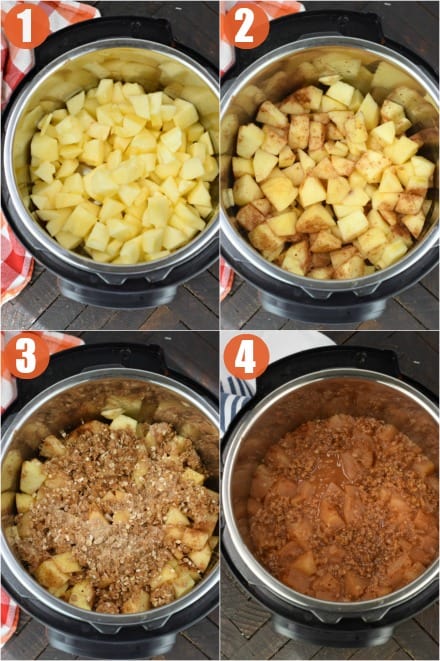 STEP 1: Peel and cube apples into large chunks or slices. Combine with cinnamon, nutmeg, almond extrac and brown sugar in the Instant Pot. Add water.
STEP 2. Make the topping in a bowl by combining melted butter with oats, flour, brown sugar, kosher salt, and cinnamon. Sprinkle on TOP of the apples, but do not stir.
STEP 3: Lock the lid in place and select HIGH PRESSURE for a cook time of 3 minutes. When done cooking, do a quick release.
Serve warm!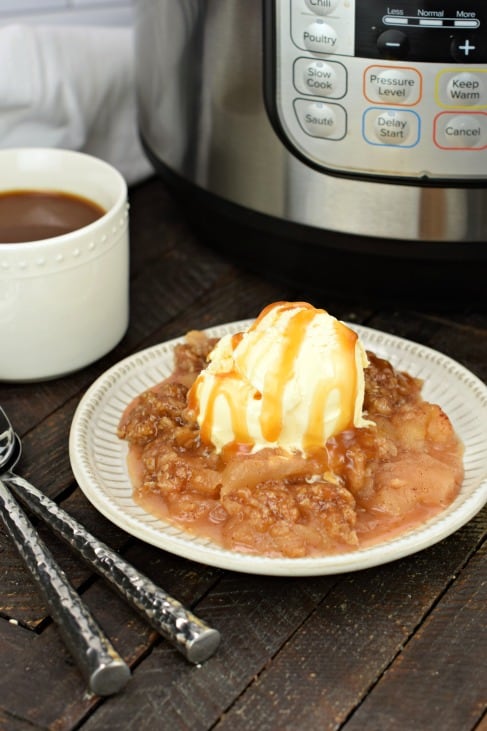 Ingredient Notes
APPLES. Of course choosing the right apple for your taste buds is the first step. You may also wonder, should I peel the apples? In this case, I say yes.
OATS. Use old fashioned oats in today's Old Fashioned Apple Crisp recipe! Quick oats will get too soggy, and steel cut won't cook completely.
BROWN SUGAR. A must. As it cooks it caramelizes and cooks into a thick sauce.
TOPPINGS. Whether you choose to top your apple crisp with ice cream or whipped cream is totally your call. But don't skip the caramel sauce! Worth every extra calorie.
Tips and Tricks
In the instant pot, apples cook very quickly. To prevent making applesauce, chop your apples into large chunks or slices. If you want your apples firmer, cook for only 1 minute, for much softer apples cook up to 5 minutes.
Want the crispy oat topping that doesn't happen in an Instant pot? Spoon Apple Crisp into oven safe bowls and broil for 1-2 minutes.
Leftovers are delicious. Warm in microwave for one minutes and enjoy!
I prepared today's recipe in a 6qt Instant Pot. Prep time does not include the time it takes the Instant Pot to come to pressure.
Love apple crisps? Try this delicious Apple Crisp Cheesecake next! It won't disappoint!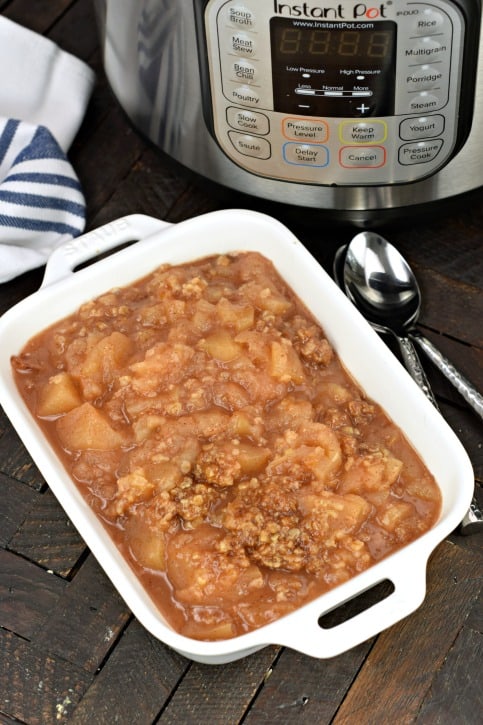 Recipe FAQs
Can Apple Crisp be made in the oven?
Absolutely. Assemble apple crisp the same way as the instant pot except SKIP the water! Prepare in a 9-inch square baking dish and bake in 375 degree oven for 30-35 minutes (uncovered).
How do I make the apple crisp toasted?
Spoon apple crsip into an oven safe baking dish. Broil on high for 2-3 minutes, until top is browned and bubbly.
What type of apples are best for crisps?
Choose one with flavors you like. A combination of granny smith and gala apples is my favorite.
Variations of Apple Crisp
Gluten Free Apple Crisp can be made by choosing gluten free flour and gluten free oats.
Add chopped pecans to the struesel topping for a nutty flavor.
Swap out apples for zucchini! Yes, it will taste amazing and chances are nobody will even know you used zucchini.
Pears are another great fruit to use in a crisp or crumble. Peel and chop just like you would the apples.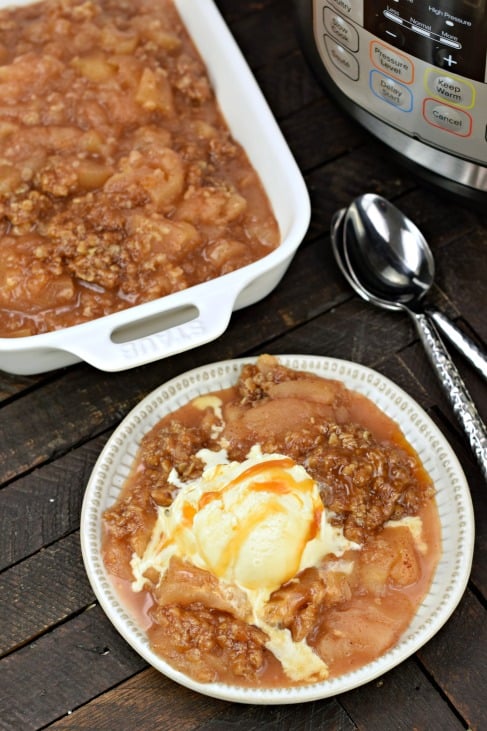 Easy Instant Pot Apple Crisp is made in minutes! Caramelized apples with a sweet, crisp topping is the perfect fall dessert recipe!