It's not apple crumble. . . it's Zucchini Crumble! Diced zucchini is baked in sweet caramel and topped with a crunchy cinnamon apple crumb. This dessert had all the flavors you love in apple pie, but made with veggies!
Did you know that you can swap out apples and use zucchini in your sweet recipes?
No seriously. Take a peek at my favorite Apple Crumble here, and you'll see today's recipe is practically identical.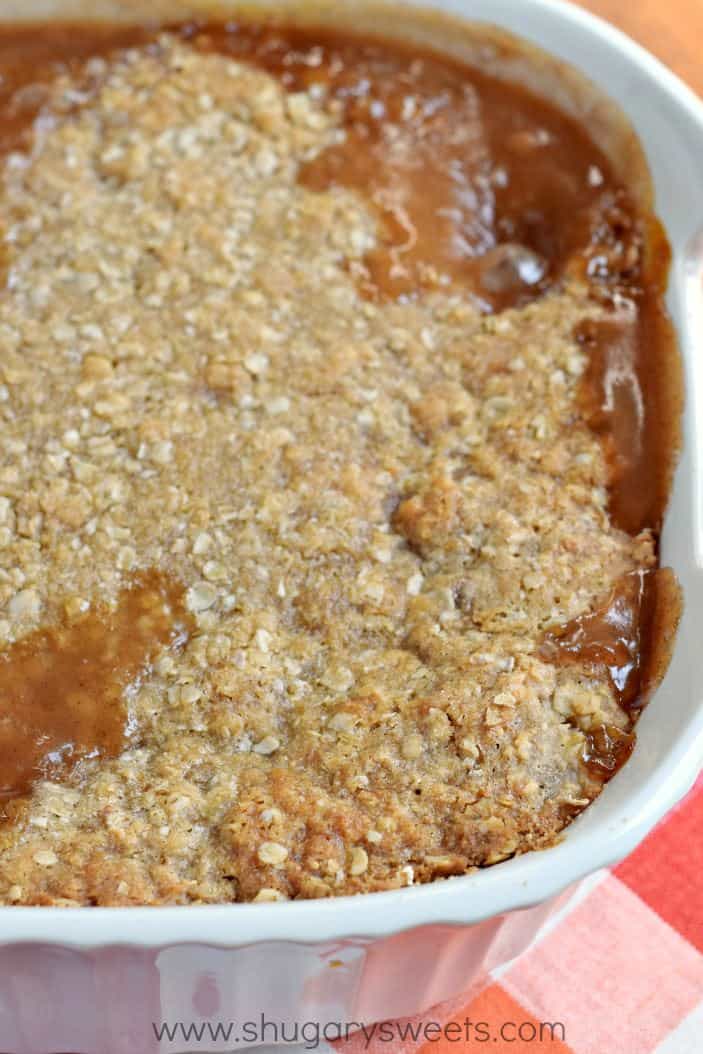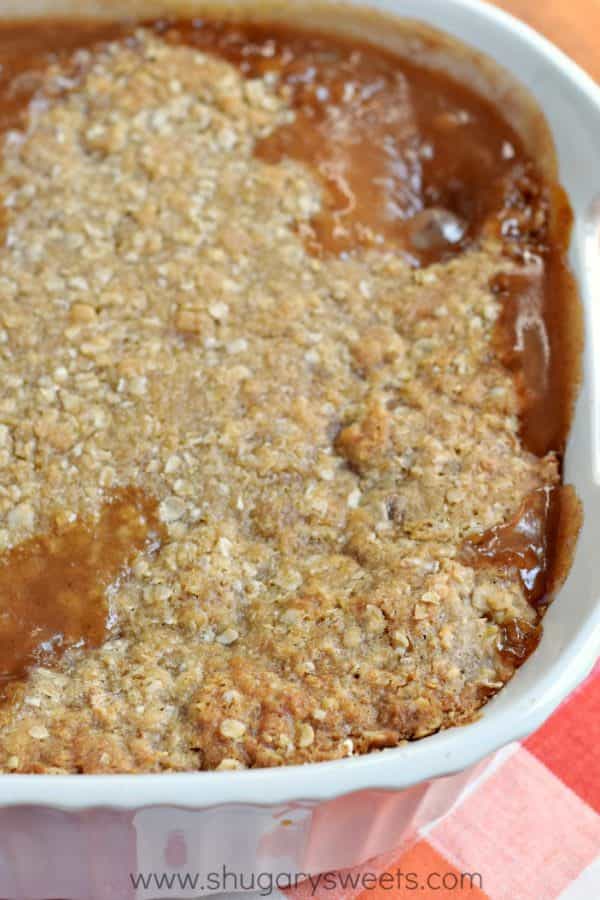 Apple or Zucchini
My family had no clue that this crumble was made with zucchini, not apples.
Diced into small chunks, zucchini softens as it bakes, just like apples. It blends with all the fall flavors we usually associate with apple, like cinnamon, brown sugar and caramel.
If you have zucchini left from your summer garden, but feel the itch to start on your fall baking, this crumble recipe is perfect.
It's also a superb way to "trick" the zucchini skeptics in your life into enjoying dessert made with vegetables!
Ingredient Notes
Zucchini – Unlike other sweet treats with zucchini, you don't shred it for this crumble. Instead, it gets peeled and diced into small pieces. If your zucchini has big seeds, go ahead and scoop them out before dicing.
Lemon juice – Freshly squeezed lemon adds tartness to the sweet zucchini, mimicking the flavor of a tangy apple.
Brown sugar – Mixed with butter and baked, this sugar creates a rich caramel sauce that envelopes the zucchini.
Quick oat -. Finely processed quick cook oatmeal makes the cinnamon crumble topping perfectly crunchy.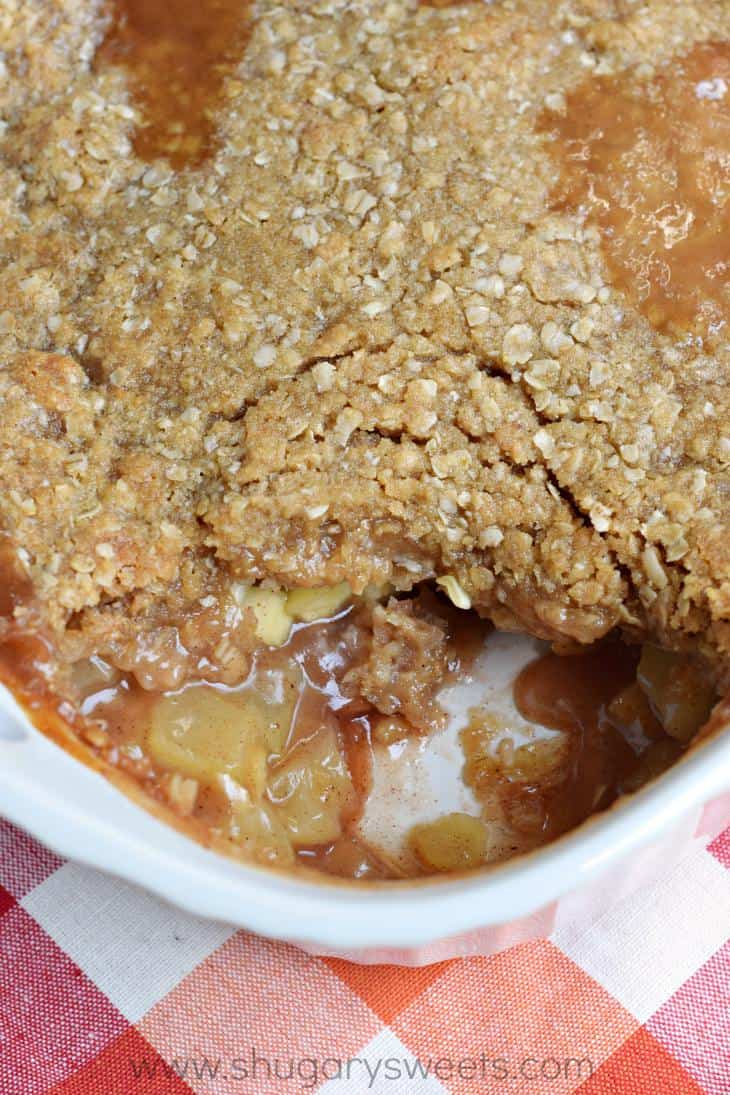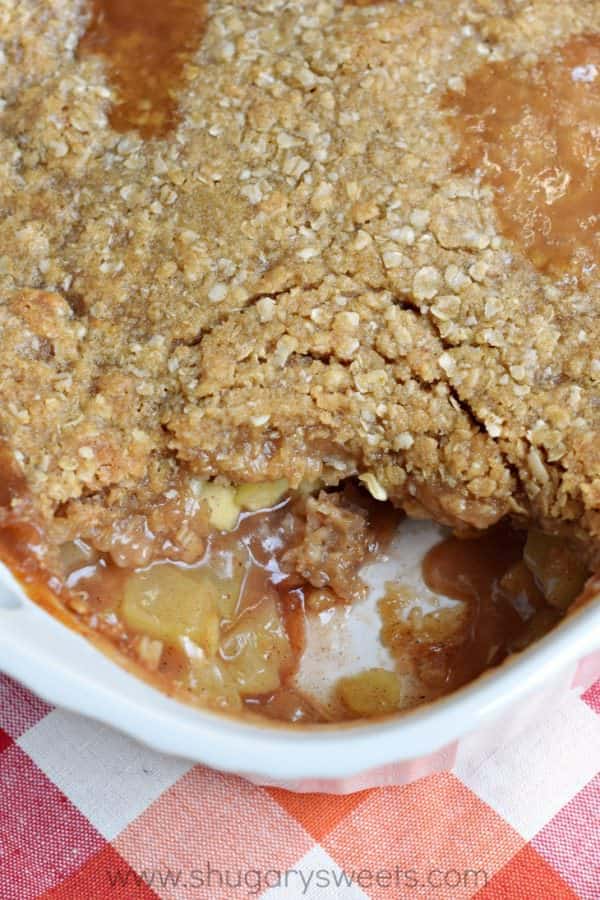 Easy Instructions
Just like apple crisp, this zucchini crumble is one of the easiest fall desserts you can make!
Start by tossing diced zucchini with lemon juice, flour, sugars and spices. Mix together the crumble topping in a separate bowl.
Pour the zucchini mixture into a 2 quart baking dish. Sprinkle the crumble on top.
Bake to bubbly golden brown perfection.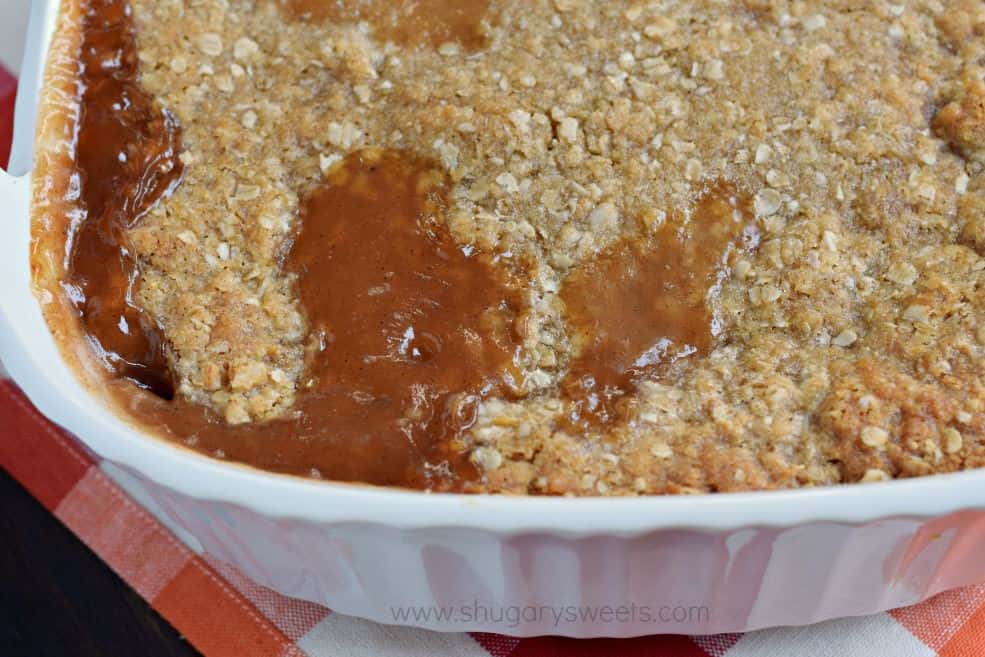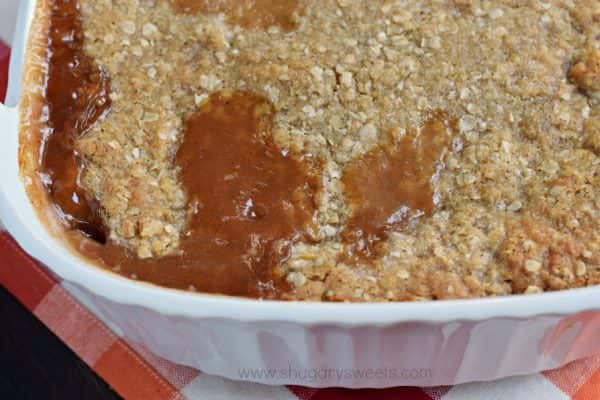 Tips and Tricks
Serve this zucchini crumble with a scoop of cold vanilla ice cream or fresh whipped cream.
Use your hands to mix the topping ingredients together. It takes a few minutes but mixing manually is the best way to get the perfect crumb consistency.
Press the crumble mixture firmly over the zucchini before baking to help it stay in place.
Recipe FAQs
Can I freeze this dessert?
I don't recommend freezing this one. Zucchini releases a lot of liquid when it thaws so the crumble would be very watery.
Do you need to peel the zucchini first?
I do recommend peeling the zucchini. It keeps it looking more like apple!
Does the lemon juice make the zucchini crumble taste like lemon?
You can't taste the lemon at all! It adds tartness to the zucchini that makes it taste deceptively like apples.
More Fall Baking
Lemon Zucchini Cake: seriously, nobody will know that you stuck a green veggie in this delicious cake!!
Zucchini Muffins: perfect and easy to bake. The answer to breakfast is here!
Zucchini Brownies: ssshhhhh, don't tell anyone, but the secret to these fudgy brownies is all about the vegetable!