Add one more zucchini bread to repertoire because this Crunchy Streusel Zucchini Bread is worth it. This bread is chock full of walnuts and zucchini and topped with a sweet brown sugar and cinnamon crumble. It's so good!!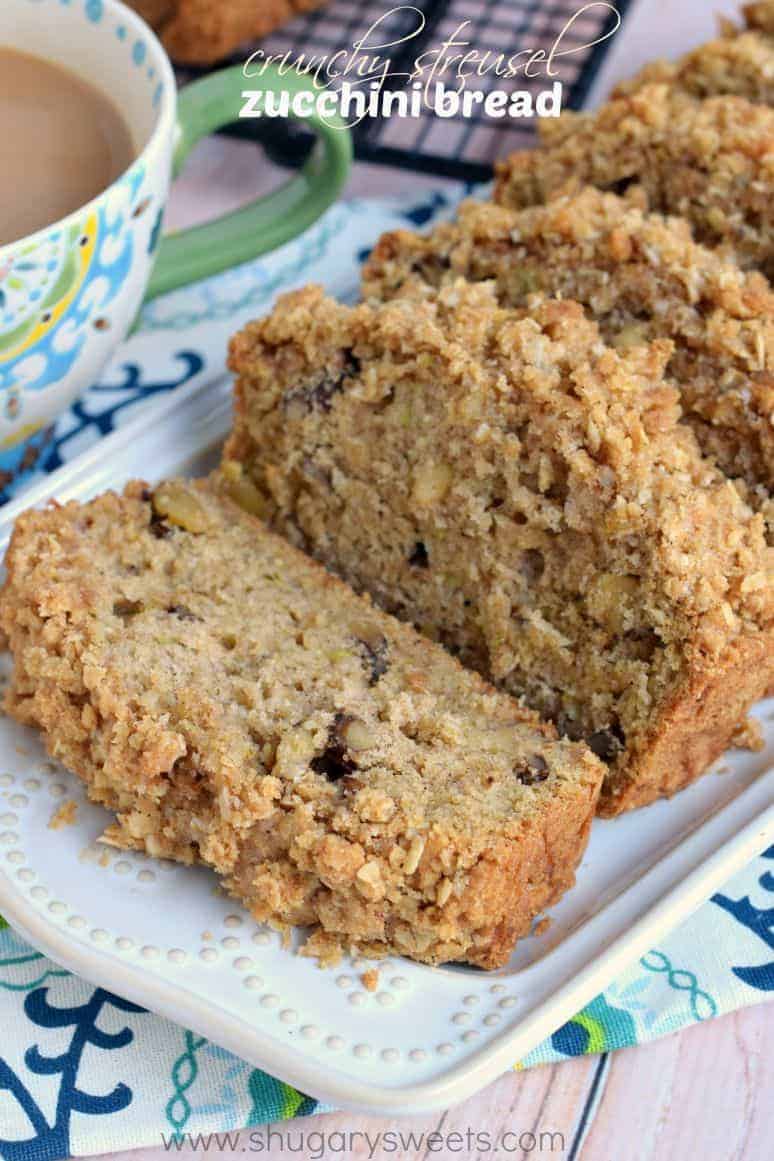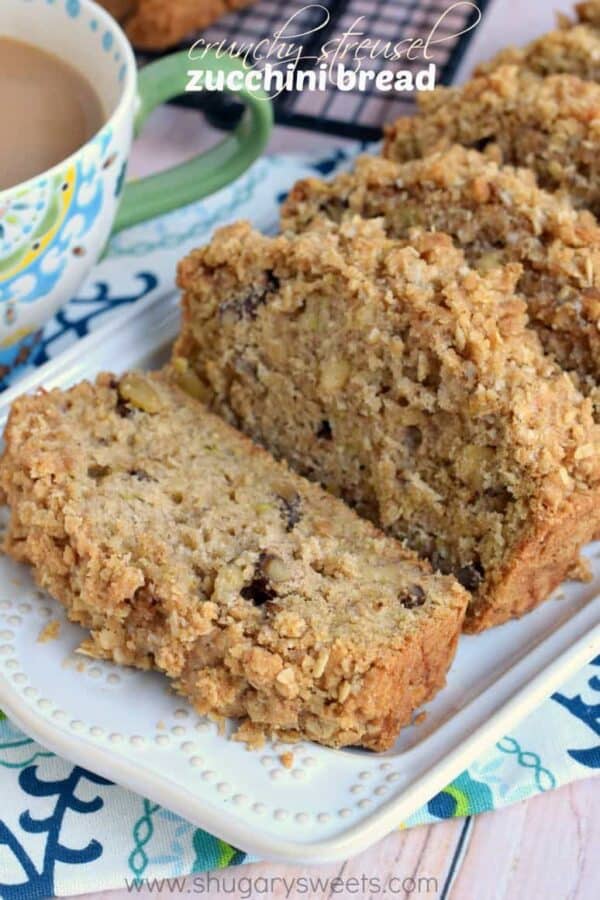 The zucchini recipes may never end you guys. You may remember just last week I shared this Zucchini Bundt Cake recipe?!
Well, I'm back (already!!) with a delicious bread. This one is unlike most zucchini bread recipes. This super moist bread is topped with a delicious CRUNCHY streusel.
If you've read my blog before, you may know I'm kinda obsessed with streusel. I mean. Look at this coffee cake. And these muffins. Or these bars. Need I say more?
I know there are probably one million other zucchini bread recipes out there, and you're wondering, why this one? Why am I adding another one to the mix?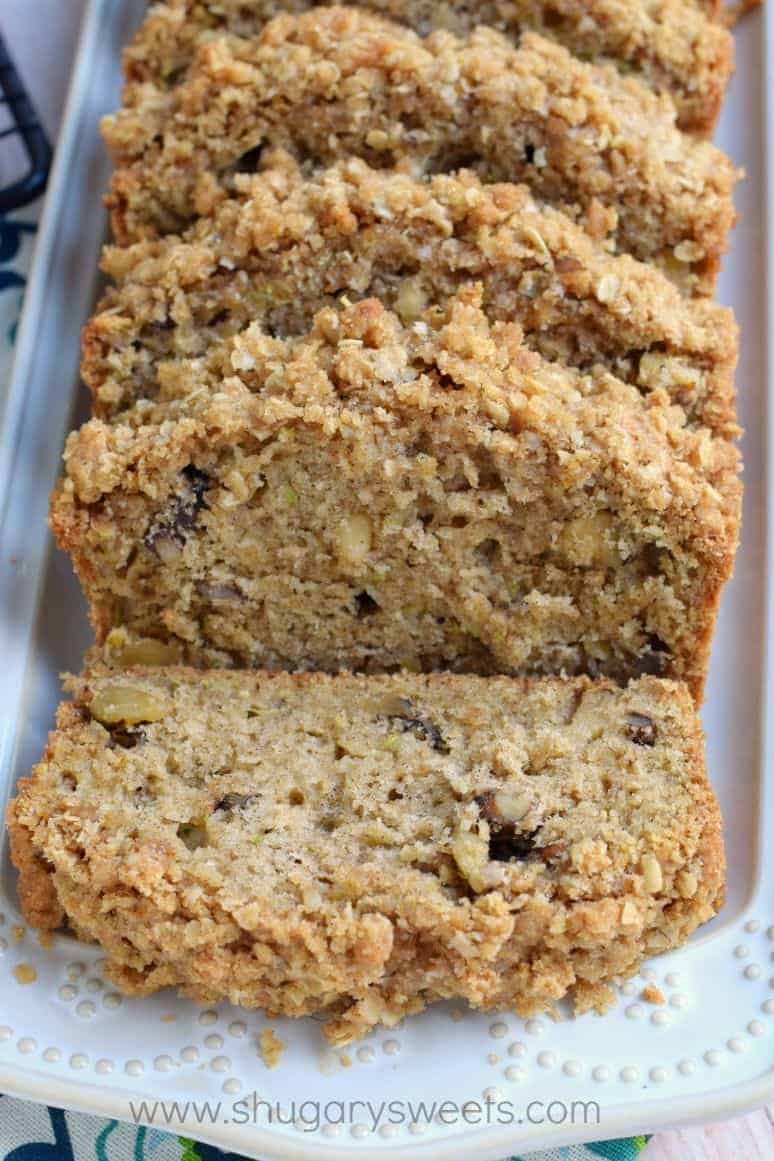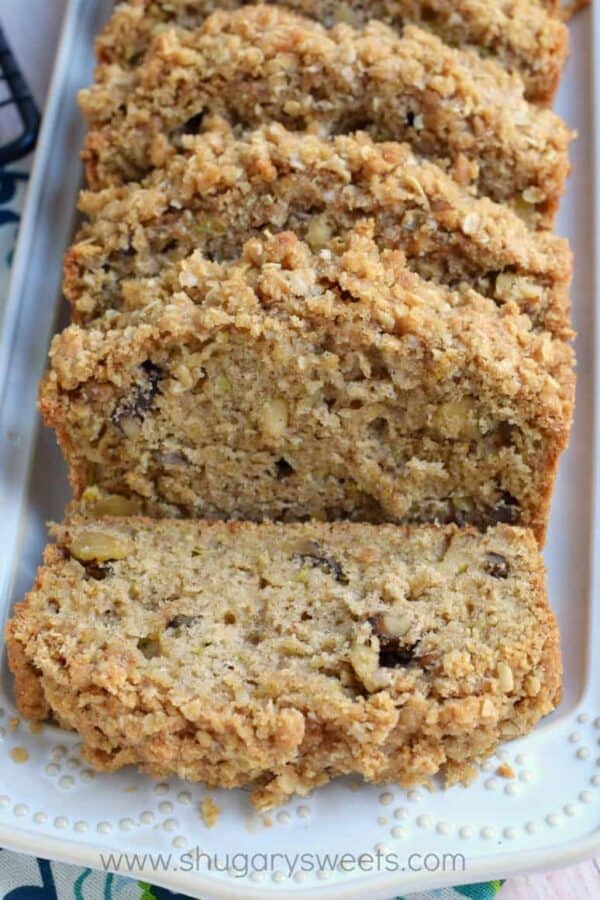 Well, here's the little thing about my blog. I don't have a cookbook out with all my recipes. And instead of writing my recipes on little cards in a box like my grandma did, I started blogging. So now, one day my children (and grandchildren) can look back here and not only see my favorite zucchini bread recipes, but also the stories that I shared.
My blog is a story of our food and our family. What you see on here, is what we eat. I don't usually create recipes…just to get stuff on the blog. I create recipes for my family, that I then blog about. When you see me using a specific product and I tell you this post is sponsored…I hope you understand that just because I'm using a specific brand doesn't mean I'm selling out.
Instead it means, "I love this product and you should too because XYZ." It makes smooth cheesecakes. Or creamy frosting. Or rich chocolate brownies.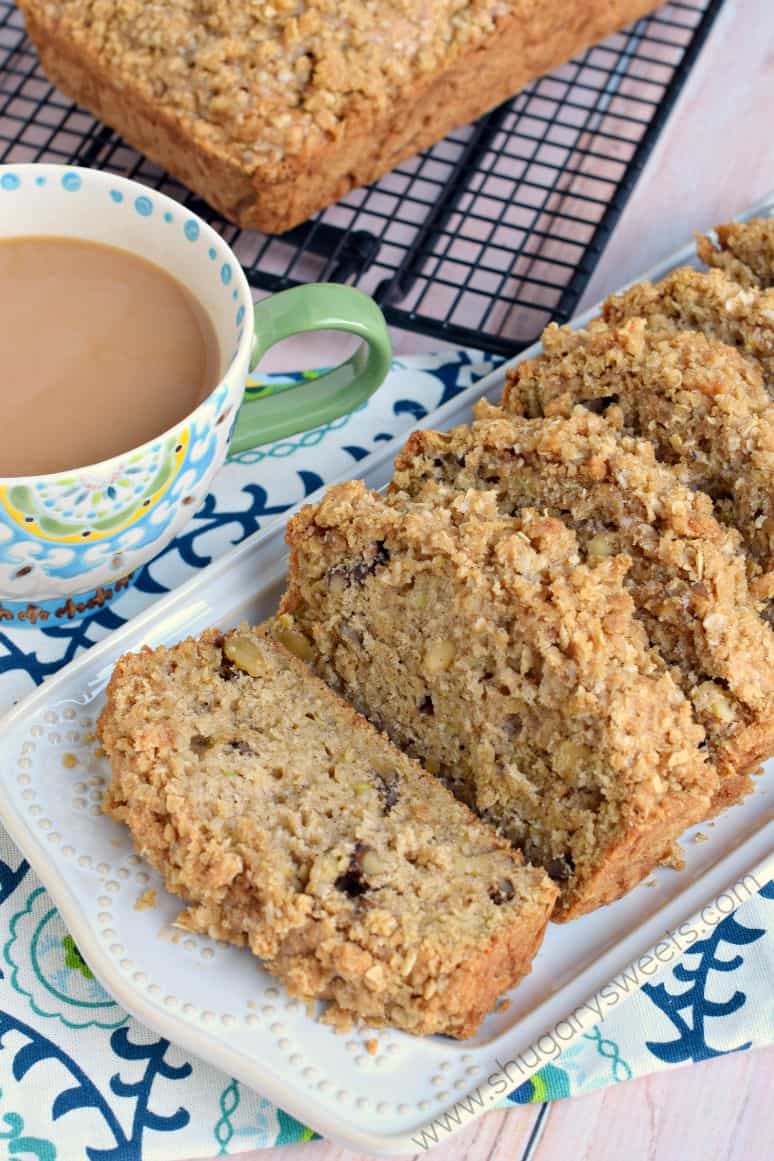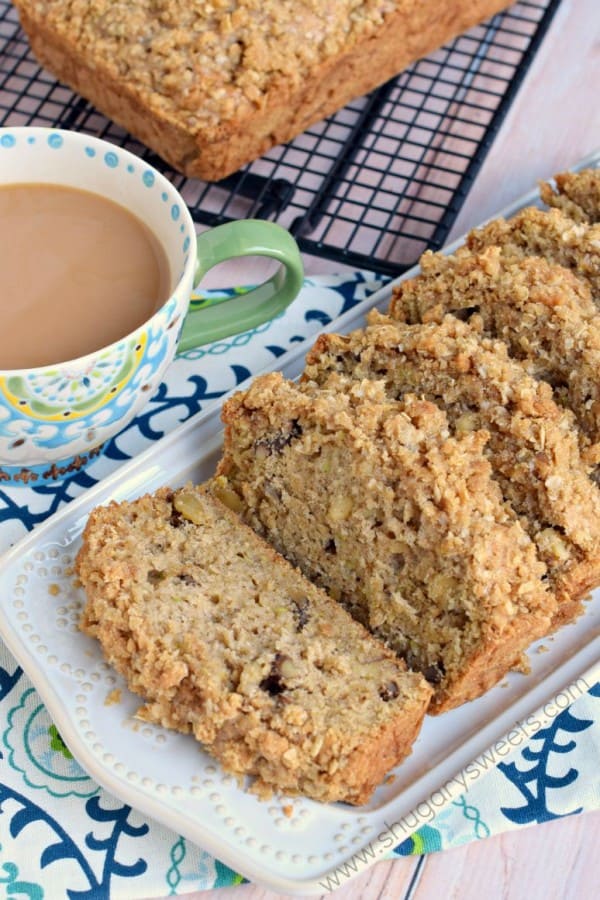 You may occasionally see some over the top dessert. Guess what? That's me sometimes. Even before I had a blog I would go crazy over the holidays dunking and dipping everything in melted chocolate and piling it on top of a rice krispie treat. Because sometimes it's necessary.
You know what else is necessary? Another zucchini bread recipe. Cause this one is the bomb you guys. If you love a plain zucchini bread recipe, this one is not for you. This bread is chock full of crunchy walnuts, fresh zucchini, and it's topped with the most delicious, crunchy streusel. You're going to love it!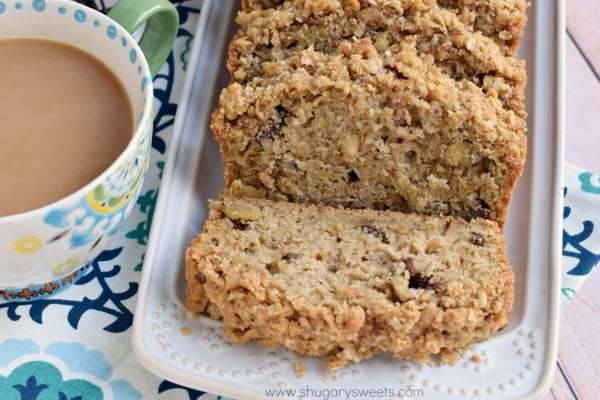 Connect with Shugary Sweets!
Facebook | Twitter | Pinterest | instagram
Yield: 2 loaves bread
Crunchy Streusel Zucchini Bread
Ingredients
For the Bread:
3 large eggs
1 cup canola oil (or vegetable oil)
3/4 cup granulated sugar
2 tsp vanilla extract
1 tsp almond extract
1/4 cup milk
3 cup all-purpose flour
1 tsp kosher salt
1 tsp baking powder
1 tsp baking soda
1 Tbsp cinnamon
2 cup shredded zucchini
1 cup chopped walnuts
For the Streusel:
1/4 cup unsalted butter, softened
1/2 cup quick oats
1/2 cup light brown sugar, packed
1/4 cup all-purpose flour
1/2 tsp cinnamon
Instructions
Grease and flour two 8-inch x 4-inch baking pans (standard size loaf pans). Or use a baking spray. Preheat oven to 325 degree F.
In a large bowl, beat eggs with oil, sugar, vanilla extract and almond extract, and milk. Add in flour, salt, baking soda, baking powder, and cinnamon. Mix until well blended.
Fold in shredded zucchini and chopped walnuts. Pour batter into two loaf pans.
In a small bowl, combine streusel ingredients. I find it easiest to use my hands to combine the ingredients into a crumbly mixture, making sure the butter is completely blended into the streusel.
Sprinkle the streusel evenly onto the two pans of batter. Press lightly.
Bake in oven for about 60 minutes. Remove and cool in pans about ten minutes. Remove and cool completely on wire rack.
Store in airtight container or foil for up to one week. Or wrap in foil and place in a ziploc freezer bag and freeze until later use. ENJOY.
I love making quick breads and keeping them in the freezer! Here are some of my favorites: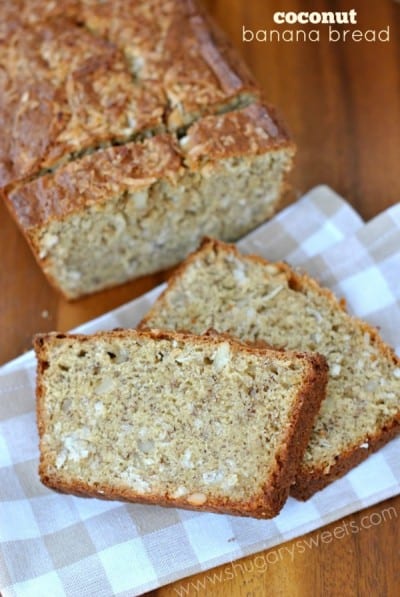 Add some tropical flavor with this Coconut Banana Bread!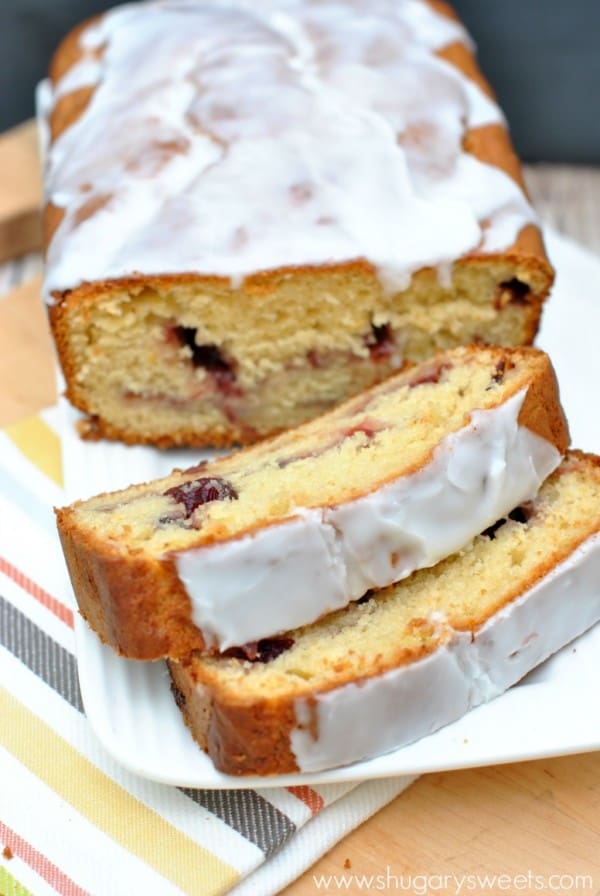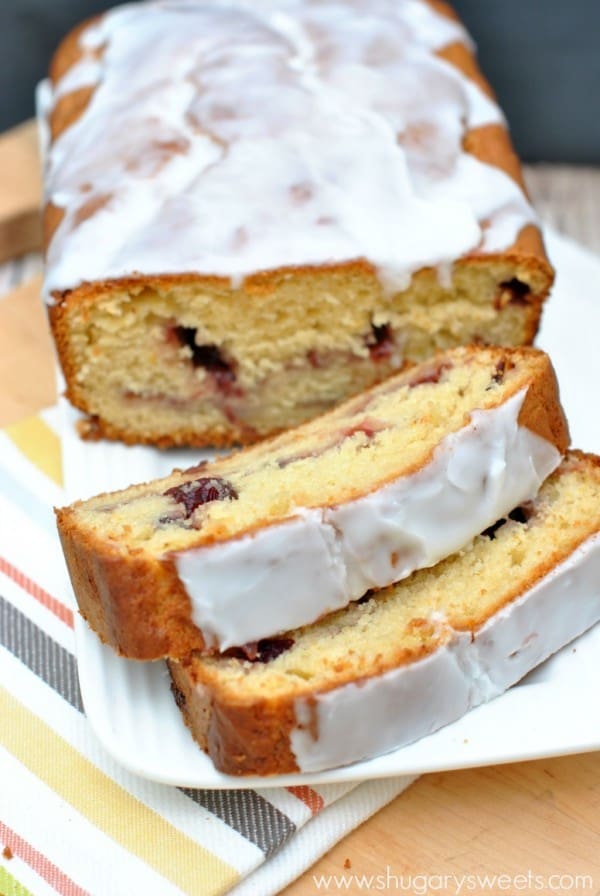 Cranberry Orange Bread. A delicious blending of flavors in an easy quick bread recipe!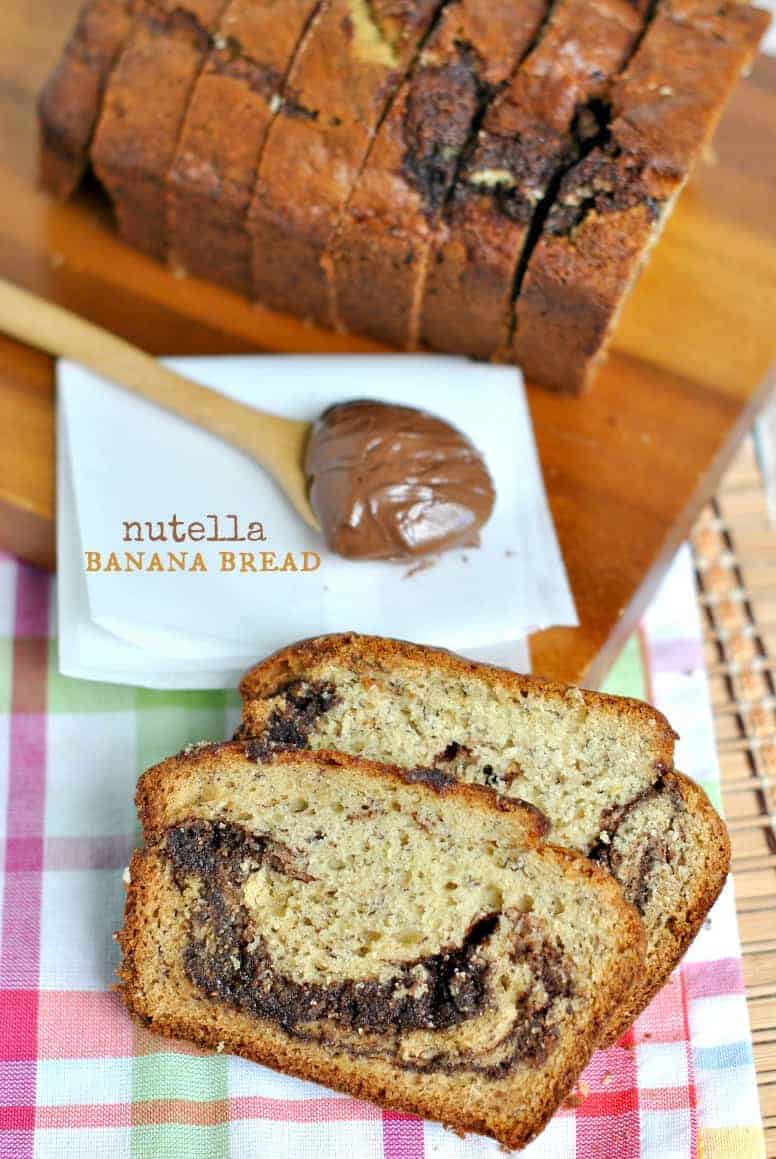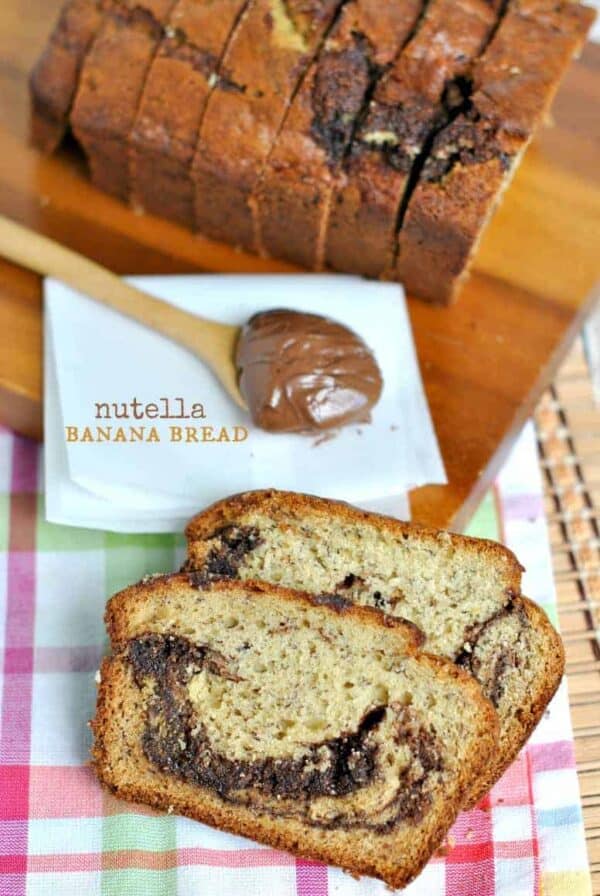 The swirls of Nutella in this Nutella Banana Bread are simply amazing. Such a fun breakfast idea!