You'll love this Praline Topped Zucchini Bread with it's sweet, brown sugar topping. Sweet and touch salty, this bread makes TWO freezer friendly loaves. Perfect for sharing or saving for later!
You can never have too many zucchini bread recipes. This Streusel Zucchini Bread is another loaf we love with a crunchy topping.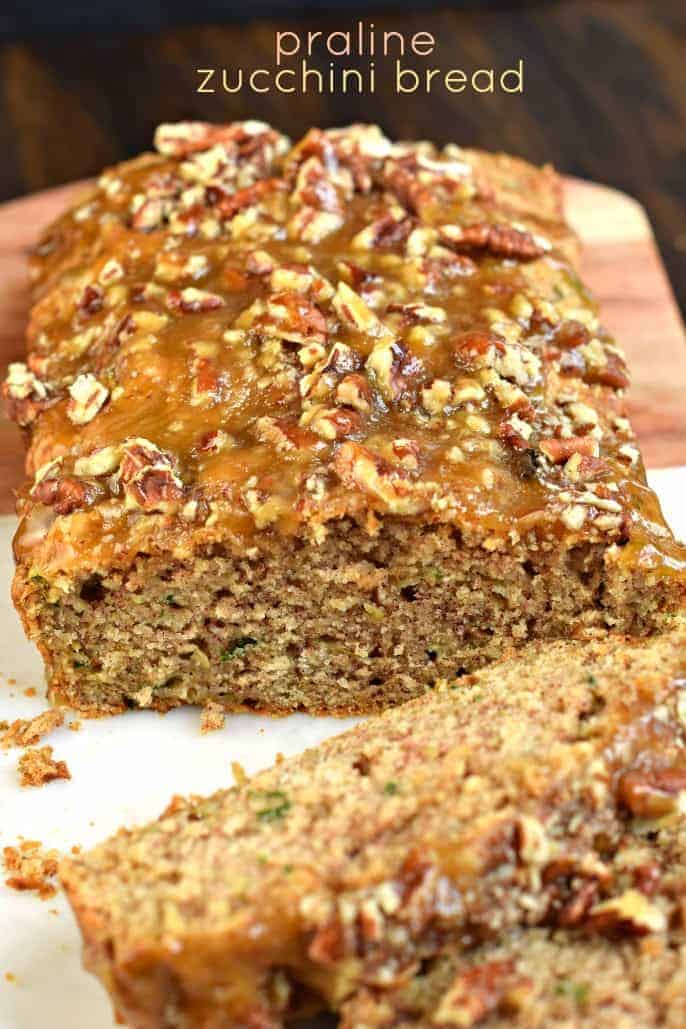 Why This Bread Recipe is Best
With so many zucchini recipes already on my blog, you may be wondering why I'm adding another to the mix.
It's because praline is the perfect topping for zucchini bread!
This loaf is loaded with zucchini for a super moist crumb.
Topped with crunchy brown sugar praline.
It's a satisfying combination of sweet and salty flavors.
A freezer friendly recipe that yields two big loaves.
I think you deserve a slice or two of this praline topped zucchini bread to dunk into your coffee tomorrow morning!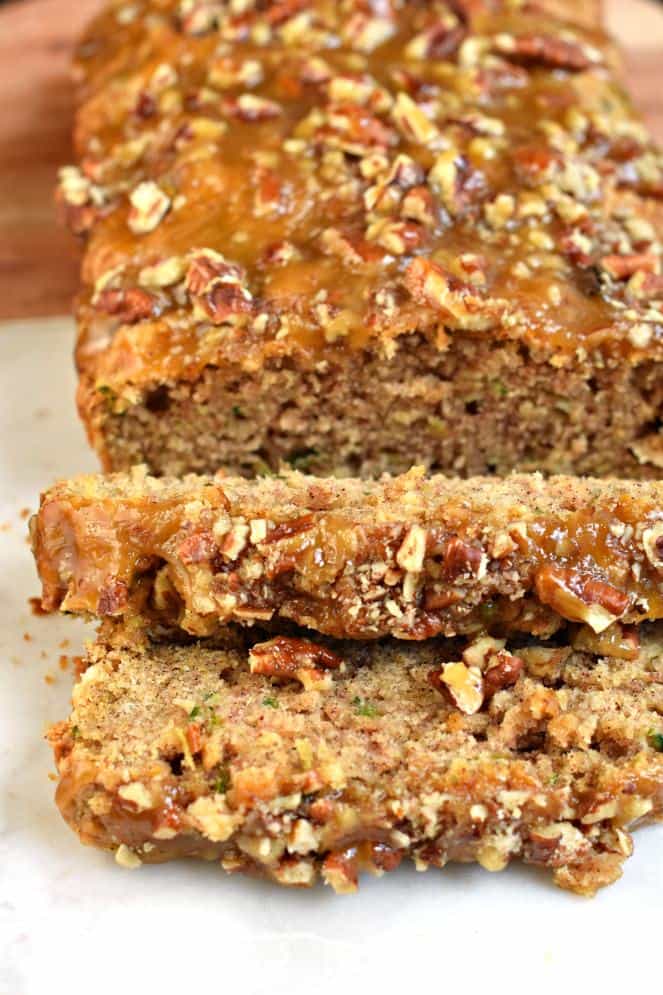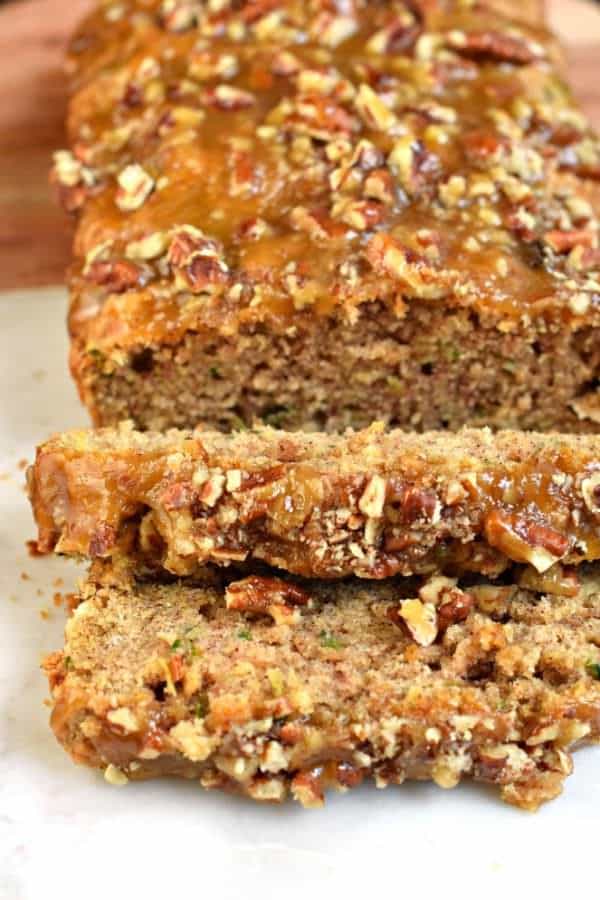 Ingredient Notes
The difference between this zucchini bread and my original zucchini bread recipe it's based on is the praline topping.
Here's what you need to put a praline twist on your homemade zucchini loaf.
Chopped pecans – You could use other nuts commonly used for praline, like walnuts or almonds, but pecans are our favorite!
Light brown sugar – for sweetness and rich flavor.
Butter – Boiled with the brown sugar to make a pourable topping for the baked bread.
Easy Instructions
This recipe starts by making a simple zucchini bread batter.
Beat together vegetable oil, sugar, eggs and vanilla in a large mixing bowl. Add the dry ingredients and the shredded zucchini.
Divide the batter into prepared loaf pans. You'll have enough batter to fill two standard pans. Bake and let cool.
While the loaves cool, make the praline topping. Melt butter with brown sugar over medium heat. Once the mixture reaches a rolling boil, let it boil for one full minute before removing it from heat.
Pour the sauce over the cooled bread and immediately sprinkle with half the chopped pecans. Repeat this step with the rest of the sauce and pecans.
Now the hard part: waiting for the topping to set! Let the praline topped zucchini bread rest for 15 or 20 minutes.
Plenty of time to put on a pot of coffee and pour yourself a hot cup.
Once the topping has settled nicely onto the bread, it's ready to eat!
Tips and Tricks
Check out all my best tips and tricks for shredding zucchini before making this bread.
Remember to grease and flour your loaf pans before adding the batter. Baking spray works too! Or use our cake release recipe.
Let the bread cool in the pan for 10 minutes. It will be much easier to slide out of the pan to complete cooling if it's had a chance to firm up.
Recipe FAQs
How do I keep zucchini bread moist and fresh?
Store zucchini bread in a tightly sealed container to keep it moist for days. It will also stay moisture if stored as a whole loaf rather than in slices. Slice just before serving for best taste!
Can I freeze it? How long does it keep?
Yes, this zucchini bread freezes beautifully. Wrap the loaf in foil then store in a sealed freezer bag. The frozen praline zucchini bread will keep well for up to 3 months.
Can I make this as muffins instead?
This praline topped zucchini bread is easy to adapt for making muffins instead. It would make a LOT of muffins. Plenty to stash in the freezer!
You will need to adjust the baking time accordingly. Muffins bake much more quickly than whole loves.
What is praline?
Praline is a confection usually made from nuts, butter and sugar. In this recipe, it starts as a sauce that settles into a crunchy pecan topping as it cools.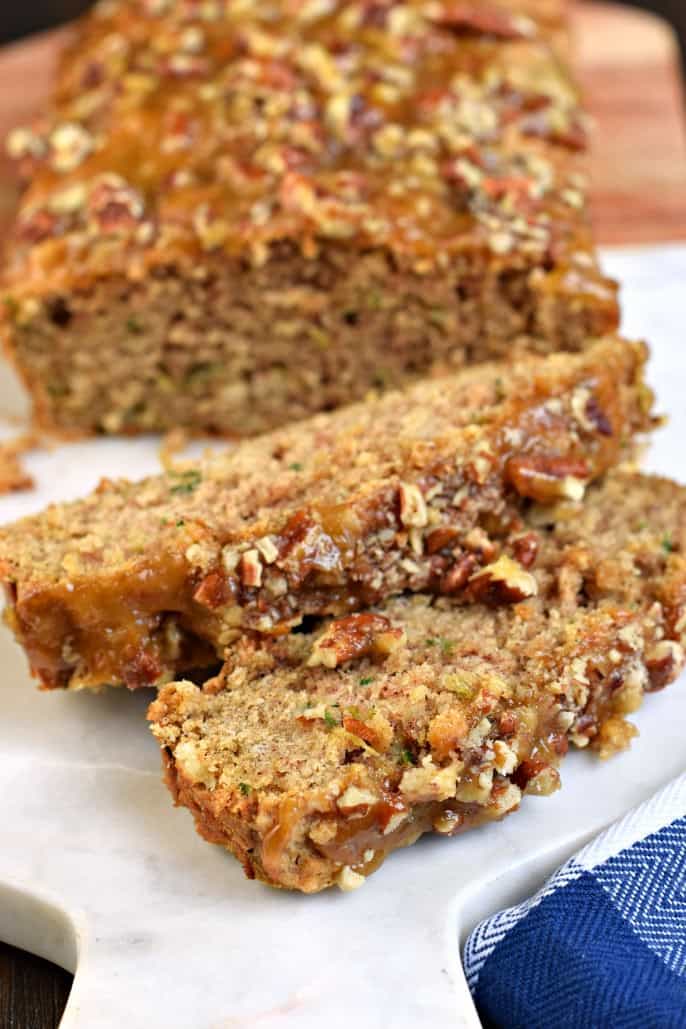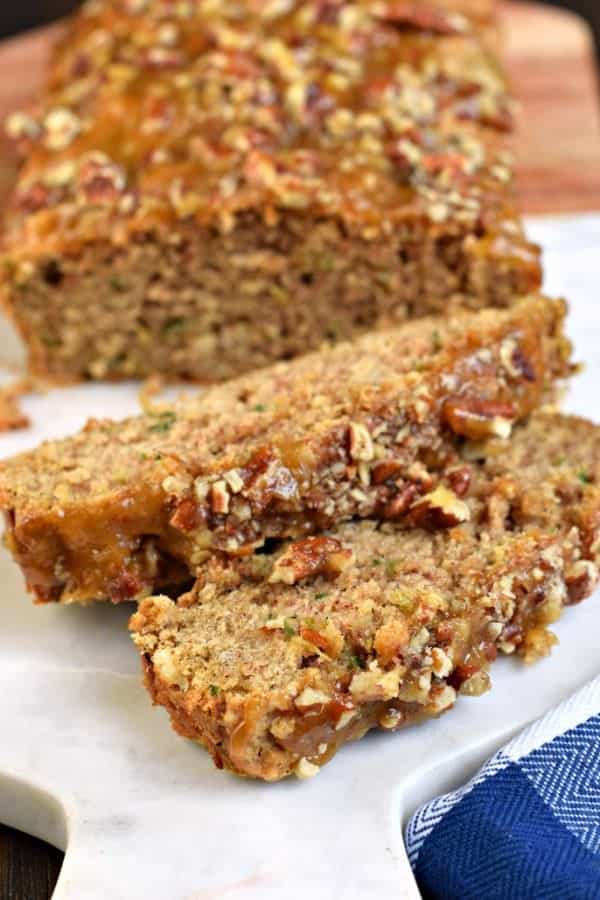 More Fall Baking
Praline Zucchini Bread is sweet, salty quick bread with a satisfying crunchy topping. Serve it for breakfast, dessert or any time of day!