Rich and decadent Chocolate Chip Brownies are made extra moist with grated zucchini. Topped with a decadent fudge frosting, chocolate zucchini brownies are a dessert lover's dream.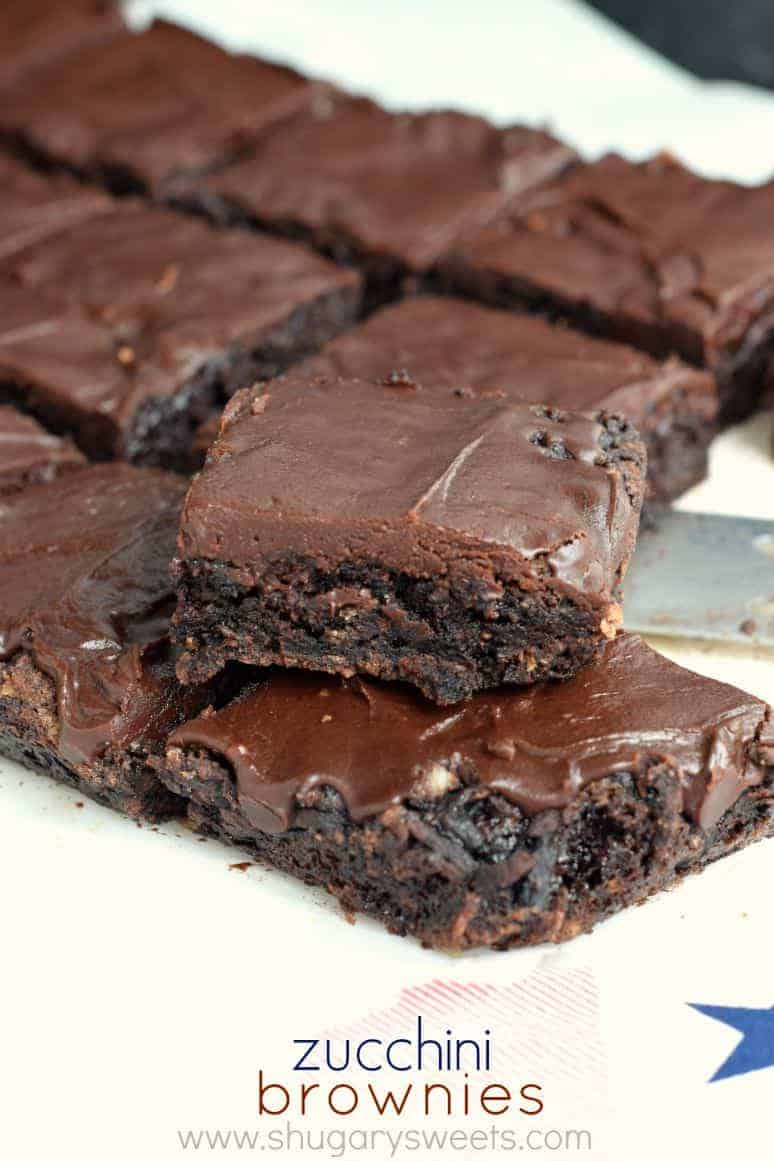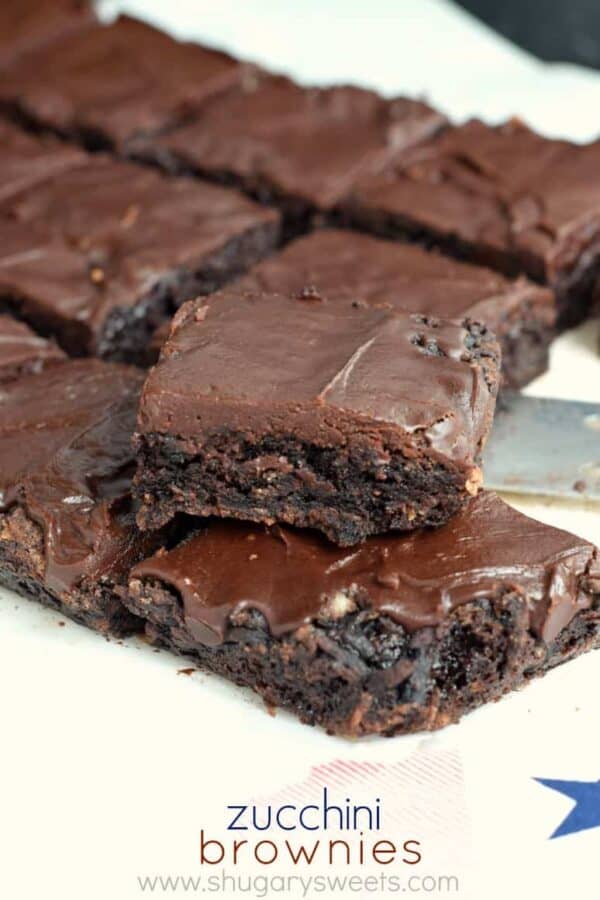 If you follow me on instagram in peak harvest season, you may notice I have some serious zucchini baking days. One year, the zucchini plant growing in my garden went so crazy that I had more of this green veggie than I knew what to do with. The struggle is real, and I'm trying to find new recipes to make.
Zucchini Brownies
As much as we all love Roasted Zucchini as a side dish, I had enough zucchini to serve it as a side dish for a small army. After getting our fill of  Chocolate Chip Zucchini Bread and Zucchini Banana Bread, I was in the mood for something different. Something with chocolate!
Fortunately for me, I have lots of amazing, talented foodie friends. So, today, I took a shot at making my friend Audra's recipe for Zucchini Brownies. Be sure to stop over at her blog, The Baker Chick, for some delicious peach cobbler, churro cupcakes, and margarita bars (these are happening soon!!).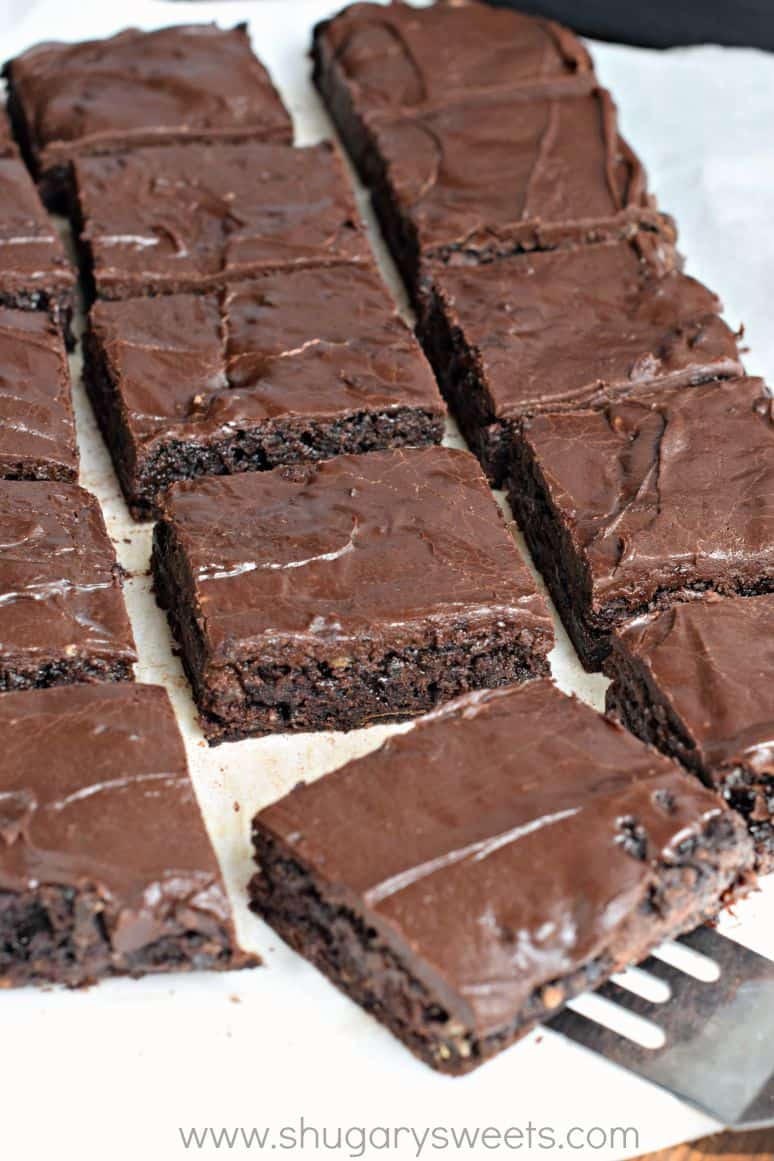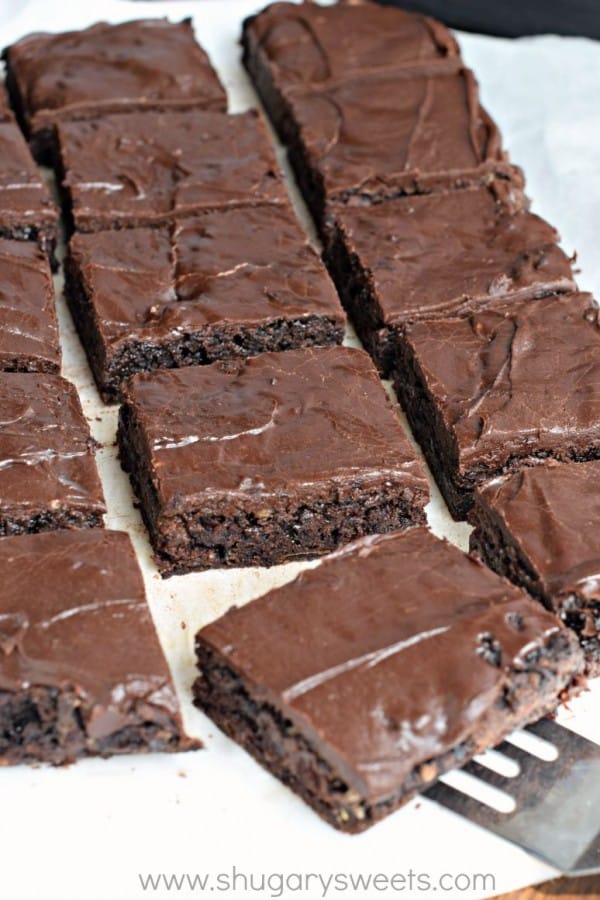 And can I tell you guys…these were the bomb. They were rich and fudgy just how a brownie should be! There's no hint of veggie flavor at all, I promise. And the frosting on top? I couldn't have asked for anything better, it was absolutely perfect!
The only change I made with these brownies was to sub out some of the regular sugar for brown sugar and I used canola oil in place of the coconut oil in the original. These brownies are extra chewy which I love.
Chocolate Chip Brownies Recipe
Here's what you need for the brownies: 
Zucchini – Grated (See my tips below for how to grate zucchini.)
Granulated sugar
Light brown sugar – Or more granulated sugar if preferred
All purpose flour
Vanilla
Canola oil
Unsweetened cocoa powder
Baking soda
Salt
To make the chocolate frosting, you need: 
Butter – melted
Powdered sugar
Unsweetened cocoa powder
Vanilla
Heavy whipping cream 
How to Grate Zucchini
The first step to making chocolate brownies with zucchini is to grate the zucchini well. After washing your zucchini, cut off the stems. (Peeling is optional but not necessary.)
A food processor with a grater attachment is the easiest and fastest way to grate zucchini. Start the food processor and feed the zucchini in vertically while it's running.
You can also grate it the old fashioned way with a big box grater: Hold the zucchini up against the grater placed over a large bowl. Run the zucchini down the side of the grater just like you would a block of cheese.
I don't recommend using a fine microplane zester or a food processor with blades. Both will make the zucchini more pureed and watery than grated and it won't work as well in the brownies.
Once your zucchini is grated, it's time to bake some brownies!
How to Make Zucchini Brownies
STEP 1. Preheat oven to 350 degree F. Line a 13×9 baking dish with parchment paper. Set aside.
STEP 2. Make the brownies
In a large bowl, combine oil, sugars, and vanilla extract. Add in flour, cocoa powder, baking soda and salt. Stir together until well blended. The batter will be very dry, it's okay!! Fold in shredded zucchini.
Depending on the moisture of your zucchini, your batter may still be slightly dry. It's okay still. It may be moist, that's cool too! Either way, pour the batter into the prepared baking dish.
Bake for 25-30 minutes until cooked. Remove and cool completely before frosting.
STEP 3. Make the frosting
Combine the melted butter with cocoa powder in a small bowl with a whisk. Add in powdered sugar, heavy cream and vanilla. Whisk until smooth. Spread over cooled brownies. Cut into bars and enjoy!
These Zucchini Chocolate Brownies got two thumbs up from everyone in my house. I'm so excited to have another awesome zucchini recipe to add to my list for those warm summer months when my garden is in overdrive.
Zucchini Recipes
Next year we're planning on expanding our garden, but I think I will stick with ONE zucchini plant again, because clearly it loves this spot. More reason to enjoy them now!!
So here's my question…what's your favorite zucchini recipe? I can never have enough!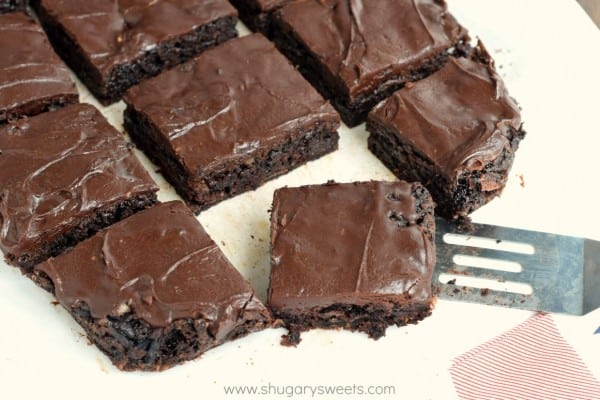 Then I promise to bombard you with pumpkin recipes. Haha. #foodbloggerproblems 
Connect with Shugary Sweets!
Facebook | Twitter | Pinterest | instagram 
Love these Zucchini Brownies? Check out these other zucchini recipes: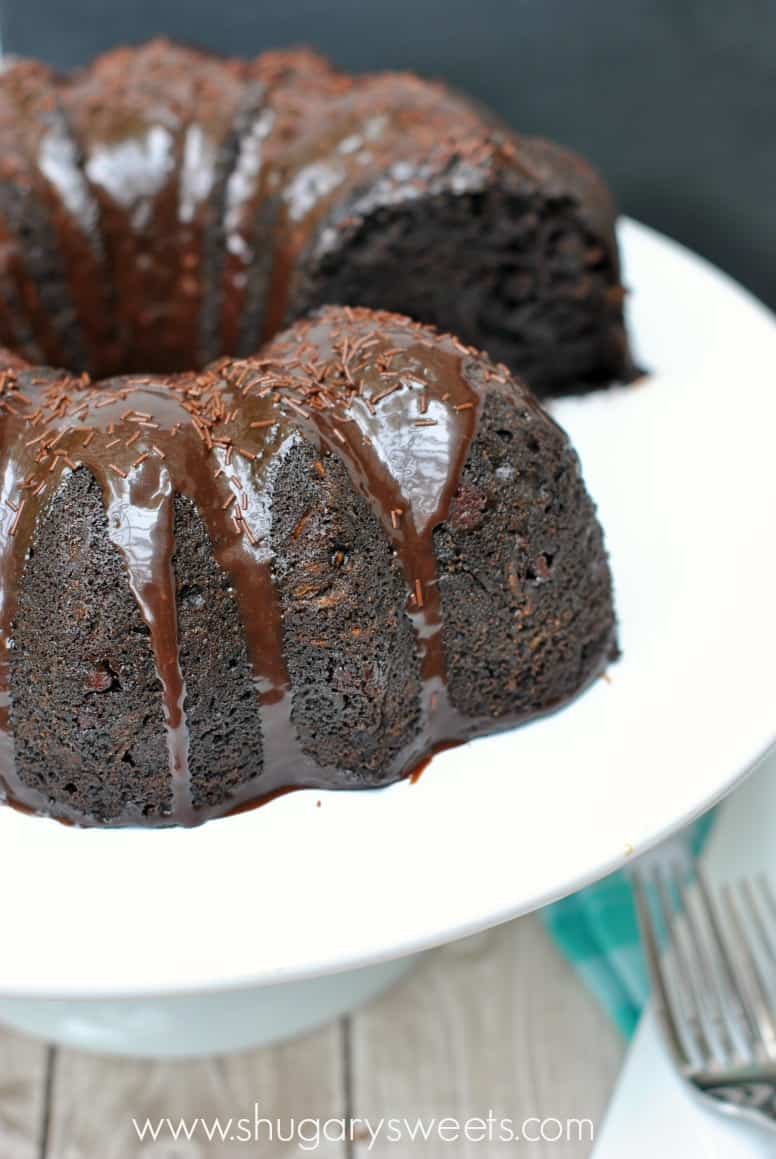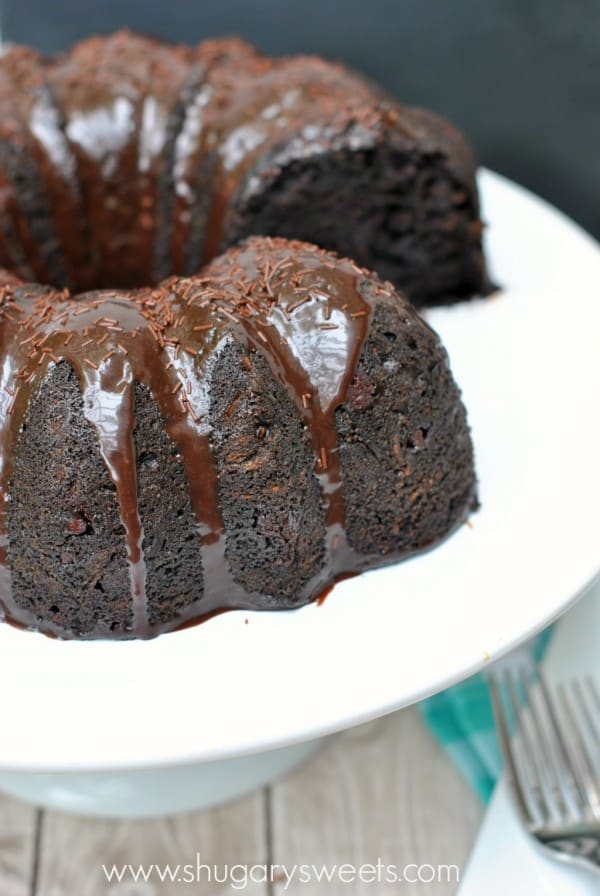 Chocolate Zucchini Bundt Cake: it's as delicious as it looks!!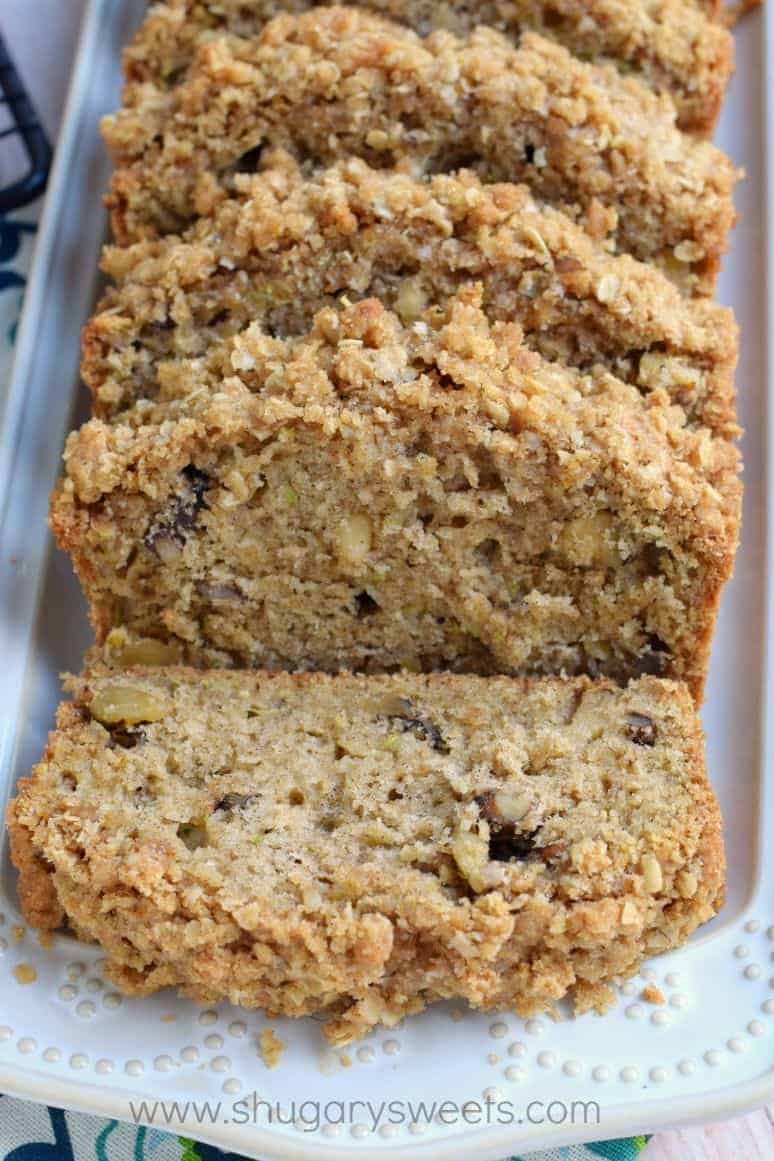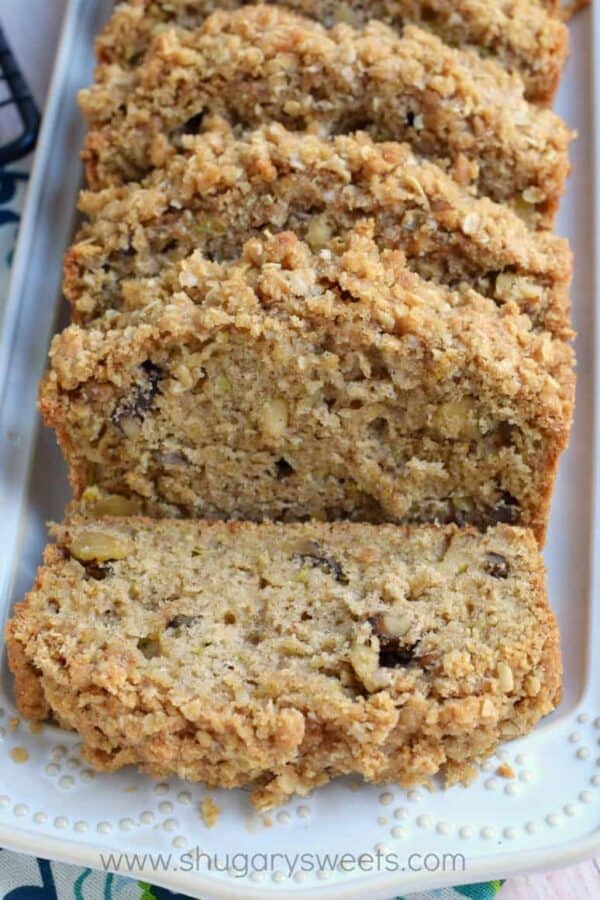 Streusel Topped Zucchini Bread: the crunch on top makes this one epic bread!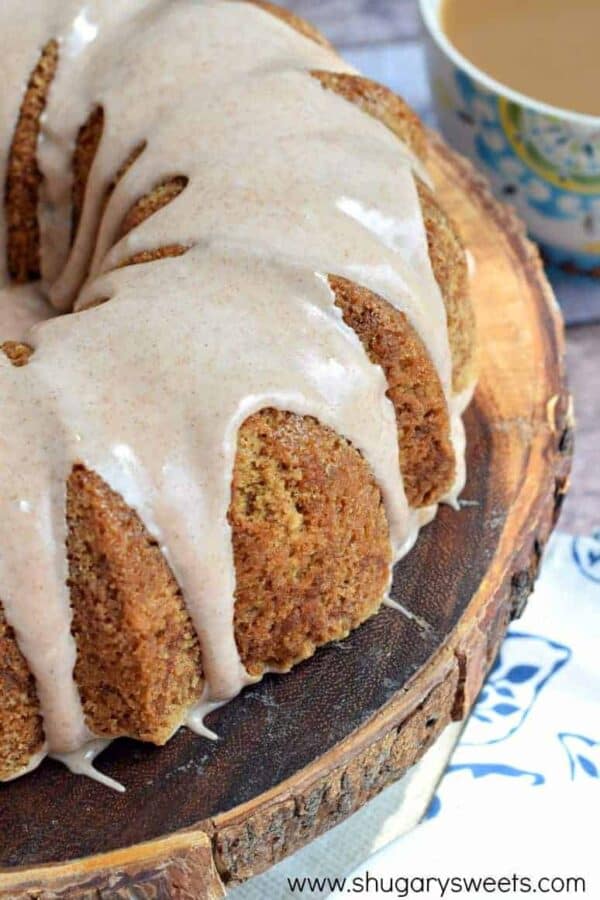 Zucchini Bundt Cake: this beauty is topped with a cinnamon glaze!
Here are a couple sweet AND savory Zucchini recipes from my friends:

See the recipe Chocolate Zucchini Brownies on YouTube