These M&M Cheesecake Bars combine three desserts in one. A creamy cheesecake filling is surrounded by chocolate chip cookie dough packed with M&Ms! Colorful and sweet, these cheesecake bars are impossible to resist.
M&Ms make an ideal addition to so many sweet treats. M&M'S Cookie Bars meets Cheesecake Bars in this unbelievably delicious recipe.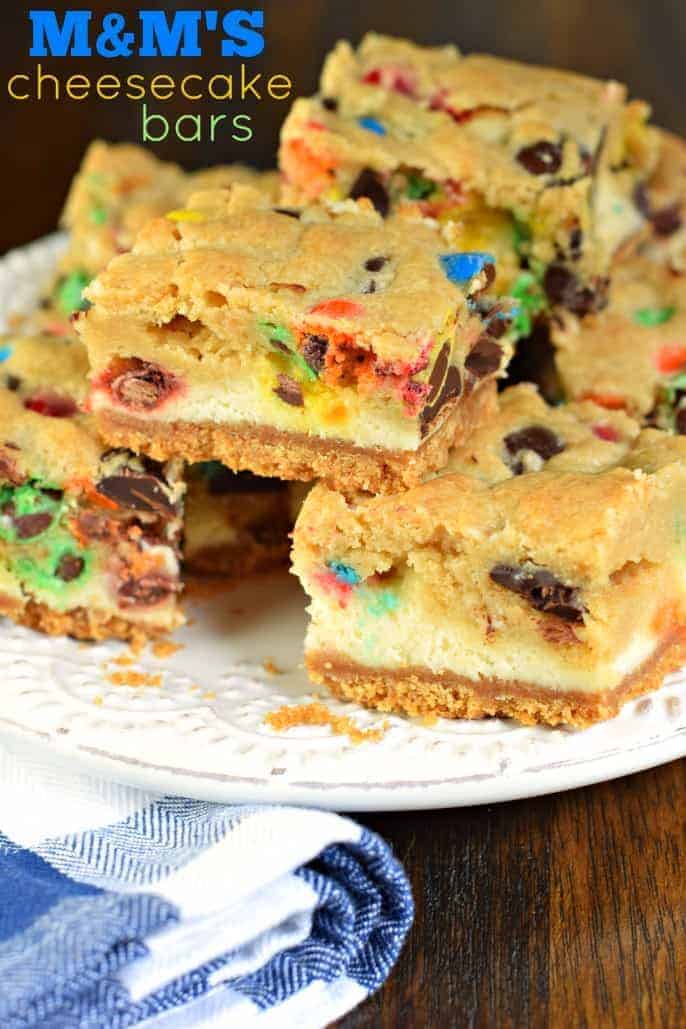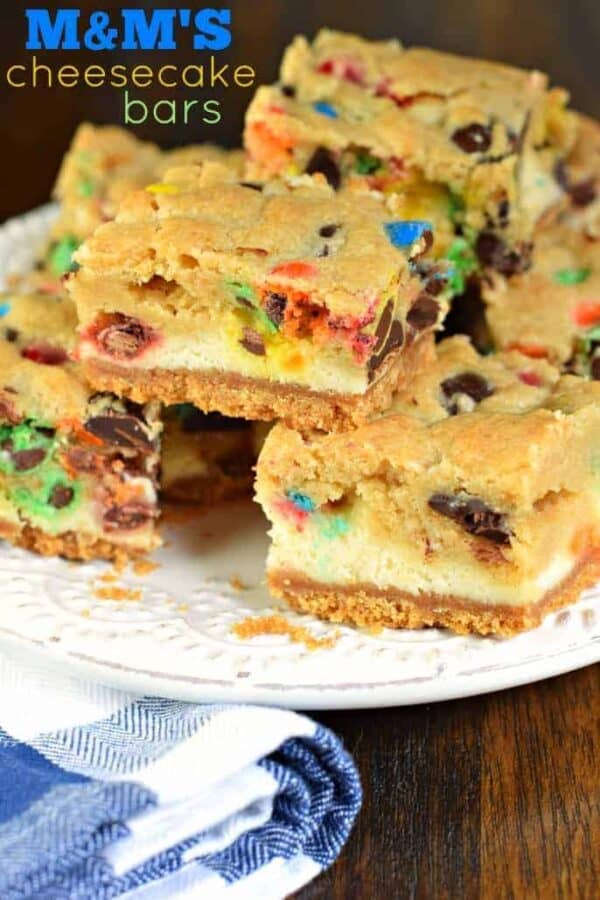 Why this Recipe Works
I have an obsession with cheesecake bars. From the very first Chocolate Chip Cheesecake Bar I made years ago to this Snickerdoodle version that went viral immediately!
Don't even ask me to choose a favorite cheesecake bar, because I don't think I could do it. Each flavor is unique and special, and serves a purpose depending on your mood or the occasion.
And sometimes you need a dessert bar that's totally over the top. One that brings all of your favorite sweet treats together.
That's how today's M&M Cheesecake Bars recipe came to be. I always love biting into a cookie or bar with candy-coated chocolate M&Ms inside!
Crunchy graham cracker crust.
Creamy cheesecake filling.
M&M cookie dough topping.
I love the rainbow of colors in every square, plus the creamy cheesecake center. These M&M Cheesecake Bars will be the hit of any party, guaranteed.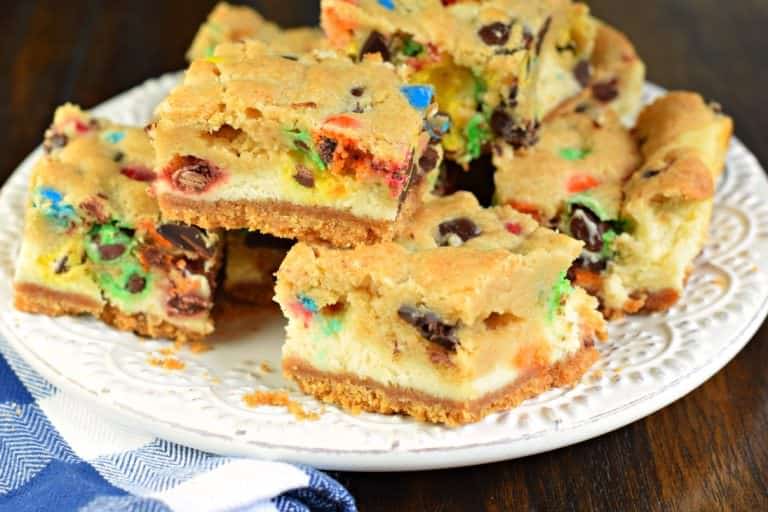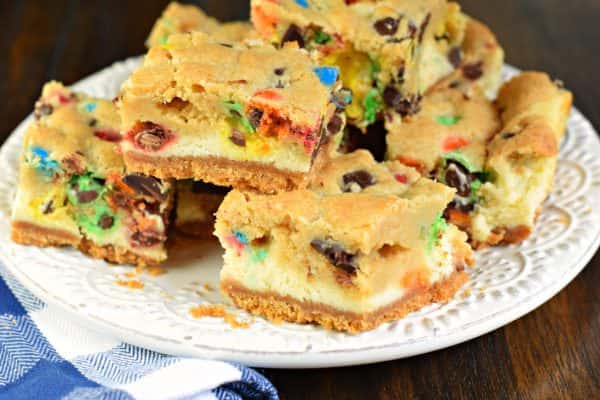 Ingredient Notes
Graham crackers. Honey graham crackers are my favorite for the crust. You can also use cinnamon grahams or chocolate grahams to change up the flavors.
M&Ms. I used milk chocolate for a classic taste. Other M&Ms flavors and varieties would be delicious in these cheesecake bars too.
Vanilla extract. Learn How to Make Vanilla Extract to give your M&M Cheesecake Bars an even richer flavor.
Easy Instructions
Making homemade cheesecake bars takes just a few steps.
First, make the graham cracker crust:
Pulse graham cracker crumbs in a food processor with sugar to create crumbs. Add melted butter and combine. Press the crumbs into a lined baking dish.
Make the cheesecake filling:
Beat all the filling ingredients together until smooth and combined. Pour over the crust.
Add the M&M cookie dough layer:
Beat butter and sugar together, then add egg and vanilla followed by dry ingredients. Fold in M&Ms and chocolate morsels, then spread the cookie dough over the cheesecake layer.
Bake for about 30 minutes or until the cookie layer is lightly browned. Transfer the bars to the fridge for a few hours before slicing and serving.
Tips and Tricks
Do NOT use store bought graham cracker crumbs. Use a food processor and make your own crust. You'll thank me. It's so much better. There is just an off taste with those pre-made graham cracker crumbs.
Line your baking dish with parchment paper (or foil). It makes cutting the bars so much easier. After chilling, you just lift the entire dessert out of the pan and onto a large cutting board. Cut into desired sized and serve.
It's okay if the bars look a bit jiggly in the center when you take them out of the oven. The cheesecake layer will firm up as the bars cool.
Chill the bars for best results. I recommend letting them set in the fridge overnight, but if you can't wait that long, try to chill them for at least 4 hours. Believe me. These bars are worth the wait!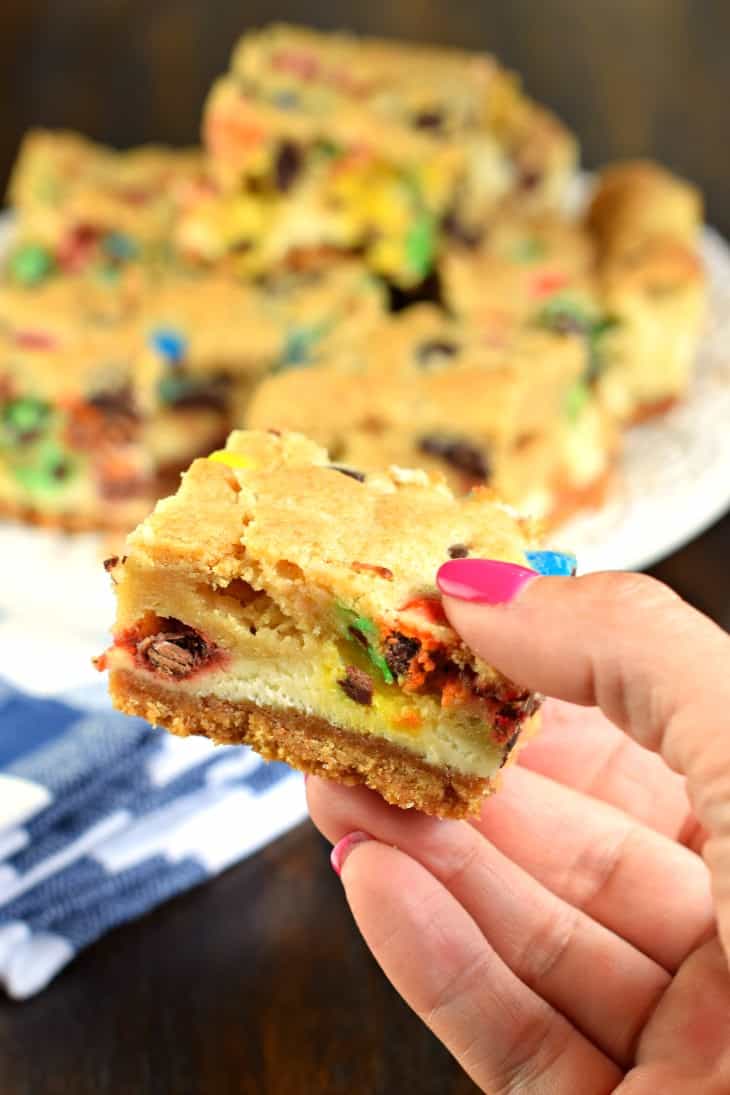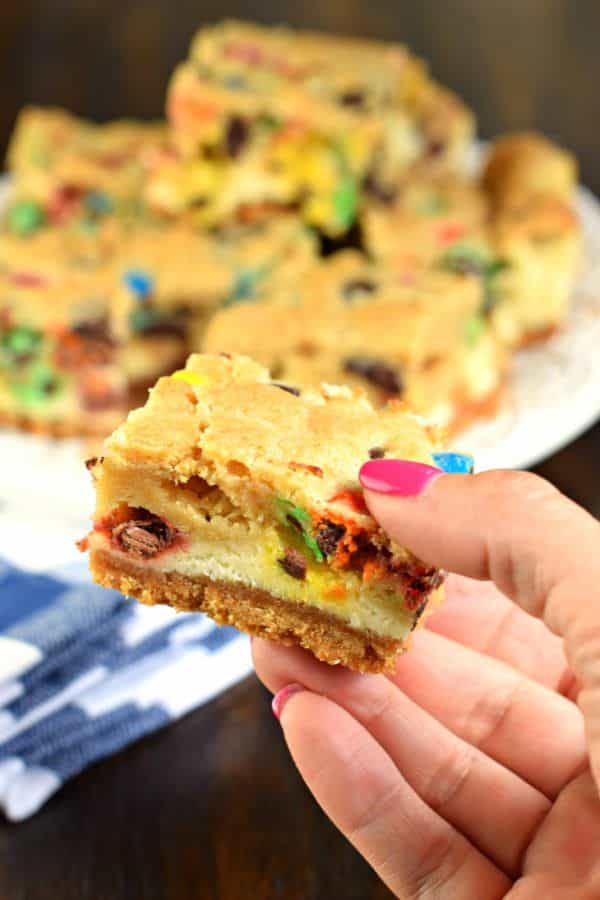 Recipe FAQS
How do you store cheesecake bars?
Because of the cheesecake layer, these bars should be stored in the refrigerator. They will keep well covered and chilled for 4 to 5 days.
Can you make these without M&Ms?
Yes, you can omit the M&Ms for a delicious chocolate chip cheesecake bar recipe!
Can a sugar cookie crust be used instead of graham cracker?
I have not tested the recipe with a different cookie crust. I absolutely love the taste and texture of the graham cracker crust in these bars!
Can you freeze M&M Cheesecake Bars?
Yes, you can freeze these for up to 3 months! Place in the freezer until solid, then transfer frozen bars to freezer bags for storing. Let the bars thaw overnight in the fridge before serving.
More Easy Dessert Recipes