These M&M Cheesecake Bars have a sweet graham cracker crust, creamy cheesecake filling, and a chocolate chip cookie dough packed with M&M's on top!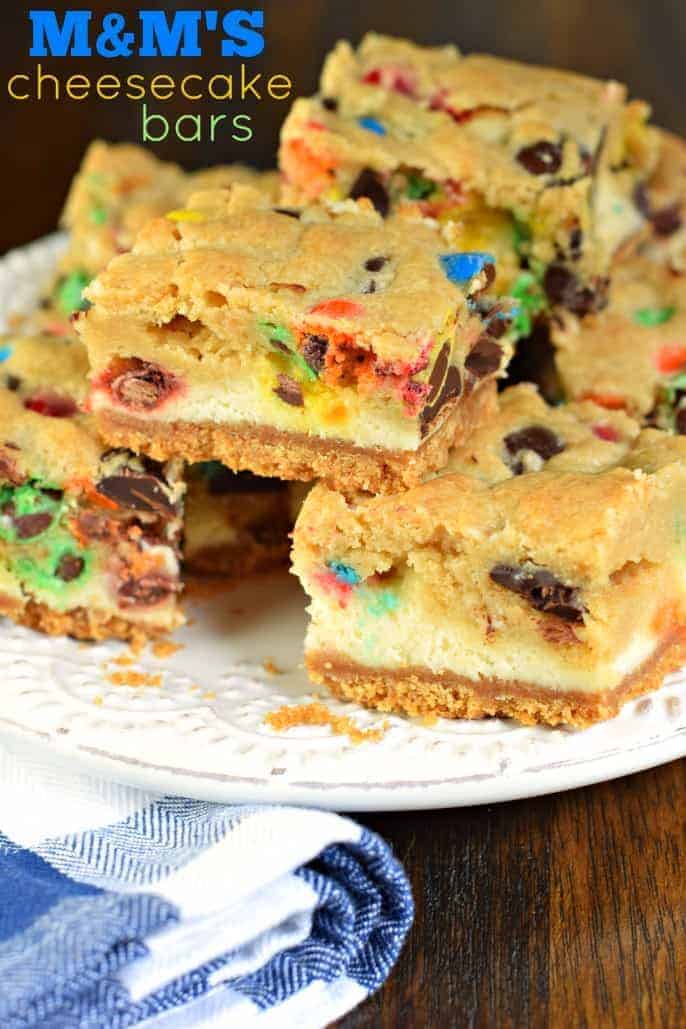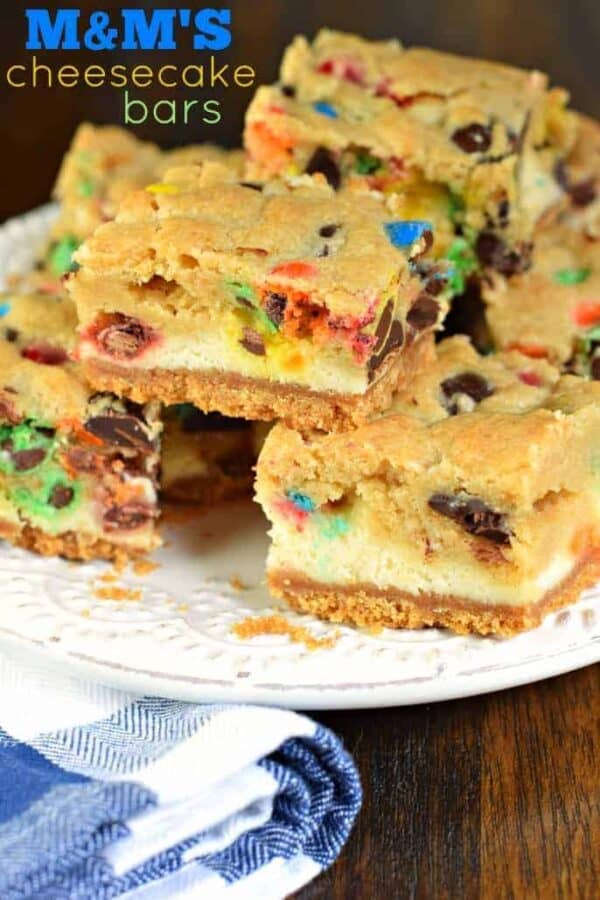 I have an obsession with cheesecake bars. From the very first one I made many years ago, this Chocolate Chip Cheesecake Bar…to this Snickerdoodle version that went viral immediately!
Don't even ask me to choose a favorite, because I don't think I could do it. Each flavor is unique and special, and serves a purpose depending on your mood!
Feeling like you need chocolate? Say hello to these Chocolate Cheesecake Bars. The holidays will be here before you know it, make sure you have something special ready…maybe one of these Pumpkin Chocolate Chip Cheesecake Bars for Fall, or an Eggnog Cheesecake Bar for Christmas. Seriously, there is so much to love, and so many flavor possibilities!
Lemon, Pecan Pie, Cherry Chocolate Chip, Oatmeal Raisin, and Peanut Butter…which will YOU choose?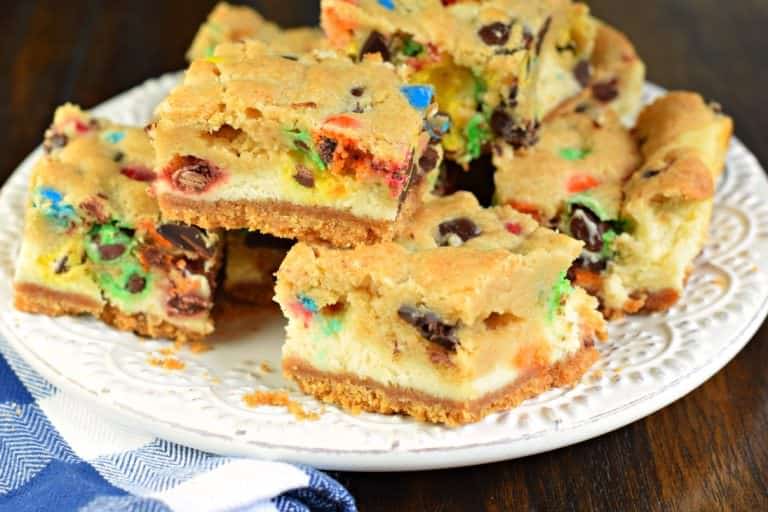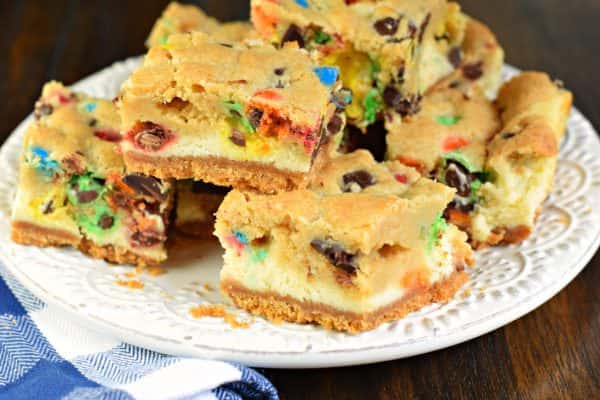 A few tips about making these M&M Cheesecake Bars:
Do NOT use store bought graham cracker crumbs. Blech. No. Use a food processor and make your own crust. You'll thank me. It's so much better. There is just an off taste with those pre-made graham cracker crumbs.
Line your baking dish with parchment paper (or foil). It makes cutting these bars so much easier. After chilling, you just lift the entire dessert out of the pan and onto a large cutting board. Cut into desired sized bars. Speaking of which, these are very rich….so while in my photos I made big bars, I actually cut those in half for serving!
Don't be scared when you remove these from the oven and they are a big jiggly. That's just the cheesecake layer. If your oven is working properly, these will take about 30-35 minutes (they will be nicely browned like a cookie should be)! Cool completely on the counter.
Finally…REFRIGERATE. You want to chill these bars completely. I recommend overnight, but if you can't wait that long, at least 4 hours. There is nothing worse than biting into warm cheesecake. These bars are worth the wait!
Okay, now finally, use your favorite flavor M&M'S for a fun treat. I used the original milk chocolate…but peanut would be great, or mint, or the new caramel would be yummy too! ENJOY!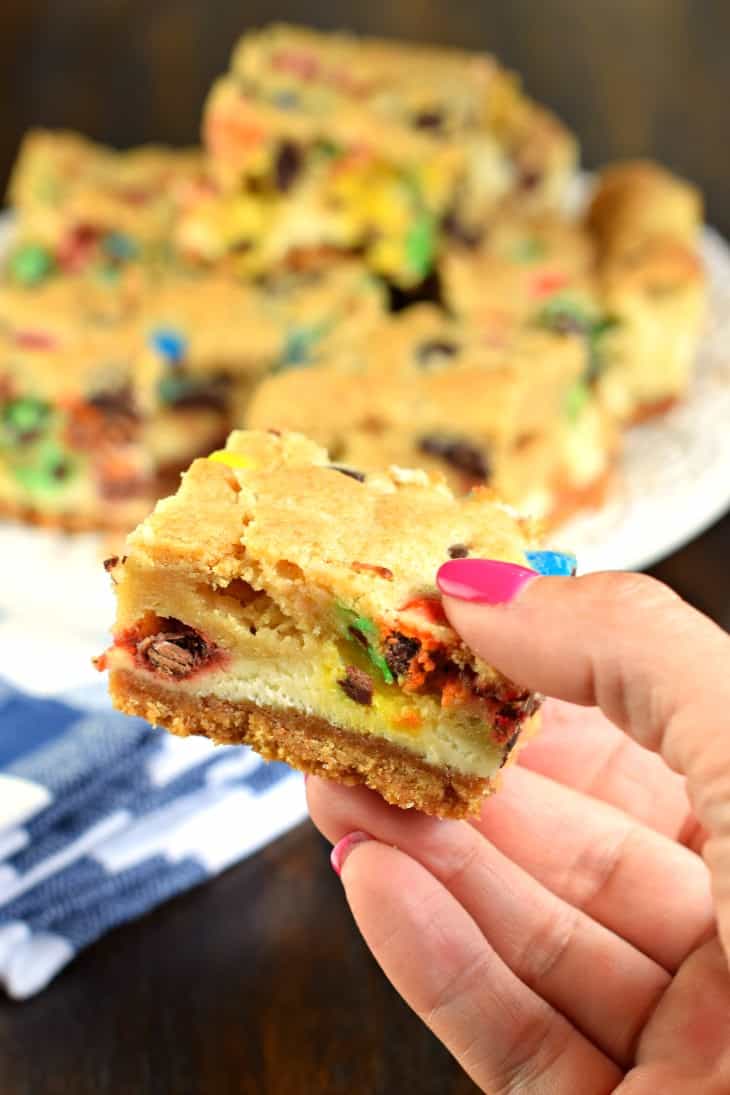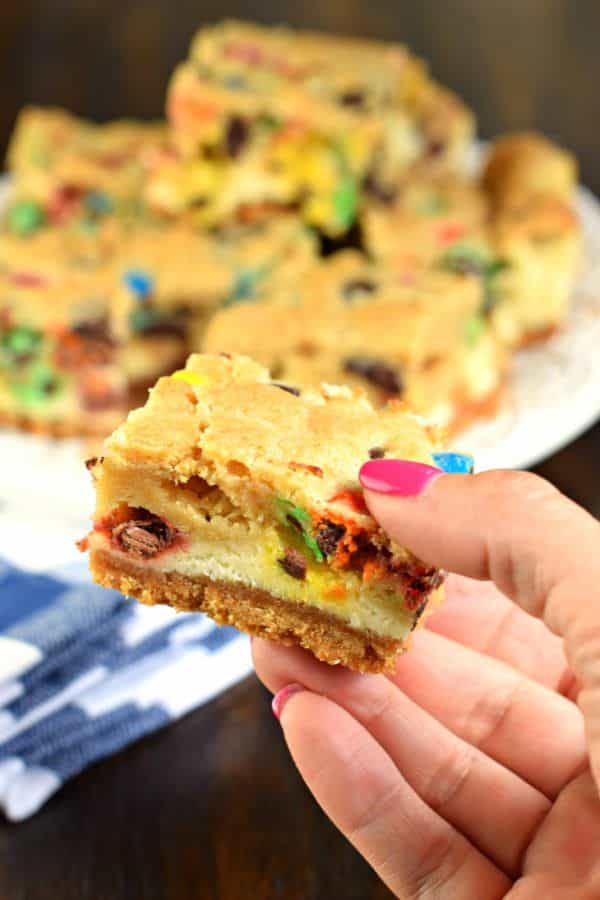 I created a fun little group on facebook and I'd love for you to join in! It's a place where you can share YOUR favorite recipes, ask questions, and see what's new with Shugary Sweets (so that you never miss a new recipe)! If you'd like to check it out, you can request to join HERE.
Connect with Shugary Sweets! Be sure to follow me on my social media, so you never miss a post!
Facebook | Twitter | Pinterest | instagram
Yield: 24 large bars
M&M Cheesecake Bars
Total Time
5 hours
5 minutes
These M&M Cheesecake Bars have a sweet graham cracker crust, creamy cheesecake filling, and a chocolate chip cookie dough packed with M&M's on top!
Ingredients
FOR THE CRUST:
2 1/2 cups graham cracker crumbs (about 18 full size grahams)
1/4 cup granulated sugar
1/2 cup unsalted butter, melted
FOR THE CHEESECAKE FILLING:
2 pkg (8 oz each) cream cheese, softened
3/4 cup granulated sugar
2 large eggs
1 teaspoon vanilla extract
FOR THE COOKIE DOUGH:
3/4 cup unsalted butter, softened
1/2 cup granulated sugar
3/4 cup light brown sugar, packed
1 large egg
2 Tablespoon milk
1 teaspoon vanilla extract
1 3/4 cup all-purpose flour
1/2 teaspoon kosher salt
1 teaspoon baking soda
1 cup milk chocolate morsels
1 1/2 cups M&M'S (I used milk chocolate, but any flavor would be delicious)
Instructions
Line a 13x9 baking dish with parchment paper, set aside.
In a food processor, pulse graham crackers with sugar until fine crumbs. Drizzle in melted butter and pulse until combined.
Pour graham crumbs into bottom of baking dish. Using palm of your hand (or bottom of a cup) press crumbs firmly until they are combined (and slightly hardened) in bottom of pan.
For the cheesecake filling, beat cream cheese with sugar eggs and vanilla using the whisk attachment of an electric mixer. Beat until fluffy and smooth, about 3-5 minutes. Pour over graham crust.
For the cookie dough, beat butter with sugars for 2 minutes, until combined. Add milk, egg and vanilla. Beat until mixed. Add in flour, salt and baking soda and mix until fully combined. Fold in chocolate chips and M&M'S. Drop by large scoop onto top of cheesecake layer. Try to use your fingertips to spread gently until cheesecake is covered completely.
Bake in a 350 degree oven for 30-35 minutes. Remove and cool completely. Once cooled, cover with plastic wrap and refrigerate for 4 hours or overnight. Cut into squares and enjoy!!


See the recipe M&M Cheesecake Bars on YouTube