Chocolate Cake with Chocolate Buttercream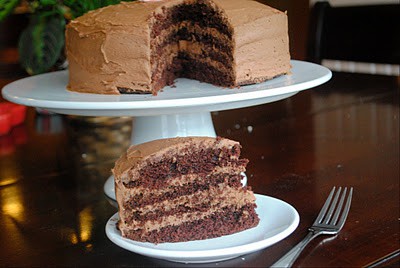 Happy National Chocolate Cake Day. I love this holiday. Okay, I actually didn't know it was a real holiday until after I baked the cake. But, I say, go make one yourself. Put your feet up and eat cake.
It's a holiday people!!!
I made this cake for my daughter's birthday party. I love the richness of the chocolate cake with the deep chocolate flavor of the buttercream frosting. Man, I wish I had some left. I guess since it's National Chocolate Cake Day I should go bake another one. Right?
Chocolate Cake with Chocolate Frosting
Ingredients
For the Cake:
1/2 cup butter, softened
1 1/2 cup granulated sugar
2 eggs
1 1/2 cup flour
1/2 cup unsweetened cocoa powder
1/2 tsp kosher salt
1 tsp baking soda
1/2 tsp baking powder
1/2 cup brewed coffee, cooled
1/2 cup milk
For the Frosting:
1 cup butter, softened
3 1/2 cup powdered sugar
1/2 cup unsweetened cocoa powder
1 tsp almond extract
1/2 cup heavy cream
Instructions
In a bowl, mix flour, cocoa, salt, baking soda and baking powder. Set aside.
In a measuring cup, mix together cooled coffee and milk. Set aside.
In mixer, beat butter and sugar for 5 minutes, until smooth. Beat in eggs one at a time. Slowly add in dry ingredients alternating with the coffee/milk mixture (about 3 additions of each).
Pour cake batter into two prepared pans (2-9inch round cake pans, lined with parchment paper and greased and floured). Bake in a 350 degree oven for about 25 minutes. Remove and allow to cool about 10 minutes before removing from pans. Cool completely before frosting.
For the Frosting: In mixing bowl, beat butter, powdered sugar, cocoa, extract and heavy cream for several minutes until desired consistency.
Frost cake and enjoy!