If you're looking for the most amazing Chocolate Cake with Chocolate Buttercream Frosting, look no further. This from scratch recipe is perfect. Rich and fudgy and easy to make!
Creating cakes from scratch is easy and delicious. Try my Coconut Cake for a sweet white cake twist, or give this classic Yellow Birthday Cake a try for your next birthday!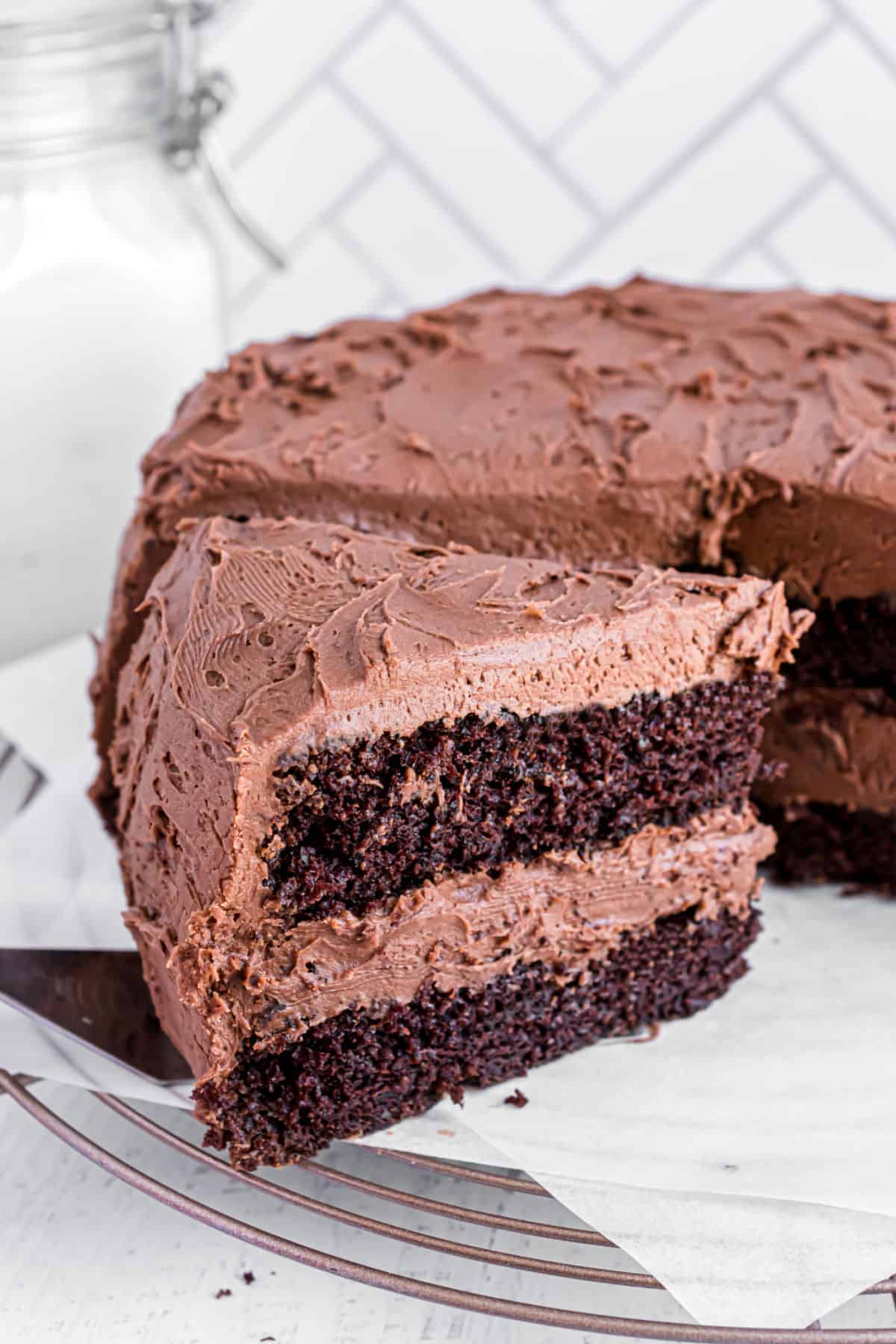 Devil's Food Cake from scratch
Do you ever just get a craving for chocolate cake and chocolate frosting? I do, like all the time! (sure I love a good Lemon Cake, but chocolate is always in need).
Buying cake mixes, like Devil's food cake mix, is cheap and convenient, but until you try making one from scratch, you'll never understand the taste difference!
Today's recipe is going to be the best chocolate cake you've ever tasted!
Why this Recipe Works
There's no doubt this cake is phenomenal. Here's why:
Super moist (don't be hating on that word)!
A soft crumb that is firm enough to layer and frost.
Easy to make and follow recipe directions
No fancy decorating skills required.
Covered in the creamiest chocolate buttercream frosting!
Ingredient Notes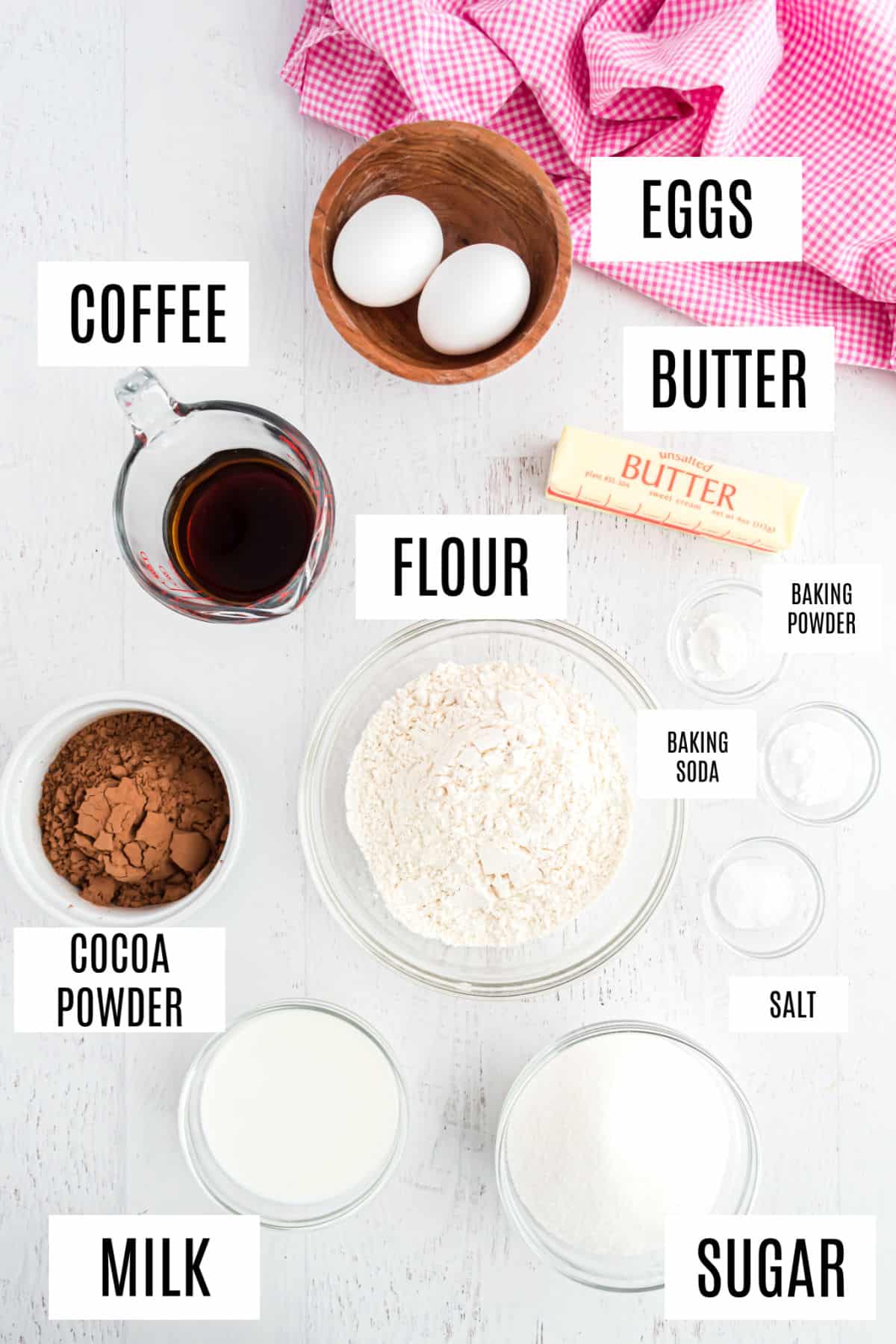 What I love about this cake is the simplicity to make. Most of these ingredients I have on hand in my kitchen at all times!
Chocolate- you'll notice today's recipe uses unsweetened cocoa powder. Do not use a dutch processed cocoa.
Brewed coffee- the hot coffee enances the chocolate flavor while adding moisture to the cake, without giving it a coffee flavor. Use water if you need to substitute.
Milk- using whole milk or make our buttermilk substitute to give this cake a rich flavor and soft crumb.
All-Purpose Flour- unlike my white cake recipe, today's recipe needs the all-purpose flour which gives the cake more structure with the cocoa powder. Make sure to learn how to measure flour correctly!
Butter- I always use unsalted butter in my baking, because brands vary with the amount of salt in their sticks of butter. If you must use salted butter, omit the extra kosher salt from the cake batter.
Easy Instructions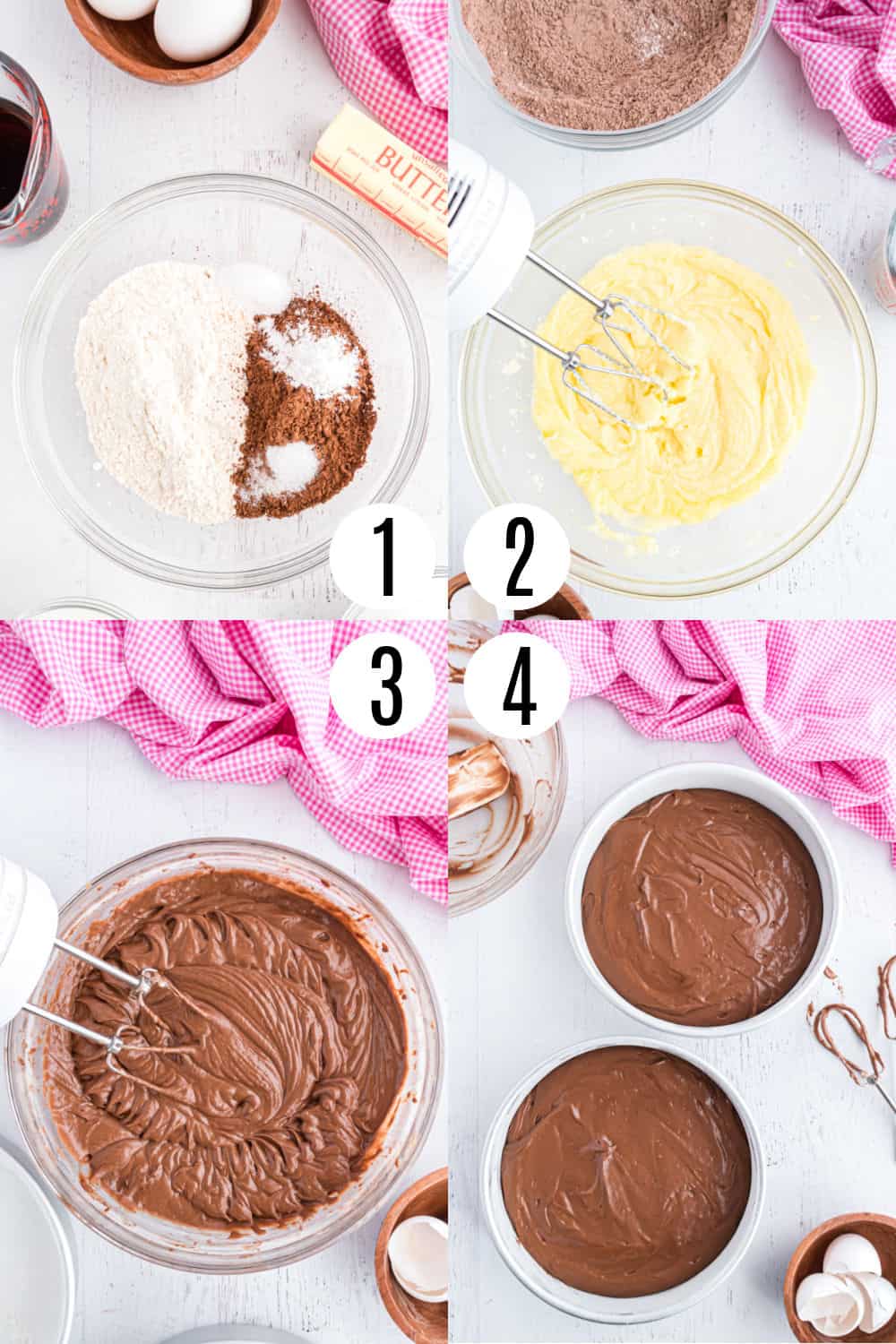 Combine Dry Ingredients- Combine the flour, cocoa powder, salt, baking soda and baking powder in a small bowl. Set aside.
Combine Milk and Coffee- in a measuring cup, combine the brewed coffee with milk, and set aside.
Make the cake batter- In a mixer, beat butter and sugar for 5 minutes. Beat in eggs. Alternate additions of dry ingredients with the coffee mixture, beating after each addition. I usually do 3 additions.
Bake Cakes- Pour cake batter into greased and floured 9- inch cake pans (or use my homemade cake release). Bake for about 25 minutes. Remove and cool for ten minutes IN the pan, then cool completely on a parchment paper lined wire rack (this keeps the cake from sticking).
Frost the Cake- Make my homemade chocolate buttercream frosting and spread evenly over the cakes.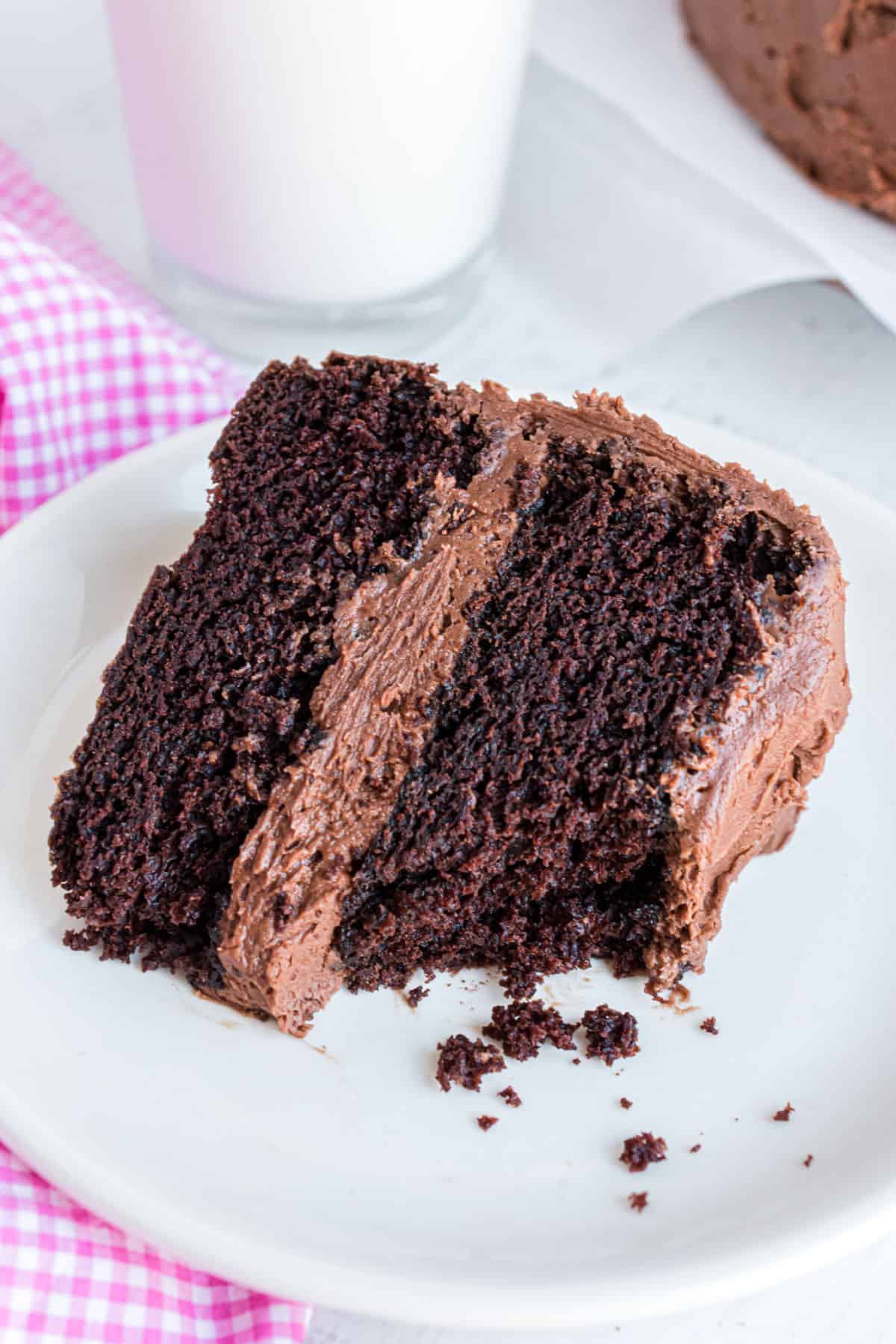 Tips and Tricks
Grease and flour your pans so your cake is easy to remove. You can use shortening and flour or a baking spray for this. Distribute grease evenly throughout the bottom and sides of the pan. If using a spray, spray liberally. Add another layer of flour to ensure extra protection between the cake and the pan. Just grab a spoonful of flour and dust it gently over the pan. Then line your pans with parchment paper.
Use Wilton Bake Even Strips for even baking. These strips help your cake bake evenly with no crowns or cracked tops. They're great to use for layer cake recipes.
Swap out coffee for an equal amount of hot water if you prefer. The coffee doesn't change the flavor, it just enhances the chocolate flavor.
Top this tasty cake with a Cream Cheese frosting for a tangy twist!
Need cupcakes? Try our delicious Chocolate Cupcakes recipe! Try our Chocolate Bundt Cake if you're craving a sweet bundt recipe.
Got leftovers? Toss a slice of cake into your milkshake and make a delicious Cake Shake!
13×9- Make this tasty cake in a 13×9 pan instead using our easy chocolate cake recipe!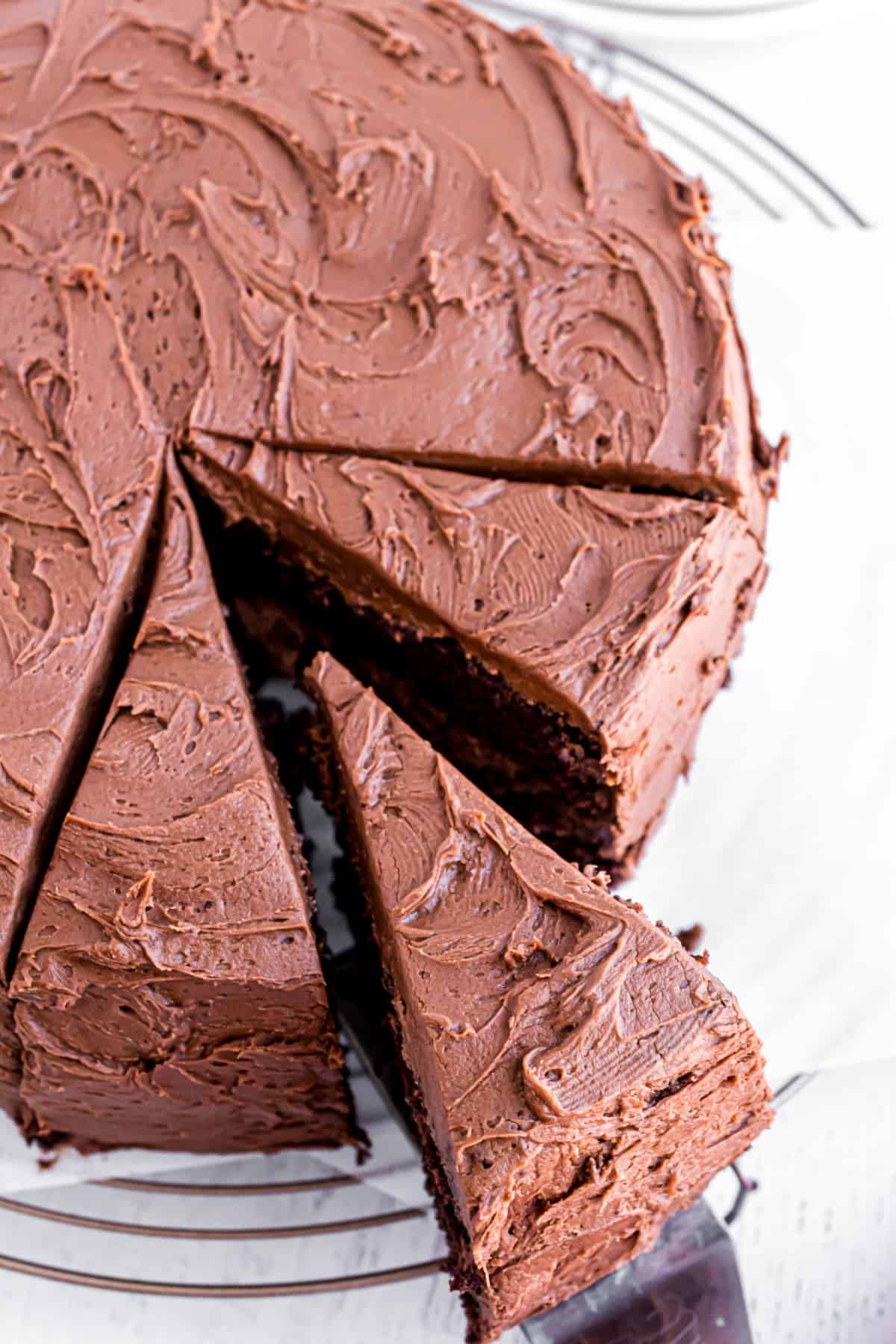 Recipe FAQs
How do you store Chocolate Cake?
Store this chocolate cake in an airtight container at room temperature for up to 5 days for best taste. If there's still cake left after 5 days, you can freeze it!
Can I freeze Chocolate Cake?
Make the chocolate cake as directed and enjoy a slice. Then you can freeze the rest of the cake by wrapping each slice in parchment paper and sliding into a freezer bag. You can freeze chocolate frosted cake for up to three months. When you get another hankering for some chocolate cake, thaw it at room temperature and enjoy!
How do I get a moist and fluffy chocolate cake?
Cream butter and sugar together to trap the air, which expands during baking creating a fluffy cake!
Why is it called devil's food cake?
The term devil's food cake apparently gets it's term from the reddish color that occurs when combining the baking soda with baking powder with the unsweetened cocoa powder!
Why did my cake sink in the middle?
Assuming your cake was checked for doneness, it's normal for chocolate cake to sink slightly in the middle. Cocoa powder is not structurally strong enough to hold up the amount of moisture in this cake. Adding more flour would create a dense cake. It's okay for some sinkage while it cools!
Perfect Chocolate Cake with Chocolate Buttercream Frosting recipe. You'll love this decadent, from scratch cake.