Chocolate Cake with Mint Chocolate Chip Frosting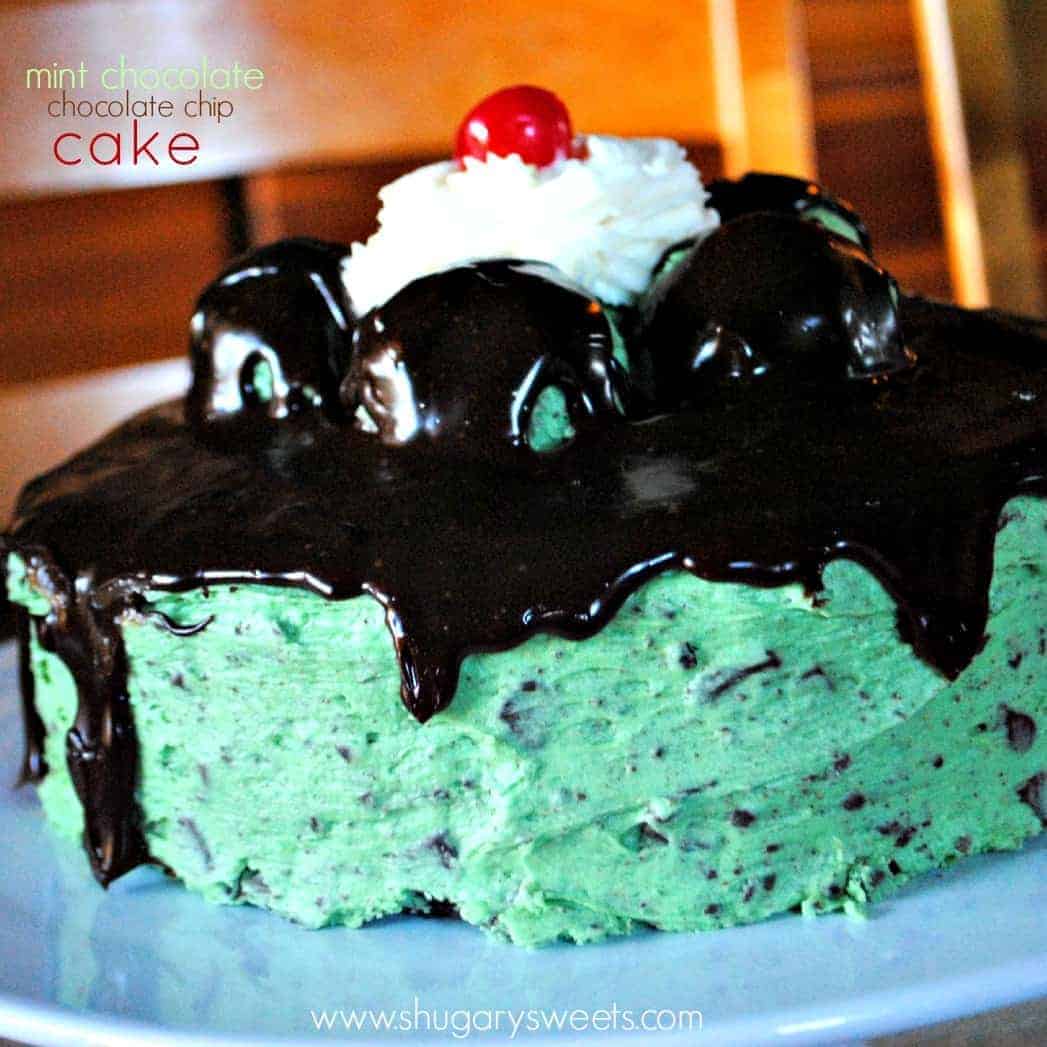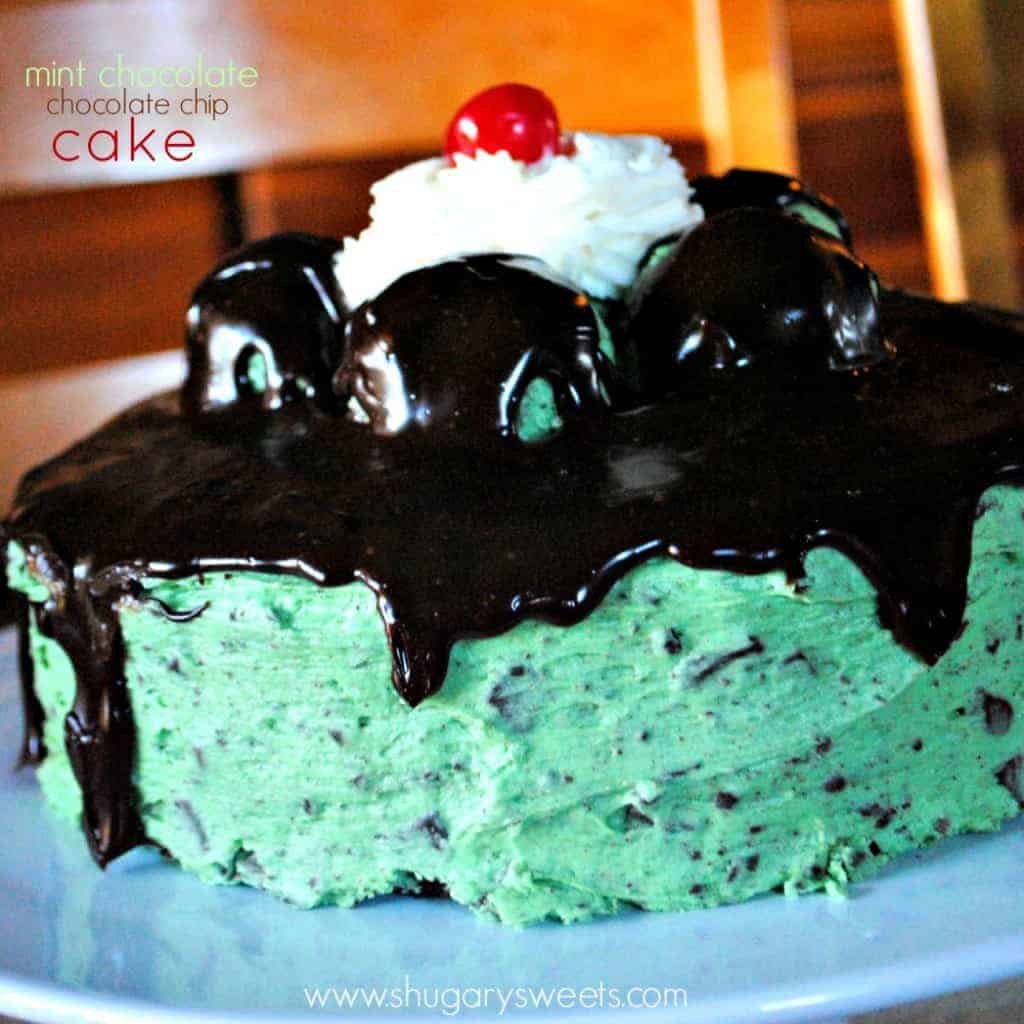 This may have been one of the very best chocolate cakes I have ever eaten. I may, or may not, have eaten nearly a fourth of this cake on my own.
Last week my son, Alex, celebrated his 15th birthday. And while many of you on facebook said I don't look old enough, well, you're right.
However, fact remains, my baby boy will be driving by this time next year, and it scares the wits out of me (and it should scare the rest of you on the road too)! Of all four of my kids, this childbirth is the one I recollect to the minute detail. Don't worry, I won't bore you all with those details, it was just a thought I had. You would think I would remember the details about the baby who is only 7, however, every year I need to look up in her baby book to find her birth time. I know. Crazy.
For Alex's birthday he chose to have PF Chang's for dinner. Which was actually a relief since his birthday was the day before Thanksgiving and I was in no mood to cook dinner.
However, I had fun surprising him with this cake. His favorite ice cream is mint chocolate chip.
*this cake was made with NO ice cream.


The frosting on this cake tasted like melted mint chocolate chip ice cream, it was so fantastic. And I think two thumbs up means he approved! Happy Birthday ALEX!!!
Chocolate Cake with Mint Chip Frosting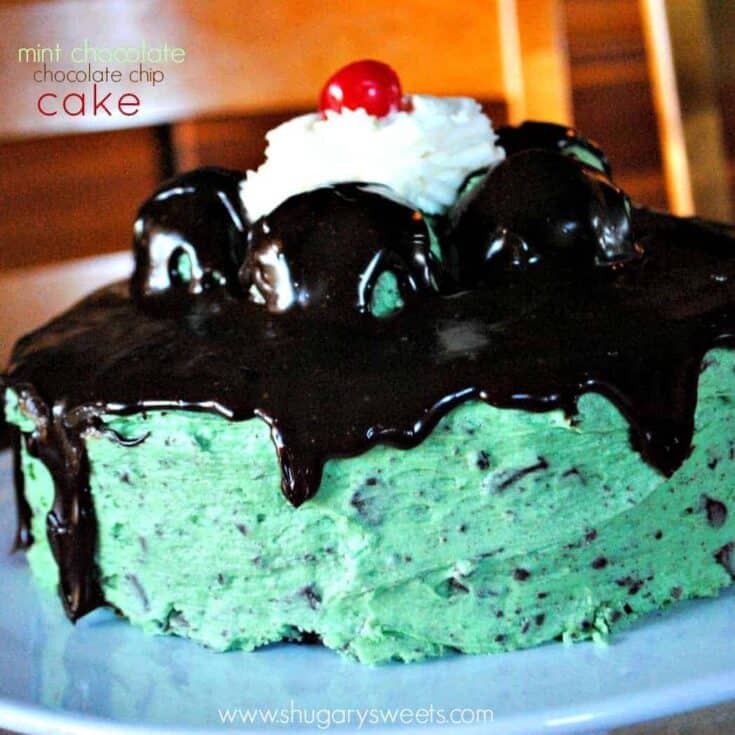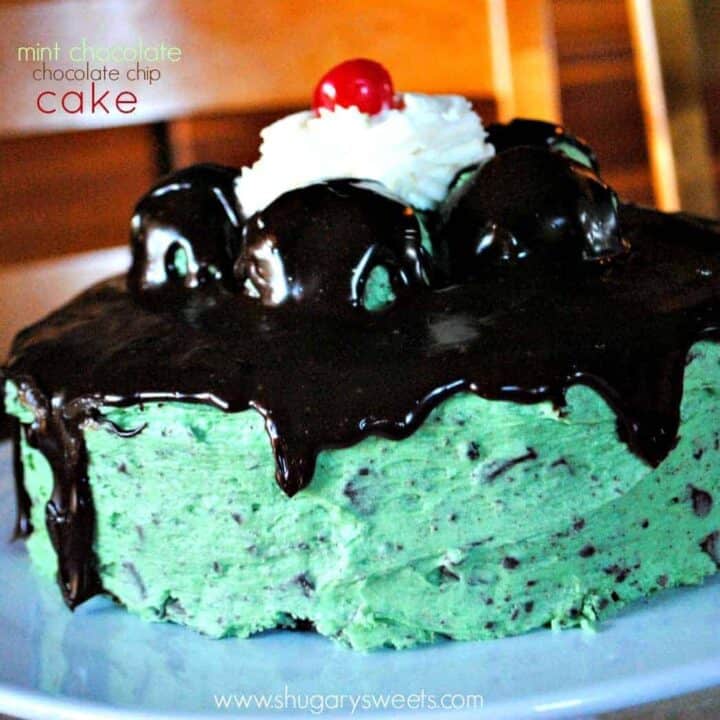 Ingredients
FOR THE CAKE:
1/2 cup butter, softened
1 1/2 cup sugar
2 eggs
1 1/2 cup flour
9 Tbsp unsweetened cocoa powder
1/2 tsp salt
1 tsp baking soda
1/2 tsp baking powder
1/2 cup brewed coffee, cooled
1/2 cup milk
FOR THE FROSTING:
1 cup butter, softened
8 cup powdered sugar
1/2 tsp peppermint extract
1/2 cup milk plus 2 Tbsp
11 oz dark chocolate chunks (62%cacao)
1/8 tsp green food coloring gel
1 maraschino cherry
FOR THE GANACHE:
3/4 cup heavy cream
1 1/2 cup semisweet chocolate morsels
1/4 tsp peppermint extract
Instructions
In medium bowl, sift cocoa with flour, salt, baking soda and baking powder. Set aside.
In measuring cup, mix coffee and milk together. Set aside.
In mixer, beat butter and sugar for about 5 minutes until smooth. Beat in eggs one at a time. Slowly add in dry ingredients alternating with the coffee/milk blend (I do about 3 additions of each).
Pour cake batter into two prepared pans (two 9inch cake pans lined with parchment paper and then greased and floured). Bake in a 350 degree oven for about 25 minutes. Remove and allow to cool about 10 minutes before removing from pans. Cool completely before frosting.
For frosting, in food processor, pulse dark chocolate until small bits (not powder)! Set aside.
In mixer, beat butter, powdered sugar and milk for 3-5 minutes, until smooth and creamy. Remove one or scoops of frosting, to look like the whipped cream on the cake. Add in extract and food coloring gel to remaining frosting. Mix until fully blended. Add more milk if necessary to desired consistency. Fold in chopped dark chocolate.
Frost first layer of cake, then top it with second layer. Completely frost sides and top of cake. With remaining green frosting, scoop several scoops on top of cake to look like ice cream.
With the reserved white frosting, place in ziploc bag and cut of corner. Pipe onto top of cake to resemble whipped cream.
For the ganache, heat 3/4 cup heavy cream in saucepan. Bring just to a boil and remove from heat. In food processor, pour chocolate chips and slowly add in hot cream and extract. Process chocolate and cream for about 2-3 minutes until completely combined. Pour over chocolate cake and top with a cherry. Enjoy!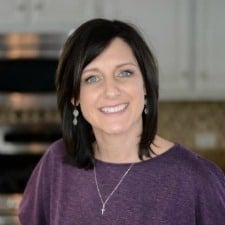 Aimee is a dessert lover (specifically rice krispie treats), workout enthusiast, self-taught foodie, and recipe creator. Her recipes have been featured in over 15 magazines, and her passion is to share her love of cooking with the everyday home cook! Learn more about Aimee.