Watergate Bundt Cake is nutty and moist thanks to pistachio pudding and pecans. Topped with a sweet, light whipped cream topping and coconut, this pistachio bundt cake has it ALL!
If you love pistachio, try our soft and chewy pistachio cookies. Loaded with white chocolate chips and pistachio pudding, they have great flavor and a perfect texture.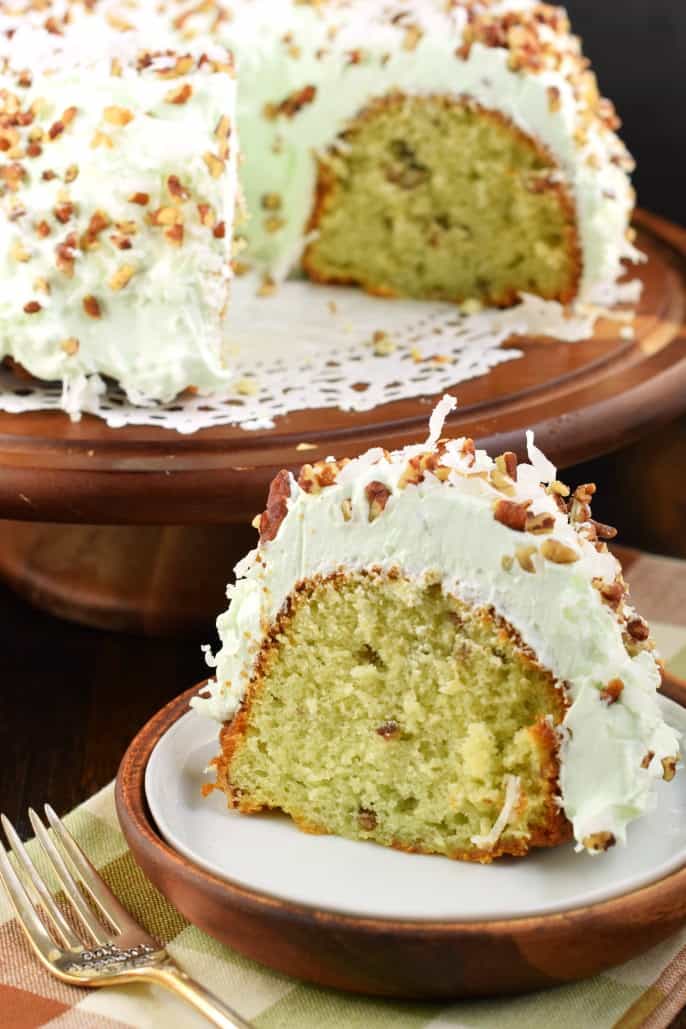 Why this Cake is Best
If you've never had a Watergate Cake you are truly missing out! It's a vintage classic and one of the most popular recipes on my site, for a good reason.
This beautiful cake covered in nuts and coconut with a creamy whipped frosting is a classic. Today, I'm showing you how to make it in bundt cake form!
I remember the first time I tasted this kind of pistachio cake many years ago. It looked weird, all green and covered in nuts, I seriously thought "this is an old person type of cake."
One bite in and I realized I was wrong. Well, maybe I was right and it IS an old person type of cake. But it's a DELICIOUS old person cake!
All the flavors
The moist cake made with pistachio pudding is incredible. The light "frosting" made with Cool Whip or homemade whipped cream is the perfect finish to the nutty dessert.
Of course, I love adding the chopped pecans and coconut flakes to the top of the cake for that extra delicious crunch!
By using a boxed cake mix and instant pudding mix, you cut down on time and effort without sacrificing flavor.
I've used this recipe to make a layer cake, cupcakes, Watergate Sheet cake and now a Watergate Bundt Cake!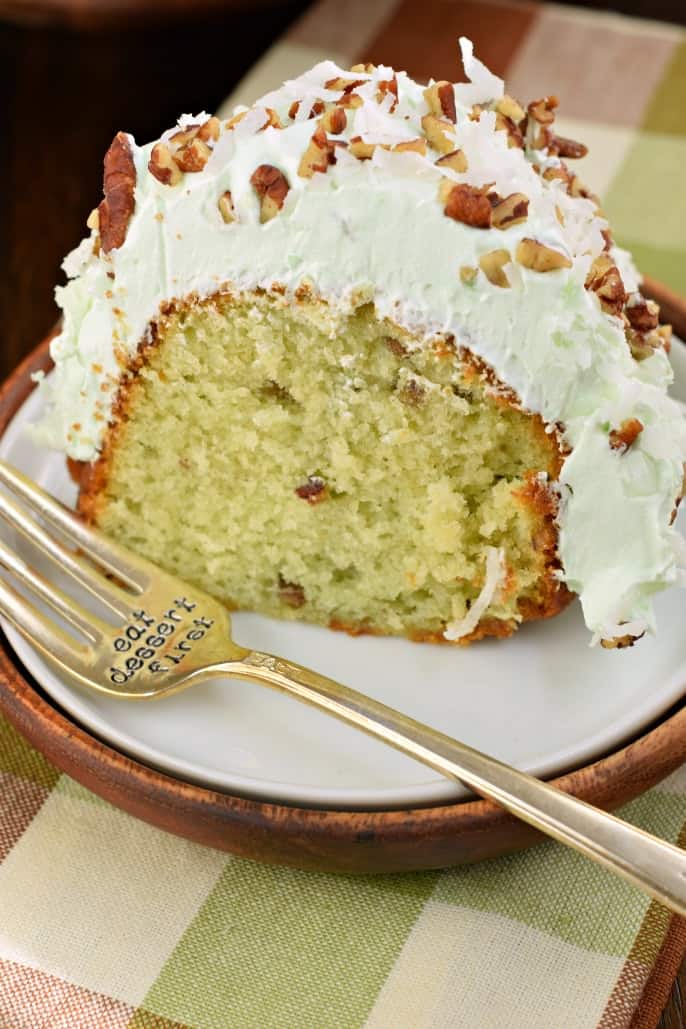 Pistachio Bundt Cake
This may be my favorite way to make this cake now! Although, that may be my midwestern girl bias.
I love the shape and the way the frosting wraps around each slice of a bundt cake. And I LOVE that they're easy to make look pretty.
A bundt already looks appealing unfrosted. Then, you can either drizzle an easy glaze over it or, in this case, spread a layer of frosting on it to make a nice looking dessert.
No frosting bags to deal with or delicate piping.
Some of my favorite bundt cakes include this Cherry 7-UP Pound Cake, with it's sweet glaze on top! I also love this Lemon Zucchini Bundt Cake. I'm happy to add Watergate Bundt Cake to the list of new favorites!
Ingredients Needed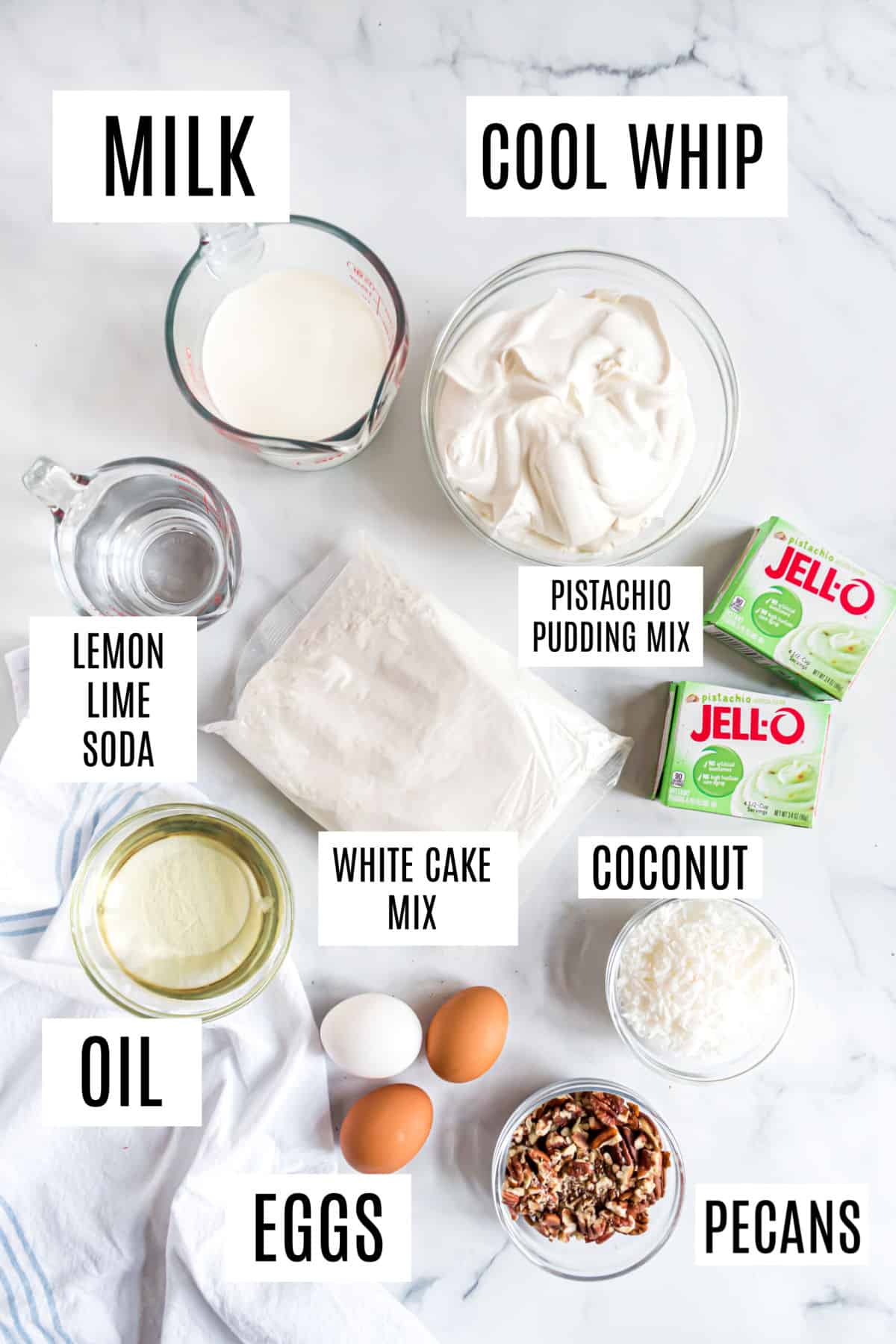 To make this bundt version of Watergate cake, you need:
White cake mix
Instant pistachio pudding mix
Canola oil
Eggs
Spite – Or another lemon-lime flavored soda like Sierra Mist or 7UP.
Chopped pecans
For the topping:
Need a good bundt pan? I love this pan, never fails on me when I flip my cake out!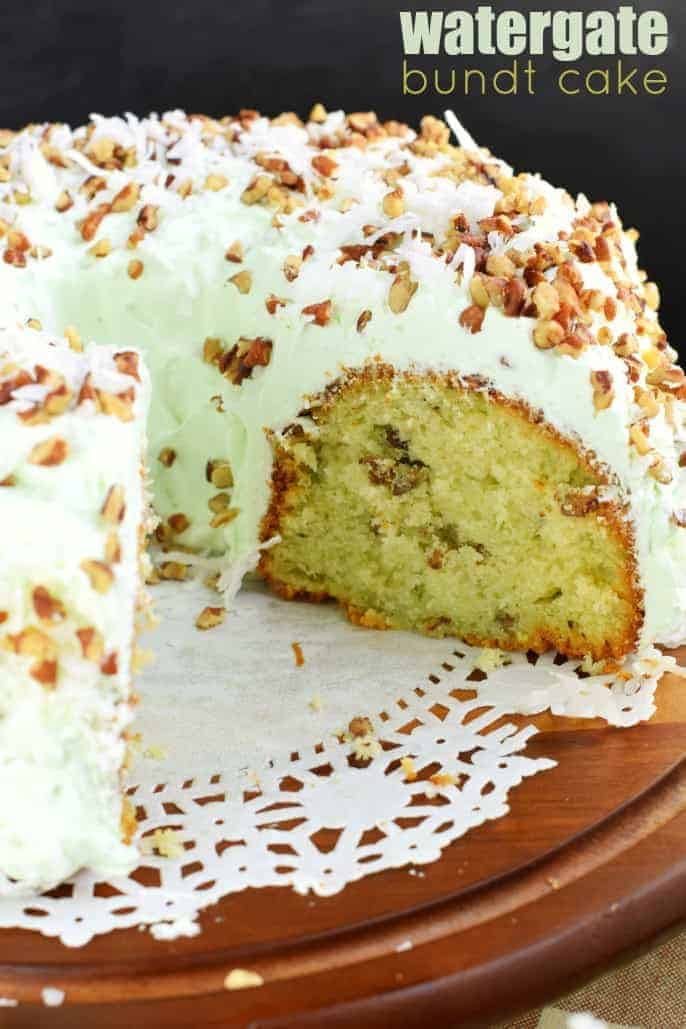 How to Make Pistachio Cake
STEP 1. Preheat oven to 350°F. Spray a 12 cup bundt pan with baking spray, set aside.
STEP 2. In a large mixing bowl, beat cake mix, oil, pudding, eggs and lemon lime soda on medium spead until well blended (about 3 minutes). Fold in pecans.
STEP 3. Pour batter into bundt cake pan. Bake for 45 minutes, until edges are lightly browned. Remove from oven and cool in pan about 5 minutes. Flip onto a wire rack and cool completely.
To make the pistachio frosting: Whisk the milk and pudding mix together. Refrigerate for about 5 minutes. When ready to frost cake, fold the Cool Whip into the pudding mixture.
Spread generously over the cake. Using your hand, press the pecans and coconut to the sides of the cake. ENJOY!
Tips and Tricks
How to store: Because of the frosting, you need to keep this cake in the fridge. Store covered in the refrigerator for up to 3 days. A slice of this bundt cake tastes wonderful served cold!
Removing cake from pan: If your bundt cakes tend to break, crumble or get stuck when you try to remove them from the pan, you may be leaving it in the pan too long. After taking the cake out of the oven, let it rest in the pan for only 5 minutes! Tap the bottom of the pan gently with a knife to help loosen the cake.
Can you freeze this cake? Yes, you can freeze this cake before you frost it! After baking the bundt, remove it from the pan and wrap in foil twice to freeze. When ready to eat, let the cake thaw at room temperature then frost with the cool whip topping, pecans and coconuts.
Even my friends who aren't nuts about pistachio–if you can forgive the pun–enjoy this Watergate Bundt Cake. Give this pistachio bundt cake recipe a try for a green twist on dessert!