An angel food cake dessert worthy of its name. Heaven on Earth Cake brings angel food cake together with sweet cherries and creamy vanilla pudding to create a summer dessert that's out-of-this-world delicious!
Love light and delicious desserts? Our Pudding Cake might be right up your alley! We even have a sweet lemon pudding cake recipe our readers love too.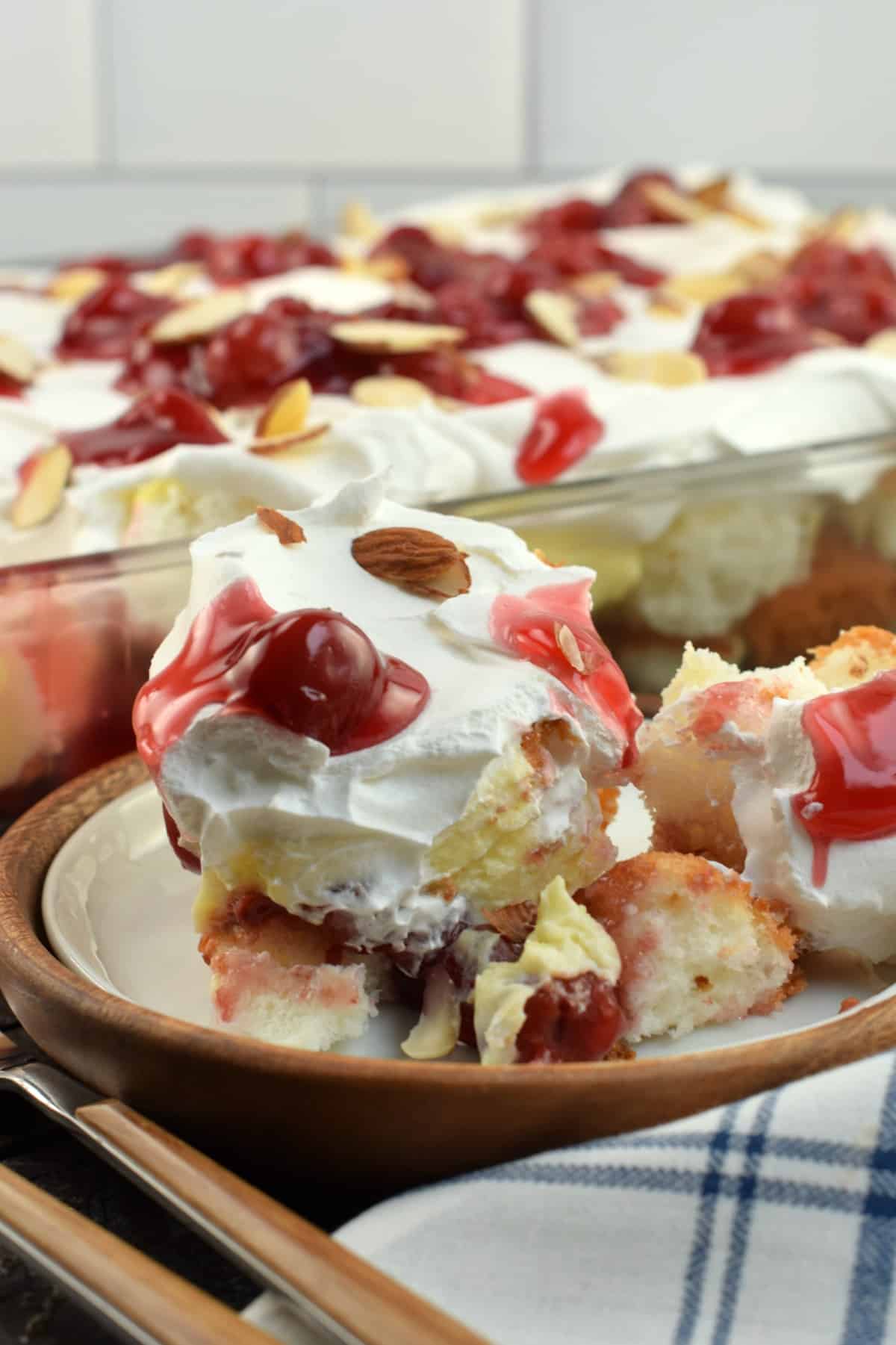 What is Heaven on Earth Cake?
Have you tried my Angel Food Cake recipe, yet? After making that cake a couple of weeks ago, I couldn't resist taking it a step further for this angel food cake dessert.
Once you taste it, you'll understand why I call it "Heaven on Earth" cake! This cold dessert is part cherry pie, part cake, part pudding and completely irresistible.
This angel food cake dessert uses cubes of ready made angel food cake, layered in a pan with a vanilla pudding cream, cherry pie filling and cool whip. It resembles a bread pudding but without any baking required!
The light sponge of the cake soaks up the vanilla and cherry flavors, along with the rich sweet cream. Served cold, this was absolute perfection on a hot summer night!
Make this for a family graduation party, your next BBQ or "just because." It's so easy and, if you buy the angel food cake from the store, you don't even have to turn on your oven.
How to make Heaven on Earth Cake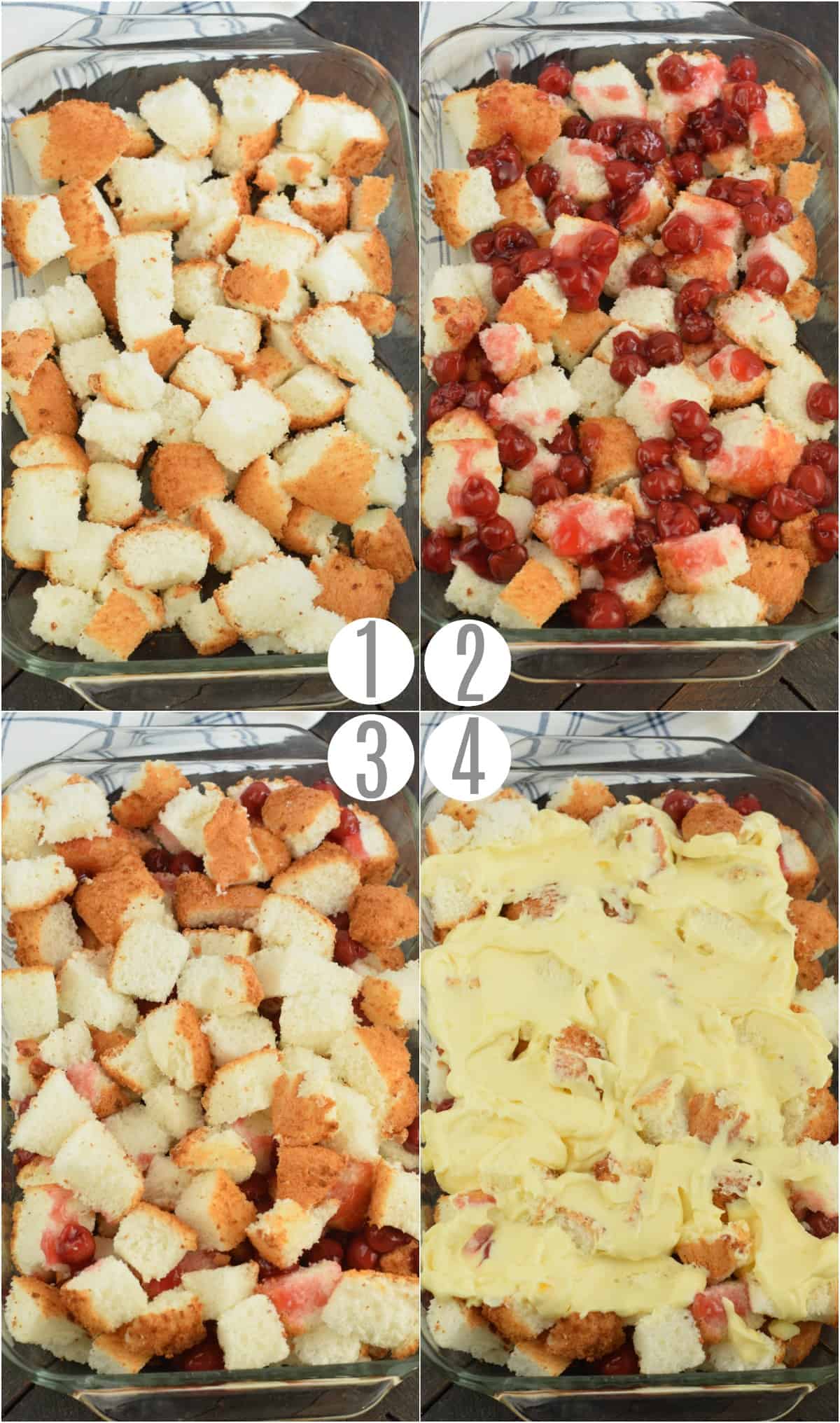 This divine dessert, starts with angel food and a can of cherry pie filling. You can make your angel food cake from scratch or pick up one from the bakery at your grocery store.
Cut the cake into cubes then place a layer of the cake pieces into the bottom of a cake pan.
Spoon some cherry pie filling on top, then repeat with the rest of the angel food cake cubes and pie filling.
Now make the pudding layer!
For this step, I wanted something a little thicker than your standard vanilla pudding that wouldn't take a lot of effort. So I used my trusty instant pudding mix, but added added sour cream along with the milk.
The sour cream adds the perfect tang to go along with all the sweetness in the cake!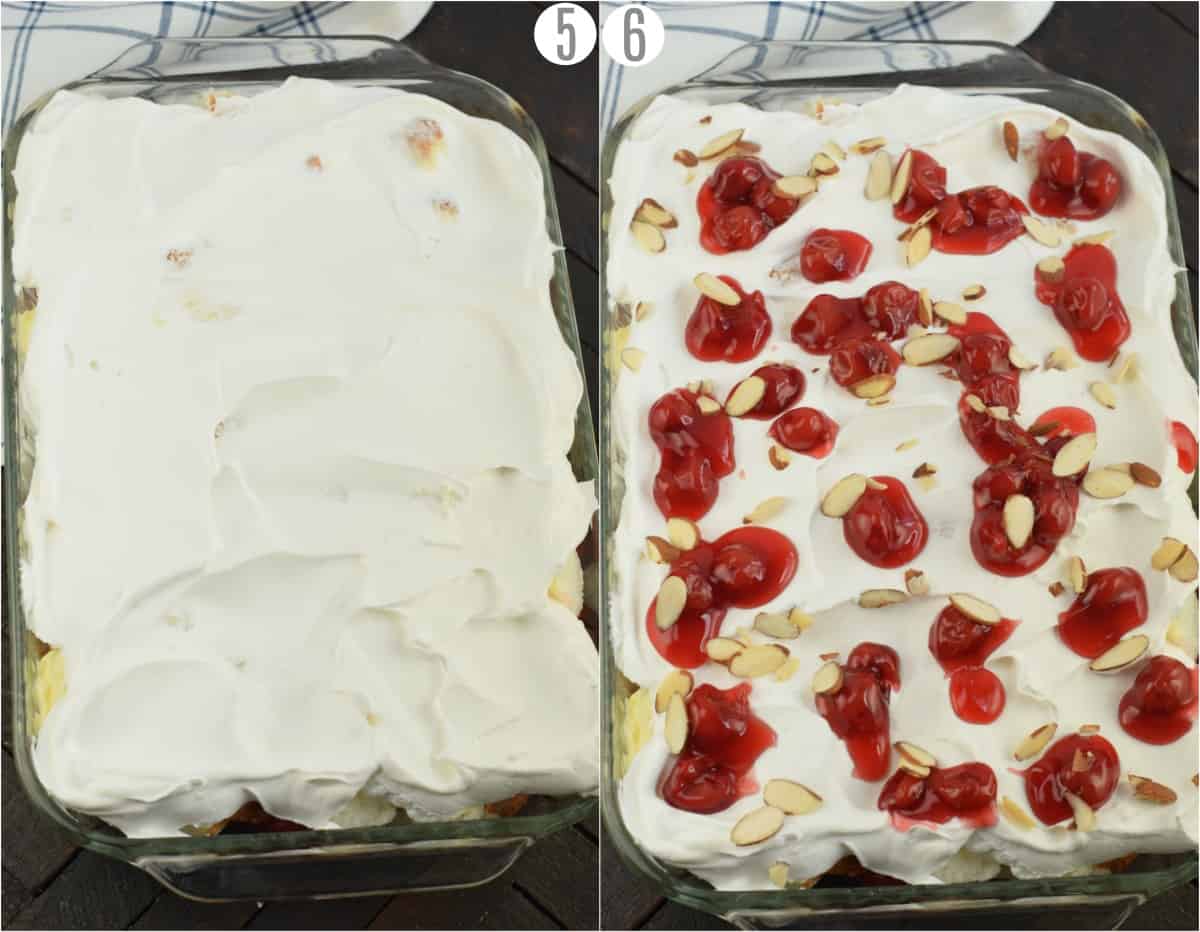 Spoon the creamy pudding on top of the entire cake. Finally, I topped everything with cool whip and an extra dollop of cherry pie filling.
Use all your self-control to resist diving into the cake right away and pop it in the fridge to chill for at least 4 hours.
Oh, I can't forget to mention the finishing touch: almonds!
I can never resist the combo of cherry and almond flavor together, so I also sprinkled slivered almonds on top of the cake before ladling it into bowls to serve.
Every mouthful of this angel food cake dessert contains light cake, creamy vanilla, sweet cherries and crunchy almonds.
SO easy. SO good.
Cherry Desserts: Cherry Almond Hand Pies | Cherry Almond Braid
How to serve the cake
With all the cool whip, cream and thick cherry filling, this cake needs to be scooped into bowls or on plates with a large serving spoon.
For an elegant and impressive take on your angel food cake dessert, arrange it in a trifle pan! It looks so pretty on the dessert table.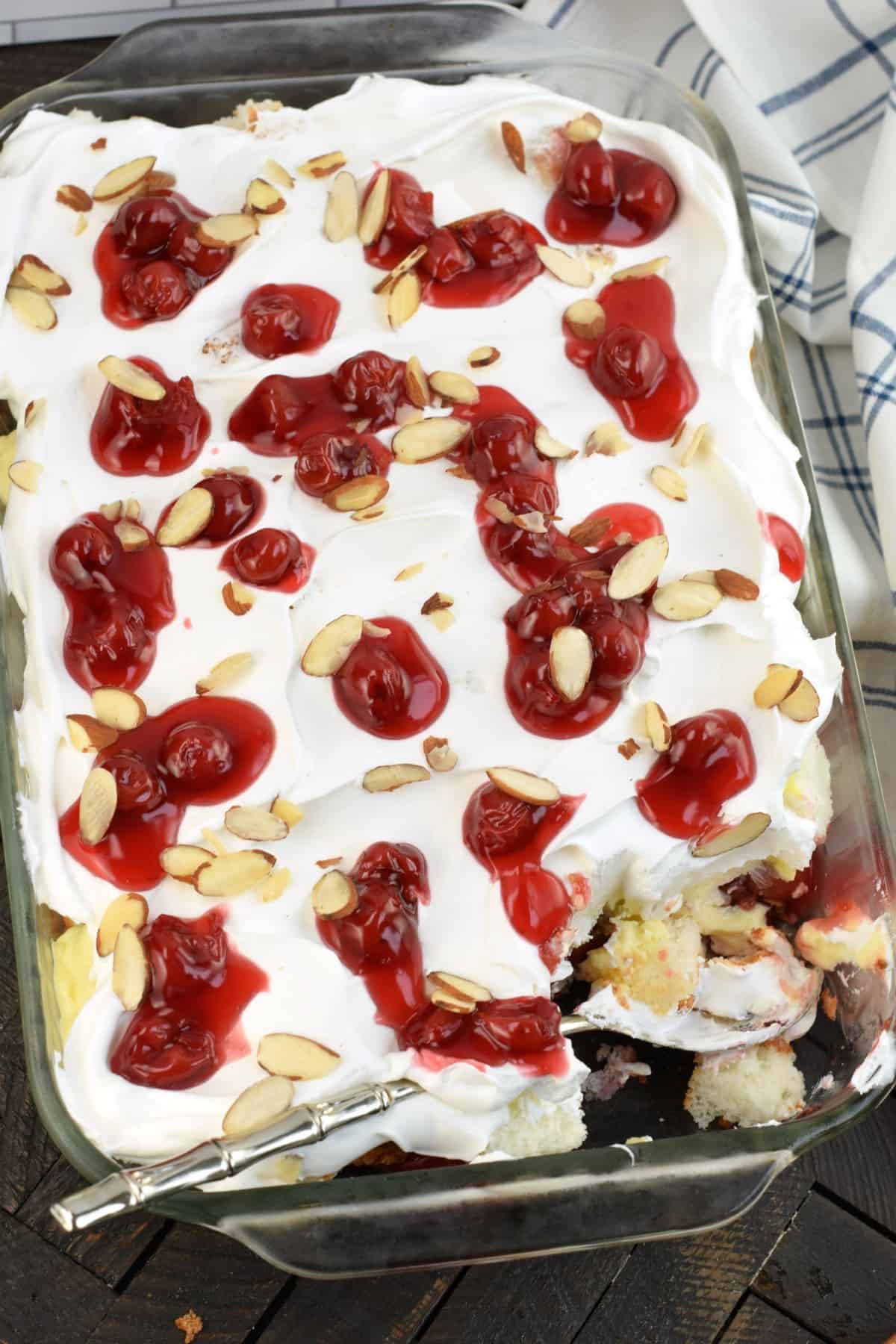 Variations
Not feeling the cherry almond thing today? You can easily turn this easy summertime dessert into a lemon lover's dream.
You all know I can't get enough lemon desserts this time of year, so I naturally had to test a citrus version of this recipe too.
To make a lemon angel food cake dessert, simply swap the almond extract in the filling with a teaspoon of fresh lemon juice! It tastes wonderful with the lemon pie filling, or you can make homemade lemon curd!
Other great pie fillings to try as a substitute for cherry:
Blueberry
Apple
Peach
Mixed berry
Strawberry
Homemade whipped cream also works well in this cake, if you don't have cool whip or prefer not to use it.
Can this be made in advance?
Yes! I like this cake best when it has had the chance to chill in the fridge. You can make it the night before and let it set in the refrigerator overnight.
Using ready made ingredients, this is one homemade dessert that everyone has time to make. Dress up your angel food cake for dessert tonight for a taste of "heaven on earth!"