Lemon Pudding Cake is flavorful, moist, and made with only 5 ingredients. From the first bite, you'll love this dense citrus cake recipe!
Click HERE to save recipe to Pinterest
Pudding cake has to be one of the most simple desserts there is! Well, unless you count tearing into a package of Oreos, that is. But if you want to bake something yourself that is simple and delicious, this lemon pudding cake is the recipe for you.
This lemon pudding cake only has five ingredients and is so easy to make. I'm betting you already have many of the ingredients in your pantry, too!
The taste and texture of this cake sure give Oreos a run for their money. I love the light, lemon flavor, especially during the sping and summer, when I tend to enjoy desserts that are less heavy.
If you aren't a fan of lemon, there are so many different options you can do with pudding cakes!
Remember this chocolate pudding cake and this butterscotch pudding cake? Yep, they're both pudding cakes. You really can do your combination of favorite flavors in with pudding cakes. Yum!
This lemon pudding cake is perfect when you want something cold and refreshing for dessert and it's so easy! No measuring out sugar, flour, and other ingredients. It's all in the cake mix and pudding mix.
This lemon pudding cake is best served cold. Some pudding cake recipes are served as a warm pudding cake, which is more like a lava cake. But I like the cold and refreshing change that this cake provides.
Pudding cakes are much more dense and moist compared to a regular cake, so don't be shocked if it's not the type of cake you are used to! Enjoy!
How to Make Lemon Pudding Cake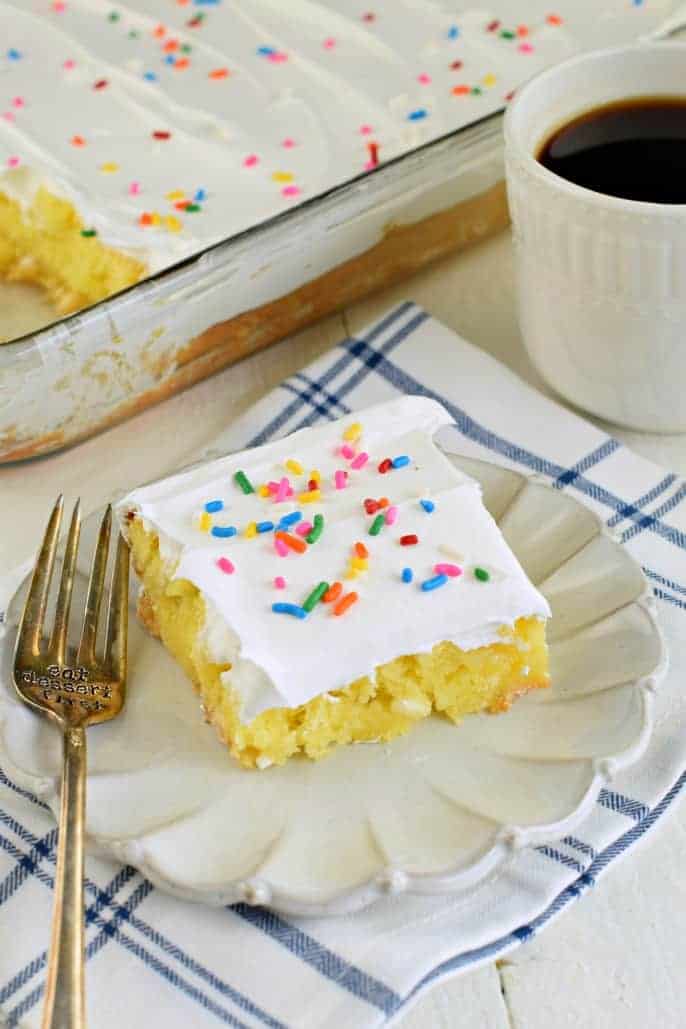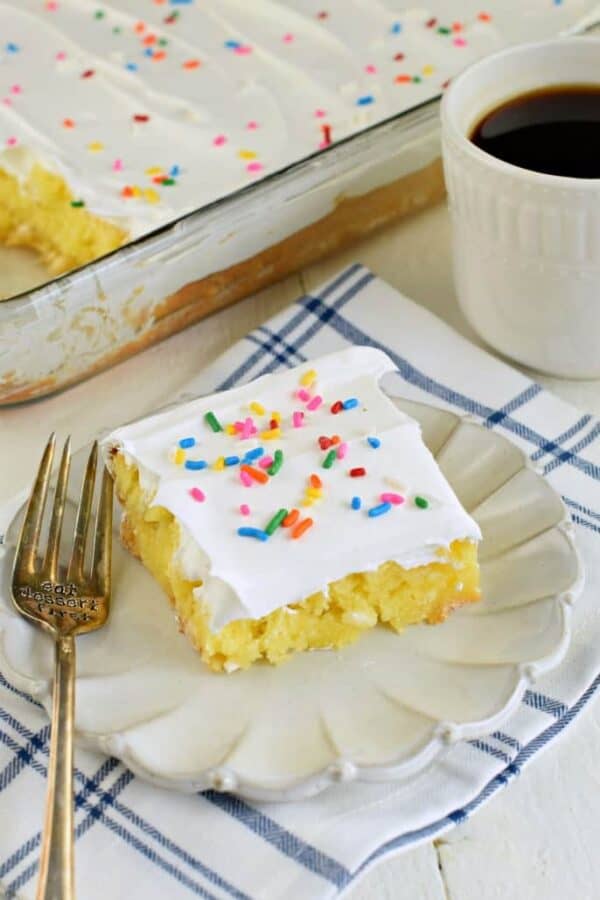 Step 1: In a large bowl, whisk the milk and pudding mix together, until smooth. Beat in the lemon cake mix at medium speed until well blended. Gently fold in the white chocolate chip morsels.
Step 2: Pour your batter into a greased 13" x 9" baking dish. Bake according to the instructions on the cake mix. (Follow the cooking times for a 13" x 9" cake pan. Usually 35 to 45 minutes at 350 degrees, depending on the cake mix brand.)
Step 3: Remove the cake from the oven and allow it to cool completely. Refrigerate for 2 hours or until it's time to serve. Top it with Cool Whip (and sprinkles) and enjoy!
Can I make Lemon Pudding Cake Cupcakes?
Are you more of a cupcake fan than a cake fan? Want to make this lemon pudding cake as cupcakes for your next get together or party? You can turn this lemon pudding cake into lemon pudding cupcakes.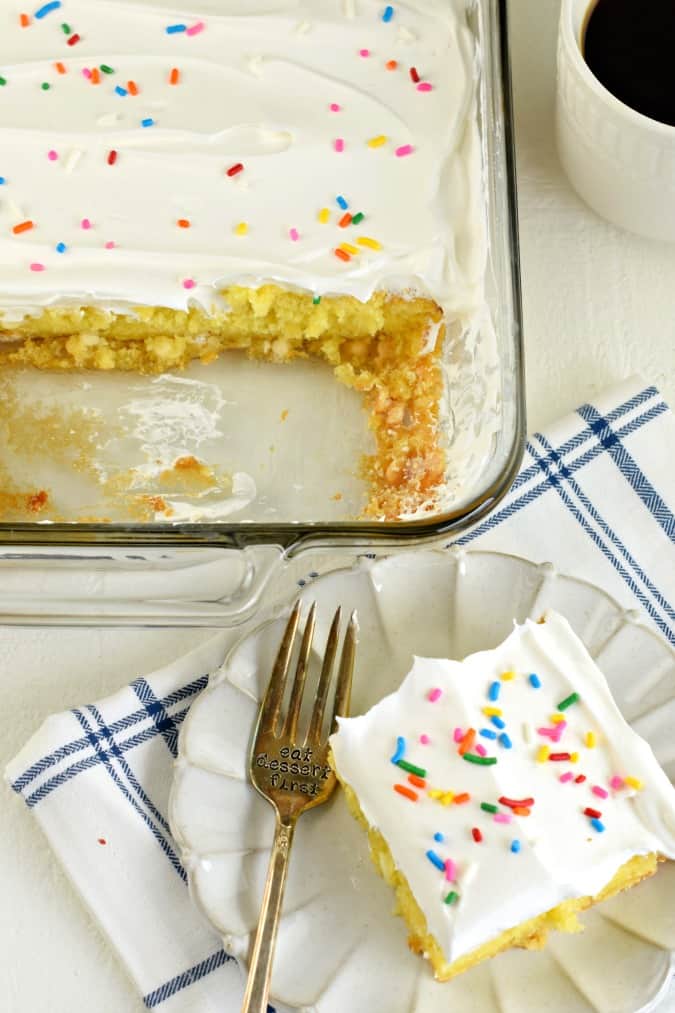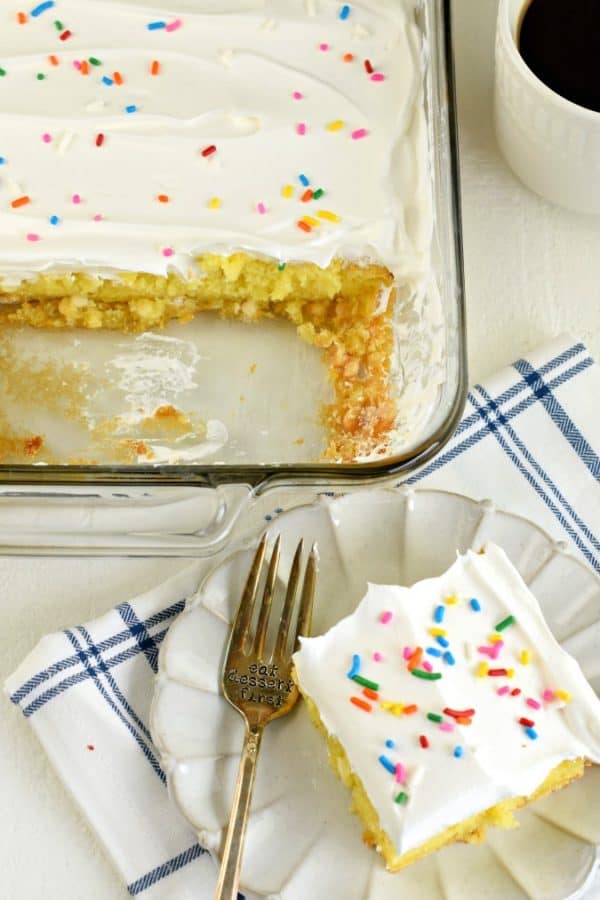 Can I swap out flavors of cake mixes and/or pudding mixes?
Yes! There are so many possibilities with this easy pudding cake recipe!
You can easily swap out the cake mix and pudding flavors to make your own pudding cake. Go to any grocery store and you'll see a shelf full of different flavors of pudding—coconut cream, vanilla, cheesecake, butterscotch—there are so many choices. Not to mention all of the seasonal flavors.
I can't wait to try this with peppermint and pumpkin pudding this year!
Can I use Homemade whipped cream instead of Cool Whip
Instead of using Cool Whip as the frosting, you can make your own homemade whipped cream or a Lemon Whipped Cream Frosting for a rich, decadent, lemon twist!
This frosting is a less sweet version of my Lemon Buttercream Frosting and is perfect for these lighter cupcakes. It is so light and refreshing and pairs well with the flavors of the pudding cake.

Tips for making the Perfect Lemon Pudding Cake
Add lemon zest and lemon juice to your batter to give it an extra lemon zing.
You can also dust your cake with powdered sugar once it's done cooking and leave it frosting-free for a lighter treat.
If you opt for a different cake mix and pudding flavor, make sure they complement each other well. Here are some fun combinations:

Rainbow chip cake and cheesecake pudding
Red velvet cake with french vanilla pudding
Strawberry cake with strawberry cream pudding
Spice cake with pumpkin spice pudding
Chocolate cake with peppermint pudding
What you need to make Lemon Pudding Cake
Ingredients
Lemon Cake Mix
Instant Lemon Pudding Mix
Milk
White Chocolate Morsels
Cool Whip Topping
Tools
Large Bowl
Electric Mixer
13" x 9" Baking Dish
Whisk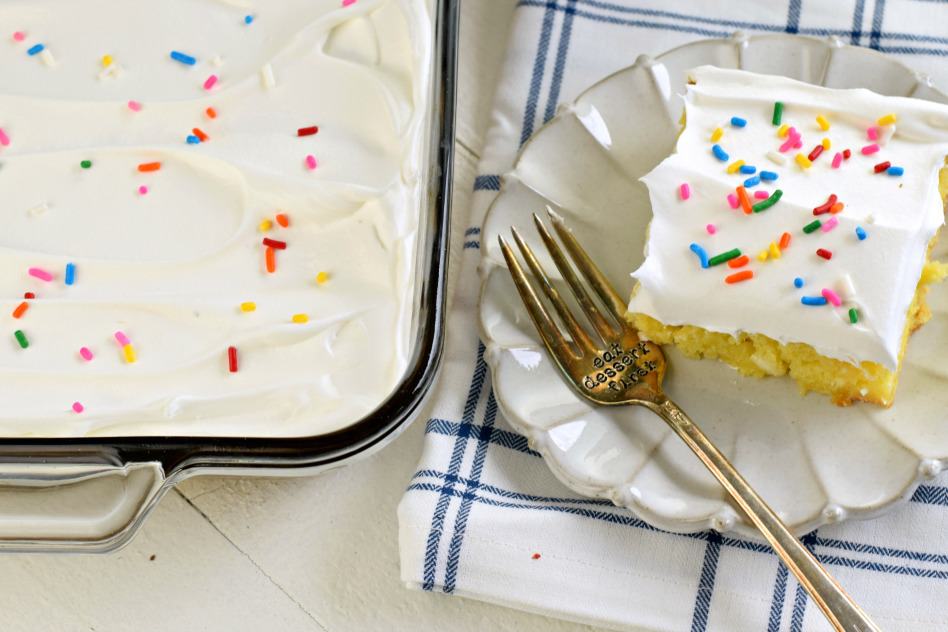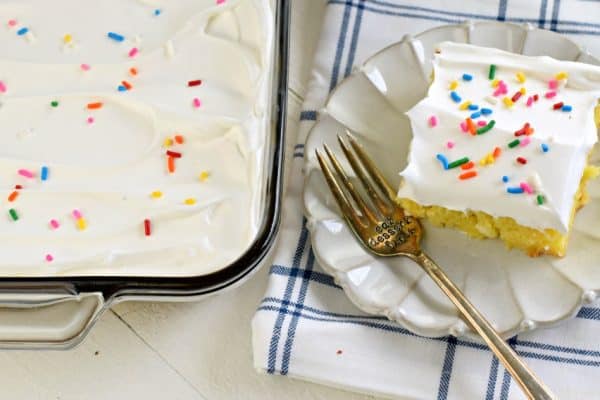 Let me know if you make this lemon pudding cake recipe! What cake mix/pudding flavor combination are you most excited to try with this recipe?
Connect with Shugary Sweets!
Be sure to follow me on my social media, so you never miss a post!
Facebook | Twitter | Pinterest | instagram
MORE LEMON RECIPES:
MORE PUDDING CAKE RECIPES:

Lemon Pudding Cake Recipe:
Yield: 24 servings
Lemon Pudding Cake
Lemon Pudding Cake is flavorful, moist, and made with only 5 ingredients. From the first bite, you'll love this dense citrus cake recipe!
Ingredients
1 box (18.25oz) lemon cake mix
1 box (3.5oz) instant lemon pudding mix
2 cups skim milk
11oz bag white chocolate morsels
12 oz Cool Whip Topping, thawed
Instructions
In large bowl whisk milk with pudding mix. Add in dry cake mix. Stir until blended. Fold in white chocolate chips.
Pour batter into a greased 13x9 baking dish. Bake according to cake mix (for a 13x9 cake).
Remove from oven and cool completely. Refrigerate 2 hours or until serving. Frost with cool whip and enjoy!
Nutrition Information:
Yield:
24
Serving Size:
1
Amount Per Serving:
Calories:

211
Total Fat:

9g
Saturated Fat:

6g
Trans Fat:

0g
Unsaturated Fat:

2g
Cholesterol:

4mg
Sodium:

199mg
Carbohydrates:

31g
Fiber:

0g
Sugar:

21g
Protein:

3g
*Nutrition facts are an estimate and not guaranteed to be accurate. Please see a registered dietitian for special diet advice.
Recipe originally published March 21, 2012. Photos updated April 2019.
Lemon Pudding Cake recipe with 5 ingredients is the perfect light dessert for summer.