Butterscotch Pudding Cake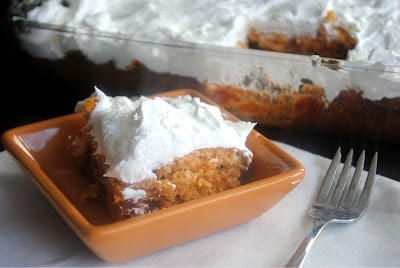 5 ingredients. 5 minutes prep. You CAN do this. Like right now. This cake is so moist and delicious, I know you will thank me. After having all that heavy chocolate earlier this week thanks to the Valentine's holiday, my body needed something lighter.
Yes, my body needs sweets. Doesn't yours?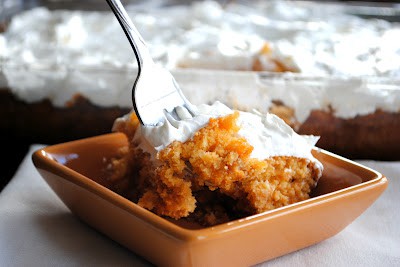 And this cake didn't last long in our house, it was gobbled up by all.
If you still want chocolate though, you can check out this other easy alternative: Chocolate Pudding Cake
*Just a note, this cake is very dense and moist, so don't be all expecting a flaky, crumbly cake! Instead, enjoy this moist pudding cake!
Butterscotch Pudding Cake
Ingredients
1 box (18.25oz) yellow cake mix
1 box (3.5oz) instant butterscotch pudding mix
2 cup skim milk
11oz bag butterscotch morsels
12 oz Cool Whip Topping
Instructions
In large bowl whisk milk with pudding mix. Add in cake mix and butterscotch morsels.
Pour batter into a greased 13x9 baking dish. Bake according to cake mix (for a 13x9 cake). Remove from oven and cool completely. Refrigerate 2 hours or until serving. Frost with cool whip and enjoy!