With 5 ingredients and 5 minutes prep, you can make a scrumptious Butterscotch Pudding Cake! Dense and delicious, everyone gobbles this one up!
Love easy desserts? Try our lemon tart recipe for a treat bursting with citrus flavor. Or give our perfect chocolate cake recipe a try next!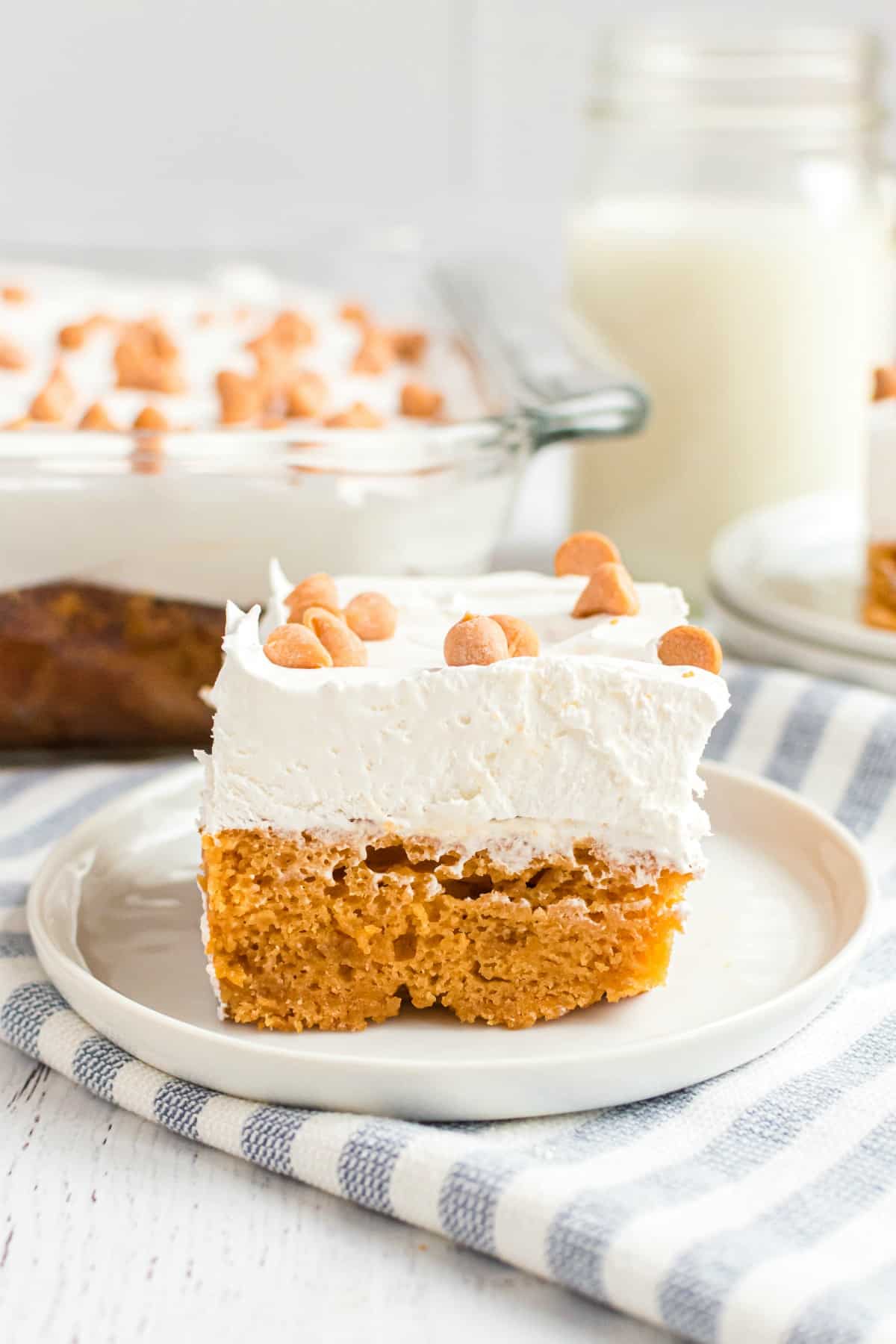 Easy Cake Recipe
5 ingredients. 5 minutes to prep. You CAN do this. Like right now.
This pudding cake has all the great taste of Butterscotch. It's so moist and delicious that I know you will thank me when you taste it.
My kids love this cake; they've already requested I make another one ASAP.
It's also one of the easiest ever cakes to make. Using instant pudding mix and yellow cake mix, you just mix everything together and toss it in the oven. Then you let everything chill in the fridge, frost it with cool whip and enjoy cold.
5 minutes of effort is really all it takes! It hardly lasted longer than 5 minutes in my house, too. This cake was gobbled up by all!
What is pudding cake?
If you've never made pudding cake before, don't be expecting a moist, tender crumb like a white cake would have.
Pudding cake uses instant instant pudding mix to make this one of the most ooey-gooey cakes I've ever tried. Then, you top the whole thing with cool whip to complete the picture.
Instead of eggs and butter, this cake is held together by creamy pudding made from a mix and milk.
This time, I was in the mood for something with Butterscotch flavor, so I used Butterscotch pudding mix and threw in some Butterscotch chips for good measure.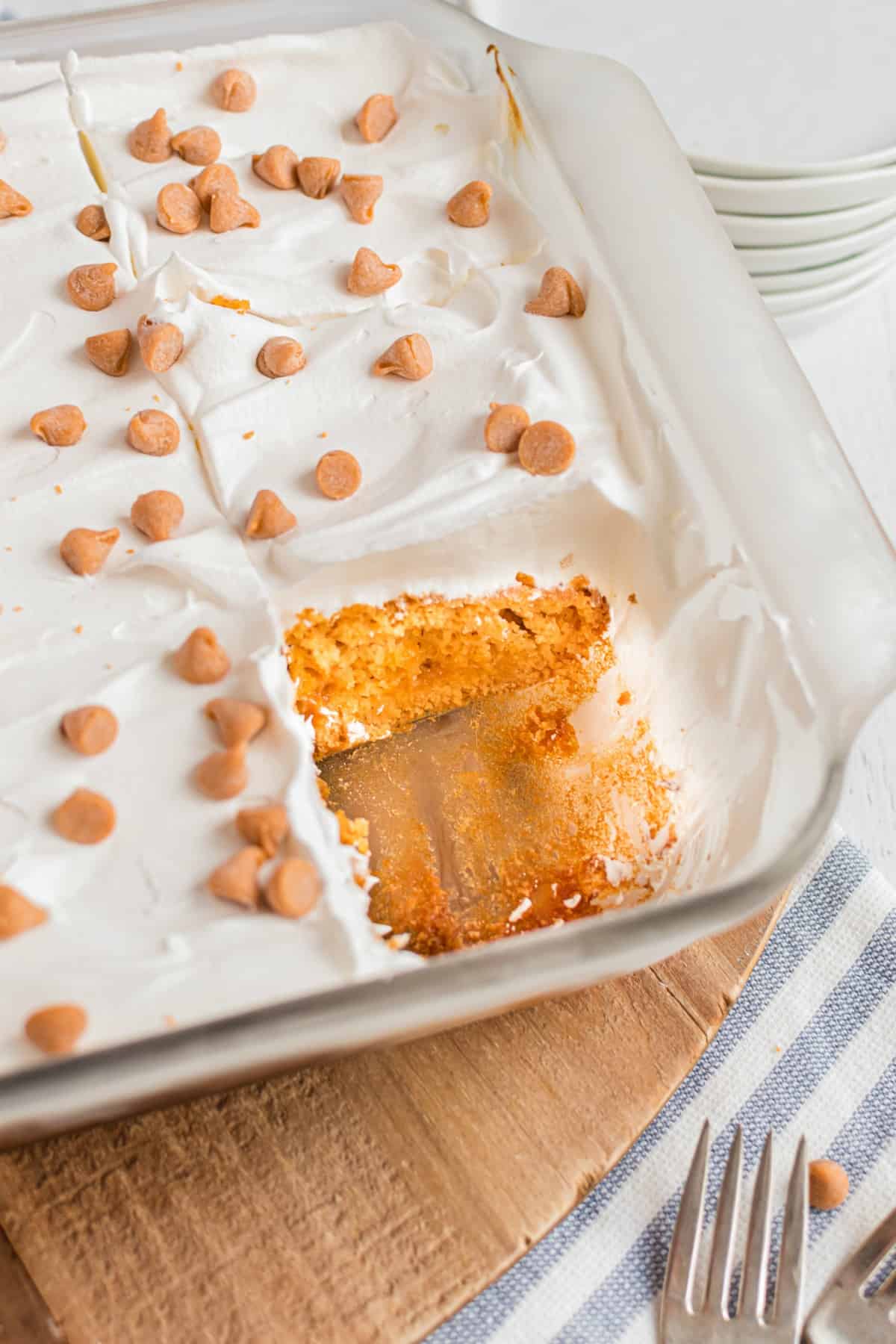 This method works with any flavor pudding mix you can imagine! You could make a simple vanilla version with white cake mix and vanilla pudding mix or a banana pudding cake by substituting banana pudding mix.
Did I mention that there's no frosting to mess with either? As much as I LOVE frosting (and oh, do I love it), it can be a little more than I feel like dealing with sometimes.
Having to carefully pipe icing on a cake takes attention to detail that I don't always have time for.
Much like a JELL-O cake, you just spread cool whip on top and call it a day! It looks perfect with no mess, time or fuss.
What you'll Need
I'm a big fan of using cake mixes as a baking short cut. But I almost never just make a yellow cake from mix without adding to it or punching it up a little.
This pudding cake recipe is the perfect example. You only need 5 ingredients to make a cake, and that includes the frosting. It has all the great taste of a cake made from scratch without spending all day in the kitchen.
Here's everything you need:
Yellow cake mix
Instant butterscotch pudding mix
Milk
Butterscotch morsels
Cool whip topping or Homemade Whipped Cream
How to Make Pudding Cake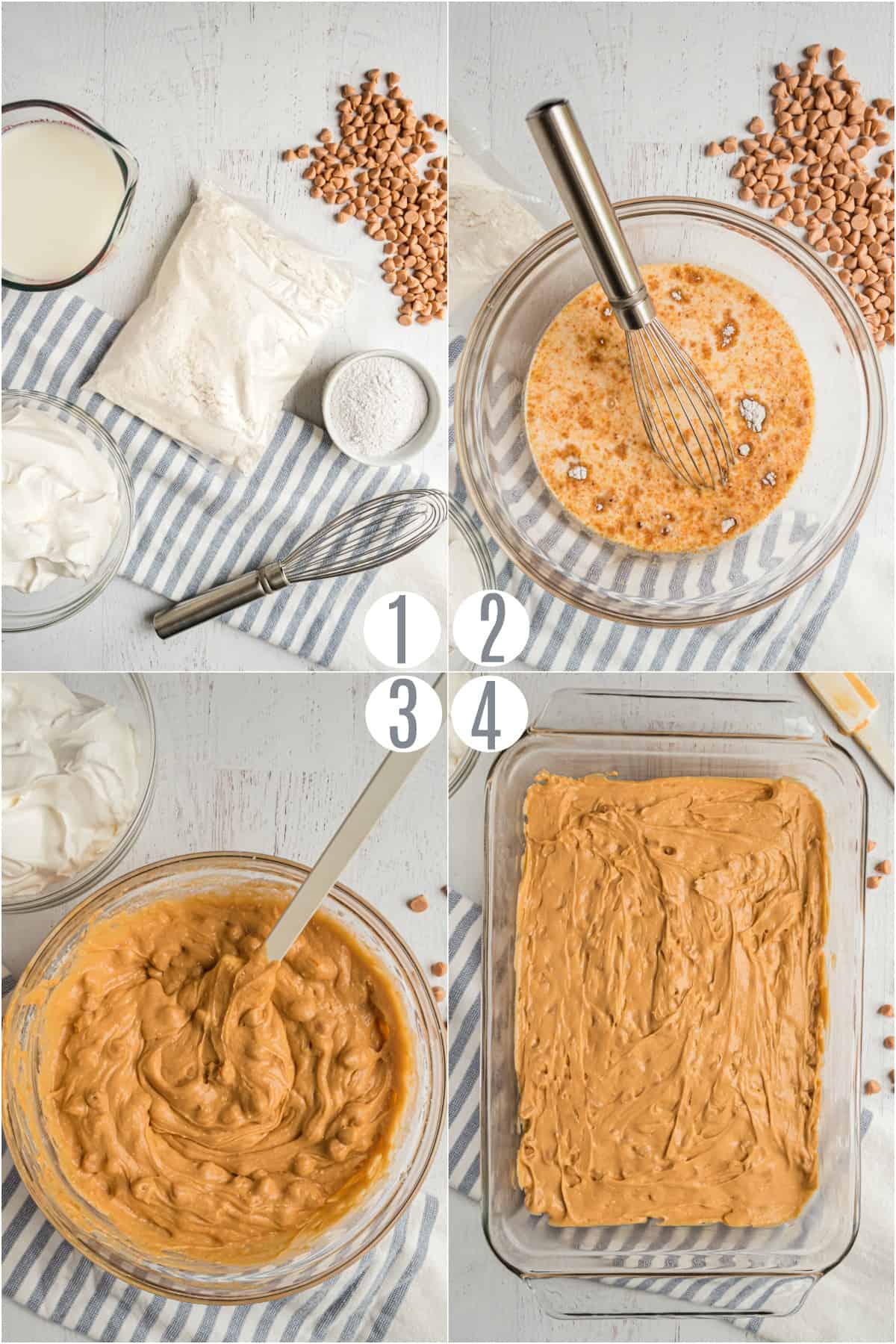 STEP 1. Whisk together the milk and instant pudding mix. Add the cake mix and butterscotch chips and mix to combine.
STEP 2. Pour the batter into a 13 x 9 cake pan. Bake according to the package directions on your cake mix, adding about TEN extra minutes to the cook time!
STEP 3. Let the pudding cake cool completely and refrigerate for at least 2 hours before serving. Frost the cake with cool whip before slicing into squares and serving!
Tips and tricks
Garnish: To add even more butterscotch taste, sprinkle the top of the cake with more butterscotch morsels before serving.
Cool whip: I used regular original cool whip topping for this. You can also make homemade whipped cream if you prefer.
How to store pudding cake: Keep this cake covered in the fridge until you're ready to serve. I like this cake cold best. It stays moist and delicious for several days in the fridge–but in my house it always disappears long before then!
How long to bake pudding cake: I baked this cake at 350 degrees for about 40 minutes, which is about ten minutes longer than the box mix requires. Some cake mixes vary, so follow the instructions on the box for best results.
Don't overbake: Like I mentioned before, this cake will be very moist and a bit ooey gooey when it's ready to come out of the oven. Cooling and refrigerating the cake helps it solidify a bit more without drying out or becoming tough.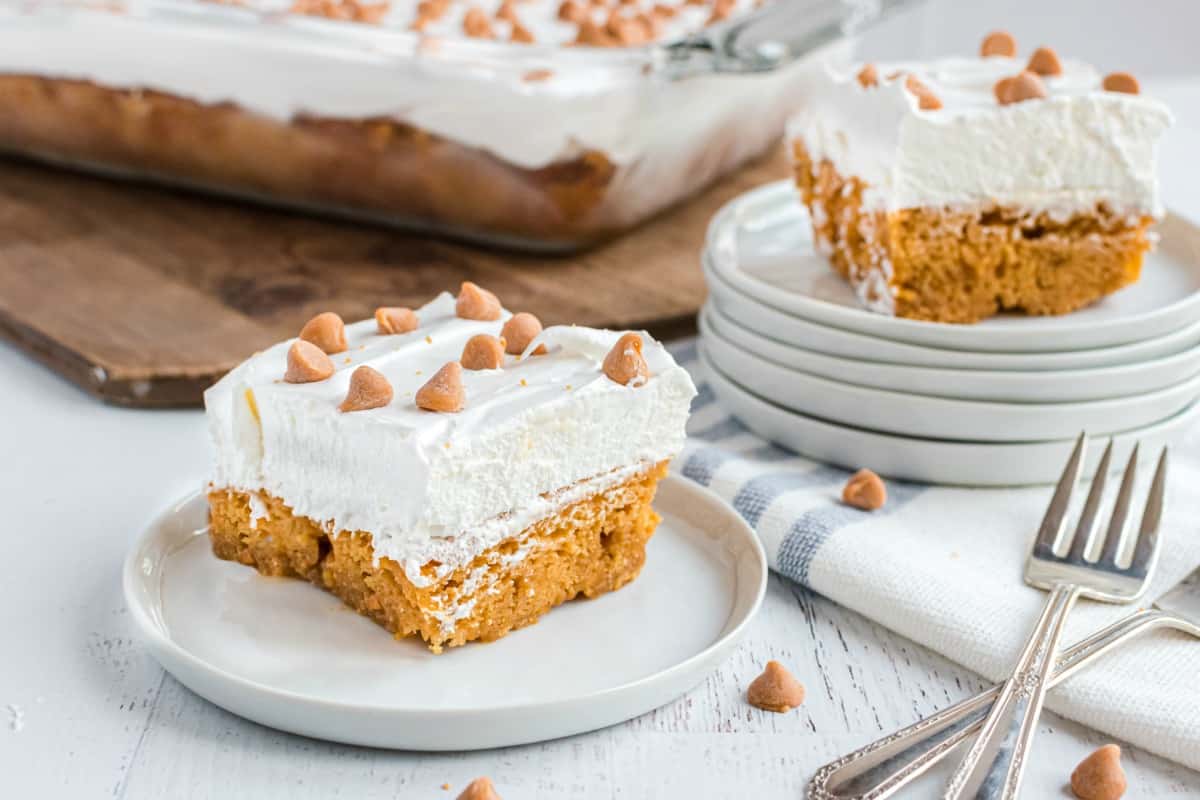 With just one bowl, one pan and a few ingredients, it's tough to beat this easy Butterscotch Pudding Cake recipe.