A delicious, easy summer cake recipe: Banana Split Poke Cake. Made with a white cake mix, banana pudding, fresh berries, pineapple and all the fixings. This will go fast at dessert, so make sure you get a big slice before it's gone!
Be sure to sign up for my email…new recipes in your inbox!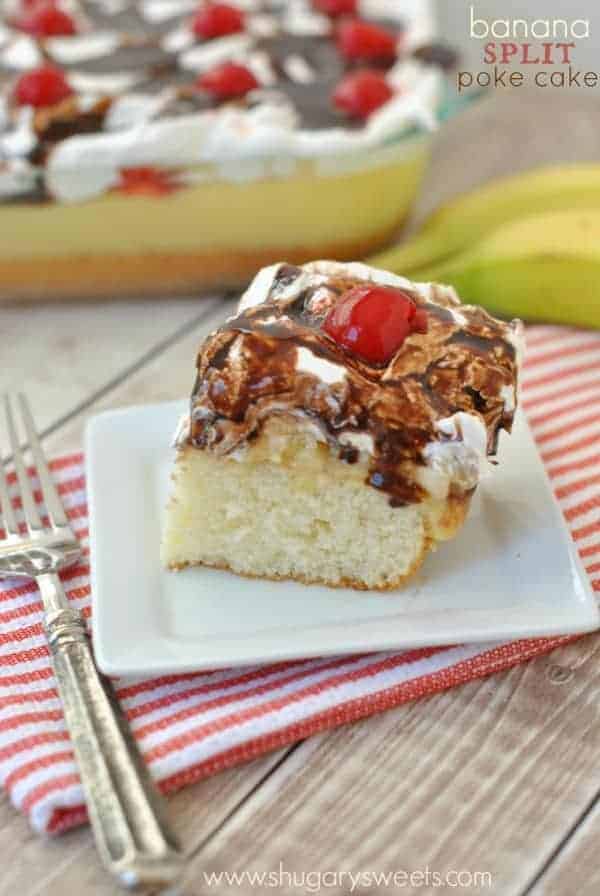 It's true. I'm a new addict to Poke cakes. They are so ridiculously easy, and they are the perfect dessert to bring to any potluck or bbq this season.
And of course, since it's Banana Split Week, it's only right that I share a Banana Split Poke Cake recipe with all of you!
I made this cake last month when we celebrated our house being sold with our neighbors. Not only did we have Peanut Butter Cheesecake Bars, but we had this delicious cake. And it went fast!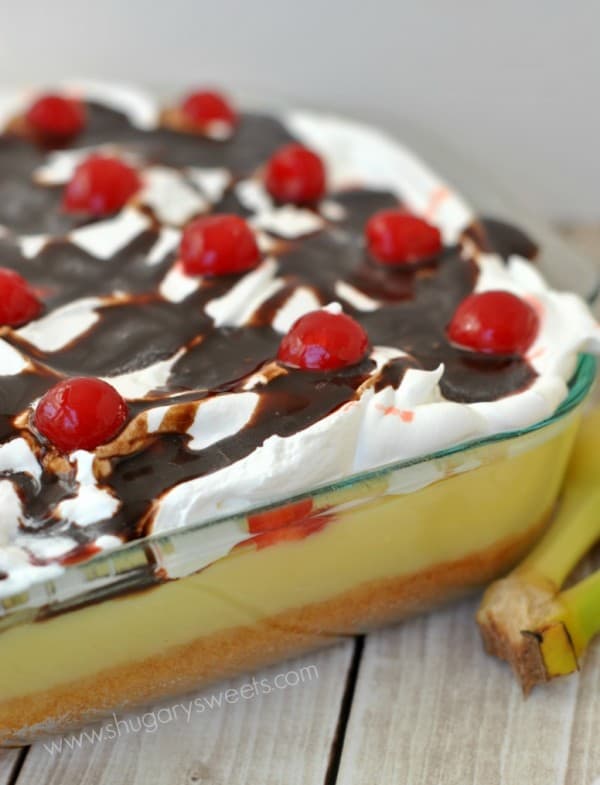 The layers in this cake are so easy to assemble. Start by baking up a white cake mix in a 13×9 pan. I prefer to use glass baking dishes, only because I think poke cakes look so pretty in them!
Once your cake is done baking, whip up some instand banana pudding and milk. The "poke cake" gets it's name because you are going to poke holes all over your cake and pour the pudding into the warm cake. You can use anything really to poke the holes. A large fork. A wooden spoon handle. I use a meat thermometer!
After pouring your pudding into the cake, pop it into the refrigerator. This chills the cake and sets the pudding. Poke cakes are best served COLD. This can be made the night before too for easy assembling the day of serving.
Once your cake is chilled, start adding the toppings. Crushed pineapple (drained), sliced bananas and strawberries, cool whip, chocolate, cherries. Just like a banana split! Take to your party and enjoy!!
Be sure to stop over at Jocelyn's and see what delicious treats for Banana Split Week she is sharing!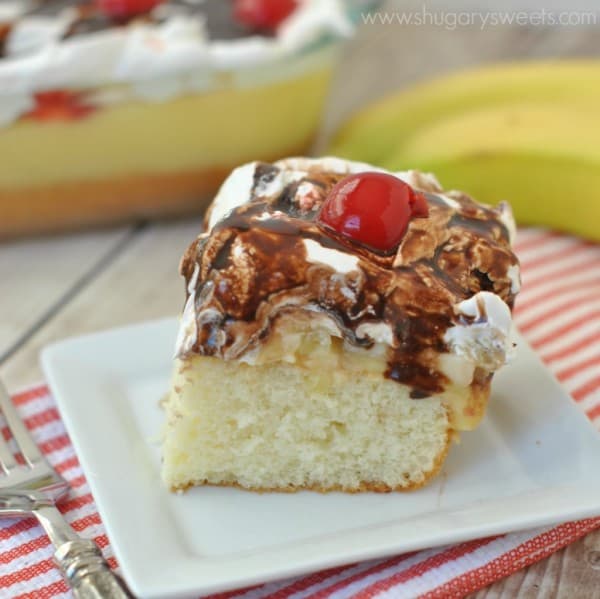 Connect with Shugary Sweets! Be sure to follow me on my social media, so you never miss a post!
Pinterest | instagram | Bloglovin'
Yield: 24 large slices
Banana Split Poke Cake
Prep Time
3 hours
10 minutes
Ingredients
1 white cake, prepared in a 13x9 dish
1 box (3.4oz) Instant Banana Pudding mix
2 cup milk
2 large bananas, sliced
8oz strawberries, sliced
1 cup crushed pineapple, drained
12oz Cool Whip
1/4 cup chocolate syrup
24 maraschino cherries
Instructions
Prepare white cake according to package directions for a 13x9 cake.
In a small bowl, whisk together pudding mix and milk until smooth.
Remove cake from oven and poke holes all over the cake. Pour pudding immediately over warm cake. Refrigerate for 3 hours, or overnight.
When chilled, top with sliced bananas, sliced strawberries, crushed pineapple and Cool Whip (in that order). Drizzle with chocolate syrup and place cherries on top. Serve cold.