Banana Split Poke Cake is an easy cake recipe made with white cake mix. Topped with banana pudding, fresh berries and all the classic sundae fixings, it's the perfect dessert for summertime!
Love banana splits? Try this Banana Split Cheesecake next! Or give our easy banana pudding poke cake recipe a try soon.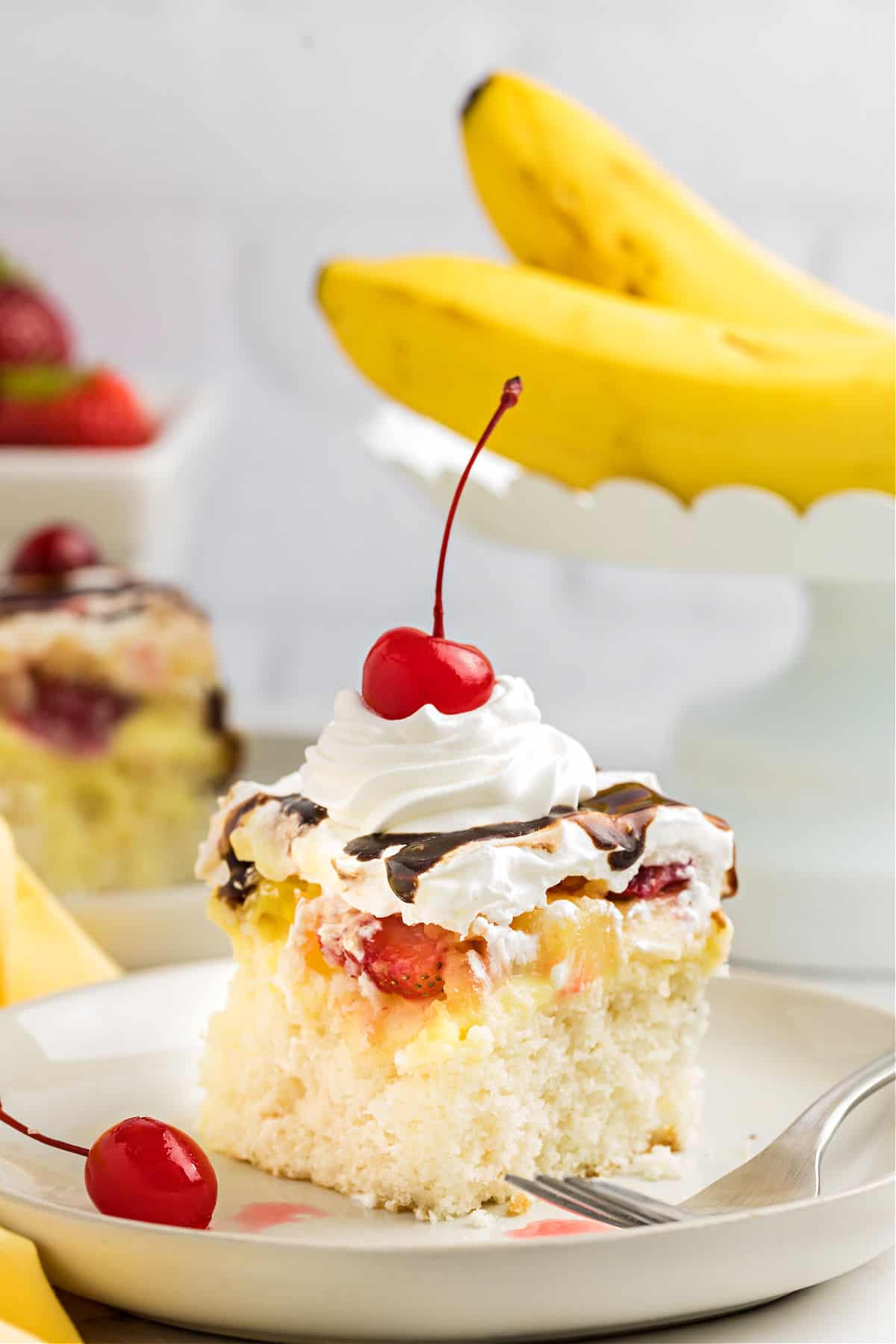 What is a Poke Cake
A poke cake is a cake that's purposefully pierced with holes after baking. Bakers pour creamy pudding or sweet gelatin mixture over the holes to saturate the cake with moisture and flavor.
Poke Cakes first gained popularity in the United States in the 1970s with recipes like Watergate Cake made with instant pudding and Strawberry JELL-O Poke Cake.
Once you learn how to make poke cake, you'll understand why they're staple desserts in so many households.
Poke Cakes are
easy
fun to make
delicious
You can make poke cake in just about any kind of flavor. All you have to do is change up the pudding flavor and the toppings!
This Banana Split Poke Cake was inspired by my love of the traditional ice cream sundae. It brings together sweet fruity flavors with rich chocolate and creamy cool whip on a moist white cake!
Ingredient Notes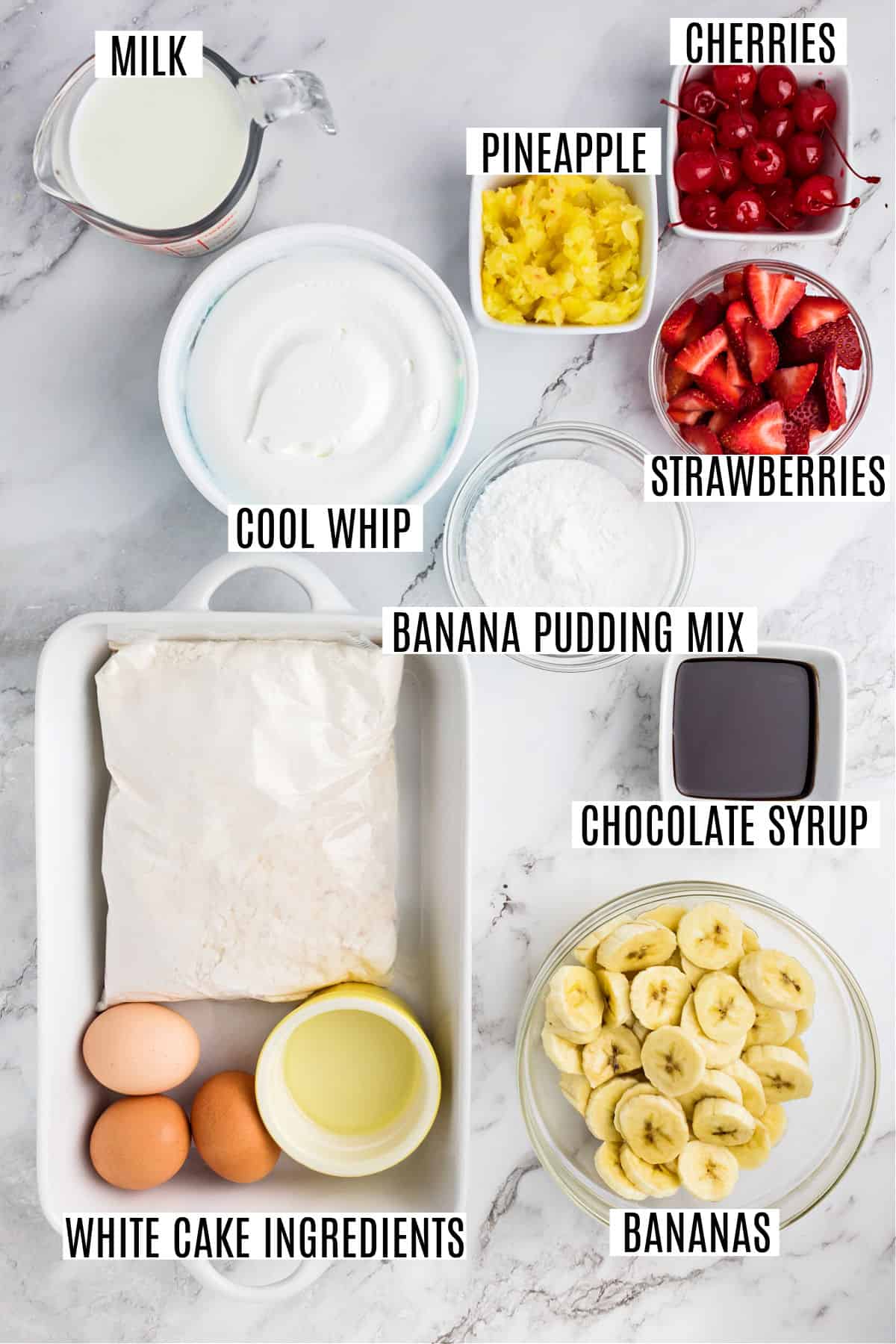 Every part of this cake, from the base to the cherry on top is designed to replicate the irresistible flavor of a loaded Banana Split.
White Cake – The vanilla flavor mimics the vanilla ice cream at the heart of a banana split sundae. We used a box mix prepared in a 9 x 13 sheet pan. Feel free to use a homemade white cake recipe instead!
Instant Banana Pudding Mix – You'll whisk this with milk, then pour it over the baked cake. If you can't find the banana version, use instant vanilla pudding instead.
Cool whip – This is spread over the cake after chilling. Feel free to swap it out for real whipped cream if preferred. Or make our homemade cool whip!
Fruit – We topped the cake with sliced bananas, strawberries and crushed pineapple. And don't forget the cherry on top!
Chocolate syrup – No banana split poke cake is complete without a generous drizzle of chocolate. Use our homemade chocolate syrup for best results!
Easy Instructions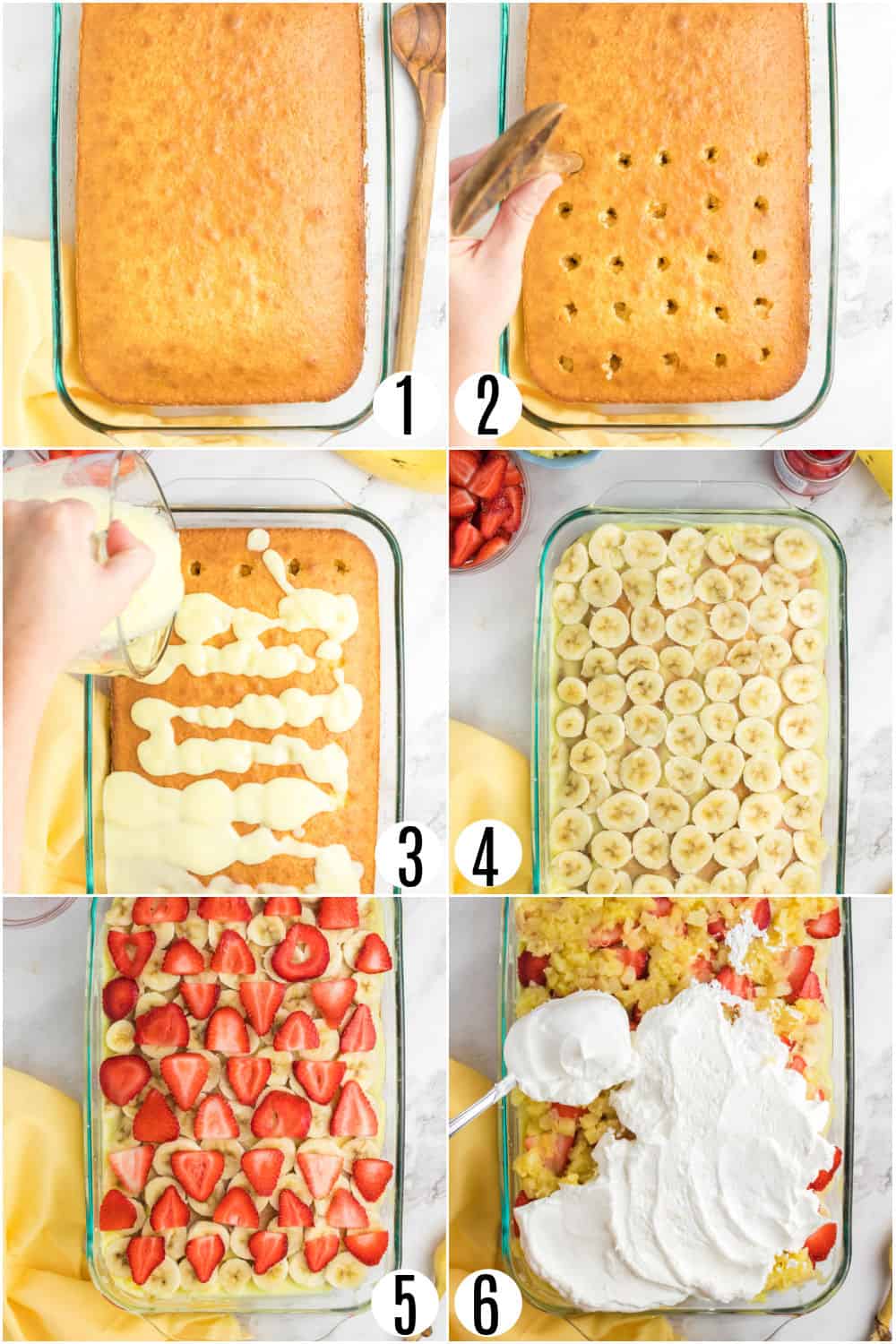 Bake the white cake according to package (or from scratch).
Poke holes all over the baked cake while it's still warm. We use the handle of a wooden spoon for this. A wooden skewer or food thermometer also works well.
Pour the pudding all over the warm cake. Now place the cake in the refrigerator to chill for a few hours.
Arrange the sliced berries, bananas and pineapple on top after the cake has chilled. Cover the fruit layer with cool whip then drizzle the whole thing with chocolate sauce.
Finally, arrange the maraschino cherries on top. Slice and serve cold!
Tips and Tricks
Storing: Banana Split Poke Cake should be stored covered in the refrigerator. It's best enjoyed within a day or two of assembly.
Substitutions: Feel free to change up the toppings based on your preferences for banana splits. Caramel, strawberry and butterscotch sauce would all be delicious on this cake too!
Don't skip the chilling! Chilling the poke cake gives the pudding time to soak into the cake and set up a bit. If you skip it you'll end up with mushy poke cake that falls apart easily.
Sprinkle with peanuts or toasted pecans for a sweet and salty finish!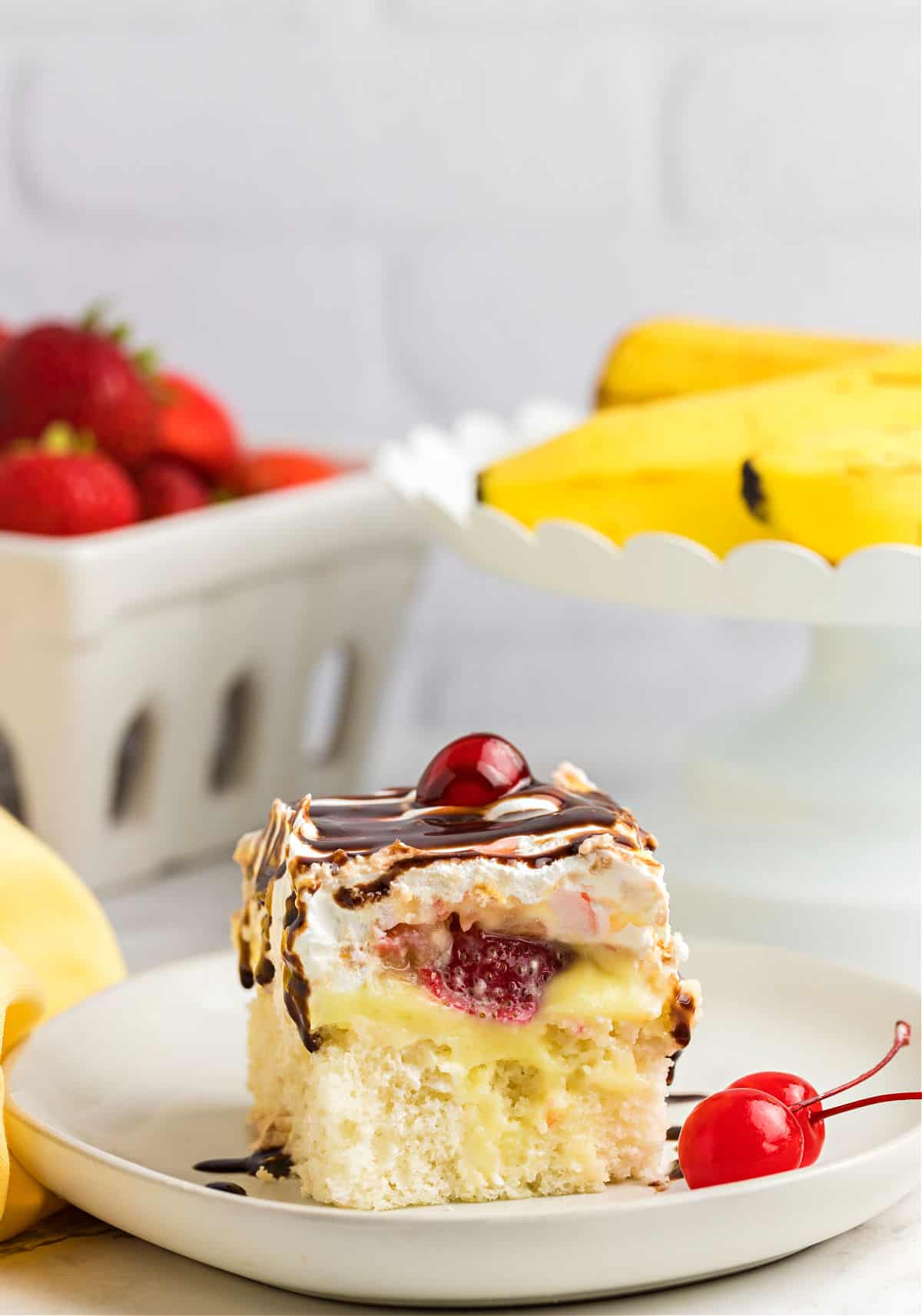 Recipe FAQs
Can I make this poke cake with a different kind of cake mix?
You sure can. Readers have had success making this with yellow cake mix and strawberry cake mix too! The flavor will be different but still tasty.
Does the cake need to chill overnight?
Chilling Banana Split Poke Cake overnight is a great option, but not strictly necessary. Usually the cake requires a minimum of 3 hours to set-up in the fridge.
We don't recommend chilling it for less than 3 hours, as the cake may not be cold enough to hold up to the toppings before then and it gives the pudding time to firm up.
Can I make this poke cake ahead of time?
You can make the poke cake up to 2 days ahead of time, just wait to add the toppings, including the fruit and cool whip, until you're ready to eat it. Keep the baked pudding-soaked cake tightly covered in the fridge, then add the toppings shortly before serving.
Sweet, fruity and covered in chocolate sauce, this Banana Split Poke Cake is a refreshing cold dessert. A welcome treat for a hot summer day!