Watergate Cake: pistachio, coconut, and pudding in a delicious layer cake!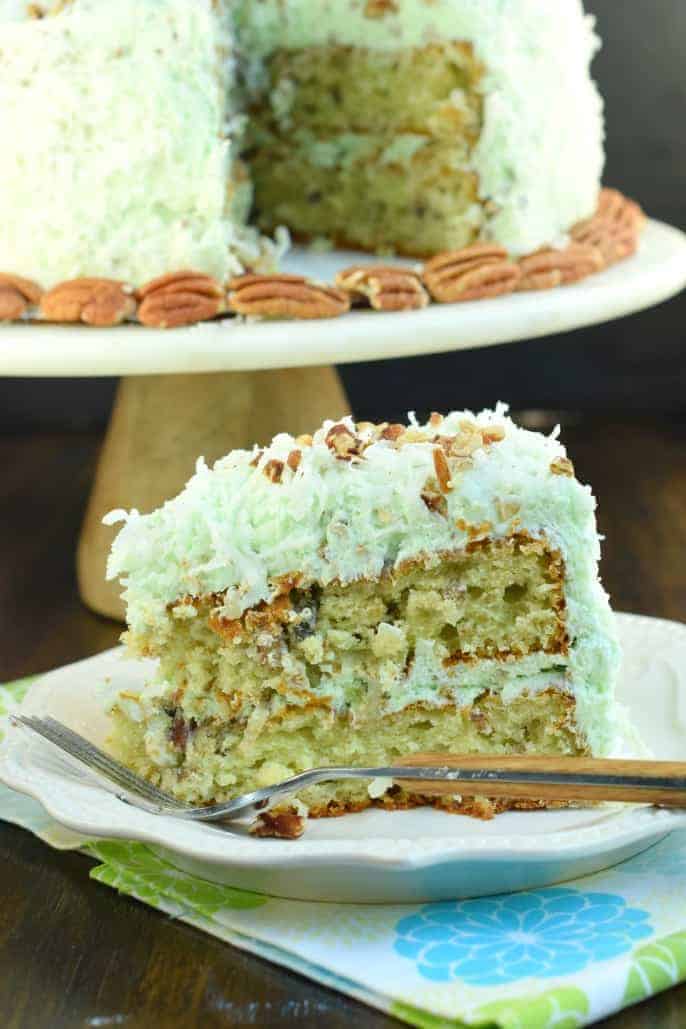 Click HERE to save recipe to Pinterest
Tomorrow is my birthday. I have loved celebrating my birthday pretty much every year.
And then comes this year. The year I turn…wait for it….
.
.
.
.
Gulp.
.
.
.
.
39.
Looking back, my twenties were fun, but very busy. I got married very young, and we started a family a year after our marriage. My twenties were filled with babies and diapers, and babies, and more diapers.
My thirties have been filled with just plain fun. Vacationing, laughter, happiness, a complete sense of self confidence that I didn't have in my twenties, watching my children grow into who they will become!
But, I think it's official now. I'm old. You laugh?
Here's how I can tell I'm old: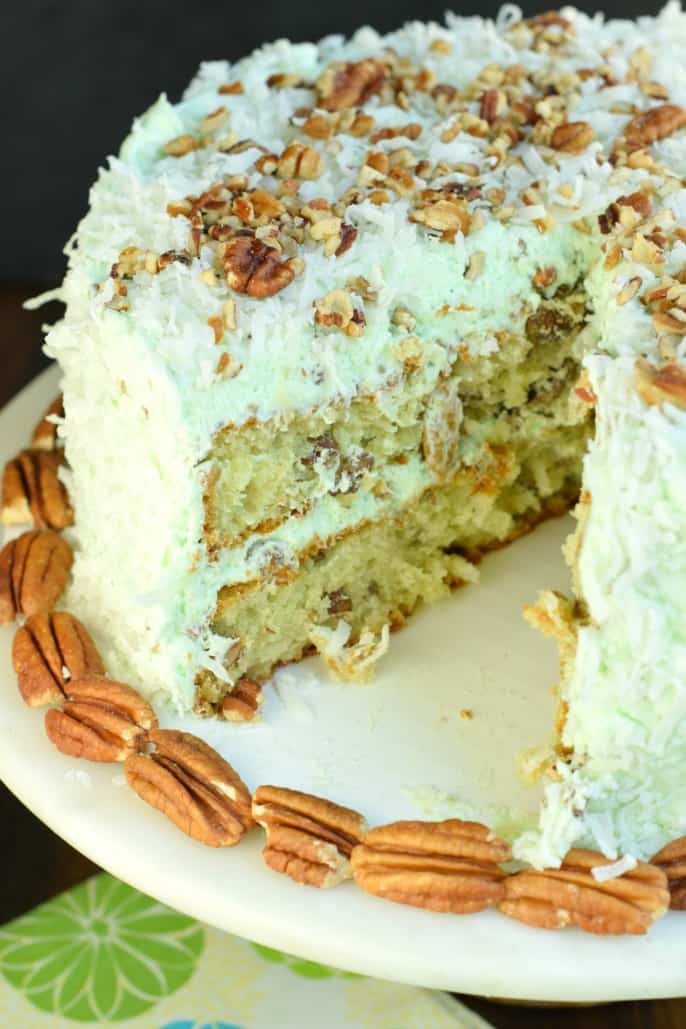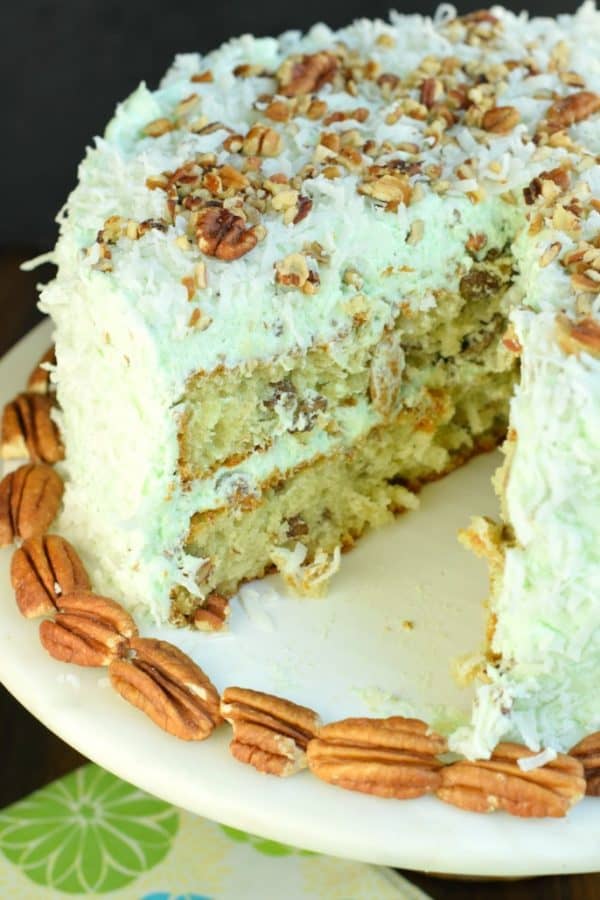 1– I like to watch birds out my window. I spend lots of money on bird food, just so I can see them while I sit at my computer. Yeah, can someone say "senior citizen?"
2– I pay attention to commercials that talk about eye brighteners, wrinkle reducers and other skin firming creams. I've even bought said brighteners and reducers (to no avail, the wrinkles are still there)
3– I find myself talking to people who have little kids and saying things like, "Treasure each moment, it goes so fast." I hated when people said that to me, I'll be honest.
When my kids were throwing a tantrum in the grocery store, whining, kicking, screaming and someone said that to me…all I could think is time drags in the grocery line. But wow, it's so flipping true…my kids are big. And the bigger they get, the older it makes me.
4– I like pistachio cake. As a young person, you see a green cake covered in nuts and coconut and you think, "What the heck did grandma make us? Why can't she make us chocolate cake?"
Now, as an old person, as an almost senior citizen, I LOVE green cake with coconut and nuts. Yep. Old.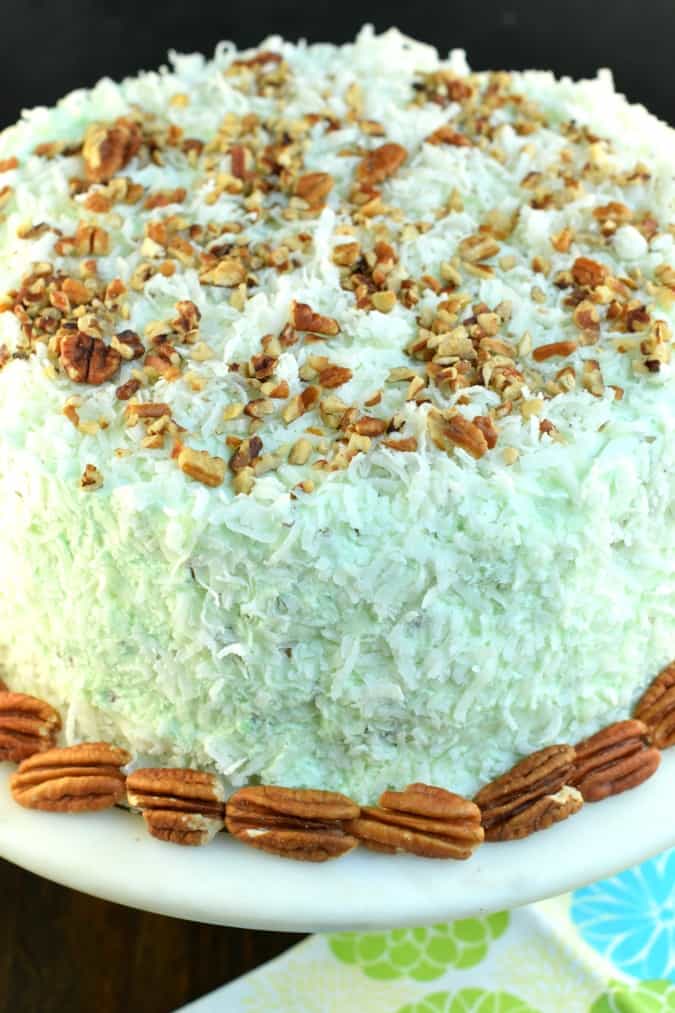 What is Watergate Cake
If you have any of those old-school church or neighborhood cookbooks – you know the ones, with recipes collected from all of the congregants or neighbors and sold as a fundraiser – I can bet you there will find at least one recipe for Watergate Cake.
If you're younger than me and aren't familiar with this recipe, that's ok. Show it to your mom. Or grandma. Or dad. I bet they know what it is!
Watergate Cake is about as classic as it gets. There are probably a million variations within each family, but the general elements are white cake mix, pistachio pudding mix, 7Up, coconut and pecans.
I don't know if anyone remembers why it's called Watergate Cake (at least I'm not that old!), but I do know it's delicious.
You may be familiar with this Watergate Salad recipe…seriously amazing!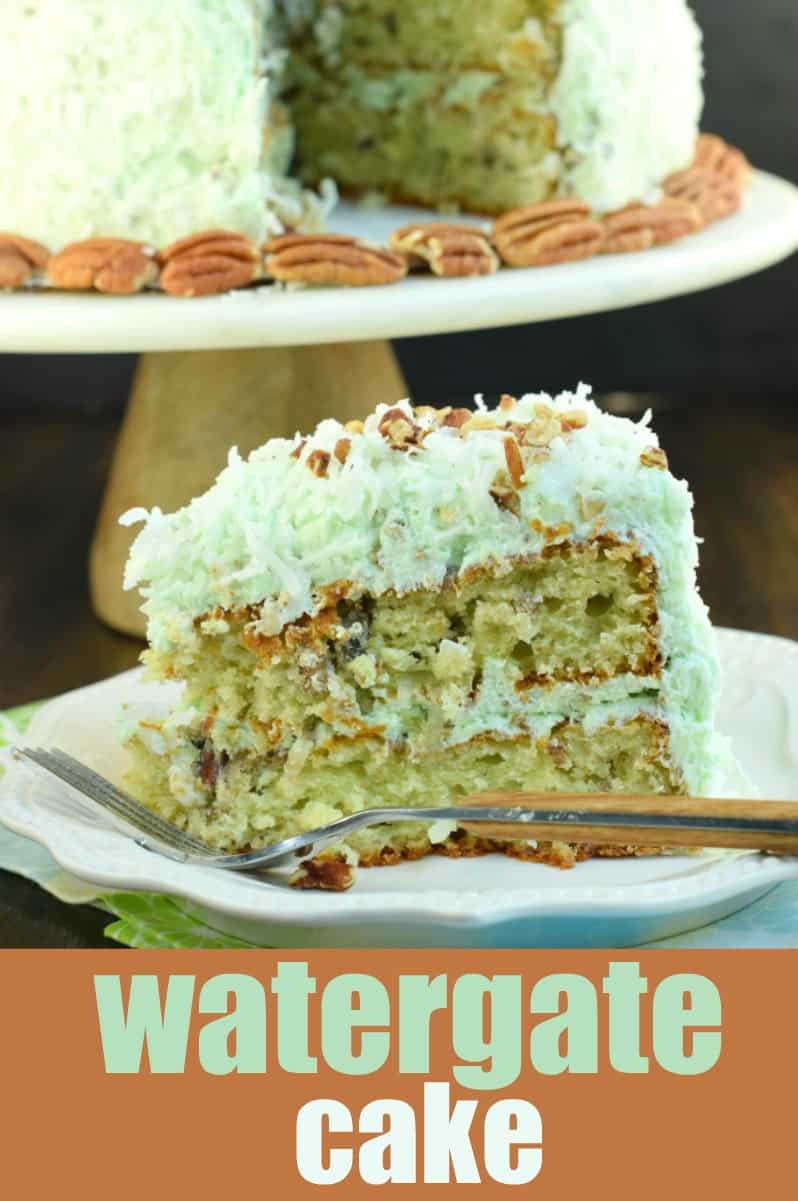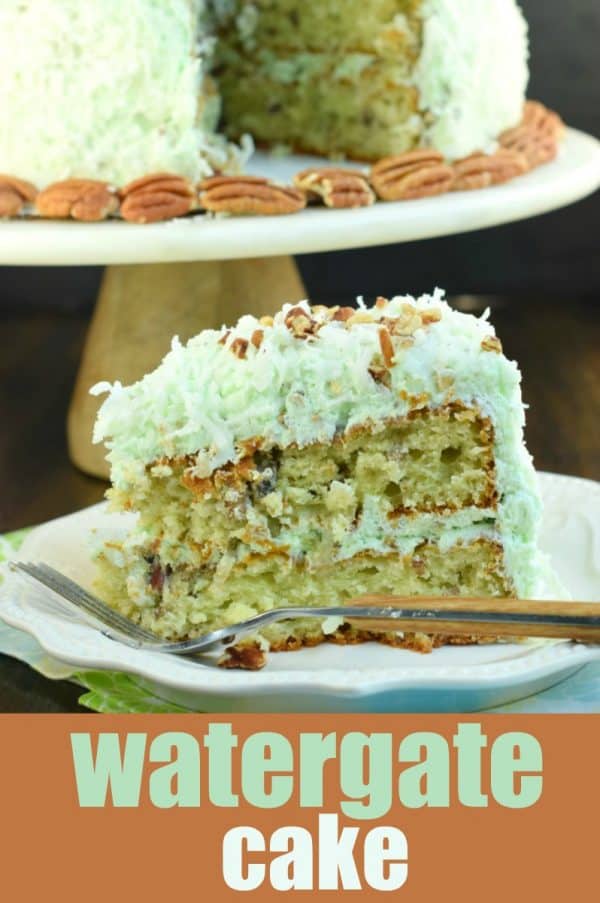 Why this Recipe is the BEST
Every family has their version of a Watergate Cake recipe, and this is ours.
Some families make their Watergate Cake recipes as a Watergate bundt cake, Watergate cupcakes, or sheet cake, but I like that this one is a layer cake. It adds some extra drama to this retro recipe.
The great thing about Watergate Cake, though, is that it starts with a white cake mix, so it's pretty quick and easy to make.
Adding pistachio pudding mix and lemon-lime soda makes it extra light and moist, and the chopped pecans and coconut add texture and flavor.
The frosting uses Dream Whip (a shelf-stable version of Cool Whip) as the base and is flavored with more pistachio pudding mix to get that classic Watergate Cake green color and flavor. It's light and fluffy and super easy to make.
Watergate Cake is perfect for holidays. Or family reunions. Or church luncheons. The younger crowd might wonder where the chocolate is, but someday they'll appreciate Watergate Cake for its nostalgia and classic flavors.
If you love my Watergate Cake recipe and are looking for some other senior citizen-style recipes, check out Dad's Bread Pudding, Pineapple Coconut Cupcakes or Shortbread Cookies.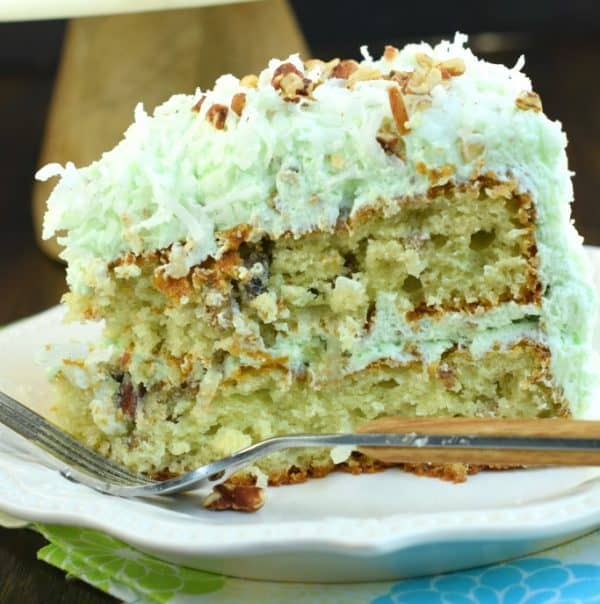 Tips and Tricks
Dream Whip- you can swap it out (and skip the milk in the frosting) and just use Cool whip combined with pudding mix.
OR, make homemade whipped cream and add the pudding mix to that.
Coconut- Adding coconut to the cake adds so much moisture. But, some people don't like it ON TOP of the cake. Try toasting the coconut for a sweet candy crunch instead.
Refrigerate- Keep this cake chilled for best results. You can also freeze this cake by wrapping individual slices in a plastic wrap, then sliding them into a freezer bag.