Old fashioned dessert with a sweet custard texture, my Dad's Bread Pudding Recipe with Lemon Sauce is irresistible! You'll love this classic dessert recipe.
If you're a big fan of classic desserts, be sure to try our homemade Angel Food Cake recipe! Top it with fresh berries and easy whipped cream for a light and flavorful treat.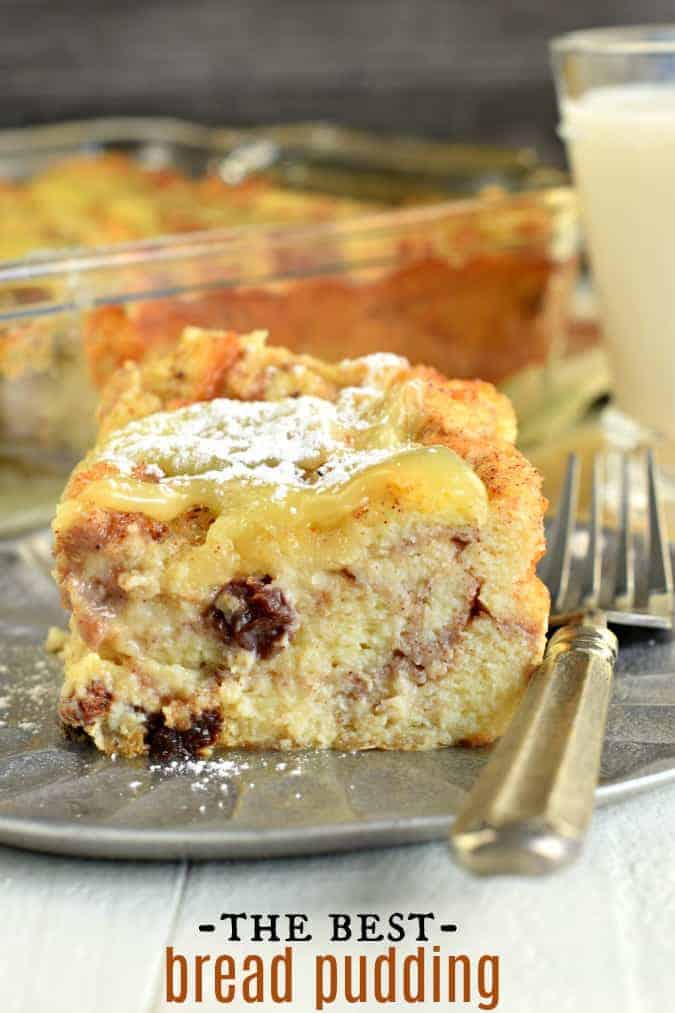 What is Bread Pudding?
When it comes to baking and desserts, my family usually puts me in charge! But many years ago my dad surprised us with this Bread Pudding recipe!
You may be wondering to yourself, what is bread pudding and how can you tell if it's a great recipe?
Dad's Bread Pudding is an old fashioned dessert usually made with leftover bread. It's cubed in a bowl with a sweet custard topping.
Most traditional bread pudding recipes have raisins, vanilla, and a sweet sauce to top it all off. (very different from rice pudding, in case you're wondering, LOL)
After baking bread pudding, whip up the delicious Lemon Sauce recipe below!
Give it a twist and try our Apple Bread Pudding instead. Seasoned with our sweet chai apple bread and chai spice mix, it's the perfect dessert!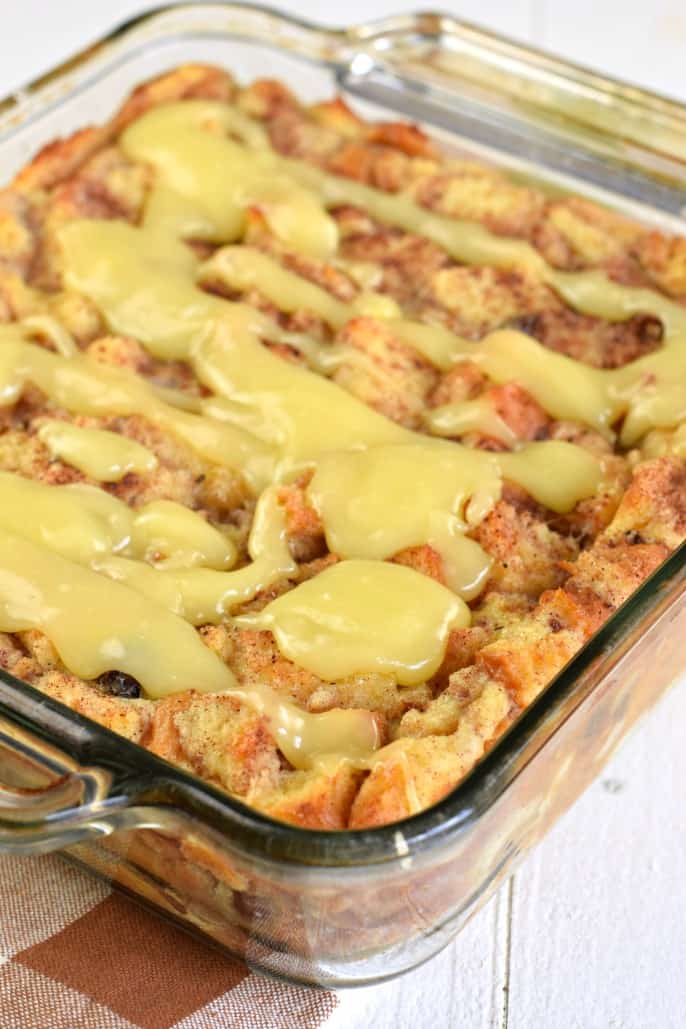 How to Make Bread Pudding
It's best to use "day old bread." Meaning, bread that has sat out for a day, becoming slightly stale. If your bread is crazy soft, this dish can get pretty mushy (it's already a soft custard texture). To firm up fresh bread, bake for about 5 minutes in a 375 degree F oven. Set aside.
Prep Pan. Lightly butter an 8-inch square baking dish (or 2 qt casserole dish).
Assemble. In a large bowl, mix melted butter, cinnamon, and raisins. Toss the cubed bread in the bowl, mix gently, then spoon bread into baking dish, layering evenly.
In the same mixing bowl, beat eggs with granulated sugar, vanilla extract, and kosher salt. Add milk and whisk together. Pour over bread cubes. Sprinkle with a pinch of nutmeg.
Bake in 375 degree F oven for 25-30 minutes, until lightly browned.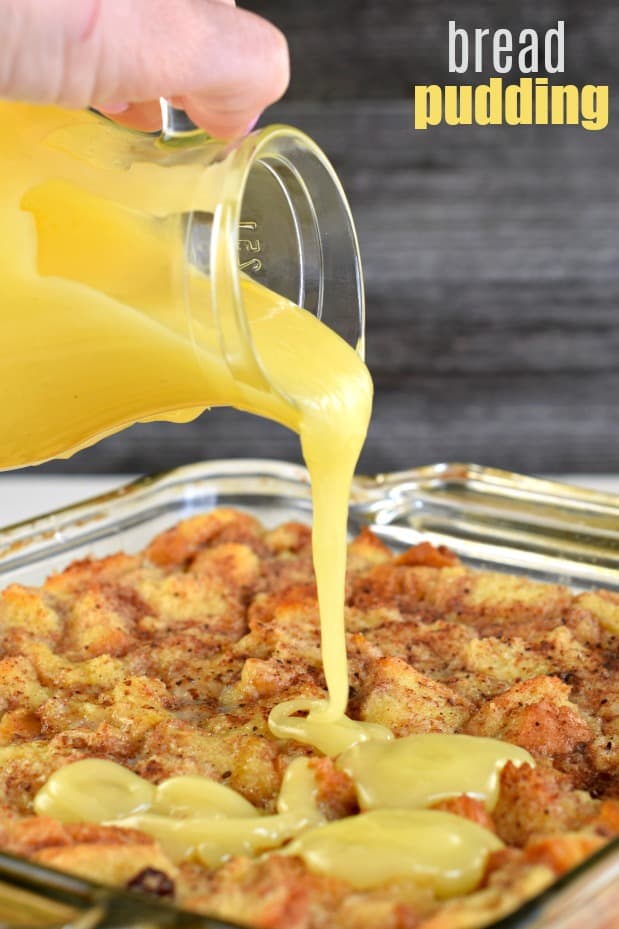 Lemon Sauce
While baking, make the lemon sauce.
In a small saucepan, whisk together the sugar, butter, water, egg, and lemon juice over medium high heat.
Bring mixture to a boil, stirring constantly. Boil one full minute. Remove from heat.
To serve, drizzle lemon glaze over the warm bread pudding. ENJOY.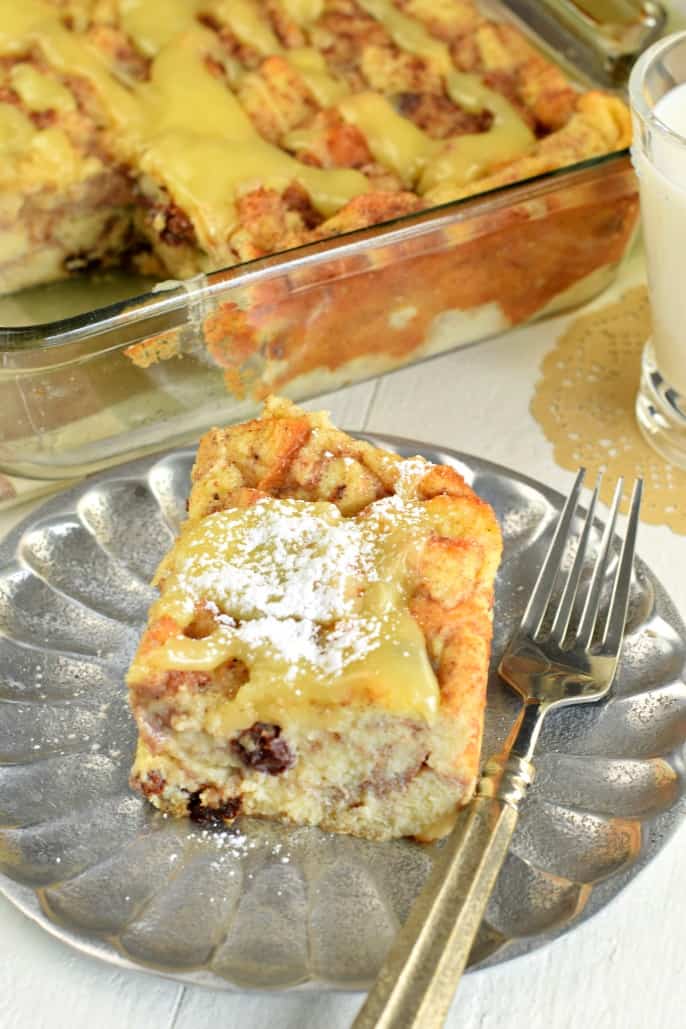 Recipe FAQs
Can Bread Pudding be made in advance?
To make bread pudding in advance, assemble as directed and cover with foil. Refrigerate overnight or up to 24 hours. Allow to sit at room temperature 30 minutes before baking.
How long with bread pudding keep?
If properly stored in the refrigerator, after baking, bread pudding will keep for 3-4 days. Reheat each slice in the microwave for about 45 seconds.
Can you freeze bread pudding?
Freeze bread pudding in airtight container. To thaw, refrigerator overnight.
Sauces for Bread Pudding
If you don't like lemon sauce, try this Bourbon Caramel Sauce. It's so delicious and perfect on today's bread pudding!
You can also try this Caramel Bread Pudding recipe for a different twist on a classic!
Buttermilk syrup– a delicious topping for waffles, but also today's bread pudding recipe.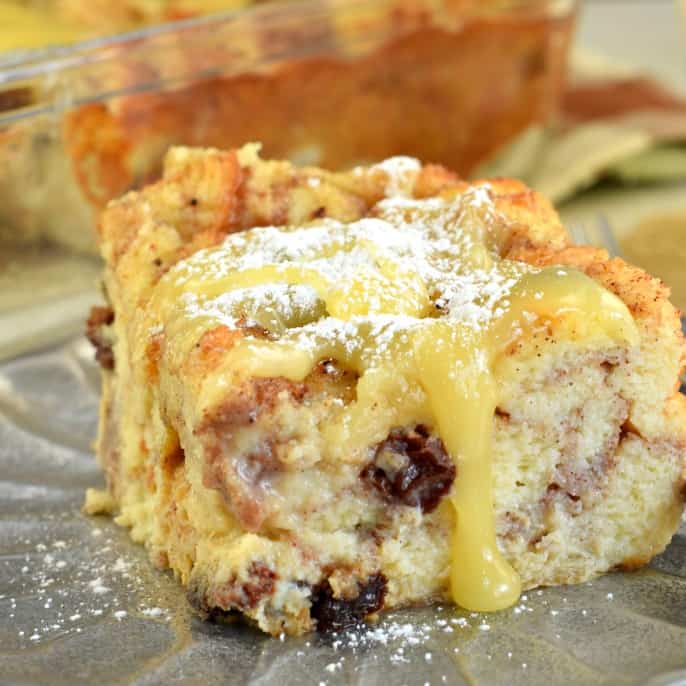 The Best Bread Pudding Recipe with a creamy lemon sauce. Whether you serve this for dessert or breakfast, it's always a hit!