Make your own chai desserts at home with this Chai Spice Mix recipe. This easy spice blend adds instant warming flavors to beverages, baked goods and more.
You can't beat the ease, cost and great taste of spice blends you make yourself. I reach for this homemade Pumpkin Pie Spice all the time while I'm baking. And when cooking, our taco seasoning is delicious!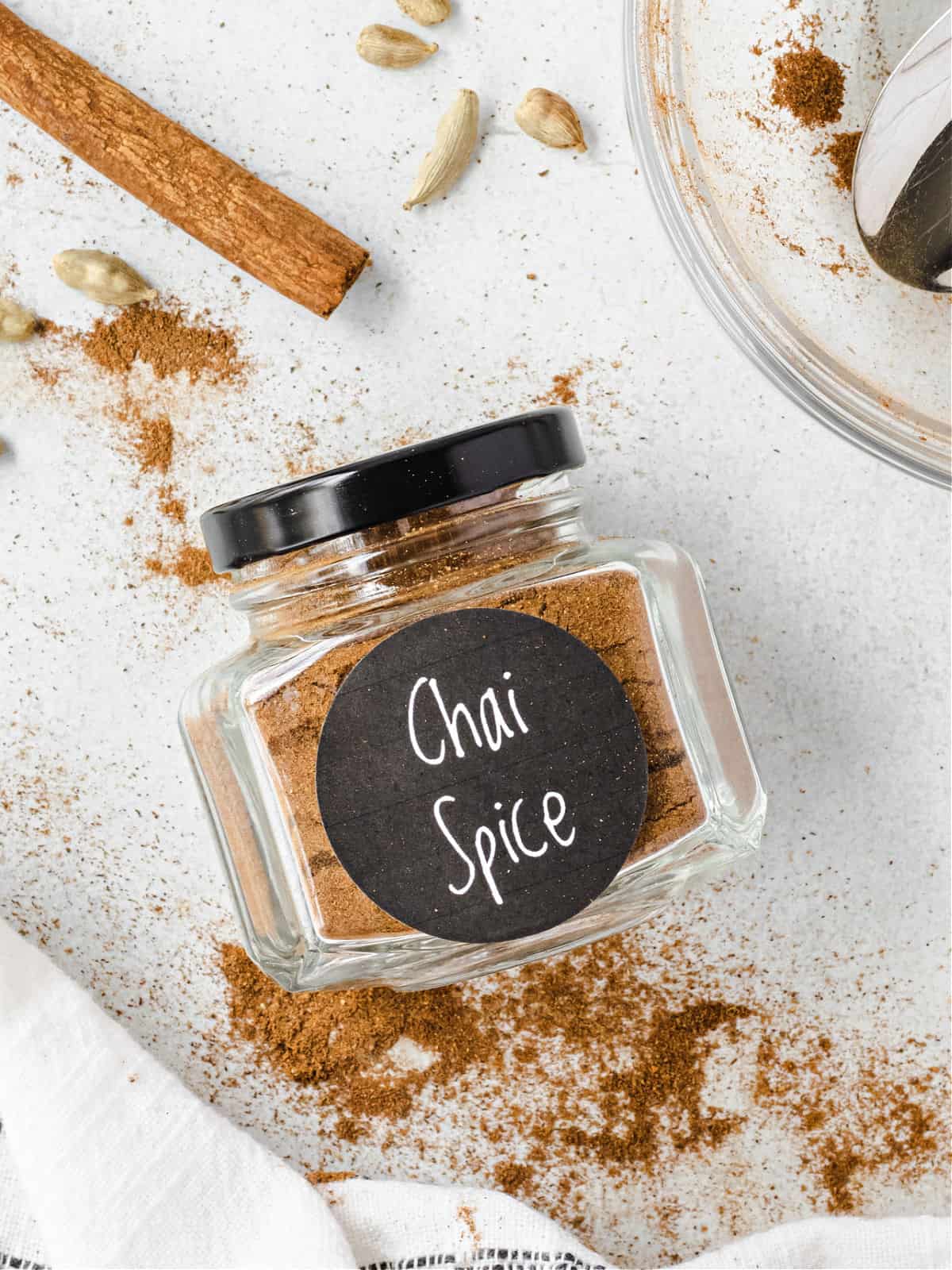 What is Chai?
Chai is black tea that's flavored with aromatic spices, often served with milk.
The beverage (and its name) have origins in India, where it's standard to serve tea milky, spiced and lightly sweetened. In Hindi, the word "chai" simply means tea!
There are differing opinions on what makes the BEST blend of spices for chai. Some prefer a spicier peppery flavor, while others like their chai on the sweeter and milder side.
Today's recipe is my favorite combination of spices to use in Chai recipes. You can use it in baked goods, syrups and, of course, TEA!
6 Ingredients for Chai Spices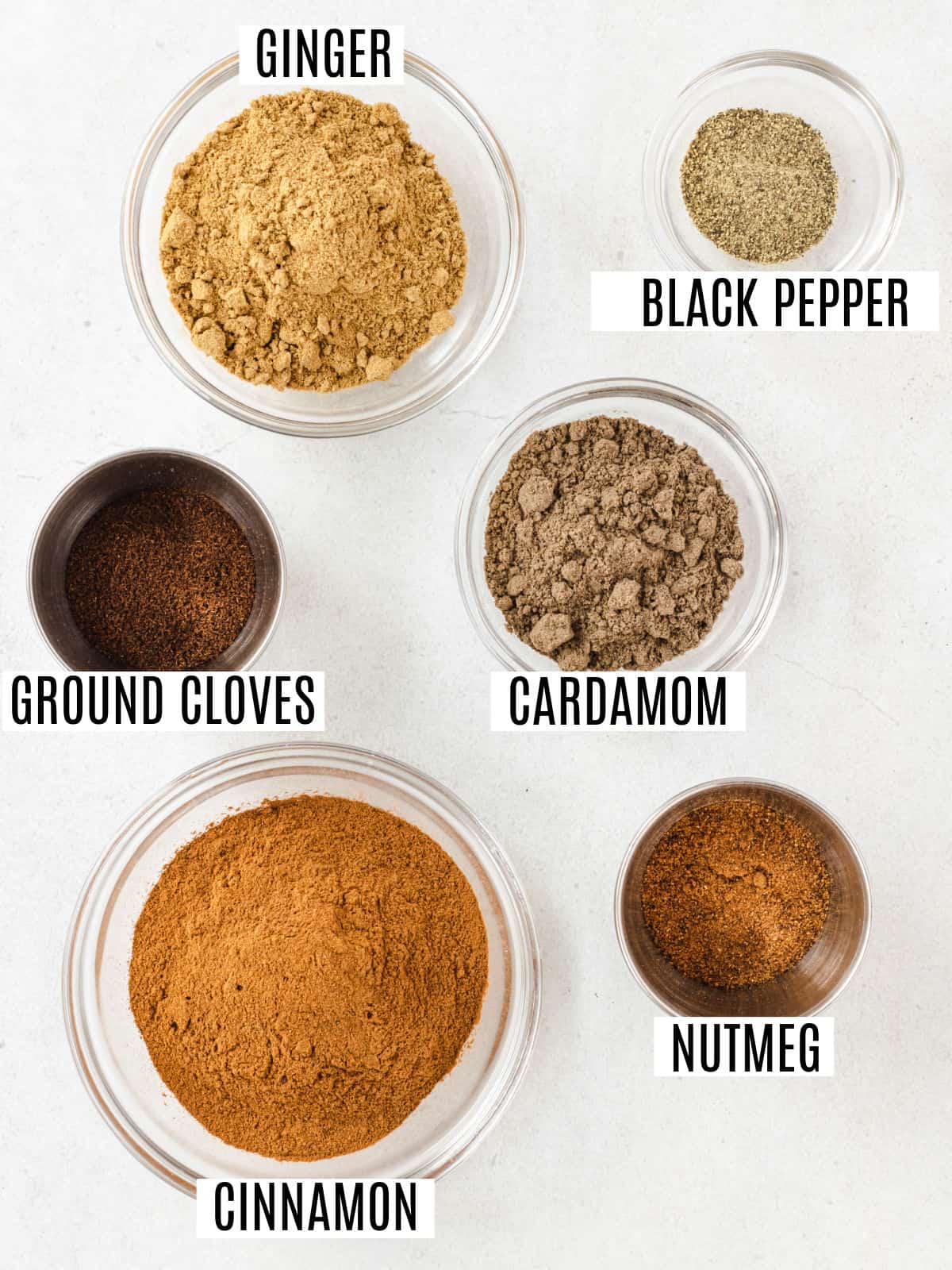 Here's what you need to make this chai spice blend. You probably have most of the ingredients in your cupboard already!
Cinnamon
Ginger
Cardamom
Nutmeg
Cloves
Black pepper
Once you've tried this for yourself, it's easy to adjust the measurements for your own tastebuds! Like it more peppery? Less cloves? Satisfy your own taste.
Tips and Tricks
Combine all the spices. Transfer to an airtight container or mason jar to store.
Keep spice mix in a dry, cool location. A cabinet or spice drawer is perfect.
Jars fitted with shaker lids are a great choice for storing your chai spice mix too. So easy to sprinkle onto drinks or desserts as a garnish!
Recipe FAQs
Does chai spice contain tea?
This spice mix does not contain tea.
How long does this spice blend keep?
Ground spices like this chai blend keep more or less indefinitely, if stored correctly.
I don't have cardamom. Can I leave it out?
Cardamom is essential to an authentic chai flavor. If you leave it out, the spice blend will still taste good but not have the distinct flavor that sets chai apart.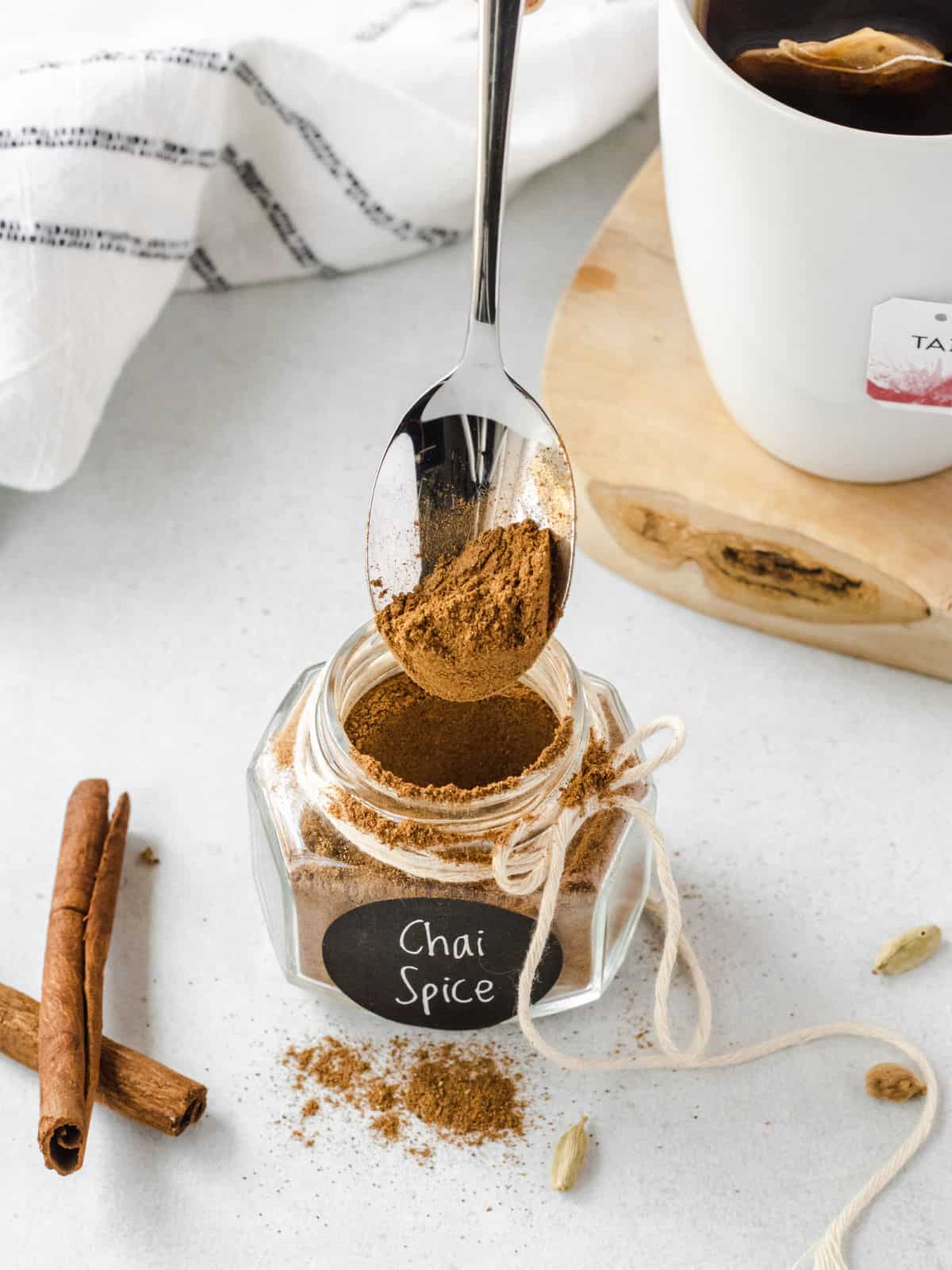 How to Use Chai Spice
Unlike true chai recipes, this blend is not recommended for making tea, as it will leave a gritty texture in your mug. Use the whole spices for that. My chai blend is delicious added to baked goods.
Or, spoon a little into your coffee grounds before you brew.
With this homemade chai spice mix on hand, you're ready to make all your favorite chai inspired recipes!