Ditch that high sodium taco seasoning from the store and make some Homemade Taco Seasoning instead! It's so easy to spice up your Mexican recipes with this homemade seasoning mix.
Use this delicious mix in our Instant Pot Chicken Tacos for a fresh burst of flavor! Or sprinkle some in our favorite chicken corn chowder!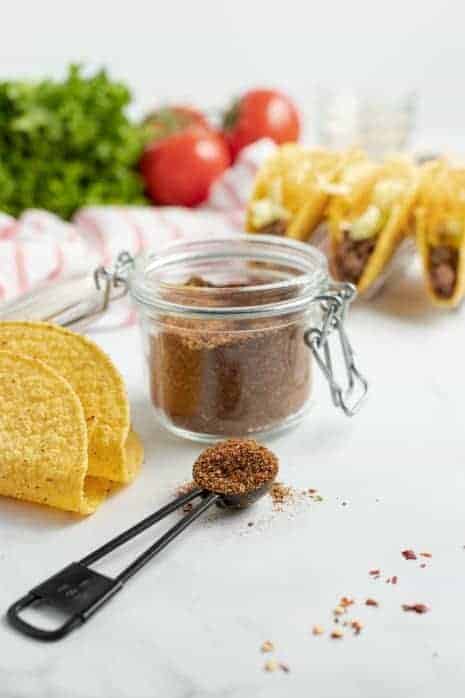 Why this Recipe Works
If there's one staple to keep in your spice cabinet, it should be this Homemade Taco Seasoning. It adds instant flavor to all kinds of recipes with way better taste than the packaged spice blends!
There are few meals more guaranteed to satisfy everyone in my family than tacos. From Baked Tacos to Turkey Taco Soup, taco inspired meals are always a surefire hit.
Homemade Taco Seasoning makes it easy to have a delicious Mexican meal on the table in no time at all. The flavor is so much better than the store bought stuff, not to mention more economical!
Most taco seasonings you buy in a packet or shaker from the grocery store contain the same central ingredients. Cumin is a must-have in any taco seasoning blend, along with garlic powder, onion (minced or powdered) and coriander.
Yes, those nifty packets make Taco Tuesdays more convenient. Instead of measuring the spices one by one, you just rip open a pack, toss it with ground beef and serve.
I've found, however, that the mixes from the store lack a certain freshness, maybe because they're sitting on the shelf for who knows how long!
A lot of taco seasoning also has anti-caking agents and preservatives added to increase the shelf life, not to mention lots and lots of sodium.
When you make your own batch of Taco Seasoning at home, you have all the convenience of a pre-made mix at a fraction of the cost and with better flavor.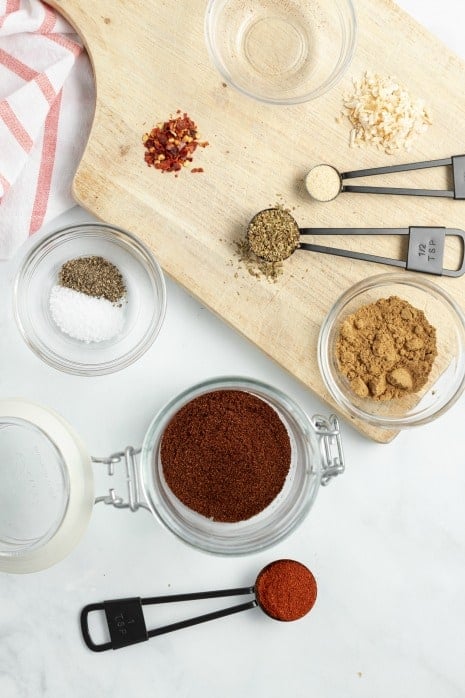 What you Need for Taco Seasoning
(At a glance, scroll down for full printable recipe with amounts)
My favorite taco seasoning contains:
chili powder
garlic powder
red pepper flakes
oregano
paprika
cumin
minced onion
coriander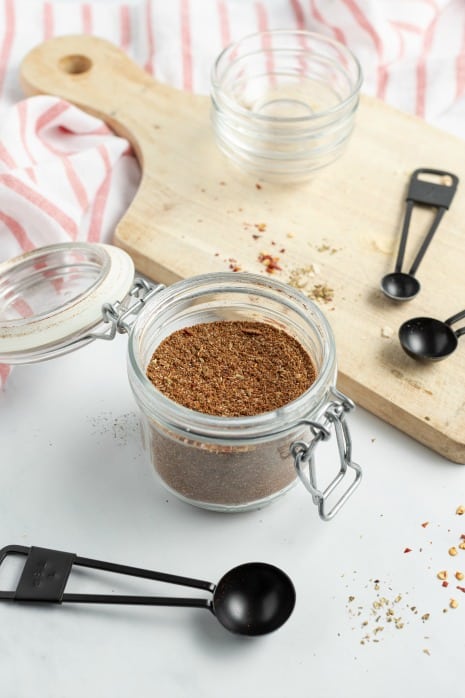 Salt and black pepper round the whole spice blend out.
To make this taco seasoning, all you do is combine the ingredients in a bowl or mason jar. Mix or shake and add to your recipe wherever it calls for taco seasoning!
Seal with a lid to store.
That's it!
How to Use Taco Seasoning
If you're making taco meat or meat to put on a taco salad, I usually use about 1 1/2 Tbsp per pound of ground beef or pork. I would also add in about 1/3 cup water and 1 Tbsp cornstarch while cooking.
If you're using ground turkey, start with a few tablespoons of water (as the water doesn't absorb as much with this type of meat).
Easy, delicious tacos!
Homemade taco seasoning stores well in a ziploc bag, mason jar or tight container.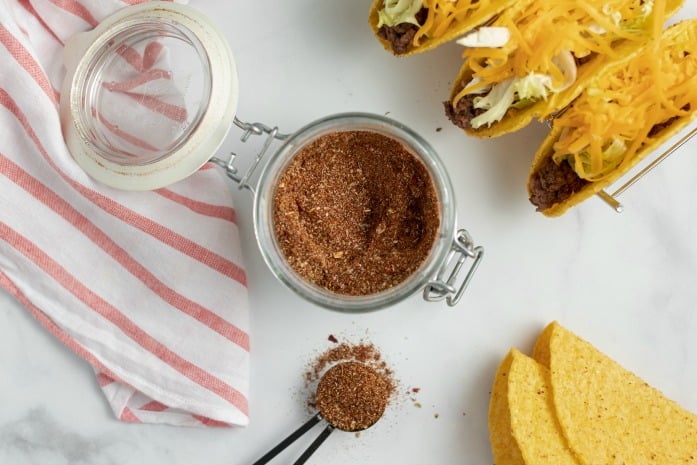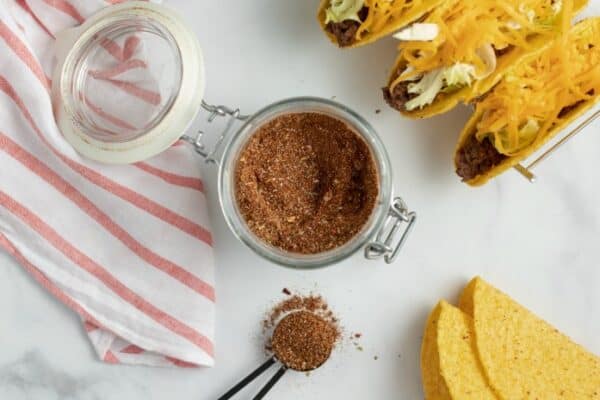 Aside from regular tacos, this Taco Seasoning adds spice and flavor to tons of other Southwestern and Mexican recipes like Chicken Taco Soup, Layered Taco Dip and Taco Tortilla Stacks!
Once you try making your own taco seasoning, chances are good you'll never reach for the store bought stuff again! This specific blend of herbs and spices never lets me down.
Making Your Own Taco Seasoning
Another thing I love about making my own spice blend for tacos? It's so easy to customize the taco seasoning to suit your own preferences.
Here are some ideas for making the ideal seasoning for your family's tastes:
Sensitive to heat? Cut down on the red pepper flakes.
For a spicier taco mix, add MORE ready pepper flakes. Start with 1/4 tsp and adjust to taste.
Reduce the salt for those on low sodium diets.
I often double or triple this recipe when I make it. If you're like my family and eat a LOT of tacos, you might want to do the same.
As long as I have a jar of taco seasoning and a pound or two of ground beef on hand, I know delicious tacos are just a few minutes away.
I've also tossed taco seasoning with beans and veggies for a vegetarian taco meal!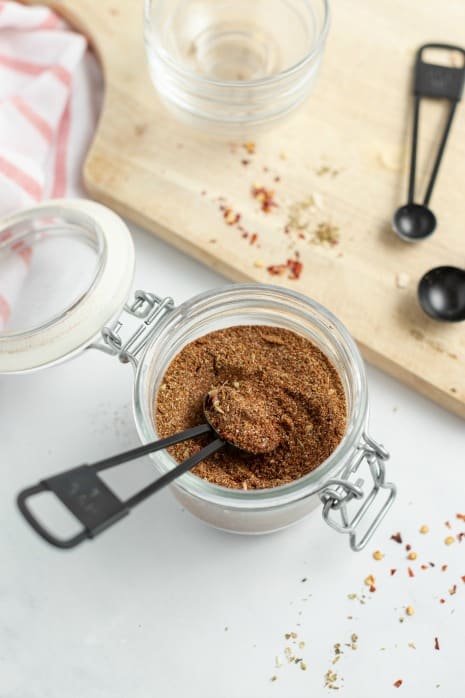 More Recipes with Taco Seasoning
Recipe originally published January 16, 2014. Photos updated 2020.
Give homemade Taco Seasoning a try tonight! You'll love having this tasty and easy spice blend at your finger tips.