Make chicken tacos in the Instant Pot tonight! Seasoned chicken is cooked with salsa to juicy perfection in this easy chicken taco recipe.
If you love these Instant Pot Chicken Tacos, try these Instant Pot Chicken Fajitas next! Serve with a side of cilantro lime rice for a complete Mexican feast.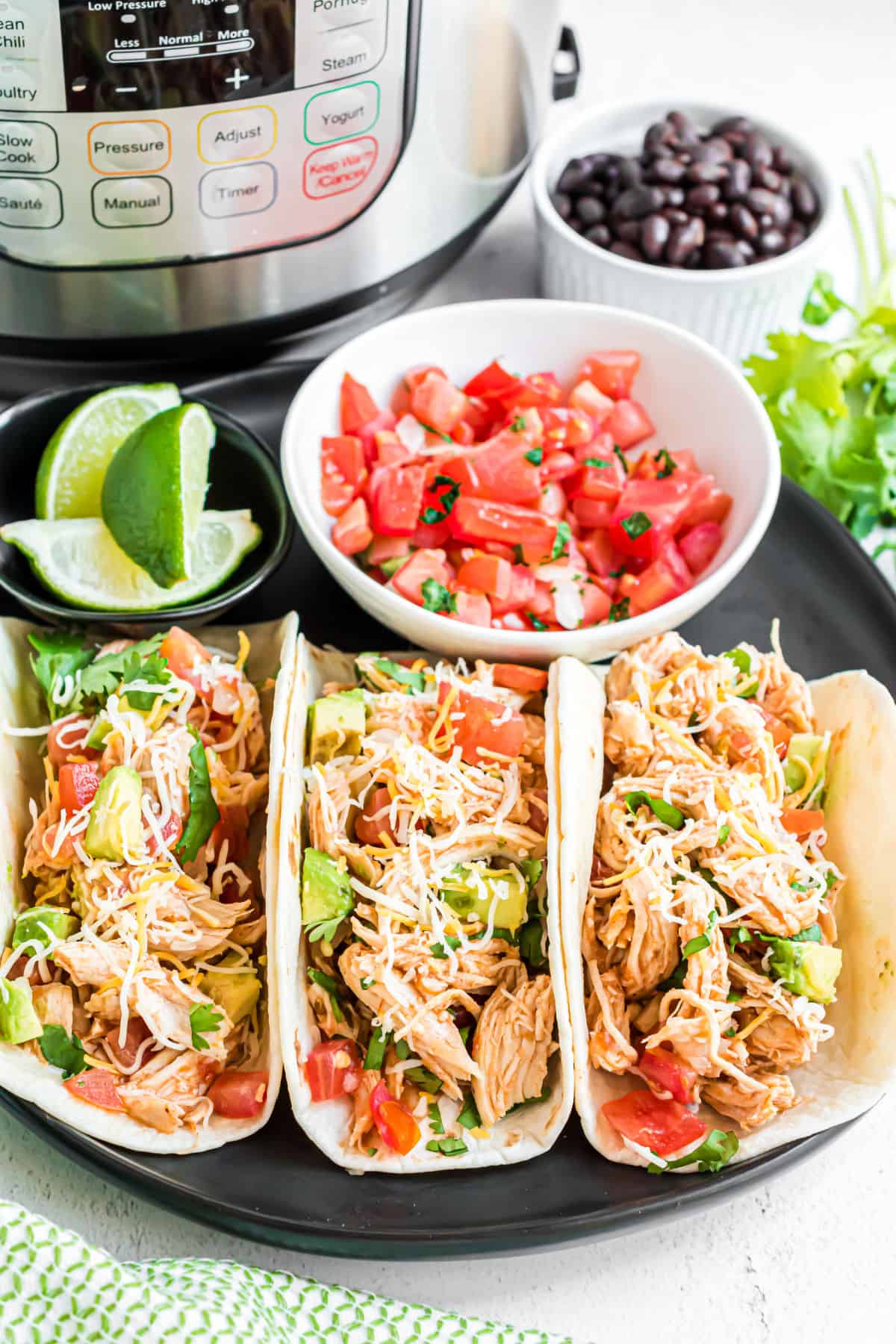 Why use the Instant Pot
Set it and forget it!
Chicken comes out juicy and tender in minutes.
Frees up your stove top and oven.
It's not exactly a secret that I'm borderline obsessed with Instant Pot recipes. Today, I'm showing you how to make the best ever chicken for tacos in your Instant Pot.
With a few ingredients and your pressure cooker, you'll have perfect chicken tacos on the table in under an hour–and most of that cooking time is hands off.
The chicken taco meat is delicious on both corn and flour tortillas. It's also phenomenal in salads, taco bowls, burritos, nachos. . . you name it!
Ingredient Notes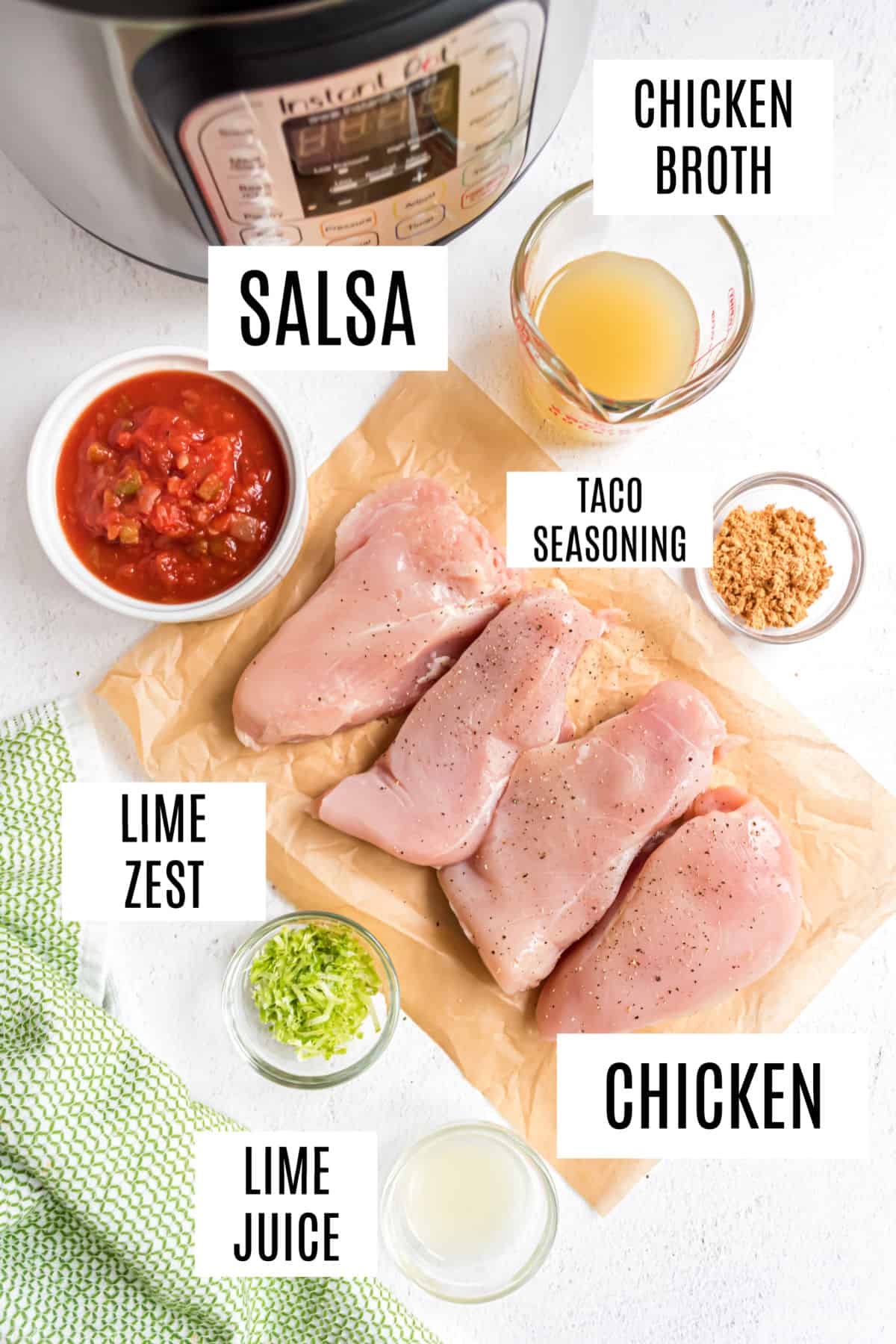 Chicken. Fresh or frozen chicken breasts work best in this Instant Pot recipe. Chicken thighs make a good substitute, especially if doing the slow cooker method.
Taco Seasoning. Mix together a batch of my Homemade Taco Seasoning or grab your favorite store bought mix.
Chicken broth. This is the primary liquid used to cook the chicken in the Instant Pot.
Salsa. Jarred red salsa combines with the broth to create a flavorful tomato sauce for the chicken.
Easy Instructions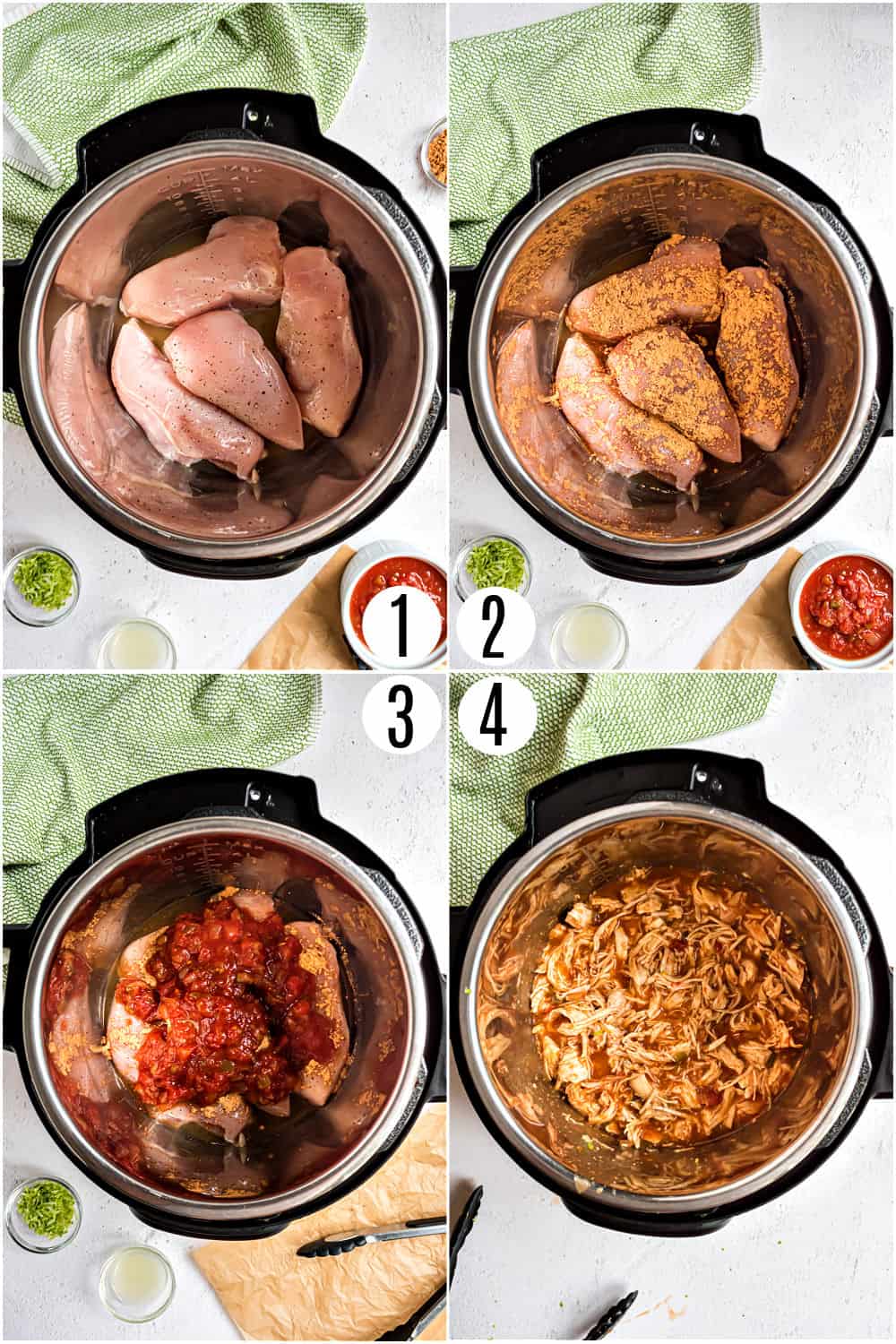 Start by pouring the chicken broth into your Instant Pot. Arrange the chicken breasts in the Instant Pot in a single layer. Cover with taco seasoning and salsa.
Pressure cook on high for 15 minutes. After releasing pressure, shred the chicken with two forks. Add it back to the pot with a squeeze of lime juice and zest.
Serve on tortillas with any taco toppings you desire. Feel free to drain off any excess liquid.
Slow Cooker Instructions
No Instant Pot? No problem!
Add your chicken, taco seasoning, and salsa to the crockpot. DO NOT ADD BROTH.
Cook on low for 6 hours. Shred and enjoy.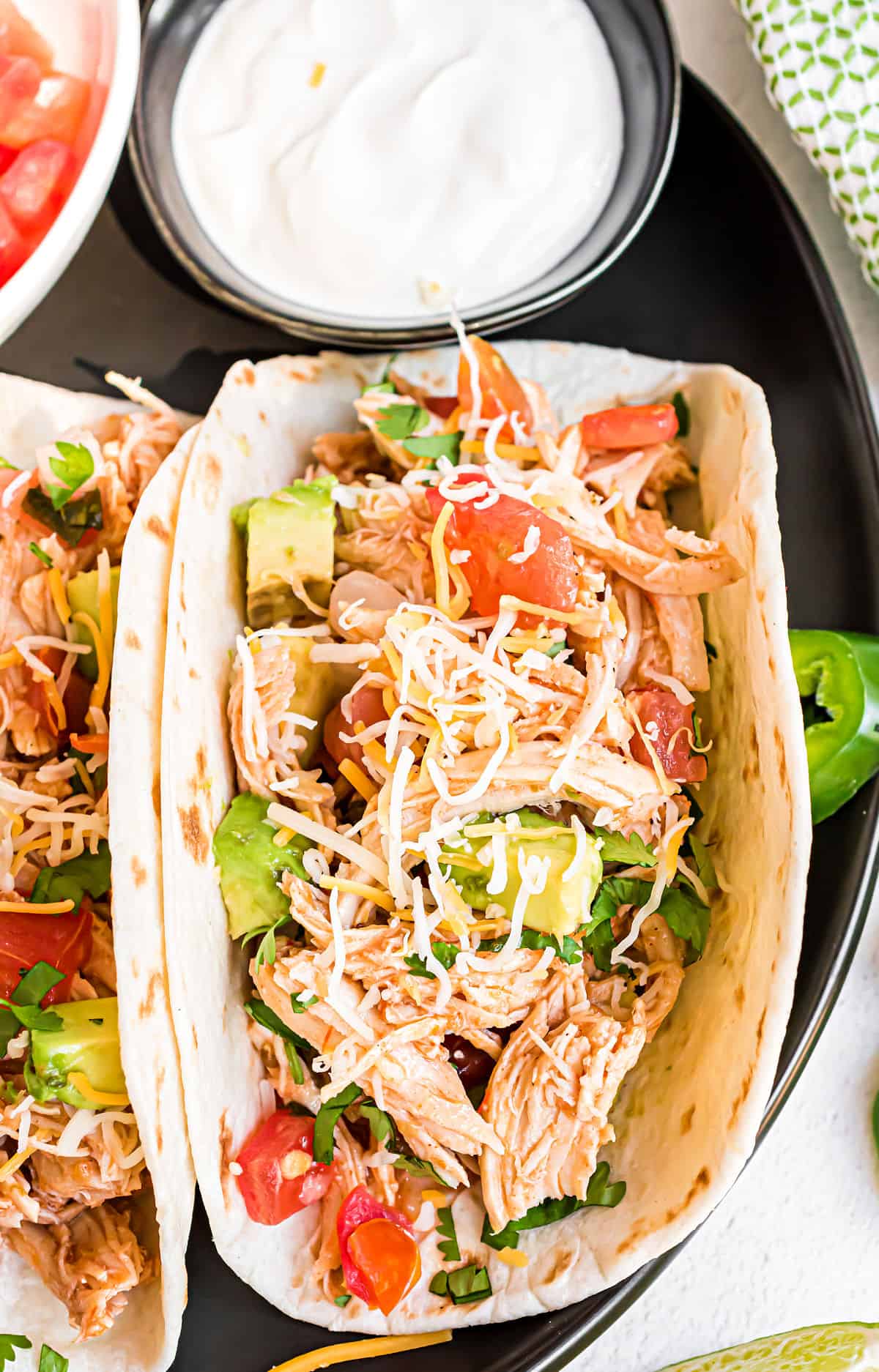 Tips and Tricks
Make sure to arrange the chicken in an even single layer. Especially if they're frozen, they won't cook fully if they are stuck together.
Pour the salsa on top of the chicken before cooking. If it's on the bottom of the pot it can cause a burn notice.
Store leftovers in the fridge for 3-4 days.
Cooked chicken taco meat can be frozen for up to 3 months. Let thaw in the fridge before reheating.
Top your tacos or taco bowls with fixings like lettuce, pico de gallo, and guacamole. Sour cream or plain Greek yogurt is also delicious!
This taco chicken tastes delicious in taco salads too. Toss with greens, tortilla strips and avocado dressing.
Add leftover chicken to chicken taco soup!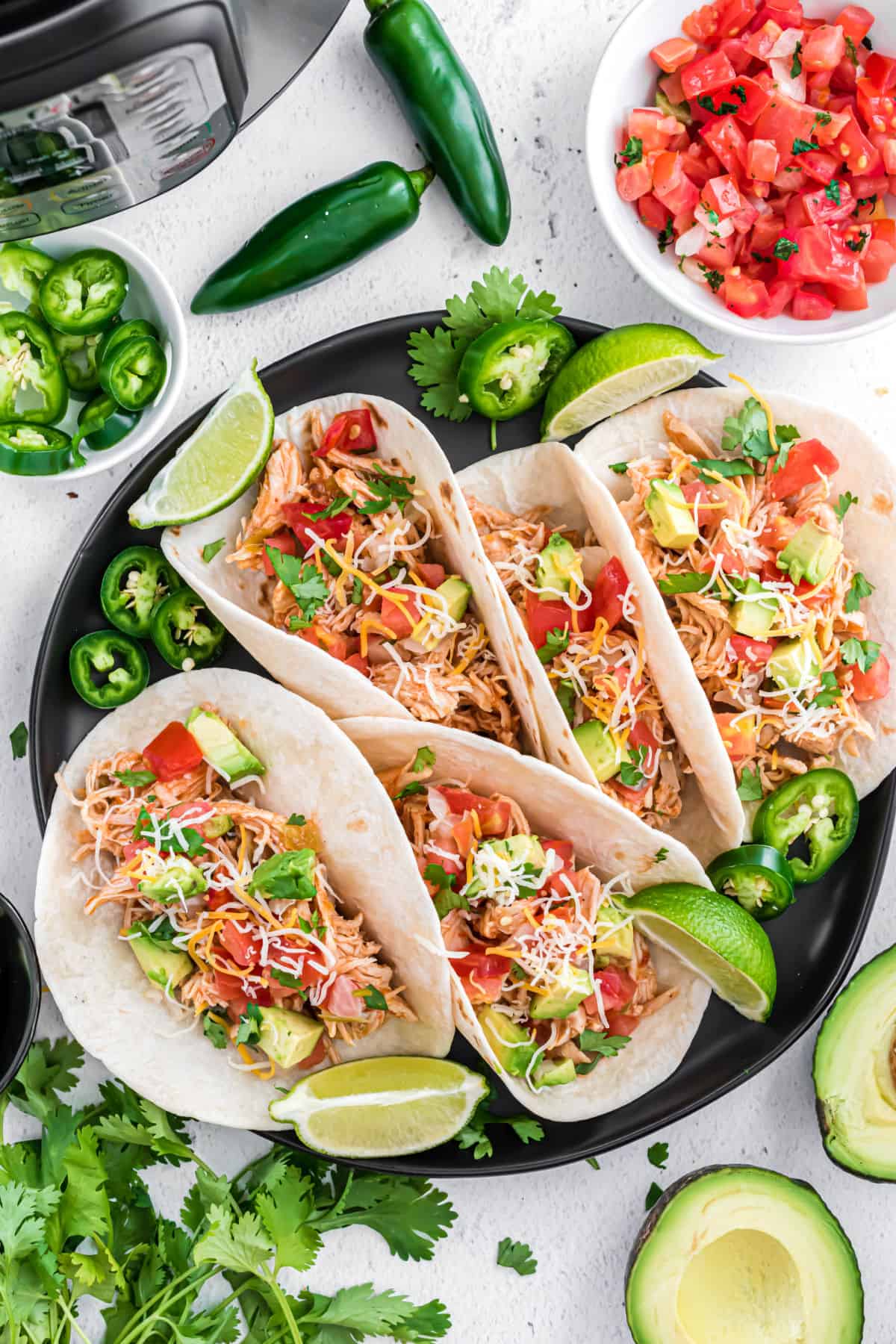 Recipe FAQs
Can I use fresh salsa instead of jarred salsa to cook the chicken?
Save the pico de gallo and other uncooked salsas for topping your tacos! You need the juices of jarred salsa to create the delicious sauce that marinates the chicken as it cooks.
I want to make this recipe with frozen chicken. Do I need to add extra cooking time?
No extra cooking time is needed for frozen chicken. Your Instant Pot will just take longer to come to pressure.
What size Instant Pot do I need?
We tested this recipe in a 6 quart instant pot.
Instant Pot Chicken Tacos are easy, flavorful and versatile. Fire up the pressure cooker and grab a tortilla!