This Southwest Chicken Salad is a hearty mix of fresh veggies and chicken. Black beans, cheese and a creamy avocado dressing give even more southwestern flair to your colorful meal!
We love one-bowl meals. If you like this chicken salad, you'll want to make my Southwest Chicken Chowder recipe soon too.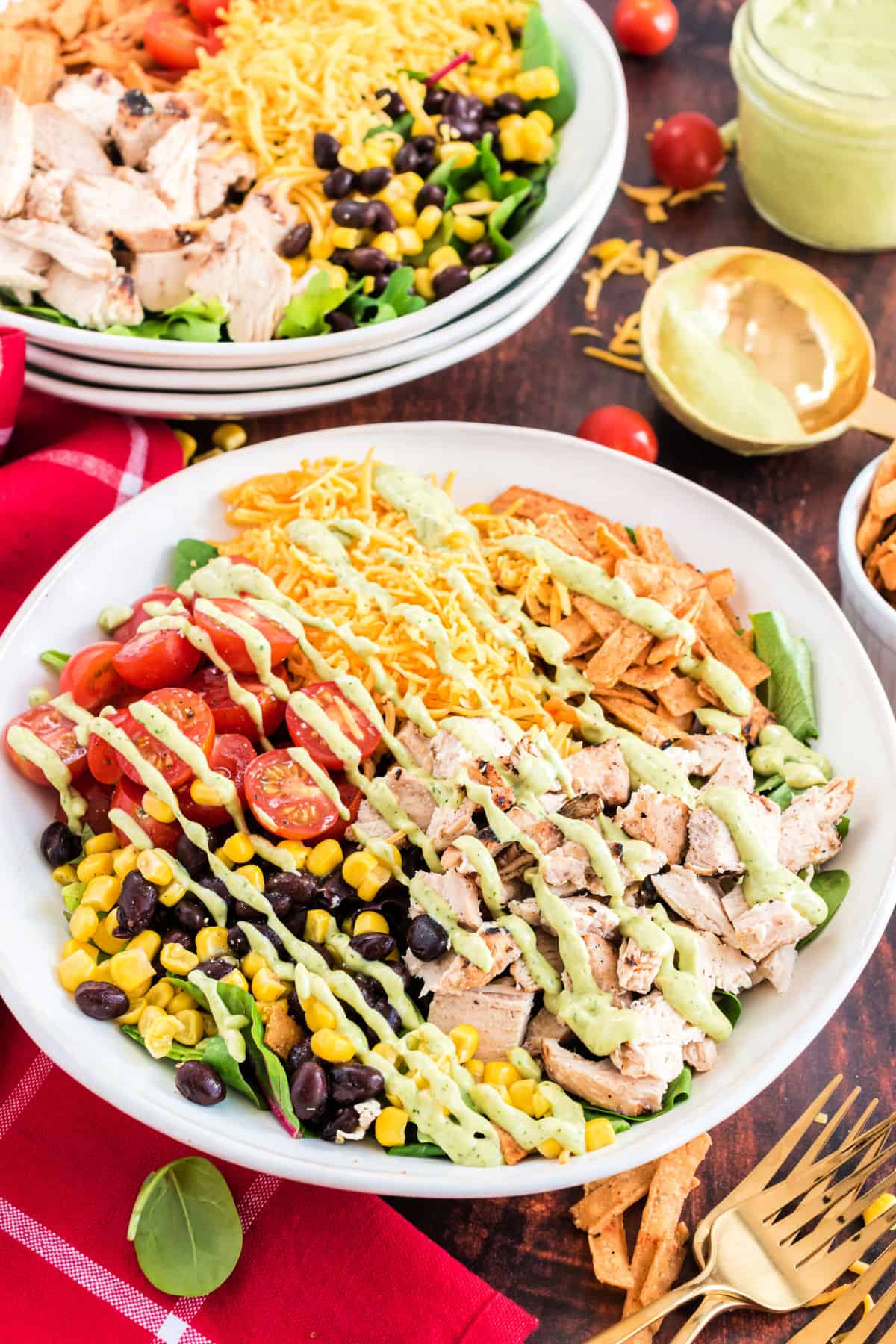 Why this Salad is Best
The avocado dressing on our Southwest Chicken Salad is what sets it apart from your everyday dinner salad. You'll want to put it on anything and everything.
Nourishing and satisfying. No one will leave the table hungry after enjoying a big bowl of this salad!
Eat the rainbow! If you're trying to get more color on your family's plate at meal times, this salad is the perfect way to go.
Delicious variety of textures and flavors. With tender chicken and beans, juicy corn and tomatoes, crisp greens and a creamy dressing, every bite of salad gives you a little something different!
Easy to make. It takes minutes to toss together Southwest Chicken Salad with avocado dressing, especially if you have the chicken cooked ahead of time.
Ingredient Notes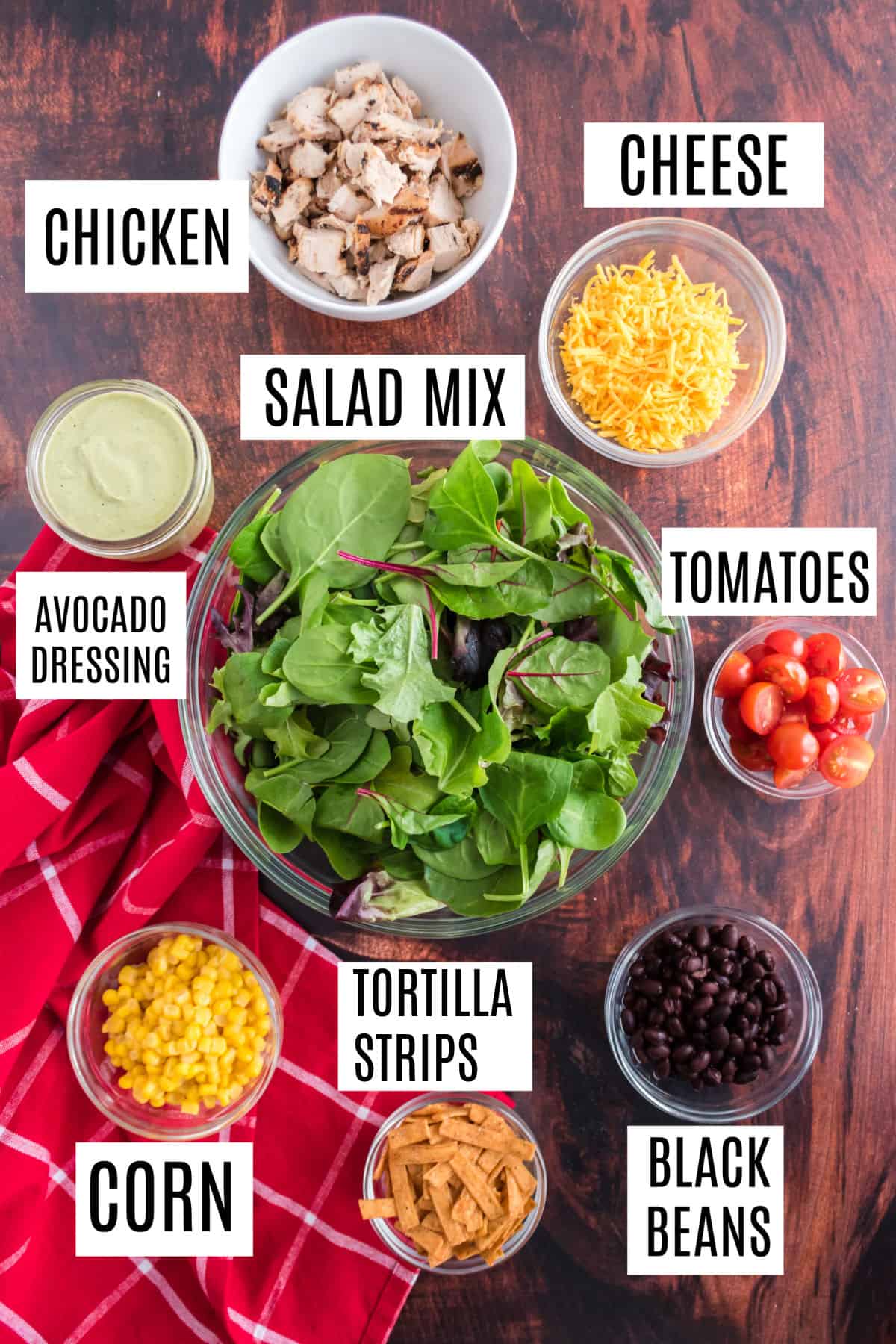 For the salad itself we start with staples of southwest cuisine like black beans, corn and cherry tomatoes.
Chicken breast. Cook and dice the chicken using your preferred method. Or cut up a rotisserie chicken from the grocery store to make the recipe even easier! Swap out the chicken and use leftover turkey from your Thanksgiving or holiday turkey!
Salad mix. Use any blend of salad greens you enjoy like romaine lettuce or a spring mix.
Tortilla strips. We love the ones with southwest seasoning for a crunchy, flavorful salad topping!
Cheese. Shredded cheddar cheese or a shredded Mexican cheese blend are my preferences salads like this one.
How to Make Southwest Salad
You could choose to layer the ingredients in a trifle bowl like a 7 layer salad.
Or serve the salad in individual bowls already prepared and top with dressing upon serving.
Finally, you could make a southwest salad bar. Each topping in it's own bowl and the family and guests can create a unique salad using topping they enjoy.
Swap out the avocado dressing for our homemade ranch dressing instead!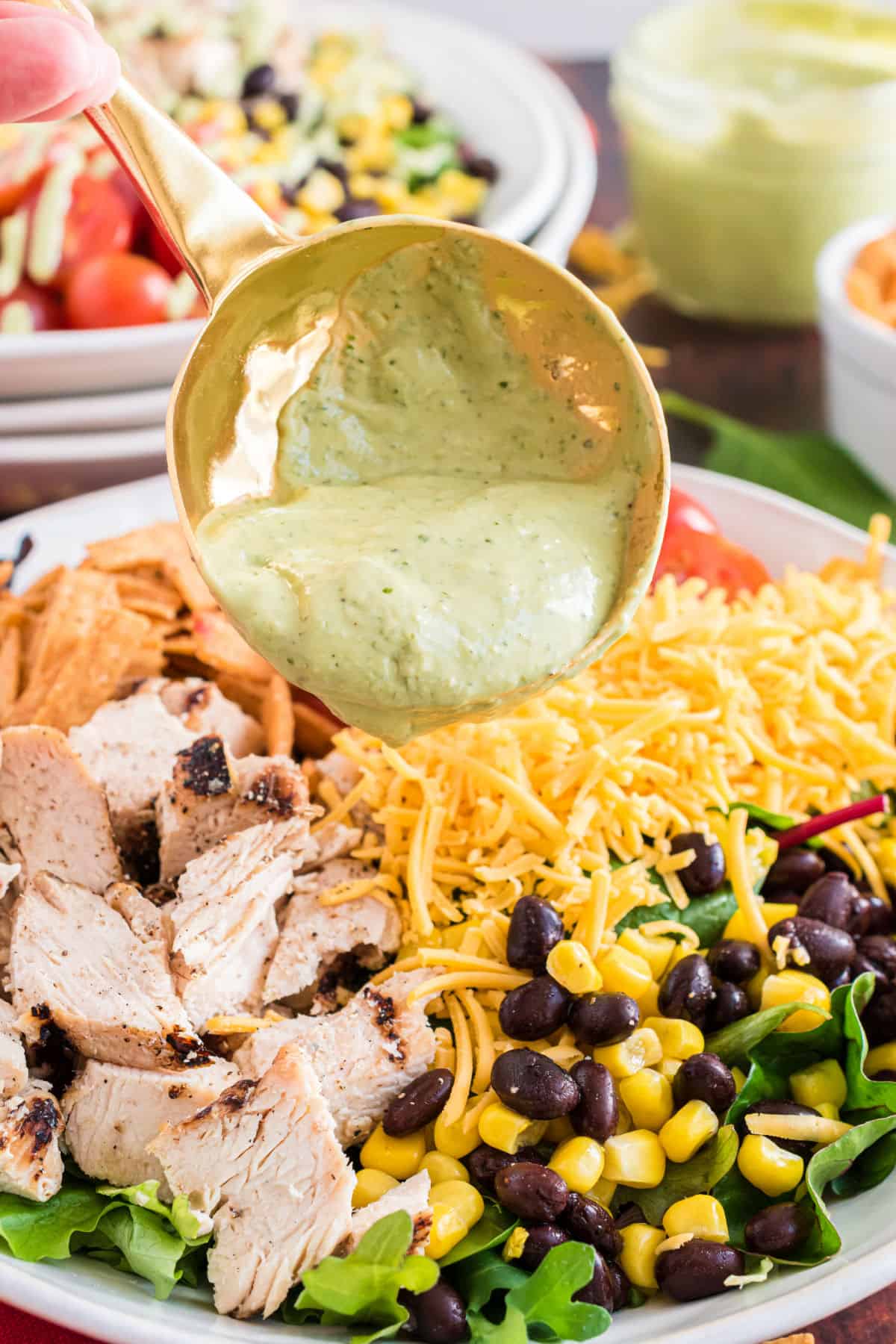 Recipe FAQs
How do I know if my avocado is ripe?
To tell if your avocado is ripe, give it a gentle squeeze. If it yields a bit, it is ripened enough to use in avocado dressing.
Avocados darken as they ripen, so the color can give you a good idea of your avocado's status. It should be dark green or nearly black before eating.
How do I store this avocado dressing?
If you aren't planning to use all the dressing right away, store it in a mason jar or other sealable container in the refrigerator.
The ingredients may separate as the dressing sits. When this occurs, give the bottle or jar a good shake to recombine everything before adding it to your salad.
Is the dressing spicy?
This avocado dressing gets its spiciness from the added Tabasco sauce. If you want it to be spicier, just add a little more Tabasco to taste!
What substitution can I make?
There are tons of ways to customize this salad and change up the flavors.
You could substitute pinto beans or kidney beans for the black beans. Swap the chicken for other proteins like cooked turkey or beef. Try it with different combinations of shredded cheese and all kinds of greens.
If you're not a fan of avocado dressing, top your Southwest Chicken Salad with my homemade Ranch Dressing instead!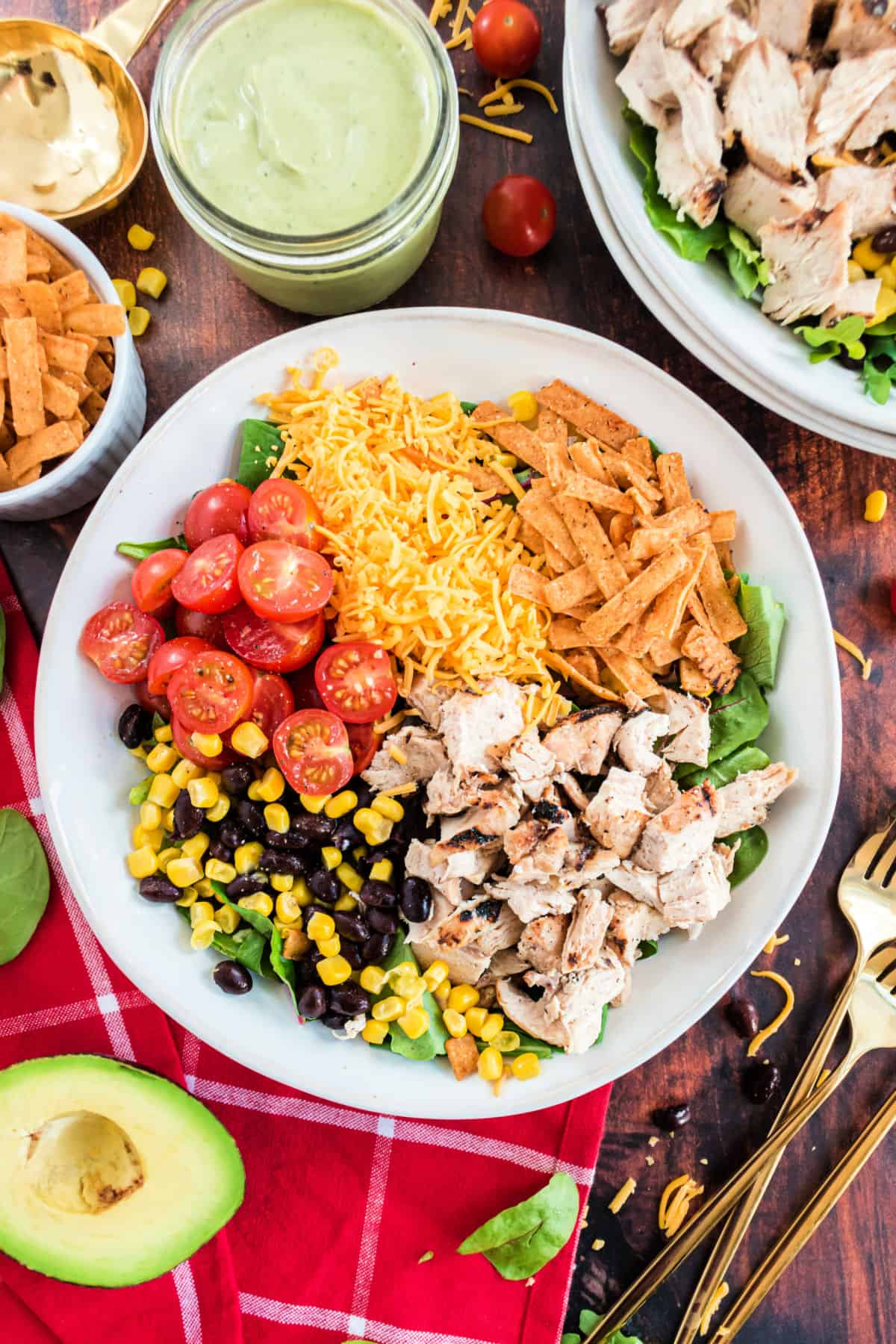 More Easy Lunch Recipes
Southwest Chicken Salad with Avocado Dressing comes together in minutes for a nourishing, satisfying meal you'll love any day of the week.